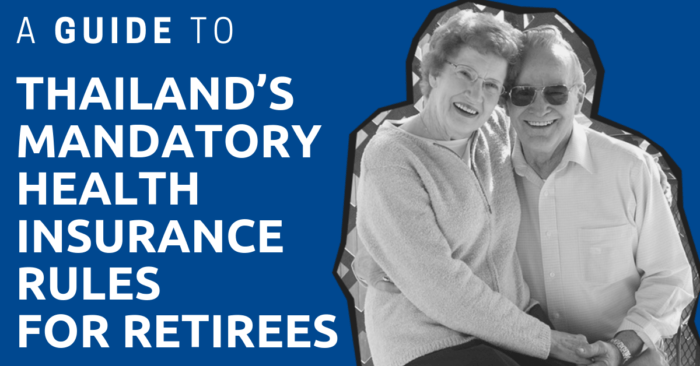 The Thai Government has released the new health insurance rules for retirement visa holders.
Starting October 31, 2019, all retirees applying for a non-immigrant O-A visa are going to need health insurance to live in Thailand.
Let's take a look at the new rules, those who it affects, and your options.
What is It?
On April 9, 2019, the Ministry of Public Health in Thailand announced on their website the new insurance rules which is going to apply to both new non-immigrant O-A visa applicants and current non-immigrant O-A visa holders.
After that, the Immigration Bureau released an official statement saying that the rule is going into effect starting October 31, 2019. And it's still effect until today.
The new rule is this: if you want to get or extend (renew) your non-immigrant O-A visa, which is commonly known as a retirement visa, you now need to have health insurance.
Why is Health Insurance Suddenly Required?
The Thai government claims that the new health insurance rule was introduced because of the increasing number of unpaid medical bills from expats living in Thailand.
In 2018, 680,000 out of 3,420,000 expats who visited the hospital didn't pay their bills. The total unpaid amount was estimated at 305 million baht.
The majority of unpaid bills were from retirees.
Affected Visas
The only affected visa from this new rule is the non-immigrant O-A visa, also known as the one-year retirement visa.
This visa lets those who are older than 50 stay in Thailand for at least one year, and it can be extended each year.
If you are currently holding a non-immigrant O-A visa, you can still stay in Thailand without having to buy health insurance yet.
The official statement is:
"An alien, who has been granted Non-Immigrant Visa Class O-A (not exceeding 1 year) and has been permitted to stay in the Kingdom before this order takes effect (October 31, 2019), will be able to continual to stay in the Kingdom for the granted length of stay".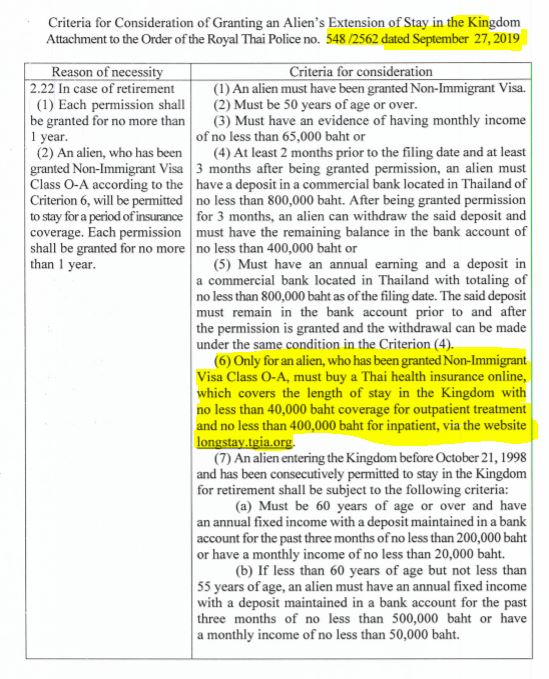 This is not actually a new insurance rule, though. Holders of the non-immigrant visa O-X, also known as the five-year retirement visa, have needed mandatory insurance since 2017.
Does this Rule Effect Other Visa Types?
It's possible that that same rule will apply to other types of long-term visas in the future, but the coverage amount might be different.
If you are holding non-immigrant B visa, non-immigrant EDU visa, or non-immigrant O visa for marriage, you don't need health insurance.
But it's always a good idea to buy health insurance in Thailand so you get good medical care when something unexpected happens.
Requirement and Coverage
To pass this new insurance regulations, you must have insurance for the entire amount of your duration of stay with the following coverage amounts:
400,000 baht for in-patient coverage, or IPD
40,000 baht for outpatient coverage, or OPD
For example, if the visa allows you to live in Thailand for one year, then, you need to get a one-year plan from the health insurance company.
Where Can I Get Insurance?
The easiest way to get health insurance in Thailand is Luma Long Stay Care plan. The plan is specifically tailored for retirees who are younger than 80 years old and want to get a health insurance plan that passes the visa renewal requirement.
The plan is already approved by the Thai government.
If you want something more comprehensive, you can check out their other Thailand insurance plan. It is more expensive but comes with higher coverage.
Alternatively, you can get health insurance from insurance companies in Thailand that are approved by the Thai General Insurance Association. These companies have a specific insurance plan for a Non O-A visa applicant.
You can check out tgia.org for a full list of approved health insurance companies.
Health Insurance Choices
You can get health insurance from a local insurance company as long as the plan has coverage of 400,000 baht for IPD and 40,000 baht for OPD for visa renewal.
You must remember to have the IPD and OPD coverage amounts clearly stated on your health insurance policy to avoid miscommunication with immigration officers.
If you already have health insurance from international providers that pass the current coverage requirement, you need to ask your insurance company to give you this foreign insurance certificate.
How Much Do I Have to Pay?
Health insurance premiums depend on your age, pre-existing conditions, coverage amount, and coverage area.
Normally, health insurance for those who are older than 50 years old tends to be expensive. You could end up paying more than 100,000 baht for a single health insurance plan.
However, there are also new plans that just recently came out to satisfy the new visa requirements. The plans come with 400,000 baht coverage for IPD and 40,000 baht coverage for OPD and may cost less than 10,000 baht a year.
Please note that these plans come with a very high deductible of more than 200,000 baht. You would need to pay the chosen deductible amount before the insurance company would pay you. 
What if I Can't Buy Health Insurance?
The Thai government is changing the financial requirements and will soon update retirement visa holders.
But if you can't buy health insurance for whatever reason, you should expect to have to show more money in your bank account when you apply for your new retirement visa.
This is to make that you have enough money to pay for your medical bills if you don't have health insurance.
Although some people talk about since 2019, this rule has still not set in place yet. It's possible that it will not come up at all.
In case you want to be out of this insurance scheme, you can look into the Elite Visa. It's expensive but give you a 5-20 years visa for 4,166 baht to 8,333 baht a month.
Now, on to You
You now need to have health insurance if you want to spend your retirement in Thailand.
Regardless of the law, it's still a good idea to get health insurance if you retire in Thailand.