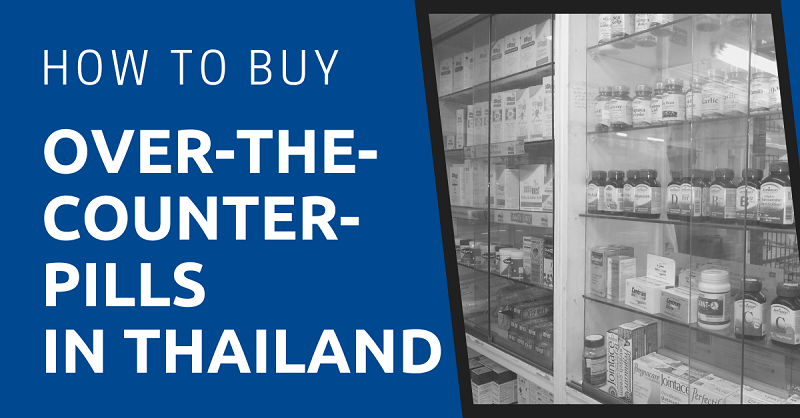 From mom-and-pop shops selling various herbs and salvos to Western chains like Boots, Pharmacies in Thailand vary.
In major cities, it's easy to find professional, well-trained pharmacists who can help you. However, out in the provinces you may have to take a chance on whatever local stores are available.
That said, this guide covers the whole process of using pharmacies in Thailand. We'll recommend some of the better local chains and run through some of the laws surrounding pharmaceutical products in the country.
We'll also see what options are available aside from standard brick-and-mortar pharmacies, such as online stores and courier services.
What's Available at Thai Pharmacies
Expats from Western countries may be surprised at the range of drugs available over-the-counter in many of Thailand's pharmacies.
As an added benefit, many of these drugs also sell for a lot cheaper than they would in places like the United States.
In the next few section, we'll cover some of the drugs available over-the-counter at Thailand's pharmacies.
Generic Medications
You can find a variety of general medications available at your average Thai pharmacy, including antihistamines, common cold remedies, medicines for stomach ailments, and traditional Thai herbal treatments.
Most pharmacies also stock some basic dressings and band-aids, and some of the larger pharmacies even carry heavier items such as crutches or wheelchairs.
Painkillers
Painkiller brands like Tylenol are available everywhere, and very cheaply, too. Ibuprofen is available to buy at the big chain pharmacies such as Boots.
While aspirin is available, it's hard to find and often sold in small amounts.
Antibiotics
Anyone who has received medical care in Thailand knows just how much the country loves its antibiotics.
They are often prescribed for the mildest ailments and, as one might expect, they are available to buy without a prescription at many of the country's pharmacies.
Amoxicillin is a popular brand and retails very cheaply. Do be aware of the risks surrounding antibiotic abuse before purchasing.
Anti-depressants
Standard anti-depressants such as Prozac and Zoloft are available over-the-counter in most pharmacies, but they can be expensive. Drugs like Xanax are available by prescription.
Self-medicating for depression can be dangerous, so always seek professional advice first.
Birth Control
Birth-control pills are available over-the-counter at every pharmacy in Thailand, and the bigger pharmacies stock a wide range of brands.
Prophylactics like condoms can be bought everywhere, including convenience stores such as 7/11.
What's Not Available
Narcotics such as fentanyl and psychotropic drugs such as temazepam are controlled (see below) and are available via prescriptions from a qualified doctor. Some stronger pain medications such as oxycodone are outright illegal.
You'll come across many smaller independent pharmacies in Thailand that may sell prescription or even restricted drugs over-the-counter, albeit illegally.
Do You Need a Prescription?
You don't need a prescription for most basic over-the-counter drugs such as Tylenol, although you do need one for some of the heavier medications listed above.
You can get a prescription for your medication from any hospital, although it can be a bit pricey.
For minor ailments, it's best to do as the locals do and ask your pharmacist to prescribe your drugs. It'll be cheaper than going to the hospital.
Local Versus International Brands
When buying certain medications, the pharmacist may ask if you prefer the international brand or a local version.
Broadly speaking, both medications are the same, although the international brand may be a little higher quality. However, the local brand is much cheaper.
Medicine for Chronic Conditions
If you suffer from a chronic condition and require regular medication, bring your current home-country meds to your Thai doctor during your first meeting, as many drugs may be sold here under different brands.
Where to Find Pharmacies in Thailand
You can find pharmacies all over Thailand, including inside most malls and at larger supermarkets. Almost all convenience stores also stock the basics (painkillers, bandages, and so on).
Many pharmacists may not speak English well, especially outside big cities or tourist areas, so it may be a good idea to bring a picture or sample of your medicine in its original packaging along when you visit.
That said, pharmacies in Thailand can be divided into three categories, as listed in the following sections.
Hospital Pharmacies
As one might expect, many Thailand hospitals contain an in-house pharmacy.
These pharmacies work more like dispensaries, giving out prescription medicine for the hospital's patients rather than selling over-the-counter drugs. So, they're not a good spot for picking up odds-and-ends you might need.
Also, prescriptions at hospitals is more expensive, ranging from 200 percent to 300 percent of the price found at pharmacies outside of hospitals.
If you don't want to pay for medications from the hospital, you can ask a doctor for a prescription (or list of medicine you need) and buy them yourself at a pharmacy.
Pharmacy Chains
You'll find a number of pharmacy chains in Thailand. Some of the bigger ones include Boots (from the UK), Watsons, and Drug Square, branches of which can be found in most of the country's malls, supermarkets, and sometimes main roads.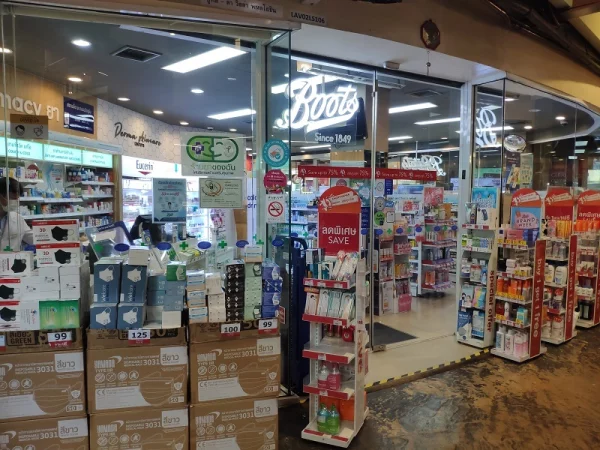 Generally speaking, pharmacy chains are a safer bet for buying most drugs, as they are forced to adhere to much tighter regulations than smaller independent shops. You're unlikely to be given expired, illegal, or poorly-dosed medication.
In big cities and tourist areas, the staff are also more likely to speak English. However, on the downside these pharmacy chains can be expensive, and the range of medications they offer are limited.
Independent Pharmacies
Small independent pharmacies can be found all over Thailand and in much greater numbers than the chains.
In some places, such as some of the smaller islands, independent pharmacies may be your only option. You can recognize these pharmacies by the green cross logo that most of them display outside their shops.
Prices at independent pharmacies can vary, sometimes by as much as 20 percent. You'll have to shop around a little to find the best prices.
As these are small independent businesses, they can be a little more lax about observing the law to the letter and may sell drugs over-the-counter, which may be either controlled substances or outright illegal.
On the downside, this also makes them riskier than the chain stores, as they may not adhere to dosing laws or ensure their stock isn't out-of-date.
Legitimate independent pharmacies have a certificate displayed behind the counter, so look for it when you walk in.
Recommended Pharmacies
As stated above, Thailand has no shortage of pharmacies, and you should be able to find one or two in your area to cover your basic needs.
However, if you're looking for something more specialized, need an English-speaking pharmacist, or want to save a little money, the next section lists some pharmacies that have good reputations online.
Bangkok
S.C. Pharmacy is a large and popular pharmacy, located in the business district of Silom. It has a huge range of medications available, as well as medical equipment such as wheelchairs.
Staff have decent English, and it's conveniently located opposite Chulalongkorn Memorial Hospital, or just a short walk from Lumpinee park.
Siam Pharmacy sits in the popular expat neighborhood of Sukhumvit. Clean, modern, and professional, it also stocks a good selection of medications at reasonable prices. It's located under Phloen Chit BTS station.
For more alternative medicines, try any of the pharmacists run by the Government Pharmaceutical Organisation (GPO). You can recognize GPO branches by their aquamarine-blue signs and the big GPO logos.
The most convenient branch for expats are inside Bangkok's Thai Immigration Government Complex. In addition to local medicines and herb capsules, GPO pharmacists also sell medications such as paracetamol at rock-bottom prices.
Chiang Mai
Dara Pharmacy on Kaeonawarat Road has an impressive selection of drugs for reasonable prices. You'll be able to find what you're looking for here. Also, staff speak decent English.
Dara Pharmacy is five minutes away from McCormick Hospital by foot.
For those staying in the popular backpacker hub surrounding Thapae Gate, there's also Peera Pharmacy, located less than two minutes from the gate itself. While not quite as well-stocked as Dara Pharmacy, Peera Pharmacy has a large selection of medicine for low prices.
Phuket
The appropriately-named Super Cheap, located on the outskirts of Phuket Town, is your best bet for getting good deals on medication while on the island-province. Super Cheap is on Wirat Hong Yok Road, next to the Naka Night Market.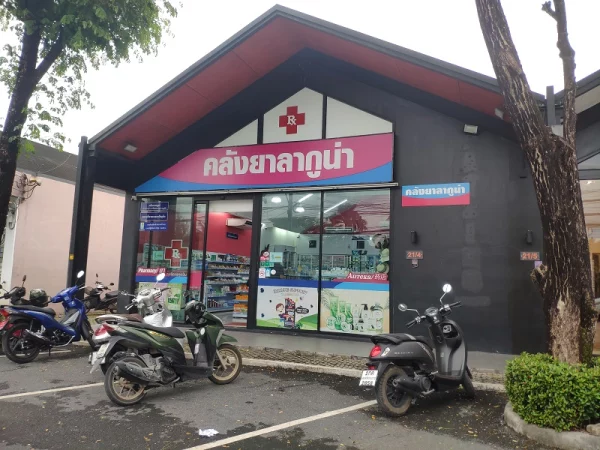 Also in Phuket Town is Fascino Phuket Pharmacy, which has a wide range of medications on offer if you need something a little obscure. Fascino is on Phoonpon Road. Just look for the big green sign reading "Fastcare Pharmacy."
Pattaya
Pattaya North's branch of Fascino is a medication supermarket. You can find whatever you need here. It's located on North Pattaya Road, a short walk from the Art in Paradise gallery.
Online Pharmacies
According to the Thai Drug Act (1967), selling prescription drugs over the internet is illegal in Thailand. As a result, online shops like Boots stock the most generic over-the-counter medications such as Tylenol.
However, as with many things in Thailand, enforcement of the law is somewhat lax and there are a few websites offering stronger medications online, albeit within a legal grey area.
Buying your medication online has a number of advantages. First, you don't have to go through the trouble of explaining the specific medication you need to a pharmacist who may or may not speak English. Just search for your desired medication on that site.
Second, you may be able to purchase medication which would otherwise require a prescription. Prices are more competitive online, too, and you can re-up on your meds all from the comfort of your home.
On the downside, there are plenty of issues with online drugstores. You don't have the assistance of a qualified pharmacist to direct you in case you're not sure what the most appropriate drug is for your condition.
Buying the wrong dosage of medication could lead to an overdose. You may also come across the usual problems with online retail, such as fraudulent websites. There's also the added risk of dangerous fake medications.
Remember, selling and buying medications online in Thailand isn't exactly legal, so be aware.
However, if after bearing all that in mind you still want to buy online, there are a few websites that are reliable.
Bangkok Drugstore stocks a decent range of inexpensive medications that can be delivered right to your door. However, you'll need to sign up for a membership before buying.
Some brick-and-mortar pharmacies such as Peera Pharmacy in Chiang Mai also maintain an online shop. Check if your local pharmacy does, too.
Courier Services
Having your medication delivered to you by courier is another popular option.
Some of the big hospitals such as Samitivej offer direct-to-home delivery for some medications (not including opiates, chemotherapy drugs, and a few other drugs that fall under more serious categories).
These services are open to patients registered to the hospital, so do that beforehand.
Many brick-and-mortar pharmacies also offer courier services via apps such as LINEMAN. Check with your local pharmacy if this is something they offer.
Now, on to You
Medication in Thailand is for the most part plentiful and cheap. You have plenty of options when it comes to your basic healthcare needs.
For more specialized or controlled medications, you may need to do a little rPharmacies in Thailand vary hugely, from small mom-and-pop operations selling various herbs and salvos to Western chains like Boots and top-of-the-line hospitals. esearch before heading out to buy them.
Remember, it's always a good idea to take a sample of any medication you're taking when you first meet with a doctor in Thailand. Though, you should always check that you can bring that medicine into the country in the first place.
Pharmacies in Thailand vary hugely, from small mom-and-pop operations selling various herbs and salvos to Western chains like Boots and top-of-the-line hospitals. 
You might also want to read: