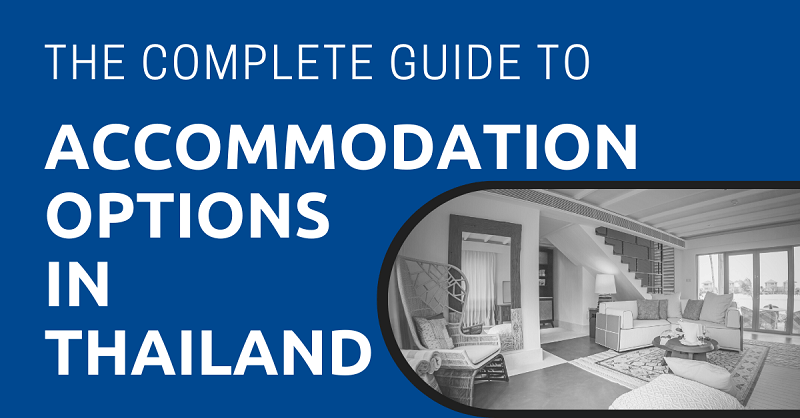 Whether you're relocating for work, retirement, or adventure, finding suitable accommodation in Thailand is an essential step in your new journey.
If you're a digital nomad, you might want to consider opting for short-term rentals like serviced apartments or guesthouses. These will let you explore different regions while enjoying the convenience they offer.
On the other hand, if you value spaciousness and privacy, you may find the idea of renting a cozy townhouse or house in the suburbs appealing.
This guide provides an overview of the different types of accommodations in Thailand so you can choose the best one for your needs.
Hotels
Thailand offers a wide range of hotels, from budget-friendly options to international hotel chains. Bangkok, Chiang Mai, and Phuket have a large selection of hotels to choose from, while smaller towns tend to have boutique options.
Prices for five-star hotels start at an average of THB4,000 per night and can go up to THB15,000 or more for top-tier establishments. These hotels often offer pools, spas, gyms, restaurants, and rooftop bars. Most are in downtown areas, but some are near rivers or beaches.
Three-star and boutique hotels cost between THB1,000 and THB2,000 per night. The price, however, varies depending on location, season, and amenities.
If you stay for more than two weeks in a hotel, consider booking directly with the property. This way, you can ask about long-term discounts or complimentary breakfast and laundry services.
Hostels
Although hostels are often associated with backpackers, they are affordable and flexible solutions. In fact, they are perfect for those transitioning between rentals or unsure about their long-term plans.
Hostels are in almost every major neighborhood in Bangkok and Chiang Mai. Hostels help you get to know the area before committing to something more long-term.
Hostels that provide basic amenities, communal kitchens, and laundry facilities start at THB400 per night for a shared dorm. Private rooms usually cost double that price.
Guesthouses
Guesthouses are usually small, family-run accommodations scattered throughout Thailand. Most guesthouses function more like two-star hotels but with fewer rooms. They cost a bit more than hostels. They start around THB500 to THB600 but offer privacy, services, and amenities like breakfast, bicycle rentals, and common areas. On the islands, guesthouses are generally bungalow-style accommodations.
Homestays
Homestays in Thailand allow guests to stay in or near a local family's home. They provide you with a unique opportunity to experience local culture and hospitality.
This type of accommodation is sparse but comfortable, and meals are typically included. Homestays are in various parts of Thailand but are more popular in the rural villages, which are closer to natural environments. The Thailand Tourism Authority's website 7 Greens promotes sustainable tourism and often lists homestays.
The cost of homestays in Thailand may vary depending on the location and level of comfort they provide. They range between THB500 and THB2,000 or more per night. Homestays that include meals and activities, such as cooking classes or tours, cost more. It's important to research different options and read reviews before booking.
Serviced Apartments
Serviced apartments are convenient options for both short- and long-term guests who don't want to buy or transport too many belongings.
They are fully furnished and typically well-equipped spaces that provide everything you need. This includes everything from kitchen appliances to washing machines to bed sheets.
They offer much more space than traditional hotels, giving you more flexibility and privacy. However, some serviced apartments might not have gyms, business centers, and restaurants.
Most serviced apartments in Thailand require a minimum one-week stay. Housekeeping, maintenance services, and utilities fees are usually included in the daily rate. Otherwise, management charges a standard monthly fee for long term guests.
There are many serviced apartments to choose from in Bangkok and Chiang Mai. They start around THB1,000 to THB1,500 per night. Longer term stays usually come with a much lower nightly rate.
Find Out More:
Apartments
Considering a long-term stay in Thailand? It may be better to look for an apartment instead of a serviced apartment, as it can be more cost-effective.
Apartments in Thailand are typically in low- to mid-rise buildings and are available for rental periods of six months or more.
Basic amenities such as stoves and refrigerators are provided. However, furniture and decorations tend to be more generic. Most mid-range apartments offer swimming pools, gyms, and laundry rooms.
Unlike serviced apartments, standard apartments don't offer housekeeping services. Moreover, you as the tenant pay the utility fees.
In Bangkok, a decent one-bedroom apartment with basic facilities costs THB10,000 to THB15,000 per month. Prices tend to increase if you opt for prime areas like Sukhumvit, Thonglor, and Sathorn.
However, if you consider cities other than Bangkok, you'll find more affordable options due to the lower cost of living. For instance, in Chiang Mai and Pattaya, you can find one-bedroom units for around THB6,000 per month.
Find Out More:
Condos
Condos are popular for young professionals, singles, and couples who commit to living in Thailand for at least a year or longer. They come in a range of sizes, from studio apartments to five-bedroom penthouses. But a majority of them are studios or one- or two-bedroom units.
Condos average between 22- and 50-square meters. However, they are often located in central areas near metro stations and offer modern designs and excellent amenities.
In Bangkok, rental prices for one- or two-bedroom condos range from THB20,000 to THB40,000 per month and usually require a one-year lease. Many new condos offer amenities such as library rooms, onsens, rooftop gardens, pools, and gyms.
In Chiang Mai, rental prices for condos start at around THB10,000 per month. Rental prices for mid- to high-end condos in Pattaya and Phuket are like those in Bangkok.
Some key condo developers in Thailand include Ananda, Noble Development, Pruksa, Park Origin, and Supalai.
Townhouses
Townhouses provide a great balance between spaciousness and urban living. They usually have two floors and three bedrooms. The average size is around 200-square meters. And they offer more living space than apartments or condos.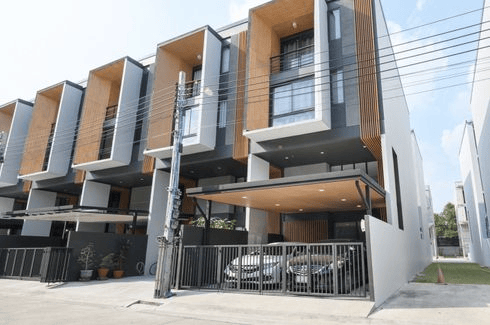 Modern townhouses are in the suburbs of Bangkok within gated communities known as a moo baan. Downtown Bangkok also has many townhouses, but they tend to be older in design and offer less privacy and security.
The starting rental price for older townhouses is around THB30,000, while modern townhouses can start at around THB50,000 per month.
Houses
In Thailand, there is a diverse selection of houses in terms of size and design. However, finding a rental in the city center can be challenging. Most housing developments are in gated communities at least 20 minutes away from the city center. These houses often come with garages and outdoor spaces.
The monthly rent for a furnished four-bedroom house in Bangkok and its suburbs can range from THB100,000 to THB200,000. But this depends on location and condition. Long-term rental agreements of a year or more are usually required.
There are also housing developments that cater to expats, such as Nichada Thani near Bangkok and Laguna Phuket. These tend to be pricier but are near supermarkets, restaurants, and international schools.
Houses in Pattaya or Hua Hin often cost 30 to 50 percent less than those in Bangkok. However, houses in Phuket or Koh Samui can sometimes be even more expensive than Bangkok. This, of course, depends on their proximity to the beach.
The process of renting a home is slightly different from other accommodations. To learn about these differences, we recommend reading our guide to renting a house in Thailand.
Villas
Villas are a unique and exclusive option for those who don't need to commute to an office every day. They provide a peaceful living environment with resort-like decor, generous living spaces, multiple bedrooms, private swimming pools, and landscaped gardens. Many come with furniture and are managemed to ensure prompt maintenance and support.
Popular villa locations include islands such as Phuket, Koh Samui, and Krabi, as well as cities like Pattaya, Hua Hin, and Khao Yai. Villas are available for both short- and long-term leases.
Due to their luxurious features and amenities, villas tend to be more expensive than houses. Rental prices range from THB4,000 to THB50,000 per night. Villas in Phuket are on the higher end of that range. Monthly rates to rent a villa in Phuket start around THB50,000 for a modest two- to three-bedroom villa.
Find Out More:
Buying Property
Purchasing a condo is the easiest and most straightforward way for expats to buy property in Thailand. Foreigners can own freehold condo units in their name as long as the foreign quota, which is 49 percent of the total units, hasn't been reached. The remaining 51 percent must be owned by Thai citizens according to the Condominium Act B.E. 1979.
However, foreigners are not allowed to own land, houses, townhouses, or villas in their name. There are ways around it, such as co-owning with a Thai citizen, buying leasehold property, or investing at least 40 million baht in Thailand. For any of these options, it's best to consult with a property lawyer.
Find Out More:
Finding Accommodations
There are many ways to find accommodations in Thailand. For short-term rentals, you can look both online and offline. For long-term stays, using a real estate agent may be more beneficial.
Online
To book a hotel, hostel, guesthouse, or serviced apartment, use Booking or Agoda. Note, however, that booking directly with luxury hotels via their websites will sometimes get you a better deal.
Airbnb is another alternative, but you'll need to rent the space for 30 days or more due to legal reasons in Thailand.
For long-term accommodations, check out online property marketplaces. These include DDProperty, DotProperty, HipFlat, and Living Insider. You can view prices, pictures, and contact details of real estate agents.
Lastly, you can join Facebook groups such as Buy/Sell/Rent Bangkok, Bangkok Apartment for Sell and Rent, or Bangkok expat pages. Members post listings and you can ask for recommendations.
Offline
You can use a few offline methods to find property. Below are some of them.
Look for billboards and advertisements in newspapers and magazines. They often promote condo projects and housing developments.
Visit travel fairs or property exhibitions that showcase a variety of accommodation options.
Walk or drive around the neighborhood you're interested in. Talk to the property manager or staff about your rental needs.
Ask friends or colleagues for recommendations.
Real Estate Agents
Yuo should work with a real estate agent if you plan to rent long-term or buy property in Thailand. They can assist with language translation and handle all the necessary paperwork. They can also help you find suitable options based on your needs.
In Bangkok, using a real estate agent typically doesn't cost you anything. They usually receive a commission of 3 to 5 percent per sale from the property owner. You can find real estate agents through online property marketplaces or by visiting property management companies.
If you need help finding a real estate agent in Thailand, we can connect you with one. Simply fill out this form to get started.
Learn More:
Essential Guides on Accommodation in Thailand
Latest Guides on Accommodation in Thailand