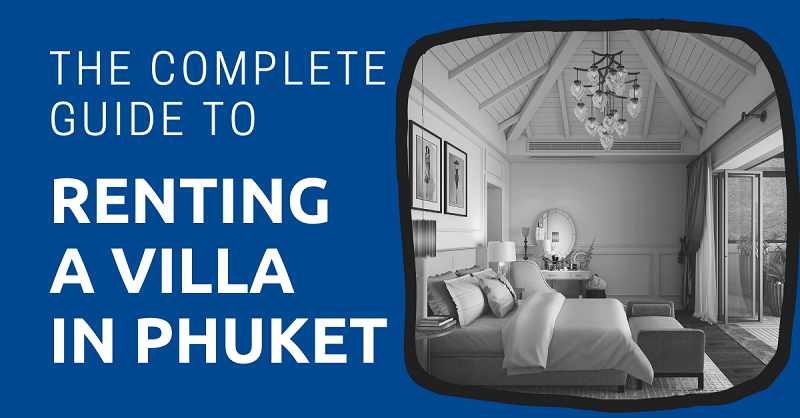 Phuket is beautiful and exhilarating. An island bestowed with emerald blue waters, white sand, and green mountain views. There is so much to explore. Topped off with delicious food and vibrant nightlife, Phuket is a wonderful place to be.
When you're not out enjoying the wonders of Phuket, having the right accommodations for rest and relaxation can significantly add more enjoyment and wonder to your stay. If comfort and luxury are priorities for you, then a villa is what you may be looking for.
Whether you are traveling alone, with friends, or with your family, there are many villas and various options that I'm sure will meet your needs and sure to delight you.
The goal is to meet your desires and expectations and ensure a wonderful stay while in Phuket. This article will arm you with the information and knowledge you need to help make your beautiful Phuket villa dream a reality.
"*" indicates required fields
Facilities
A villa is the one of most luxurious types of accommodation options available for rent in Phuket.
It is fully equipped with furniture, amenities, and facilities to make your stay as luxuriously comfortable as possible.
Bedrooms
Villas typically range from one to five bedrooms, or even as many as ten or more.
Whether you are traveling solo, with family, or with a group of friends, you should have no problem finding a villa with enough bedrooms to accommodate everyone.
Bathrooms
In a high-end villa, you can expect the bathrooms to be quite the luxurious experience, as most offer a rainfall shower and a full-size bathtub that can feel like a relaxing day at the spa.
Typically, in villas, there are as many bathrooms as the bedrooms; this will provide every person or couple with their own bedroom facilities and shower.
This will be very helpful in the morning when getting ready for the day and ensure everyone will be prepared on time for their scheduled activities.
Fully Furnished
When it comes to creature comforts and furniture, you can expect every villa to come fully furnished.
Villas offer everything, from a full dining room table, comfortable seating arrangements, a relaxing couch, a T.V., and even a workspace to check your emails and tend to any business you may have during your stay.
In my experience, a typical villa comes with all the furniture you would need to keep you, your family, and guests in comfort. Some villas even come with entertainment, such as a ping pong table and board games.
Full Kitchen
Usually, when visiting Thailand, people indulge in delicious street food and fine dining. However, if you are an avid cook and would like to prepare your own food, you will be happy to know that a full-size kitchen is usually standard in a villa.
If you enjoy preparing your own cuisine, you should find all the utensils and cookware needed to indulge your culinary skills.
You can expect a micro-oven, a full-size stovetop with a broiler, and a full-size refrigerator to accommodate all your cooking needs.
Some villas even include BBQ grills that can make a memorable lunch or dinner experience for your friends and family.
Appliances
In higher-end villas, you can expect appliances such as a dishwasher and laundry machine. These types of appliances are not common in every Thai household, so for those who come from Western countries, it's nice to have the conveniences you are accustomed to during your stay in a villa in Phuket.
Swimming Pool/Hot Tub
A villa simply wouldn't be a villa without a swimming pool. The word villa embodies the essence of luxury, and in a hot country such as Thailand, a swimming pool is simply a staple of luxury.
Some villas even have hot tubs. Although it may not be as enticing as a cool dip in the pool on a hot day, a hot tub may be a luxurious and soothing experience in the evening if it suits your taste.
Where to Find Villas in Phuket?
You can find villas throughout Phuket. But a few personal recommendations are Rawai, Karon, Kata, Patong, and Kamala. Each location offers something uniquely different.
Rawai is an up-and-coming location on the southeast coast of the Island; you will find many long-term expats and friendly locals, along with delicious food and an array of small bars to beckon you.
Kata, Karon, and Patong are located on the southwest coast of the Island. These areas are well-known tourist hot spots. You will have access to long stretches of beach, a vast selection of street food and fine dining, and a notorious nightlife known for its nightclubs and bar scene.
Kamala is located further north of Patong. If you prefer a calmer experience away from the hustle and bustle of the tourist hot spots, Kamala can be a satisfying choice.
You will find a mix of nature and beauty as Kamala spans from the beach to the mountains, giving you an assortment of natural vistas and areas to enjoy.
Types of Villas in Phuket
Villas are typically classified by their location. Depending on what surroundings draw you, there are villas found all over the Island of Phuket.
Whether you wish to be close to the beach or you are drawn to nature and views of the mountains, you are sure to find a villa in the location that fulfills your desire.
Beach Villas
As the name suggests, Beach Villas are either right on the beach or close to the beach.
This can be a very alluring experience for all you beach lovers. Phuket is renowned for its beautiful beaches, each special and lovely. I suggest you visit a few beaches before deciding on your villa location.
Here are some examples of popular beach villas in Phuket:
Mountain Villas
While Phuket is famous for its beautiful beaches, there are also green mountains and lush natural surroundings.
If you prefer being surrounded by nature, all the while having a luxurious and comfortable experience, a Mountain Villa may be perfect for you.
These villas are usually found in quiet areas that offer amazing views and the tranquility and beauty of the natural landscape in Phuket.
Popular destinations for mountain villas span across the Island. From the west coast of Kamala to the Thalang district located in the north of Phuket, you will find beautiful mountain villas that offer spectacular views and the tranquility of nature.
Here are some examples of popular beach villas in Phuket:
Pool Villas
As I mentioned above, a pool is a luxury staple when it comes to villas. However, some villas emphasize the luxury of having your very own pool oasis.
With a Pool Villa, you can expect an opulent experience such as an infinity pool and a hot tub with ambient décor that will provide a memorable swim or soaking experience.
If crowded beaches aren't your thing, a private Pool Villa can be an excellent way to cool down and relax in tranquility with your own little piece of paradise.
Here are some examples of popular pool villas in Phuket:
Luxury Villas
By definition, all villas are, well, luxurious. However, some villas are more extravagant than others. Some luxury villas offer upscale extras such as cleaning services, a butler, and even a personal chef.
If your budget allows it, there are options to meet the finest of tastes. A luxury villa will not disappoint; you can expect a resplendent lifestyle when staying in a Phuket Luxury Villa.
Here are some examples of popular luxury villas in Phuket:
Costs and Duration of Stay
The rental cost of villas varies depending on location, size, amenities, and time of the year. To give precise price information would be challenging, as the price will vary according to these factors. For example, when booking popular villas on the weekend, you can expect to pay a higher price.
I will share the information with you based on my recent personal experience and research.
Cost Per Night
A villa can typically cost anywhere from 2,000 to 10,000 Baht (around US$56 to US$282)per night. This will vary from location, size, services, and level of luxury.
Weekly
When staying for one week or longer, most villas offer a 15% discount.
Monthly
Typically, you can expect anywhere from 25% to 35% discounts for monthly rentals; however, this can most likely be negotiated.
Note that, unlike weekly rentals, monthly rentals may not include utilities which will be an added expense.
Long-Term
Usually, villas are an indulgence that is only experienced for a relatively short stay. Due to their high price, villa proprietors don't often expect long-term renters.
However, if your budget allows it, I do not doubt that you will find villa owners willing to accommodate a long-term rental.
Like most long-term rental agreements, you will be prompted to sign a rental contract.
You will also be expected to pay a deposit and be responsible for any damage that may occur while you are living on the property.
Finding Villas for Rent
There is no shortage of resources to find a suitable villa for you. From property websites like Airbnb to Facebook listings, there is an array of options to help you find your perfect villa at the right price.
Property Websites
There is a selection of property websites such as Agoda, Booking.com, Travelocity, and TripAdvisor, to name a few.
They all typically offer the same services and listings; however, the prices can vary.
My personal favorite is Booking.com since the price you find on the listing is the final price. And the website usually offers a good deal all throughout the year.
Airbnb
Airbnb can be an excellent resource for finding a villa that suits your needs. The benefit of the Airbnb platform is its easy-to-use interface and search filters that will help you find exactly what you are looking for.
The downside of Airbnb is that you may find the pricing to be on the higher side due to overhead expenses the owner may incur when posting their listing on the platform.
Facebook Listings
In my experience, Facebook offers some of the best deals and value. In most cases, you can find Facebook listings posted directly by the villa owner.
This will allow you to communicate directly with the proprietor and negotiate a good deal by cutting out the middleman.
The downside of using Facebook is that it can be a bit tedious when searching through a cluster of posts. Information may be vague and not as clear as what is given on platforms such as Airbnb.
However, don't hesitate to message the poster on Facebook with any questions you may have. Above all, don't get discouraged; stay on top of it, and you'll have a great opportunity to find the best deals available.
Real Estate Agents
Although it may not be as common when renting villas, if you plan on renting long-term you may want to consult with a real estate agent.
The benefit of a real estate agent is having their expertise at your disposal, they can help advise and answer any questions you may have that can save you a lot of research time.
In most cases, real estate agents will give you a comprehensive tour of the property and will be happy to answer any questions or concerns which saves you a lot of time.
Most of the time, you won't need to pay anything since a real estate agent gets a commission from the property owner. Nonetheless, a qualified real estate agent can help guide you to the perfect villa that will meet all your expectations.
Phuket Property is a good real estate agent especially for renting or buying a mid to luxury property in Phuket. You can use this form to contact them directly.
High and Low Seasons
Whether you are already in Thailand or plan to visit Thailand, you are likely aware of the country's two seasons.
Phuket's high season starts at the end of October and ends at the beginning of May. This is when the weather is most favorable, and the tourist industry is at its peak. You can expect prices of villas to be higher at this time of the year.
During the low or monsoon season, which is the remaining months of the year, you can expect a lot of rain. However, in my experience, you can still enjoy moments of clear skies and still make the best of Phuket during this time.
The benefit of low season in Phuket is more affordable pricing and fewer crowds. Whether you are relaxing in your discounted villa or enjoying the extreme water sports that the stronger ocean waves offer during the monsoon season, Phuket can still be an enjoyable experience for those who want a more affordable option.
But it would be hard to say exactly what type of discounts you can expect.
Discounts can vary depending on which time of the year during the low season you plan on arriving.
For example, you can expect less frequent rain during the month of February, however, you can expect heavy rainfall during the month of October. Ultimately, the weather will be a factor in the rate of discounts offered.
Other factors in pricing are, the popularity of the location, and the duration you plan on staying. Low season rates can be discounted anywhere from 30% to as high as 70% from their usual high season rates.
If you plan on taking advantage of low season rates, I advise you to do your research and don't leave your booking for the last minute. Plan diligently and I am confident you will find the best deals available.
Now, on to You
For those who enjoy the finer things in life, a villa will provide you with an experience that will not be soon forgotten. If your budget allows it, the sky's the limit when it comes to indulging in luxury and abundance.
There are also affordable options for those who enjoy more simple comforts in life. These villas may not be the envy of everyone's dreams; however, I am sure they will provide the comfort and tranquility you deserve.
Regardless of your budget, expectations, desired location, and size, there is indeed a villa for everyone. I hope this article armed you with the information needed to make your villa dreams in Phuket become a reality.