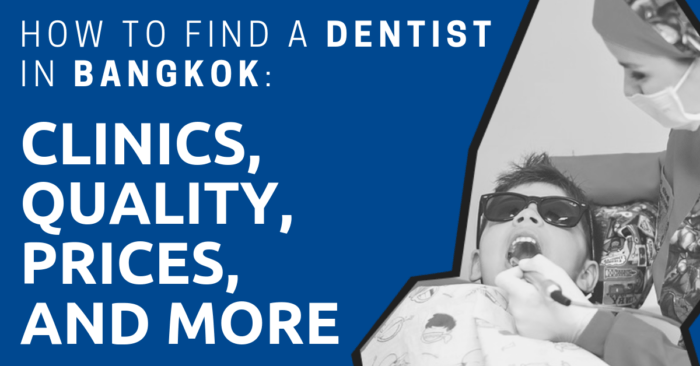 Last week you noticed your teeth were a little more sensitive than usual.
A few days later that sensitivity grew into an underlying ache.
Today, the ache turned into a throbbing pain and you couldn't eat.
Now you know it's time to see a dentist.
But you're probably wondering: Are dentists in Bangkok safe? How much do they cost? Where should I go?
This guide shows how to pick the right dentist in Bangkok, where to go for general and complex treatment, and how much it costs.
"*" indicates required fields
Why Bangkok?
Bangkok is a popular destination to get your teeth treated.
Dentists in Bangkok work in clean clinics with safe, modern equipment and offer rates lower than what you pay in other countries.
For example, you pay $30 for a tooth filling in Bangkok at brand-name dental clinics. To get your tooth filled in America, on the other hand, you pay $150.
And the average cost of a root canal in Bangkok is roughly $300. The same procedure costs you $1,000 in America or $1,500 in Australia.
Some doctors and nurses in Europe, America, and Australia even make it a point to get their dental treatment done while they vacation in Thailand.
So if you need to see a dentist in Bangkok, you're in good hands.
Types of Dentists
Dentists in Bangkok are internationally qualified. After graduating, many of them study in countries like America, Germany, England, and Australia.
And most of them speak good English.
You have two choices for dentists in Bangkok: general dentists and specialists.
General Dentists
General dentists study for four years in dental school. After that, they spend another two years training in a hospital to get their dental license.
General dentists can treat your teeth for:
cleanings
fillings
removals
checkups
General dentists can also take care of complex procedures like braces, crowns, root canals, and so on.
But if you want to play it safe it's better to see a dentist who specializes in these procedures.
You can a general dentist's license by visiting the Dental Council of Thailand's website. Enter their first and last names and you get their credentials.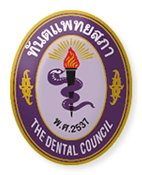 But the website is only available in Thai.
Many dental clinics also show their dentist licenses right in front of the waiting room.
Specialists
General dentists who spend another one-to-three years studying a specific dental field at accredited dental schools become specialists.
In addition to their extra years of study, specialists deal with complex procedures more than general dentists.
For example, an endodontist deals with over 20 root canal cases a week. But a general dentist might deal with two of those cases in the same week.
Here's a list of specialists you can find in Bangkok with their respective specialties:
aesthetic dentists (crowns, whitening, veneers)
endodontists (root canal)
implantologists (teeth implants)
oral surgeons (oral surgery)
orthodontists (braces, retainers)
periodontists (periodontal disease and oral inflammation)
prosthodontists (replacing teeth)
It can be simply said that you can find all types of dentist specialists in Thailand.
Dental Treatment
Being a capital city of Thailand, you can get all kinds of dental treatment in Bangkok, from tooth extractions to dental implants.
You can get normal treatments like tooth extractions or fillings at any clinic. For more complicated procedures, it's best to visit a proper clinic or a dental hospital.
Below is a sample of dental treatments you can find in Bangkok.
Tooth Extraction, Tooth Filling, and Tooth Cleaning
You can get tooth extractions at any dental clinic in Bangkok. It's a simple procedure. If it's a local clinic, you can just walk-in and ask them for an extraction without having to make an appointment.
For a simple tooth extraction, a dentist might not even need to x-ray your teeth before doing the procedure.
Veneer
The most common material for an indirect veneer in Bangkok is composite resin. You should be able to do it at any dentist in Bangkok. The whole procedure should take less than 30 minutes.
Direct veneers are mainly available at modern dental clinics and hospitals. You can do both porcelain veneers and ceramic veneers there.
You need to visit a dental clinic at least twice for an indirect veneer.
On the first visit, the dentist will clean your teeth and make initial preparations for your veneer.
If the clinic is modern, the preparation process can be done digitally, which will cause less pain.
Then, the dentist will apply the veneer on your second visit.
It may come with a two-year guarantee. If the veneer breaks within this period, you can get it fixed for free, within reason.
Normally, a veneer should last many years, up to ten years or longer.
Dental Implant
Have a missing tooth? You can get dental implants in Thailand, whether it's a single tooth, molars, or even an entire mouth.
ITI Straumann is a popular dental implant system in Thailand. It is also the world-leading dental implant company, and its implant systems have been widely used throughout the world, including in the USA, the UK, and Australia.
Unfortunately, Nobel Biocare, a world-leading implant system, is not available in Bangkok or any other part of Thailand as they no longer have a distributor in the country.
When doing a dental implant in Bangkok, you can choose an immediate implant, allowing you to implant a new tooth in a single day, or a full implant, which takes at least 2 dental visits over 6 months.
Dental implants are a long and complicated process. If you decide to do it, it's better to go to a good dental clinic. They have modern equipment and implantologists on board.
Find out more: The Complete Guide to Getting Dental Implants in Thailand
Braces
You can make five types of braces in Bangkok, including metal, ceramic, damon, lingual, and Invisalign.
A local clinic might only provide metal and ceramic braces. If you are interested in other types of braces, such as Invisalign, you will probably need to visit a bigger clinic.
More information about these treatments and options can be read in our guide to braces in Bangkok.
Crown
You can do both full and partial crowns at any dental clinic in Bangkok. The most popular materials for crowning are gold, porcelain-fused-to-metal (PFM), porcelain, and ceramic.
To get dental crown treatment, you need to visit the dentist twice. The first time is for evaluating, cleaning, and preparing your crowns. During this visit, you will be given a temporary crown.
The second visit is to put the permanent crown in.
Teeth Whitening
Teeth whitening treatments are the most popular cosmetic dentistry treatment in Bangkok. It can improve the appearance of one's smile by removing or reducing discoloration, stains, or yellowing of the teeth.
This procedure is usually performed by a dentist, but home-bleaching kits are also available at dental clinics.
Popular teeth whitening options and systems in Bangkok include laser teeth whitening, Philips Zoom WhiteSpeed, and POLA tooth whitening.
The overall treatment takes less than an hour and costs between THB7,000 and THB12,000 in Bangkok. Home-bleaching kits are around THB3,000 per kit, depending on the brand.
Cosmetic Dentistry
Want to fix broken teeth? Reshape a front tooth? Straighten your teeth? Whiten them? Or increase your confidence in your smile?
Dental clinics in Bangkok provide a full range of cosmetic dentistry.
Many clinics, especially bigger, more popular ones, are very well-equipped and have cosmetic dentists on board. They can help you with any issues you have preventing you from smiling brightly.
Learn more: Cosmetic Dentistry in Thailand: Overview, Types of Treatments, & Costs
Sedation
Sedation dental treatments are procedures in which a patient is given medication to help them relax and manage anxiety. The goal is to help the patient feel comfortable and calm, allowing the dentist to complete the necessary work.
It's commonly used for root canals, dental implants, and tooth extraction treatments, but can be requested if the patient has dental phobia or severe gag reflexes.
There are different types and levels of sedation, including oral sedation, inhaled sedation, IV sedation, and general anesthesia. The most common ones found in Bangkok are oral sedation, where you take a pill about an hour before your treatment, and inhaled sedation, where you breathe in nitrous oxide known as 'laughing gas'.
Prices start around THB2,000 for mild oral and inhaled sedations. Only big dental clinics can provide sedation dentistry. One of them is BIDH.
Dentist Reviews
In Bangkok, there are a variety of dentists and clinics available to meet the needs of patients. Some of the most common types include:
brand name clinics
privately owned clinics
dental schools
dental hospitals
Dental clinics in Bangkok offer competitive pricing and some even offer package deals for multiple treatments.
For general treatment such as teeth cleaning and filling, you can visit any dentist clinic you find on the street.
When it comes to more complicated treatments, such as root canals, braces, teeth whitening, or dental implants, you should consider other factors such as the dentists' qualifications and experience, the clinic's reputation, and types of services and treatments offered.
Brand Name Clinics
These clinics are affiliated with well-known international brands and often have a reputation for quality and expertise. They may also offer specialized services and have a higher price point compared to other types of clinics.
These clinics are popular among expats and those who want to make sure that they get the best treatment possible.
Bangkok International Dental Center (BIDC)
BIDC is one of Thailand's largest and most popular dental clinics.
Its headquarters is a seven-story building near the Thailand Cultural Center in Ratchada. It's the biggest dental clinic we've seen in Thailand.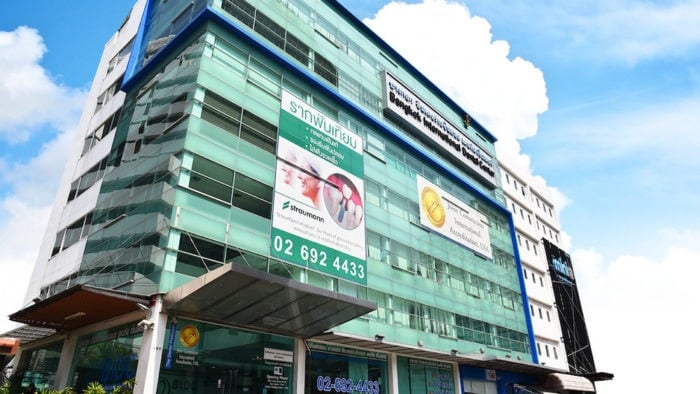 At BIDC you can get any type of dental service, from teeth cleaning and whitening, braces, and dental implants with quality service that's on par with international standards.
The majority of dentists at BIDC have trained overseas and received dental certifications from the U.S., Australia, or Europe. Reception staff and dentists are all able to communicate in English.
There are over 20 treatment rooms available and modern dental facilities. This means you won't have to wait long to get your treatment.
It's accredited by organizations such as the Joint Commission International (JCI) and the International Team for Implantology.
If you plan to visit BIDC for dental tourism, its Ratchada branch has a 30-room hotel within the dental center. There are also restaurants, cafes, and banks on the first floor of BIDC.
Below are some of the most popular dental treatments in Thailand. These are only estimated costs in Thai Baht. Prices vary depending on the complexity of the case and dental material.

Implants

Crowns

Root Canal
Wisdom
Tooth Extraction

Invisalign
Braces

Teeth Whitening
Cost in THB

35K – 65K

12K – 20K

10K – 16K

2K – 4K

79K – 160K

7K – 9K
Whether you're an expat or a visitor, BIDC can help arrange transportation and travel needs as well as timeframe and cost estimates.
BIDC is easily accessible by MRT and has on-site parking. For added convenience, BIDC also has clinics in Siam Paragon and Emquartier shopping malls.
You can book an online appointment with them through this form and get a free dental checkup.
Learn more: BIDC Review: Why It is My Go-To Dental Clinic in Bangkok
Bangkok International Dental Hospital (BIDH)
Bangkok International Dental Hospital (BIDH) is a JCI-accredited medical facility and the first licensed dental hospital in Thailand.
It has also been awarded the Best Cosmetic Dental Center in Thailand and Best Dental Hospital of the Year in Asia Pacific at the Global Health and Travel Awards.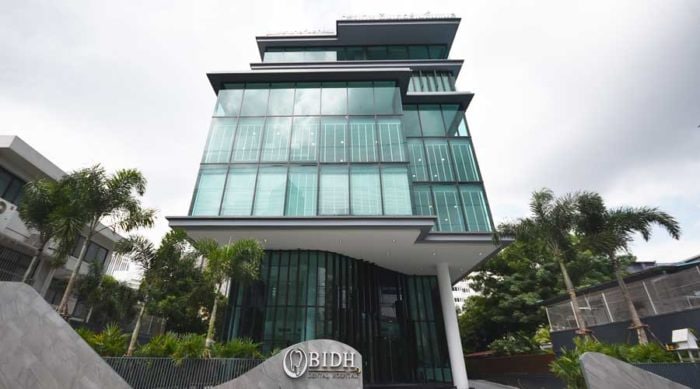 While BIDH can be more expensive than other general dental clinics, the majority of its dental specialists graduated abroad and are professors and lecturers at leading dental schools in Thailand.
What makes BIDH stand out from other clinics is its sedation dentistry, which can significantly decrease your pain and anxiety while getting dental treatment.
BIDH is also one of the few dental clinics in Thailand with an on-site dental laboratory. This means that they can make custom abutments for dental implants and produce exact shade choices for veneers and crowns right away.
This can cut treatment time by days compared to other clinics that have to send this work to third-party dental labs.
BIDH also has the most up-to-date and advanced dental technologies, such as Digital Smile Design (DSD) technology, which is used in cosmetic dental treatments like veneers to simulate treatment results and improve accuracy and patient satisfaction.
BIDH is a great choice for all your dental needs with a focus on dental implants, porcelain veneers, and orthodontic care.
Since these treatments are more invasive, it offers dental sedation via oral medication or nitrous oxide to ease dental pain and anxiety.

Implants
(w/ Crown)

Crowns

Root Canal

Veneers
Wisdom
Tooth Extraction

Invisalign
Braces
Cost in THB

60K – 90K

12K – 20K

12K – 15K

7K – 18K

1K – 12K

80K – 185K
Learn more: Bangkok International Dental Hospital Review: Why You Should Visit
Smile Signature Dental Clinic
Smile Signature is the leading dental clinic chain in Bangkok. It has eight locations, most of which are in shopping malls and community centers.
Its clinics may not be as big as some of the other brand name clinics on this list, but Smile Signature is known for being more affordable while still providing good care and service to its patients.
More than half of its clinics are conveniently located within a few minutes' walk from an MRT or BTS station and they are open seven days a week.
Some of its more popular locations are near Siam Square, Ratchada, Phahon Yothin, and Onnut.
Most of the staff and dentists are able to speak English, but we do recommend going to the Ratchada, Onnut, or Siam Square location because there are usually more expat clients there than at other locations.
You can always call or email to request an English-speaking dentist ahead of time.
Smile Signature offers a complete range of dental treatments and services handled by qualified and internationally trained dentists. As a smaller clinic, it will usually have three to four staffed dentists in its clinics.
Smile Signature is one of Thailand's top smile makeover dental centers, specializing in cosmetic dentistry such as teeth whitening, veneers, dental crowns, and composite fillings.
Smile Signature Dental Clinic has won the Global Patients Choice Award (GPC) two years in a row for its outstanding level of customer satisfaction.
You will find more affordable prices here compared to other private clinics.

Implants
(w/ Crown)

Crowns

Root Canal

Veneers

Teeth Whitening

Invisalign
Braces
Cost in THB

45K – 79K

10K – 17K

8K – 12K

5K – 13K

4K – 9K

80K – 160K
Bangkok Smile Dental Clinic
Bangkok Smile is part of the Dr. Paulo Malo Global Network, an international network of dental clinics that specializes in the Malo Dental care techniques such as the All-on-4, NobelSpeedy Implant, and the Extra-Maxilla surgery.
Bangkok Smile currently has four dental clinics in downtown Bangkok. All locations are near shopping malls, hotels, and BTS stations. However, its flagship location on Sukhumvit 5 is the only one able to perform MALO dental techniques such as one-day implants.
It also has its own in-house dental laboratory to produce custom crowns, dentures, night guards, and more. Because of this, its crowns and implant devices are priced slightly less than competitors.
Similarly, you can find a complete range of dental services here, including treatment for halitosis or chronic bad breath at its Therabreath clinic.
As a partner of the Dr. Paulo Malo global dental network, Bangkok Smile dental implant patients can purchase an International Patient Guarantee (IPGP) plan that covers all minor treatment, x-rays, and examination fees at any other Malo Dental Network partner clinic in the world.

Implants

Crowns

Root Canal

Veneers

Teeth Whitening

MALO
All-on-4
Cost in THB

65K – 85K

9K – 18K

6K – 14K

5K – 13K

7K – 9K

270K+
Thantakit International Dental Center
Thantakit Dental Center has been around since 1945, making it one of the oldest dental clinics in Thailand. It is a leading dental tourism facility known for serving international patients from the U.S., U.K., and Australia. Many reviews say that Thantakit is very thorough and reliable when it comes to planning your dental treatment course.
There are currently three locations in central Bangkok. Thanakit's main clinic is in Huai Kwang.
If you need restorative dentistry services, such as dental implants, veneers, and root canal treatments, you should visit this location. It operates a smaller clinic in the All Seasons Place commercial plaza for quick consultations and general dentistry services.
Thantakit is one of the few clinics with dentists skilled in the treatment of anti-snoring and temporomandibular joint dysfunction (TMD), a misalignment of the jaw. The current owner of Thantakit is also the head implantologist and handles many of the dental implant cases himself.
Dental fees at Thantakit are higher than most other clinics in Bangkok.

Implants
(w/ Crown)

Crowns

Root Canal
Wisdom
Tooth Extraction

Invisalign
Braces

Teeth Whitening
Cost in THB

65K – 85K

15K – 25K

10K – 16K

4K – 15K

79K – 250K

10K
Tooth Therapy Dental Clinic
Tooth Therapy, established in 2001, is another expat-favorite dental facility in the Yen Akat area. The company's name represents its holistic approach when providing dental care.
It doesn't use amalgam (mercury and metal fillings), and its x-rays and dental CT scan equipment are safe for pregnant women and children.
Tooth Therapy can remove and replace any metal restorations and mercury fillings. Its dentists work with doctors to provide mercury toxicity diagnosis, treatment, and rehabilitation according to the guidelines set by the International Academy of Oral Medicine and Toxicology (IAOMT).
It also offers a full range of dental treatments and services, including emergency treatments, done by experienced and internationally certified dentists.
Tooth Therapy fees are the same for both local and international visitors. We recommend contacting the clinic via email with pictures or details of your dental concern to get an accurate quote.

Implants
(w/ Crown)

Crowns

Root Canal
Wisdom
Tooth Extraction

Invisalign
Braces

Teeth Whitening
Cost in THB

70K – 105K

5K – 15K

9K – 16K

7K – 9K

100K – 210K

10K
Privately-Owned Dental Clinics
You can find privately-owned dental clinics on the streets and inside malls of Bangkok. They are usually owned by one dentist but could have a few dentists working there.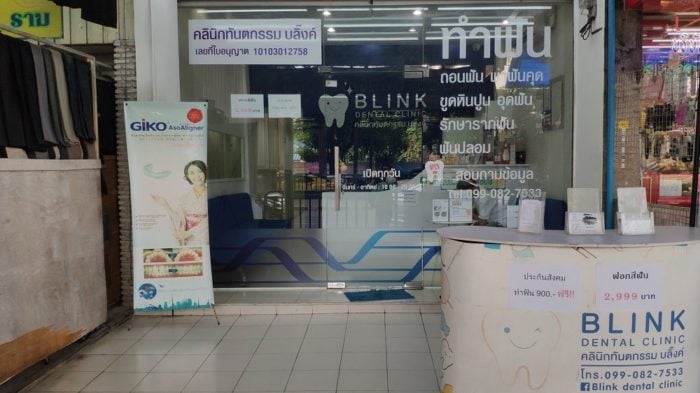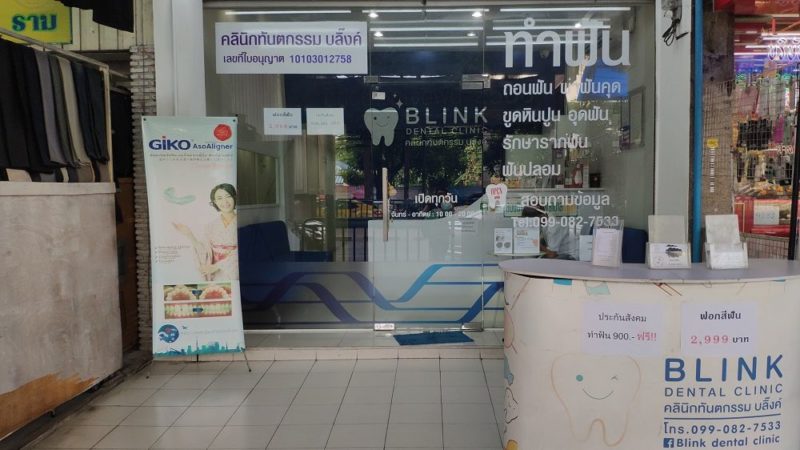 Dentists at privately-owned clinics can handle general procedures and might be able to do complex procedures depending on the dentist and the equipment.
If you choose a privately-owned clinic, be sure to check customer feedback.
Facilities and quality at privately-owned clinics vary. You might find private clinics with basic equipment or similar facilities to brand-name clinics.
As for prices, you might get a quote of 5,000 baht for wisdom tooth removal from one clinic and a quote of 2,000 baht from another.
Dental Schools
Getting dental treatments done at dental schools can be a great cost-saving option because rates are typically 50 percent lower than private or brand name clinics.
Most dental cases are handled by student dentists under the supervision of experienced dentists and instructors.
However, this can result in longer treatment times compared to work done by qualified dentists.
Dental school treatments are provided in Thailand for both locals and expats. However, making an appointment is tough because you must either visit the dentistry school in person or call.
Although the receptionists can speak some English, it's recommended to have a translator or a Thai-speaking friend book on your behalf if you can't speak Thai.
Chulalongkorn University (Chula)
Chulalongkorn Dental School is a leading dental institution in Thailand located in downtown Bangkok. It has a student dental clinic and a special dental clinic.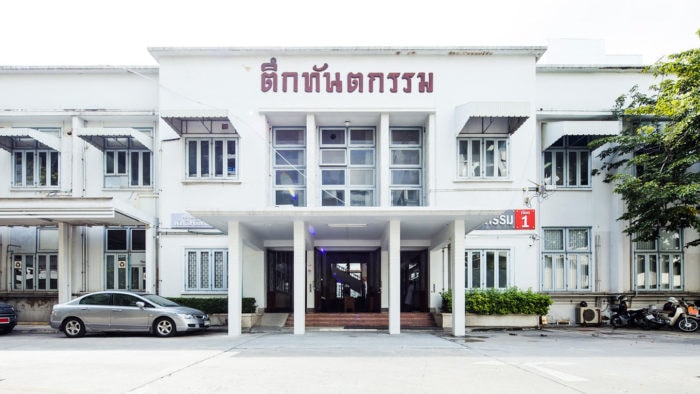 The student clinic provides dental services done by student dentists under the supervision of an instructor. Costs are low, but not all treatment options are available. It operates Monday to Friday from 9 AM to 4 PM.
Chula Special Dental Clinic
The special dental clinic in Chula is a full-service clinic. They can do dental implants, crowns, and orthodontic work.
Note: One of our writers recently visited the Chula Special Dental Clinic in person but cannot recommend the experience.
They do not take an initial appointment via their line or phone, you must go in person first. You must arrive at 8am or earlier, as queues are long. First, you go to the main building to register, fill out paperwork, and receive your patient card, then you go to the clinic itself and line up outside after writing your name on a ticket and putting it on the metal spike to mark your place in line.
Be prepared to wait up to three hours to see a dentist, especially if you need x-rays, which involves going to a different building to queue in another line.
Our writer had assumed the inconvenience, lack of English-speaking staff, and less-than-glamorous environment would be worth it in the cost savings. Unfortunately, after the consultation, the quote was 25,000 to 30,000 THB for a root canal and crown.
This price is the same or even more expensive than at fancy private clinics. The wait time for the root canal was also 1 month, whereas private clinics can often do this procedure that same week or sometimes even on the day of your first inquiry.
The costs are significantly more than the student clinics and on par with private clinics. You can see their price list here.
It's open seven days a week.
Mahidol University (MU)
Mahidol Dental Hospital is another well-known dental school in Thailand with two locations – Phayathai and Salaya. Similar to Chula Dental, it has a student clinic and special clinic.
The Phayathai location includes nine floors of dental services that offer a variety of dental treatments comparable to those found at BIDC, except cosmetic dentistry.
You can get more details about their facility, services, and contact information on its website.
Srinakharinwirot University (SWU)
SWU is one of the top public dental schools in Thailand. It offers dental services treated by undergraduates, graduate students, and dental professionals at different price ranges.
A standard root canal at SWU would cost roughly THB1,000 for an undergraduate, THB4,000 for a graduate student, and THB8,000 for a specialist.
Its treatment options are not as extensive as those of Chula or Mahidol, but SWU does offer dental implants, tooth extractions, and general dental care.
SWU is conveniently located near MRT Petchaburi.
Hospitals
You can also see a dentist at government and private hospitals in Bangkok. Facilities, qualities, and prices depend on each hospital.
If you go to a government hospital prepare to wait a long time to see the dentist. We know someone who waited two years to get his jaw fixed.
Going to a private hospital for dental work isn't the most popular method either, since private hospitals charge for nurses' and hospital fees.
In Bangkok, you should go to the hospital if you get sick or injured or to get a health checkup, but not for dental work.
Now that you know your options when it comes to dentists and clinics, let's move on to finding a dentist that can help you.
Price
The cost of seeing a dentist in Bangkok depends on:
which clinic you go to
how complex your case is
One clinic might charge you 1,200 baht to extract your tooth, while the other might charge you 2,000 baht.
But on top of that, either clinic may charge someone else 800 baht for a tooth extraction.
Confused yet? Don't be.
To simplify, the price you pay depends on how much work you need.
You can find the estimated costs of dental work for various dental clinics in the table below. Prices are in Thai baht per tooth.
Getting Dental Coverage
You can get coverage for dental work through either Thailand's Social Security system or insurance.
Let's take a look at both options and how they could cut the cost of your dental work.
Social Security
If you work legally in Thailand, you're entitled to Social Security benefits. You get dental coverage with these annual limits per treatment:
900 baht for tooth removal, filling, and cleaning combined
1,500 baht for prosthodontic treatment of a few teeth
4,400 baht for prosthodontic treatment of all teeth
Although the coverage doesn't amount to much, consider it a freebie from the Social Security taxes you pay every month.
Social Security set up direct billing with thousands of dental clinics in Thailand.
If you get dental work done at these clinics, you don't need to pay anything up front as long as the price is under the coverage limit that we mention above.
There is no official list of these clinics anywhere. But you will know it after you visit the clinic.
Clinics with the direct billing system set up have Social Security stickers and logos followed by the Thai memo:
"สถานพยาบาลแห่งนี้ให้บริการผู้ประกันตนกรณีทันตกรรม ทำฟัน ไม่ต้องสำรองจ่าย"
or:
"This clinic is under Social Security. You can get dental coverage without having to make an advanced payment."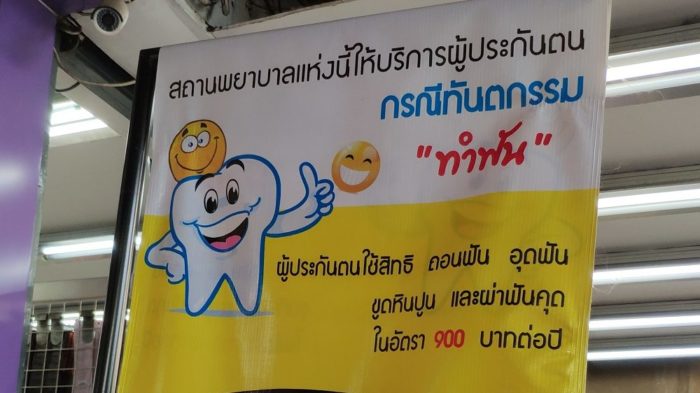 If a clinic doesn't have a direct billing system, you can hand in your claim at any Social Security office up to two years after you get dental treatment.
You need to bring these documents:
SSO dental coverage form (สปส.2–16)*
medical certificate
receipt
a signed copy of your passport
a copy of the first page of your bank account passbook**
*Provided by the dental clinic.
**Not required if you're reimbursed in cash.
You can also give power of attorney to someone you trust, like a human resources officer in your company, and ask them to make a claim for you.
Find out more: The Complete Overview to Social Security in Thailand for Foreigners
Dental Insurance
If you plan to visit a dentist regularly for routine check-ups, you might want to look into dental insurance.
It comes with coverage for general dental treatments, including cleanings, tooth extractions, fillings, and root canals.
You can also make claims for dental treatment expenses caused by accidents.
However, dental insurance comes with a 65-day waiting period. And it doesn't cover cosmetic dentistry, dental implants, or braces.
Dental insurance can be bought from Mister Prakan.
In addition to dental insurance most insurance companies offer dental coverage as an add-on. But you might have to wait nine to 24 months before you can use your dental coverage.
The dental coverage from private insurance works like Social Security coverage but you get a higher limit and coverage for all dental treatment.
For example, with the ACS Gold Plan, you get an annual limit of 33,000 baht ($1000 USD). But you only get coverage for 90% of your dental costs.
And you can get dental coverage with ACS without having to wait the nine to 24 months.
But you have to get expensive treatment like prostheses and implants approved by ACS beforehand.
You can find out more about Thailand expat insurance.
Finding the Best Dentist
You won't find one dentist in Bangkok that's better than all the rest. Instead, the best dentist for you is the one you're comfortable using.
Although you can get dental treatment done in any clinic, you should choose wisely.
You don't want any old dentist drilling and scraping and pulling at your teeth.
You want the process to be quick and painless.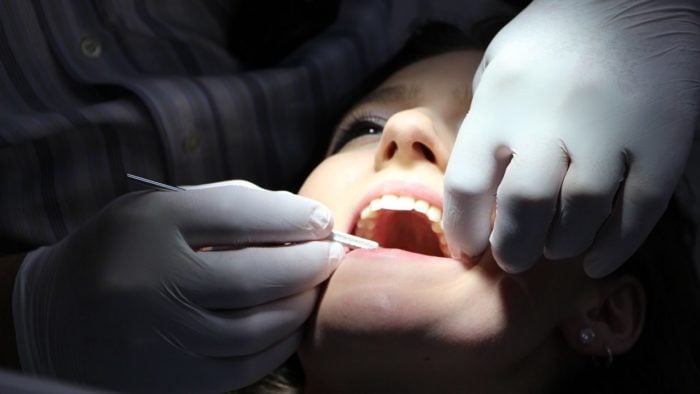 You also want to pick a good dentist because you see that dentist at least twice a year–more often if you get braces or implants.
You can find horror stories online of people getting braces from unqualified orthodontists, further damaging their teeth.
So you should consider four things when looking for a dentist in Bangkok.
experience
expertise
location
costs
Let's look at all four points more closely.
Experience
To check a dentist's years of experience, enter their first and last names on the Dental Council of Thailand's website. (The website isn't available at the moment. We will check it later).
The results show you how many years they've been a dentist.
But if you can't read Thai you need to get help from someone who can, since the website is in Thai.
Alternatively, you can just go to those brand-name dental clinics such as BIDC and BIDH. They only employ experienced dentists there.
Expertise
If you need complex dental work, see a specialist. Since not all dentists are specialists, you need to call the clinic and ask them if they have a specialist.
Some clinics may post this info on their websites.
Location
You should go to the dentist at least twice a year. This means you want a dentist who is easy to get from where you live.
But if you need complex treatment, it may be worth it to travel a little further for a specialist.
Costs
Most clinics have their prices listed on their websites or at their clinics. But some prices may change depending on your needs.
For example, you might pay 750 baht for a light cleaning at a clinic but 1,500 for a heavy cleaning at the same clinic.
If you need complex treatment, you shouldn't cut costs for less-qualified dentists. Get the right treatment the first time by a specialist, or you could end up paying twice.
Visiting the Dentist
When you visit a dentist in Bangkok you face the same process as you would back home. You make an appointment, arrive early, see the dentist, and pay the bill.
Making an Appointment
Although you don't need to make an appointment, you should do so.
This way you know for sure the dentist will be available when you get to the clinic.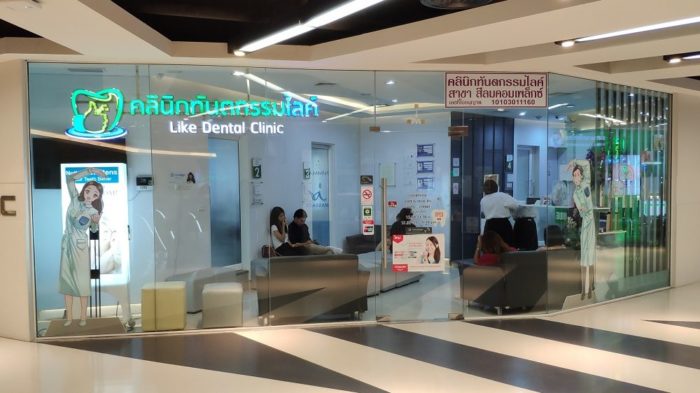 To make an appointment you can call the clinic, send a message on Facebook, email them, or fill out the contact form on their website.
If you want to see a certain dentist, let them know when you send your message.
Arriving Early
After making an appointment, you should arrive at the clinic at least five to ten minutes before your appointment.
If it's your first visit, get there 15 minutes early so you can register.
Certain clinics may ask for your passport so bring it with you. You can also use a government-issued ID like your Thai driving license.
If you have insurance, you should tell them when you register.
If you show up without an appointment, staff screens you and sends you to a dentist that can help you at that time.
Normally, you see a general dentist. But you can ask to see a specialist.
Seeing the Dentist
The dentist might send you for x-rays before you get treated. This depends on your dentist.
General cleanings and checkups take from ten minutes to more than an hour, depending on your case.
If your case is too complex, a general dentist might refer you to a specialist.
Once you get treatment, the dentist sends you to the lobby where you pay the bill.
Paying the Bill
Most of the time you have to pay the bill with cash. You can use credit cards at brand-name dental clinics and some privately-owned clinics.
If the clinic you visit doesn't have direct billing set-up with your insurance company, the clinic gives you the necessary paperwork so you can make a claim.
Paperwork you should get include:
the Social Security Office form
receipt
medical certificate
After you pay, you get an appointment card for a follow-up visit or to schedule further treatment, if needed.
Although some clinics may accept cash in other currencies such as USD, EUR, and GBP, it is recommended to pay in Thai Baht at clinics as it provides a more favorable exchange rate.
Now, on to You
Don't hesitate to see a dentist when you have problems with your teeth. It's safe, cheap, and the process is the same as back home.
With both quality and price in mind, you really don't have any excuse to not see a dentist in Bangkok.
If you have reached this part of the article and are still unsure of which clinic to choose, you can fill out the form below and receive a personalized recommendation from our team in Thailand.
Related Articles