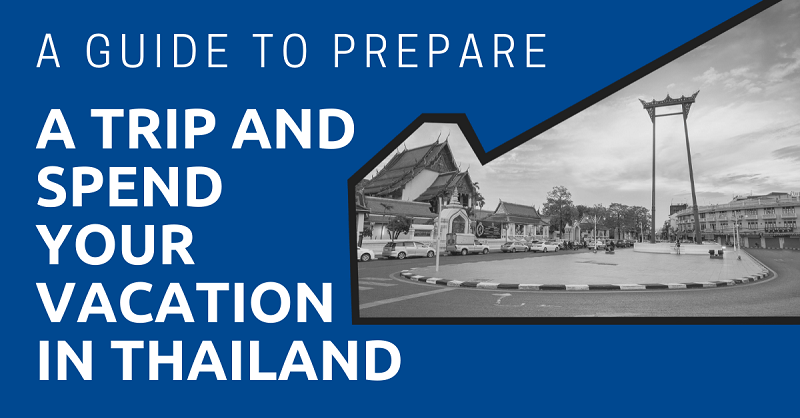 When I went to Texas almost ten years ago, the people I met loved to ask the same question when they found out I was Thai: "Do Thai people still ride elephants to school?" I was stunned. I really never did expect it before. As a person who was born and grew up in Bangkok, I only saw elephants inside zoos, parks, and sanctuaries. But yeah, who could blame non-Thais when the Tourism Authority of Thailand loves to promote videos of beaches, mountains, and people riding elephants.
Thailand has a lot more than that, and tourists come here for different purposes. Some want to see beautiful beaches. Some want to enjoy nightlife. Some want to try Thai food. Some want to see culture. Some want to shop. Some come to cycle and trek. And some come just to watch real Muay Thai fights.
To help you prepare your trip to Thailand, this guide will show you what you should know for vacationing here. You'll learn how to make preparations before flying, how to commute, what you should do, and where you should go when you are here. Trips and tricks to staying safe can also be found inside this guide.
Preparing
Preparing for Thailand is one of the most crucial parts of the vacation. You would definitely not want to come here only to find out that your credit card is completely useless. This section lists out frequently asked questions when one is planning to visit Thailand.
Costs
How much money should you bring when traveling to Thailand? This is the most popular question people ask. How much you spend per day living and traveling inside the country is up to you. But while traveling, there are four main costs you need to consider: food, transportation, accommodation, and attractions.
More details on costs can be found in their specific sections inside this guide.
Although food in Thailand costs at 50 to 60 baht per meal, you tend to spend more than that while traveling. With fruits, snacks, and beverages, the average cost per meal should be around 200 baht. At three meals a day, it's going to be 600 baht per day. It can be less or more depending on how much you eat and drink.
Transportation mainly depends on distance and options. You can take a bus for 10 baht or a taxi for 120 baht to the same destination. But normally you tend to not spend more than 200 baht per day on transportation. The number can be even less if you have more people to share a private taxi with. Note that this amount does not include transportation costs between districts or from airports or bus terminals to certain locations.
For those costs, see our guide on Bangkok airport transfers.
The average accommodation cost per night in Thailand is 500 baht per night if you have another person to share the room with you. If you are traveling alone, staying in a hostel costs less than that at around 300 baht a night.
Attraction fees totally depend on where you go. It can be free, 20 to 100 baht for certain temples, 200 to 500 baht for national parks, 500 baht for the Grand Palace, 1,000+ baht for shows, and around 1,500 baht for one-day island trips.
So, the average daily expense is going to be 1,150 baht, or $35. When you consider flight fares from your house, transportation costs to special attractions, and entrance fees, these amounts will turn into your personal budget for traveling to Thailand.
Visa
People from fifty-five different nationalities are allowed to stay in Thailand for 30 days on a visa exemption for tourism purposes. If you need to stay longer than that, there are two options: single entry tourist visas and multiple tourist visas. The single tourist visa allows you to stay inside the country for 60 days in a row with an option to extend for 30 days.
If you are planning to stay longer, a multiple entry tourist visa is required. With it, you are eligible to stay inside the country for 60 days and it will be 30 days automatically every time you re-enter the country. The visa is valid for 6 months. With the right usage, you can stay in Thailand for up to 270 days with a multiple entry tourist visa.
Currency
Thailand has its own currency called baht. The exchange rate is usually in the range of 30 to 35 baht per $1. Normally the best way to get the best exchange rates is to bring your home currency in cash and exchange to Thai baht when you are here.
In addition, you should always have Thai baht inside your pocket. Even though being a tourist-friendly country, only a few places accept other currencies such as dollars and Euros.
Language
Thailand has its own language. In addition to the standard Thai, people from different parts of the country speak different dialects. The way people in Bangkok speak is different than people in the north. People in the north speak different than people from Isan, or the northeast.
And the way people from Isan speak is different than those who are from the south. In short, there is the standard Thai, three major dialects from the north, northeast, and south, and minor dialects from other parts of the country.
English speaking tourists should be able to visit Thailand without a problem. Although only a small percentage of Thais can speak English fluently. But a majority of the new generation can handle basic conversations and give directions in English. Most merchants and service providers in tourist areas can speak English–or at least broken English. And most of the street and highway signs are in English as well.
Flights
Flying to Thailand is easy. There are numerous direct flights from most countries in the world to Thailand's capital, Bangkok, and other tourism provinces such as Chiang Mai and Phuket.
When it comes to domestic flights, there are over 30 commercial airports within the country with many options for airport transfers, covering almost half of the 76 total provinces in Thailand. Most direct flights from Bangkok, Chiang Mai, and Phuket are available to most of these airports. You can read more details on this topic in our flights within Thailand guide.
Food
Thailand is said to be the kitchen of the world by many people because of the rich taste and variety of dishes. No matter where you are from, you probably heard of pad Thai and tom yum goong. These two dishes are just a small part of the hundreds of available Thai dishes you can find inside the country. Chicken and rice, steam pork with rice, noodle, seafood, curry soup–you name it. The best part is that these foods can be found all around the street almost 24 hours a day at very affordable prices.
The normal dish for one meal in Thailand costs around 50-60 baht, or $1.50. The dish comes with rice, vegetables, meat, and sometimes soup. The price can be slightly more expensive if you are inside the tourist areas. The usual side dish price on the street for meat balls, grilled chicken, and BBQ pork is only around 10 baht, or $0.30, per stick. And a bag of fruits costs around 25 baht, or $0.70.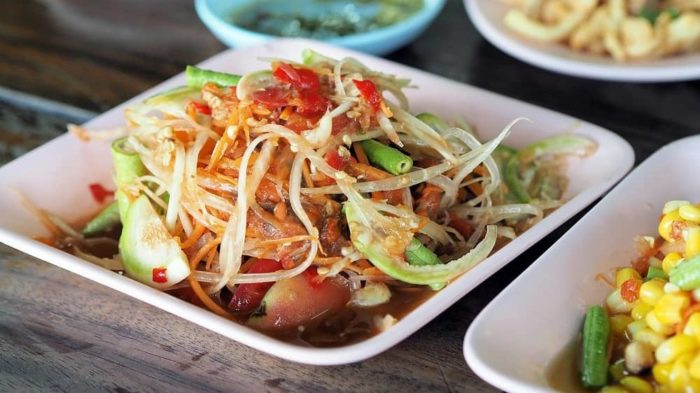 Food inside shopping malls and restaurants is more expensive. But usually it should not cost you over 300 baht, around $10, a meal unless you are eating something special.
Do not be too eager to taste all the delicious food here. Be careful of what you put in your mouth. Upset stomachs do happen when eating unclean food. Not all food vendors in Thailand follow hygiene standard, especially with street food. It is recommended to only buy food from a clean shop. Avoid uncooked food if possible. The most important part, avoid ice from food stalls on the street. The ice inside your cup may be from the same container that is used for freezing fresh food. This can easily cause an upset stomach.
If you miss your own country's food, you should be able to find it here as well. Western, Japanese, Chinese, Mexican, Indian, and even African restaurants are available in many places in Bangkok.
Alcohol
Thailand has quite strict rules on selling alcohol. In addition to having to be at least 18 years old, you are only able to buy alcohol between 11am to 2am and 5pm to 12am. Mini-marts and shopping malls do not sell alcohol outside of these hours. Exceptions are made for some places, such as clubs, bars, and restaurants.
However, during Buddhist holidays, such as Wan Makhabucha, Wan Wisakha Bucha, and Wan Khao Phansa, alcohol cannot be sold. These holidays result in the closing of clubs and bars as well.
Medicine
Similar to food, medicine can be found easily in Thailand. Convenient stores, such as 7-Eleven and Family Mart, sell basic first aid kits and medicine for normal ailments. On every corner of the city there are also drug stores, which sell medicine for all types of sickness. And most of the time you do not need a medical prescription.
There should not be any problems when taking your personal medication to Thailand unless it is illegal. However, it is always a good idea to keep medicine in its original package along with your medical prescription to prevent any problem with Thai customs officers.
Dress
Thai people are still conservative in the way they dress. You will see a majority of them dress modestly, without exposing much of their body parts. When going to the beach, it is common to see Thais fully dressed, even while walking and talking photos on a beach. Even during the peak summer at 104 degrees, you'll see a majority of Thai guys wearing long and thick jeans shopping inside the open-air Chatuchak Market.
Many places in Thailand, such as temples, palaces, and government offices, have strict dress codes for entering the area. Sleeveless shirts, shorts, and open-toe footwear are not allowed. Skirts for females must be at least knee length. Torn or faded cloth is also prohibited. Although there is no dress code for other places, you should at least not wear something too provocative. It is also improper for a man to walk shirtless in public unless it is on a beach.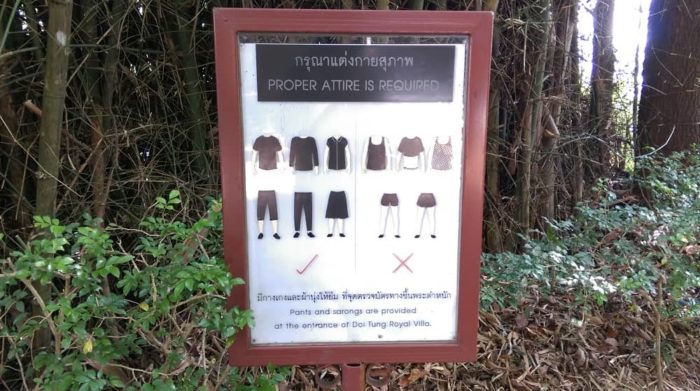 Credit Card
Only Visa and MasterCard are widely accepted in Thailand. You might not be able to swipe credit cards from other companies such as UnionPay and American Express as well. A minimum amount of 300 baht is commonly required when paying by credit card. But for some supermarkets, like Tops, you can even use a credit card to pay for a single bag of snacks at 20 baht.
It is important to note that many individual vendors on the streets or inside shopping malls charge a 3% fee on all transactions. Be sure to check with them before using your card.
Sim Card
Thailand has two major service providers: TrueMove and AIS. They do not have notable differences for tourists. They have similar prices, packages, and signal quality. The exception is made only when you need to go to very remote places. In this case, AIS is your best option because of its strong signal.
Sim cards can be purchased directly at any international airports, mini-marts, and service provider shops. You can check our Thai Sim Cards guide for more information.
Travel Insurance
Buy a travel insurance when traveling to Thailand, especially if you plan to go to the islands, mountains, and jungles. Accidents can and do happen.
You can find out more information from our in-depth guide to Thailand travel insurance.
Transportation
There are many ways to travel around Thailand. Some are cheaper than others. And others are more convenient and comfortable than some. Here's all the options you'll have while traveling in Thailand.
Inside Cities
Thailand has various forms of private and public transportation for traveling inside the city. Bangkok by far has the best transportation system with over 10 modes of transportation. Other major provinces such as Chiang Mai, Pattaya, and Phuket, still have a good public transportation system but only inside the city or tourism areas.
Buses and songthaews are the two most common public transportation. The main different between buses and songthaews is that buses have fixed schedules and destinations. You know when it leaves and where it's going. Songthaews, on the other hand, are more flexible. They can be both public and private transportation at the same time. Songthaews with a fixed route will display route in Thai clearly at the side of the car; whereas private songthaews tend not to show anything. They can be found around tourism areas or bus terminals, and you need to bargain the price directly with them.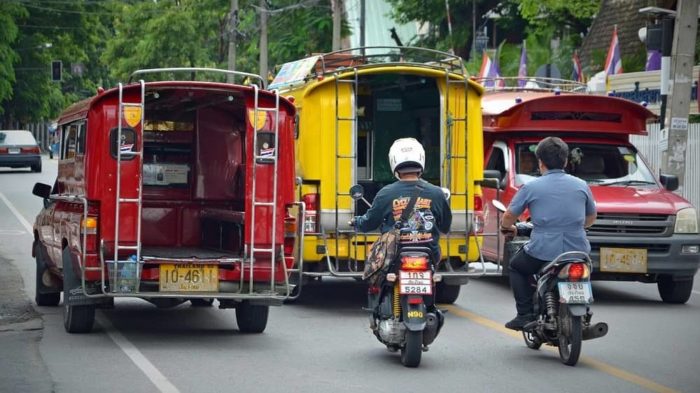 Vans are another popular form of public transportation in Thailand and can be found in major tourism cities such as Chiang Mai, Pattaya, Hua Hin, and Phuket. They work similar to songthaews and can be both public and private transportation at the same time. However, for a private van, you need to book in advance. They'll cost around 1,500 bath per day, fuel excluded.
When it comes to private transportation, taxis are still the most common hire throughout Thailand. However, some provinces may have different ways to calculate fares. For example, in Chiang Rai, instead of using a meter the fare is calculated at 10 baht per km. Taxis can be hired for the whole day but fees vary based on your destinations.
You can also use a taxi app such as Grab. However it is only available in major provinces of Thailand at the moment.
Bangkok aside, transportation is very limited while traveling outside of the city. Other provinces, both minor and major, still have a good network of public transportation but are limited mainly to the city and tourist areas. Buses, vans, and songthaews only pass certain areas so you'll need to find another car to go to your destination. And taxis can mostly be found inside the city.
It is better to rent a car or motorcycle. It costs slightly more but provides far much more convenience.
Between Provinces
Thailand has a good network of transportation between provinces. There are bus terminals in all provinces and almost half of the provinces have airports. In addition, major parts of Thailand have railway systems that have been in operation for over a century. And for popular places such as Koh Samui, there is even a bus and ferry package that takes you directly from Khao San Road to the island. No matter which province you want to go to, there is an easy way to commute there.
Buses
Buses are the cheapest and most available transportation method between provinces. There are buses that go from Bangkok to every province in Thailand and vice versa. Moreover, every province has at least one or two bus terminals. Because of the competitiveness in this industry, there are over five major bus companies. The biggest one by far is Bor Kor Sor, having routes through most parts of Thailand. However, their buses might not be in good shape anymore and their staff might not be very helpful. If you need to take Bor Kor Sor, choose a first-class ticket if possible.
The second biggest company is Sombat Tour. They have almost forty routes that cover major tourist provinces in Thailand. Bus conditions and staff service is better than Bor Kor Sor, but the price is slightly more expensive as well.
The third biggest company, Nakhonchai Air, is considered the best bus company by many people because of their service. They were the first company to come up with the idea of bus attendants, who work similarly to flight attendants. Nakhonchai Air tickets sell pretty quickly. Some routes may even be fully booked a few months before the departure date. Their routes mostly cover the north and northeastern parts of Thailand.
Buses between provinces in Thailand come in different classes, from a coach bus to a first- and VIP-class bus. Each company has different names for these classes. For example, Nakhonchai Air has economy silver, gold, gold+, and first class. Sombat Tour has second class, first class, sleeping bus, and VIP class. The main differences between each class are mainly facilities, food, time, and price.
The coach buses are the slowest since they stop and pick people up along the way; the upper class buses only stop at designated locations. Seats for VIP class are more spacious and comfortable than first class seats, and may even come with a massage system and television. Snacks are normally served for first class and higher, which also come with a free meal during a rest stop.
Bus tickets can be purchased directly at each company's counter inside the bus terminal up to 365 days before your departure date. You are also able to buy tickets through bus companies' websites, although they may not functional well. Buying through a third-party website, such as thaiticketmajor.com, is another option. This site mostly sells tickets for events inside Thailand, including concerts, dramas, and sports events. Selling bus tickets is another feature they have.
Trains
Thailand is one of the first countries in Asia that has been developing the railway system since 1855. Unfortunately, the development progress does not go the way it should be. You would still see the same train models that are in the museum on the western countries are still running on the railway here. Because of this, Thais love to play jokes on their trains as a movable museum.
All in all, trains are still a good choice for traveling between districts. It cover one-third of the provinces in Thailand with the total length of 4,346 km.
The most popular route so far is a sleeping train between Chiang Mai and Bangkok. It departs Bangkok at 6.10 pm and arrives Chiang Mai at 7.15 am in the morning. Although it is the slowest yet sometimes the most expensive transportation method, this sleeping train is sometimes fully booked a month in advance especially during the long weekend between December and January. The experience and comfortable level you get cannot be compare by other types of transportation.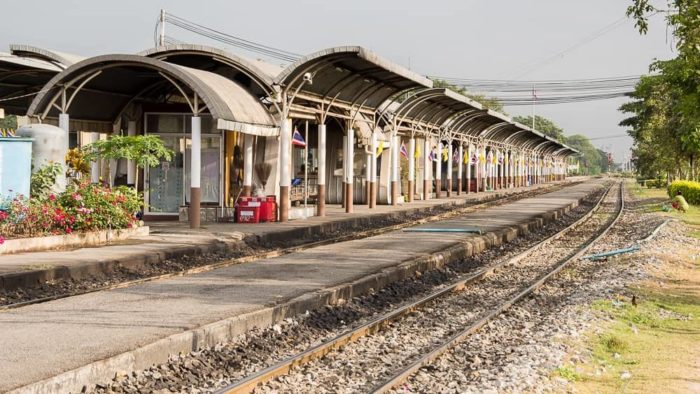 Trains are also a good option to commute between Bangkok and nearby provinces, such as Nakhon Pathom, Ayutthaya, Lopburi, Kanchanaburi, and Prajuab Kirikhan (Hua Hin). You can experience the life of local peoples when the train is moving slowly right in the middle of rural areas. There are also local foods that you can only buy on a train.
Trains in Thailand can be separated into seven classes, ranging from third to luxury. The third-class train is normally the cheapest way to commute between districts. For example, it costs only 20 baht for third-class train tickets from Bangkok to Ayutthaya. All seven class explanations can be found on Thairailways.com.
Train tickets can be purchased mainly by 3 methods: call center at 1690, official Thai railway website, and at any railway station. Passport are required. Check out this Thai railway site to find out times and fares.
Vans
Vans are the fastest form of public transportation on Thai roads. Because of the limited gas tank, it is only available between major tourism provinces and nearby cities. For example, vans in Bangkok go to Ayutthaya, Lopburi, and Kanchanaburi, but not to Chiang Mai and Phuket. And there are vans in Chiang Mai going to Lumpang, Chiang Rai, and Mae Hong Son.
Despite being the fastest mode of public transportation, they are considered the most dangerous and least comfortable. Vans are notorious for reckless driving. Deadly road accidents caused by vans happens regularly. In addition, spaces inside the van are very limited making it to be an inconvenient choice for backpackers with oversized gear. And you need to sit uncomfortably with your legs against the back of the seat in front of you.
Prices for vans are comparable to prices for buses, and vans can also be found inside bus terminals. They do not have a fixed schedule and will leave the station as soon as there are enough passengers. The best part about commuting by vans is the speed. It can take up to three hours for a bus to go to Pattaya from Bangkok. Vans only take an hour and a half.
Planes
Planes are definitely the fastest way to commute between provinces and the most expensive as well–most of the time. Almost half the provinces of Thailand have an airport inside. Eleven of these are international airports where you can fly directly from overseas to tourist destinations like Bangkok, Chiang Rai, Phuket, and Samui. You can find out more information on this topic from our in-depth guide to flights within Thailand, including how to get a flight ticket that is cheaper than taking a bus.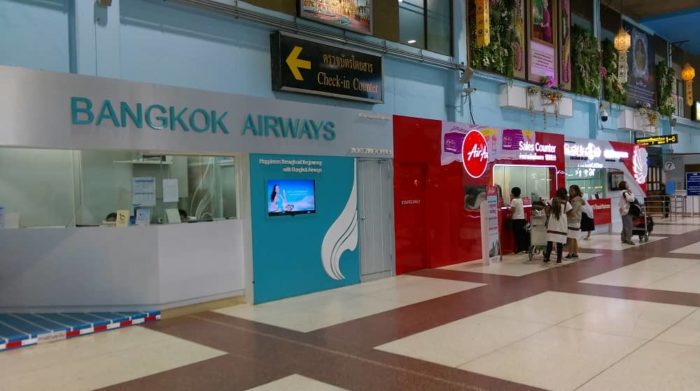 Hitchhiking
Yes. You can still hitchhike in Thailand. However, instead of going from one province to another, this option is mostly available between tourist destinations in rural areas to market or bus terminals nearby.
For example, there are still people hitchhiking for a free ride from the cabbage market in Petchaburi to Phu Tub Berk, which is a famous place to grow cabbage.
It is more difficult to hitchhike between provinces nowadays because of the increasing number of crimes. News of scammers dressed as tourists pretending to hitchhike for the purpose of stealing a car still happens. There are also news stories of hitchhikers getting their belongings taken when taking a free ride. In case you plan to hitchhike, do your research and hitchhike at your own risk.
Car Rental
Except major cities, public transportation in many parts of Thailand is lacking. Even in a big city like Chiang Mai, taxis are still not available when going outside the city limits, making it difficult to commute from place to place. And even if it's available, the taxi scam is something to watch out for. This is why many people, including Thais, decide to rent a car or motorbike when they are traveling.
The cost of renting a motorbike is usually 250 baht a day while a budget car starts at 700 baht. The only documents that are required for renting a car in Thailand is an international driving license or a Thai driving license.
Or if you want to find out more information on renting cars in Thailand, read our car rental in Thailand guide.
Accommodations
Being a tourist destination, Thailand has many accommodation options no matter where you go. Thousands of hotels are available, especially inside Bangkok, Chiang Mai, and Phuket. Even in small provinces, there should be a few available hotels listed on booking.com.
Hotels
There are many classes for hotels in Thailand, from a single star to the luxurious 5 stars. Average hotels cost 500 to 1,500 baht per night, per room–including breakfast, for two people. It is possible to book a 5-star hotel with a riverside view in Bangkok at only 4,000 baht per night for 2 people.
Hostels
If you would like to save money on accommodations, hostels should be your best option. There are budget hostels available throughout Thailand starting at only 250 baht per night, which is cheaper than buying a burger set from McDonald's. In addition to cheap prices, hostels are normally located in convenient locations within walking distance to nearby tourist attractions.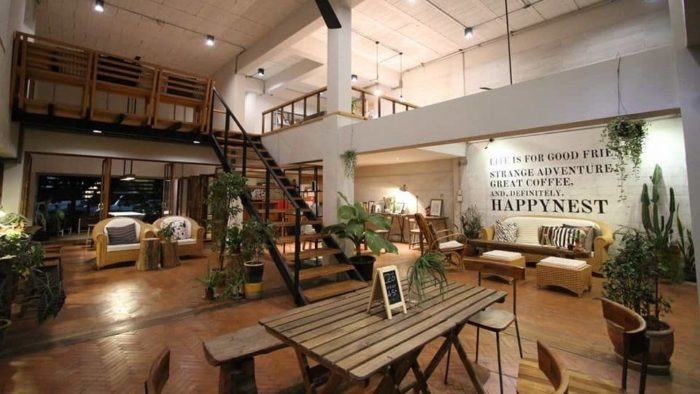 The main disadvantages of sleeping at hostels are the privacy and security issues. You need to sleep in the same room with complete strangers who might unintentionally wake you up in the middle of the night. You need to wait for a shared bathroom. And you need to be extra careful of your belongings. There are also private rooms with a private bathroom available, but the price is similar to hotels.
Airbnb
It is legal to use Airbnb in Thailand, but you need to stay over 30 days there. There are over 40,000 Airbnb listings here and over 700,000 numbers of annual guests. But there is not a single report of anyone using Airbnb and encountering a legal issue in Thailand.
Airbnb, who has cheaper accommodations and sometimes even better rooms and facilities, is a big competitor to hotels. For example, through Airbnb you can find a 400-baht-per-night room, complete with wifi, kitchen, and living room. For the same price, you might get only a small hotel room.
However, this does not mean that Airbnb is better than hotels in all points. There are far less options, and you have more work to do for Airbnb. Since rooms listed on Airbnb are offered by individual hosts, you need to carefully choose your hosts.
Otherwise, you might end up sleeping in an unclean and noisy room with a broken TV and no way to get your money back. And you need to keep the room clean and act in accordance with the hosts rules in order to get a good review. Having a bad review from the host means you can end up not being able to use Airbnb for the rest of your life.
Couchsurfing
Couchsurfing is similar to Airbnb but with more interaction from your hosts. Hosts from Airbnb are mainly those who rent out the whole place when they do not use it. You have full access to the place. But with couchsurfing, you tend to live with your host.
As the name implies, you do not always sleep on a bed when couchsurfing. Many times you need to sleep on a sofa inside a living room. The good part is that your hosts may turn into your personal guide, taking you from place to place, giving you the full experience on how it is to live like a local. There are many hosts who are expats as well.
Camping
Camping is mostly available inside national parks and mountainous attractions. You can bring a tent and pitch it inside the camping area for only 100 baht per night. Or you can rent a tent from both private and government organizations for a few hundred baht per night depending on the location. Camping areas in Thailand usually include shared restrooms and nearby restaurants.
Sleeping in a tent is definitely the best way to experience nature. In a national park like Khao Yai, you can easily encounter wild deer walking inside the camping area. However, you may need to deal with a group of drunkards singing the whole night.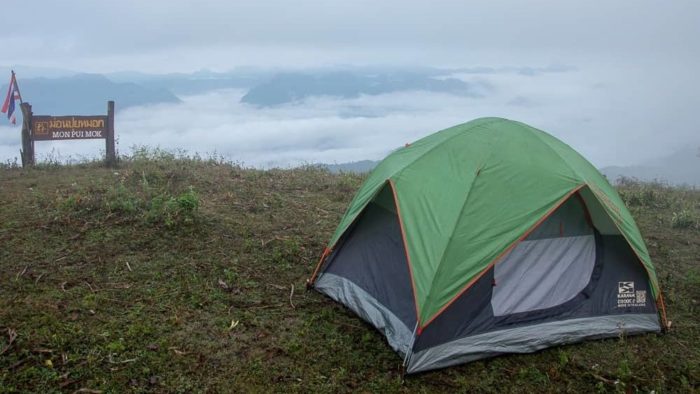 Temples
This may sound strange–but yes. You are able to sleep inside a temple for free and get free meals. Being a Buddhist country, temples can be found anywhere in Thailand. And some people do really ask permission from a monk to sleep inside the temple. You can try this option yourself if you are not afraid of sleeping next to the crematorium that just burned a dead body.
Vacation Options
Thailand has many different vacation options. There's something for just about everyone in the Land of Smiles. From relaxing beaches to adventurous mountains to historical landmarks, everyone's sure to take something memorable home. In the sections below I list a variety of vacation choices that will interest you.
Culture and History
If your goal of visiting Thailand is to learn about the culture and history, you should go to the following provinces: Ayutthaya, Lopburi, Kanchanaburi, and Chiang Mai. These provinces were either the capital cities in the past or are filled with history. Ayutthaya had been the capital city of Thailand (called Siam at that period) for over 400 years and one of the most prosperous cities in Asia. Although the city was burned during the second fall of Ayutthaya, you can still see many historical sites, including palaces, museums, and temples.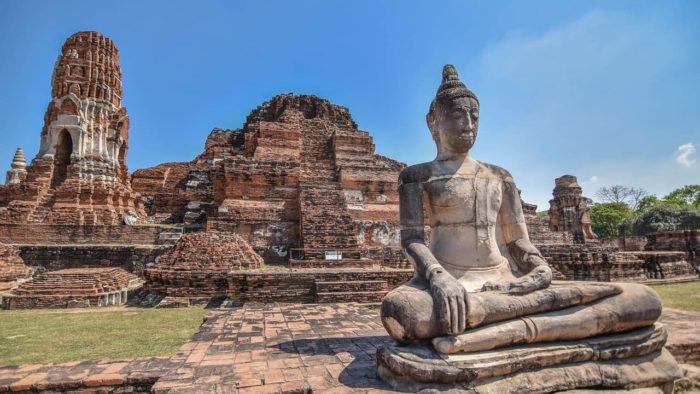 Lopburi was founded over 1,000 years ago. It boats an over 800-year-old Khmer Temple in the center of the city. The province itself is also famous for monkeys that live alongside people. Because of the construction of the Death Railway Bridge, Kanchanaburi was the province that suffered the most from World War II. Hundreds of thousands of people from various nationalities, such as Thai, Japanese, American, and Australian, died here. Kanchanaburi had many cemeteries and museums displaying the cruelty of the second world war.
Chiang Mai is the major province in the north of Thailand. Thirteen centuries ago, it was the capital city of the Lan Na kingdom. And Lan Na culture still remains there today. In addition, you are also able to visit various hill tribes living in the mountains of Chiang Mai.
Bangkok has been the capital city of Thailand for over 200 years, with many historical sites, such as the Grand Palace, temples, and museums, at the center of the city and alongside the Chao Phraya River.
Mountains
There are various mountainous routes for camping, hiking, and trekking in Thailand. They are mainly located in the west and the north of Thailand. Literately speaking, provinces in these two parts of Thailand have at least three available places for hiking and trekking, with Chiang Mai being the most popular province. There are various routes available for trekking into many of the mountains inhabited by hill tribes. In addition to Chiang Mai, more routes are available in Chiang Rai and Nan.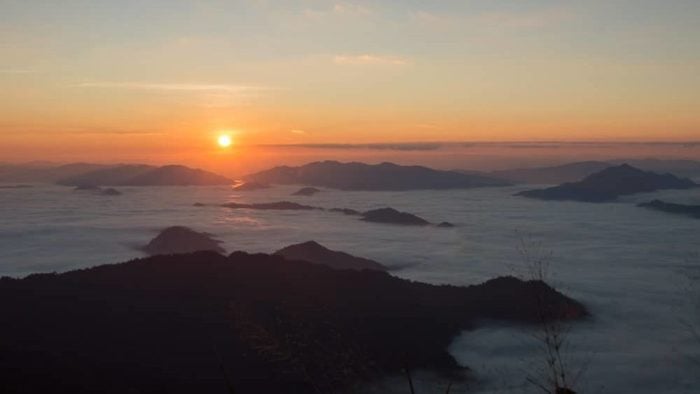 In the West of Thailand, over a half of Kanchanaburi is located in the mountains, where five national parks lay inside. It is a popular province for Bangkokians when it comes to camping and trekking since it's only a few hours drive from the capital.
The central part of Thailand has mountains inside Khao Yai national park. And it is also the third biggest national park in Thailand, covering four provinces. The mountain offers over 50km of hiking and trekking trails. The national park itself is rich with tropical forests and wildlife.
Most of the national parks in Thailand offer camping areas with tents and other equipment for rent. However it's important to note that not all trekking routes are open for the entire year. Some close during summer because of the possibility of wildfires in that area. Some close during the rainy season to prevent accidents from floods and landslides. It's best to check the opening periods of mountains before making a visit.
Beaches
Beaches are definitely one the first attractions you think of when traveling to Thailand. And Phuket is the most famous beach town by far. Beaches and islands in Thailand are separated into two parts: Andaman Sea and the Gulf of Thailand.
Beaches along the Andaman Sea have less sand area but more cliffs. And the water is clearer and more beautiful. Beaches along the Gulf of Thailand, on the other hand, are more spacious. And the water level is more shallow with a more relaxed atmosphere.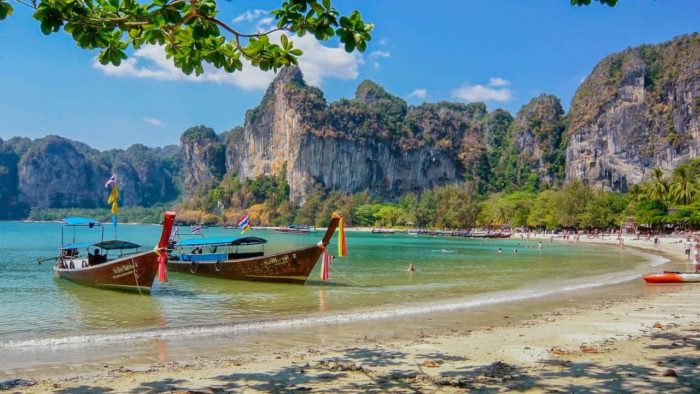 Andaman Sea is on the left side of Thailand and only accessible from a few provinces in the south, including Ranong, Phang Nga, Phuket, Krabi, Trang, and Satun. The Gulf of Thailand, on the other hand, covers many provinces and parts of Thailand, from the center in Samut Prakan, to the east in Chonburi (Pattaya) and Rayong, and to the south in Surat Thani and Prachuab Khirikhan.
Nightlife
Bangkok is not the only city that never sleeps in Thailand. In all major cities, from the north to the south, there are bars, clubs, and restaurants that only open at nighttime. You'll have various options available, from the street-style Khao San Road pubs in Bangkok to the world famous full moon party on Koh Pha-Ngan Island.
These nightclubs and bars tend to be located in the same area. You can even walk from one to another in just a few minutes. Popular places for nightlife are Bangkok, Pattaya, Phuket, and on islands, such as Koh Samui, Koh Tao, and Koh Pha-Ngan.
Muay Thai
The martial art of Muay Thai is the national sport of Thailand and a big part of Thailand's heritage. On the battlefields of Siam, soldiers would use Muay Thai after they lost their weapons to defend themselves from enemies. Over the centuries, Muay Thai developed into a sport.
If you're interested in watching Muay Thai, you can visit one of the two main stadiums in Bangkok: Ratchadamnern or Lumpinee. If you're in Pattaya, you can also visit Max Muay Thai.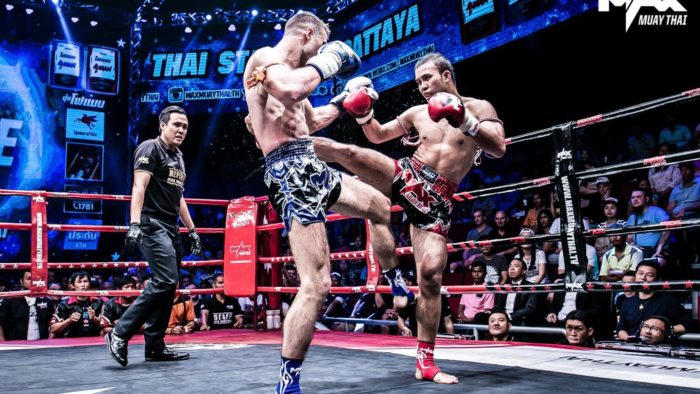 If you'd like to train in Muay Thai while visiting Thailand, there are plenty of options available to you, from high class resort gyms to gritty back-alley boxing clubs.
Other
There are other activities you can do in Thailand. Recently, bicycles are becoming more popular in Thailand, resulting in new cycling trips throughout the country. Many cyclists come here to cycle around Thailand, especially in the mountainous of the north.
Visiting elephant sanctuaries for a chance to encounter, watch, and ride these gigantic and iconic animals of Thailand is another interesting activity. Elephant sanctuaries can be found on Ayutthaya, Kanchanaburi, Chiang Mai, and Chiang Rai.
Thailand is also a paradise for shoppers. Street markets, floating markets, open markets, and shopping malls can be found all over the country. These markets normally open on weekends, while some stay open everyday. Being a major tourism country, thousands of vacation options await you in Thailand.
Traveling Provinces
Bangkok, Chiang Mai, and Phuket are no doubt the three most famous destinations in Thailand. They each have their own unique experiences, yet offer plenty of vacation options and attractions. Elegant Thai architectures can be found all around Bangkok. Chiang Mai, surrounded by beautiful mountains, is the new home for digital nomads. Phuket has been widely know for one of the top beach destinations in the world. However, these are only a few parts of Thailand. A lot more places are waiting for you to explore.
Bangkok
Being the capital of Thailand, Bangkok is full of tourist attractions ranging from palaces, museums, temples along the Chao Praya River, huge department stores, weekend markets, night markets, floating markets, zoos, and much more. All kinds of traveling experiences await you in the city of angels.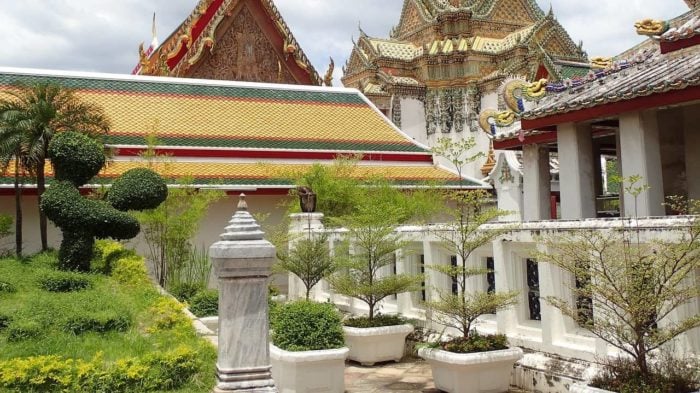 Bangkok should be listed among the first places you visit in Thailand. Here, you are able to learn the history of Thailand through many museums around the Grand Palace, visit elegant Thai buildings and experience their architecture, and enjoy the scenery of the Chao Phraya River while spending your nightlife at Khao San Road. And you will discover why Bangkok never sleeps. No matter what time of the day, there will be places to visit and food to eat.
There are over ten ways to commute in Bangkok, making it extremely easy to travel around the city. In addition, it is only a few hours away from the historical city of Ayutthaya, the beaches of Chonburi, the mountains at Khao Yai National Park, and the waterfalls in Kanchanaburi.
Chiang Mai
Chiang Mai, located in the north of Thailand and know for its Lan Na culture, is the biggest province in terms of population. It has recently become a popular destination for digital nomads. Surrounded by mountains and nature, Chiang Mai is a great place to recharge your battery while relaxing inside various natural parks the city abundantly offers. Cool cafes and restaurants are also open every day and night. And a huge walking street offers local foods, shows, and products at cheap prices.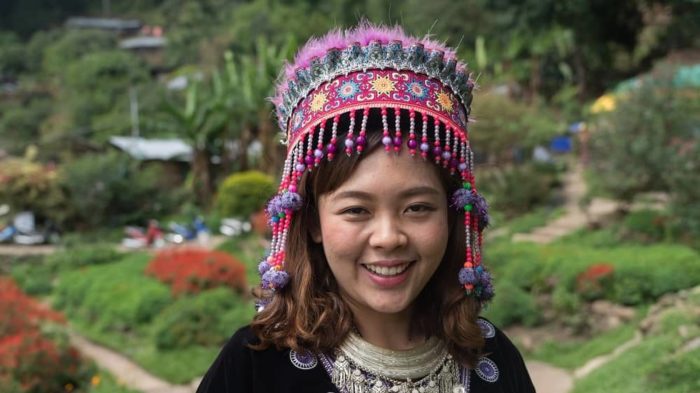 There are many places to go for adventurers inside Chiang Mai, from cycling, trekking, hiking, and zip lining to riding elephants at nearby elephant sanctuaries. You can also rent a motorcycle and ride around mountains that are plentiful inside the province.
The worst part about Chiang Mai is the transportation system inside the city. The traffic becomes heavier every year and public transportation is dominated by red trucks that love to scam tourists, both Thais and foreigners alike.
This means renting a car becomes the best option for transportation.
Phuket
Phuket is the only island province in Thailand. It is considered to be one of the best beach destinations in the world, with beautiful beaches and islands all around the city. Phuket is a great place for those who want to spend their excursions on white sand beaches or in the warm sea doing water activities.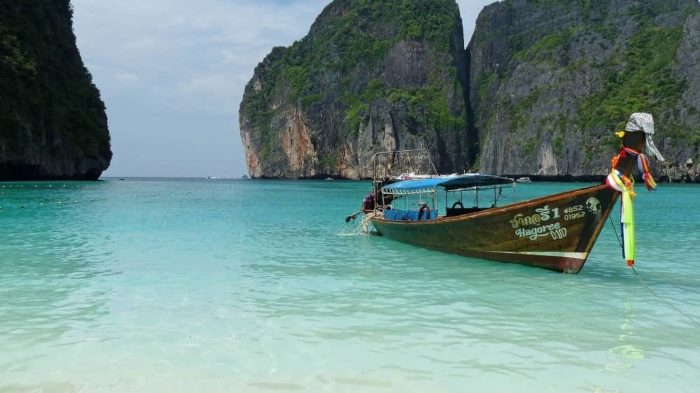 Many breathtaking beaches can be found throughout Phuket. The most popular being Patong beach, located on the southeastern side of the province. There are many stunning islands you must visit, including Koh Phi Phi, Koh Similan, and Koh Racha. Phuket also has many Sino-Portuguese buildings in the old town, and nightlife activities inside the city.
Being a tourism and island province, the cost of living in Phuket is actually more expensive than Bangkok, even with transportation. For example, a one-way taxi trip from the airport normally costs 800 baht. It is best to rent a car if you plan to visit several places while in Phuket. Another option would be taking an airport transfer to your destination and finding a motorcycle taxi or tuk-tuk to take you to your hotel. But their prices combined, even for a one-way trip, can be more expensive than renting a car for the whole day.
Pattaya
Pattaya used to be a small and quiet fishing village, but nowadays it has become one of the most famous cities in the world because of its beautiful beaches and the notorious Walking Street. However, things are changing. Pattaya has been developing itself into a top tourist destination, offering floating markets, theme parks, water parks, islands, and of course, cabaret shows.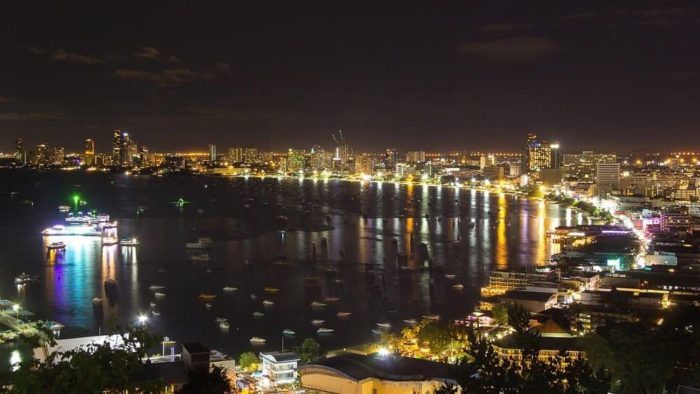 The red district is not the only reason to go to Pattaya anymore. At present Pattaya is a great destination for family outings because of the Cartoon Network Water Park, floating markets, Nongnooch Garden, Ripley's, and the interactive art museum–Art in Paradise. The beautiful yet quiet Koh Larn is also an hour away by boat.
Pattaya is only two hours from Bangkok. It can be easily accessed by bus or van from the Ekkamai Bus Terminal or Mo Chit Bus Station. Taxis, songthaews, and motorcycle taxis are main transportation options inside Pattaya. It is not necessary to rent a car here unless you are planning to visit several places in a single day.
Other
If you are a history lover and love to explore remnants of Thailand history, Ayutthaya and Sukhothai are where you should go. They were the two biggest previous Thailand capitals before Bangkok. Ruins of the past glory still exist today.
In addition to Chiang Mai, Chiang Rai is another good alternative for those who love trekking and hiking. It is the northernmost province of Thailand and borders Burma in the Mae Sai District. The east of the province is also connected to Laos, with the Mae Kong River running between. Chiang Rai is famous for mountains, tea and coffee plantations, the Golden Triangle, and Mae Sai Border Market.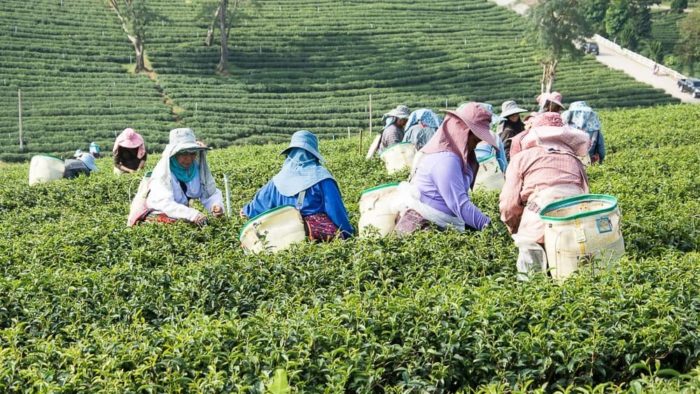 Phuket can be overcrowded with tourists, especially during the high season. The two provinces next to Phuket–Krabi and Phang-Nga–are also paradise getaways. They have beautiful beaches and islands that are more quiet and less spoiled than Phuket. Moreover, the cost of traveling in Krabi and Phang-Nga is also less than Phuket.
If you are on a tight budget but would like to visit Thailand beaches, Chonburi is the place to go. It's only one-and-a-half hours from Bangkok but has many beaches. Bangsaen beach is good for seafood and beach activities while the islands off Sattahip are great for snorkeling. Since there's not a single accommodation there, you need to spend a night in other places, such as in Pattaya, or even Bangkok, and go there on a day trip.
Vacation Packages
If you're looking for a convenient way to spend your vacation in Thailand, buying a vacation package is definitely a good option. All-inclusive packages normally cover attraction fees, meals, transportation, hotel pick-ups and drop-offs, and local guides. The cost might even be cheaper than traveling on your own because of the limited transportation options in some areas.
Vacation packages can be purchased on- and offline. One of the most popular online options is TripAdvisor. It has over 1,000 packages available, including both day-trip excursions and multi-day tours. The site has a filter feature, allowing you to easily search based on your preferred package and location.
Klook is another service that provides you with convenience as soon as you land in Thailand. They offer visitors airport transfers and SIM card packages. They charge a fee, but the time and money you'll save by using their service will save you headaches.
In addition to these online options, you can find various holiday packages from many travel agencies once you are in Thailand. They can be found in airports, bus terminals, ferry ports, hotels, and tourist areas. Prices are not different from online options unless you book them in advance or buy from local providers, such as Thailand Tourism Festival.
Staying Safe in Thailand
Road accidents are what you need to be most careful about in Thailand. Thailand has been ranked number one in the world for road deaths for many years. The main reason does not come from road conditions, but society. Thailand's police don't always enforce the traffic laws and this can lead some people to think that driving recklessly is okay.
Some drive relatively fast, even inside the city limits. And because of the number of cars and motorcycles on the road, accidents regularly happen.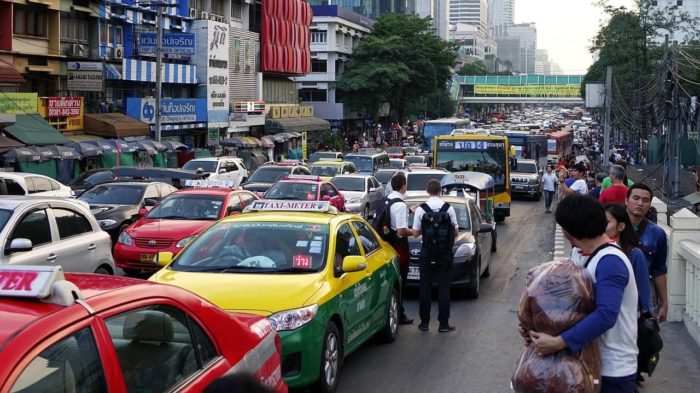 Therefore, be extra careful when crossing the street, even when you are in the crosswalk. Pedestrians do not have the right of way in Thailand. And make sure there are no motorcycles coming from unexpected directions. If you rent a motorbike here, it is necessary to wear a helmet and other protective gear at all times. Reckless driving should be avoided at all costs.
Compared to other major cities, violent crime rarely happens. But the chances of something happening are much higher if you are at nightclubs, bars, and red-light districts. It's undeniable that these places are under control of influential people and that might lead to a problem. A fight can easily break out after a certain level of alcohol consumption. Fights can happen between locals and tourists or between tourists and tourists.
Other precautions are similar to anywhere else in the world. Be careful when someone is providing you a deal that is too good to be true. Do not walk to desolated places, especially at night. Beware of your belongings when visiting crowded areas. Do not leave an item unattended. It's pretty much the same as when traveling to other countries.
Scams
Thailand is not the country where you can go anywhere without the chance of being scammed. Truth be told, there are scams here. But most of them do not have major effects and there are ways to prevent them.
One of the most common scams comes from taking taxis, tuk-tuks, and even songthaews. You can be charged more than the actual cost. A 60 baht transportation fee can turn into 200 baht. These scamming taxis and tuk-tuks tend to park and wait for passengers around tourist areas.
So, it's safer to hail those who are driving on the street. If it's a taxi, ask to use a meter instead of getting a flat rate. If it's a tuk-tuk, you need to know the estimated price and bargain with them, which you can learn more about in our detailed guide to transportation in Bangkok.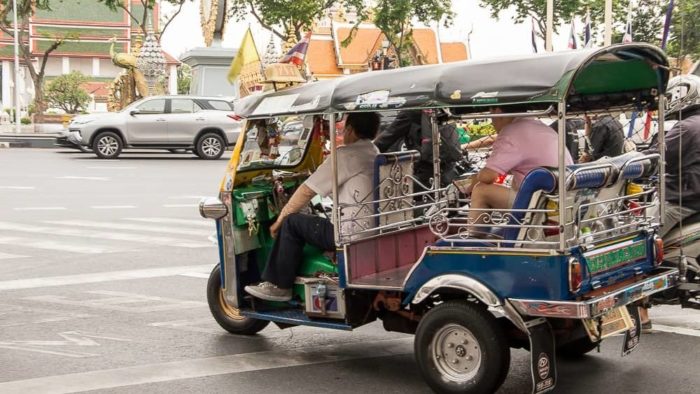 You should not get scammed when ordering food in Thailand, since most restaurants in Thailand–including street food and food vendors–clearly display prices on the menu. Exceptions can be made when eating at a restaurant that the tuk-tuk driver suddenly takes you to. This kind of restaurant has "special deals" with tuk-tuk drivers and does not show food prices anywhere. When the bill comes, you can be surprised that a normal pad Thai costs over 1,000 baht.
There are other scams in Thailand revolving tuk-tuk drivers. One of the most popular scams can be found around the Grand Palace in Bangkok. Some may approach you with another person in an official uniform saying the Grand Palace is closed. Then, they suggest you take a trip another place instead for a very cheap price. Afterwards, they take you to the aforementioned restaurant, a fake gemstone shop, or a shady tailor shop. Completely ignore these tuk-tuk drivers.
Going to red-light districts is very risky. At these places, getting scammed is hard to prevent. You can be easily charged over 3,000 baht for a "show" that is totally different from what you expected.
All in all, common sense is the best way to avoid getting scammed in Thailand. Be extra careful when getting a deal that is too good to be true or when someone suddenly approaches you and asks to help you. And when you are scammed, just keep cool and be happy. It's more or less an unavoidable part of the traveling anyway.

Latest Guides on Traveling in Thailand