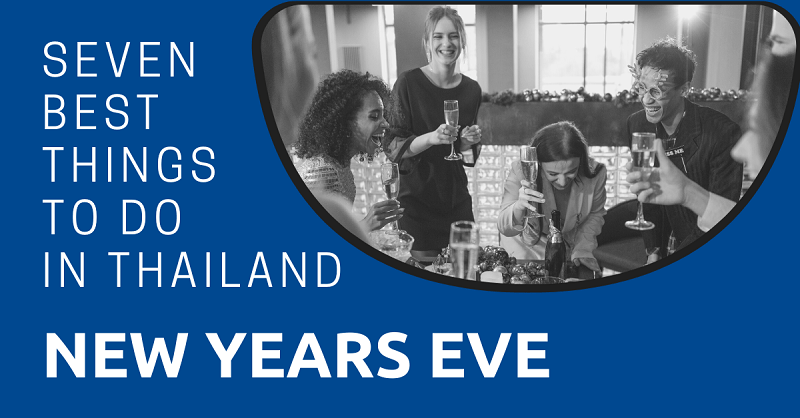 You have waited all year for this party! As the clocks hit midnight on the 31st and 2022 becomes 2023, where will you be? If you are lucky enough to be in Thailand with us, there is something for everyone.
You might find yourself in quiet contemplation on the most pristine beaches of Phuket, dancing the night away on a rooftop overlooking Bangkok's Chao Phraya River fireworks, or clinking glasses with your closest friends and family at an elegant restaurant. Whatever vibe you are looking for, you can find it in the Land of Smiles.
"*" indicates required fields
Activities
Thailand celebrates New Year's Eve with the rest of the globe every year on December 31st. Although Thailand celebrates its own Thai Lunar New Year — known as Songkran — in mid-April, these two celebrations are done differently, Songkran is a week-long water fight, and NYE is an explosive night to remember.
Here are some great ideas for anyone wishing to mark this trip around the sun with a very special celebration in Thailand.
Special Note: This year, some venues might unexpectedly cancel their countdown or fireworks events due to unforeseen things which recently happened in Thailand. For example, Khao San Road will likely have a more subdued event this year. We have also just learned that there will be no fireworks in Pattaya. It's best to check with an official website for the place you are planning to go.
Countdown Parties
Bangkok has consistently been ranked as hosting some of the best New Year's Eve parties in the world. From major shopping centers to five-star hotels, you will be able to find a glamorous countdown party to attend.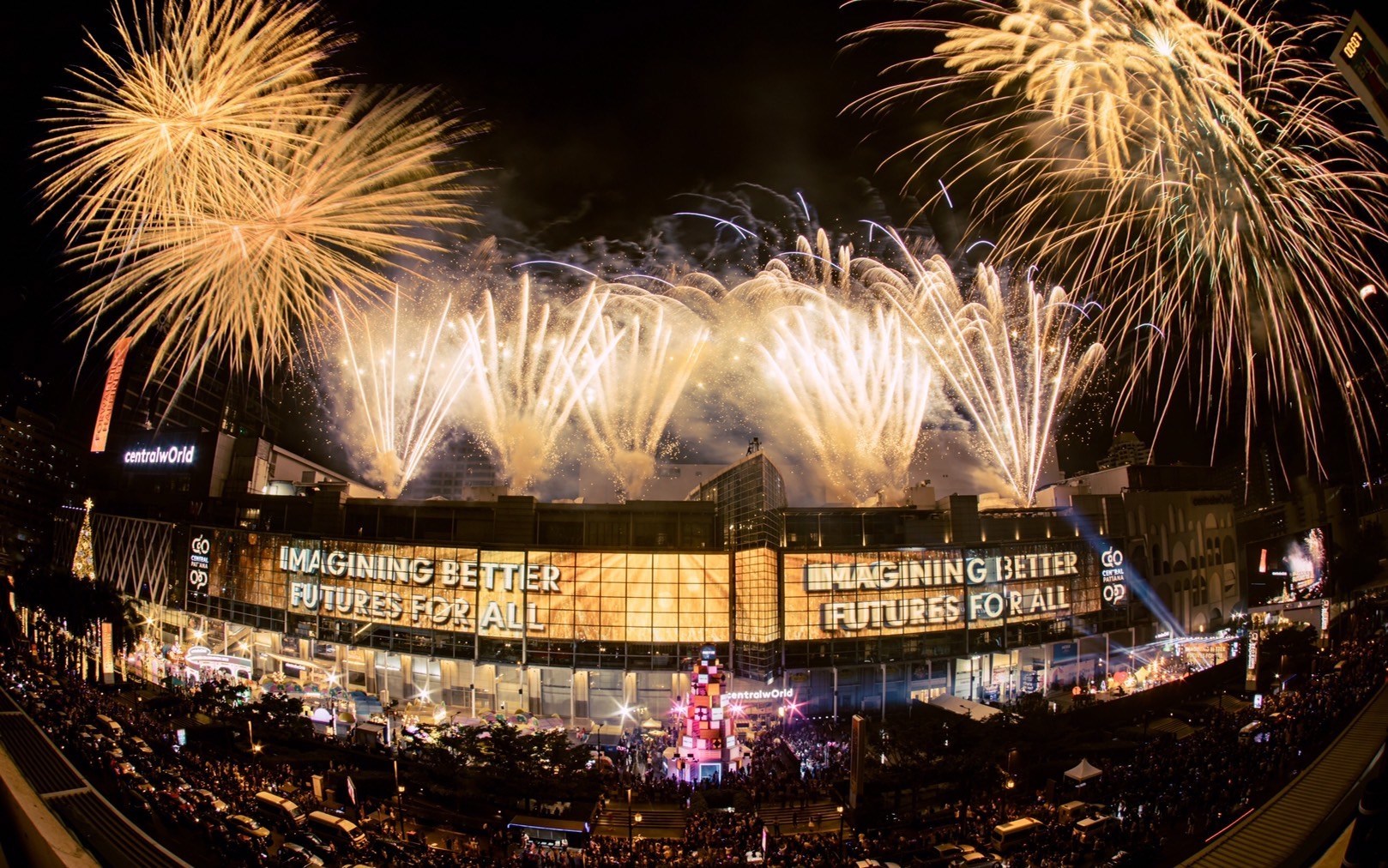 Central World, one of Thailand's major shopping malls, hosts one of the country's most anticipated public countdown events every year. With a 15-minute firework display, a digital firework art exhibition, beer gardens, and live performances by famous Korean and Thai performers, this year's event promises to be the most spectacular yet.
The Central Pattana Group will also organize similar countdown events in Central Phuket, Central Festival Pattaya, and Central Korat, as well as other Central retail complexes around Thailand.
If you'd rather be dressed to the nines and watch the clock countdown with your pals, reserve a table at one of Bangkok's many fancy hotels and bars such as Sofitel SO Bangkok, Amari Watergate, Escape Bangkok, or the recently opened The Standard Bangkok. Check their Facebook page or website for NYE Countdown packages.
As Thailand is home to several stunning beaches, ringing in the new year on one of them is an unforgettable experience. For a memorable New Year's celebration with your loved ones, book a room at any resort in Phuket, Koh Samui, or Huahin and enjoy family-friendly events, spectacular fireworks, and a seafood buffet right on the beach.
Pretty much every big hotel in these holiday spots will be hosting a fabulous party with drinks and food packages along with live music, entertainment, and countdown party favours.
Firework Displays
When the clock strikes midnight, fireworks can be seen and heard nearly anywhere in Bangkok, but the riverside is where you want to be to get a panoramic view of the best fireworks in Bangkok.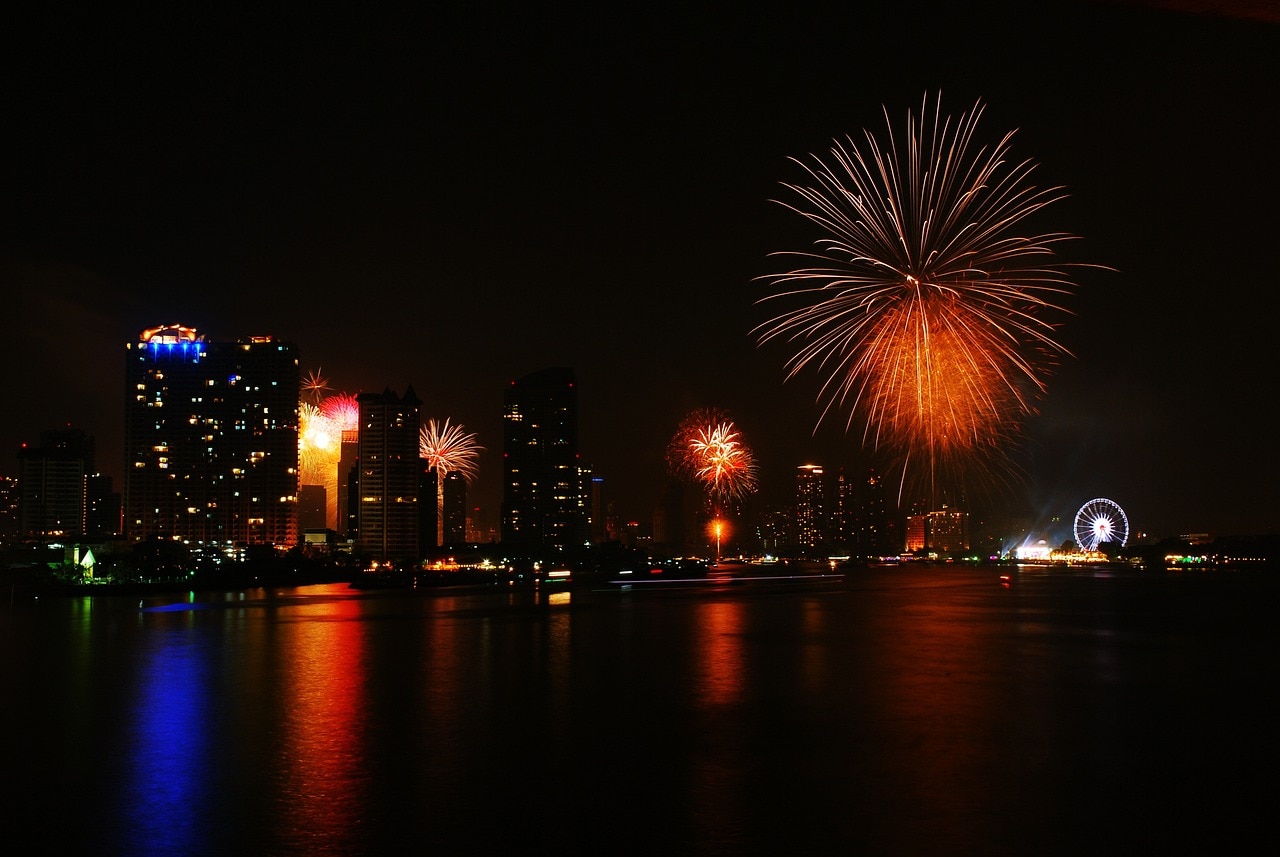 The best hotels along the Chao Phraya River put on an annual fireworks display that lasts for 10 minutes. You can try your luck on foot by wandering the riverside alley ares of Talat Noi and Saphan Taksin, but most of the best riverside space is blocked by hotels.
If you want to see the fireworks up close, you can book a hotel room or eat at one of the hotel restaurants. Prices for these seats are not cheap, as many of the five-star riverside hotels charge up to triple their typical rate, starting about 10,000 THB per person for their dinner buffet on this special night.
Have a look at these fancy riverside hotel events hosted by Skyline at Avani Riverside, Riverside Terrace at Anantara Riverside, and The Peninsula Bangkok which go from 4000 THB per person, to 10,000 THB, and up to 20,000 THB per person. If you have cash to splash, you are guaranteed a magical time.
If you don't mind crowds, the IconSiam mall and Asiatique are both excellent places to watch the fireworks for free. This year, IconSiam will hold an Amazing Thailand Countdown 2023 event that will include performances, concerts, and fireworks throughout the night.
Rooftop Restaurants
Everyone knows Bangkok has some fantastic rooftop bars and restaurants. There's no better place to watch the clock with a group of friends or a special someone. You can dance the night away to a DJ's beats while feasting on delicious food and enjoying the (relatively) cool winter air as you watch the fireworks display, even if you aren't super close to the exploding action.
Below are some popular choices in Bangkok. These places will either have a cover fee for the party, a set menu, or a buffet for NYE. It is best to check their website or Facebook pages for details and reservations.
Live Concerts
New Year's Eve in Thailand also boasts a range of free and paid live concerts and music festivals. CentralWorld and Icon Siam, two of Bangkok's largest shopping malls, will stage huge NYE countdown parties with live performances from A-List Thai celebrities from 6:00 PM to midnight. Khao San Road in Bangkok is another popular place where you'll find live music gigs happening along the whole street.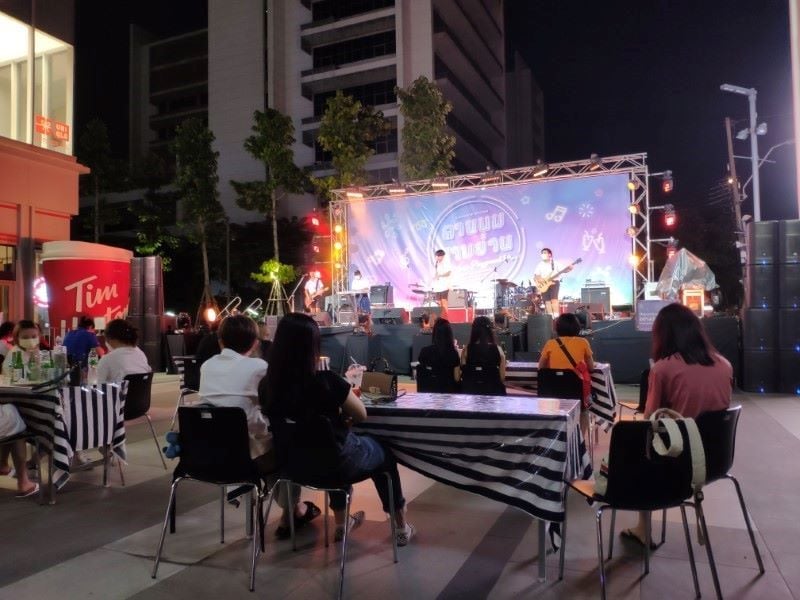 If you're looking for music festivals, there are generally 1 or 2 major festivals taking place on the 31st with world-renowned DJ lineups. Tickets and schedules can be found on Eventpop or Ticketmelon.
If you're not in Bangkok, any of the main Central retail complexes in Pattaya, Phuket, etc. will be hosting live entertainment and festivities on New Year's Eve.
If you happen to be in the North, the Clock Tower in Chiang Rai hosts an annual public countdown party with live music and special guests. The MC and songs will be in Thai, but you can still enjoy the festive environment!
Midnight Chanting
Since Thailand is a predominantly Buddhist country, some Thais believe the New Year is about a time of reflection and celebrated on a more spiritual note. The majority of temples across Thailand will host an event called "Midnight Chanting" or Suad Mon Kham Bpee (สวดมนต์ข้ามปี), which literally translates to praying across the year. Thai Buddhists believe reciting this prayer while entering the New Year will help protect and bless them with good fortunes for the upcoming year.
Anyone can participate in the ceremony, although it is expected that they will dress appropriately in loose white garments, with no shorts or sleeveless tops allowed. New Year's Eve services, including prayers and meditations, begin at 6:00 PM, while the main prayer begins at 11:30 PM and is led by monks until a few minutes after midnight. It is customary for people to give an offering to the monks (take some cash) after the midnight prayer.
Some well-known temples hosting this chanting service include Wat Prakeaw and Ratcha Singkorn Temple in Bangkok, Phutthamonthon Park in Nakhon Pathom, and Wat Phra Singh in Chiang Mai.
Camping
Given that winter in Thailand lasts such a short time, many take advantage of the cooler breezes and go camping during the New Year holiday. It is well worth getting up early (or staying up until sunrise) to see the first sunlight of the year break through the fog.
Camping has become so popular in Thailand in recent years that several sites and glamping hotels have emerged across the country. Campsites in Kaeng Krachan National Park and Khao Yai National Park are two excellent options close to Bangkok. They are Thailand's first and second largest national parks, with stunning waterfalls and a diverse range of flora and fauna, including butterflies, elephants, deers, and gibbons. You may even see some smaller fireworks at midnight!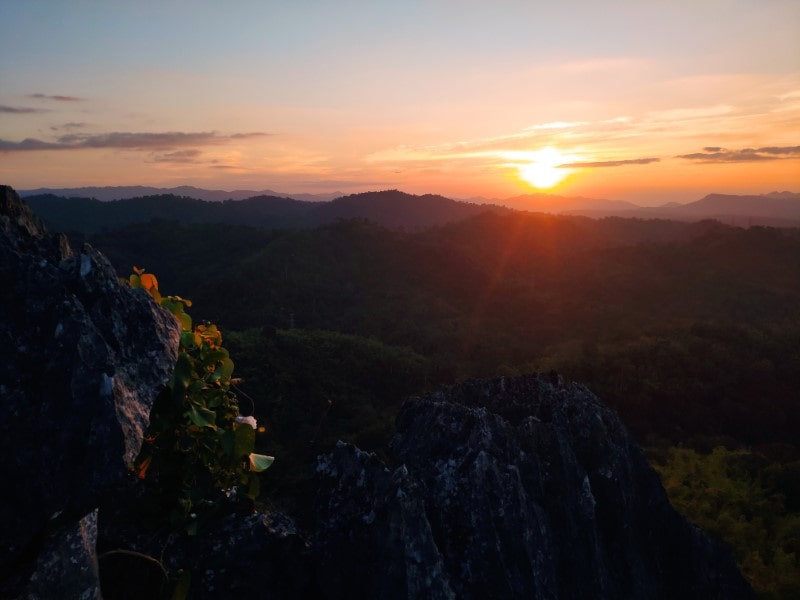 If you don't mind a longer road trip, there are some great mountains and camping spots in northern Thailand. Doi Inthanon and Doi Suthep Pui National Parks are the most accessible and serviced campsites in Chiang Mai, with activities and attractions set up around the New Year. Many people have said that Phu Tub Berk in Phetchabun or Khao Laem National Park, which was one of King Rama IX's favorite parks, are the best places to see a beautiful sunrise.
All of these park campsites require a small entry fee (usually a couple of hundred THB per person) and can either be reserved online or claimed on a first-come-first-served basis.
Learn More:
Family Dinner
Last but not least, some celebrate New Year's Eve with a family feast. Thai people usually celebrate New Year's Eve with moo-kra-ta (Thai barbecue), seafood, or by going to a nice dinner buffet together.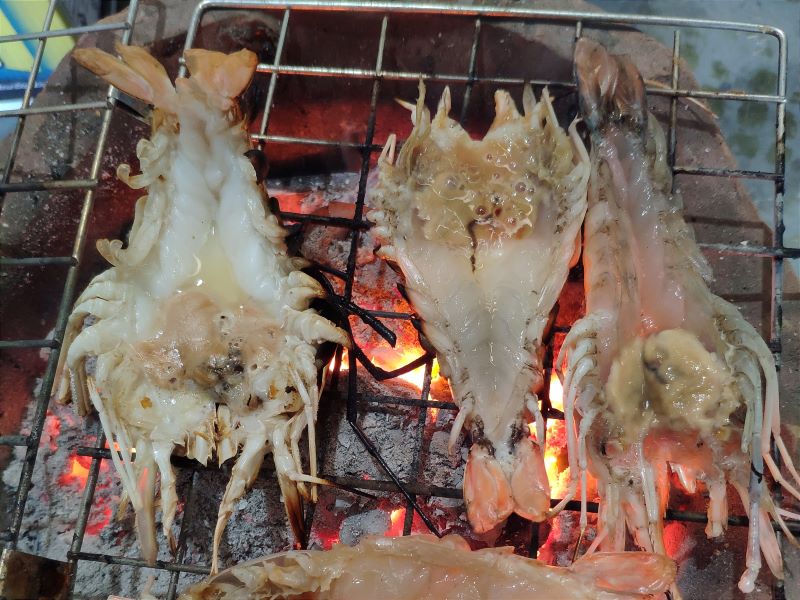 Many others will also travel to their home province for the holidays to spend the long weekend with their families. Dinner is typically followed by karaoke or a trip to see fireworks. It is also customary to pay your respects to your elders on New Year's Day with flowers or small gifts.
Where to Go
Countless possibilities for New Year's Eve celebrations exist across Thailand, making the decision difficult. You could spend the night in Bangkok's glitzy nightlife, or get away to Phuket's beaches for fireworks.
Below are some of the best places to ring in the new year in Thailand.
Bangkok
Celebrate NYE on the Chao Phraya River with one of the river cruises. It's an all-in-one with live music, open air seating, international buffet, drinks, and an amazing fireworks view. Some popular dining cruises include the Wonderful Pearl, Chaophraya Princess, and Alangka.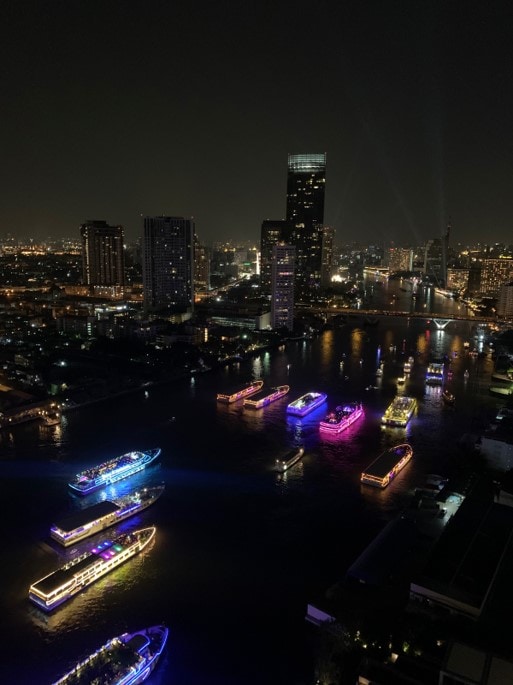 Khao San Road has several causal bars and nightclubs open late if you don't feel like getting dressed up for New Year's Eve celebrations. Other similar alternatives include RCA Plaza near Rama 9 and bars on Sukhumvit Soi 11. Thonglor, a popular area for young people, will also offer many dining and partying options on New Year's Eve.
Asiatique, CentralWorld, IconSiam, Mega Banga, and Emquartier will all be hosting concerts and family-friendly activities for the public to enjoy from 6:00 PM to midnight.
If you're planning a New Year's Eve celebration for a large group, Top Golf Thailand is a fantastic venue. In celebration of New Year's Eve, Banga's newest venue is hosting special discounts and a fireworks display.
Chiang Mai
Chiang Mai's lantern festival is one way to celebrate New Year's Eve, along with spending the night under the stars in one of the city's national parks.
According to Thai beliefs, a new year is marked by the release of sky lanterns, which are meant to bring prosperity and good fortune. At midnight, thousands of people assemble along the Ping River or Tha Phae Gate to release paper lanterns with candles inside.
Unfortunately, these fire lanterns are beautiful, but kind of a fire hazard and not good for the environment. So you might opt out of participating in this celebration.
Please note that lantern festival in Chiangmai is likely to be cancelled this year. You should stay tuned with the government announcements.
The North Gate area and Nimman Road are also good gathering spots for live music, restaurants, and rooftop bars.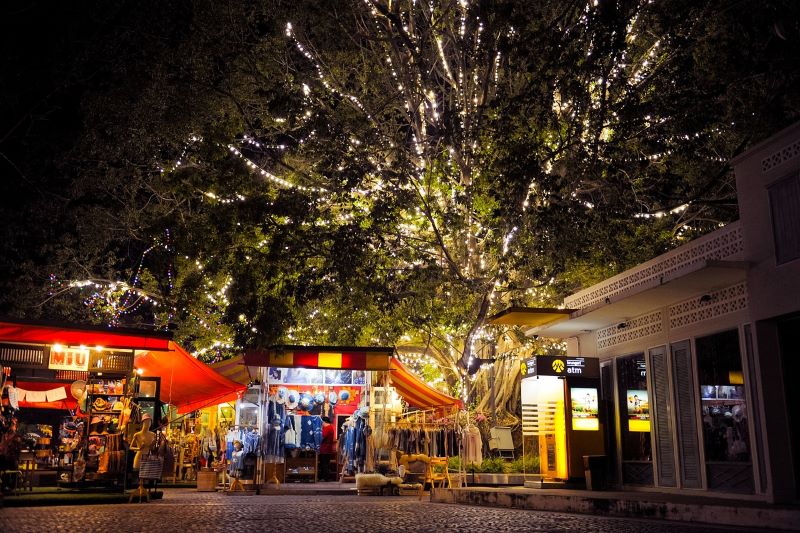 Learn More:
Phuket
Without a doubt, one of the greatest ways to spend New Year's Eve in Phuket is on the beach. If you aren't staying at a seaside resort, you can always visit one of Phuket's many public beaches or beach clubs to view fireworks and dig your toes in the sand.
Patong and Surin Beach are two of the more popular and larger beaches in Phuket that will basically turn into a huge beach club on NYE with live music, concerts, food, and drinks available throughout the night.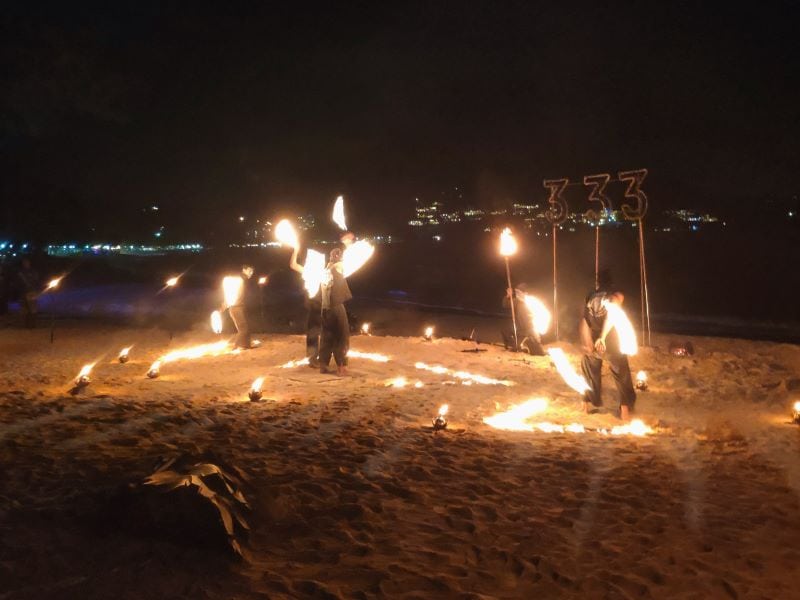 The Catch Beach Club and Cafe del Mar Phuket are two of the best places to go if you're searching for a more exclusive beach party. They generally have a New Year's Eve party with a popular DJ. Tickets and tables can be reserved ahead of time through their website or Facebook page.
For family-friendly options, the recently opened Central Floresta Phuket will be hosting a huge countdown party with fireworks, entertainment, and games.
Learn More:
Pattaya
If you choose to spend NYE in Pattaya, you can stay at one of the many beachfront hotels located near Pattaya Beach, Jomtien Beach, or Bangsaray Beach for breathtaking views and amazing food.
Other popular spots to celebrate include Bali Hai Pier or Pattaya Pier and Walking Street Pattaya. This year, Bali Hai Pier will have a big countdown party hosted by the Mayor Council of Pattaya and the Thailand Tourism Authority called Festival of Seaverse.
The free event will feature live performances by renowned Thai and Korean celebrities, as well as prizes, activities, and food vendors.
Others
When it comes to New Year's Eve celebrations in Thailand, the aforementioned cities are without a doubt the most crowded and lively. Aside from major cities, there are several possibilities for dining, festivals, and activities in other provinces on New Year's Eve.
Almost every hotel, resort, and major shopping center in Thailand will offer a New Year's Eve dinner or celebration for both children and adults.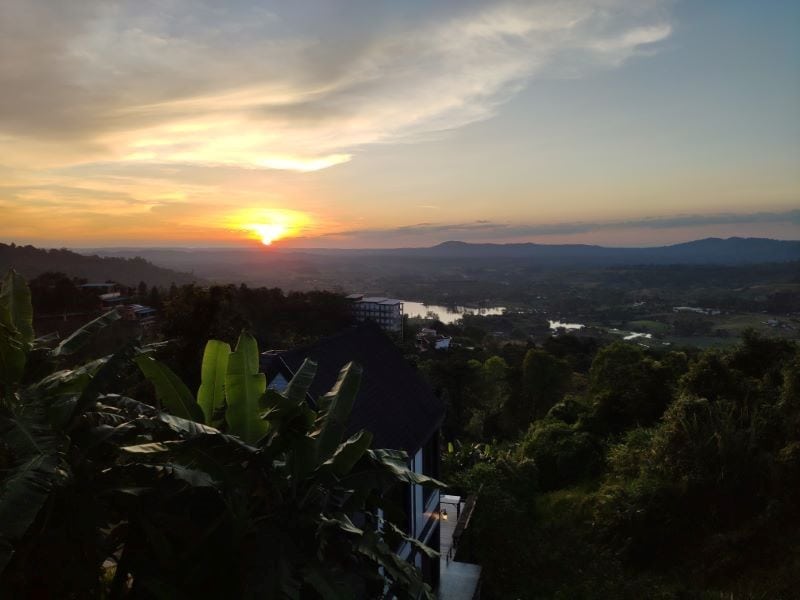 You can also opt to explore the outdoors and get away from the city at Khao Yai, Kanchanaburi, or Phetchaburi, all of which are just a short drive from Bangkok.
Another option is to visit the Red Lotus Lake or Pa Hin Ngam National Park in Thailand's north-east or Isaan region to enjoy some regional delicacies and beautiful scenery in honor of the holiday.
What to Do to Prepare in Advance
Planning in advance will help ensure a safe and timely New Year celebration for you and your loved ones.
Here are some things to consider before heading out for the holiday.
Transportation
New Year's Eve may be one of the busiest days for traffic in Bangkok. Expect downtown to be congested all day as people go to shopping centers and restaurants. We recommend adding an extra hour to your trip to account for traffic and parking. You could also take the BTS or MRT to avoid the hassle altogether. Both the BTS and MRT will be extending their services until 2:00 AM on January 1st, 2023.
Plan your way out of the city ahead of time and leave early to avoid getting stuck in traffic. Expect to spend almost twice as much time getting to Pattaya as you typically would.
If you plan to take Grab or taxis in the evening, plan ahead and call early as they may take up to 30 minutes to arrive on New Year's Eve. If you are heading to IconSiam or Asiatique, you can take the complimentary shuttle boats that arrive every half hour at the Saphan Taksin pier.
Learn More:
Reservations
If you plan to spend New Year's outside Bangkok, book your accommodations well in advance, as the hotels and resorts fill up quickly.
Almost every hotel or rooftop restaurant and bar in Bangkok will require a reservation. If you want to reserve a table for a NYE countdown at a bar or club, you will most likely be required to pay a 100% non-refundable deposit at the time of reservation.
Countdowns in retail malls and public beaches will be first come, first served. Get there around 6:00 to 7:00 PM to increase your chances of getting a seat.
What to Wear
Men are typically expected to wear long pants and shoes. Sandals or flip-flops are not permitted at most rooftop bars and restaurants, shorts are often also not allowed.
If you decide to visit the temples, please dress modestly and avoid wearing sleeveless tops or shorts.
Now, on to You
New Year's Eve in Thailand is a time of year to be with friends and family, celebrating the end of a year and welcoming the new one. It provides a great opportunity for both locals and expats to spend this day celebrating at one of Thailand's many New Year's Eve options.
Hotels, businesses, and the entire country comes together to provide vibrant entertainment, delicious cuisine, and spectacular fireworks. We wish everyone a safe and enjoyable New Year's Eve!