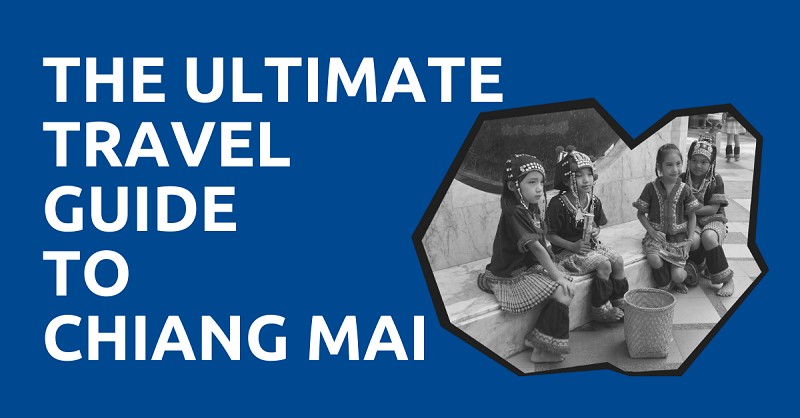 Known as the spiritual capital, the Northern city of Chiang Mai is one of the most popular destinations for travelers to Thailand. It is the main base for exploring the North of Thailand, It has a laid back vibe, a fantastic cost of living and a huge variety in things to see and do.
Chiang Mai has become a bit of a hipster city in recent years, due to an influx of digital nomads and creatives. Funky little coffee shops and coworking spaces with lattes and high-speed wifi are sprouting up everywhere. However, although the city is full of new and trendy influences, it is also rich with traditional culture and has its share of temples and traditions.
Visiting this vibrant city is a must while you are in Thailand and if you really fall in love with it, you might even want to stay a while. In this guide, you'll find plenty of helpful information for getting the most out of your time in Chiang Mai.
"*" indicates required fields
Brief History
Chiang Mai was founded in 1296. It's name means "New City" because it was the new city in a thriving kingdom known as Lanna, ruled by King Meng Rai.
There had been an earlier attempt to build a city in this area, but plans were stopped by the river flooding. The ruins of this failed Ping Valley city are located southeast of Chiang Mai and are now an important historical attraction, known as Wiang Khum Kham.
When Chiang Mai was built this new capital became a very important center of culture for the region, religion, and commerce for many centuries. You can see the legacy of the wealth of this era in the stunning temples throughout Chiang Mai, such as Wat Suan Dawk.
Areas
The main district of Chiang Mai is the Old City District, where you will find all of the main attractions such as Buddhist temples as well as many of the popular hotels and restaurants. The streets are like a winding labyrinth and many of the eateries in this part of town are very authentic and affordable.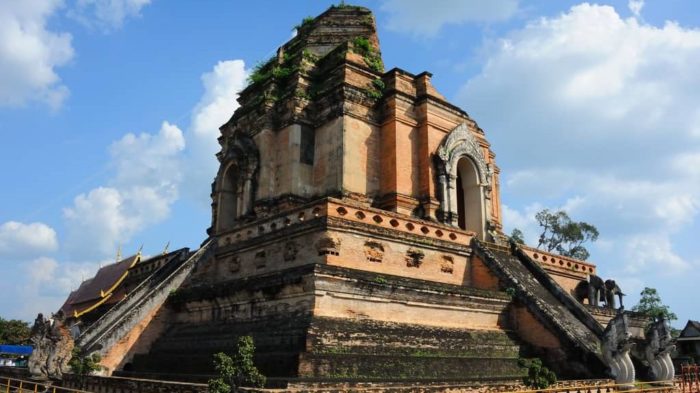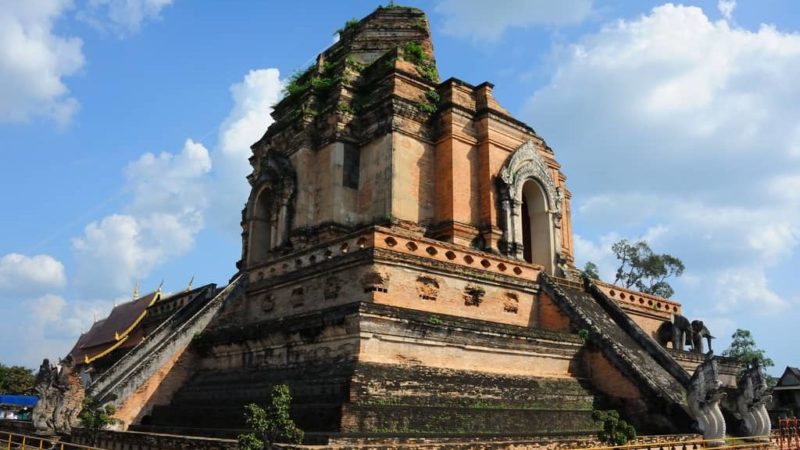 Old City District
On the eastern side of the Old City District, you'll find the Chiang Mai Night Bazaar, which is one of the most colorful attractions in the city and a great place to shop for handicrafts. North of the Old City you'll find the Chiang Mai National Museum, as well as the Lanna Golf Course. The area west of the Old City District is much more family orientated and it is where you will find the Chiang Mai Zoo and Arboretum.
The River Ping
In the area East of the River Ping, you'll find several other popular tourist attractions including the Boxing Stadium and the Kawila Monument. This is also where you will find the offices of the Tourism Authority of Thailand.
Santitham
Santitham is another area outside of the city and it is much quieter, yet you are still close enough to walk to everything. Nimmanhaemin Road is also a very interesting district of Chiang Mai. It's become the hipster area, full of trendy boutiques, cafes and bars.
Outside the City Limits
National parks like Doi Inthanon also offer unique experiences for visitors to Chiang Mai. Aside from exploring the abundance of nature, tourists can check out the Thai National Observatory or even camp out in the park.
Where To Stay
When it comes to choosing a place to stay in Chiang Mai, you can either stay inside or outside the moat. The main center of the city inside the moat is recommended for a shorter stay, because it is close to all of the main attractions.
The area of the city on the outside of the moat is better for a long stay as it has more of the long-term amenities you will need and the prices are cheaper. One of the coolest areas of town for a longer term stay is Nimman, which is the hipster area of the city. It is where many of the digital nomads in Chiang Mai hang out and there are plenty of restaurants, bars, clubs, and cafes.
Hotels and Guesthouses
There are many different hotels in Chiang Mai to choose from, ranging from the simplest local guesthouse to five-star luxury retreats. However, you won't find large resort-style accommodation here in the Old City—you'll have to stay in Chiang Mai Riverside if you want to stay in the more spacious resorts.
A basic hotel in Chiang Mai will usually be around 600 baht to 1000 baht per night and the prices will go up from there, depending on quality, location, and amenities. It is often possible to bargain with the guesthouse owner for a cheaper nightly rate if you are staying for longer.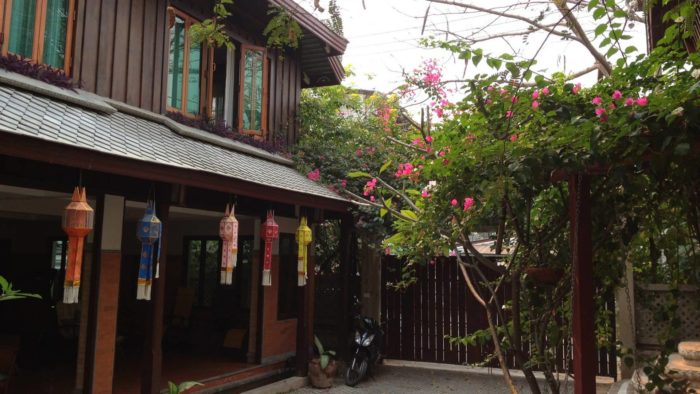 Keep in mind that this is Thailand and luxury doesn't necessarily mean expensive. You'll be able to stay in a very nice hotel with room service and a pool for the price of a cheap motel back home.
Booking.com can be a great website for finding deals on hotels and guesthouses in Chiang Mai.
Hostels
Chiang Mai has a lot of hostels throughout the city and many have opened in recent years to meet the demand for budget backpackers. They will usually be around 200 baht to 300 baht for a room in a large dorm, where you will be sharing the room with six to ten people. Many of the centrally located popular hostels include free breakfast and air conditioning.
It is also possible to find a private room in a hostel, for around 600 baht to 1000 baht. If you are traveling as a couple, a private room in a hostel can be ideal, as it gives you space but still allows you to enjoy the hostel advantages of having a kitchen, a common room, and more.
Airbnb and Villas
In Chiang Mai you'll also find homestays, luxury villas, Airbnb, and other similar booking platforms that cater to the self-serviced accommodations market. Many of the apartments and townhouses that you can book will be within the Old Town and Nimman areas of the city.
There are over 6,000 homes to choose from and the average home rating in the city is 4.7 out of 5 stars. There are a total of hundred thousands of reviews to read of Airbnb homes in Chiang Mai from previous guests, so you can get a good idea of what to expect before you arrive.
But Airbnb isn't legal unless you stay there for more than 30 days.
If you are looking for something really luxurious, there are many huge villas in Chiang Mai that you can book along the river with multiple bedrooms and a swimming pool.
Even just the apartments and homes for rent on Airbnb in Chiang Mai are new, stylish, and beautiful—and are offered at affordable prices.
What to Do
It comes at no surprise that Chiang Mai offers visitors a number of different attractions. From cultural activities to outdoor adventures, and from theaters, movies, and shows to family activities, you'll never run yourself bored.
Cultural Activities
Some visitors may take an interest in the culture of Chiang Mai. Here are a few things to do to explore Chiang Mai's uniqueness.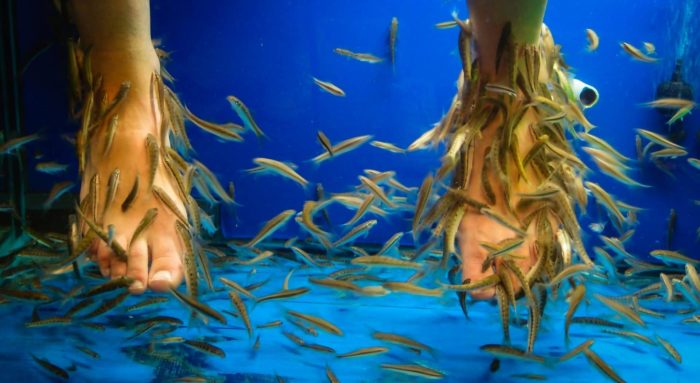 Chat with a Monk
At Wat Chedi Luang, you will have the opportunity to sit down with a Buddhist monk and talk to them about almost any aspect of life. This is a fascinating opportunity to gain insight into their lifestyle—and maybe even learn a thing or two about yours.
Head to Doi Suthep
Visit the most famous temple in all of Chiang Mai. It is located about 12 km outside of the city on a mountain with stunning views. At this beautiful 13th century temple you'll find a large white elephant shrine as well as a replica of the Emerald Buddha.
Treat Yourself to a Luxurious Spa Treatment
There are many excellent spas in Chiang Mai that will offer you pampering services such as facials, massages, aromatherapy, pedicures and manicures at very affordable prices. Let a professional masseuse stretch and knead your muscles until all of your tensions melt away.
Visit the White Temple of Chiang Rai
The temple of Wat Rong Khun is approximately 2.5 hours north of Chiang Mai, making it an interesting day trip. The entire temple is a brilliant shade of white, symbolizing purity
Outdoor Adventures
If you call to Chiang Mai is a bit more adventurous, consider some of the following activities.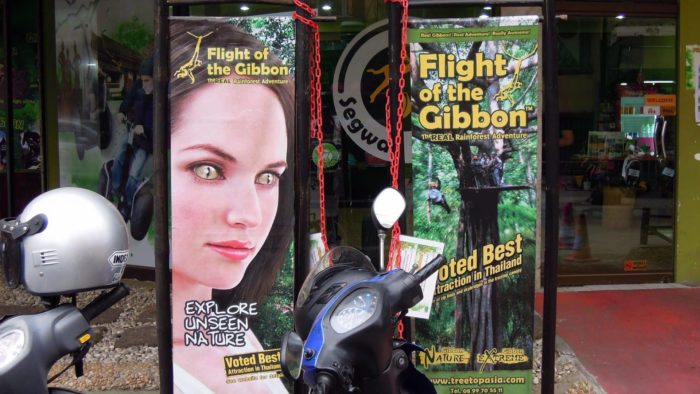 Elephant Sanctuaries
Make sure you find an ethical one where the handlers do not let guests ride the elephants, as this is damaging to their spines. You can read our blog post about having an ethical elephant experience in Thailand.
Hike to Wat Doi Suthep
Can you tackle the 304 steps to Wat Prathat Doi Suthep, perched high on Suthep Mountain? If you plan your hike up the steep stairs at around 6pm, you'll be able to hear the monks chanting when you reach the top.
Ziplining
Soar through the forest canopy on a zipline! Check out Flight of the Gibbon.
Doi Inthanon National Park
Go for a hike in this pristine, unspoiled park, home to the highest mountain in Thailand. Keep your eyes peeled for the diverse range of bird species—this park is home to more bird species than anywhere else in the world.
Sticky Waterfalls
These incredible waterfalls flow down rocks that have limestone deposits, which gives them a sticky texture and allows you to climb them.
Theaters, Movies, and Shows
If you find yourself burned out by all the adventure, consider doing something a bit more hands-off. Here are a few shows you can watch, yet still get your fix for excitement.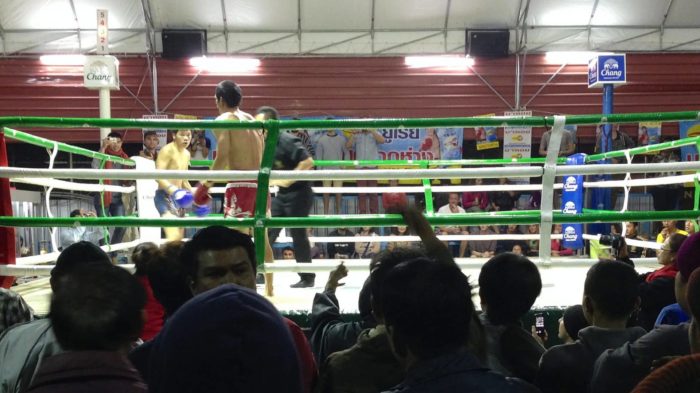 Cabaret
Seeing a ladyboy cabaret show is something that should be on your Chiang Mai bucket list. You'll never forget this flamboyant spectacle of magic, music, comedy, and burlesque.
Muay Thai Boxing
Muay Thai is known as the national sport in Thailand and watching one of these thrilling matches usually costs around 400 baht to 600 baht.
Live Music
Chiang Mai has quite a cool live music scene and you'll find great tunes at a number of venues, including Northgate, Boys Blues Bar, Roots Rock Reggae, and the Riverside Restaurant and Bar.
Cinema
Seeing a movie in a cinema in Thailand is a must-do experience. The prices for movie tickets are so much cheaper than you are used to back home. Many of the big Hollywood blockbusters will be shown in English, or with English subtitles.
The Thai Royal Anthem plays before every movie. The main cinemas in Chiang Mai are the SFX Cinema at Maya Mall, the Major Cineplex at Central Festival, the SF Cinema City at Promenada Mall, and Vista Cinema at Kad Suan Kaew.
Family Adventures
If you're traveling to Chiang Mai with your family—especially kids—there's still plenty to do. Check out some of these family attractions in Chiang Mai.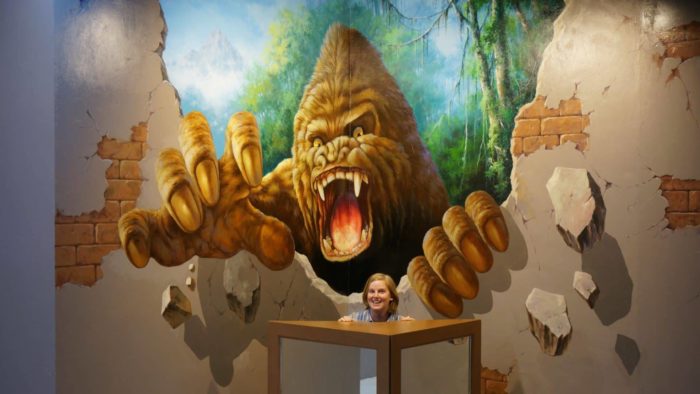 Museums
Learn about the history of the minority hill tribes in the North of Thailand, with exhibits on their jewelry, clothing, and day-to-day life at the Tribal Museum in Chiang Mai.
Zoos and Aquariums
The Chiang Mai Zoo and Aquarium is a 200-acre home to a large variety of animals and marine life—the largest in Asia.
River Cruise
Take a relaxing cruise on the river which will take you through gorgeous scenery in the heart of Chiang Mai and out into the rural areas, where you can stop and visit a local farm.
Pet Cafes
Did you know that Chiang Mai has a cat cafe? It's called Cat's Alley that is pretty adorable. While you sip your coffee you'll get to cuddle with cats living in the cafe.
Food and Restaurants
As with most of Thailand, the cuisine in Chiang Mai is amazing. There are many dishes that come from Chiang Mai, such as khao soi, gaeng hang lay, and nam plick macua. Whether you're looking to cook or eat northern cuisine, here are a few ways to do it.
Thai Food Cooking Classes
Learn how to bring those mouthwatering flavors home with you. There are dozens of cooking schools in Chiang Mai to choose from and they will teach you how to prepare everything from Red Curry to Pad Thai to Som Tum.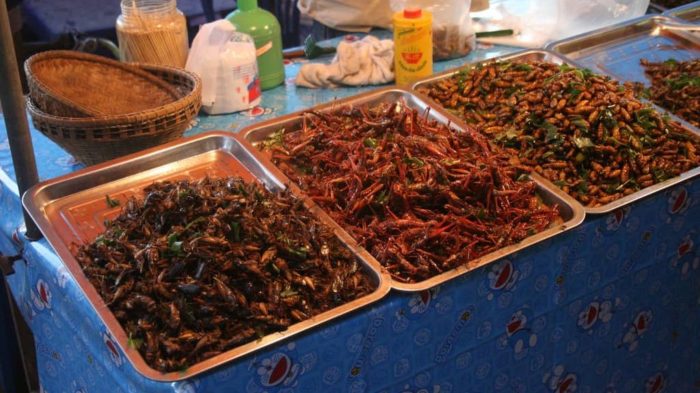 Khantoke Dinner
During this cultural dining experience you will be seated on the floor around a circular tray laden with Northern Thai dishes and traditional performers will dance around you while you eat.
Eating Insects
At the famous Sunday night market you will find entire booths dedicated to fried insects. They are considered a tasty snack in Thailand and they pair well with a cold beer. Do you dare to eat a cricket, a mealworm, a cicada, or a whirligig beetle?
Khao Soi
There are many delicious Northern Thai dishes, but khao soi is one of the most famous. It is a curry and coconut based soup with chicken and egg noodles, topped with red onions, lime, and pickled green mustard. Give it a try, it's delicious.
Nightlife and Party Attractions
Chiang Mai isn't all about the cultural and adventurous activities. There's plenty to do for singles or anyone else looking to hang out, grab a beer, and chat it up.
Bars and Pubs
Chiang Mai has an incredibly lively nightlife scene and when the sun goes down the fun really begins. If you go out for a drink in Nimman, you'll find the trendy bars that serve wine, cocktails, and imported beers.
If you head to the east side of the Old City you'll find the bars that cater mostly to the backpacker crowd.
Keep in mind that all of the bars close at midnight in Chiang Mai and the police are quite strict about this.
However, there are a few that choose to disregard the rules or pay the fine in order to stay open until much later. These policies change regularly and clubs often open and close at different times, so it's hard to say which bars will be open late and which ones will be following the rules. Your best bet if you want to keep partying after midnight is to ask a local expat about the best place to go.
Clubs
The clubbing scene in Chiang Mai is nowhere near as extensive as in Bangkok, but it's still a great place to go out and party.
If you are looking for the typical booming club scene, you'll find it within the alleys of Nimmanhaemin Road. One of the most famous nightclubs in Chiang Mai is Warm Up Cafe, the biggest, best, and longest running in the city.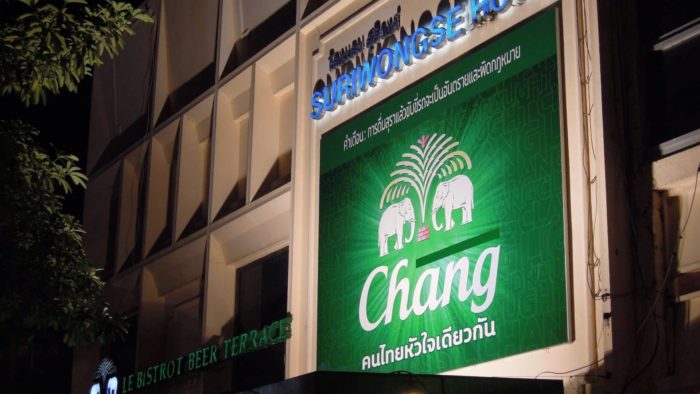 Zoe in Yellow is also a favorite for backpackers and it is located near many of the cheap hostels and guesthouses. When the party winds down here at 2am, many people head to Spicy, a late-night spot on the other side of the moat.
The clubs and bars along the riverside have a much more chilled out feeling and you're more likely to hear jazz, blues, or rock tunes. If you are in the mood for a bit of a naughty night out at the strip clubs, Loi Kroh Road is the Chiang Mai red light district.
Getting Around
Once you're in Chiang Mai, you'll need to get around. In the following sections you'll find out some of the easiest and affordable ways to travel through Chiang Mai.
Renting a Scooter or Car
Having your own motorbike or scooter is a very cheap and convenient way to get around and gives you the freedom to explore away from the beaten path.
The cost of renting a scooter is generally around 200 baht to 500 baht per day. Renting will require a deposit of around 2,000 baht to 5,000 baht depending on the where you rent from, but if the company asks you to leave your passport for collateral you shouldn't do it. Take photos of the bike at the beginning of the day when you rent it, so that you have proof of the condition if the rental company tries to blame you for any damage when the bike is returned.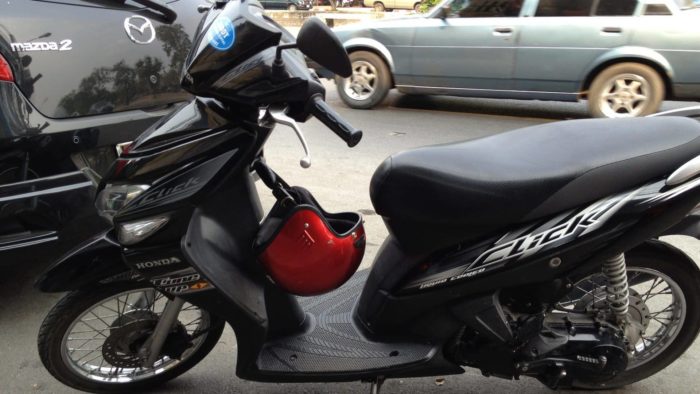 Car rentals are also a great option, as they will allow you to make excursions into the mountains of Northern Thailand. The cost of renting a car is generally around 1,200 baht per day.
You'll need a valid Thai or international driver's license when renting a motorbike or a car in Thailand.
Taxis and Tuk-tuks
Taxis with meters are available in Chiang Mai and you can flag them down on the street. The base rate is 30 baht and generally a ride across the Old City will cost around 100 baht. Make sure that driver is using the meter rather than negotiating a fixed price fare with you. Also, it's a good idea to have Google Maps open on your phone, so that you can see the route to your destination and make sure that your tuk-tuk driver isn't taking you on a long, circuitous route to drive up the fare.
Unlike taxis, tuk-tuk drivers are likely to ask for a higher price, so you should be prepared to negotiate. It is also possible to get around Chiang Mai via Grab. Just download the app and you'll be able to order a taxi to your location with the tap of a button. The payment is made according to a set fee via the app, so there's no need to haggle.
Public Transportation
There is a public bus system in Chiang Mai, but the service is not very frequent or extensive. One of the main forms of public transport in the city is the songthaews, covered long-bed trucks that have been outfitted with seats in order to carry passengers.
They are cheap and they usually cost around 15 baht to 20 baht to go anywhere in the city. You simply wave one of them down. If the driver is going on a route past that destination, they will quote you a price and you can hop on.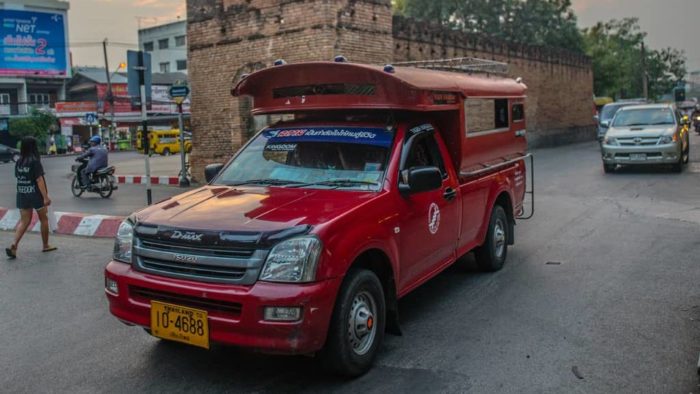 The main area of the Old City within the moat is quite compact and it is easy to get around to most destinations on foot.
Shopping
If you have some money to burn after all the adventure, food, and drinks, check out some of the places to shop in Chiang Mai. There are a variety of malls, markets, and vendors, where you'll find something for everyone.
Malls
Although the retail scene here is smaller than the mega malls of Bangkok, Chiang Mai is still a fantastic city for shopaholics. Many are home to extra amenities such as bowling alleys, arcades, and cinemas.
Central Plaza Chiang Mai Airport is a big one, with plenty of designer shops and a great food court in the bottom. Maya Lifestyle Shopping Center is very trendy and hip, with a range of restaurants, cafes, fashion stores, and more. Central Festival Chiang Mai is the largest mall in the city, with over 70 acres of shopping and stores carrying international brands such as Marks & Spencer, Topshop, and H&M.
Markets
Strolling through a night market in Chiang Mai is a delight. These markets often feature excellent street food, live performances, and beautiful handicrafts from local artisans. The main markets are the Saturday and Sunday night markets. However, you can also check out the Chiang Mai Night Bazaar, the Malin Plaza Night Market, and Warorot Market.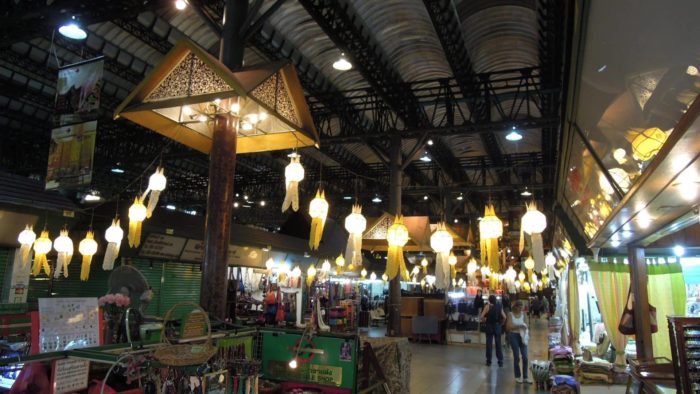 You'll also want to take a stroll down San Kamphaeng Road, which is known as the "Handicraft Highway." It is lined with market stalls where you can find sculptures, wood-carvings, pottery, silverware, and silk products. Chiang Mai is known for some of the best silverware in Thailand.
Boutique Vendors
Chiang Mai is considered a hub of Thai crafts and unique artisan shops, run by locals who use centuries old techniques to create beautiful and unique clothing, jewelry, and gifts.
Check out Ginger, which is known for its furniture, homeware and beautiful clothing. Hilltribe House is also a cool boutique shop that sells handicrafts made by local Lanna Hilltribes. If you are into boutique shopping you'll also love Mesimu, which is a Chiang Mai brand creating children's clothing and handmade bags.
Nimmanhaemin Road is also a wonderful place to shop. It is considered one of the trendiest streets in the city and it is full of restaurants, bars, and boutique stores.
How to Get There
Chiang Mai is in the mountains of Northern Thailand. But that doesn't mean it's not easily accessible. There are many transportation options to go there. You can get to the area easiest by airplane or bus.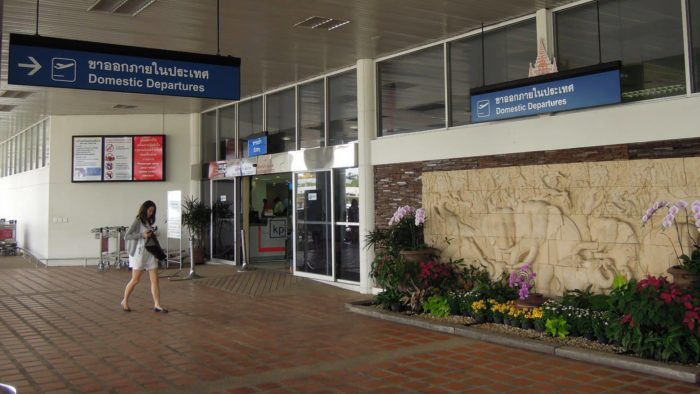 Flights
The airport here is Chiang Mai International Airport (CNX) and it is located to the southwest of the city, about a 10-minute drive from downtown. There are hundreds of flights per week to CNX, including both domestic and international flights. It serves an estimated two million passengers per year.
There are choices on airport transfer here. You can take Grab or a taxi to get to the city from the airport, but if you do take a taxi make sure they use the meter. Or, you can take Bus #4 to the city center for 15 baht. The airport is around 3 km southwest of the city. If you take a metered taxi to get from the airport, it will start from around 40 baht, plus a 50 baht service fee from the taxi counter.
You can also check to see if your hotel or guesthouse offers a cheap or free airport pickup service, as many of the upmarket accommodations will provide this.
International Flights
If you are flying into Chiang Mai from outside of Thailand, you'll need to fly into Bangkok and then take a connecting flight. Unless, of course, you are flying from Yangon or Mandalay in Burma (Myanmar) or Luang Prabang in Laos, as Bangkok Airways offers international flights into Chiang Mai from these destinations. Also, Silkair offers direct flights between Singapore and Chiang Mai.
Domestic Flights
The main domestic route is between Chiang Mai and Bangkok and the two main carriers, Bangkok Airways and Thai Air, serve this route on a regular basis. (It's one of the busiest routes in Thailand.) There are also other budget airline options for domestic flights, including Thai Smile, Nok Air, Lion, and Thai Air Asia.
Keep in mind that many budget airlines fly into Don Muang Airport in Bangkok rather than Suvarnabhumi International Airport, so make sure you check your tickets and plan accordingly.
You'll also find domestic routes between Chiang Mai and Phuket, Surat Thani, Hat Yai, and Koh Samui. They don't fly every day and are less frequent in the off season and the prices vary depending on the day of the week and the airline.
Buses
The bus route between Chiang Mai and Bangkok is very popular, so that means it is served by a huge range of providers who are very competitive. It's a good idea to walk around to several different agencies and compare prices. The price can vary from 250 baht to 800 baht, depending on if the bus has air conditioning or not, if the seats lean all the way back, and so on.
The cheapest option is the government bus, which won't be that comfortable, and will take about twelve hours and will rattle along making a stop at every small town along the way. If you pay 500 baht to 600 baht for a more luxurious bus, it will only take around 9 hours and the bus will have comfortable seats and snacks.
When you arrive at Arcade Bus Station, Chiang Mai's arrival station for most buses that enter the city, you'll still need to get from there to the center of Chiang Mai as Arcade is on the outskirts of town.
The taxi drivers will tell you that the journey costs 200 baht and may show you a price list with bogus prices. However, the fair price for a metered taxi will be around 60 baht to 80 baht, as it is only 5 km to 6 km away.
You can also use Grab to get from the bus station to the city, but make sure to pin your location really well so that the driver can find you, as the bus station is quite large and it can be confusing.
Emergency Numbers
There may come a time when you'll need help in Chiang Mai. So store these numbers in your phone. If you find yourself in an emergency, call one as soon as possible.
| Emergency Contact | Number |
| --- | --- |
| Tourist Police | 1155 |
| Police (General Emergency Call) | 191 |
| Ambulance and Rescue | 1554 |
| Fire | 199 |
| National Disaster Warning Centre | 1860 |
| Crime | 1195 |
| Medical Emergency Call | 1195 |
| Private Air Ambulance (Siam Air Care) | 02 586 7654 |