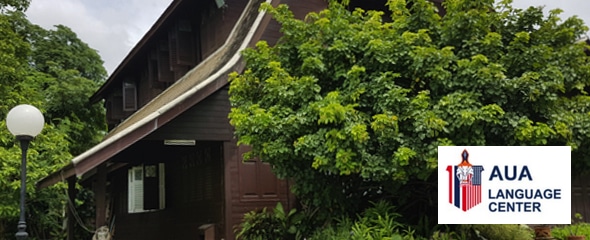 Website: AUA Chiang mai
Tele: 053 214 120, 053 211 377, 082 036 7840, 095 452 7840
Address: 24 Rajadamnern Road, Chiang Mai, Thailand 50200.
AUA is located on a main through road in Chiang Mai Old Town, yet the setting is quiet and the buildings remind me much of old Thai-style houses.
They currently have seven six-week modules available: Speaking 1-4 and Reading/Writing 1-3, at THB5300 per course. The lessons are two hours a day, Monday-Friday, with a 15-20 minute break after the first hour.
This school definitely seems to be good value for money. I found the teachers at AUA very experienced and invested in their students' progress. The teachers drill words into you, and correct you until you pronounce them the right way, and you'd better do it with a smile on your face.
AUA is definitely not a school just to get the ED visa. AUA requires attendance and participation in classes and that's a positive because the students participating are motivated and make progress. Plus, the school expects you to study and practice outside the classroom as well. 
What struck me as a bit odd at first was the lack of desks in the classroom. Everyone sits in a semicircle and writes with their notepads balanced on their knees. But at the same time the arrangement makes the exercises requiring speaking to everyone that much easier. You just stand up and walk across the room without having to move desks around or trying to navigate between them. This open system also encourages switching conversation partners and getting used to different accents.
Conversation Level One
In the Conversation Level One course I attended, all my fellow students were super friendly and motivated; everyone was there to learn Thai. Not one of the 12 students had an ED visa, and on the quietest day attendance was seven. There were only three farang (non-Asians) in my class, which seemed a common theme at AUA.
Missing a few lessons is enough to fall behind and AUA gives the impression that if you do miss too many lessons, you'd be politely asked to rethink whether you should continue with the class. This reinforced the idea that Digital Nomads do not often enroll at AUA (could be because avid attendance and participation is expected).
However, the level among students was very different, making it hard at times for lessons to flow at a steady speed. I also found having a dialogue with others in Thai a bit tricky for the same reason. But it does make you concentrate on listening more. At the same time, our teacher made sure to get everyone to understand and follow, so no one was purposefully left behind. In saying that, there was no excessive hand-holding for anyone.
In the beginner's course, for the first two weeks we focused on practicing tones and vowels for 30 minutes. We played 'guess the tone' games quite a bit and while it was frustrating at first, eventually we all started to agree on the correct tone. 
Teaching Method
The teaching was built around repetition. There was a great deal of repeating of words and phrases out loud every day. The teacher expected us to use all new words taught, plus find new words to use on our own. And to make us understand the thinking behind the language our teacher illustrated 'weird' words and expressions using her own life experiences and situations.
For this class we didn't have a book, just handouts and a whiteboard with notes. Not following a set curriculum allowed our teacher to focus on what she felt was relevant, in a way what also suited her, thus making the classes fun and interesting for us. The only wish I have is that they taught more everyday Thai; things you need to say to the street vendor or the taxi driver. What we ended up learning was a bit more sophisticated and didn't help me when ordering food. But this could very well be my European thinking since I have had to forget every single European language I speak and start from a blank piece of paper.
While I feel that we could have spoken a bit more in class, thanks to their repetition teaching method, most of what we practiced did stick. We covered a great deal of ground, with everyone managing to follow along.
I've now finished Level One Speaking and have decided to try out Payap. I went for an interview and they said I was ok for Level Two. So stay tuned 🙂
Conversation Level Three
AUA Level Three included a small group of nice students from Taiwan, Korea, Japan, China and Europe. In this course the speed and level increased significantly. The teacher spoke at a relatively normal speed, but used words and sentence construction that everyone could understand. This way of teaching has you recognising normal spoken Thai and responding actively.
Again, the time flew by and the lessons were great fun. Everyone was pushed to learn and to try to explain stories and compound sentences. English was not used in class but any new vocabulary was given in Thai / English / phonetic handouts. I found that many of the students could already read and write quite well and took their notes in Thai script only, although there are still a few, including me, who could read but struggled to write.
Despite the fast spoken language and assumption that certain things should be inherently understood, there was surprisingly little homework in this course. In saying that, to be ready for the next lesson all of us appeared to recap at home to some extent.
Same as with the previous course, it's an untraditional classroom with all pupils sitting in a semicircle around the room, with no desks, taking notes on notebooks balanced on their knees. There's a lot of work in pairs though, and you're forced to work with different people every day, which apart from making new friends helps you to hear other people's pronunciation and see in detail what level they're at.
Private Lessons
I went for an intake assessment at AUA in Chiang Mai and was told that while I had a good vocabulary my grammar was messy and unstructured, so was advised to take private lessons before joining the second level. Cost per hour was THB400. This consisted of one hour, two or three times a week, speaking with a teacher who would simply kick off the discussion by asking questions.
Each of the lessons actually covered different grammar elements, although it was never presented like this, so I only became aware at the end of the month. The hour flew by, with discussions ranging from immigration and unemployment, to baggy trousers and the Russian mafia.
Because it's a private session, and you're one-on-one with the teacher, you simply can't hide and pretend that you know what's being discussed, so you learn a lot. It was quite hard work but I enjoyed it and it paid off. At the end of the month the teacher put me not into the second, but the third level.