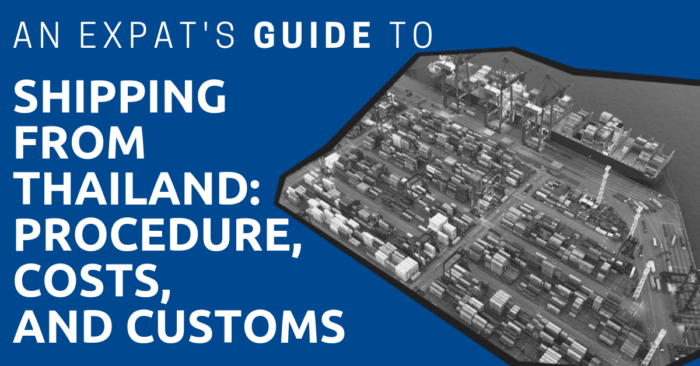 If you live or vacation in Thailand, there's a good chance you may have to send something back home. Whether it's a personal letter, business package, or a purchase from an incredible shopping experience, you'll want to know where you can get the cheapest international shipping rates from the most reliable international shipper.
This shipping guide details each step in sending items from Thailand to anywhere abroad. You'll learn how to prepare your package, assemble and fill out the correct documents, and select the best shipper. You'll also learn about shipping policies officials use when sending your shipment outside of Thailand.
If you want to save time and skip the lengthy read, fill out the form on our contact page and get five free quotes from moving companies within 24 hours.
If you're looking to send items to Thailand, check out our guide to shipping to Thailand.
Preparing a package
When preparing a package for international shipping, take extensive care while packaging items. FedEx recommends this packing process. Shipping services worldwide subject packages to a wide array of abuse, and this is especially true for international shipping from Thailand. Marking your package fragile does little if anything in preventing rough handling.
One consideration is water damage, an issue that is often not accounted for until it is too late. A good practice is to wrap any items inside a plastic bag before packaging. This helps your item stays dry.
Finally, shipping containers can get hot. Be aware of this when shipping items sensitive to high temperatures. Expect your items to reach temperatures of at least 105 degrees Fahrenheit.
There may be other times, though, when you won't be the one preparing your package for shipping. If this is the case, it's important to find out who will prepare your package, and by what methods. Most private shippers can take photos of your package after they've prepared it for shipping.
You may also want to look into having a shipping company take care of preparing your belongings for shipping to ensure that the utmost care is taken and your goods arrive in good condition.
Paperwork
When you ship your items from Thailand, you'll have to fill out a Customs Declaration form known as CN 22. You can get the form from your shipper.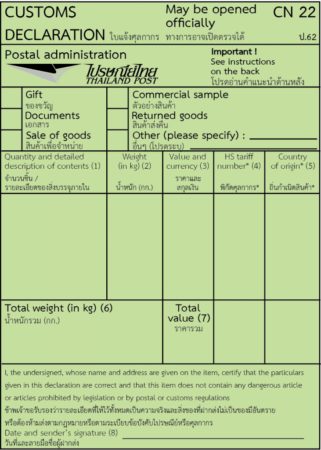 Some shippers may help you fill out the form. Without this form filled you won't be able to ship your package out of Thailand. Be sure to fill out the sender's and receiver's address, the item you're shipping, the quantity, and the value.
Bulk Shipping
If you are looking to ship large amount of goods, or perhaps moving the entire contents of a home, then you'll need to look at freight forwarding and container shipping.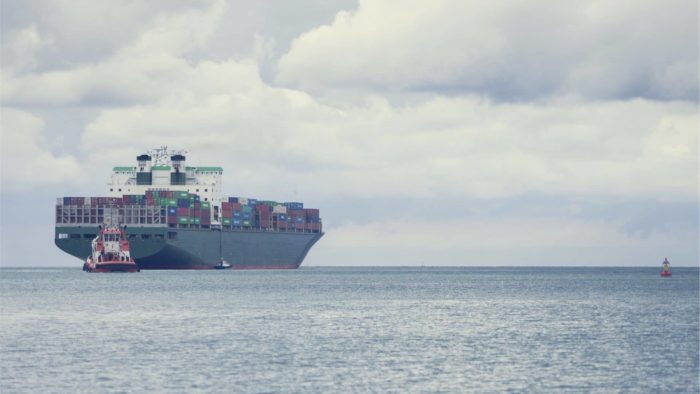 Container Shipping
Container shipping involves shipping goods via a freight container usually aboard a freighter ship. Container shipping is best suited for individuals who are looking to ship a significant quantity of goods or individuals looking to ship a vehicle, motorcycle, building materials, or other large items. When choosing container shipping, you have two major options:
LCL = Less than Container Load
FCL = Full Container Load
LCL involves sharing a container with other shippers. Essentially, you're paying for partial space in a container, usually by the cubic meter. As such, it is cheaper as you are only paying for a small area of a much larger container. This is great for individuals who have items that are too large to ship via standard international shipping but are not a large enough quantity to warrant an entire container.
The major drawback of LCL shipping is that you must wait until the entire container is filled and ready to ship. Therefore, you may wait months just until the container is filled and ready to ship before having to wait additional time for the actual transportation of the goods.
FCL involves filling an entire shipping container usually with at least 30 m³ cubic meters of goods. Although the price is significantly higher, you will have more control over when and where the container is filled and shipped.
The total price for shipping with a container depends on how much of the container you fill. Most shipping companies offer half containers at 20 feet long, or LCL, and full containers at 40 feet long, or FCL. Prices vary by shipper.
According to Freightos, the cost of shipping a 20-foot container from Bangkok (THBKK Port) to New York is about US$2,300 and a 40-foot container is around US$4,220 for the same route. This will take approximately 30 to 50 days. Adding insurance to either container type would run you another US$100 to US$200. All taxes are calculated by the value of items you ship. You can use an online import duty calculator to estimate the taxes for your shipment.
Some shipping companies offer all-inclusive services and give you the option of using the full container load or less than container load so that you can meet your budget.
Freight Forwarder
Those considering container shipping will have to begin by choosing a freight forwarder. A freight forwarder is a firm that acts as an intermediary between you (the customer) and a commercial freight shipping company. A freight forwarder will offer a full range of services, consisting of sourcing a freight shipper, negotiating shipping prices, preparing the correct documents, tracking the shipment, storing the shipment, and helping with inland transportation.
A freight forwarder does not actually ship your freight. They are an industry broker who will help you navigate the complex facets of international freight shipping. They have industry relations with many shipping services and extensive knowledge of shipping logistics.
Most of the forwarders don't list shipping costs or times on their websites because it will vary depending on several factors:
gross (real) weight of the package
size (dimensional weight)
distance it needs to travel
level of service you require
If you're shipping a palette of feathers, for example, the shipper would charge you by dimensional weight. Otherwise, they'd lose money because the real weight is so light. If you wonder what the cut-off is between real weight and dimensional weight, contact the freight forwarder.
When it comes to shipping times, it's best to contact a freight forwarder to see what option is best for you. Shipping by air is not always the quickest method. Sometimes shipping by sea will be quicker than shipping by air.
You can use this form to find a suitable freight forwarder. Once you submit the form, you will get free quotes from shippers within 24 hours.
You can also visit the official Thai Customs website that details the process of importing procedures and exporting procedures for Thailand.
Shipping From Thailand to USA
When shipping items from Thailand to the U.S., you have several options. For packages weighing around 30 kilograms or less, you can choose between the postal service or courier services. Costs depend on factors such weight, dimensions, destination, and shipping method.
Courier services like DHL or FedEx have higher base rates but provide more reliability and speed. For example, shipping a 10-kilogram package via FedEx costs around THB8,500, which is about THB500 more than shipping via Thailand Post's EMS World option. Courier services take two to five days to deliver, while the postal service takes five to 10 business days.
For large or heavy items weighing 50 kilograms or more, air or sea freight is more cost-effective. Sea freight is five to six times cheaper than air freight but takes up to two months to reach your door. Air freight arrives within a week. These freight rates can be affected by peak seasons, which are usually between August and October.
When shipping from Thailand to the U.S., it's important to prepare your package properly, fill out the correct documents, and understand customs requirements.
Shipping Companies
Although there are many private and government funded shippers available, the shipping services listed below are just a few of the more popular options you have in Thailand.
Note that these services only work when you want to ship a few items to other countries. If you need to send many of your belongings overseas, including moving out from Thailand, it's better to use a relocation company instead.
Thailand Post
Thailand Post is the main method of delivery for most people in Thailand. They have branches in most sub districts in the kingdom. So finding a branch shouldn't be a hassle. But the question of Thailand Post's reliability is often a topic of debate. I've never had any challenges using Thai Post, but many users have claimed they've had packages stolen, lost, delayed, or damaged.
These claims may drive customers away from using its services, especially if they're shipping valuable or fragile items. Take such complaints lightly, as everyone has different experiences. I also recommend new customers look at its shipping options and rules on the official Thai Post website.
Thailand Post offers these options for international shipping:
Registered
ePacket
EMS World and Courier Post
Registered is the cheapest yet slowest option suitable for small items or inexpensive goods as tracking is limited. The ePacket service is a fully-trackable, affordable, and quick way to ship items not exceeding 2 kilograms to 53 countries. EMS World is similar to express shipping from other providers. You can estimate your EMS shipping costs using this chart. Lastly, Courier Post is also an express shipping service for packages up to 200 kilograms and includes one-stop custom clearance both in Thailand and destination country.
Thailand Post offers insured shipping with tracking but it doesn't cover much. It's also hard to make a claim unless you purchase additional insurance.
You can track your shipment on Thailand Post by entering your 13-digit tracking number on the Thailand Post website.
DHL
DHL offers fast and reliable international shipping services for urgent or valuable shipments. It has designated DHL Service Points across Thailand, either offices or kiosks, in cafes or malls for dropping off packages. You can find the location nearest to you by using its location finder.
The drawbacks of DHL are still the lack of offices compared to Thailand Post, and its expensive express shipping fees. If a package is heading to a region that lacks a DHL office, a third-party service is used to deliver the package to its final destination, negating DHL's tracking service. DHL Guidelines can be found here.
DHL provides three international shipping options:
Express
Express Worldwide
Express Easy
Express and Express Worldwide offer door-to-door service, allowing you to conveniently prepare and print labels at home and have a courier collect your package. On the other hand, Express Easy is ideal when you prefer to drop off your shipment at a designated Service Point location. The costs and shipping times vary slightly.
DHL provides insured shipping. If you have high-value items, you can purchase additional insurance coverage. It can offer insurance directly, or in the case of bulk shipments, refer you to a third-party insurer.
You can track your DHL shipment by entering your tracking number or ID on the DHL website. It offers tracking on up to 50 packages at a time. If you aren't shipping in bulk, then tracking your package won't be a problem.
FedEx
FedEx offices are located in 10 cities throughout Thailand, including Bangkok, Chiang Mai, Phuket, Pattaya, and Nakhon Ratchasima, among others. It's usually reliable, quick, and has many shipping options.
Fedex offers standard custom clearance services, but additional options are available if your shipment requires special clearance needs.
FedEx offers insurance as an add-on. They also have a money-back guarantee, ensuring that if they fail to deliver the package within the commitment time, FedEx refunds you for the shipping charges. For shipping restrictions, check out the FedEx Thailand export restrictions.
Tracking is available on all packages sent through FedEx and can be monitored via its website or mobile app.
UPS
UPS Thailand has its main hub in Bangkok plus customer centers located across the country in Chiang Mai, Pattaya, Surat Thani, and Phuket. Like FedEx, it's a popular pick for people who want to send packages overseas.
UPS offers the same shipping services as other providers. But what separates UPS from other shippers is their Volume Shipping option. If you export products out of Thailand regularly, and depending on the size of your shipments, you can select either low- or high-volume shipping. In this case, your shipments would be automated and move through the shipping process quicker.
UPS covers up to US$100 per shipment. If your parcel is worth more than that, you can purchase additional insurance during checkout.
You can easily track your package online using the provided tracking number. They also have a feature under UPS My Choice where you can edit how, when, and where you want your package to be delivered at any time.
International Shipping Services Comparison
The following is a comparison of a package sent from Bangkok, Thailand to New York, USA. This comparison shows only base shipping cost and doesn't account for additional services. Moreover, different shipping providers may include additional services like tracking, insurance, and online shipping, so there are other factors besides price and duration to consider.
Item: Legal Document
Weight: 0.5 kg
Value: N/A
| | | | |
| --- | --- | --- | --- |
| Service | ETA | Method | Cost |
| Thailand Post Registered Mail | 14-20 days | air | 765 baht |
| Thailand ePacket | 7-14 days | air | 720 baht |
| Thailand Post EMS World | 3-5 days | air | 1,700 baht |
| DHL | 3 days | air | 1,177 baht |
| FedEx | 3 days | air | 2,331 baht |
| UPS | 2 days | air | 1,400 baht |
Shipping Agents
Using a shipping agent can be beneficial if you're shipping large items, or if you're unfamiliar with the procedures and regulations involved with international shipping. Shipping agents differ from freight forwarders in that they represent the shipping line (or carrier) and serve as a point of contact throughout the shipping process, particularly when dealing with port-related procedures.
Process
After choosing a shipping agency, you can provide them with information about your shipment, including its description, weight, dimensions, destination, and any other requirements you may have. The agent then presents you with a range of shipping options and prices.
The shipping agent helps ensure that you have all the necessary documents and import-export licenses for your shipment. They also assist with the customs clearance process at your destination.
Once you have selected your preferred shipping method, you can opt to add additional tracking and insurance coverage to your shipment. You can then arrange to either have your items picked up or dropped off at a designated location.
Keep in mind that shipping agents may charge additional service fees or commissions, which can increase the overall cost of your shipment. It's a good idea to contact multiple agents and request detailed quotes based on your specific shipping requirements
Shipping Agent Companies
Here are a few recommend companies you can use to ship from Thailand:
Seven Seas Worldwide
Seven Seas Worldwide is an international shipping provider that ships to countries in North America, Europe, UK, Asia, and Africa. Previous customers have said its prices are good compared to other shipping agents and that shipping times usually take two to three months by sea. You can get a free instant quote on its website.
Siam Shipping / DocShipper
Siam Shipping is one of the leading shipping agents in Thailand for international shipping services. It also provides freight forwarding and can ship via sea, air, road, and railway. Its agents are also fluent in multiple languages, such as English and French.
DPX Logistics
DPX Logistics is a smaller company based out of Bangkok. It can assist in shipping items door-to-door via air and can clear imported goods by express within one to three business days. However, it doesn't ship to the U.S. or most European countries, except England. It mostly services countries within Asia, such as Hong Kong, Japan, China, and Singapore.
Asian Tigers
Asian Tigers is a Thailand-based company specializing in relocation services both internationally and domestically. It can take care of everything, from packing and unpacking all your household items and furniture to dealing with custom regulations to assisting in insurance claims for damaged or lost items.
Customs
Thai Customs
Often packages shipped from Thailand take longer to arrive at their destination as a result of customs holding packages. Thailand is a major source country for a variety of drugs, contraband, and counterfeit items, and as such, many countries hold packages arriving from Thailand for longer than usual times. These packages are searched more diligently for banned items as well. For instance, packages arriving at the USA from Germany will make it through customs faster than items arriving at the USA from Thailand.
To avoid any additional customs delays, be sure to include the following info on all international packages leaving Thailand:
weight
country of origin
shipper's name and address
description of item(s) in English
quantity of each item in package
purchase price in currency of package's destination
These items are banned from being exported out of Thailand:
narcotics
counterfeit trademark goods
fake currency, bonds, or coins
obscene literature and pornographic materials
endangered species and wildlife
IPR infringing goods e.g. musical tape, CD, VDO, computer software, etc.
International Customs
When shipping your package from Thailand, your package may be held up in customs at the port of arrival. In America, for example, your package could stay in customs until they've thoroughly checked that it contains no illegal items. If you want your package to go through customs as quickly as possible, there are two steps you could take.
Follow U.S. Customs and Border Protection's import guidelines.
Check that the shipper is part of the Customs Trade Partnership Against Terrorism Program, or CTPAT.
If you're having trouble locating your shipment, contact the shipper or the Customs and Border Protection.
Shipping Insurance
You can purchase additional protection when moving items via shipping insurance.
Insurance coverage costs depend on the Cost, Insurance, and Freight (CIF) value, item types, original port, destination port, and shipping companies.
In the case of household items, the cost of insurance can be 3 percent to 5 percent of the CIF value, and comes with coverage of up to 110 percent of the CIF value.
Shipping insurance covers goods being damaged, or loss due to theft, water, weather, or accidents.
Please note that your goods must be packed by a professional company in order to get the full coverage.
To buy shipping insurance, you can directly contact an insurance broker
Common Mistakes
Avoid these common errors when shipping to ensure your product arrives at its destination safely and on time:
shipping prohibited items
packaging items incorrectly
failing to account for duty and VAT
setting inaccurate shipping weights
selecting the wrong shipping service
misunderstanding custom's procedures
failing to include the required paperwork
filling out addresses and forms incorrectly
Now, on to You
By following this guide, you should be able to mitigate as much risk and unnecessary spending as possible. So whether you are an expat living abroad, a tourist on a shopping spree, or someone doing business in Thailand, you will be well equipped to handle any of your shipping needs, and you'll be sure to get the best deal possible.