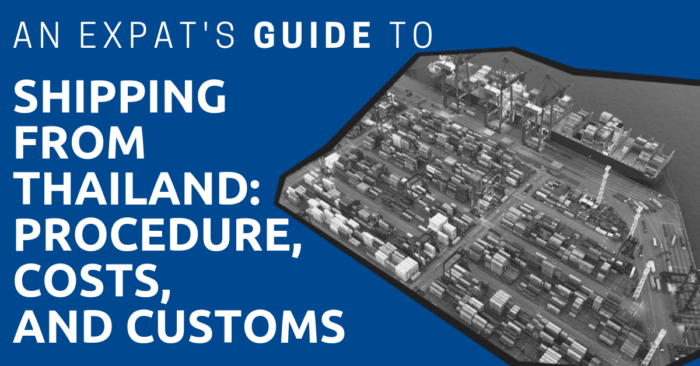 If you live or vacation in Thailand, there's a good chance you may have to send something back home. Whether it's a personal letter, business package, or a purchase from an incredible shopping experience, you'll want to know where you can get the cheapest international shipping rates from the most reliable international shipper.
This shipping guide details each step in sending items from Thailand to anywhere abroad. You'll learn how to prepare your package, assemble and fill out the correct documents, and select the best shipper. You'll also learn about shipping policies officials use when sending your shipment outside of Thailand.
If you want to save time and skip the lengthy read, fill out the form on our contact page and get five free quotes from moving companies within 24 hours.
If you're looking to send items to Thailand, check out our guide to shipping to Thailand.
Preparing a package
When preparing a package for international shipping, take extensive care while packaging items. FedEx recommends this packing process. Shipping services worldwide subject packages to a wide array of abuse, and this is especially true for international shipping from Thailand. Marking your package fragile does little if anything in preventing rough handling.
One consideration is water damage, an issue that is often not accounted for until it is too late. A good practice is to wrap any items inside a plastic bag before packaging. This helps your item stays dry.
Finally, shipping containers can get hot. Be aware of this when shipping items sensitive to high temperatures. Expect your items to reach temperatures of at least 105 degrees Fahrenheit.
There may be other times, though, when you won't be the one preparing your package for shipping. If this is the case, it's important to find out who will prepare your package, and by what methods. Most private shippers can take photos of your package after they've prepared it for shipping.
You may also want to look into having a shipping company take care of preparing your belongings for shipping to ensure that the utmost care is taken and your goods arrive in good condition.
Paperwork
When you ship your items from Thailand, you'll have to fill out a Customs Declaration form. Some shippers may help you fill out the form. Without this form filled you won't be able to ship your package out of Thailand. Be sure to fill out the sender's and receiver's address, the item you're shipping, the quantity, and the value.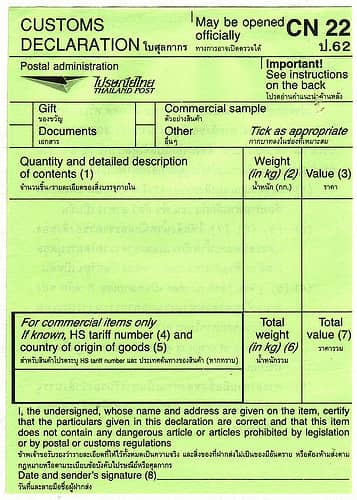 Bulk Shipping
If you are looking to ship large amount of goods, or perhaps moving the entire contents of a home, then you'll need to look at freight forwarding and container shipping.
If you're looking for a company to ship your belongings from Thailand in, fill out your info on our international moving page and get free quotes from international moving companies.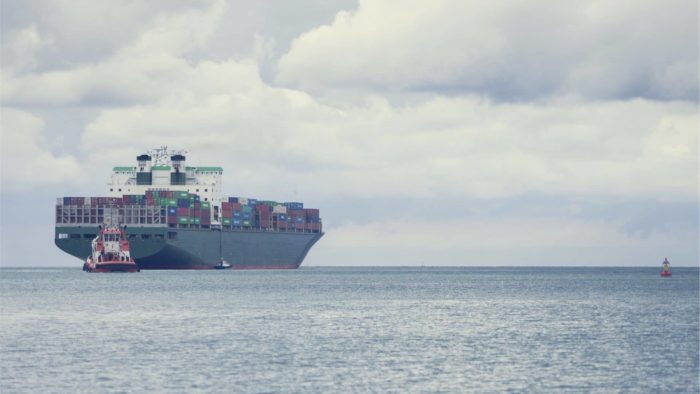 Container Shipping
Container shipping involves shipping goods via a freight container usually aboard a freighter ship. Container shipping is best suited for individuals who are looking to ship a significant quantity of goods or individuals looking to ship a vehicle, motorcycle, building materials, or other large items. When choosing container shipping, you have two major options:
LCL = Less than Container Load
FCL = Full Container Load
LCL involves buying partial space in a container usually per 1 m³ cubic meter. As such, it is cheaper as you are only paying for a small area of a much larger container. This is great for individuals who have items that are too large to ship via standard international shipping but are not a large enough quantity to warrant an entire container.
The major drawback of LCL shipping is that you must wait until the entire container is filled and ready to ship. Therefore, you may wait months just until the container is filled and ready to ship before having to wait additional time for the actual transportation of the goods.
FCL involves filling an entire shipping container usually with at least 30 m³ cubic meter of goods. Although the price is significantly higher, you will have more control over when and where the container is filled and shipped.
The total price for shipping with a container depends on how much of the container you fill. Most shipping companies offer half containers at 20 feet long, or LCL, and full containers at 40 feet long, or FCL. Prices vary by shipper.
But a 20 foot container leaving Bangkok and arriving at New York City costs about $800. While a 40 foot container leaving Bangkok and arriving at New York City costs between $3,500 and $4,000. Adding insurance to either container type would run you another $50 to $100. All taxes are calculated by the value of items you ship.
Some shipping companies offer all-inclusive services and give you the flexibility of choosing to use the full personal container load or shared consignments so that you can meet your budget.
Freight Forwarder
Those considering container shipping will have to begin by choosing a freight forwarder. A freight forwarder is a firm that acts as an intermediary between you (the customer) and a commercial freight shipping company. A freight forwarder will offer a full range of services, consisting of sourcing a freight shipper, negotiating shipping prices, preparing the correct documents, tracking the shipment, storing the shipment, and helping with inland transportation.
A freight forwarder does not actually ship your freight. They are an industry broker who will help you navigate the complex facets of international freight shipping. They have industry relations with many shipping services and extensive knowledge of shipping logistics.
Most of the forwarders don't list shipping costs or times on their websites because of the many variables. But they calculate packages in one of two ways:
Gross, or real, weight of the package
Dimensional weight
If you're shipping a palette of feathers, for example, the shipper would charge you by dimensional weight. Otherwise, they'd lose money because the real weight is so light. If you wonder what the cut-off is between real weight and dimensional weight, contact the freight forwarder.
When it comes to shipping times, it's best to contact a freight forwarder to see what option is best for you. Shipping by air and sea are not always the quickest and slowest methods, respectively. Sometimes shipping by sea will be quicker than shipping by air.
You can use this form to find a suitable freight forwarder. Once you submit the form, you will get free quotes from shippers within 24 hours.
You can also visit the official Thai Customs website that details the process of importing procedures and exporting procedures for Thailand.
Shipping Companies
Although there are many private and government funded shippers available, the shipping services listed below are just a few of the more popular options you have in Thailand.
Note that these services only work when you want to ship a few items to other countries. If you need to send many of your belongings overseas, including moving out from Thailand, its better to use a relocation company instead.
Thailand Post
Thailand Post is the main method of delivery for most people in Thailand. They have branches in most subdistricts in the kingdom. So finding a branch shouldn't be a hassle. But the question of Thailand Post's reliability is often a topic of debate. I've never had any challenges using Thai Post, but many users have claimed they've had packages stolen, lost, delayed, or damaged.
These claims may drive customers away from using their services, especially if they're shipping valuable or fragile items. Take such complaints lightly, as everyone will have different experiences. I also recommend new customers look at their shipping options and rules on the official Thai Post website.
Thailand Post offers three major services for international shipping: Registered, EMS, and LogisPost World. Registered is the cheapest, yet slowest, service and has limited tracking. EMS World is similar to express shipping from other providers. And LogisPost is for packages between 20kg and 200kg.
Thailand Post offers insured shipping with tracking but it doesn't cover much. And it's hard to make a claim unless you purchase additional insurance.
DHL
DHL has 10 offices located across the Bangkok. DHL offers global express shipping. But drawbacks include a lack of offices outside Bangkok and expensive express shipping. And if a package is heading to a region that lacks a DHL office, another service is used to deliver the package to the final destination, negating DHL's tracking service. DHL Guidelines can be found here.
When shipping packages internationally, DHL offers two options: Express and Express Worldwide. The only difference between the two methods is a few hours time. So unless what you're shipping isn't urgent, you can opt for Express shipping. They also offer tracking on up to 50 packages at a time. If you aren't shipping bulk, then tracking your package won't be a problem.
DHL offers insured shipping as well. DHLY will provide you with insurance, or they will refer you to a third-party insurer for bulk shipments.
FedEx
FedEx offices are located in Bangkok, Chiang Mai, and Nakhon Ratchasima. They are usually reliable, quick, and have many shipping options.
FedEx offers ground, air, and sea shipping. They also have Customs Critical shipping, which puts packages on a fast track through customs. Temperature controlled shipping is also available with the Customs Critical shipping option. Tracking is available on all packages sent through FedEx.
FedEx offers insurance as an add on. If you're interested in insuring a package through FedEx, check out their list of insurance options or refine your search in the upper right box. For shipping restrictions, check out the FedEx Thailand export restrictions.
UPS
UPS has offices in Bangkok, Chiang Mai, and Nakhon Ratchasima. Like, FedEx, they are a popular pick for people who want to send their packages overseas.
UPS offers the same shipping services as other providers. But what separates UPS from other shippers is their Volume Shipping option. If you export products out of Thailand regularly, and depending on the size of your shipments, you can select wither low- or high-volume shipping. In this case, your shipments would be automated and move through the shipping process quicker.
For a list of insurance options when shipping through UPS, check out the insurance options they offer.
International Shipping Services Comparison
The following is a comparison of a package sent from Bangkok, Thailand to New York, USA. This comparison shows only base shipping cost and doesn't account for additional services. Moreover, different shipping providers may include additional services like tracking, insurance, and online shipping, so there are other factors besides price and duration to consider.
Item: Legal Document
Weight: .5 kg
Value: N/A
| | | | |
| --- | --- | --- | --- |
| Service | ETA | Method | Cost |
| Thailand Post Registered Mail | 10-14 days | air | 1,020 baht |
| Thailand Post EMS World | 3-5 days | air | 1,550 baht |
| DHL | 3 days | air | 1,177 baht |
| FedEx | 3 days | air | 2,491 baht |
| UPS | 3 days | air | 1,400 baht |
Customs
Thai Customs
Often packages shipped from Thailand take longer to arrive at their destination as a result of customs holding packages. Thailand is a major source country for a variety of drugs, contraband, and counterfeit items, and as such, many countries hold packages arriving from Thailand for longer that usual times. These packages are more diligently search for banned items as well. For instance, packages arriving at the USA from Germany will make it through customs faster than items arriving at the USA from Thailand.
To avoid any additional customs delays, be sure to include the following info on all international packages leaving Thailand:
weight
country of origin
shipper's name and address
description of item in English
quantity of each item in package
purchase price in currency of package's destination
These items are banned from being exported from Thailand:
narcotics
fake royal or official seals
counterfeit trademark goods
fake currency, bonds, or coins
goods with an improper Thai flag design
obscene literature and pornographic materials
IPR infringing goods e.g. musical tape, CD, VDO, computer software, etc.
International Customs
When shipping your package from Thailand, your package may be held up in customs at the port of arrival. In America, for example, your package could stay in customs until they've thoroughly checked that it contains no illegal items. If you want your package to go through customs as quickly as possible, there are two steps you could take.
Follow U.S. Customs and Border Protection's import guidelines.
Check that the shipper is part of the Customs Trade Partnership Against Terrorism Program, or CTPAT.
If you're having trouble locating your shipment, contact the shipper or the Customs and Border Protection.
Shipping Insurance
You can purchase additional protection when moving items via shipping insurance.
Insurance coverage and cost depends on the CIF value, item types, original port, destination port, and shipping companies.
In the case of household items, the cost of insurance can be 3% of the CIF value, and comes with coverage of 110% of the CIF value.
Shipping insurance covers goods being damaged, or loss due to theft, water, weather, or accidents.
Please note that your goods must be packed by a professional company in order to get the full coverage.
To buy shipping insurance, you can directly contact an insurance broker
Common Mistakes
Avoid these common errors when shipping to ensure your product arrives at its destination safely and on time:
shipping prohibited items
packaging items incorrectly
failing to account for duty and VAT
setting inaccurate shipping weights
selecting the wrong shipping service
misunderstanding custom's procedures
failing to include the required paperwork
filling out addresses and forms incorrectly
Now, on to You
By following this guide, you should be able to mitigate as much risk and unnecessary spending as possible. So whether you are an expat living abroad, a tourist on a shopping spree, or someone doing business in Thailand, you will be well equipped to handle any of your shipping needs, and you'll be sure to get the best deal possible.