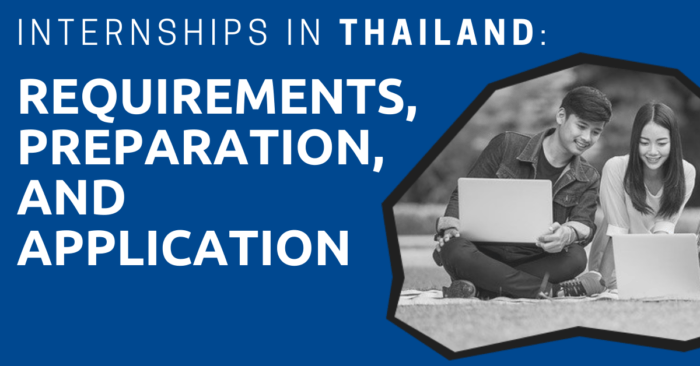 Companies in Thailand have been offering internship programs for decades. If you're studying in Thailand or studying overseas but are interested in Thailand, becoming an intern couldn't get any easier.
Internship programs are becoming more popular because there's more international students in Thailand and expats in the workforce.
Many major Thai universities have been opening more international programs, resulting in more international students in Thailand. In Assumption University alone, 7,000 international students are studying there, which is almost 30% of the student population.
This article aims to provide all significant information you need to know for becoming an intern in Thailand, including requirements, visa preparation, compensation, and how to find an internship.
Requirements and Qualifications
In order to land an internship in Thailand, you have to meet visa and education requirements. This section breaks down on what kind of qualifications you need to apply for an internship.
To apply for an internship in Thailand, you need to be a second-year university student or higher. This differs from company to company. Some companies require students to be in their third year of studies. And some companies also accept first-year university students or graduates.
Aside from that, you need to be computer literate, with an understanding of Microsoft Office, and have fundamental skills for the industry you're interested in. This includes coding skills for IT companies, financial knowledge for financial companies, and so on. It's not mandatory to understand Thai, but if you could speak the language it's a huge benefit.
Other qualifications are geared toward soft skills, such as being a team player, a good communicator, optimistic, and personable.
Some companies may only accept students who are currently studying in Thailand. Be sure to check this information with them in advance.
Benefits
Although interns in Thailand won't be paid salaries, there are other, less tangible benefits that come with the job.
Compensation
Due to education visa limits, getting paid by a company is considered illegal. However, some companies might give you an allowance in the form of accommodation and transportation.
Work Experience
Being an intern, you can use what you have learned from school and apply it in the workplace. It's a once-in-a-lifetime experience learning the different aspects of business and getting hands-on experience. Internships are one of the most important factors for companies hiring new graduates. And if you perform well, who knows, your hosted company might even hire you to work in Thailand after graduation. And you won't have a hard time finding a job like other expats.
Intercultural Skills
Thailand is one of the most popular tourist destinations in the world. People from all parts of the world have been coming to Thailand for travel and jobs. This gives you a chance to work inside a multinational environment. It's a rare experience that is hard to find in any part of the world.
Traveling
Bangkok have been one of the most visited cities in the world for various reasons. Prices are cheap. Food tastes great. Facilities are great. Beaches are top-notch. Tourist attractions are plenty. So doing an internship in Thailand gives you an opportunity to travel around the country to find out why Thailand is a great place for traveling. And you would love it for sure.
Industries
Hospitality and Tourism is one of the biggest industries in Thailand due to the country being a top traveling destination. Interns have opportunities to work in the industry's various departments, including customer service, food and beverage, sales and marketing, housekeeping, and administration.
Finance is another big industry. Interns here have many opportunities, ranging from implementing the treasury systems, assisting on general ledge accounts, handling taxation, and dealing directly with clients. There are also endless chances in business development and marketing in Thailand, where interns can conduct business strategies, analyze market statuses, manage projects, and create marketing products.
With the increasing numbers of digital nomads, internships in the IT field from start-up companies and multinational corporations also exist.
Applying for Internships
It is a big challenge for international students to find an internship program in Thailand.
If you are currently studying abroad, the chances of interning in Thailand are low. It is not only because a few positions are available. It's also because most companies require on-location interviews. Online interviews aren't popular in Thailand.
So, you should look at multinational companies instead.
Exxonmobil regularly accepts international interns. And internship opportunities are available for major accounting firms such as PWC, Mazars, and Accenture.
But these multinational companies have a long selection procedure with a limited application period. You should closely follow their websites and follow their instructions. There are also many students applying for these companies. The competition is high.
Internship Agencies
Since it's quite difficult to find an internship program on your own. Another option is to apply through agencies. They are willing to help you find a company based on your requirements, arrange an interview, and assist with your visa and relocation. They may also offer a networking event, allowing you to make connections with students from all over the world.
There are only a few internship agencies available. One of the most popular ones is My Internship Asia. They offer a placement package starting at $1,600 for the first three months.
Another one is internshipinthailand, which mainly focuses on an internship program on four-star and five-star hotels in Thailand. Their fee is $700 for a 6-month program and $900 for a 12-month program. But you will also get an allowance from a hotel in return for 5,000 baht to 10,000 baht, free meals included.
Job Sites
Although popular job sites in Thailand like JobDB regularly post ads for interns, they are mostly for Thais.
As mentioned in our finding a work in Thailand article, you can set up job alerts there and get email updates whenever intern positions become available.
The bad part is that most of the ads don't mention whether they are open for foreigners or not. You need to contact the company and find out for yourself. If you are currently studying here, check out the university notification boards or ask your teachers. There might be opening positions listed there.
You'd have a better chance applying for an internship with multinational companies. They accept foreign students and have positions available in many departments. One of the most popular choices is Nestle Thailand, with available positions in sales, marketing, IT, and human resources.
Visa for Doing an Internship in Thailand
Unless you are already a student in Thailand, you need to get an education visa for to do an internship. The visa is valid for three months and can be extended for one year, depending on your internship or school program. Certain nationalities need to apply for the visa at the Thai embassies in their home countries.
Due to the frequent changes in Thai immigration regulations, it is best to contact your nearest Thai embassy to find out your options. Alternatively, the internship agent should help you with the visa.
Here's a list of required documents you need to apply for an education visa for your internship:
passport or travel document with no less than six months validity
visa application form completely filled out
two 3.5 cm x 4.5 cm color photos with a white or blue background taken within the past 6 months
letter of acceptance from the relevant academic institute or organization
Although the visa can be issued in a few days, you should prepare at least two weeks for this process. This is due to the notorious long queue at the Thai embassies.
Preparation
Preparing for your internship program in Thailand can be time consuming if you don't know where to begin.
This section shows you how to prepare your resume and transcripts, prepare for interviews, and review the times of the year when internships are available. Knowing these things ahead of time will greatly cut back the time you spend on looking for an internship program in Thailand.
Resume
Resumes are also important when applying for internships in Thailand. It's the first thing companies see and they use it to pick you out above other candidates. To prepare your resume, list all necessary information in chronological order, including high school and university educational, extracurricular activities, work experiences–if any, and skills.
Thebalance.com gives you a good idea on how to write a resume for internship programs. In addition, there are many resume templates available online.
Transcripts
In addition to resumes, college transcripts are commonly required, especially for large multinational corporations. Because of the amount of candidates, they want to make sure they accept the best ones. And seeing your grades on a transcript is one way for corporations to vet potential interns.
Interviews
Similar to applying for a job, an interview is still required for internship programs. The questions are mostly related to your education background, activities outside classroom, and attitude toward work. Sometimes the interviewer might give you some scenario problems and ask you to find solutions. As long as you can answer questions with a positive attitude, you should not have a problem with the interview.
Duration
Internship programs in Thailand normally last for three months during summer break from March to May. It can last four months for forth-year students. However, some companies may also open their internship program on other time of the year. So, you can contact them individually to find out.
Time Preparation
It takes about three months to start an internship program. It should take at least a month to find a company with intern positions, a month for the interview process, and another month for getting your visa. It's going to be longer for multinational companies. Usually, their application period starts and ends five to six months out from the start date of the internship.
Now, on to You
Thailand is no longer only a traveling destination. Expats from all around the world are now coming here to live, work, and live out their retirements. This includes a number of younger generations in which huge numbers of international students are currently studying inside the country.
Doing an internship in a country with a multitude of nationalities like Thailand would give you a once-in-a-lifetime experience that cannot be found anywhere else.