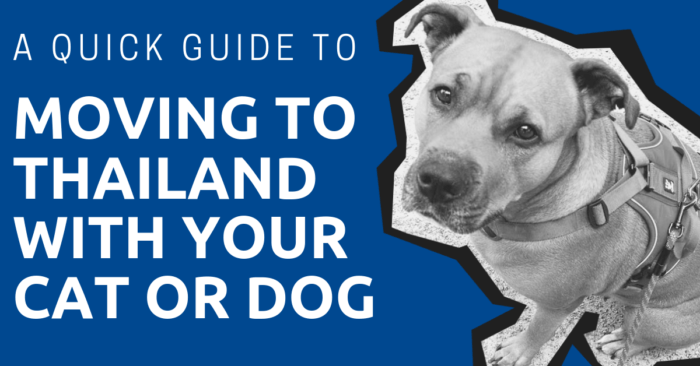 So you have decided to leave your home and move to the land of smiles and the City of Angels. But how about your loved ones – I am talking about those with four legs. Can you bring your cat or dog to Thailand without having them confiscated?
It is not a problem to move with pets to the Kingdom, if – and yes, there is always an IF – you follow some basic rules.
Don't also forget to check out our premium subscription where you get an access to our hundreds pieces of exclusive contents to help you set-up your life in Thailand hassle-free, including our tips on how to find accommodations that allow pets.
Requirements for Shipping Your Pet to Thailand
But way before you get the boarding pass handed over, there is some paperwork to do. Although Thailand is quite a bureaucratic country, the procedure for bringing pets in is pretty straight forward. All you need to do is fill out a form and make sure you meet all the requirements. Let's start with the latter.
This article only includes information related to pet shipping. We have a separate article on shipping to Thailand covering everything you need to know when you want to ship your belongings here.
Health Certificate, Diseases and Vaccinations
First of all, you need a health certificate for your pet. It has to be in English, and signed or further endorsed by a full-time authorized veterinary official of the government of the exporting country, if it is previously acknowledged by a veterinary surgeon, and it needs the following information:
Number and species
Breed, sex, age and color or animal identification
Name and address of the owner OR the kennel of origin
You also have to show certification that the animals come from an area where animal diseases are under control. They have to be found to be healthy, free from signs of any infectious and contagious diseases including ectoparasitism at the time of export, and fit to travel.
Also, the country of origin has to be free from rabies for at least the past twelve months OR the animals are vaccinated against rabies with an official approved vaccine not less than 21 days prior to the departure.
Furthermore, dogs have to be vaccinated against Leptospirosis at least 21 days preceding departure or the dog is subjected to a test for Leptospirosis with negative result during the 30 days prior to the departure.
And there is more: The animals shall be vaccinated against other significant infectious or contagious diseases i.e. Distemper, Hepatitis and Parvovirus, with an official approved vaccine at least 21 days prior to the departure. If you are coming from a western country, this is a usual mandatory vaccination in most countries, so not much to worry about.
You can get all this data from your local vet; most of them have at least some experience with people moving abroad. Remember the certificates have to be in English. Make sure you make copies of all certificates and every page of the pet's passport. How many copies? Lets say 5 of each, just to be safe.
Import Permit
Next step is to fill out a form (yes, just one) you can download here. It contains your name, address in Thailand, passport details, and you have to sign that you will follow the rules and conditions of the Department of Livestock Development. You then send an email to the department and tell them in advance that you are coming, and they will issue a import permit. In case you would like to make sure you do everything correct, consider using a pet travel service like Boonma.
This permit is valid for 45 days. You have to send them the following information (scanned as pdf or jpg):
Filled Import Permit (Form r1-1)
Passport copy (picture page)
History of vaccination
Address in your country
Detail of your animal (such as type of breed, sex, etc.)
Approximate date of arrival to Thailand
Address in Thailand
Name of port of exit from your country
Here's what the forms look like:
Pet Crate
Once you have all the paperwork done, you have to go shopping – for nose-and-paw proof crates. Don't look for the cheap one, but look for those IATA approved boxes and stick a "Live Animal" sticker on top of it. Also, most airlines require you to install a water bottle so the pet doesn't suffer from dehydration. You do not need to give food, even for a long haul flight. Regarding any sedation, consult your vet, but in general pets are fine with a flight, even with a long one.
Additional Information
Just in case, write down the Department of Livestock Developments address:
Suvarnabhumi Airport Animal Quarantine,
Department of Livestock Development (DLD)
Phaya Thai Road
Bangkok, Thailand 10400
Phone:+66 (0) 213-40731, +66 (0) 265-34425
Email: [email protected]
They do have a website in English with some more useful information.
I strongly advise you talk to your airline about bringing pets with you when you book the flight. If you have a layover, or are switching airlines, make sure you find out each airport's and airline's policy with bringing pets. As one of our readers has pointed out, he found out during a layover that the airline he was flying on didn't allow pets on international flights. It would be a good idea to get written confirmation about your pet's booking as well.
How to Send Your Pet to Thailand
For most people the choice is only whether to take the pet along with them on the same flight or whether to send their pet as cargo. If you're living in a neighboring country, you might consider overland options as an alternative. Here's how each of those tends to work.
Sending Your Pet by Plane
Most people move to Thailand by air while their belongings are shipped in a container. Usually major airlines allow you to have pets either as excess baggage or – if they are small enough – as cabin luggage. In some cases, pets are also treated as cargo. Some airlines may refuse certain breeds, in particular those with breathing difficulties because of abnormalities. Better ask the airline in advance.
Excess Baggage versus Cargo
The easiest and least stressful way is to take the pets as excess baggage. It's also cheaper, because you just pay a bit more for the overweight. But it is only possible if you are on the same flight with the pets. Then you just go to the check-in with your pets, show them the confirmation and off they go together with your suitcases.
If, for some reason, you want your dog or cat coming to Thailand once you have settled in, had the cat door installed and found a dog swimming pool, then consider bringing them in as cargo. This has to be done by a professional cargo specialist. They need the same documents, and you should be aware that the vet's certificates are only valid for a certain time period. The company will then pick up the pets and bring them to the cargo terminal. They or their local partners in Thailand will then inform you once your dogs or cats arrive, and you can pick them up at the cargo terminal (or get them delivered to your house depending on your arrangements).
Suvarnabhumi Airport
You just landed in Thailand, but where's your dog? Since most people will bring their pet into the country by flying in via Suvarnabhumi Airport, I've put together a quick guideline how to navigate the place and procedures once you arrive here.
Suvarnabhumi Airport in Bangkok is the main airport for Bangkok. This means they do have a lot of experience with pets coming in together with their owners. So after you disembark from the plane, you go through immigration, get your luggage at the carousel, and then go to the Oversized Baggage Area.
If you're lucky, you'll see Fiffy already in his box, or you'll hear some meow from Pussy whose box was nicely placed next to the baggage belt by airport staff. Important: DO NOT TAKE THEM OUT OF THE BOXES UNTIL YOU CHECKED WITH ANIMAL CUSTOMS between baggage claims 9 and 10.
Next you'll want to go to the quarantine inspection area. The inspection area is on the immigration side of the hall. Now comes the part where you start learning how things in Thailand work. By law, there is a 30-day quarantine for imported animals, but like many laws, it is not enforced. So, what you do is show the officers all the papers, smile a lot (yes, it was a long flight, but do you want to get your pets out or not?), be as polite as you were when you first met your mother-in-law, and DO NOT GET ANGRY, whatever happens.
If everything goes well, the officers will stamp your papers and may ask a question or two. Some may not speak Oxford English, so if you do not understand what they said, POLITELY ask them to repeat the question. The import license is 500 baht and another form is 10 baht. Be aware that things take time in Thailand for no real reason. You have to wait 10 minutes or even more than 60 minutes.
Once you get your stamped documents, you walk to the exit, show the customs officer the still-wet-from-the-stamp documents, smile, and after paying the 1000 baht import duty, he will clear you and your pet.
That's all. You made it. Take a deep breath and get the dogs out for a pee, but please on a leash and somewhere discrete. If you haven't organized transport in advance, which I strongly recommend, you can look for a taxi van. Not all taxi drivers like to transport pets, so it could be a bit of a hassle. Better book a transport from a local pet relocation company before leaving home.
Moving Your Pet Across a Land Border
In case you live in one of Thailand's neighboring countries, you can consider moving by land. The official requirements are the same, but the procedure at the border checkpoint is a bit different. Actually, it can be very different, because it is basically up to the local customs and immigration officers.
Some may not even look at the dogs, others with a nose as good as a dog smell financial opportunities. Be safe with all the vaccination records and a health certificate from a registered vet, and then improvise. Be sure there is a solution, if there is a problem coming up, it just takes time and patience to find it. Sometimes you can also find a fixer, a local, who can help you in dealing with the officials.
Pet Relocation Services
If you look for pet relocation on the Internet, zillions of companies will pop up offering relocation services to places all over the world. Each provider offer different services. What they usually offer is handling the paperwork (but you might need to go to the vet yourself) and then picking up the pets. Some companies also handle all process including flight reservation, crates, veterinary services, to pet delivery.
Some of those companies do have either representatives at major airports at the destination or work together with a local company, but some just leave you alone. Check and get written confirmation about this issue. The English skills of Thai officers vary from non-existent to fluent, but guess which one you get if you have a problem, Murphy?
For a pet moving service in Thailand, I recommend you to contact Boonma. They are one of the oldest moving companies here, with over 50 years of experience. They know how to deal with pets. They have their own fleets. They have a worldwide network. And yes, they can speak English.
Boonma is a one-stop international pet travel service. They can help prepare documents, book flights, get vaccinations, prepare crates, as well as deliver pets. When moving pets to Thailand, they will pick them up right from the airline, take them to meet the airport vet, clear customs, and deliver pets to their owners. When moving pets out of Thailand, they also offer veterinary services, including taking pets to get vaccinations and inserting microchips.


A good source of finding other pet relocation services is the International Pet and Animal Transportation Association. They are trying to list trustworthy pet shippers and give you good advice about scams. They have offices in 80 countries, organize conferences for the industry and work close with air lines and logistic companies. Their mission statement is: "The International Pet and Animal Transportation Association is a non-profit trade association of independent members who are dedicated to the safe and humane transport of pets and other animals."
Using a pet service from your country of origin but you need to make sure they have representatives in Thailand. If you come from the UK, you may have a look at Pet Air UK. They are a IATA and IPATA member and Thailand is on their list for shipping.
One of the companies operating in the US is Pet Relocation but the experience of people using their service is varied. They also do military pet relocation. Gradlyn is a German company, which transports all kinds of animals all over the world – from pythons to cats and dogs.
If you hire a moving company, they may offer your pet relocation as well for extra convenience. For some, it is just some additional income and they will work together with specialists and for sure will insist on cargo transport. Check their record and get some information about their competence and experience.
Pet Relocation Reports
You will find a lot of blogs from people who moved with their pets to Thailand and share their experience. A major source is a well-known Thai forum called Thaivisa. They have a section called Plants, Pets & Vets in Thailand. Just make sure the posts are recent, and be aware that this is experience from fellow expats, not anything official. And it might be wrong.
In addition there are experience reports and advice from other expats who have gone through this in the past. Since the potential issues depend mostly on the country of origin, I've put together an overview below sorted by country.
From Germany
My own experience is based on coming from Germany, though there are others who went through the same process and might give you an additional ideas of the issues you might face when bringing your pet along.
A German guy called Fritz wrote down his experience as well. His main problem was that the pet wasn't confirmed on the flight, and a replacement flight already had another animal on board (usually Thai allows up to two animals, but you never know). He finally made it to Bangkok with no problems after all.
From the Netherlands
The experience report of a Dutch couple taking a Border Collie the Netherlands to Thailand. A useful piece of advice for everyone, regardless of origin: KLM charges a flat fee of EUR 200 for pets on flights in the cargo compartment.
From the UK
If you are from the UK, you may find an extensive description by Sach, J and Eden. They brought the dog Eden with them for a £1151 price tag, using Thai Air and having the dog as excess baggage. The cargo quotation was cheaper, but the dog wouldn't have been on the same flight. They moved to Chiang Mai, and their experience after touch down was just what you may expect in the land of smiles.
From the UK
Chris and Angela shared their story about moving to Chiang Mai with their cat and they provide a quite extensive timeline and checklist, as well as more than 60 comments from other travelers.
From France
Mich shared her story of moving to Chiang Mai from Paris with her 65 lb Dutch Shepherd, Zala. She paid 200 EUR to AirFrance to relocate her dog. The whole procedure was explained in detail, including the terminals she went to, the check-in process, and prices. In addition, she also wrote many articles related to flying and living with a dog in Thailand.
From USA
Rob and Taiss brought their little cat, Milton, to Thailand from California. They wrote step-by-step lists on what they did to travel with Milton, from vaccinations, to documentation, to costs. Delta airlines charged them $200 USD but considered the cat as a carry-on package.
If you want to share your own experiences with readers of ExpatDen, you can send them in using this contact form.
Now, on to You
In the end it's a lot of bureaucracy and you might understandably be very stressed about any remaining ambiguity. The experience of most people though is that – in a slight reversal of roles – once you jump through all the hoops – you'll get a treat in the form of being reunited with your pet at your destination. And you don't need to worry about your pet health in Thailand. There are a number of veterinarian services available here.
Still have questions about the process? Please post them in the comments of this article!