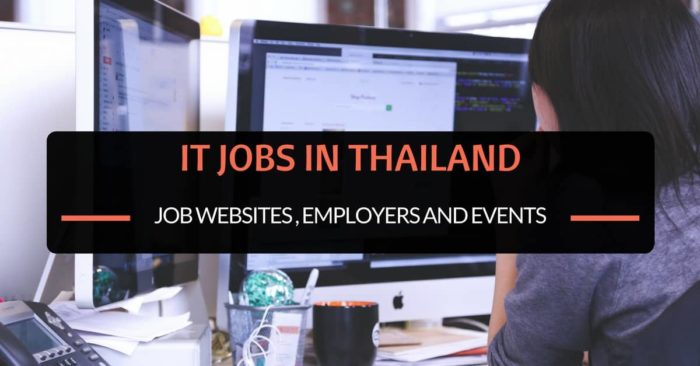 When I first came to Thailand, the software industry consisted of the corporate sector running software development units out of Bangkok. Few entrepreneurs in tech perceived it as an attractive market or a good base for operations. Jobs for foreigners were scarce and for many tech employees the only option was to freelance remotely for a company back home. This has changed.
Attractive investment promotion packages not only drew a lot of tech companies and business units to Thailand, but also lifted a lot of the restrictions when it came to hiring foreigners. The result was a surge in demand for qualified prospects. Nowadays, when looking at anything from digital marketing to backend development in Thailand, it's a job seeker's market.
This guide to IT jobs in Thailand will show you to how best take advantage for that in order to find a great job as an expat.
It'll cover the most important job websites, employers, and networking events for people looking for a job in tech. You'll also find a listing of available tech positions–including experience and educational requirements and salary ranges.
Job Websites
Of course there is no shortage of generic job websites in Thailand. Especially on the larger sites you'll find plenty of offers in tech from multinational corporations. In case you're curious about some smaller startups or more unique opportunities however, you should check out the tech job websites listed below.
Iglu
Iglu is a BOI promoted company in Thailand that hires digital nomads from all over the world. They regularly have opening positions for experienced tech workers, software engineers, and UX/UI designers.
Most of the jobs there are remote. It means you can work from anywhere in the world — or from one of the Iglu offices in the United Kingdom, Estonia, Hong Kong, Thailand, or Vietnam.

If any position is based in Thailand, it means you can work remotely in Thailand or work in either Iglu's Bangkok or Chiang Mai offices
Angel List
You can also check for other startup opportunities on Angel List which compiles a list of startups in global locations, including Thailand. In its Thailand Startups page, there is a 'VIEW JOBS' button, indicating which companies on the list have open positions.
Blognone
Blognone is a tech news site and is great place to look if you're looking for programming work in Thailand. The good news is that there are plenty of tech jobs available, but the not-so-good news is most ads are in Thai.
Learn4Good
At the time of writing, Learn4Good has 2,592 technology job openings posted for Thailand. While I never used it myself and it looks a bit like an aggregator from other sources, it might be worthwhile checking out.
Employers
Here are some of the more established players in the tech, e-commerce and startup market that have at least 100 employees in their Thailand location.
Agoda
Agoda is an online hotel and accommodation booking company employing more than 2,000 employees in over 35 locations, with its most important office location being Bangkok (even though their formal headquarters are in Singapore). Agoda is known to hire a large number of foreign employees.
Working in a company headquarters isn't something you should underestimate – it opens up a much bigger network and career opportunities than just being in a local representative office of a multinational that sees a lot of decisions (including ones about careers) being made elsewhere.
As of this writing, Agoda has 240 open positions, which run the gamut of positions that you can expect in a digital company, from Business Development, Content and Translation, Corporate, and Technology, more than half of which seem eligible for foreign applicants.
Its Thailand offices post several job ads in various platforms, including LinkedIn and JobsDB, and directly through its website's careers page, so you might end up submitting duplicate applications for the same position in more than one source.
aCommerce
aCommerce is seeking out 'ambitious geeks' (their words) mostly in IT and marketing positions that require Thai communication skills.
Grab
Grab's expansion from a taxi-booking app into a full-service transportation app trickled into their Thailand location, having several requirements for positions in Business Development, Administration, Operations, Customer Service, and Marketing. Jobs are also up for grabs on their website and JobsDB pages.
Lazada
Lazada has a strong enough presence in Thailand, and there are a handful of positions to be filled mostly in Technology, Operations and Marketing. Go to the website's careers page and filter by location (Thailand). On average, its Thai office has around 35 job ads covering various categories (as of this writing).
Uber
Jobs in Operations and Marketing are the most prominent in Uber's Thailand office.
Available Positions
Below you'll find a sample list of commonly advertised positions that are open to foreign applicants. The list illustrates for which positions and technologies companies like to recruit from abroad and are willing to provide work permits. It gives you an idea of the level of experience companies often ask for, in which fields they're currently hiring these positions and an estimate of a realistic salary range a qualified candidate can expect to receive.
This is mostly provided as a reference – not every job in that category requires the specific experience and education mentioned and none require you to be familiar with all the technologies listed. Keep in mind that it's only a sample of opportunities, so if your specific area of expertise or technology isn't listed, that doesn't necessarily mean it's not asked for in the market.
You can use the job titles as part of your search for potential postings or, if your profile matches those requirements, you can also send me a message and I can put you in touch with a recruiter directly.
Data Analytics and Data Science
Database Administrator

Experience: 1 – 5 years
Education: Bachelor Degree and/or approved training courses
Fields: Oracle, MS SQL, OLTP, OLAP, and Star Schema Databases
Salary: THB 75,000 – 125,000

Senior System Analyst

Experience: 1 – 10 years
Education: Bachelor Degree in Computer Science, Business Administration, Management Information System, Information Technology, or related fields
Fields: SAP SD configuration and SAP integration
Salary: THB 75,000 – 100,000

Data Scientist

Experience: 3 – 5 years
Education: Bachelor Degree or higher in Computer Engineering, or related fields
Fields: Linear Algebra, Calculus, Graph Theory, Probability, Mean/Variance Statistic, Bayesian Analysis, Hypothesis Testing
Salary: THB 75,000 – 150,000

Head of Data

Experience: 2 – 3 years
Education: Bachelor Degree in Computer Science, Math, or related fields
Fields: SQL, Tableau, data visualization tools, Teradata, Experian Data, Astor, testing tools like Monetate, Test & Target, and Ensighten
Salary: THB 200,000 – 300,000
Engineering and Development
Scrum Master

Experience: 1 – 3 years
Education: Bachelor degree in Computer Science, Computer Engineer, or related fields
Fields: Agile Framework; Agile space: XP, Kanban, Crystal, FDD; Agile techniques: User Stories, ATDD, TDD, Continuous Integration, Continuous Testing, Pairing, Automated Testing, and Agile Games
Salary: THB 100,000 – 150,000

Java Developer

Experience: 1 – 3 years
Education: Bachelor degree or higher in Computer Engineering, Computer Science, Information Technology or related fields
Fields: Web/Console application, Java, J2EE, J2ME, Struts2, JSF, Spring, Hibernate, Eclipse, Servlet, JSP, Oracle, Unix, Linux, PL/SQL, MySQL, SQL Command/Server, Shell Script, Visio, knowledge of SQL statement, Store Procedure, Query and Oracle PL/SQL, Jasper iReport Tools, Crystal Report, and BI
Salary: THB 25,000 – 50,000

Backend Developer

Experience: 1 – 3 years
Education: Bachelor Degree in Computer, Information System, IT, or related fields
Fields: PHP, Restful API, AJAX, JSON, SQL and NoSQL, AWS Lambda, RDS, S3, EC2, GitHub, and Docker
Salary: THB 25,000 – 75,000

Frontend Developer

Experience: 1 – 3 years
Education: Bachelor Degree in Computer, Information System, IT, or related fields
Fields: PHP, Restful API, AJAX, JSON, Bootstrap, JavaScript, CSS, and Responsive Design
Salary: THB 25,000 – 75,000

Software Engineer

Experience: 5 years
Education: Bachelor or Master Degree in Automation, Mechatronics, Electronic Engineering, or related fields
Fields: PLC and CAD
Salary: THB 50,000 – 100,000

Mobile App Developer

Experience: 2 – 3 years
Education: Bachelor Degree in Computer Science, Computer Engineering, Information Technology, or related fields
Fields: Java, JSP, JSON, JQuery, C#, PHP, and HTML5
Salary: THB 50,000 – 100,000

Senior System Analyst

Experience: 3 – 5 years
Education: Bachelor Degree in Computer Science, Software Engineer, or related fields
Fields: OOP, OOAD, UML, ASP.NET with MVC framework, C#, AJAX framework, Java Script, PowerBuilder
Salary: THB 75,000 – 100,000

Software QA

Experience: 1 – 5 years
Education: Bachelor Degree or above in Business Computer, Information Technology, Computer Science, or other related fields
Fields: Selenium Cucumber, Software Development Lifecycle (SDLC), MS Word, MS Excel, and HPQC/ALM
Salary: THB 50,000 – 75,000
UI and UX
Web Designer

Experience: 5 years
Education: Bachelor Degree in Art, Fine Art , Web Design, or related fields
Fields: HTML, HTML5, CSS3, AngularJS, JQuery, JavaScript, Photoshop, and Illustrator
Salary: THB 15,000 – 35,000

Web Developer

Experience: 3 years
Education: Bachelor or Master Degree in Computer Engineering, Computer Sciences, Information System, or related fields
Fields: PHPUnit, Mocha, Kafka, Redis, API Gateway, Git, and SVN
Salary: THB 60,000 – 110,000

UI Designer

Experience: 3 – 5 years
Education: Bachelor Degree in Interactive Design, Multimedia design, Web/Mobile Application & Game Design, or related fields
Fields: Photoshop, Illustrator, Indesign, Sketch, and MAYA
Salary: THB 16,000 – 25,000

UX Designer

Experience: 1 – 5 years
Education: Bachelor or Master Degree in Human-Computer Interaction, Interaction Design, or related fields
Fields: UI and Animation, iOS, Android, Scrum, Kanban, Adobe CS, Sketch, and Invision
Salary: THB 20,000 – 45,000

Art Director

Experience: 3 – 5 years
Education: Bachelor Degree or higher in Graphic Design, Visual Communication, or related fields
Fields: 3D Max, Illustrator, Photoshop, After Effect, Premier Pro, Mac, and PC
Salary: THB 60,000 – 100,000
Management and HR
Technical Recruiter

Experience: 2 – 3 years
Education: Bachelor Degree or higher in Information System, IT, or related fields
Fields: Recruiting SAP positions, CV Search, Social Media Marketing
Salary: THB 40,000 – 50,000

CTO

Experience: 10 – 15 years
Education: MBA/MS in Information Technology, or related fields
Fields: High-level strategic thinking, planning, and stakeholder management; Agile Framework
Salary: THB 170,000 – 300,000

IT Director

Experience: 10 years
Education: Bachelor or Master Degree in Computer Science, Computer Engineering, or related fields
Fields: SAP/ERP, WMS, CRM, and Analytic tools
Salary: THB 250,000 – 350,000
Events
The larger tech events on Meetup.com tend to attract a lot of recruiters – from recruitment firms to companies hiring directly. Some of the programming-related meetups even take place in venues provided by specific tech firms. It's a good way to not only meet fellow expats in tech but also to get a hands-on look at some of the companies hiring for those positions.
Additional Resources
In case you want to cast a wider net to see what options are outside the usual suspects, there are number of websites where you can find some lesser known startups and tech companies. These will also give you a better picture of the overall job and tech market in the region.
BOI
Another good resource is the database of the Board of Investment (BOI): The investment promotion office of the Thai government has a database of all investment-promoted companies. What's important to know is that for BOI-promoted companies, most work permit regulations do not apply, making it much, much easier for them to hire foreigners. The BOI database can be used to find companies promoted in tech categories (check for 'software' and 'e-commerce') – it's a useful tool if you're looking to find great companies to work for, regardless if they are currently posting job ads or not.
TechInAsia
The Asian equivalent to TechCrunch is is TechInAsia. You can bookmark this page for tech news and tech job posts. It isn't specifically tailored for Thailand tech jobs search – there are way more ads for Singapore, Indonesia and Malaysia – but it has a clean interface (as it should have being a tech media site) that makes job search quite convenient. Companies that post here are a combination of purely tech companies, startups, and the odd real estate and medical small businesses.
Need Help?
Right now it's an employee-market in the tech scene: Lots of companies are now actively trying to recruit people all over the world and then relocate them to Thailand. Not a week goes by where I don't hear from recruiters or startup founders who'd love to hear from anyone who could fill one of the above listed positions. If you want to find out more, want me to put you in touch with a recruiter or just want some feedback on your resume, please feel free to send me a message.