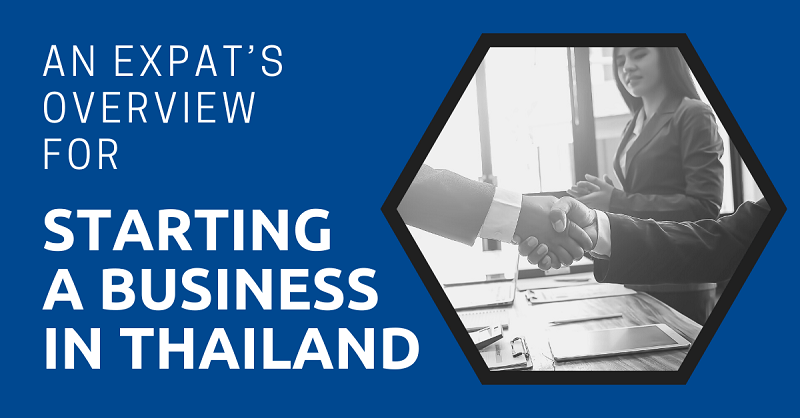 So, you have a business idea. Now what? How hard is it to start a business as a foreigner in Thailand? What are some practical tips? Where should you put your energy when first starting out your business, and how can you integrate your business locally?
There are many channels available to localize your business and tap into a solid customer base of locals and expats in Thailand who could potentially be interested in your products or services.
This guide will walk you through a few important considerations as you start your business, some market sectors that could be attractive to foreign entrepreneurs, ways to market locally, and all the local platforms that you should be aware of as a business owner that you can use to integrate your business into the local economy.
Why Thailand?
Thailand is a good country to start your business for many reasons.
First, it's possible to completely own 100% of your company without having to find local shareholders as long as you get an investment promotion from the Thailand Board of Investment.
Doing so would also give you a corporate tax exemption as well as import tax exemptionexpmtion, on the first eight years of your business in Thailand.
Others may be concerned about the capital needed to start. To begin with, you can start your company in Thailand with a capital of one million baht (~$32000 USD). The cost of running a business is also low.
Be aware that it is relatively more expensive to open a company here than in the United States. Costs are, however, on par with running a business in China.
Another key concern for many entrepreneurs is whether you need to speak Thai in order to successfully run a business here — the good news is, it's not necessary. However, building your Thai language skills even a little bit will go a long way toward managing your team and creating genuine local connections that could be of benefit to your business down the line.
It's not as hard as you may think to learn some basic Thai.
To find out more about whether to start a business in Thailand, reading about the experiences of other foreigners who have done business in Thailand can help make you aware of the pros and cons of setting up a business in Thailand and potential pitfalls to be aware of.
Deciding on Your Product
The product you are offering might very well be the first thing on your mind and is definitely the fun part of starting a business, but it is important to get all of that legal stuff established first before investing too much in the product to ensure you have a viable business. Once the bureaucracy is out of the way, it is time to look into the product you have to offer your customers.
Determine Your Target Audience
Once you've determined what kind of business you want to start, you will want to identify your target audience and the proportions of that audience. Pick your niche. Do you want to focus on locals or foreigners, or both? These two target audiences will need to be marketed to differently.
What Kind of Business Should I Start?
Despite the limitations on which types of businesses are open to foreigners to run, you'll find there are still many, many opportunities. The following are a couple examples of different sectors where expats have found success in running their businesses that could be a draw for expat customers and clients, as well as locals.
F&B
Food and beverage is a very popular category for foreign business owners. Whether it's a dine-in restaurant specializing in your home country's cuisine, a meal delivery service catering to special dietary needs, or a home bakery, know that you can also have the support of local and foreign-owned cloud kitchens. Many restaurants and hospitality businesses converted their spare or unoperational space into cloud kitchens to sustain themselves during Covid.
Travel
As a foreigner, you are bound to have a keen eye for what could amount to an interesting experience or attraction for other visitors. Many foreigners who are in love with Thailand have found success in opening a travel agency or tour company that specializes in in-depth local experiences not just for tourists, but for locals and expats alike. Wellness tourism is also a sector that has received a huge boost from the fresh interest in personal health catalyzed by the pandemic.
E-commerce
The local e-commerce infrastructure has developed considerably over the past two years in terms of payments and logistics. Platforms like Shopee or Lazada have gained sizable traction in Thailand, particularly with locals but also with foreigners. If you want to pursue e-commerce, keep in mind that if you want to import products you'll need proper licensing, and if you want to sell beauty or cosmetic products you will need to obtain FDA approval – something that can be simplified by working with local agents; however, be sure to find reputable ones to work with.
Startups
During the past decade, Thailand has seen a lot of growth in its startup scene as coworking spaces, incubators and accelerators, networking events & tech conferences and community building initiatives have popped up to propel the local startup scene. Do you have what you think is the next highly scalable business idea that could solve a huge pain point for the local market? A startup might be the way to go, and integrating yourself into the local startup community could help you to see more opportunities.
Socially Conscious Businesses
It's always good to evaluate if your business could have a social side to it where you are providing more fair-trade opportunities for underprivileged workers in the local economy. Do you have a business model that could divert more profits to local communities, or marginalized groups of laborers or artisans? Consider collaborating with such groups to create fair-trade opportunities and improve the livelihood of those with fewer economic opportunities in the local economy.
Service-Based
If you have the skills to provide marketing, PR, tech & software development, web design or other digital or consulting services, you could consider starting a business around this.
Company Registration
Registering a company in Thailand is a legal way to run your business here.
While there is a lot of red tape and many legal requirements to check off on the way to incorporating your own company, this raises the barrier to entry and means opportunities are reserved for those who can overcome the challenges – essentially reducing competition.
To open a company in Thailand, you mainly have two options:
Find a Thai partner and open a normal limited company. With this option, you have more options of doing a business but you cannot hold more than 49% of the company shares
Open a company on your own through the Board of Investment promotion. This is a popular options for expats in Thailand since you can fully hold of your company shares while having more benefits from tax benefits to hiring expat employees
Although opening a company requires a lot of steps and paperwork, it's possible to do it on your own. Whether you choose to, or using legal assistance, it is worth doing things the right way to avoid further hassle down the line.
You also need to be aware that as a foreigner, you will be subject to Thai legislation on foreign-owned businesses, namely the The Foreign Business Act of 1999 which stipulates that certain business activities are restricted to Thai nationals.
The Thailand Board of Investment website offers more info about which categories of businesses are open to foreigners.
Your company will fall into the category of being a foreign business
a) if half or more of the total capital is held by a foreign national, OR
b) if your company is a limited partnership or registered ordinary partnership having a foreign person as the managing partner or manager.
You can read this article to find out more on how to legally incorporate your Thai company.
Accounting & Taxes
Accounting is one of the main challenges of maintaining your business in Thailand.
While the idea works pretty similar to elsewhere in the world, it involves a lot of paperwork. Tax filing systems can also be complicated, especially when your company is promoted by the Board of Investment.
You will need to visit the local Revenue Department many times in order to deal with accounting issues. Sometimes the Revenue Department officer may come to your office for an inspection.
A key point of dealing with accounting and taxation in Thailand is to find a savvy accountant. If you find one, your accounting issues or getting tax refund will no longer be a problem.
This doesn't mean you can hire any accountant you find from the internet. There are still some ill-practiced accountants who provide dodgy advice that may save you some money in the beginning but will put you in big trouble later on.
You can find out more on our guide to finding the right accountant in Bangkok.
As a business owner, it's still important to learn how tax works in Thailand and which accounting issues you need to deal with. At the very least, you should know common tax mistakes and how to deal with them.
Legal Issues
While it's not always necessary to hire a law firm to help you open a company in Thailand, it's still a good idea to know a lawyer to keep you in compliance with local laws and get legal advice on business issues including employee regulations, licensing, and business contracts.
Visas & Work Permits
After you successfully set-up your company in Thailand, you can apply for a business visa and a work permit. It's the most suitable visa for an entrepreneur who has a business in Thailand.
You can also check out the long-term resident visa, which is a 10-year visa available especially for investors, business owners, and skilled workers.
You can also evaluate among several other long-term visa options.
Office Space
When it comes to setting up an office, you have three options:
You can rent a traditional office
You can use a serviced office
Or you can use a virtual office
Each option has its own pros and cons. Read our guide to renting an office and serviced office to find out more information.
You don't have to locate your office or register your company address in the city center. Expanding the search for office space to areas within 1-2 kilometers from the main metro lines five to ten stops from city center can considerably reduce your costs of rent.
Business Bank Accounts
It is important to choose the right bank for your business. Each bank has its strengths and weaknesses in terms of corporate bank accounts.
Kasikorn Bank and Bangkok Bank are the two most popular banks for business in Thailand.
Banks in Thailand are still less developed, so a lot of things have to be done at the exact branch where you opened the account. Therefore, choose the bank with branches closest to you. And it should be convenient to get to in case you move offices in the future.
After you open a business and have been established for a few years, you can apply for a corporate credit card. While it is challenging, it is definitely possible.
While you are waiting for a corporate credit card, you can take out a new personal credit card, and use it especially for your business. You should not use this card for personal use, or it will create other issues for accounting.
Staffing & Recruiting
One of the most powerful things you can do for your business is to get localized by building a local team. You'll want to buffer up your cross-cultural management skills so that you can become a beloved boss to your local employees.
It's required by Thai law that you must enroll in Thailand social security for all of your employees, including yourself.
Health coverage from Thailand social security is quite limited. If you want to give more benefits to your employees, you can get group insurance. There are many local and international companies to choose from.
When it comes to recruitment, JobsDB Thailand and Indeed are the foremost platforms for obtaining local hires or interns. For hiring foreigners, you'll want to look on LinkedIn or Glassdoor. If you're looking for tech talents, Getlinks Thailand or Work Ventures can help.
Hiring Thai Nationals
In Thailand there is a big gap between skilled and unskilled workers in terms of salary expectations. The lower tier is for unskilled workers like new graduates or those with less background.
For staff that speak a second language such as English or Chinese, salary expectations can jump to 1.5 to 2 times as much – and for skilled workers, their salary expectations can triple or quadruple from the minimum starting salary because these people are highly sought after, especially for e-commerce.
You may read online about starting salaries, but when you start recruiting you'll get different responses because the industry and talent you're looking for may have different expectations. There's a huge jump between tiers, but also compared with other countries for the same level of skill, you'll have to be prepared to pay higher in Thailand for skilled workers.
The minimum wage in Thailand varies depending on the city, but it is currently around 336 THB per day in Bangkok. If you are looking for an administrative support employee, you will be paying around 15,000 THB per month to start. Some average salary ranges for local employees in various industries can be found here.
Hiring Foreigners
Unless your company is promoted by BOI, to obtain a work permit for each foreigner you hire, you need to have three to four other Thai full-time employees on the payroll – depending on your type of incorporation.
There are also allocations for companies that pay certain amounts in taxes, bring a certain quota of export revenue into the country, or have more capital (i.e., 2-3 million baht per work permit holder; the exact number is dependent on your type of incorporation).
These can be confirmed with the Labor Department or a legal firm who can help advise the most strategic way to make your company eligible for more foreign hires.
These legislations make hiring foreigners legally much more costly.
If, as an SME, you were thinking of hiring a lot of foreigners or building an all-foreign team, think again. If you're hiring all foreigners, you don't necessarily have to start a business in Thailand. You could sell to the Thai market from another company outside of Thailand instead.
But if you want to target the Thai market or if you're exporting Thai products to another country you still need to have a Thai team. Therefore, it's best to hire foreigners when you really have a need for foreign talent and skills that are hard to find locally.
Payments
There are several main payment methods that local businesses in Thailand use to receive payments from customers.
Bank Transfer
A few years ago, Thai banks removed the inter-bank transfer fee. Now local accounts can make transfers between banks free of charge. This highly incentivized the use of bank transfers and the move towards a cashless society.
Whatever type of business you operate, make sure you make it easy for customers to pay with bank transfers. Local customers are comfortable paying with bank transfers via mobile banking apps.
The Thai government has pushed the use of the Prompt Pay system – a system used to transfer money between banks by inputting a phone number or national ID – as a way for consumers to easily make bank transfers, as well as transfers via QR codes.
A QR code for any local bank account can be extracted as an image from your bank app. Having a QR code printed near your cash register or shown when requesting payments is a good idea to help make payments more efficient.
Credit Cards
If your business would like to implement online credit card purchases, you can go through a local payment gateway such as Omise Thailand, which is like Stripe. They help you process online credit card payments using secure OTP codes.
Paypal
On March 7, 2022, Paypal suspended applications for new personal Paypal accounts from Thailand while working on some compliance issues for the Thai government.
Although Paypal will only start allowing Thai users to open new personal Paypal accounts later this year, users can still open new business accounts in Thailand using a Thailand business registration, proof of business address and legal representative's ID and proof of address.
Crypto
Over the past five years, crypto has been popularized in Thailand as an investment tool. Many locals are familiar with crypto. However, it has not yet been popularized as a payment method. Additionally, the Thai government outlawed the acceptance of crypto payments for goods in Thailand earlier this year.
Logistics
The local infrastructure to outsource your logistics has improved considerably over the past two years.
The startup unicorns of Southeast Asia are the delivery companies that have sprouted to support the region's burgeoning e-commerce industry. Whereas most SMEs used to rely on the Thai Postal service's EMS or registered mail to ship their products, now most have shifted to using companies in the private sector.
There are also other services available to support warehousing & fulfillment.
Warehousing & Fulfillment
If you need warehousing or fulfillment services, seeking a provider located outside the city or outside of downtown can help save costs.
The bottom line is to find someone reliable. Fulfillment is an upcoming business in Thailand that stems from the growth from e-commerce, so you will see a lot of newcomers and inexperienced providers in the space.
It is important to find someone reliable because a lot of companies are not qualified to provide good service due to their lack of logistics background.
They may overlook things like security, inventory systems, IT infrastructures, and other efficiencies such as how to train staff to minimize errors. It is worth it to pay higher rates in exchange for reliability and good customer reviews.
Packaging
If you're working with a fulfillment center, they will also take care of packaging.
Although you can buy packaging from Shopee or local box companies, you won't get a better price than from fulfillment centers because they purchase boxes in bulk at millions of pieces.
Delivery & Logistics
If you have a physical product, you may want to engage in e-commerce and for this you will need a fast and reliable delivery service that provides tracking numbers.
You need to know how to deal with the COD (Cash on Delivery) because a lot of Thai customers still prefer to do COD so it's up to the carrier you work with if they can support COD at a reasonable fee.
Same-Day Delivery
Companies or apps like Grab, Line Man, Lalamove and Deliveree are available to handle same day deliveries. The latter two specialize in larger deliveries with pickup trucks and box trucks.
If you're using Grab, purchasing Grab Packages (bulk discounts on their services, available inside their app) can help save on costs.
Overnight Delivery
Kerry, J&T and Flash Express are some leading providers of overnight delivery across provinces. The majority of orders will be delivered within one to two days (with the exception of Sunday) if you ship with one of these private providers.
Thailand's private logistics sector has become a lot more robust in the last two years. Kerry was the first mover with the highest quality of services in the space. Now two to three other carriers are also delivering, and their levels of service are catching up but their rates are also increasing so it makes Kerry the more attractive option because now the other carriers are no cheaper than Kerry.
Cold Storage
If you're shipping perishable goods within Bangkok, you may like to look at a company like Makesend which provides same day delivery with freezer boxes. If you're shipping cold storage across provinces, look at a company like SCG Express.
Special Requirements
If you have special requirements (e.g., moving larger items like furniture and machines interprovincially), there are different carriers for that and it's divided by different regions.
Some companies have better cover in the north, other companies in Bangkok and the south; they work with each other. A lot of independent carriers also have their own fleets.
What to Do Next
Whichever direction you take with trying to grow and market your business, never underestimate the importance of localization. Strive to learn the way things work here in Thailand, and integrate yourself into the local business & Thai culture. Not only will you gain priceless business connections, but you will also win the heart of your Thai employees and local team.
Localization also means getting street smart. Knowing which government departments concern you as a business owner, and how each of them are connected; how things work in each industry – which areas are gray areas, and which lines are red lines, where the opportunities are and what kinds of risks exist – will help increase your chances of survival as a business.
Essential Guides on Starting a Business in Thailand
Exclusive Business Content
We have exclusive business content with insider business tricks that you can't find anywhere else.
By becoming a subscriber of our Business tier, you can get immediate access to this content:
That's not all. You get a free consultation with a corporate lawyer, a free consultation with an accountant, enjoy ExpatDen ad-free, and get access to over a hundred pieces of exclusive content to make your life in Thailand hassle-free.
Here is the full list of our exclusive content.
To get access to these exclusive business guides and more, become a subscriber.
Latest Guides on Starting a Business in Thailand