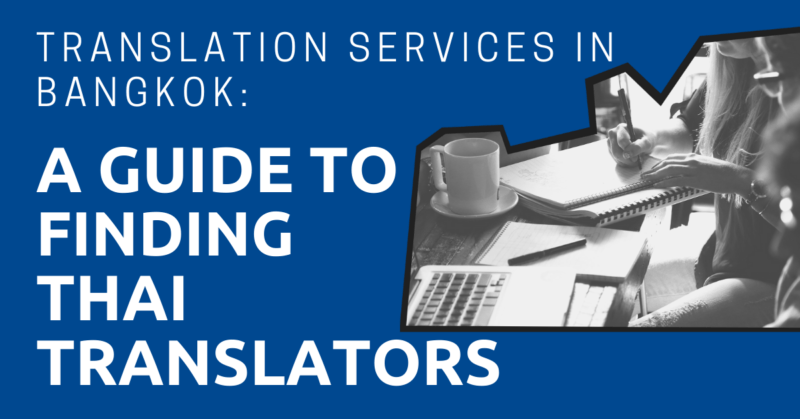 When living or doing business in Thailand, one day you'll the need to hire a Thai translator. Maybe you need to translate your product descriptions to venture in Thai market. Maybe you'll need to translate employment contracts when hiring Thai employees. Or perhaps you'll need to translate your marriage certificate when applying for a marriage visa, or even need to translate a document for litigation.
Finding Thai translators can be both easy and difficult at the same time. While hundreds of translation agencies are available out there, both online and offline, it's hard to find one providing quality translation at affordable rates. And it shouldn't be a surprise to find the translation fees for the same document quoted differently by different translation services.
This article will guide you through the process of hiring a Thai translator. From procedures, fee calculations, rates, to recruiting, and payment methods. It is prepared by one of our staff, who is a part-time translator himself, and with additional resources from his translator friends and community.
"*" indicates required fields
Working with Translators
Background Check
Thai translators have a variety of backgrounds. In addition to graduating from a faculty that studies language, many translators studied from the school of law, medicine, or engineering. There are also those who graduated from international universities and became full-time translators. Some graduated from other programs but took translation courses from the Thai Translator and Interpreter Association of Thailand.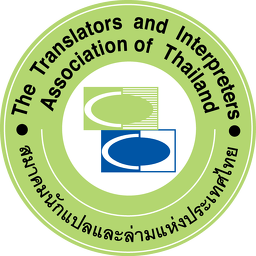 Actually, educational background is not important compared to experience. Before choosing any translators, ask for translation background and choose the one who has translated the similar type of work you need to have translated. For example, if you want to have a medical document translated, choose a translator who did it before.
If possible, request a sample of a past translation or ask a translator to translate a few paragraphs of your document. This way you might be able to find a translator, with less to no experience, but who can produce quality translation at a cheap rate.
Agreement
Rate, delivery date, and method of delivery are the first three points that should be discussed with a translator. In order to get a rate, a sample or a full document should be sent the the translator with delivery date and method. Without it, a translator tends to offer a rate that is more expensive than it should be. This is to make sure the translation is worth doing.
Once the rate, delivery date, and method are agreed upon, you can ask a translator to start working on the translation right away. Further points such as revision, cancellation, and contract are worth discussing. But usually they are not necessary unless it's a big project.
Revision
Similar to hiring a freelance writer, it is possible to ask a translator for revisions. Although there is no formal agreement on how many times the translation can be revised, it should not be more than three times unless agreed upon in advance with the translator. The real challenge would be to find someone who is proficient at the translated language and can review the translation.
Because of this, people tend to accept the translation without asking for any revisions at all. Or some decide to hire another translator for proofreading and editing purposes.
Contract
Contracts aren't always necessary when hiring a translator in Thailand. Thai translators prefer to handle jobs without any legal process. A lot of time you can get your translation done by only a verbal agreement. This is especially true when handling a short document that can be done within a few hours or days.
However, contracts are still important when working with a project involving a lot of money and time. In addition to normal conditions such as rate, deadline, and payment method, it should clearly mention details about revisions, cancellation, confidentiality, and copyright. Contracts should be signed by both parties. A sample of the translation contract can be found on American Translator Associations. Although it is outdated, it still gives you a good idea on what should be written on the contract.
Service Model
Per Page
Instead of the paying per word model for translation, translation services in Thailand tend to use the pay-per-page model. This is especially true for translating from Thai to English. One main reason is that word count tool is not that accurate in counting Thai words which results in more words and characters than what they should be. In addition, it is easier to calculate translation fee through the pay-per-page model when a file comes in pdf format because of the difficulty in counting words.
Even with the pay-per-page model, the number of words on each page still matters. Each translator has their own way of defining "page" by specifying page and font formatting. The most common one would be 12px Time News Roman font with 1.5 spacing in English and 16px Angsana font in Thai. It results to around 1,800 characters or 400 words per page. However, some translators give a definition of page being around 250 or 300 words.
When dealing with documents including pictures, tables, or bullet points, the calculation is usually done by counting the total characters of the document and then multiplying that number by 1,800. For example, if a twenty-page document has 18,000 characters in total, the translation fee with the pay-per-page model will only be for ten pages (18,000/1,800).
However, the rate per page may be slightly higher if translators need to do table formatting or something similar.
Per Word
With the pay-per-page model being popular in Thailand, the pay-per-word model is still applicable with Thai translation. Calculating words can be done simply by using the word count tool from Microsoft Word or Pages for Mac. Similar to paying per page, translators might charge extra for additional works including formatting tables and posting translated articles on websites.
In addition to the given example, rates can be affected by other factors such as the difficulties of the translation, delivery speed, and additional work. It is ranged from formatting tables, adding translated contents directly on the website, to having paperwork certified or legalized.
Per Minute
Translating rate for media translation such as dialogues and subtitles for TV shows, discovery channels, and cartoon animations are usually calculated by the minute. For example, if the rate is 40 baht per minute, translating fee for the fifty minute TV show is going to be 2,000 baht. However, if this media has file scripts, the pay-per-word model will be used instead.
Per Hour
Some translators use the pay-per-hour rate when they need to translate any assignment that is hard to calculate by page/word/minute, such as websites. The hour in this case means the number of hours it should take in order to complete a translation.
For example, if a translator usually makes 200 baht per hour, and translating one assignment should take them ten hours. The translation price is going to be 2,000 baht.
Royalty Fee
Some publishers pay translators percentage based royalty fees for translating books and novels. It can be from 6%-10% for books and 20%-25% for e-books. The fee can be either calculated from the sales amount or printing amount based on the contract between publishers and translators.
Rate
Translating rates depend on many factors, from translator's expertise, delivery speed, all the way to difficulty, legalization, and certification. Below is a rate based on an average market price. It is possible to find a lower or much higher rate depending on the expected translation quality.
Translating rates don't guarantee quality of the translation. A translator with the rate at 1 baht per word or less has a chance to produce a better quality translation than a 2 baht per word rate translator. It depends on the expertise of the translator you are dealing with.
General
While it is possible to find freelance translators with the rate as low as 0.3 baht per word for general translation from Thai – Eng or Eng – Thai, the normal translation rate for experienced translators starts at 1 baht per word or 400 baht per page. This is the rate for general articles and document that do not include many technical terms.
Technical
For technical articles, such as scientific, medical, and engineering manuals, the rate can go up to 2 baht per word or even higher than 3 baht per word depending on the level of difficulty. This rate also includes website translation if both parties agree to use the pay-per-word model.
Legal Contract
Translating fees for legal contracts are similar to technical articles: 2-3 baht per word or higher depending on the difficulty level. Legal contracts in this case range from employment contracts, wills or testaments, or business contracts between two or more parties.
Lawyers with excellent English are highly recommended to translate legal documents.
Legalized Document
The translation rate vary for documents that need to be legalized, such as house registration, marriage certificates, and birth certificate, and is normally in the range of 250-1,000 baht, depending on the type of document. Keep in mind that this translation rate only comes with a translator certification. You cannot use it unless it is legalized by the Thai consular.
If you know someone who knows Thai, it is possible to translate these government document by yourself by using the form from consular.go.th. However, to get an approval from the Department of Consular Affairs (DCA), you still need to edit some parts of the form such as using the "Identification Number" instead of "No." for your ID number, and adding an "OFFICIAL EMBLEM" on the header of the document, and providing detailed addresses and positions.
Using a translation service which can be found online or inside the DCA gives you more chance to get the document legalized. You should agree with the translation services in advance for revision fees in case the DCA rejects the translation for whatever reasons such as the missing middle name, incorrect title, or position not detailed enough.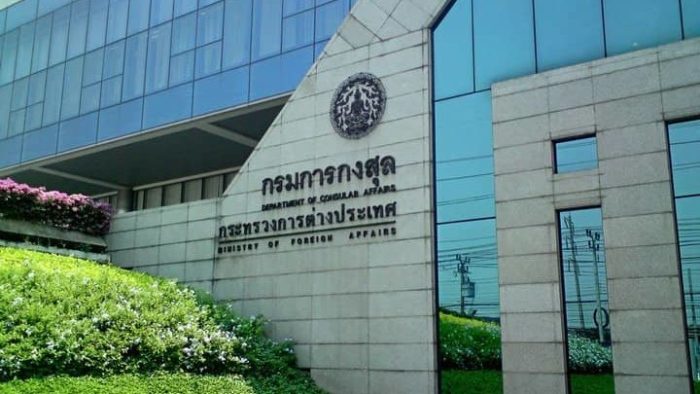 Translator Certified by Justice Court
If the document needs to be translated by translators certified by justice court, the rate is normally higher than 2.5 baht per word. It is expensive since the certification needs to be renewed every three years at the justice court. And not many translators have it.
Normally, the certified translated document is required for litigation or bidding projects from government organizations. They range from company registration to power of attorney and company's product specifications.
Movie Subtitles and Dialogue
Translation fee for movie subtitles and dialogue are separated into two cases. If scripts are available, the rate will be calculated per word, at 1-3 baht per word depending of the difficulty. Otherwise, it is going to be calculated per minute. The usual translation fee for a 45-minute series starts at 1,500 baht and can be more than 2,200 baht for experienced translators.
Finding Translation Services
You can contact us to help finding a Thai translator.
Translation Agencies
There are many websites out there promoting themselves as a translation agency such as Pasa24, GDM, and Pimtranslation. Since they have translators who are working both part-time and full-time, these agencies are able to produce very quick turnaround with acceptable quality. Some can even promise to translate a contract agreement within two hours.
The translation agencies are good at translating government forms that need to be certified including marriage certificates, house registrations, and single-status certificates. They have ready-made translation forms and should be able to finish the translation within an hour. In addition, these agencies offer an additional service to have the translated document certified by the consular or translator with the justice court certification at extra costs.
The main disadvantages of the agency are price and quality. Since they charge commission from translators, this results in higher fees than average. For example, translation agencies normally charge 1000-1500 baht per page for legal contracts, but freelance translators only charge 700 baht for the same document.
In addition, it is quite impossible to select which translators to work on your document. If your document lands in front of a translator who is not specialized in the subject, this may result in a poor quality. All in all, translation agencies have professional translators working there. This guarantees the translation quality at certain standards.
You have a chance to find a freelance translator with cheaper rates with the same, or even, better quality. However, in case you want a quick and guaranteed quality, using the agency is a good choice.
Translation agencies tend to provide translation services for popular languages such as Spanish, French, Chinese and Japanese. In addition to websites, they can be found near tourist, embassy, and consular areas.
Freelance Translators
Many qualified translators can be found in Thailand. A lot of them have professional backgrounds in other areas but doing translating gigs part-time. Looking at their profiles, you wouldn't be surprised to find that they are engineers, MBA grads, programmers, digital marketers, and even doctors. These freelance translators tend to graduate from international universities or have been working in their fields for quite a while.
These freelance translators can be found on general freelancing platform such as Upwork, Freelancer, and Fiverr. You may find the rate to be as low as 700 words for $5 USD, 0.25 baht per word, which is around 75% lower than an average rate. However, this does not guarantee quality of the translation. Also, translators there might not show translating samples and experience. You should be able to find a better one through a specialized freelancing platform in translation such as Proz. In the site, translator profiles, experiences, as well as contact details are listed there.
Professional Translators
Professional translators are quite difficult to find since they rarely advertise themselves. They are normally hired through connections, recommended by other customers, or under the contract with publishing companies. Fortunately, they can still be found online through freelancing websites such as Upwork, Freelancer, and Proz. In addition, some professional translators also have profiles on LinkedIn.
Professional translators' rates are normally lower than translation agencies. However, some might charge more depending on their level of expertise.
Language Institutes
There are some language institutes that offer translation services. They are considered as the best translation services by many people. Translators from these institutes are university teachers and certified professional translators who teach translators.
Because of the quality, translation rates from language institutes are the highest. For a general text, the rate is at least 800 baht per page and goes up to 2,000 baht for technical documents. The most famous language institute with translation services is Chalermprakiat Center of Translation and Interpretation from Chulalongkorn University.
University Students
If quality does not matter, asking university students for a translation is another way to go. The rate can be as low as 80 baht per page for an engineering manual, in which you need to pay at least 300-400 baht per page for the same document when using translation agencies. To hire university students, you can contact the Faculty of Arts or Humanities from universities such as Thammasart, Kasetsart, and SWU.
Teachers from these faculties might be able to find students with very cheap rates. To them, it is a win-win situation where students can improve language skills while getting paid at the same time. However, this method takes time and does not guarantee the translation quality.
Social Medias and Fansites
Fansites and social media groups are another places to recruit translators. Some people can find translators through Bangkok Expats Facebook group, which is the biggest expat group in Thailand with over 66,000 members. Reddit also has a specific subreddit for translator. If you know Thai, many professional translators can be found on the translator tag on Pantip, the biggest online community website in Thailand.
If your translation is related to movies, novels, or cartoons, check out their fansites. You might be able to find translators who are passionate about your stories, which results in a quality translation. In Thailand, it is widely accepted that Game of Thrones Thai subtitles unofficially translated by fans is better than the official one from AIS.
Similar to university students, finding a translator from social media and fansites requires effort. You might be able to find a quality translator with cheap rates or end up not finding anyone at all.
Payment
In addition to cash, the most common method of payment for translation services in Thailand is through wire transfer. This includes translation agencies, freelance translators, and even language institutes. PayPal is acceptable to only some freelance translators. Credit card payment, as of now, is only available through online freelancing platforms.
When using services from agencies or language institutes, payment needs to be sent prior to the translation. On the other hand, for freelance translators, you are able to pay after the translation. Sometimes a picture of the wire transfer receipt is required for payment confirmation.
Fifty to sixty percent of the deposit is normally required for large orders with over 5,000 baht translation fees. However, it depends on which organizations you are dealing with.
In case you are a vat registered company in Thailand, it is important to deduct 3% withholding tax when paying translation fees to either Thai freelance translators or agencies as explained on the withholding tax section on Revenue Department Cooperate Income Tax page. Please consult your accountant for more information.
Other Languages
The process of recruiting, finding, and working with translators for other languages such as French, Spanish, German, Japanese, and Chinese is similar to what's mentioned above. The real difference is the rates. Normally, translation fees for Thai – Eng and Eng – Thai are the cheapest. For other languages, the rate might even be higher than 3 baht per word, or 1,200 baht per page, for a general document.