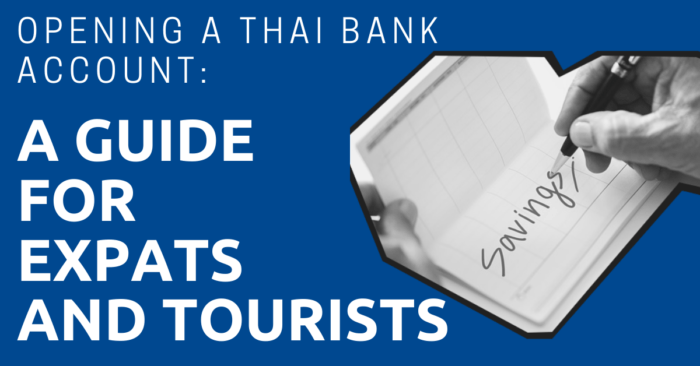 One of the first and most essential things expats need to figure out in Thailand is how to open a bank account.
You need it to handle your finance including sending and receiving money from abroad.
Having a Thai bank account also help to make your life in Thailand much easier since wire transfer is a very popular payment option among locals.
The guide below walks you through the most common banking choices, account types, opening procedures and other specifics of the Thai banking system.
If you want to set up your life in Thailand hassle-free and save thousands of dollars, check out our premium subscription. Coming with over a hundred pieces of exclusive content, they show you how to get a job, start a business, manage your finances, and make Thailand your new home.
Surprises First
While life without surprises would be a tad boring, people prefer not to encounter them with financial matters. Sparing you the worst, I'll cover the most essential differences between Thailand and other countries when it comes to banking.
The Importance of Your Branch
Thai Banks tend to work differently than their counterparts back in your home country. Specifically, many policies tend to be branch specific. Just because something does(n't) work in one branch, that doesn't necessarily say anything about any other branch of the same bank.
That can work in your favor (if a branch is more lenient than they're supposed to be), but is often frustrating because individual bank managers and employers interpret the rules in a stricter way.
Branches tend to be more independent in other ways as well. Some procedures can only be carried out at the specific branch where you opened the account. Others can be carried out at all branches.
And a select few can be carried out at every branch as long as your ID on file is up to date.
Long story short: It matters which specific branch you're using. I'll go over recommended branches for different banks in the section on individual banks.
Always Bring Everything
Some banks publish guidelines on required documents for specific procedures. Others happily provide the information by phone when you call their call center.
In the end, it doesn't change much. Those should be considered the absolute minimum rather than the actual list of required documents. It's always a good idea to bring everything.
That includes your passport, your bank book, your certificate of residence, your work permit or an employment letter showing your eligibility for a work visa. All documents must be original and some banks may even require you to have your passport certified from your Embassy in Thailand.
I've seen banks hand out credit cards with me showing nothing but a Thai driver's license, but generally the documents required tend to be more extensive than expected.
Why Empty Forms Get Signed
Nearly every time I visit a Thai bank for something more complicated than a withdrawal, I'll be asked to sign a standard form. That apparently gets tedious for many people.
The modus operandi for many bank employees is to give the unfilled form to customers, asking them to sign that and promising to fill in the necessary details for them later.
Of course you can fill it out yourself and cross out any empty sections. I tend to do that and my branch employees don't bat an eye. The first few times it happened though I was very wary of potential shenanigans and might have come across as a bit off-putting.
In the end though it was just their way of handling things. You don't have to go along with it, but I recommend not taking offense either.
Minimum Balance
The minimum amount required to open a bank account in Thailand varies by bank and account type. Most Thai banks require a minimum deposit of THB500 whereas UOB requires THB1,000 for savings accounts.
Foreign Currency accounts will require a minimum balance of US$5,000 at most banks in Thailand for non-residents.
To avoid bank maintenance fees, you'll need to maintain a balance in your account. Bangkok Bank requires a minimum balance of THB500 for a savings account, Kasikorn bank needs THB2,000, and UOB requires no lower than THB5,000 at the end of the month.
The service fee is generally THB100 per month if you fail to meet the balance requirement.
Fees
Besides meeting the minimum deposit requirements, there aren't any fees from the bank to open a standard savings account. However, there could be some fees when preparing the required documents to open an account.
For example, some banks now require a letter from your Embassy validating your passport. This can cost around THB1,500.
If you plan to have a debit card, there will usually be a fee for the card and an annual fee. A basic visa debit card ranges between THB100 to THB300 with an annual fee of THB300 to THB500.
All banks will also have common fees, such as account cancellation fees, card replacement fees, and annual fees. This information will be included in the terms and conditions when opening an account, or you can ask your bank teller to explain this to you before registering.
At Bangkok Bank, we recommend having THB1,000 ready if you want to open an account and receive a debit card. THB500 will go to your bank savings account and the other THB500 is for a debit card.
Which Bank to Pick
The traditional choices for foreigners arriving in Thailand are Bangkok Bank and Kasikorn Bank. Both UOB (they took over Citibank's retail banking in Thailand in 2022) and CIMB also have a reputation for being more lenient with foreigners and offer more benefit options for expats.
However, they are not the only available options. Depending on your specific needs and immigration status, different banks might be a better pick.
Bangkok Bank
With 18 million accounts, Bangkok Bank is not only Thailand's largest bank but also the most foreigner-friendly one. In terms of specific branches, Bangkok Bank's main office on Silom road is frequently mentioned as the best branch to visit.


In addition, Bangkok Bank probably has the best exchange rate of all Thai banks when it comes to international wire transfers.
Kasikorn Bank
Kasikorn Bank is one of the only Thai banks that do not require a minimum deposit to open an account. Because it is one of the most popular banks in Thailand, the queue is often long at their banks and ATMs.

Their branches in Icon Siam, Central Embassy, and on Sukhumvit 33 appear to have the highest customer service ratings.
I found Kasikorn Bank to be one of the easier ones to work with when it comes to credit cards.
If all your documents are approved, you'll receive a passbook and an ATM card can be issued on the spot as well.
On the downside, I found Kasikorn a bit tedious to work with when cashing foreign currency checks.
Siam Commercial Bank
SCB is a very well-established bank and favored among Thais with their user-friendly mobile app and website.

They also have a strong reputation in Thailand's investment banking industry and have designated SCB investment centers around Bangkok. If you're considering opening a stock brokerage account in Thailand, they are a good place to start. Some have said it feels a bit outdated compared to other countries, but it gets the job done and transactions are cheaper than in Germany.
One downside is that SCB charges a markup of 5 percent on the exchange rate when withdrawing money from the ATM compared to Aeon Bank ATMs that charge a standard THB150 per withdrawal.
CIMB
CIMB is a Malaysian bank group and one of the largest in ASEAN. Many people have reported having a better chance of opening a bank account here with a tourist visa.
Based on online reviews, they've been increasingly getting more positive feedback from foreigners as providing better customer support due to higher English speaking proficiency with their bankers.
CIMB also offers competitive interest rates on savings accounts in Thailand. For savings accounts with a balance less than THB1 million, they offer 0.50 percent and 0.75 percent for accounts over HTB1 million. This is double compared to other Thai banks (SCB, Kasikorn) that offer 0.25 percent and 0.30 percent respectively for the same conditions.
United Overseas Bank (UOB)
UOB acquired Citibank's consumer banking business in Thailand in 2022. It includes retail banking, credit cards, wealth management and other products and services in Thailand.
The acquisition is fairly new so many products and services are still branded under the "Citi" name currently.
Their head office is the UOB Plaza Bangkok, a landmark-worthy 30-floor building located on Sukhumvit road. However, this branch focuses more on their Privilege and Wealth Banking customers and only has a few bank counters on the first floor catering to basic banking needs such as opening an account or making withdrawals.
The UOB Premier and Preferred credit cards are great and provide many dining and shopping perks in Thailand's malls.
Both have a salary requirement of THB50,000 for expats, but may be waived if you can obtain a letter of recommendation from your employer.
Opening a Bank Account without a Work Permit
It is possible to open a bank account in Thailand without a work permit. The chance of opening an account with a tourist visa is getting increasingly difficult and depends on the bank and branch manager in charge.
You'll need additional documents such as a letter from your embassy and can only open a savings account.
Our premium subscription points you to the exact branches that will let you open a bank account. It also shows you where to open a credit card with only a 15,000 baht a month salary.

Another option is the Thailand Elite Visa, a privilege visa that you can purchase in Thailand and allows you to open a fixed deposit account and credit card with Bangkok Bank.
You can also use an education visa to open a bank account if you have the right paperwork, like a letter of acceptance from a Thai school. For education visas, most banks will only let you open a savings account, but some branches may also let you open a fixed deposit or foreign currency account.
Account Types and Opening Procedures
There are several different accounts available to expats. The easiest one to open is a savings account.
For most other account types, you need a Thai work permit.
Savings Accounts
According to some sources, the best options for opening an account with a tourist visa nowadays are with Bangkok Bank or CIMB.
To increase your chances, it is best to come into Thailand with a tourist visa rather than a 30-day stamp. The more months remaining on your visa the better. But there's no limit. you'll have a better chance of finding a branch that accepts tourist visas in Bangkok, Pattaya, Chiang Mai, or Phuket, compared to other cities in Thailand.
Besides your passport and visa, you'll also need to show proof of address. You can use your lease agreement, but any of the following documents might also be accepted:
Thai driving license
Thai house registration
Letter of reference from a reputable Thai person, an embassy, a university, or a similar person or organization in high standing
Letter from a company saying that you're getting a work permit
Message from your home bank to the Thai bank via the SWIFT messaging network
Bring anything that shows you're in Thailand for longer than a month.
Any ID with a picture on it or any documents showing you receive a salary or pension will do.
What the banks accept as proof depends on the branch teller or manager on duty.
For Bangkok Bank, there are online instructions on how to open an account as a non-resident.
Following these instructions is a good idea no matter which bank you apply at.
For banking, you can use whatever branch of your bank is closest to you.
To update your passport number on file or get a letter to prove your finances for your visa renewal, go to the branch where you opened the account.
Current Accounts
If you have a work permit, you're also able to open a current account. In practice, those work the same way as a savings account in Thailand. The only difference is that you receive a checkbook but no passbook.
In terms of functionality, I haven't noticed any difference.
Fixed Term Accounts
Even though interest rates in Thailand can be comparatively high, it can be hard to secure rates as a foreigner. The reason for this is that a lot of Thai banks have different interest rates for 'non-residents'.
Based on some online reports, there's some leeway – foreigners with a work permit use the thirteen digit number on their social security card as 'ID' (which passes the bank's system as a legit ID number).
If you have a residence permit, you should be eligible to receive the 'local' rate either way.
Specific rates change all the time. The Bank of Thailand (Thailand's central bank) maintains a daily updated market overview, showing you which rates are currently available at which bank for savings and fixed term accounts.
At the time of writing, the Bank of China and UOB offer the best rates.
Aside from 'testing' a fixed term account with Kasikorn Bank a few years back, I've stayed away from them in Thailand. This is partially due to the 'non-resident' rates and partially due to my preferring the local stock market as an investment choice.
Foreign Currency Accounts
A number of banks offer foreign currency accounts. On paper, that sounds like a good idea, but the restrictions placed on them often make them a tad unwieldy; the exchange fees charged if you want to deposit or withdraw funds are comparatively high.
While you can remit USD into the account rather cheaply, withdrawing or exchanging that to THB is often very expensive.
If you make a cash deposit or withdrawal, you'll have to pay a 1 percent transaction fee at the majority of the banks, making it more expensive than if you just exchange it in cash or wire it directly. In addition, unlike Thai Baht accounts, foreign deposits are not protected in case the bank goes bankrupt.
The minimum balance imposed by most banks ranges from US$5,000 to US$10,000.
The main benefit is lower fees if you're receiving and sending large amounts in USD by wire transfer. In this case, you only pay 0.25 percent each way. UOB offers the best deal at 0.125 percent for their Priority customers.
If you were previously a Citigold customer before the acquisition, there is no charge for this transaction as of December 2022. This means a foreign currency account can save you up to 75 percent on the transfer fee compared to a standard SWIFT transfer in THB.
Debit Cards
When you open a current or a savings account, it usually comes with a debit card that you can use for online purchases, buying groceries, filling up your tank, and so on.
The card will work almost anywhere in Thailand, but you'll have to request the bank to set up international payments so you can use it on websites outside of Thailand, like Amazon or Book Depository.
You can also get a debit card that will work while traveling outside of Thailand, this way you can use it to withdraw money or make purchases while on vacation or a business trip outside of the country.
Given that debit cards are much easier to obtain than credit cards (no work permit required), some people find it's enough and not worth the hassle of going through a credit card application process.
Related Article: Thailand Credit Cards for Foreigners
ATMs
ATMs in Thailand are a lot more functional than what you might be used to back home: Thais tend to use ATMs not only to withdraw money, but to make bank transfers and pay their bills.
I remember when I got my first debit card; I was told that the fee to withdraw money from the ATM of a different bank was 'three'. I asked the teller if she meant three percent? Nope. It was three Baht!
Nowadays, fees are slightly higher, but still nowhere near what you pay in other countries; ATM withdrawal fees for using machines from a different bank are in the range of THB5 to THB25. What's interesting to note is that you'll pay a surcharge when withdrawing in a different province, even if it's the same bank.
Related article: The Complete Guide to ATMs in Thailand
Online Banking
Most banks offer some sort of online banking which is usually based on a password and an OTP (a passcode that gets sent to you by SMS – you'll need a local SIM for that).
Some banks will not provide people on tourist visas with online banking access.
Compared to what you might use back home, the interface is a bit clunky, but the functionality is there. You can pay for online shopping orders, utility bills, and manage investments.
The application process includes a lot of paperwork, but at least you won't have to worry about getting rejected. One major advantage of having online banking is that with some banks (e.g. Kasikorn Bank), you can even handle some of the paperwork (e.g. the yearly renewal of your 'license' to remit funds abroad) through the online system, saving you a trip to the bank.
Due to the rise of more user-friendly and convenient payment methods like mobile banking and e-wallets, online banking is not as popular as it once was for personal accounts.
However, if you do plan on registering a company in Thailand, online banking is still preferred to help you handle your finances more easily.
Related Article: Essential Guide to Registering your Company in Thailand
Mobile Banking
As Thailand transitions to a cashless culture, mobile banking has grown in popularity. You'll need to have a Thai bank account in order to download and log into your bank's app.
Mobile banking makes bank transfers much faster and simpler, and it is accepted almost everywhere in Thailand, including street food vendors.
There's really no need to carry a debit or ATM card around anymore. You can access your bank's ATM to withdraw money, transfer funds, or pay bills with mobile banking now.
Most retail stores and restaurants will also have a QR code that you can scan to pay directly from your bank's app. Almost all banks have an app, but we believe Kasikorn Bank has the best user interface.
Mobile banking is also integrated with PromptPay, a local payment method that lets you send or receive money using just your mobile phone number. You can register for PromptPay via your bank's app by providing the mobile number you used to open your account.
E-Wallets
E-wallets is another popular payment method in Thailand using your phone. It allows you to pay for almost all goods and services in Thailand, such as supermarkets, public transportation, utility bills, and more.
You can also enjoy discounts, coupons, and loyalty points by using certain e-wallets. It is especially useful when you travel to cities outside Bangkok that do not accept credit or debit cards.
The most popular e-wallets available in Thailand is currently TrueMoney. Unfortunately, you'll not be able to register for an e-wallet account without one of the following supporting documents: Non-immigrant visa, work permit, Thai driver's license, Thai house registration (Yellow Book), or Elite visa.

You can register for an account by downloading the app and uploading the required documents. If everything is done correctly, you'll get a text saying you're approved within three days.
Currently, you can only link cards issued by Thai Banks with TrueMoney. Or you can use cash at partner outlets, such as 7-Eleven or True shops, to add money to your e-wallet.
Rabbit Line Pay is another leading digital wallet that is linked to the Line messaging app. It has fewer partner merchants than TrueMoney but is easier to register for an account. All you need is a valid phone number that can receive an OTP, an address in Thailand, and passport or Thai driver's license. You can sign up for an account via the Line app.
Rabbit Line Pay allows you to link foreign credit cards, but exchange rates apply according to your bank.
Both options do not charge for adding money into your account, but there is a maximum limit you can add as a foreigner. Rabbit's limit is THB5,000 per account whereas True allows THB50,000 per month along with any two of the supporting documents listed previously.
International Transfers
After you open a bank account in Thailand, you can do the international transfer right away. However, their rates tend to be much more expensive than online money transfer services.
Wise is available for sending money to Thailand. Their rates are generally cheaper than a bank transfer.
You can also check out Xendpay.
Related article: How to Send Money to Thailand: The Fast, Cheap, Reliable Way
Deposit Guarantees
In general, your THB deposits are considered to be safe due to the Thai government's guarantee: Funds are insured to up to THB25 million per customer per bank, though at the time of writing, it seems that the amount will be lowered to THB1 million, effective August 11, 2021.
It should also be noted that this coverage does not include foreign currency accounts.
According to industry insiders, the top four to five banks in the country are in a position where this shouldn't be a concern, though personally I prefer to have that additional safety layer.
Alternatives
Not everyone really needs a bank account in Thailand.
Between credit cards that don't charge foreign transaction and exchange fees, checking account providers refunding foreign ATM fees and many cashless payment options, the need for a local bank account is more limited than it used to be.
People who only spend a few months a year in Thailand and still receive their income elsewhere may be better off just getting the right kind of checking account and credit card in their home country rather than bother with local banking.
If you're American, the checking account with Charles Schwab makes this kind of thing easy. Similar offers exist in other countries.
This said, local bank accounts and credit cards make life easier just like speaking Thai does: It's not a must, but it adds a lot of convenience and despite its scary first impression, it's actually quite doable and worth it in the long-run.
Bank Operating Hours
Thailand bank operating hours differ between each branch.
In general, if the bank branch is located outside of a department store or office building the operating hours are going to be from 8:30 AM until 3:30 PM.
If the bank is located inside a department store or office building, the opening hours could vary. Some banks may open at 8:30 AM and others may not open until 11:00 AM. And closing hours will be between 6:00 PM and 8:00 PM.
The best way to check a bank operating hours is to check with Google. Type the name of the bank, the branch you're planning to go to, and then "opening hours," and you'll see the operating hours of that branch. This method is accurate most of the time.
Alternatively, you can check the official website of each bank and search for the specific branch you're going to. The website should list the operating hours.
Bank Holidays
Bank holidays in Thailand may or may not occur on the same day as public holidays in the country.
Usually, for New Year, Songkran, and the king's birthday, banks will be closed. However, banks will remain open for Royal Ploughing Day or Buddhist Lent.
The best way to check bank holidays is on the Bank of Thailand website. In fact, the Bank of Thailand is responsible for assigning bank holidays in Thailand. The website will publish bank holidays in December of each year.
Now, on to You
Fortunately, opening a bank account in Thailand is relatively simple, and there are many banking choices available to foreigners and expats.
Banks in Thailand have also widely adopted mobile banking, allowing for more user-friendly apps that offer a variety of handy services to help manage your finances more easily, reducing the need to visit physical branches or ATMS for basic banking services.
It should be noted that regulations vary by branch as some places may be stricter than others depending on the manager on duty. It is advised to check the bank's website or visit a branch to get the most updated list of required documents and procedures.