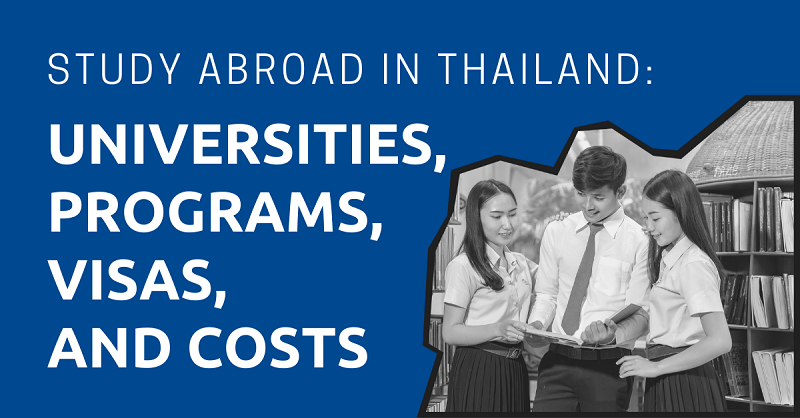 Choosing a university can be one of the hardest decisions that you'll ever have to make, especially since this is directly tied to your life and career goals. Oblivious to this fact, I found myself studying in the de facto state of Northern Cyprus a few years ago, in desperate need of a way out.
I had two options at the time: go home and continue my studies in economics at the University of Namibia, or find another university where I could transfer my credits. I opted for the latter. But I had no idea where I would like to go, and the overwhelming number of universities around the world didn't make things easier. But I knew I wanted to go to a university where I would be challenged and offered the best value-to-cost ratio.
I found Thai universities offered the best value at a lower cost compared to universities in other parts of the world. Thailand also has over 120 universities, which didn't make my decision easy. But I found a way to narrow down my options based on my career objectives and other factors. And I must say this was the best decision I've made.
What You're Going to Learn
In this guide you're going to learn about the different types of universities and programs found in Thailand, how to apply to a Thai university, the costs involved, entry requirements, and how to choose a university that you would like to pursue your studies at, based on your selection criteria and career objectives.
Visa Requirements
The type of visa you'll need to study in Thailand is a Non-immigrant ED Visa, and you are required to apply for this visa at the Thai embassy or consulate in your home country. You can only apply for your student visa once you have received your acceptance letter from the university.
Your student visa is valid for three months after the date of application, you are then required to contact the Immigration Bureau of Thailand, after entering Thailand, to extend your stay for up to one year. You can find more information on the Thai Embassy website in your country. Or you can refer to the our guide to every visa in Thailand.
Types of Universities
Thailand has various kinds of universities, ranging from public universities and colleges, which are further divided into the following subcategories: national universities, Rajabhat universities, Rajamangala universities of technology, private universities and open universities.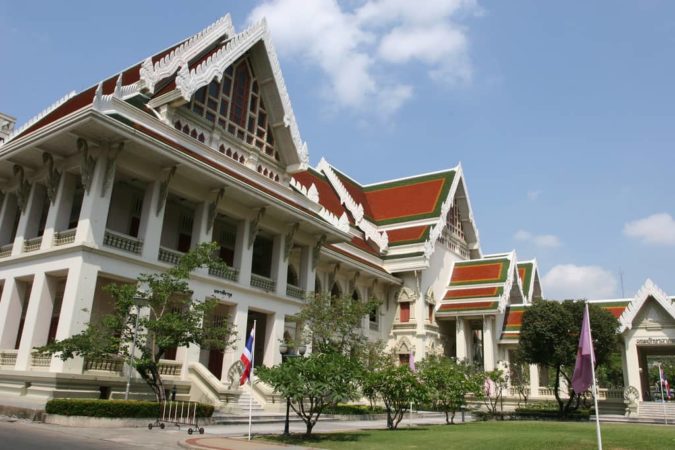 National Universities
These universities are mainly funded by the Thai government, but the government doesn't exercise direct control over them. National universities are relatively harder to get into, mainly due to their high reputation and the fact that they require entrance exams for enrollment.
These universities accept new students mainly though central examination. But this option is only available for those who studies in Thailand.
However, they also have a special program for international students. The most prestigious or highly ranked universities in Thailand are national universities such as:
Rajabhat Universities & Rajamangala Universities of Technology
These are state run institutions, created with the primary purpose of providing education to people in the regional provinces of Thailand. They are similar to what we know as colleges in the West. These two types of universities are very similar, apart from the fact that Rajabhat universities focus primarily on general education while Rajamangala universities focus on engineering and technical courses. The most notable Rajabhat and Rajamangala universities include:
Private Universities
Most international students in Thailand choose to study at private or international universities because of the diverse student and staff communities found at these institutions.
These are universities that aren't owned or funded by the government, whose tuition fees are relatively higher, and which are relatively easier to get into compared to national universities.
All of the international universities in Thailand fall under this category, which include universities such as:
Open Universities
These are universities with open door academic policies, meaning they have little to no entry requirements. Open universities offer the cheapest tuition fees in Thailand and students are not required to attend lectures, because their courses are offered on distance or supported learning. There are only two open universities in Thailand, namely:
Courses
Thai universities offer programs in three different forms: Thai, Bilingual, and international programs.
Thai Programs
Thai Programs are only offered or taught in Thai language as the name suggests and are mostly taken by local students or students who are fluent in Thai. All Thai universities offer these types of programs.
Bilingual Programs
These programs are designed for Thai students who aren't very fluent in English. In bilingual programs students are initially taught in Thai and English, but the professor slowly phases out the Thai language as time progresses to give students time to adjust. Most private international and national universities in Thailand offer bilingual programs.
International Programs
These programs are offered in English, with a global perspective. There are several universities in Thailand, public universities have a few international programs but these type of programs are mainly offered at private universities and the ideal choice for international students.
It's important to understand the distinction between these three types of programs because many international students, myself included, have found themselves in positions where they have selected bilingual courses because they conveniently fit into their schedules, just to realize that the primary language used is Thai. Please note that most universities will offer a combination or all three of these types of programs.
Costs
Tuition fees in Thailand are relatively low compared to most other countries in the world. Thai universities are in fact some of the least expensive universities in the world for international students, and this low cost comes at no compromise in quality.
The table below provides an estimate of the cost of education in Thailand. Actual costs may differ according to the program and number of courses you choose. I've given one example of each kind of university in Thailand: national, Rajabhat, private, and open universities.
| | | | | |
| --- | --- | --- | --- | --- |
| Expenses | Mahidol University | Rajamangala University of Technology Krungthep | Stamford International University | Ramkhamhaeng Open University |
| Yearly Tuition Fees | 161,000 baht | 60,000 baht | 181,500 baht | 72,000 baht |
| International Student Fees | 15,000 baht | 15,000 baht | 15,000 baht | – |
| Education Fees | 3,300 baht | 7,350 baht | 5,000 baht | 11,200 baht/Term |
| Later Registration Fees | 1,000 baht | 100 baht per day | 300 baht per day | 100 baht per day |
| Late Payment Fees | 100-1,000 baht | 100 baht per day | 300 baht per day | 100 baht per day |
| Accommodations | 5,000 – 6,000 baht per month | 4,600-10,300 bah per month | 4,600-10,300 baht per month | 3,500 – 5,500 baht per month |
Application Process
The application process at most Thai universities is fairly simple and it usually takes a couple of days to find out whether your application has been accepted or not. The following documents are required when applying to study at a Thai university.
high school diploma
reference letter from your high school
copy of your passport with at least 6 months validity
eight, 1-inch passport photos
proof of English proficiency (TOEFL, IELTS, SAT and GRE) within the last two years, with a score of 6.0 or higher
Once you have all your documents ready, visit your selected university's website to submit an online application or submit your application via email to the admissions office. It is also important to note that most of the national universities require entrance exams as a condition for acceptance.
Selection Criteria
Based on my experience of studying and living in Thailand for over four years, I have outlined the following selection criteria—or factors—to consider when deciding which Thai university you would like to pursue your studies at.
Ranking
Just like in any other part of the world, students from prestigious universities with high rankings in Thailand or globally usually have a higher chance of landing high-level positions or working at prestigious companies after graduation. So this is a very important factor to consider, especially if you would like to work in Thailand after graduation.
Size
The size of the university is also another factor to consider. Studying at a small university has its perks, such as smaller classrooms and more attention from your professors. Although studying at bigger universities may yield the same, such as on-campus recreation and other facilities such as housing. This entirely depends on what you are looking for in a university.
Campus Location
The best or ideal campus locations would be in Bangkok or Chiang Mai because they have the largest expat communities in the country. Given the fact that Bangkok is notorious for its traffic jams, Bangkok campus locations would be easiest to access by train stations and student housing. Thai universities have strict attendance policies and you wouldn't want to be late or miss your class because you were stuck in traffic.
Student Accommodations
The availability or access to student accommodations is also another important factor to consider. Most public universities offer on-campus accommodations because they are usually larger in size as compared to the smaller private universities.
Universities often have agreements with buildings close to their campuses. Nearby buildings offer perks, such as discounted accommodation rates for enrolled students and shuttle van services between residences and universities. If the campus is in the city center, I would advise choosing a university and apartment with easy access to BTS or MRT stations.
Value for Your Money
Thai universities offer the most value when comparing them to universities in other parts of the world. Thai universities offer quality education at a fraction of what you'd pay anywhere else in the world. It's important to choose a university that is highly accredited and has a good reputation within the Thai job market.
Foreign Friendly
Studying at a predominantly Thai university will come with its own set of challenges. I've heard of cases where professors teach in Thai at international universities, or where students can't make friends on campus because no one seems to speak English. When choosing a university it's important to consider how diverse the university's staff and student community are.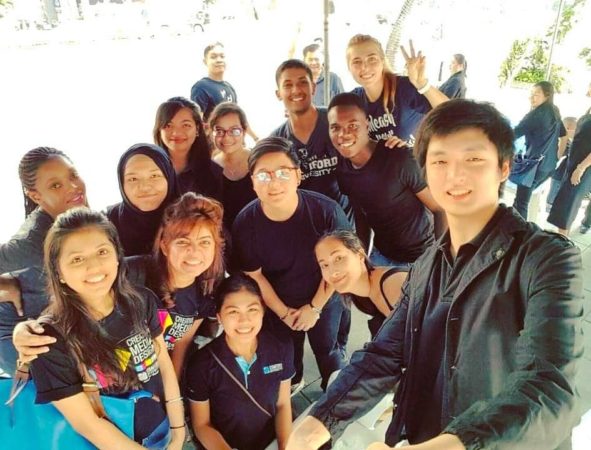 This is usually an indication of whether the university truly caters to international students or not and whether they offer international student services aimed at making a student's life easier during the time they study at that specific university. However, if you are someone that prefers to be immersed in Thai culture and learn the language quickly, then the predominantly Thai universities are for you. But I would still suggest that you learn some basic Thai before you enroll in a university program.
Career Opportunities
The highly-rated national universities have an edge over most other universities in Thailand due to their high local and international rankings. These universities have also existed much longer than the relatively new international universities and they have more connections to send their students to do an internship program.
I would advise looking up student alumni groups on Facebook and either asking some questions regarding the Thai marketplace for graduates.
Thailand has strict laws that govern how companies hire foreign employees, so it's important to look at universities that have industry partnerships with international companies, companies with interests outside the borders of Thailand, or BOI promoted companies.
Libraries
Most, if not all, universities I have been to in Thailand have libraries. The only factor that differentiates them is access. The smaller international universities usually offer limited access to their libraries. The library in these universities are only open during office hours and offer a limited amount of books, which causes problems during examination time when students want to spend long hours studying in the library or want to borrow popular books.
Most public universities, especially those that offer on-campus accommodations, have bigger libraries with more resources and longer operating hours, which comes in handy during examination time.
International Student Services
This is probably the most important service that any university can offer international students. This department often helps students with all problems they might encounter while studying at the university and helps with visa extensions and 90-day reports. It's important to inquire whether the university offers this kind of service because it can sometimes be difficult or time consuming to deal with issues if the information is often written in Thai or the staff doesn't speak English.
Scholarships
Scholarships in Thailand are mainly offered by the universities themselves, the government, or royal projects. Universities that offer scholarships mainly reserve them for high-performing students and you're usually required to have completed at least one academic year's worth of credits. So be sure to ask your admissions counselor or check the university's website for any listed scholarship opportunities.
Resources for Students
When abroad, it's important to have some connection to people who share the same experiences as you because they're able to help you overcome some of the challenges of being abroad. It's also important to save emergency contacts in either your cell phone or computer in case you find yourself in a situation where you need help. Below are some of the most important resources I think you'll need to make studying at a Thai university easy.
Student Facebook Groups
Most universities have student-created Facebook groups where they are free to express themselves and get answers to any questions they might have.
Student Facebook groups are not meant to replace your admissions counselor, but you'll be able to get honest advice from the student community in these groups and answers that you won't necessarily find on the university's website.
Some of the most active student Facebook groups include:
Thai Expat Groups
There are several Thai expat groups on Facebook where you can easily ask general questions, such as where to find the best Thai food or where to get a haircut. Some of the most useful expat Facebook groups include:
Emergency Services
The last thing you want is to find yourself ill or in need of emergency services. But it's always important to have emergency contacts on hand. Thaiways offers a comprehensive list of all the emergency contact numbers in Thailand.
| Service | Number |
| --- | --- |
| Police | 191 |
| Fire Department | 199 |
| Tourist Police | 1155 |
| Tourist Service Center | 1672 |
| Medical Emergency | 1669 |
| Ambulance and Rescue | 1554 |
| Highway Police | 1193, 02-354-6007 |
| National Disaster Warning Centre | 1860 |
Insurance
Most universities in Thailand offer insurance for their students. This type of insurance, however, only covers minor injuries. For this reason some international students buy their own insurance so they are covered for serious cases. I would strongly suggest you get insurance coverage in Thailand while you're studying.
Public Transportation
The public transportation system in Bangkok can be quite tricky. Especially if it's your first time here. The fact that some of the signs are only written in Thai doesn't help. The easiest and most convenient form of public transportation is the BTS or MRT trains. That is why most expats in Bangkok tend to stay in areas with easy access to either the Metro or Skytrain stations in Bangkok. The city is also notorious for its traffic jams, which add to the hassle of using public transportation.
Final Thoughts
Before moving to Thailand a few years ago, I thought of Thailand as a holiday destination and not necessarily a place where I would pursue my studies. But I soon realized the country has a lot more to offer, especially in terms of education. Thailand has a lot of amazing universities, but the private international universities and national universities are a better fit for international students. Universities like these have students that speak English. They have more advanced international programs. And they offer services aimed at making students' lives easier.
Image courtesy of Paul Trafford and Chris Brown.