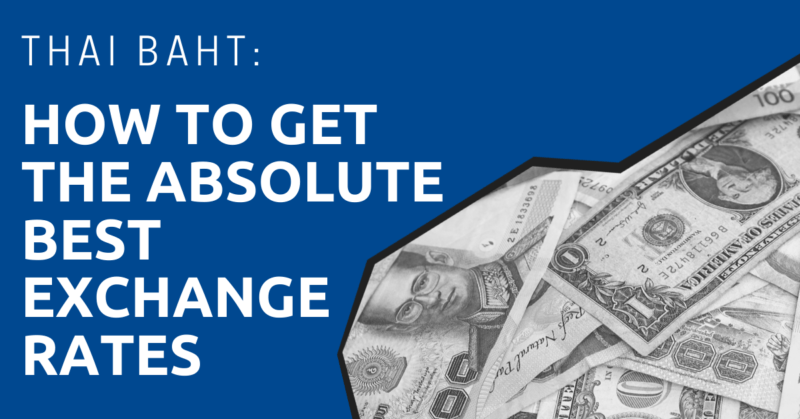 Whether you're traveling to or living in The Land of Smiles, when it comes to getting the best exchange rate in Thailand, you're left with a few questions to answer:
Should I bring money to Thailand?
Should I withdraw money from an ATM?
Should I exchange my money at an exchange kiosk or bank?
Should I use an online transfer service?
The answer to these questions depends on how much money you're willing to lose in exchange rate fees. But don't worry, I've done all the leg work and have listed not only the best ways to exchange money in Thailand, but how much each method will cost you.
By the end of this guide you'll know exactly which method will save you the most in exchange rate fees.
If you just want the answer, bringing cash to Thailand gives you the best exchange rate.
But if you don't want to take that much money with you, you use use the below widget to find out which money transfer service is the best option for your case.
"*" indicates required fields
Is It a Good Idea to Exchange Money in Thailand?
For major currencies like USD, EUR, GBP, AUS and CAD you tend to get very good exchange rates in Thailand.
In that case, bringing money with you in cash works out to save you a lot of money over the less favorable ATM and credit card rates, assuming you use a low-cost exchange service like SuperRich or others listed in this article.
However, if you're from a smaller country and are forced to bring cash, it may be a good idea to exchange it into US Dollars first. Then exchange the dollar to baht once you're in Thailand.
This works because exchange rates for US Dollars are much better than smaller currencies. So exchanging your currency into US Dollars and then into Thai Baht will give you a higher exchange rate than exchanging your currency into Thai Baht.
The same goes for when you leave Thailand. Exchange your leftover Thai Baht into your home currency while you're still in Thailand (or USD if your home currency has a large buy-sell spread).
Declare Cash at Customs
Keep in mind that if you bring more than $15,000 (or the equivalent in any other foreign currency) into the country, you'll have to declare it at the border.
It's not illegal, as some people may think, but you may be asked to provide some information as to where the money came from or what you plan to do with it.
Exchange Your Money in Thailand
Never exchange your money into Thai Baht in your home country. This method is by far the most expensive. In virtually all countries, including countries neighboring Thailand, you tend to lose 5% to 10% at the very least if you exchange your local currency into baht.
How to Get the Best Rates
You'll get the best exchange rates when exchanging your money inside of Thailand.
If you don't want to bring that much cash with you, an online transfer is a good alternative.
You can use Monito to compare rates from different online transfer services and find out which one offer the best rates.
Credit Cards
If you decide to use a credit card to purchase something instead of withdrawing the money from an ATM, you'll pay even more in exchange rate fees, typically between 2% to 2.5%.
Using our $1,000 example from above, that means you'd pay 33,825 baht for something that costs 33,000 baht, or an extra $25. And then you'd have to tack on the interest your credit card company charges you for not paying the balance in full (if you don't pay it in full each month).
Be forewarned: Over the last few years, ATMs in Thailand and even businesses have started offering to charge customers in their credit card's currency instead of Thai Baht. In any single instance I've witnessed so far this has resulted in an exchange rate of 5% or more than that of your credit card company, which is usually less than 2.5%.
How Do You Avoid Credit Card Fees in Thailand?
Some of the best deals, savings, and alternatives to hotels are available online only. If you pay for these deals in your home currency by credit card before you come to Thailand, you'll instantly save on the booking price, and it'll be less money you have to exchange in Thailand and possibly lose money on.
Traveler's Checks
Traveler's Checks used to be a way to save some money on fees and exchange rates. Since fees for traveler's checks were increased from 33 baht to 153 baht per check a few years back, traveler's checks are mostly a thing of the past.
Exchange rates tend to be worse than cash, with Siam Commercial Bank being the only exception. The bank offers slightly better rates for traveler's checks than exchanging cash. But at that point, you're better off exchanging your cash at Bangkok Bank, which you'll find out about next.
Thailand Banks
Bank-owned exchange counters are widely available in tourist areas, from airports to night markets and everywhere in between.
Banks' exchange rates are in the same region as what most credit card companies charge you for payments or withdrawals in a foreign currency.
The fees aren't as low as what a debit card gets you for your money, but at least there are no additional fees. Exchanging money at banks is an acceptable option if you only exchange a small amount of money.
If you exchange cash at one of the commercial bank branches that are located throughout the city, you'll pay the rates listed below. Keep in mind that their rates at exchange counters in tourist areas and at airports are higher.
| | |
| --- | --- |
| Bank | Exchange Fee |
| Bangkok Bank | 0.87% |
| Kasikorn Bank | 0.97% |
| Siam Commercial Bank | 1.05% |
How would using a bank work out if we apply our $1,000 example from above? Let's take a closer look.
Bangkok bank would give you 32,710 baht for your $1,000.
Kasikorn Bank would give you 32,680 baht for you $1,000.
And Siam Commercial Bank would give you 32,650 baht for your $1,000.
All of these banks get you a better exchange rate than using an ATM machine.
Another option would be to go directly into an official bank branch, give them your debit card, and ask for a cash advance or a cash withdrawal. You'll have to bring your passport, but some banks won't charge you any additional fees. So the only fee you'll pay is the fee your bank charges.
Depending on your bank card, this option may be cheaper than using ATMs. However, don't do it with a credit card because you'll be hit with withdrawal and cash advance fees, which will end up costing you even more money.
ATMs
My usual procedure to get cash exchanged at decent rates in Thailand is to withdraw large amounts from an ATM.
However, most banks in Thailand charge a 220 baht ($7.00 US) fee on top of any fees your own bank charges, including fees hidden in inflated exchange rates, usually in the range of 0.5% to 1% per transaction, depending on your bank.
For argument's sake, lets say the current exchange rate from US Dollars to Thai Baht is 1 US Dollar to 33 Thai Baht.
Without any fees, and in an ideal world, you'd get 33,000 baht for a $1,000 currency exchange.
That means if you want to take out $1,000 from an ATM in Thailand, using a 1% exchange rate fee as an example, you'd only get 32,670 baht.
Add the 220 baht withdrawal fee and your left with 32,450 baht. This isn't including any fees your home bank charges.
This means you've spent almost $17 on ATM fees to withdraw $1,000. You've just lost 1.7% of your money.
Is losing that much money the end of the world? Not really. Especially in the event of an emergency. But when you live in Thailand and find out that the $17 you've just spent on ATM fees could've paid your internet of Thai cell phone bill for the month, it adds a new perspective.
How to Get the Best Exchange Rate?
A better alternative to bank-owned exchange counters are major, locally-owned, money exchange offices or kiosks. These tend to offer the best deal, bar none, and can save you more than 90% on your exchange fees, effectively costing you as little as 0.06% of the transaction amount.
If you're exchanging your US Dollars into Thai Baht you'll get the best rate with $50 or $100 bills. Smaller bills will get you slightly lower rates.
Exchange offices in Thailand don't tend to be as strict as those found in some other countries. For example, bills don't necessarily have to be in crisp condition to get the best rate, but they should be fairly recent.
Below, you'll find a comparison of popular money exchange office rates. Most banks and exchange offices don't have separate exchange fees. They're already included in the exchange rate in the form of a small surcharge over the official interbank forex rate.
The fees listed below were calculated by splitting the spread between buying and selling rates into equal parts. Technically, the surcharge can be different for buying and selling, but to keep things simple, I've combined it into a single figure.
In addition to the fees, I've also linked the exchange offices to their Google maps location.
Given the small difference in fees, you might want to just go to whichever is located most conveniently for you.
These exchanges usually require your passport, but sometimes settle for a Thai driver's license.
The best rates are to be had at their main branches, often located downtown Bangkok, somewhat removed from main roads. But unless you plan to exchange more than $10,000, the difference might not be worth it.
You can go to one of their more conveniently located satellite branches without losing much in the exchange.

Some exchange companies like SuperRich now operate branches at Skytrain stations. While rates at these locations aren't as good as at their main locations, they're still far more competitive than what you would get at a bank.
Using our $1,000 example from above and the best exchange rate office on our list, SuperRich, you'd get 32,800 baht for for your exchange, just slightly better than using ATMS or banks.
Online Transfers
If you have a Thai bank account or know someone who does, you can use an online money transfer service to get your money from your home country into Thailand at the best exchange rate available with minimal fees.
If you use XendPay for example, you'll get 32,755 baht for a $1,000 transfer. This beats all the money exchange methods above except for SuperRich.
Monito is a great website to compare rates from many popular online money transfer services in a single place.
But remember, that's only if you walk into SuperRich with a handful of $100 bills. And this would also have to mean that you actually have cash on you. And considering the time and money it'll cost you to get to SuperRich, there really isn't much savings in using them compared to XendPay.
Now, Over to You
If you think about it, getting the best exchange rate in Thailand comes down not to how much you're going to get in the end, but how much you're willing to part with in the beginning.
Just to recap, here's how much money it'll cost you to get $1,000 into Thai Baht in Thailand:
| | |
| --- | --- |
| Method | Cost |
| ATM | $17+ |
| Bank (best choice) | $8.80+ |
| Exchange Kiosk (best choice) | $6.06+ |
| Online Money Transfer | $7.42 |
But these numbers come with a stipulation. If you're coming to Thailand and want to get the most Thai baht for your money, exchange it into US Dollars first outside of Thailand, in preferably $100 bills, and then exchange those $100 bills at SuperRich in Thailand.
If you're in Thailand and want to bring your money into the country from abroad, while getting the best exchange rates, use XendPay. It's quick, safe, and takes only minutes to complete up a transfer.