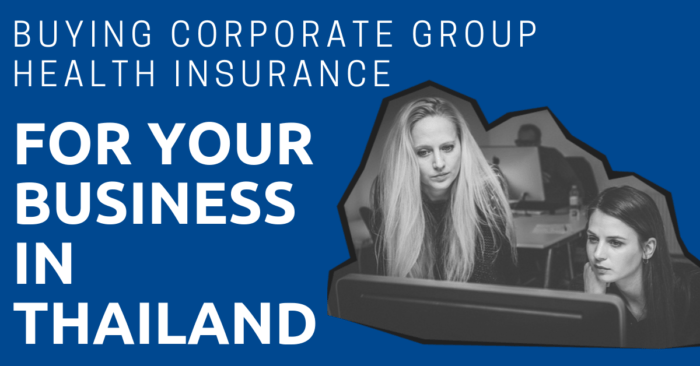 Do you own a business in Thailand and need healthcare coverage for your employees?
Of course, health insurance is a good way to keep your employees in good health, but you might be hesitant to pay for its premium rates, which can be high especially when paying for many employees. This is where group health insurance comes into play.
It's much cheaper than individual health insurance and comes with more flexibility.
This article is written based on our experience with buying health insurance for our own company in Thailand.
It will give you a good understanding of how corporate health insurance works in Thailand, including coverage, requirements, application, plans, and where to get coverage.
In case you want to read about a group insurance for your family, please read this article instead.
Benefits of Having Private Group Insurance
Private group insurance isn't necessary to run a company in Thailand, but it comes with many benefits like:
employee retention
company morale
tax write-offs
Employee Retention
If you offer health insurance to current and future employees, they'll be more likely to stick around.
In Thailand, there's an unwritten rule that companies should offer health insurance to their employees.
If you offer health insurance, a potential employee will pick to work for your company over a company that doesn't offer health insurance.
Company Morale and Productivity
It's no secret that having healthy employees increases productivity. When employees are healthy, it also increases company morale, making your company a great place to work.
But in Thailand, if an employee has to rely on the Social Security System for healthcare, they're less-likely to go to the doctor.
And because they're less-likely to stay home from work, this means they show up to work sick. In turn, they're less productive and may even spread their sickness to other employees, and maybe even you.
Employees with health insurance are more likely to go to the doctor when they're sick. They know it'll be an easier process than dealing with hospitals under Social Security.
Tax Write-offs
The cost of group health insurance is considered a company expense. So you can write it off at the end of the year.
With a 20% corporate income tax rate in 2021, that means you'd get a 20% discount on group insurance.
Here's what we mean:
If your company's annual profit is 2,000,000 baht, the corporate tax you'd have to pay is 400,000 baht.
If you buy group health insurance costing 300,000 baht, your company's tax amount will be decreased to 340,000 baht, which means you'd get a 60,000 baht discount for buying group insurance.
The deductible amount can be different depending on your company income and business type. It's best to recheck it with your accountant.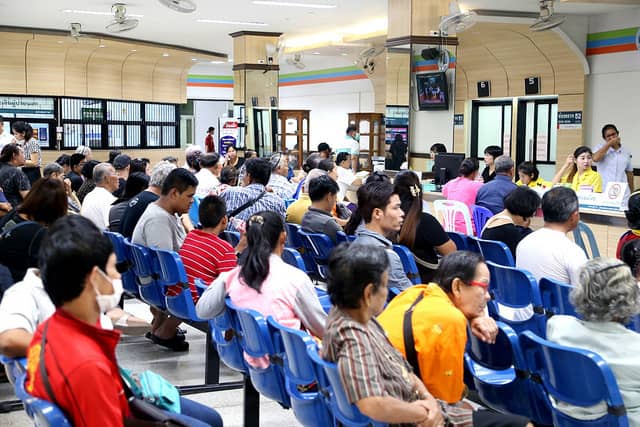 Coverage
Group health insurance plans for small business and large corporations are very close to individual health insurance plans.
They have similar limits, exclusions, and age restrictions. And they follow the same rule: they don't pay out benefits for pre-existing conditions.
Here is a list of basic costs you should ask about when buying group health insurance:
room and board
intensive care unit
hospital expenses
emergency outpatient treatment
surgical treatment and consultation
ambulance
personal accidents
outpatient benefits (OPD)
Let's look at each one a bit closer.
Room and Board
Coverage for room and board is only eligible for in-patient benefits, or IPD. Coverage includes the cost of the hospital room, food, nurse fees, and other medical charges while at the hospital.
The daily in-patient room rates and nursing care services start at 3,000 baht for mid-range private hospitals and 6,000 baht for top-tier private hospitals. The difference in cost can be justified by the fact that the quality of the rooms and service provided at private hospitals is second to none. You can find out more about private hospitals in Thailand in this guide.
Intensive Care Unit
Coverage for the intensive care unit, or ICU, tends to be double that of coverage for room and board, but is capped at 15 days a year.
The average daily cost for a stay in the ICU is 8,000 baht for mid-range private hospitals.
Coverage for ICU comes in handy not because the rooms are so expensive, but because the medical expenses, which we cover in the next section.
Hospital Expenses
Medical expenses can easily sail past the 80,000 baht mark for every day you're in the hospital.
This amount includes the cost of medicine, material, x-rays, lab tests, operating room, and emergency treatment.
Emergency Outpatient Treatment
Coverage for emergency outpatient treatment covers you and your employees in the event of an accident.
But to get coverage for accidents, the injured person must go to the hospital within 24 hours of the accident. They'll also get follow-up treatment up to 15 days after the accident.
Emergency outpatient treatment has its own limits but is usually included in a hospital's general expenses.
Surgical Treatment and Consultation
As the name implies, this covers surgery consultation fees and surgeons' fees.
Ambulance
In case of emergency, corporate group insurance covers the cost of ambulance. The usual limit of this coverage is 1,000 baht to 2,000 baht per time.
The ambulance fee is also included in a hospital's general expenses. The cost of ambulance fees are based on:
distance traveled
medical equipment used
medical personnel involved
Ambulances can be free if you use the emergency ambulance service from the National Institute of Emergency Medicine by calling 1669.
Or they can cost 25,000 baht if you use a top tier ambulances with doctors and nurses.
But the average cost for a standard ambulance in Bangkok is 2,000 baht.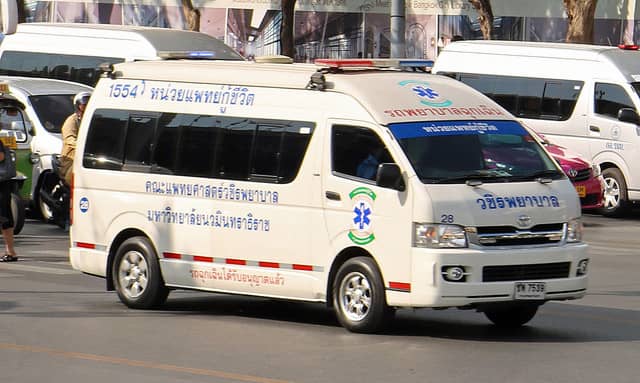 Personal Accidents
Often confused with emergency accidental outpatient treatment, personal accident coverage provides compensation in case of:
death
dismemberment
loss of sight or hearing
disability
You'll only be covered for 50% of the costs of these accidents if you were driving or sitting on a motorcycle.
Outpatient Benefits (OPD)
Some insurance companies such as Pacific Cross already include OPD coverage in their corporate group insurance plans.
With other companies like Aetna (Bupa) you'll have to buy it separately. But your insurance insurance rates will also be lower.
Read our guide to health insurance in Thailand for the average cost of OPD in Thailand.
Rates
Group insurance for corporations comes with a discount that may decrease rates by 20% to 40% when compared to individual insurance plans.
This does not include an indirect discount that comes in a form of corporate tax deduction.
It's common to see that group insurance for five people can even be 20% cheaper than individual health plans for three people with similar coverage.
Rates for group insurance depend on the number of employees you have. The higher the number, the cheaper the insurance rates will be per person.
Similar to individual health insurance, your employees' ages also effects the insurance rates.
Another factor to keep in mind is that certain high-risk industries, including long commutes to work and working inside factories may have higher rates than a company set up in a small office.
Employee Discounts
Group health insurance benefits employees' families too. The group insurance rates can be applied to any employee whose married or has children.
To be eligible for the discount, a couple needs to be married legally and have a marriage certificate. And children must be younger than eighteen or twenty-five years old depending on the insurance policy.
Options
You have two options betweel local insurance and offshore insurance.
When choosing group health insurance, there's no definitive best plan. Your choice will be based on your company's needs.
Local Insurance
Previously, local insurance was the only option availble when it came to group insurance.
Although coverage is somewhat limited, it's usually enough for middle-tier private hospitals in Thailand.
Local insurance is also much cheaper – you should expect to pay around 8,000 baht to 12,000 baht per employee per year. The annual premium can be lower or higher depending on your plan and options.
Since major local insurance companies in Thailand offer group insurance, using the health insurance comparison website Mister Prakan will help you make a better decision and find the right plan for your company.
Their comparison tool is comprehensive and covers a majority of local insurance companies in Thailand.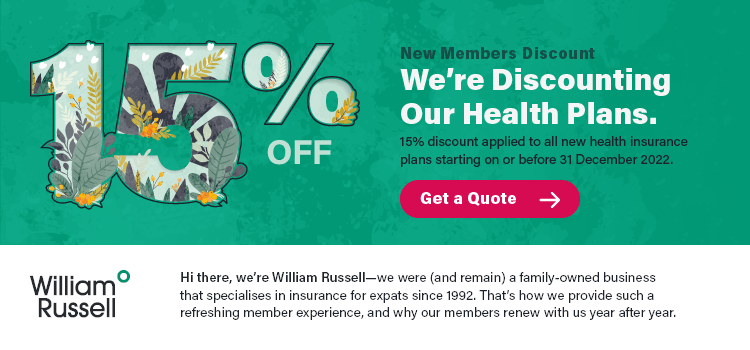 Advertisement
We asked around to see what other companies in Thailand are using for group insurance. And here's what the people said:
Offshore Insurance
In terms of coverage, offshore insurance is better. It comes with full health coverage in over 175 countries for all of your employees who live both inside and outside of Thailand.
However, it's also much more expensive. You will be paying over 30,000 baht per year per employee.
As of now, Remote Health is one of a few offshore insurance companies that offer group insurance.
They also cover pre-existing conditions if your team has ten or more members, which is a really good benefit that isn't usually offered with other insurance companies.
Requirements
When you buy local group health insurance for your business, you'll need to meet five requirements.
Your company must be registered in Thailand with the Department of Business Development. You'll need your business registration certificate to prove this.
Your company must work and have an office in Thailand. It can be a traditional office, a serviced office, or a virtual office.
Your workforce numbers must fall in the range stated by insurance companies. Aetna only requires five to fifty employees for their group insurance plan. Allianze requires eleven to one hundred employees.
Your employees must be between fifteen and sixty-five years old. Some insurance companies want your employees to fall into an average age of no more than forty-five years old.
Your business must not operate in a high-risk industry such as mechanics or manufacturing.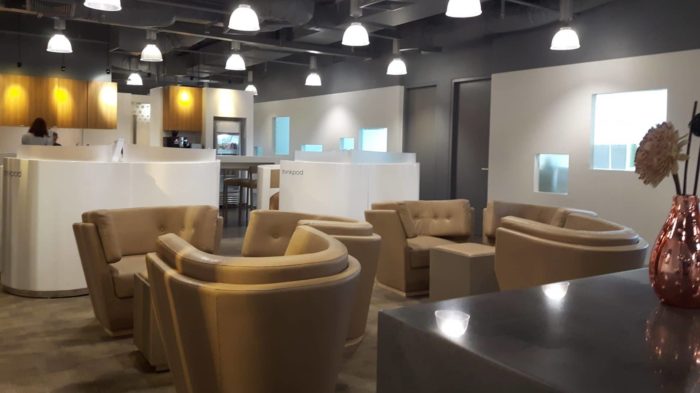 If you don't have a registered company in Thailand, you need to look at offshore insurance. Remote Health is one such company.
Buying
It's common in Thailand to purchase group insurance through brokers instead of insurance companies.
The rates you get from brokers are the same rates you'll get buying directly from insurance companies.
The major benefit to using brokers is that you have more choices, and they can suggest a plan based on your requirements.
Here at ExpatDen, we also got group insurance from a broker.
We contacted a brokerage company and they sent us a few plans based on our needs. And then we picked the plan that was most suitable for us.
When buying corporate group insurance, you need the following documents:
company registration
vat registration (Por Por 20)
application form for employer
application form for employees
You'll have lots of flexibility when buying group insurance for your company. You can choose different plans for your employees based on their positions and salary ranges.
You can also add new hires to the group insurance plan. The rate will be on a pro rata basis after the plan has begun.
If an employee leaves the company, you can get a refund under the same basis.
Renewal
Group insurance plans can be renewed every year. A few months before the plan expires, an insurance rep will get in touch with you.
They'll send you a list of coverage options and rates for your to consider again. But this time you won't have to resend your company documents. You'll just have to send your payment.
Self-employed
What if your self-employed? Can you get group health insurance for digital nomads or freelancers who work together but don't have a registered company in Thailand?
Unfortunately, group insurance for the self-employed is unavailable. Most of the time the insurance companies will ask you to buy individual health insurance instead.
What's about Social Security?
The public health insurance system in Thailand is part of Social Security, which your employees get if they work legally in Thailand. And although it's cheap, it offers limited coverage and is complicated to use.
First, you spend the whole day at the hospital just to see the doctor for a common ailment.
Once you do see the doctor, you might get a few minutes to explain yourself before the doctor quickly looks you over and rushes you out the door.
Second, you need go to a hospital listed on your Social Security card.
If you don't, you have seventy-two hours from the time of your medical treatment to get to the Social Security Office and ask for a reimbursement.
Social Security will reimburse you only if you have the right documents. You need a Social Security form, medical certificate, receipts, and a copy of your bank book.
Because of these two negatives, business owners and employees in Thailand tend to ignore medical treatment benefits from Social Security and opt for private group health insurance instead.
Don't get us wrong, Social Security can help you and your employees in a life-threatening situation. Any insurance is better than no insurance.
But when it comes to getting health coverage for yourself and your employees, Social Security should not be your go-to insurance.
Now, on to You
Now that you know how to buy group health insurance for your Thailand company, go to Mister Prakan and compare a few different plans to see which one best suits your needs. Quotes are free and you'll get to compare different plans all in one convenient place.
Disclaimer: We are not insurance brokers and don't sell insurance plans. The information provided in this article is based on our intensive research on the topic. However, it's important to recheck the information again with insurance brokers or insurance companies.