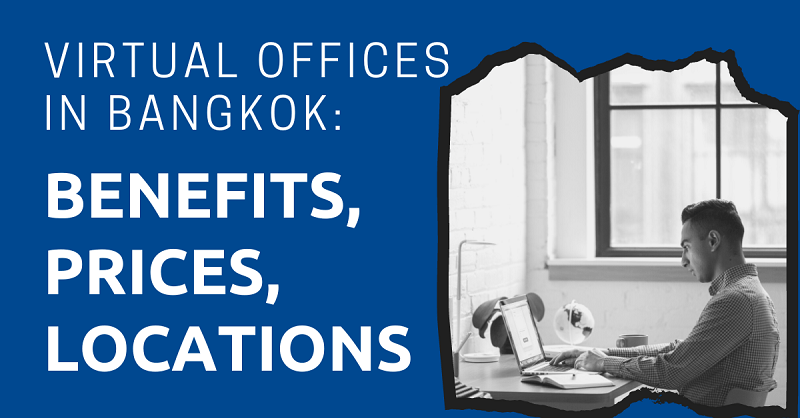 Thailand has always been an ideal location for digital nomads and currently a hotspot for start-ups as well. That being said, virtual offices are the perfect solution when you're starting a company but not ready to lease an office space yet.
This way, you can set up a company address, find clients and grow your enterprise without having to worry about all the extra overhead costs.
Exclusive Business Content
We have exclusive business content with insider business tricks that you can't find anywhere else.
By becoming a subscriber of our Business tier, you can get immediate access to this content:
That's not all. You get a free consultation with a corporate lawyer, a free consultation with an accountant, enjoy ExpatDen ad-free, and get access to over a hundred pieces of exclusive content to make your life in Thailand hassle-free.
Here is the full list of our exclusive content.
To get access to these exclusive business guides and more, become a subscriber.
What is a Virtual Office?
Virtual offices are mainly offered through serviced office providers or coworking spaces, although some online-only providers exist. You will not have access to a physical office location, but you will have a professional business address that you may use for receiving mail and doing other business-related tasks.
Virtual offices will usually come with services such as mail handling, telephone answering, and virtual admin support.
Benefits
There are many benefits of getting a virtual office. Most importantly, it can significantly decrease your office expenses.
As a way to save money during the pandemic, a friend chose to leave his rented office space and relocate his digital branding agency virtually in 2021. A year later, he believes it was the best decision since the extra income he saved by removing monthly rent and utility expenses allowed him to build his business faster than if he had stayed in his 60,000 baht-per-month office space on Rama 9.
The second plus is the convenience. You get everything you need for setting up a company and it makes the paperwork a little bit easier.
Thirdly, If you're a new company, establishing a virtual office is a terrific way to get your foot in the Thailand door and start generating leads.
This is particularly useful for foreign-owned businesses in Thailand, a physical location conveys the idea to local clients, vendors, and employees that your company is established here in Thailand rather than operating out of a residential address.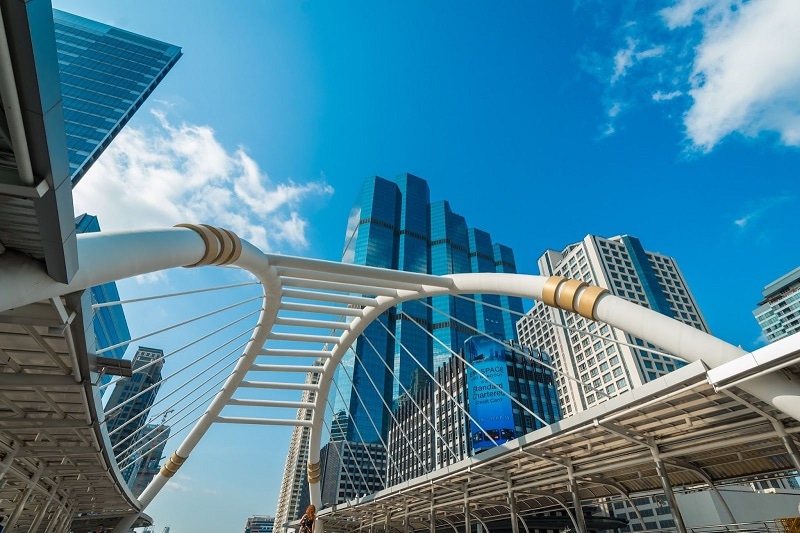 Some virtual offices that are a part of a serviced office will offer packages where you can use the meeting rooms and business lounges a few times a month. You can basically enjoy similar benefits to a serviced office at a fraction of the price.
Read more: Serviced Offices in Bangkok: Prices, Benefits, and Locations
Requirements
When compared to Renting an Office Space in Bangkok, setting up a virtual office is a far more simple process that involves a few contracts and documentation.
The process is easy and quick if all you need is a temporary business address for official company correspondence including mailings, websites, and business cards.
However, if you wish to create a registered address in Thailand for your company or receive a work permit and visa, there are a few prerequisites that must be met before setting up a virtual office here.
Registered Companies
Virtual offices are ideal for those who have a registered company and are looking to reduce overhead costs, as well as those who operate a Thai-based business from abroad.
In addition, virtual offices can assist those who wish to register a company in Thailand and require an approved address for company registration with the Department of Business Development (DBD) or the Revenue (VAT) Department.
If you already have a company registered in another country and wish to register it in Thailand, there are lawyers here that can assist you with this process.
You can use our Get Help with Thailand Legal Services form to make direct contact with law firms that meet your needs.
Learn More:
As a registered company in Thailand, your virtual office address can be used as your company's legal headquarters. There will be a signboard of your company's name installed at the office location.
Additionally, the lobby of your office building will feature a directory board where your company's name will be displayed.
Here are the steps to take to set up your virtual office:
Choose your virtual office package and contract duration
Submit a copy of your passport or ID
Submit a copy of your Company's Name Reservation (if your company is not yet registered with the DBD but currently in the process)
Submit a copy of your Company's Affidavit (if your company is already registered)
You will usually need to purchase a more premium Virtual Office package to use it as an approved DBD and VAT registered address.
Unregistered Companies
In Thailand, the majority of virtual office providers will allow you to set up a virtual office without having a legal entity or company registered in Thailand.
As an unregistered company, you can still use a virtual office for mail handling and call answering or forwarding.
Unfortunately, there will be no indication or signage of your business listed in the office provider's directory or office space location. So if one of your clients were to show up at your business address, they would not see your business name listed.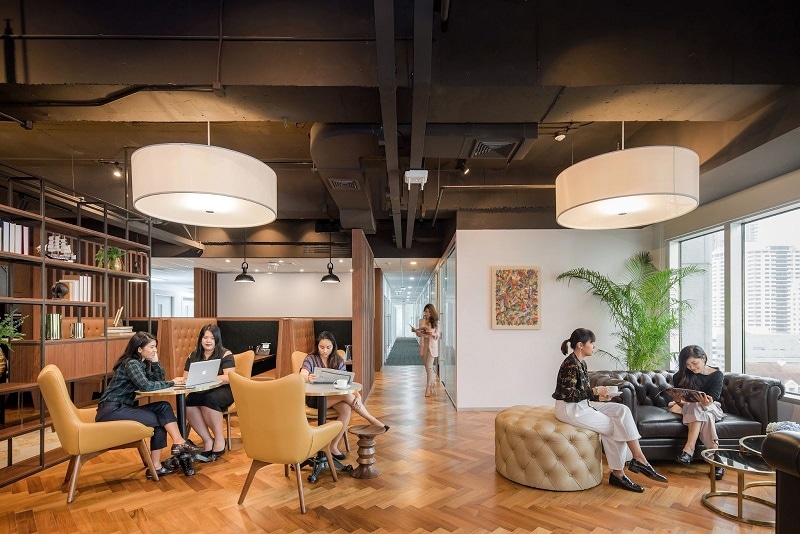 In our experience, many providers may be a bit wary to let you set up a virtual office without having a legal entity in Thailand. Therefore, they may inquire about the type of mail or parcels you will get, the nature of your business, etc.
In this case, here are the following steps and documents you will need to set up your virtual office in Thailand. Everything can be completed via email within a few days at most.
Submit a request for the package you're interested in (mailing address alone, mailing and telephone answering service, etc.)
Provide a copy of your passport or ID
Sign a contract agreement
Type of Virtual Office Packages
Most reputable virtual office providers in Thailand will offer these four types of services:
mail handling, telephone service, physical office space, virtual support staff. These options vary in price and quality from each provider. It is best to do your research to see which service fits your needs.
Mail Handling
This is typically the least expensive and most popular service offered by a virtual office. You will have a professional address for receiving and handling mail and packages. If any mail arrives for you, you will be notified through email. They will also hold any packages for you to pick up at any time.
Some companies will even forward your mail for an additional fee.
Telephone Service
This service ensures your company's incoming phone calls will be handled professionally by a dedicated call center that will greet callers and redirect them to the appropriate person. You have the ability to control where, when, and how your calls are answered. It is particularly useful when you're traveling or unavailable to receive phone calls.
Physical Office Space
Even if your business is managed entirely online, there will still be instances when face-to-face interactions are necessary.
If you subscribe to a full virtual office package, you will most likely receive a monthly allotment of time (often 6 hours) to use their meeting room, private office, or hot desk.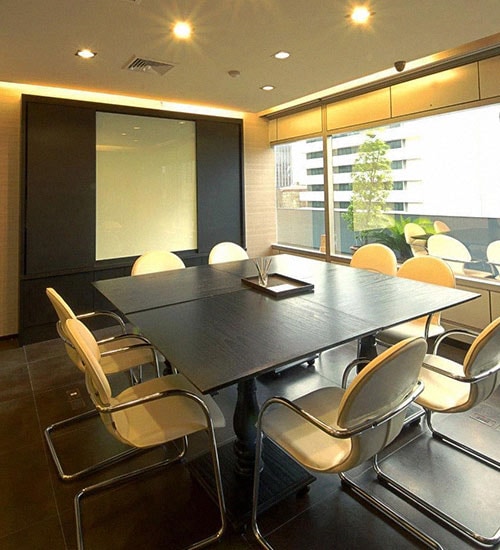 This will be a coworking area with standard office amenities such as a projector screen, WIFI, and other amenities. If you need more time in the office, you might need to look at a serviced office
Virtual Support Staff
Some virtual office services include access to administrative support staff, such as virtual assistants, lawyers, or accountants. It is good for businesses who are just starting out and don't have the means to hire full-time staff.
They can connect you to fully-trained, talented, and qualified personnel to assist with any company needs that you have paid for on a project or monthly basis.
Virtual Office Providers
Here is a list of reputed Bangkok virtual office service companies. The price will vary depending on the status of the office tower location and address. Feel free to contact them by phone or email to learn more about their services. Before signing a one-year contract, you should take advantage of any free trials or tours that may be available.
UnionSpace
UnionSpace is one of the largest multinational coworking space providers in Asia. They currently have four locations in Bangkok: Ekkamai, Ratchada, Chidlom, and Silom. The Chiangmai location will be opening up in the near future as well.
Features
Registered Address for DBD & VAT
Mail Handling
Telephone Answering + Local Number
Conference Room Usage
Photo Studio Usage
Support Staff Available
Company Registration Assistance
Costs
The basic mailing address service starts at 950 baht per month. Adding the call answering service is an additional 1,000 THB per month. You can save up to 15% off if you sign a one-year contract. If you are looking to use this address for VAT and DBD registration, you must commit to at least a one-year contract starting at 50,000 THB.
Servcorp
Servcorp is an international serviced office company founded in Australia. If you are looking for a premium business address, Servcorp's Bangkok offices are located in some of the city's most popular and premium office towers. Current locations are based in Ploenchit, Wireless Road, Centralworld, and Silom.
Features
Registered Address for DBD & VAT
Mail Handling
Telephone Answering + Local Number
Meeting Room Usage
Coworking Business Lounges
Access to Servcorp offices worldwide
Support Staff Available
Company Registration & Work Permit Assistance
Costs
Servcorp's basic address package costs 2,080 THB per month, while the full virtual office package costs 3,200 THB per month and includes all the features stated above. In addition, they provide a company registration package for 5,750 THB per month that contains a full set of legal documents suitable for DBD, VAT, Visa, and Work Permit registration along with all the virtual office service benefits.
Spaces
Spaces is another international hybrid workspace offering coworking spaces, serviced offices, and virtual offices. Spaces is quite similar to WeWork in terms of community and design.
They are under the same company as Regus, the largest provider of workspaces in the world. Spaces currently have four locations in Bangkok: Empire Tower, Chamchuri Square, Summer Hill, and Phahon 19.
Features
Registered Address
Mail Handling
Telephone Answering
Access to Networking Events
Access to Spaces Business Lounges globally
Private office & Hot Desk usage
Discounts to select products and services worldwide
Costs
Monthly rates begin at 1,790 THB. If you want to attend networking events and use the Spaces' business lounges, you must purchase at least their Virtual Office package, which starts at 4,150 THB per month.
Antares
Antares Office is a boutique serviced office company in Bangkok. They just have one location in Phrom Pong, next to the EmQuartier Mall. They are a part of Antares Group, which is a full-service firm providing legal, tax, accounting, and company registration services to foreign entrepreneurs and corporations in Thailand and China.
Features
Mailbox
Telephone Answering + Local Number
Registered Address for DBD & VAT
Business Lounge Access
Hot Desk Usage
Support Staff Available through Antares Group
Discounts to select products and services in Bangkok
Costs
Antares only allows 6 months and 12 months contracts. The mailbox service starts at 900 THB per month for a 12 months contract and 1,400 THB per month for a 6 months contract.
They charge an additional one-time setup fee of 6,000 THB which include all document you need to set up your company and also have your company name signage placed in front of your office and on their directory board.
Honorable Mentions
Bangkok is home to a number of virtual office providers. Here are a few more reputable options in the heart of the city that offer a prime business address and all the amenities you could want from a virtual office.
Regus – 23 Locations in Bangkok, average starting at 2,000 THB per month
CEO Suite – Ploenchit, starts at 1,250 THB per month
The Urban Office – Samyan, Phra Khanong, & Sukhumvit, starts at 1,800 THB per month
Linuxx Office – Lumpini & Phrom Phong, starts at 2,500 THB per month
Commonground – Rama 9 & Central World, starts at 1,800 THB per month
Now, on to You
As the number of small businesses has grown over the past few years, so too has the popularity of virtual offices. Though virtual offices are a cost-effective and hassle-free option for launching and expanding a business in Thailand, you should give some thought to the impact on client satisfaction. Try out different virtual offices until you find one that works for your client. Examine the location online and in person to see whether or not it fits your company's image.