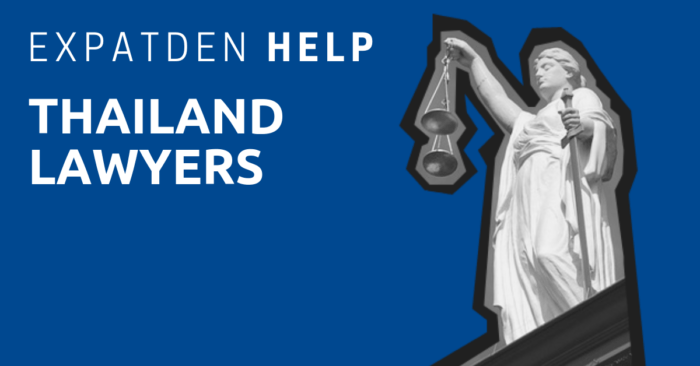 Running into Legal issues is inevitable in Thailand. There will be times when you need to hire a lawyer for settling legal problems for yourself, friends, family, or your business.
Due to the complications and costs involved, you might decide to handle the legal challenges yourself. It may work in some cases. But in many cases, you risk making things worse.
Having a lawyer from the the get go ensures that you remain compliant and do things right, which helps you avoid legal disputes and saves you lots of time and money.
However, finding a good lawyer isn't easy. With a simple Google search, you can find a significant number of lawyers offering similar services at different rates.
But which is the right lawyer for you?
This is where we can help. We can find you a law firm that we have either used or was recommended to us for the following legal problems:
incorporation issues, including company registrations
real estate sales and disputes
work permit and visas
personal income tax
auto/accidents
labor disputes
foreign claims
patents/trademarks and copyright
child custody, protection and family law
last will of testament (Thai, English, German and Italian)
criminal cases, including murder/manslaughter and narcotics
preparing and filling documents for marriage, divorce or prenuptial agreements
legal contracts & marketing agreements drafting, reviewing, and translating (Thai, English, German and Italian)
…plus more.
By filling out the form below, we'll put you in touch directly with a law firm that's affordable, ethical, and most suitable for your case.
Disclaimer
We're happy to connect you to service providers who we'd consult with in your situation, and who we find to be professional, knowledgeable, and ethical. That said, it's important to note that we sometimes get commission from service providers for referring new clients to them. This happens at no cost to you and helps us cover some of the expenses of running ExpatDen. While we do our best to pick the most suitable service providers, we can't make any guarantees or accept any liability resulting from your interactions and transactions with them.