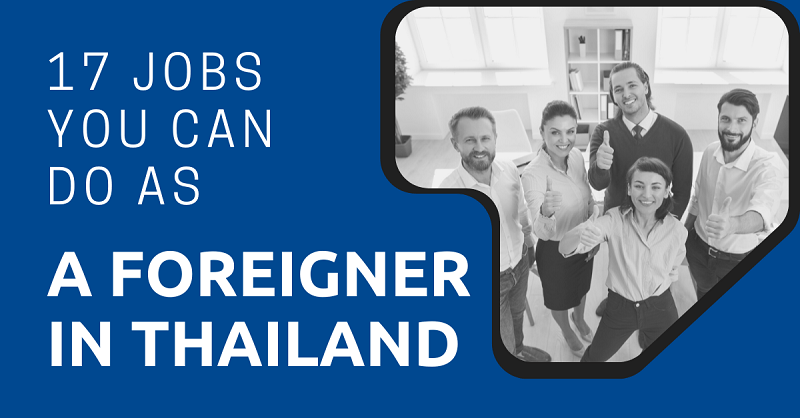 Once upon a time, conventional wisdom held that you had two choices if you wanted to stay in Thailand long-term.
You could don flippers and become a dive instructor. Or you could don a necktie and become an English teacher.
The Thai Ministry of Labour's draconian list restricts an enormous number of opportunities.
Looking at the list, things seem pretty bleak for those of us who struggle with a chalkboard or a respirator.
But while researching our book Working In Thailand: How To Ditch The Desk, Board The Flight and Land The Job, we spoke to a dizzying number of expats about their jobs and found something surprising.
There were expats in Thailand cooking, running restaurants, modeling, commentating over Muay Thai matches, and even running huge companies.
So here are seventeen jobs you can do legally in Thailand—as in work permit and visa—if you have the guts to seek them out.
Want to get a high-paying job in Thailand? Plan to move to Thailand but still not sure what to do? All answers can be found on ExpatDen Premium. Here's an example of what you'll get at your fingertips:
And hundreds of exclusive pieces of content to help you get set-up for a great life in Thailand.
"*" indicates required fields
Dive Instructor
Average salary: 15,000 baht to 50,000 baht per month
One of the more popular choices for long-stay expats is to take up dive instructing.
Who wouldn't want a job so close to the world's most beautiful tropical beaches?
There are plenty of places to get certified, and plenty of demand for instructors during the high seasons.
What You Need
How to Apply
Consider where you'd like to live and work
Popular dive sites like Koh Phi Phi will have more opportunities to make money. But the cost of living will be a lot higher.
Also consider the fact that there are fewer opportunities on the whole during the low season, which is May to October.
Apply in person
Show up at some local dive shops and hand in your CV. You'll also need to show your certification.
What to consider
With some grit and perseverance, you can find salaried positions as a web developer.
If you decide to work on a freelance basis, you'll have to use a relocation service provider, which hires you and bills your clients and gives you a work permit in return.
Model
Average salary: 3,500 baht to 100,000 baht a session
Modeling is one of the more glamorous positions available to expats in Bangkok. But there are a few minor drawbacks.
First, it's not for everyone, particularly those of us stuck with what one might describe as a "face for blogging."
Second, the pay can be sporadic at times. You might clear anything from 3,500 baht to 100,000 baht in a single session. But those sessions can be infrequent.
There's also the murky side of greedy, unscrupulous agencies.
What You Need
to be attractive
a good attitude
the persistence to stick through occasional periods without work
some negotiating skills
How to Apply
Join an agency
Agencies will find you most model work. Finding and signing up for a modeling agency should be first on your agenda.
Go to model nights in Bangkok
Model nights at bars and clubs in Bangkok are a great networking opportunity. And those in the know can help point you in the direction of the more legitimate agencies.
Send your best shots
Find some agencies that appeal to you and send in your best snaps, portfolio pics, stats, and a few lines about what you're looking for.
What to Consider
To be a model, then, you need more than good looks. You need patience, grit, and a little business skills.
You'll also need a sociable attitude, and the ability to cope with long periods without money. But for those with the "right stuff" it's difficult to think of a more exciting job.
Personal Trainer
Average salary: 50,000 baht a month
Getting fit is all the rage in Thailand these days. This craze has created a whole raft of opportunities for skilled, knowledgeable foreigners to work as personal trainers.
You'll need plenty of confidence and the ability to develop your own personal brand.
And you'll need an almost religious dedication to keeping fit before any of the city's big gyms will want to take an expensive chance on hiring you.
What You Need
to be in good shape—it's hard to preach the benefits of a healthy lifestyle when you look like Homer Simpson
personal trainer certification and a health/fitness related degree are essential
English language skills are a plus
How to Apply
Get involved locally
There may be the occasional position on a site like JobsDB. But your best bet is to get involved at your local gym and try to carve out your own niche.
There are many foreigner-friendly gyms with personal trainers around Bangkok.
Start Networking
Once you're set up in a local gym you can start networking. This will help you secure contacts and build your own brand.
Bangkok has a burgeoning fitness scene and there are plenty of events to network at to help you make connections.
Eventbrite is a good site to start looking.
What to Consider
There's plenty of competition here, and a lot of long-time trainers. So you'll need to offer something different or better.
But if you do succeed, you'll find that personal training is lucrative and rewarding.
Journalist
Average salary: 60,000 baht to 300,000 baht a month
Journalism is one of the oldest professions for those with a hankering to extend their time abroad.
With the explosion of new media that the internet has created it's easier than ever to get involved.
If you can write a good sentence and stick to deadlines, you'll find plenty of opportunities to make a living writing in Thailand.
What You Need
the ability to stick to deadlines
the ability to write good copy
a degree or higher in journalism is helpful*
Some experts recommend double-majoring in a different subject, like politics, to give yourself an edge in covering certain topics.
How to Apply
Get out there and start writing
There are plenty of local English-language publications and blogs in Thailand which are willing to accept articles from aspiring writers.
Here are a few news outlets you can contact:
Apply for permanent positions
Once you've got a nice portfolio built up, you can start applying for salaried positions.
If you can create quality content, are familiar with things like SEO, and can cultivate a personal brand, you'll get far.
What to Consider
The demand for writers with a decent grasp of the English language makes Thailand a good country to find an "in" for aspiring journalists.
Journalism can be stressful at times (those deadlines!). But depending on your chosen field of reporting it can give you an up-close look at a side of Thailand few tourists get to see.
Marketer
Average salary: 35,000 baht to 90,000 baht a month
Like many industries, marketing is going digital. Gone are the days of painting a sandwich-board and calling it a day. This is good news for non-Thais seeking work in Thailand.
What You Need
the ability to string together well-thought-out copy
a background in a related field, such as journalism, marketing, or business
knowledge of digital media and SEO
experience
How to Apply
Start networking
Networking is useful when it comes to finding positions. Check Facebook or Eventbrite for upcoming events.
JobsDB and sites like MarketingOops! may have some positions. But it's much easier to know people on the ground when it comes to getting finding a job.
Put together a solid portfolio
Chances are you'll need a portfolio ready for the interview process. Your portfolio will show your writing/editing skills.
It also helps to be a little persistent in your job-seeking. There are few marketing positions open for foreigners. So competition can be fierce.
What to Consider
It's no longer good enough to be able to knock out a snappy sentence. You're going to need to need to know the tech side of things if you hope to land a job as a marketer.
It's all about fusion marketing these days. It's heady brew of copywriting, digital marketing, social networking, and big data.
But if you have the skills and knowledge needed, marketing can be a rewarding job. You'll be at the cutting-edge of Thailand's business scene.
Web Developer
Average salary: 50,000 baht to 150,000 baht a month
There are plenty of advantages of choosing web development as a career in Thailand.
You don't need to be in any one place to do it. You can work from the comfort of your hammock.
You don't need to invest a lot to get started. A good internet connection and a functioning computer are all you need.
And like many tech positions in Thailand, there's plenty of demand for work.
What You Need
knowledge HTML and CSS
some knowledge of another language can be helpful
front-end/back-end know how
a tech/media related degree helps
How to Apply
Show, don't tell
It's all about the experience. As in journalism, the best way to land a job is to show your potential employers what you can do.
Build your own site first. Offer to create sites for friends or colleagues. And build from there.
Meet with potential employers
When it comes to finding a salaried position, networking is essential. The tech scene in Thailand tends to be close-knit.
There are frequent events for those working in digital media. Pay close attention to Facebook. Meetup advertises networking events for web developers.
Look online
You can also look for web developer jobs on websites like JobsDB and GetLinks.
What to Consider
With some grit and perseverance, you can find salaried positions as a web developer.
If you decide to work on a freelance basis, you'll have to use a service from a company like Iglu, which will hire you and bill your clients and give you a work permit in return. You can learn more about their services on this page.
Sports Commentator/Journalist
Average salary: 2,000 baht to 9,000 baht a show
Like fitness, sports are popular in Thailand. Soccer, basketball, and volleyball are enormous, and most towns boast their own teams. Muay Thai maintains a dedicated and ever-growing fan base among foreigners.
All this has opened up the demand for articulate, English-speaking commentators and reporters to relay sports news in Thailand back to fans.
What You Need
a great deal of knowledge, passion, and interest in your sport is essential
excellent English, both written and spoken, and superb communication skills
How to Apply
Get involved in sports
Once again, networking is the best way in. Get involved in the sports scene. Go to matches. Join your local Muay Thai gym.
Publishing your own work on a blog is a great way to build up experience and a reputation as a sports journalist.
Look online
You may be able to find a handful of jobs on sites like JobsDB.
Invest for the long-term
Don't expect an easy route to the top of sports commentary/journalism. It'll take years of writing and making connections before getting your big break.
What to Consider
Sports commentating and journalism is for the hardcore. The people occupying these jobs are really into their sports.
So there aren't too many positions available. And the positions that are available don't pay well.
Still, you'll find opportunities here in Thailand if you're passionate about your chosen sport and invest enough time in it.
Researcher
Average salary: 30,000 baht to 50,000 baht a month
There's not a huge demand for scientific researchers in Thailand. Funding is scarce, and cash-strapped institutions are wary of taking on expensive foreigners.
So first and foremost, you need to be good. Home-country experience, and a sought-after specialization, is a must.
If you're still working towards your qualifications, there are plenty of NGOs_ _that might be willing to assist you in your studies if you work in the medical field.
Companies like GVI USA can also offer you a way in and some much-needed experience in the conservation field.
What You Need
plenty of experience
to be bring something unique to the table
at least a degree in a related field, although a masters is ideal, and a PhD even better
How to Apply
Reach out to other researchers in Thailand
You might be able to find a smattering of jobs on the likes of JobsDB or NGO sites like Reliefweb. But networking is the best way to get in as a researcher.
Contact institutions
If you're not in Thailand as part of your studies, contact relevant universities and hospitals and prepare to sell yourself.
You can also reach out to NSTDA, the National Science and Technology Develop Agency in Thailand.
Make calls
Phone your the institution and offer to speak to relevant people. Be clear, concise, and humble, and make it clear what you have to offer without coming across as a braggart.
What to Consider
Landing a job as a researcher won't be easy. But if you do succeed in landing a researcher's job, you can rest assured that you're helping to make a difference in the world.
Restaurateur
Average salary: 50,000 baht to 300,000 baht a month
There are a number of jobs available in the restaurant business in Thailand, from restaurant manager to sous chef. But competition can be fierce.
There are a lot of talented people vying for few positions. You're going to need skills, grit, and persistence. And you're going to need to get yourself out there.
What You Need
extensive experience in the hospitality sector is a must
a relevant degree in a field such as management or catering is useful
language skills, including English, Thai, and Chinese can give you the edge over other candidates
How to Apply
Update your resume
Make sure you've got an excellent, updated resume containing all relevant skills, qualifications, and experience.
Show up in person
There are a few job openings online. But you're better off applying to the big restaurants and hotels in person.
Go to functions
Networking is also helpful. Join expat social groups like Bangkok Foodies and go to functions.
Accept lower paying jobs
You might have to accept a lower position than you'd like if it means getting on the career ladder.
What to Consider
You don't have to accept working for someone else. Some daredevil expats have opened their own restaurants. They've navigated the intricacies of Thai laws and the tastes of a fickle public in pursuit of culinary success.
Needless to say, this takes plenty of experience in business and an adaptable, patient personality. And it takes the risky venture of investing time and money. All I'll say is this: good luck.
IT Consultant
Average salary: 90,000 baht to 150,000 baht a month
The role of IT professional covers a variety of jobs, from programmers to consultants.
But for our purposes we'll split them into two camps: In-Thailand Hires and out-Thailand Hires.
We'll learn more about out-Thailand hires in the next section. But first the in-Thailand Hires—those hired by a Thai company.
What You Need
plenty of talent
a tech-related degree is useful
experience, skills, and a solid track-record
How to Apply
Start by looking
Sites like JobsDB and Monster will post the occasional job for the big multi-nationals. Check the national Chamber of Commerce websites. You can try searching for jobs at big local employers.
Network
Your best bet is networking. Go to networking events aimed at IT professionals.
Expect a long and grueling application process
The application process at big companies can be grueling. It may involve multi-step interviews and skills testing.
What to Consider
Although there's a demand for skilled techies, positions those seeking jobs in Thailand are few and far between due to those pesky labor laws.
Competition for jobs can be fierce. You're going to need extensive skills and experience if you're going to cut it here.
But positions at big companies tend to pay well.
Pastry Chef
Average salary: 25,000 baht to 200,000 baht a month
Desserts are a big business in Thailand. Go to any mall and you'll find a dizzying amount of cafes and eateries serving up cakes, ice creams, and cupcakes.
What You Need
bachelor's or master's degree in a relevant field
apprenticeship in baking or similar
at least three years experience
How to Apply
Start online
Glassdoor has a long list of jobs available for chefs in Thailand. You'll find opportunities at hotels like Accor, Marriot, Novotel, and more.
You can also try Hosco. They have a list of positions open at many of the popular hotels in Bangkok.
Go to restaurants and hotels
If looking online isn't fruitful, try showing up in person at restaurants and hotels. And bring your resume and some pictures of your best creations. You never know what opportunities might come up.
What to Consider
Having the right mentor may be more rewarding and beneficial for your long-term career than finding the best job. So seek out bosses and mentors that are going to help yo become the best chef possible.
University Lecturer
Average salary: 28,000 baht to 140,000 baht a month
Working within the rarefied sphere of higher education may seem tempting to those slogging away in the government school trenches. But competition for decent, well-paying university lecturer positions can be high.
What You Need
master's degree, a PhD is preferable
At least two years teaching experience teaching
How to Apply
Contact universities
You might find jobs on academic job sites, but your best bet is to contact the faculty yourself.
Check out this online university directories for more information. Ajarn.com and teachingthailand.com may also have some positions.
Put your best foot forward
Expect the application and interview process to be traditional. For the better lecturer positions, you should show your experience and track record in teaching during the interview.
What to Consider
It may seem a closed-off world to most jobbing teachers, but the world of university lecturing isn't off-limits if you lack experience.
The demand for Western lecturers is high. And the low pay means many institutions are willing to lower their standards a little.
Many universities will offer plenty of extra classes to top up your earnings, which, with the low number of teaching hours compared to schools, are manageable.
Legal Counselor
Average salary: 150,000 baht to 200,000 baht a month
As a foreigner, you can't become a lawyer in Thailand. But it is possible to land a job as a private legal counselor for a company or wealthy individual.
This job involves reviewing contracts, investment opportunities, documents, and all that fun stuff.
What You Need
a law degree
connections
the ability to adapt to a court system that is different from your home country's
How to Apply
Make connections
If you don't plan on partnering up with some locals and starting your own consultancy, networking is your best chance. But expect to network hard.
There aren't all that many foreigners working as legal counselors in Thailand. Those that are have some familial or long-standing business relationship with their clients.
If you're looking for a networking event in Thailand check one of the bilateral Chambers of Commerce.
Know your limits
If you happen to find an interested party, under the Lawyers Act VE 2528 (1985) only Thai nationals can get a license to practice law in Thailand.
Foreigners may only act in an advisory capacity in commercial association with local lawyers.
What to Consider
This is one of the rarer positions on this list. The bureaucratic nightmare a law firm has to go through to hire you in Thailand isn't always worth it for them.
Plus you might not know much about Thailand's legal system. This means that your employer has to really want you.
But if you are successful in landing a job, the salaries can be generous.
Public Relations
Average salary: 60,000 baht to 100,000 baht a month
Thailand's public relation's scene is in flux. The upshot of this is that there's a demand for experienced communicators with a knowledge of social and multi-media.
What You Need
a background in journalism or media
exceptional written and verbal skills
a solid network of contacts
knowledge of digital and social media
How to Apply
Start with your contacts
Once again, networking is the best way in. If you're coming from a background in journalism, networking shouldn't be too difficult. The two worlds of journalism and public relations have long shared a close relationship.
Look online
Other than that, check your standard job sites like JobsDB and the English-language press in Thailand, like the Bangkok Post.
Be presentable
For goodness' sake, look professional. This is a big ask for those of us from a journalism background. Remember, you need to convince your employers that you're worthy of being the face of their company on the world stage.
What to Consider
For those from a journalism or media background, making the move to public relations in Thailand could be both an exciting and lucrative choice.
Remember, the best public relations work you should be doing is on behalf of yourself. Don't be afraid to go out there and sell yourself. And be careful to maintain a solid reputation on social media.
Business Developer
Average salary: 60,000 baht to 120,000 baht a month
Business development is the process of developing and expanding your business. Business developers reach out to potential clients, manage projects, and so on.
Thailand has both a burgeoning startup scene and a number of big companies with plenty of foreign hires There's plenty of demand for these positions to those with the skills needed.
What You Need
a tech or business background is essential
experience as a business developer
a degree is helpful
an MBA to work for larger companies
How to Apply
Meet up with local entrepreneurs
Thailand has a vibrant startup community. There are plenty of meet-ups. Start looking for workshops and meet-ups.
Check Thailand job sites
For big companies, the application process is a little more traditional. Check the job sites and the websites of big companies such as Agoda.
Strut your stuff
You're going to need to have the experience to back up your application. A proven track record in sales or business development is essential. For startups, a knowledge of the technical side of things is also helpful.
What to Consider
You'll need to be a skilled salesman and an effective manager to succeed in business development.
You'll need to have a decent understanding of the tech side of things if you aim to work at a startup.
But standing at the helm of your company's future development can be an exciting and rewarding career choice.
Insurance Broker
Average salary: 40,000 baht to 100,000 baht a month
Like law, insurance is another industry in Thailand which counts few foreigners among its workforce.
But there are a smattering of opportunities here if you happen to be experience in the field.
What You Need
a relevant qualification
plenty of experience
specialized insurance training
How to Apply
Start on the inside
If you work for a multinational insurance company with a branch in Thailand, you can apply internally.
Look outside
If you have the skills and experience and would prefer to land a job at a local firm, you're going to have to do a little networking.
Check online
You might find some positions on JobsDB or Careerjet. But you're better off applying to the firms.
You can find a list of Thai insurance companies on Thaiwebsites.com. Engaging a professional headhunter like Robert Walters is another potential in.
Sell yourself
Chances are the application process will be a traditional one. If you're applying to a Thai company, expect to have to sell yourself pretty hard.
What to Consider
The easiest way in is for your current company to send you here. This is possible if you work for a major multinational company.
But it's possible to succeed on your own if you have the skills and experience.
As a young industry in Thailand, there's a lack of qualified insurance reps. So the demand for those with extensive skills and experience is out there.
CEO
Average salary: 200,000 baht to 500,000 baht a month
Perhaps the strongest rebuttal to the argument that Thailand is a dead-end for foreigners hoping to make it were the two senior managers/CEOs we interviewed for Working In Thailand.
One had transformed a regional branch of a major energy company into a multi-million dollar Thailand-based company.
The other had worked his way up from obscurity to run a gargantuan multi-national food and beverage company right here in the Land of Smiles.
What You Need
extensive experience is essential
an MBA
leadership skills
How to Apply
Work your way up
Most senior positions are advertised internally, so expect to have to work your way up the ladder. Some positions may be available through networking, so work those contacts.
Get your hands dirty
Remember, these aren't the kind of positions you ping off a resume for and hope.
Both of the expats we interviewed for Working In Thailand were keen to stress that they'd built their businesses up with their two hands. They'd spent years making contacts and building their brands.
What to Consider
Now, we're not saying that any old slacker can roll out of an airplane and command a business empire. You'll need the people skills, business savvy, and in-depth know-how asked of any CEO.
You'll also need to know how to navigate a different culture.
But for those willing to put the work in the opportunities are there.
Now, on to You
These seventeen jobs are only a taste of what's potentially available here in Thailand.
If you would like to discover how you could land a job like these—plus more—check out Working in Thailand: How to Ditch the Desk, Board the Plane, and Land the Job.