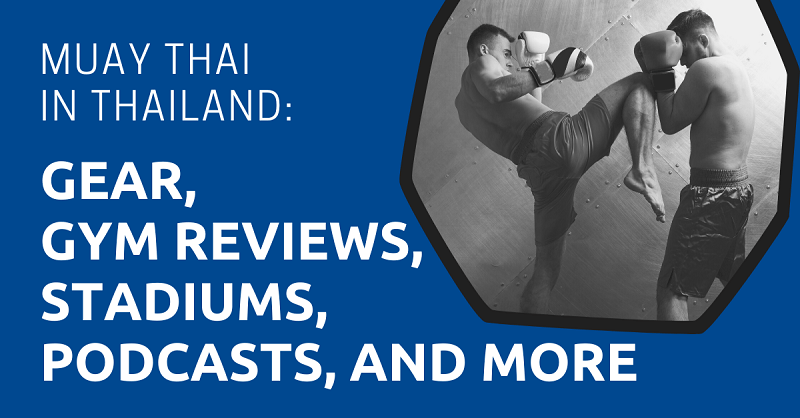 If you're in Thailand and want to get some training in, buy some gear, watch some fights, or read up on some news, check out the resources below. This will be a living page of all podcasts, blogs, forums, gear shops, stadiums, etc. in Thailand. The key phrase here is "in Thailand."
If I've missed important resources, or I've made an error in the article, please let me know in the comments section and I'll make the changes.
Podcasts
Middle Aged Muay Thai
Middle Aged Muay Thai is hosted by Paul Garrigan. In the podcast, Paul talks about the physical and mental struggles surrounding a middle-aged man who decided to quit drinking and start training and fighting in Thailand.
Two Ladies in the Kingdom – Women and Muay Thai
Two Ladies in the Kingdom – Women and Muay Thai is hosted by Sylvie von Duuglass-Ittu and Emma Thomas. They discuss all things related to the female Muay Thai scene in Thailand, from training to fighting to full-time living in Thailand. They also talk about personal stories of each of their journeys through Muay Thai as Western women in Thailand.
Books
Non-Fiction
It's not often I recommend "How-To" manuals for Thai boxing. But Thai Boxing Dynamite is more than a how-to manual. It's part history lesson. When I moved to Thailand I gave my copy away–ironically enough. But I wish I hadn't. The photos alone of Den Muangsarin at Muangsarin Gym make this book worth buying. Cheers to Zoran Rebac for putting this book toegther.
The Fighter's Heart isn't all about Muay Thai. But there's one part of the book where Sam Sheridan talks about his time training and fighting in Thailand. Before I moved to Thailand, I used to read his chapter on Muay Thai in Thailand to keep my battery charged in between trips.
Champions Uprising is a memoir about the fight career of Chris Romulo. Although the book mostly takes place in New York City, one chapter includes his time spent training in Thailand at Fairtex and fighting and winning the bronze at the world IFMAs.
Fiction
There aren't many fictional works about Muay Thai in Thailand. But one worth noting is Matt Lucas' The Boxer's Soliloquy. The book is comprised of fifteen stories, each revolving around Muay Thai, relationships, and the fighting career of an American fighter who bounces back and forth between America and Thailand.
News
Muay Thai Focus
Muay Thai Focus takes you to the heart of Bangkok. Put together by Rob Cox, Muay Thai Focus covers all the fights at Thailand's biggest stadiums. You can also check out the Interviews section for an in-depth look at some of the sports central figures. Check out Muay Thai Focus on Facebook.
Siam Fight News
Siam Fight News covers all the major promotions in Thailand. They also offer insight into the world Muay Thai not found on other news sites. Siam Fight News compiles lists of the current stadium champions. And they post frequent training videos and other Muay Thai related content. Check out Siam Fight News on Facebook.
Muay Farang
Muay Farang was originally set up to document the lives of two non-Thai Muay Thai fighters as they fight their way through Thailand's fight circuit. But the website now covers all the happenings of Muay Thai in Thailand, especially if the news is foreign related. Check out Muay Farang on Facebook.
YouTube Channels
Muay Ties
Muay Ties is a Muay Thai fight video channel run by Timo Ruge. The channel features fights from Lumpinee and Rajadamnern Stadiums. But also includes interviews with some of the biggest stars in Muay Thai, like Saenchai. Muay Ties is separated into playlists featuring championships fights, knock outs, and by fighters' names. One of the most popular videos is a fight between Yodthongchai and Saen, reaching over three million views. Check out Muay Ties on Facebook.
Gym Reviews
Muay Thai Scholar
Muay Thai Scholar's gym reviews are detailed. They start off with a rundown of ratings on the necessities: location, facility, hygiene, clinching, padwork, instruction, training partners, and price. Then he gives an overview of his experiences at the gym, followed by a list of pros and cons. Finishing off the review are the training times, notable fighters, photos, prices, maps, and contact info.
Muay Thai Camps Thailand
Muay Thai Camps Thailand's reviews are less detailed than Muay Thai Scholar's. But their list of gyms extends into all major areas of Thailand. They cover gyms in Bangkok, Phuket, Pattaya, Chiang Mai, Samui, Krabi, Koh Phangan, and Issan. Though they don't list the pros and cons of each gym–something expected of a review site–they talk about location, on-site amenities, and accommodations.
Blogs
Muay Thai Scholar
Muay Thai Scholar is run by Aaron Jahn. His blog details his training and fighting experiences in Thailand. It's a no-hold-barred, realistic–and sometimes sobering–look at life as a Western fighter living in Thailand. His articles are informative, practical, and well-written. One of his more popular posts is about the 15 Characteristics of the Best Muay Thai Camps in Thailand. It's a must read for anyone looking for a gym in Thailand.
Muay Thai on The Brain
Muay Thai on the Brain was started by Melissa Ray. As a contrast to other blogs, Melissa doesn't focus the topics of her articles on herself, but rather Muay Thai in general. She promotes her teammates fights, she posts videos and pictures, and she references other articles she's fond of. One of her more popular posts is Muay Ying in Thailand: Is the Glass Half Empty or Half Full. In the article she does an excellent job balancing out the topic of being a Western female fighter in Thailand.
Vice Sports Muay Thai
Vice.com is known for it's no-holds-barred-style news stories written from first-person accounts. But Vice also publishes articles on Thailand's national sport and cultural pastime in their series of Vice Sports articles about Muay Thai. You can learn about Thailand's Muay Thai festivals, like the Wai Kru Festival; you can read profile pieces on western fighters who fight and train in Thailand; or, in true Vice fashion, you could read about the lives of the writers themselves. Whatever combination of articles interests you, Vice delivers through Vice Sports.
Milk.Blitz.Street.Bomb.
Milk.Blitz.Street.Bomb. is run by Laura Dal Farra. It started as a way for her to document life in Thailand as a Western fighter. But the website has since branched out to include articles on other martial arts and the nomadic lifestyle. For a gist of what you can find on Laura's website, check out her Start Here section. Where other bloggers have painted Thailand out to be a utopia, Laura covers topics like sex and dating and racism. But she balances out those posts with topics on gratitude for her time spent in Thailand.
Muay Thai Pros
Muay Thai Pros is another great website documenting life as a Western fighter in Thailand. But what they do so well is tie non-Muay Thai related content into the overall theme of their website. For example, they've written articles about driving safety in Thailand and the dangers of the road and where to find paleo-friendly restaurants in Thailand.
Under the Ropes
Under the Ropes was started by Emma Thomas. Like the other bloggers, she started the blog to document her life as a Western fighter in Thailand. But her posts also delve into the cultural differences between the West and Thailand. The name Under the Ropes is a reflection of these differences, as women aren't allowed to climb over the ropes of a boxing gym in Thailand–in some cases. Her blog was made famous by her post about Rape Culture in Thailand, a topic simmering under the surface of Thai society. But she also writes about teaching English and writes gym reviews.
The Fight Nation
The Fight Nation once covered mostly mixed martial arts news. But since August of 2017 they began publishing stories about the world of Muay Thai in Thailand. Written by Frances Watthanaya, her series of Muay Thai articles gives readers an up-close account of what it's like for legends to make their return to the ring, or for transgender fighters to make their mark in the sport.
Documentaries
Prison Fighters: Five Rounds to Freedom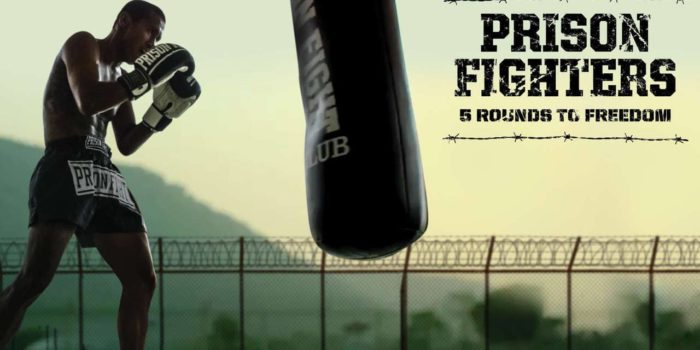 Prison Fighters: Five Rounds to Freedom is a documentary based on Thailand's prison rehabilitation program, which grants freedom to Thai prisoners if they win a series of Muay Thai fights against non-Thai opponents. Cameras follow the life of inmate and convicted murderer Noy Kaophan as he prepares for the fight of his life, a fight not only against American Cody Moberly, but a fight for his freedom and the chance to be reunited with his son. Although controversy surrounds this rehabilitation process in Thailand, after watching the documentary few doubts remain that it's a cinematic masterpiece with a captivating story.
Blessed With Venom
Blessed With Venom is a Muay Thai documentary based on John Wayne Parr's time spent living, training, and fighting in Thailand. Parr visits his old gym in Nonthaburi and recalls his fights against legendary fighters at Lumpini Stadium. Blessed With Venom was released in Australia and screened at select movie theaters for two weeks. Then Parr made it available to watch for free on YouTube.
A Fighting Chance
A Fighting Chance follows the lives of three fighters as they prepare to fight in Muay Thai: Gong-Prai Sorjintana, Boon-Term Kitmuti, and Sam Sheridan–best known for his books The Fighter's Mind and A Fighter's Heart. Each of three fighters fight for their own glory. But which ones will succeed?
Born For The Fight
Born for the Fight has become a cult classic in the Muay Thai community. It documents the importance of Muay Thai in Thai society. And the film was put together at the tail end of the Golden Era of Muay Thai, 1997. Both the Thai National Culture Commission and the Tourism Authority of Thailand helped in the filming of Born for the Fight.
Kickboxing Kids
Kickboxing Kids was put together by Unreported World. The documentary follows young pugilists–some as young as seven years old–as they fight in Muay Thai for money to help support their families. The short documentary has received criticism for its one-sided view. But it's necessary for Muay Thai enthusiasts to watch as it shows how other people see the sport.
The Fighter's Journey
The Fighter's Journey is my own attempt at filming Muay Thai documentaries. I started this project as a way to tell the stories of Muay Thai fighters in Thailand. The series lasted a few years. Then I stopped filming. But after a brief comeback, I stopped filming the series.
Stadiums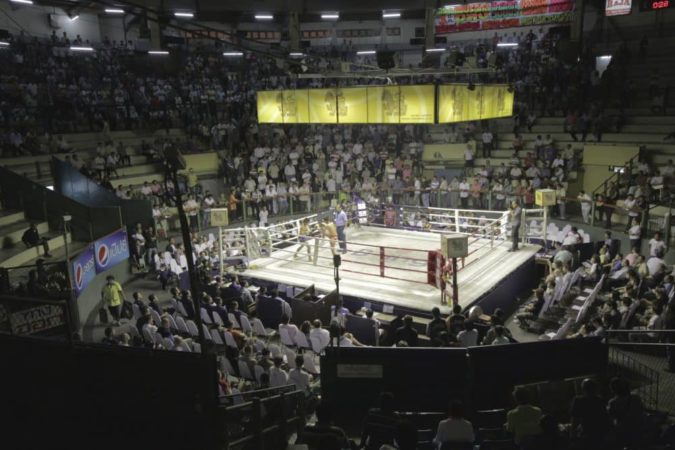 Rajadamnern Stadium
Ticket Price: 1,000 THB – 2,000 THB
Schedule: Monday, Wednesday, Thursday, and Sunday
Website: Rajadamnern.com
Interesting Facts:
Thailand's oldest Muay Thai stadium
Opened December 23, 1945
Roof added in 1951
Lumpinee Stadium
Ticket Price: 250 THB – 2,500 THB
Schedule: Tuesday, Friday, and Saturday
Website: MuaythaiLumpinee.net
Interesting Facts:
Thailand's second-oldest Stadium
Opened December 8, 1956
Was rebuilt and relocated in 2014
Channel 7
Ticket Price: Free (first come, first served)
Schedule: Sunday
Website: sports.ch7.com
Siam Boxing Stadium
Ticket Price: 200 THB – 2,000 THB
Schedule: Saturday

Interesting Facts:
Built in 1987
Known as "Omnoi Stadium"
Max Muay Thai
Ticket Price: 2,000 THB
Schedule: Friday, Saturday, and Sunday
Website: www.maxmuaythai.com
Forums
Muay Thai Focus Forum
Muay Thai Focus Forum was started by Rob Cox, Thailand's foremost foreign authority on Muay Thai. You can find many posts in the forum about the history of Muay Thai, notable fighters, places to train, and all things related to Muay Thai in Thailand. Some of the most popular posts include Gym website database, Camps in Hua Hin, and Bangkok gym for newcomer!!! Rob anyone please.
Muay Thai Land
Muay Thai Land is a forum for all things related to Muay Thai in Thailand. Members post questions about training in Thailand, and they cover topics like gym reviews or where to find inexpensive supplements. Three of their more recent topics are Buriram Gyms, Staying At One Camp Or Moving Around?, and A Story Of Betrayal At Sit Thaharnaek Muay Thai. With over 5700 threads, you're sure to find the info you need.
Muay Thai Roundtable
Muay Thai Roundtable is an offshoot of 8Limbs blog. They have a general roundtable for men and women, which covers everything from news to training to fighting in Thailand. They also have a women's only roundtable, where women can discuss topics related to training, fighting, and living in Thailand.
Gear
Action Zone
Action Zone carries most major Muay Thai brands. The shop has a solid reputation for customer service and offers competitive prices. Most Muay Thai enthusiasts looking for gear make visiting Action Zone a priority.
Contact Action Zone:
Boon Sport
Boon Sport changed the game when they first started developing their own gear. Known for their solid construction and durability, they redefined and redesigned Muay Thai gear. Their micro mitts are a favorite among Muay Thai trainers and students.
Contact Boon Sport:
Fairtex Shop
Fairtex has been developing gear for a long time. They're one of the most established and recognized brands in Muay Thai. But unlike their boxing equal–Everlast–the quality of Fairtex gear hasn't diminished with their popularity.
Contact Fairtex:
Muay Thai Mall
Muay Thai Mall is another shop that carries most major Muay Thai brands. What sets them apart from their competitors is the interior of their shop, which people boast about often. Muay Thai Mall also has a great reputation and offers competitive prices.
Contact Muay Thai Mall:
Super Export Shop
Super Export Shop is known for their friendly customer service and wide selection of Muay Thai gear. Be sure to check out their Facebook page regularly for discounts and promotions.
Contact Super Export Shop:
Yokkao Shop
Yokkao is a more than a Muay Thai gear shop. They have a gym with some of the best fighters in the world. They promote some of the most exciting fights in the game. And their brand is steadily climbing the ranks of the Muay Thai community.
Contact Yokkao:
Stadium Shops
Lumpini, Rajadamnern, and Max Muay Thai Stadiums sell Muay Thai equipment as well. For links, see the Where to Watch Muay Thai section.
Tours
Take Me Tour
Take Me Tour gives you the chance to train with pro fighters in the heart of the city. What separates Take Me Tour from other Muay Thai tour companies is that they give you the option to train by the day. So if you're in Bangkok only for a day or two and don't have time to commit to a lengthy training tour, this may be the better option for you.
Muay Thai Holidays
Muay Thai Holidays is a one-of-a-kind Muay Thai holiday booking website. They work with eight Muay Thai gyms in Thailand. And Muay Thai practitioners can book flights, hire car service, and choose destinations right through the Muay Thai Holidays website.
Thailand Training Camp
Thailand Training Camps offers Muay Thai tours for every level of Muay Thai practitioner. Their training camps range from two and eight weeks long and include: all inclusive pricing, top level training, amazing training facilities, cultural experiences, group environment, and private accommodation.
Final Thoughts
This article is a growing list of Muay Thai in Thailand resources. I'll add to this list as new resources come up. If you'd like to make a recommendation, let me know in the comments section.