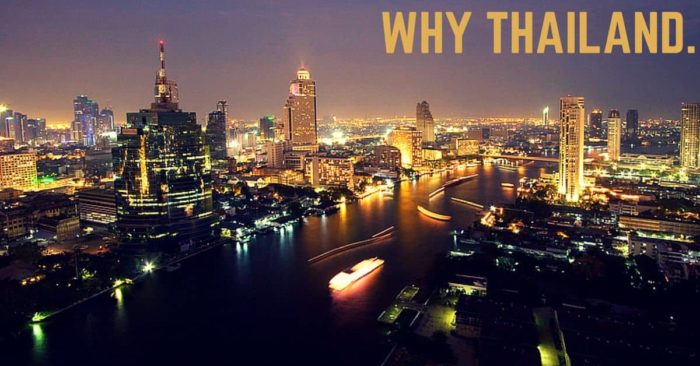 Need help running a business in Thailand? You can support us on Patreon and get access to exclusive business guides with insider business tricks. We answer you personally on any business questions you have. And you'll also be helping keep ExpatDen running.
When my former business partner and I picked out Thailand, I was 22 years old. Thailand was on our radar because he had done an internship here. That was it.
From the get-go, the main reason to look into Thailand were lower costs and the flexibility of a web-based business: Things seemed a lot cheaper and for our customers it didn't matter if we were located in Germany or Thailand. My business partner had some professional contacts in Bangkok, nothing bending-the-rule-of-law-crazy, but 'having someone who you trust and can ask'. That was a good starting point, especially since we were heavily bootstrapping, but of course we needed a bit more before Thunderbirds Are Go.
The due diligence process that would determine the rest of my life, came down to some very basic questions: Does Thailand really like to see foreign investors succeed? Are Thais happy to coexist with an expatriate population? Is the infrastructure – from a labor market to international internet connections – functional to the degree we require? Are the costs significantly lower compared to being based in Germany?
Truth to be told – for a lot of those questions we simply didn't have the data. What we did have, was impressions gathered through history (e.g. no foreigner-lynching-mobs), interactions (e.g. talking to Thailand's Board of Investment), and, for a lack of a more accurate term, personal guestimates. In the end, it was a gut decision.
Looking back now I think that was the right approach. With a lot of decisions in life (and business), you don't have the relevant numbers. Sure, looking at the numbers to perform a 'sanity check' makes sense to see if your assumptions are way off (e.g. with a liquidity planning sheet). But a lot of the information that really determines success is hard to quantify. Attempting to do so can add a false sense of security.
'Gut feeling' isn't usually accepted as a form of reasoning below board-level management, but the reality is that it often incorporates factors more comprehensively and to a more accurate degree than the actual rationale we tend to come up with to justify the feelings we have in the first place.
This doesn't mean that there are not some very good, rational arguments to pick Thailand as a base for your business. While I might not have foreseen them all, looking back now I can certainly see what helped us setting up shop here. Here's the list with all the glorious, rational benefits with the gift of hindsight.
Jurisdiction
Thailand in general offers you the ability to do a single jurisdiction setup.
Especially if you do an e-commerce or software startup, you can take advantage of local investment promotions by the Board of Investment(BOI) that come with the ability to own your company 100% (an issue in a lot of developing markets), easy access to work permits and in some cases even tax holidays of up to 8 years.
This makes it feasible to have your entire business and your residence in a single jurisdiction – something that'll save you quite a bit money, time and – most importantly – attention when it comes to the administrative, legal and accounting side of things.
I see many people handle around with offshore setups and other more complex structures. They can certainly make sense (especially once you have a truly international business with the profits to match), but small business owners often forget the future workload and recurring costs that this will create.
Things can look different for freelancers and virtual teams, but if you're going to have a team of full-time staff that you want to interface with in person, it's a significant benefit.
If you're interested in setting up a company under BOI promotion, fill out the information on this page. My team and I will get back to you and let you know if we can help you.
Accounting
Speaking of legal, accounting and other administration tasks: There are a lot of decent qualified service providers who can support your business in anything from intellectual property disputes to compliant accounting.
It's cheaper than Singapore or Hong Kong, but it still doesn't compare to our costs in Germany. Yes, accounting and lare more expensive to handle in Thailand than in Germany (here is a break-down of my own costs of doing business). This is mostly due to lack of automated services, language requirements, being a foreign-owned business and a way more central base of operations. That's one of the reasons why I tend to recommend people just starting out to incorporate in their home country. It just avoids a lot of headaches and extra costs and let's you focus on growing your business instead.
Bangkok by far outranks other cities in Thailand for this of course, but given how much now happens electronically, it's a lot less of an issue to be based outside the capital as it used to be.
Legal
There are some concerns about the legal framework. It might not be Singapore, the US or Germany, but there's a reliable rule of law when talking about the majority of commercial transactions. Long story short, for the majority of business owners that means you can operate with reasonable trust and effectiveness.
This said, courts do operate differently than what you might be used to 'back home'. My general recommendation is to avoid legal disputes – be it about labor issues, with landlords or over business-related issues. In Thailand things tend to be handled outside of the court rooms (not just in the gun-man-on-a-motorbike sense, but also in the let-us-just-talk-about-this sense). You might not always be able to protect your interests that way, but on the upside you are also much less likely to get sued. Whether the pros outweigh the cons depends a lot on your own business and how you conduct it.
My recommendation is to take a more proactive approach and interest in those matters. No one knows your own business better than you do and understanding legal and compliance issues that are at stake (as opposed to only relying on professional counsel) will help you nip problems in the bud before they become expensive.
In general I recommend hitting up law firms early on (see my guide on hiring a lawyer in Thailand for more details). Many will be happy to give you 30 minutes of their time to showcase what they can do for you during which they also tend to share some advice in hopes of attracting you as a future client. It's a budget-way to survey the legal landscape (and issues). Embassies can provide a list of law firms they used to work with in the past.
Staff
You can find a lot of qualified candidates in Thailand, and the salary is much lower than the West.
And there are many ways to recruit. You can post ads on job websites. You can recruit people via networking events.
If you want to have a better chance to choose the right candidate, you can use a recruitment service like ATa services.
They'll help screen and find qualified candidates based on your requirements.
Local
I'm quite happy with the staff I found here. Bangkok is a great labor market for a number of reasons – lots of qualified locals (I just recently saw one of my previous local employees went and got a top-school MBA and now works for Google in Australia). English is sometime a challenge here, but there's plenty of international school graduates and foreigners looking to work here (at salaries comparable to locals) that while a concern, it hasn't been a major obstacle.
You can also hire Thai project managers that then outsource to the Philippines or even the US (I do that a lot). You save the headache of dealing with freelancers by leveraging the availability of local managers. Especially tech companies can think of it as regional operating headquarters (not to be mistaken with the legal setup as 'regional operational headquarters' which comes with a lot of issues you might want to avoid unless you really know what you're getting into).
Other cities in Thailand might offer lower rates, but you might have to work around a much more limited availability of talent. Chiang Mai has caught up quite a bit in the last few years. The main draw of the city is to hire foreign talent who's looking to move to Thailand – Chiang Mai is often more attractive due to lower costs of living and nearby nature (though you might want to avoid hiring during burning season …)
In case you'd like to know about working with locals, you can also check out my blog post on cross-cultural management challenges in Thailand.
Expatriate
One much less mentioned draw of Thailand's labor market is the ability of small companies to hire highly qualified expatriates. Thailand's reputation as a country with a very high quality of life and low cost of living is a major boon for companies trying to recruit tech talent.
From system administrators trying to move to Thailand escaping the cold of Sweden, to fintech specialists from London and Bay Area programmers: Thailand is actively sought out by some very qualified people who for a variety of reasons are not happy with the more traditional career progression paths available back home.
This allows the average business owner to compete for talent with much better funded start-ups based in the hotspots of the tech world. I've seen multiple businesses succeed based on hiring a substantial percentage of foreign staff. Companies hire a broad range of staff – from German secretaries to Finnish web developers – to provide high quality services to companies back home at a fraction of the price.
Rent
While rents in Bangkok have increased quite a bit in recent years, prices are still low compared to other metropoles. I pay a bit more than 1000 USD / month for rent&utilities for a staff of 10 (if you're looking for cheap office space, similar advice applies as when renting an apartment in Bangkok).
Given the eternal traffic gridlock the affordability of rent in the city center is an important factor. Living close to your office is the easiest way to deal with the traffic nightmare you encounter in the city.
Using a serviced office in Bangkok is also another good option, especially if you want to start working without having to wait for a rental contract to kick in. I've been using a Regus serviced office for my company since 2015 but I recently moved to Spaces at Chamchuri Square.
The main reason why I move was because of location. My new office at Spaces is located directly above the office of Thailand's Board of Investment and One-Stop Service Center for visas and work permits, which is great because company is promoted by the BOI.
Another serviced office that you can look it is ATa Services. They provide an all in one solutions, which include taking care of administrative tasks such as payroll management, accounting tasks, visa and work permit, recruitment and car rental, so that you can focus on building and growing your business.
Compared to other similar serviced offices, ATa Services also provides good value for money.
Overall the country has a lot of office space available, ranging from high-end prestige locations in the central business district of Bangkok to very green office parks in the outskirts of Chiang Mai. If you're not quite sure yet or expect to grow significantly in the first year or or two, you can also start out with serviced office space: Especially in Bangkok there's no shortage of serviced offices you can rent on a monthly basis (though you pay a certain premium for the privilege).
Infrastructure
The same goes for most infrastructure from transportation to internet: Readily available and affordable. Power outages aren't unheard of, but the last one we had in the office is a few years ago. Putting local servers on an uninterrupted power supply unit is an acceptable way for our scale of operation.
There are no communication monopolies that result in exorbitant fees, power supply issues that require expensive backup power solutions or quality impediments that make non-satellite connections a gamble. Things might not always be perfect, but as a general rule of thumb you're looking at an infrastructure landscape that works sufficiently well at a decently priced level.
Quality of Life
Switching careers (or locations) can be a lot harder for business owners than for those of us who are gainfully employed. Planning long-term when setting up your base outside of your home country becomes a lot more important. What's a huge benefit right now, might actually become a drawback 5 to 10 years from now. As such it can make sense to look at a country not only in terms of what you'll need for the next years to come. Thailand tends to an okay choice for a number phases in life.
Health. Bangkok has some world class hospitals. Combine that with super affordable health care plans (often specific to South East Asia) and you get excellent value for money. There's a reason why many people choose Thailand to retire – it means you don't have to worry as much about getting older here. One of the issues often cited, air quality, is actually not that bad in Bangkok (it is a serious issue in the north during burning season though).
Education. If you have kids, that's a concern. It's probably the biggest problem for families moving abroad. Bangkok's schools aren't cheap, but at least there's access to international private schools so it doesn't become a no-go. This said, for schooling you're probably better off back home (wherever that may be), unless you're okay with spending $20,000 / year for one of the top tier high schools. Universities on the other hand are very affordable but rarely make an appearance on international ranking lists.
Community. Bangkok has one of the biggest expat communities – meaning you not only find lots of businesses catering to them, but also a lot of people who share your interests and background. Maybe that seems counterintuitive to traveler, but if you're somewhere longterm, you'll miss those things. Other cities suitable for business that boost a significant expat population include Chiang Mai and Phuket.
Transport. Bangkok is an international airline hub. You're less than 3 hour away from Singapore and Hong Kong and you have a lot of places in easy reach to get out for a weekend. Its central location in South East Asia and popularity as a tourist location means you'll get lots of visitors. A nice way to keep in touch with home and friends. In daily life you'll similarily find it easy to access transportation (e.g. Taxis, Uber, GrabTaxi), but traffic jams are so bad that you basically plan your life and schedule around them.
My favorite way of expressing quality of life here would be to describe it as 'convenient' for singles and couples. Most products and services are readily available and reasonably priced. Once you have a family things may look a bit different.
In a Nutshell
It's not all roses. Schooling is an issue. There's also the problem of being unable to attract external funding if you're incorporated in Bangkok is another (the most common workaround is to create a holding company in Singapore). This said, it's a decent location for business with few real deal killers and lots of convenient benefits that make me quite happy to have chosen Bangkok as our base of operations for the last 10 years. If you need my help doing a business here, feel free to contact me.