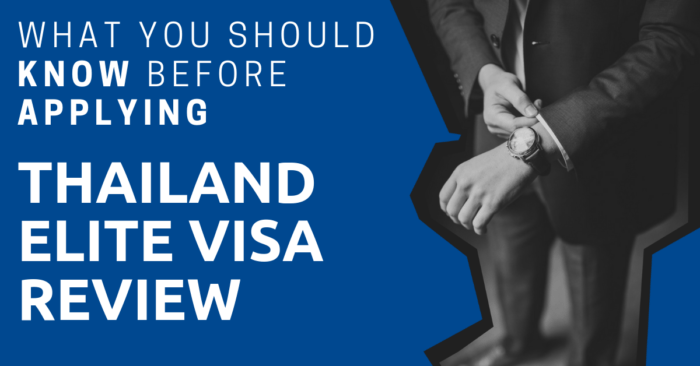 Have you heard of the Thailand Elite Visa?
It was introduced in 2003 after the Thai government approved the Thailand Privilege Card project proposed by the Ministry of Tourism and Sports.
It's the most convenient visa to live in Thailand with.
How convenient is it?
In short, you can get a five- to 20-year visa straight away without having to deal with paperwork or visit the immigration office.
It's also an underrated visa since people ignore it after hearing about the 600,000 baht application fee.
So, let's take a closer look at the Thailand Elite Visa, including the benefits you get, packages you can choose, restrictions, and application fee.
You can fill in the form at the end of the article to apply or learn more about it.
Residence Program
Thailand Elite visa is a residence program allowing you to stay in Thailand from five to 20 years without having to worry about your visa conditions, paperwork, and extensions.
The Thailand Elite visa comes with various privileges, including access to airport pick-up services, privilege passport lanes, airport lounges, visa assistance, golf club memberships, and discounts on various services in Thailand.
The Thailand Elite Visa is run by Thai Government and aims to attract affluent visitors, businessmen, investors, and expats to stay in Thailand long-term.
Who is it for?
The Thailand Elite Visa is for anyone who lives or regularly comes to Thailand but doesn't want to deal with Thailand's bureaucratic visa system.
This includes digital nomads that don't want to do visa runs, retirees who don't want to be stressed with the new complicated regulations that have been regularly introduced, or investors or business people who need to fly in and out of Thailand several times a year.
Benefits
Let's take a look at the benefits that come with the Thailand Elite Visa.
Long-Term Stays
The best part about the Thailand Elite Visa is that you don't need to worry anymore about your visa. You can stay in Thailand for at least five years straight without having to do border runs or repetitively abusing tourist visas, which can result in later bans.
As of now, visa options for Thailand are quite limited for long-term stayers. There are a lot of people who can't get a visa just because the Thai Government doesn't have a suitable visa for them.
This is especially true for digital nomads. This group of people is having problems getting a legit visa. They aren't employed by a company. They can't get business visas. And they aren't qualified for the SMART visa, which is the new visa that was first expected to be a visa for digital nomads.
Another group is those who want to retire in Thailand but haven't reached the age requirements or other conditions required by the retirement visa.
There's also another group like investors or a business people who need to visit Thailand many times a year and find none of the current visa options suitable for them.
Alternative State Quarantine Booking Assistant
Because of COVID-19, all foreigners coming to Thailand are required to book an alternative state quarantine before they can get a Certificate of Entry.
The Elite Visa program will give you a list of alternate state quarantine (ASQ) locations, including prices and partnered hospitals. You can tell them which ASQ you want and they will book it on your behalf.
This benefit is really useful since it's a challenge to book ASQs yourself. They are quickly fully booked, and you need to individually contact each of them yourself through LINE or email.v
Visa Assistance
Another great benefit of the Thailand Elite Visa is the visa assistance that can get you out of the bureaucratic system in Thailand.
Thailand is a land of paperwork. Everything you need to apply, renew, or extend your visa, you need to prepare at least five different sets of documents from various organizations.
Long-term visas normally require much more than that.
Then, you need to visit the Thai embassy or the immigration office early in the morning and spend at least half a day there.
In addition, visa regulations change frequently. For example, a retirement visa now requires you to have health insurance, and you need to put 800,000 baht in your bank months before applying for the visa.
For the Elite Visa, you only need to give a copy of your passport to the Elite Visa agent. They will handle everything for you.
Then, you can go to your local Thailand embassy where they will affix your Elite Visa to your passport, and fly to Thailand.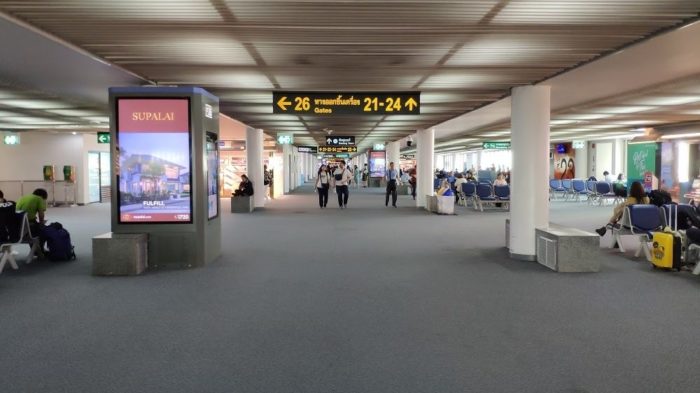 If you are already here in Thailand, you still need to go to the immigration office. Again, you will meet the visa agent who will take you to a privilege passport lane, and handle everything for you.
The visa should be done within 30 minutes instead of spending at least half a day at the immigration office.
Once you get your visa, you won't need to worry about it anymore. Also, the regulations of the Elite Visa barely change.
Because of the visa assistance benefit, there's a group of people who go for Elite Visa despite being eligible for other long-term visas. They just want to avoid lines and the stress of dealing with visas.
Note that you still need to do 90-days reporting with the Elite Visa. But you can drop your passport at the agent's office and let them handle it for you.
Airport Services
The Thailand Elite Visa program comes with airport services. The elite visa agent picks you up right inside the gate and escorts you to the fast-track lane at immigration. You can't get this service from a normal airport transfer service.
You also get access to airport lounges in both departure and arrival halls at Suvarnabhumi, Chiang Mai, and Phuket airports.
Discounts
Originally, the idea of the Elite Visa was raised by the Tourism Authority of Thailand to bring high-end visitors to Thailand. Therefore, the Thailand Elite Visa program has partnered with many travel related service providers throughout Thailand.
These partners are golf associations, hotels, travel agencies, department stores, cooking schools, and even Muay Thai camps.
By showing your Thailand Elite Card, you immediately get discounts for you, your family, and your guests.
Thailand Elite Card
You will get a Thailand Elite card once you are approved for the Thailand Elite visa program. It's like a membership card. You can use it to get all the benefits from the Thailand Elite Visa program.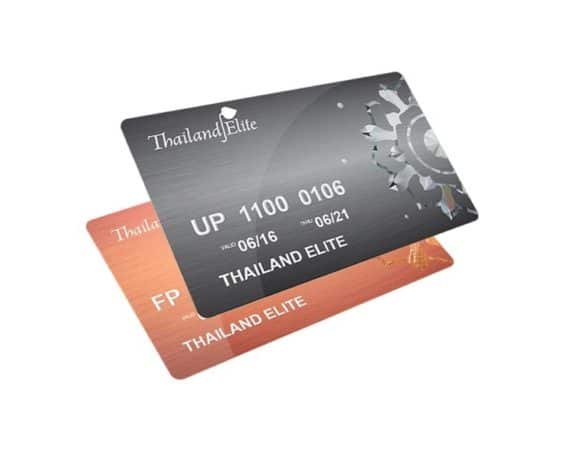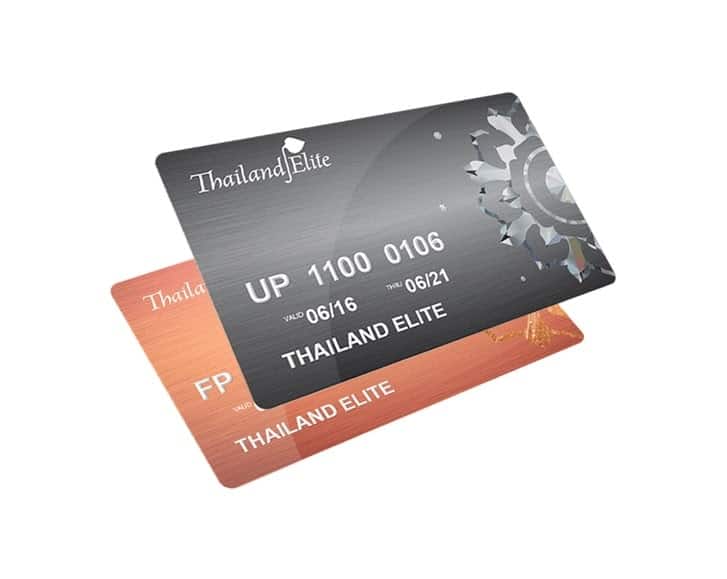 Other
With the 20-year visa package, you can play golf and have spa treatments 24 times a year free of charge at any golf associations or spas that are partners of the Thailand Elite program.
In addition, you can get one free health checkup a year and also have access to a member contact center who can provide support for anything you need while living your life in Thailand.
You also get access to the Thailand Elite Visa support center.
Restrictions
You can't get a work permit with the Thai Elite visa. Legally speaking, without a work permit, you can't do any activity that generates income in Thailand. However, you are still able to hold company shares or invest.
You can still buy a car, invest in a condo, open a bank account, and get a driving license with it.
Requirements
Everyone can apply for the Thailand Elite visa. You don't need to find a job like with a business visa, reach a certain age like with the retirement visa, or marry Thai like with a marriage visa.
The only thing you literally need is the application fee, which should be paid in full during the application.
Other requirements are:
You need to obey Thai laws.
You need to have a passport that isn't Thai.
You can't have any criminal background in any countries.
You haven't declared bankruptcy.
You aren't of unsound mind, incompetence, or quasi incompetent.
You haven't overstayed your Thai visa more than twice in the past
Costs
Cost are the main requirements of the Thailand Elite Visa. The application fee for the cheapest program, the Easy Access, is 600,000 Thai baht–around $20,000. It gives you a five-year visa and other benefits mentioned above.
Although the number seems high, it isn't as high as you may think. 600,000 Thai baht for a five-year visa means you pay 120,000 baht per year or 10,000 baht per month.
If you aren't eligible for a long-term visa in Thailand and need to do a visa run, you need to pay around 10,000 Thai baht on average for a three day, 2 night trip to a nearby Thai embassy outside of Thailand. And each visa runs gives you 90 days here, all for around 3,300 baht per month.
It's definitely cheaper. But it doesn't count the time you need to spend traveling back and forth. Or the stress you need to deal with at immigration offices.
In addition, visa run aren't entirely legal. Thailand can ban you from abusing it.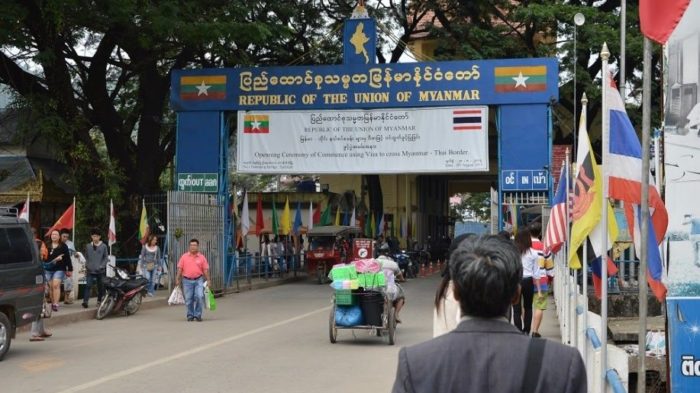 You can opt for an education visa by taking a Thai language course. However, this option is now only available to those who seriously want to learn Thai. You need to attend classes regularly every week.
And you need to take a Thai language test at the immigration office when extending your education visa.
Since January 2021, the Elite Visa application fee starts at 600,000 baht. Although it isn't for everyone, it's a convenient choice for those who can afford it.
Membership Packages
You have seven different packages to choose from. All packages come with visa assistance, airport services, discounts, and the Elite card.
Their main differences are the amount of years you get and other privileges like golf, spas, health checkups, and airport transfer services.
Here are the top three most popular Elite Visa packages. They are the most valuable in terms of the amount of money you need to pay and the years of stay.

Advertisement
| | | | |
| --- | --- | --- | --- |
| Benefits/Program | Easy Access | Family Alternative | Superiority Extension |
| Year | 5 years | 10 years | 20 years |
| Fee (VAT included) | 600,000 baht | 800,000 baht | 1,000,000 baht |
| Additional Family Member | – | 700,000 baht | – |
| Short Haul Transfer Service (within 80 km from airport)* | 24 times/calendar year | – | – |
*For international flights only.
Is it worth It?
The answer totally depends on you. If you're able to afford 10,000 baht a month and live hassle-free with this visa, then it's totally worth it with all the conveniences you get.
On the other hand, if you're eligible for other long-term visas and don't mind dealing with paperwork and the bureaucratic system, then the Elite Visa isn't for you.
Is it Legit?
Thailand Elite Visa is totally legit. The program itself is run by the Thai government.
Can Elite Visa Holders Enter Thailand During COVID-19?
Elite Visa holders are now allowed to enter Thailand. You can see the full requirements and procedure on how to fly to Thailand during COVID-19 from this article.
In addition, Elite Visa holders will get additional support from the Elite Visa program, including booking an alternative state quarantine.
If you come from abroad, you will get a confirmation letter from the Thailand Elite Visa program. After that, the Thailand Elite Visa member services will help you have your Elite Visa affixed into your passport at the local Thai embassy and applied for the Certificate of Entry.
If you are already in Thailand, you can get it done at the immigration office.
Please note that the Thailand Government has a quota on how many Elite Visa holders can fly to Thailand at the moment. This means that even if you have been accepted into the program, you might not be able to immediately fly to Thailand.
Based on the information we have so far, the Elite Visa program is negotiating with the Thailand Government to increase the quota. And it seems like it's going well.
As a compensation, the Elite Visa program is now giving additional three months extension to everyone who has received the approval letter and submit the membership fee before December 31, 2020.
Can you work with an Elite Visa?
Elite Visa holders aren't allowed to get a work permit, which means that they cannot work in Thailand unless you are a part of the recently introduced flexible plus program.
On the other hand, it's no problem to run or operate a business overseas with an Elite Visa, as long as the visa holder isn't paid a salary or working for a company in Thailand.
What is the Thailand Elite Flexible Plus Program?
This is a new program available for the Thailand Elite visa, mainly for the 20-year package.
If you invest $1,000,000 USD in Thailand within a year after getting your Thailand Elite Visa card, you will get a work permit and a non-B visa allowing you to legally work or run your company in Thailand.
Do I need to have health insurance?
As of now, you don't need to have health insurance in order to apply for the Elite Visa. However, you still need COVID-19 insurance for coming to Thailand because of the COVID-19 pandemic.
Do I need to have proof of funds?
Similar to health insurance, you don't need to show any proof of funds. As long as you can pay the application fee in full and don't have a criminal record, you should be able to get the Elite Visa without any problem.
Elite Visa Experience
An Expat Den reader just successfully got the Elite Visa for himself and wanted to share his experience to other readers.
"The process of applying for and getting approved for the Elite Visa was super smooth. Once you send in your elite visa application they forward it to immigrations for a background check. They told me the background check would take 2-3 months. In my case I received the approval letter one month after sending in the application.
From there they sent me instructions on how to settle the payment for the visa. Two days after making the payment I received a payment confirmation and was able to schedule an appointment with Thailand Elite at Chaengwattana Immigration. I met the Thailand Elite staff outside the immigration office where they picked up my passport. I waited outside and within 20 minutes they returned my passport with the visa affixed.
Overall the process was very convenient. The Thailand Elite staff speak very good English so it's easy to communicate with them. Lastly, the fast lane service at the airport is a nice little bonus."
How to Get it
You can apply for the Thailand Elite visa anywhere. All you need to do is to send a soft copy of your passport to the Elite Visa agent. Then, they will work with Thailand's Ministry of Foreign Affairs and the consulate from your country to do a criminal background check.
Once it's done, you need to transfer the application fee, wait a few days, and then get your Thai Elite Membership ID number.
After that, if you're in Thailand, you can go to the immigration office, meet a visa agent, and get the Elite Visa right away.
If you're outside of Thailand, you can get the Elite Visa at your local Thailand embassy.
The whole process takes around three months. But it's often much faster than this. In certain cases, it even takes less than two weeks.
You can even do it while on a connecting flight from Thailand to another country.
Your Elite visa duration will start after you receive the approval letter, you the application fee in full, and receive the welcome letter.
The process of applying for the elite visa is very easy and straightforward. It's the most convenient visa option in Thailand.
Now, on to You
You can fill in the form if you want to apply or find out more about the Thailand Elite Visa. An official representative of the Thailand Elite Visa program will get back to you shortly.