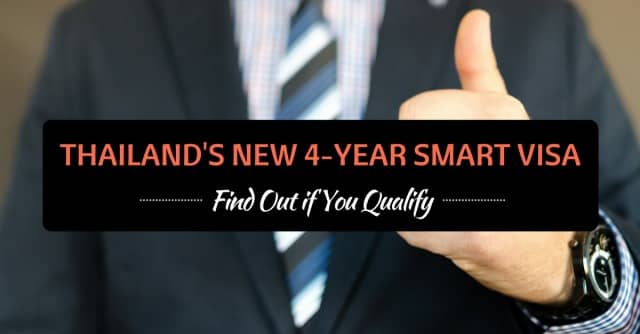 Thailand Board of Investment announced that the new SMART Visa Program will begin February 1, 2018 in Thailand.
The SMART Visa, which is open to foreign experts and investors, will let foreigners stay in Thailand for up to four years, while only having to check-in once a year.
So, what exactly is the SMART Visa, who qualifies, and how do you apply for it?
During the COVID-19 outbreak, Thailand has implemented additional measures
for all expats and tourists in Thailand. Please read our Coronavirus in Thailand
article for more information.
What it Is
The SMART Visa Program is a reflection of Thailand's efforts to attract a variety of experts, senior managers, and investors to either work or invest in tech companies in Thailand. By doing so, Thailand hopes to develop the following ten industries:
Next-Gen Automotive
Affluent Medical and Wellness Tourism
Food for the Future
Agriculture and Biotech
Medical Hub
Digital
Aviation and Logistics
Automation and Robotics
Biofuels and Biochemicals
Smart Electronics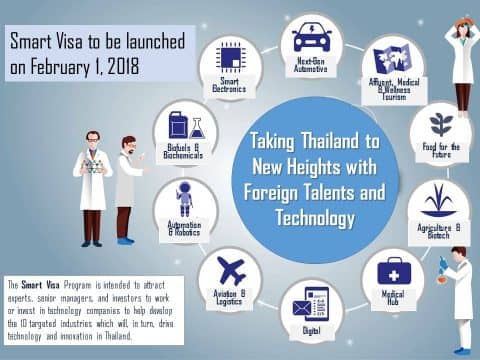 Who it's For
The SMART Visa is open to foreign experts and investors who fall into one of the four SMART Visa categories. And there are no restrictions on location to qualify. Whether you live in Thailand or abroad, you can apply for the SMART Visa.
Smart Talent Visa
The four-year SMART T Visa is available to science and technology experts who earn 200,000 baht per month and are employed by in one of the ten targeted industries.
Smart Investor Visa
The four-year SMART I Visa is available to investors who make a direct investment of 20 million baht into companies that use technology in their manufacturing process or deliver services. These companies also must be in one of the ten targeted industries.
Smart Executive Visa
The four-year SMART E Visa is available to senior managers that have at least a Bachelor's degree, ten years work experience, and are earning a minimum of 200,000 baht per month. Similar to the SMART T and I Visas, senior managers must be employed by companies in one of the ten targeted industries.
Smart Startup Visa
The one- to two-year SMART S Visa is for entrepreneurs looking to start a business in Thailand. To be eligible for this visa, you must deposit 600,000 baht in Thailand, have health insurance, and set up a company in one of the ten targeted industries within your first year.
Looking for more? Read our in-depth guide to all Thailand visas.
Benefits
Each of these four SMART Visas come with a list of benefits, such as one-year check-ins at immigration (instead of ninety days), work eligibility for spouses and children without the need of work permits, and no re-entry permits. For a full list of benefits, check out the Thailand Board of Investment's page on SMART Visas.
Where and How to Apply
There are four steps to applying for and extending the SMART Visa.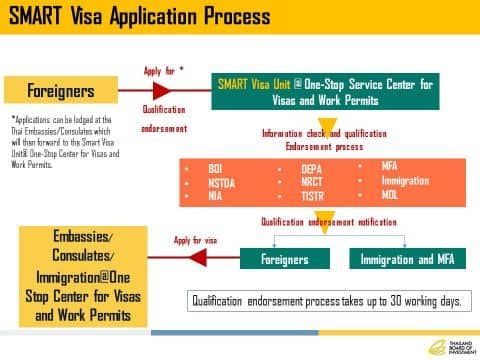 There's been a lot of talk surrounding the SMART Visa and whether the benefits outweigh the challenges or not. Ozzi Jarvinen, co-founder of Iglu, a company that hires freelance foreigners, bills their clients, and in return gets freelancers work permits and relevant visas, had this to say:
The process looks very complicated and bureaucratic. [But] we welcome this new possibility to get the four-year visa with no ninety-day notifications or re-entry permits, as that part would make our work easier…We have a lot of people in-house who would be eligible."
But when it comes to visa processes in Thailand, it's hard to imagine there ever being as time when applying for and renewing or extending wasn't complicated.
As with most challenges of living and working in Thailand, the short-term bureaucratic hassles are usually offset by the long-term ability to live and work in Thai society.
Applying for Endorsement
The first step in applying for the SMART Visa is to first get endorsed by the SMART Visa Unit, which is part of the Thailand Board of Investment. In order to qualify for an endorsement letter you'll be screened by a designated agency. For example, if you are an expert in technology, you'll be screened by the Ministry of Science and Technology. After you pass your screening and get your endorsement letter, you can go on to get your SMART Visa.
Getting Your Visa
Getting your SMART Visa looks like a straightforward process. If you live in Thailand, you'll need to go to the One-Stop Center for Visas and Work Permits, change your visa type, and then extend your SMART Visa as needed. If you live outside of Thailand, you'll need to go to your nearest Thai Embassy or Consulate to get your SMART Visa.
Extending Your Visa
Extending your SMART Visa is the same process as applying for the visa. Every one- to four years, depending on your SMART Visa type, you'll need to apply for endorsement.
Reporting Requirements
After SMART Visa holders have been granted permission to stay in Thailand for work or investment purposes, they'll have to check-in every year. To check-in, go to the SMART Visa Unit at the One-Stop Center for Visas and Work Permits. There, you'll have to submit your documents and current status.
What to Do Next
If you're interested in applying for one of the SMART Visas, we can put you in touch with a reliable immigration lawyer.
Alternatively, you can contact the SMART Visa Unit.
SMART Visa Unit
One Stop Service Center for Visa and Work Permit (OSS)
18th Floor, Chamchuri Square Building, Chamchuri Square Building, Phayathai Road, Pathumwan, Bangkok 10330
Tel: 02 209 1100 ext. 1109–1110
Fax: 02 209 1199
Email: [email protected]