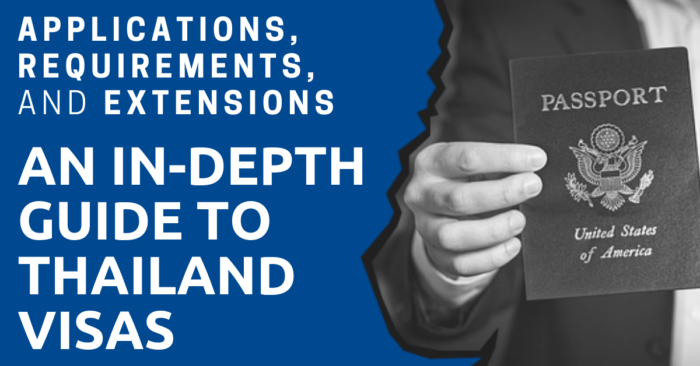 Foreigners visit Thailand for distinct reasons. Certain visits require a Thai Visa, while some don't.
If you want to stay long-term, this guide has a comprehensive guideline, a list of useful resources, and up-to-date procedures to apply for a Thai Visa.
You can visit the Ministry of Foreign Affairs of the Kingdom of Thailand website for general visa information.
If you are looking for which visa choice is best for your stay, or processes for extending visas, changing one visa type to another, and more, this guide can help.
The information in this guide is sourced from credible news sources, Thai agency websites, forums, Facebook groups, interviews with visa experts, fellow expats' experiences, and my personal experience as a tourist, then as an expat.
As of now, the Thailand Elite visa is the easiest long-term visa to get in Thailand. You can find out more about it in this guide.
In case you want to find out how to prepare your visa by yourself, the best time to go to the immigration offices, alternative visas allowing you to stay in Thailand—and get a list of Thai embassies that provide you with painless visa processes—then check out Premium Subscription.
It also show you how to live in Thailand hassle-free while saving $1000s a year.
Before You Leave Home
Do I Need a Visa?
Depending on your nationality, duration of stay, and purpose of visit, you may or may not need to get a visa when entering Thailand.
If you come to spend your vacation in Thailand for a month, you may not need a visa. But if you want to travel for many months, then you need a tourist visa.
Please refer to this table to find out how many days you can stay in Thailand without a visa.
If you come here for work, you need to get a business visa and a work permit.
The type of visa you need depends on your purpose of visit. You can check the visa options section below to find out all available visa types in Thailand.
Proof of Funds
Unless you have a valid visa, you may need to show proof of funds when entering Thailand.
The current requirement is 20,000 baht per person or 40,000 baht per family. It can be in cash or equivalent.
To find out how much money you should have with you, and in what cases this rule applies, read our guide on Thailand tourist visas.
Proof of Onward Travel
Aside from proof of funds, you are also required to show proof of onward travel. It can be a return ticket or a bus ticket to go to Thailand neighbor country.
For a more detailed explanation of what it means to have proof of onward travel, check out our guide on Thailand tourist visas.
Health Certifications
The Ministry of Foreign Affairs requires certain nationalities to present an International Health Certificate as proof of Yellow Fever vaccination, which should be presented together with their visa application. You may also refer to the Centers for Disease Control and Prevention's in-depth guide.
Health certificates are often cited as a requirement for entering Thailand, but other than the aforementioned countries and barring any major disease outbreak similar to that of the H1N1 outbreak several years ago, foreigners are not required to present a health certificate to Thai Immigration.
Applying for Visas
You can apply for a Thailand visa in the following places depending on your nationality and visa type. 
Thai embassy in your home country–if your home country doesn't have a Thai embassy, you need to do at a Thai embassy near your home country
Any Thai embassy in the world
Immigration Offices in Thailand
You can also check out our visa options section below to find out which places you can apply for a visa.
Requirements
Different rules apply to different nationalities, but one requirement governs everyone who's applying for a Thai visa: you need a passport with at least six months validity and two blank pages on both side.
Aside from that, each visa comes with its own set of requirements. So read each section of this article carefully to find out which requirements you need for your visa.
Required Documents
Again, each visa type and nationality requires different documents. In addition, each Thai embassy and immigration office also need different documents. The best way to check is to contact the immigration office or Thai embassy you have to go.
Information on their websites might not be updated.
Applications
You can download the application on the immigration office or Thai embassy's website where you are planning to go. Or you can get it at the immigration office or Thai embassy.
Fees
Visa fees are slightly different between each place due to the currency exchange rates. Generally speaking, it costs 2,000 baht per year for a single-entry non-immigrant visa and 5,000 baht per year for a multiple-entry non-immigrant visa. 
Visa Options
These are your Thai visa options. Employment, education, business or investment, marriage, guardian, or retirement visas are generally the main visas you need to stay in Thailand for more than a year. However, they all have specific requirements.
Alternatively, you can check Thai Elite visa. It's for anyone who can pay approximately 10,000 baht a month for the visa. Although it seems expensive, it saves you from the headache and accommodation fees of visa runs.
In addition, it's a cheaper option from a relocation company that can provide you with a work visa.
Thailand's Ministry of Foreign Affairs's Consular Services page lists all the required documents, visa fees, validity period, period of stay, extension of stay, and additional requirements to obtain a visa. For a more detailed guide on your visa options, we've gathered all the visa options here for easy reference.
One thing to remember is that acquiring a visa in Thailand requires a lot of processes and paperwork. And rules tend to get updated regularly. Sometimes you cannot find the exact information you need, even from official websites.
You can check out our Premium Subscription to get insider strategies how to make the visa yourself without wasting your time running back and forth to Thai embassies. It also shows you optional long-term visas allowing you to legally stay in Thailand.
Tourism
When traveling to Thailand, you have many options when it comes to tourist visas. The length of your visa, the type of visa, and the requirements all depend on how long you'll be staying in Thailand.
For information on traveling to Thailand as a tourist, check out Thailand Tourist Visas: Requirements, Extensions, Costs, and More!
Employment
Non-Immigrant Visa B (Work and Teaching)
The Non-Immigrant Visa B, commonly referred to as a Work Visa, is for work and teaching work. Non-Immigrant Visa IB is for business and other investment-related purposes, although most embassies do not commonly issue this visa, issuing a non-immigrant B visa instead.
As of this writing, a single entry non-immigrant visa is 2,000 baht while a multiple entry visa is 5,000 baht, extendable to 1 year. The complete list of requirements and the application process can be found on the Thailand Ministry of Foreign Affairs website.
The non-immigrant visa B is provided by the Thailand-registered employer with the visa applicant being required to apply for a work permit immediately upon arrival in Thailand.
Once issued, the holder of the Non-B visa is eligible to stay in Thailand for 90 days. It can be extended within the country and is usually done with the assistance of the employer.
Expat employees of Thailand Board of Investment (BOI)-registered companies can extend their visa to 1-2 years at the One-Stop Service Center for Visas and Work Permits in Chamchuri Square Building in Bangkok. Employees in companies that are not BOI-registered need to apply for the 1-year visa extension at the immigration office.
A foreigner who has successfully obtained a non-immigrant B visa can start working after a work permit had been issued. A work permit is a legal document that states your position and your job description.
Like Non-immigrant B Visa holders, Non-immigrant Visa O (Marriage Visa and Spousal Visa/Non-immigrant Visa O-Accompanying Spouse) holders are also allowed to work in Thailand and obtain a work permit.
Since applying for a Non-immigrant B Visa and work permit go hand-in-hand, the employer needs to have the applicant's complete set of documents when applying for a work permit.
For certain types of employers, a work permit has to be obtained first before the non-immigrant B visa. As a foreigner applying for a work visa, you need to have all the following educational and employment documents:
University diploma or any similar educational certificate
University transcript of records
Certificate of Employment and Clearance – from the applicant's previous employer clearing the applicant of any liability and/or showing proof of previous employment records; work permit application might require certificates from previous employers, depending on the applicant's work history
A CV outlining a clear timeline of the applicant's employment history
When you're looking for work in Thailand and applying for a work permit you must have these documents to satisfy all bases. I covered this and more in this in-depth guide for finding a job in Thailand.
If you're unable to extend your single entry 90-day non-immigrant visa to 1 year, you can apply for a 7-day extension at the immigration office for a short-term fix. But once the initial 90-day period has expired, you will have to apply for a new visa from a Thai embassy.
However, if you have a multiple-entry non-immigrant visa and you tried to extend it within the first 90-day period/stamp and failed, you can exit and re-enter, and try to extend it within the second 90-day period.
The Non-Immigrant Visa B is also for those who set up a company in Thailand.
Find out more: An Expat's Guide to Business and Work Visas in Thailand
Non-Immigrant Visa B-A (Business Approved)
The Office of the Immigration Bureau in Bangkok grants this visa to qualified applicants who will invest in or enter into a business partnership with a Thai-based company.
The company involved has to apply on the foreigner's behalf from the Office of the Immigration Bureau. Upon the Immigration's initial approval, the bureau informs the concerned Royal Thai Embassy or Royal Consulate-General via the Ministry of Foreign Affairs to grant the applicant the B-A visa.
The applicant will be given a 1 year visa right away, as are applicants who have successfully applied for non-immigrant visas B-A, O-A, and ED-A.
This visa, however, is not commonly issued by Thai embassies or consulates (Thai consulates in Australia, eg, The Royal Thai Embassy in Canberra are one of the few embassies/consulates to issue this visa); applicants commonly opt for a Non-Immigrant B Visa.
Non-Immigrant Visa O for the purpose of doing Voluntary Services
This visa may be loosely referred to as a Volunteer Visa, which is for applicants rendering voluntary services in Thailand. This may include volunteer work for charities, foundations, or schools.
Not all non-government organizations (NGOs) and social welfare and development organizations issue work permits, which is a requirement for this visa. For required documents, fees, validity period, and embassies where you can apply, go to this MFA page.
Non-Immigrant Visa M (Media Visa)
If you work in media, covering print, online, and television, apply for a single-entry Media Visa. Commonly referred to as journalism visa, it covers news reporters, film producers, and media correspondents of foreign news working for printed newspapers and magazines, TV, radio, or online agencies.
Some common concerns regarding the media visa:
It applies only to those who are working for foreign news agencies. If you are a journalist working for a Thailand-based media company, a Non-Immigrant Visa B is the recommended visa.
Applications and accreditation for a one-year Media Visa can be done online via the MFA Media Online Service website.
Journalists who are working on short-term assignments should apply for a Non-Immigrant B visa, as well.
Requirements covering both long-term and short-term media assignments in Thailand, including frequently asked questions on accreditation, obtaining a press card and work permit, changing visa types from Tourist to Media–which can't be done, visa for freelance journalists, visa renewal, obtaining a visa for media worker's spouse or family, and other concerns, can be found in the Ministry of Foreign Affairs' online guide.
If that's not enough guidance, this updated guideline on successfully obtaining a media visa might help.
Working Visa for Freelancers
Working in Thailand as a digital nomad on a tourist visa status puts you in a precarious situation with the Thai Government. Freelancers whose only requirements to work are a laptop, an internet connection, and ratty shirts legitimize their status by making deals with companies who offer work permits for a fee.
This process falls in a gray areas; it's not government-endorsed but it also isn't illegal. Nevertheless, it's possible to get a working visa as a freelancer in Thailand for your line of work.
Our ExpatDen Thailand Community facebook group hosted a live question-and-answer session called "Ask Me Anything" and recently held one on visas and work permits. In the session, a visa lawyer, Pongkarn Khunphasee, who works at Banchee Legal House, offered expert advice on moving from a BOI employer to a non-BOI employer, setting up a foundation, and a few freelancer visa questions.
According to Khun Pongkarn, it's possible for freelancers to get a work permit on a case-by-case basis. The successful application of a freelancer work permit is upon the discretion of the Labor Department officer and depends on the type of work.
To apply for a work permit as a freelancer, you have to submit all relevant documents about your freelance work, including all applicable licenses, type of services, and any other documents pertaining to your practice.
The officer at the Work Permit Division at the Labor Department will review and decide your fate. Renewal is subject to approval and the applicant's practice will be subject to withholding tax.
However, it's a real challenge to get a work permit through this procedure. Alternatively, you can consider becoming an employee under a BOI promoted company.
Getting hired by a BOI promoted company is legal. And the requirements are less stringent than starting your own business. Check out the relocation service to explore this option.
If you don't need a work permit, you can check out the Elite Visa. It's now becoming a popular option among digital nomads while giving you a 5-to-20-year visa in Thailand 
Related article: The Complete Overview of Digital Nomad Visa in Thailand
Education
If you want to come to Thailand to study, getting an education visa, or a non-immigrant visa ED, will let you do so. But where and what you want to study must be approved by Thailand's Ministry of Education or the Thai Embassy at which you're applying.
For a more detailed look at what you can study in Thailand, and the visa requirements and process, read our in-depth guide to education visas.
Marriage
A foreigner married to a Thai spouse is eligible for a 1-Year Extension of Stay based on Marriage, commonly referred to as a Marriage Visa. Prior to obtaining this visa, you must have a Non-Immigrant Visa O based on marriage/for the purpose of accompanying a family member.
This must be obtained from your home country, and once you're in Thailand, you will then apply for an extension of stay based on marriage to a Thai national, which will be valid for 1 year.
Check out our step-by-step guide on Thai Marriage Visas for more information.
Retirement
Non-Immigrant Visa O-A (Long-term Stay)
Looking to retire in Thailand?, this is a visa for you. Also called a Retirement Visa, the Non-Immigrant O-A-Long-term Visa lets you stay in Thailand for 1 year and can be renewed every year with the same requirements.
You can apply for a retirement visa if you are 50 years old and above, have no criminal record in your country of residence and in Thailand, have no prohibitive disease, and have the following financial requirements:
Copies of bank statements showing a deposit of the amount equal to and not less than 800,000 baht in a Thai bank account
Notarized bank statement copies that show income of not less than 65,000 baht, plus an affidavit from the foreign embassy or consulate as proof of income
A combination of a deposit account and a monthly income in totaling at least 800,000 baht
Health insurance with 40,000 baht OPD coverage and 400,000 baht IPD coverage
In some cases, additional documents such as an updated passbook, a bank letter confirming your funds were deposited from a foreign source not less than 2 months from the date of application, health certificate, and police clearance may be required.
Retirement visa holders are prohibited from engaging in any type of work.
The retirement visa can be single- or multiple-entry, costs US 200 dollars, and can be applied for in your home country or in Thailand. Retirement visa holders are also required to do 90-day reporting at the nearest immigration office in the area of residence and/or nearby police station.
For details on eligibility, requirements, application, and fees, read our Thailand retirement visa guide. Please note that requirements for each nationality can be different. If you have difficulty getting the retirement visa, it's better to ask a visa lawyer for help.
1-Year Stay and Extension Based on Retirement
You can apply for a 1-year stay and extension based on retirement in two ways:
Applying for a Non-Immigrant O-A Visa – This visa grants you a 1-year stay straightaway, but it should be applied for in your home country. It's best to check if the Thai embassy in your home country issues this visa as not all Thai embassies or consulates grant a 1-year O-A visa.
Applying for an initial Non-Immigrant O Visa and extension – The initial non-immigrant O visa is valid only for 90 days and should be obtained in your home country, but the application for the 1-year extension can be done in Thailand, which should be done within the last 30 days of your 90-day stay. Suppose you have a non-immigrant O visa granted on January 1 valid until March 30. In this scenario, you can apply for a retirement visa anywhere from March 1-30. If you choose this option, you are required to present proof of address.
Multiple Entry O-A Visa
A Multiple Entry O-A Visa allows you to make multiple entries and exits in Thailand, and for every entry, you're granted one calendar year to stay. If you enter before the visa's expiry date or the ENTER BEFORE date, you will be granted one extra year. Don't forget to apply for a re-entry permit, which is required only if the ENTER BEFORE date on your visa has lapsed and what remains is the ADMITTED UNTIL date which is valid for 1 year from date of arrival. With the ADMITTED UNTIL stamp, you can also get an extra 1 year. If you cannot leave and enter Thailand before the expiry date, you can extend it within Thailand for another year. It's important, however, that you apply for a re-entry permit on your second year because by then, your visa would have already expired, and once you exit the country, you forfeit the validity of your stay as indicated in the ADMITTED UNTIL stamp.
More info on re-entry permits below.
This extra 1 year is not to be confused with, and should not be referred to as, an extension because a visa extension means a conversion of the Non-immigrant O single-entry visa, which is valid for 90 days, to a 1-year retirement visa, done at the immigration office.
You can apply as early as 45 days before the expiry of that extra 1 year stamp inside Thailand to extend your stay for 1 year. Your other option is to apply for another O-A visa from your home country.
10-year Thai Retirement Visa
The Thai Government recently introduced a 10-year retirement visa to 14 nationalities including Japan, Australia, Denmark, Finland, France, Germany, Italy, the Netherlands, Norway, Sweden, Switzerland, the United Kingdom of Great Britain and Northern Ireland, Canada and the United States of America. The 10-year visa requires similar qualifications.
Although it allows a visa holder to stay in Thailand for 10 years, you need to renew it every 5 years. Ninety-day reporting is still mandatory. Should it get implemented, it won't be replacing the 1-year retirement visa and would most likely require applications to be made from a foreigner's home country. Also, only citizens of 14 countries will be qualified to apply.
Financial requirements are higher at 100,000 baht monthly income or a minimum of 3 million baht deposited in a Thai bank account, which must remain in the account for at least 12 months.
Thailand Elite Visa Program (Privilege Entry Visa)
The Thailand Elite Visa Program, or Privilege Entry Visa, is a government-run visa program that caters to affluent foreigners who wish to stay long-term in Thailand and avoid visa runs and extensions.
Depending on the membership package, qualified foreigners can stay in Thailand for five to 20 years.
The Privilege Entry Visa is a multiple-entry visa granted to qualified Thailand Elite Visa Program members. With a Privilege Entry Visa, you can get:
one-year extension of stays
priority treatment at Thailand airport immigration counters
prestigious golf club memberships
first-class accommodations
healthcare benefits
airport services
and more
To find out more or apply for the Privilege Entry Visa, please read our in-depth review of the Thailand Elite visa.
Other Purposes
Non-Immigrant Visa O
Other popular name: Spouse/Spousal Visa. This is for applicants who are accompanying a spouse or family members working, studying, or living in Thailand. The visa is granted with an initial 90 days, and can be extended at the Office of the Immigration Bureau in Thailand for up to 1 year.
Holders of this visa are allowed to work in Thailand as long as their employer is able to secure a work permit for them, which is actually one of the requirements for a spousal visa application. For requirements, fees, validity period, and embassy where you can apply, go to this official MFA page.
If you have a Thai spouse or Thai family member in Thailand, Non-Immigrant Visa O is also the visa for you. For the list of documents, fees, validity period, go to this official MFA page.
Applicants can also apply for a Non-Immigrant Visa O for purposes other than what's stated above, including staying after retirement, staying with a family member who holds an appropriate visa, performing duties for a state enterprise or social welfare organizations, receiving medical treatment, acting as a Thai Government-required sports coach, or visiting as a contestant or witness for judicial procedures.
Non-Immigrant Visa F (Official Duty Visa/Courtesy Visa)
This is for those who have to perform official duties in Thailand, including as an officer on a diplomatic mission, Laissez Passer Passport holders and their families who will perform official duties in Thailand, ordinary passport holders who have received an invitation from the Royal Thai Government to attend a meeting, and ordinary passport holders that are recipients of a Thailand International Development Cooperation Agency scholarship.
For this visa, it's best to check with the Royal Thai Embassy website based in your country as requirements vary for different nationalities. The Laissez Passer Passport is issued by a national government or an official international treaty organization such as the United Nations.
Non-Immigrant Visa R (Religious Visa)
This visa type is for ministers, priests, or missionaries who want to enter Thailand to perform missionary or religious work that is recognized by Thai Ministries or Government Departments. This visa is valid for 3 months but can be extended to 1 year.
Check the MFA website for requirements and other info or Karl Dahlfred's guide to visa options for missionaries.
Non-Immigrant Visa RS (Scientific Research)
The Scientific Research Visa is for those who are conducting scientific research or training or teaching in a research institute. Check the MFA website for requirements and other info.
The Royal Thai Embassy, Helsinki website is also a good source of information although for a highly specialized visa such as this, it's best to check with the Royal Thai Embassy in your own country.
Non-Immigrant Visa EX (Expert)
For short-term visit to Thailand for the purposes of doing skilled work, or to work as an expert or a specialist. Refer to the Thai Ministry of Foreign Affairs website for requirements and application procedure.
Diplomatic Visa
A Thai Diplomatic Visa may be granted and be valid for 3 or 6 months or longer, depending on the terms of the eligible passport-holder's diplomatic mission or consulate or international organization. The diplomatic visa holder's family may also be granted the same validity. Diplomatic and official visas are granted at no cost.
Business and Investment
Investment Visa
Not too keen on doing visa runs? If you've got a cool 10 million baht that you're willing to invest in Thailand, you can solve that problem.
Investing in a legally-defined condominium unit, a fixed deposit account at a Thai-majority owned bank, or in Thai government or Thai state enterprise bond amounting to no less than 10 million baht makes you eligible for an Investment Visa.
You can spread out your investments in several baskets if you renew your qualifying investment every year.
This is an excellent choice for the more well-off expats because eligible visa holder's family members can also apply for a Non-Immigrant Visa.
And, unlike the retirement visa, you don't need to be 50 or older to apply or show monthly proof of income.
For an official and complete set of requirements and other info, visit the Immigration Bureau website.
Investing 10 million baht requires some careful thought. If you're interested in getting an investment visa you have to think about which condo to invest in or which banks to make a fixed deposit in.
For this and other concerns, it's best to get legal advice.
Extensions
Anyone who is inclined to stay in Thailand beyond 30 days would, more or less, know how to extend a visa, but is often unsure of certain details. Here are some of the frequently asked questions:
Can a visa exempt stamp or tourist visa that was already extended for 30 days be extended for a further 30 days (60-day tourist visa + 30 days extension + 30-day extension)?
No. But in case of an emergency you may be granted a 7-day extension for 1,900 baht.
Once my 30-day extension has expired can I fly out and fly in and not get into trouble at Immigration?
It depends on the number of exit-reentries you've made.
Can I apply for a back-to-back tourist visa after my tourist visa's 30-day extension?
You may get away with it, provided you apply in different embassies. Certain embassies may allow 2 consecutive applications. But, again, this is not set in stone.
Have more questions?
You can find variations of these questions and concerns in our Thailand expat community. Knowing what others have experienced can be comforting, but remember that your passport and your travel records are different from others, and you'll most certainly be dealing with officers of varying temperaments.
The general consensus is that only those who make questionable exits and entries–for example, applying for back-to-back tourist tourist visas or doing frequent visa runs–are the ones most likely to be interrogated.
90-Day Reporting for Long-term Visas
Long-term Thai visa holders – such as non-immigrant visas, retirement visa – are required to report their current address to the Immigration Bureau every 90 days, without exception. It can be done by the passport holder and, under certain circumstances, by an authorized representative.
It can be done 15 days before the due date or your 90th day in the country after your last entry, or 7 days after notification due date, but only in person. There's a 2,000 baht fine for those who fail to do it within that given window.
The Thai Embassy website provides the details on procedure, requirements (the most critical ones being your passport and the TM. 6 form), and how to do it by mail. You can report by mail 15 days before the notification's due date.
90-day online reporting is another option, but the online portal that processes this only works on an Internet Explorer browser. Here are some locations where you can do your 90-day reporting:
Main Immigration office – Building B, Government Complex,Chaeng Watthana Road, Bangkok
Imperial World Mall at Big C Lad Prao Soi 83, 5th floor
Big C Ratburana Road across the river in Thonburi
Cancellations
Something I've experienced several times is cancelling a Non-immigrant B Visa.
When I changed jobs, I explored the possibility of keeping my current Non-Immigrant B Visa and work permit, with non-encouraging results.
When an employer cancels your work permit, they also have to cancel your visa, per Thai Labor laws.
Workarounds are possible. A legitimate way to do this is to ask your former employer to extend your work permit's cancellation. This happens more often than you think. This is a temporary fix though.
Previously, holders of a Non-immigrant Visa B managed to keep their visa up until the expiry date even after the work permit was canceled.
This was because Thai Immigration and the Labor Department function separately. The legality of this workaround is questionable and is best avoided.
You can read more about work permits in our in-depth guide, but in relation to keeping a visa the general rule is:
Terminated Employment = Cancelled Visa + Cancelled Work Permit
Cancelling your work permit and keeping the visa results in a 500 baht fine per day fine from when your work permit is cancelled. But the fine could be as high as 20,000 baht.
Overstaying
A word on overstaying in Thailand: don't do it.
Other than paying the 500 – 20,000 baht-fine, overstaying for one day carries no severe consequences, especially if you're flying out. But if you do get checked by the police on the streets or elsewhere, you will be arrested and fined. Based on reports, there is an ongoing crackdown on overstaying, which led to the arrest of overstayers found in entertainment complexes, hotels, condos, and other places.
You can be banned for 10 years for overstaying.
For foreigners with children, note that children below 15 years old do need a visa. In case they don't, they will not be persecuted in case of overstay. Children ages 15-18 with no proper visa will be charged for overstaying but won't be blacklisted. Any foreigner 18 years and older will be charged for overstaying and will be blacklisted.
Overstaying for one day is often seen as a victim-less crime, but it is a violation of Thai Immigration laws. If you're thinking of overstaying, some people who've got away with it in the past may advise you to overstay and pay the fee. They may say overstaying is not a big deal. But remember: overstaying is a violation, which could result in imprisonment, years-long ban, or deportation.
Land Border Crossing
If you rely on visa-exempt entries and/or apply for tourist visas several times, then extend it for 30 days to prolong your stay in Thailand, although not illegal, then you will alert the Thai Immigration Office. If you're staying long-term in Thailand without a visa, here's a safe assumption to make: Thai Immigration officers are aware of border bounce because it's not a recent trend.
Thai Immigration has cracked down on visa runs and multiple or back-to-back entries in the country, and in December 2016, they implemented a change in border entry policy, limiting the number of land border entries to two per calendar year. However, this doesn't apply to visitors from countries with a bilateral agreement with Thailand. In the past, border runs were made an unlimited number of times. But this recent change could mean stricter measures with border bounces.
Visa Runs
A visa run or a border bounce basically means doing a land border exit from Thailand and re-entering under a new stamp in order to renew one's validity of stay. This entails exiting to any of Thailand's neighboring countries. Others opt to go by air and that's a fairly legitimate way to do it, too.
Border bounce and visa runs are often interchanged, but a visa run is more appropriately referred to as the process of exiting the country to apply for a proper visa, which is done either by land or by air.
Doing a border bounce is perceived as illegal in some quarters because, as I've mentioned above, it has become prone to abuse. However, determining its legitimacy is a pretty loaded discussion since, on the one hand, it is prone to abuse. On the other hand, people who do it are not exactly violating Thai Immigration laws.
And border bounces are often necessary procedures for those who are about to apply for a legitimate visa and are merely extending their stay's validity.
Visa Services
Although using visa services won't guarantee you a visa, it increases your chances of getting a visa and significantly decrease all the hassle involved.
In general, visa services can prepare your paperwork and get you a queue number. This way you won't have to wait the entire day at the embassy or immigration office.
If it's a visa run service, they will arrange transportation and even accommodation to Thai embassies nearby Thailand, with Cambodia being the most popular destination.
You can check our exclusive content to find out more on recommended visa service providers.
Useful Sources of Thai Visa Info
While you can rely on networking and friendly advice from the kindred souls at Bangkok Expats Group on Facebook, some situations call for professional help.
To get visa-related answers that you can rely on, get help from a law firm that specializes in visa-related matters could be more accurate than a comment you've read on Facebook.
ThaiEmbassy.com provides guidelines on Thai Visas. And although the Thailand Ministry of Foreign Affairs seems like a good source of info, it's outdated and doesn't have country-specific information.
Thai Embassy Websites
The Thai Embassy website has a directory of the Royal Thai Embassy Consulates, Royal Thai Consulate-General, Permanent Mission websites, as well as Thailand Economic and Trade Office. As requirements, application procedures, and operating hours are different for each Royal Thai Embassy, check the country's Thai Embassy website where you'll be applying for a visa for details.
Note, however, that the Thailand Ministry of Foreign Affairs website is rarely updated and it's not uncommon to find the info from their website in conflict with those found in various consulates' sites.
For example, when applying for a tourist visa in Penang, it's best to read up on that embassy's website. There are differences in each Thai embassy's requirements, procedures, and temperament. And that can affect the outcome of your application.
Thai Expat Communities
Extending a visa at Chaeng Wattana in Bangkok is a straightforward process, but application procedures, fees, and rules change frequently. In case you need some visa advice on extraordinary scenarios, Our Expat community for Thailand can give you firsthand accounts of other expats' experiences.
Thai Visa Forums
Thai Visa Forums such as Thailand Visa Advice are reliable because people who've been living in Thailand post their experiences when applying for the visas mentioned in this article. Discussions are based on what has worked for many expats and foreigners, and participants usually provide reliable news and updates, too.
Facebook Groups
Post questions, read visa application experiences on the Thailand Expats Group, and even if you don't get the answers you need, you'll at least have a good idea of what usually happens in consulates, embassies, and airport immigration. Keep in mind, though, there will be conflicting information.
You can expect a few helpful, knowledgeable members to answer some of your queries, but be cautious of trolls, too. For visa-related queries, the Bangkok Expats group has an active discussion on visa matters, and is a great forum to meet fellow foreigners with similar visa issues.
Reddit Thailand
The Thailand thread in Reddit is a good place to get firsthand account of visa-related matters and encounters with Thai Immigration officers. Aside from Thai Visa info, comments on this VISA-Mega Reddit Thread can illuminate a few points on the frequently asked Thai Visa questions on Non-immigrant B Visas, getting a work permit with a Non-immigrant O Visa, and provide firsthand experiences of the METV application process in Australia.
Now, on to You
When I applied for a tourist visa and a working visa (Non-immigrant Visa B), my experiences were different in Vientiane, Laos than they were in Penang and Kuala Lumpur, Malaysia.
Aside from arranging transportation and accommodations for your visa application, visa service agencies provide guidance on the application process. However, these trips can get chaotic, as you are applying with a large group of visa applicants. This is why applying for a visa in Vientiane is a crowded affair. But based off my experience, applying for a visa in Penang or Kuala Lumpur can be easier.
When you apply for a non-immigrant B visa, you will notice the differences in requirements, especially if you're employed by different types of employers. If you're applying for a non-immigrant B visa under a BOI-registered or multinational company, the application process can be smoother. The likelihood of being asked for a surprise requirement is rare. If you're applying for a visa under smaller companies, it pays to double check the requirements of the embassy where you're applying.
As detailed as this guide is, I have to reiterate that rules frequently change. Policy tweaks are not uncommon and you can expect more of these changes the longer you stay in Thailand.
In writing this guide, I linked to the most up-to-date sources – official embassies and Thai Visa guides – for visa application matters. I sought the knowledge and insight of visa service providers and fellow expats, both Asian and Western, who've been living in Thailand for years, and who've gone through an assortment of visa application processes, changes, and crackdowns.
Do you have a visa application story you feel is worth covering in this guide? If you feel like this guide missed vital information in the visa application process and experience, sound off in the comment section below.