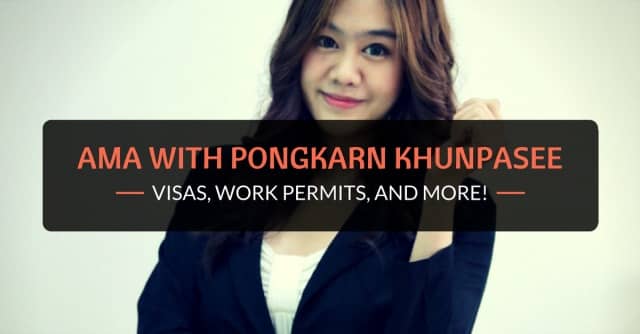 If you missed our Thailand Starter Kit Facebook Community group's inaugural 2018 AMA—or Ask Me Anything—no worries. We have you covered.
After each of our AMAs, we're going to recap the questions and answers and post them on our website.
If you'd like to join the next AMA, there are a few ways to get in so you don't miss your chance to ask our special guests the questions you've always wanted to know.
The first way is to head over to Thailand Starter Kit Community group on Facebook and request to join.
The second way is to sign up to our email list.
Whichever method you choose, we'll inform you about our AMAs a week in advance.
In our first AMA of 2018, Thai immigration lawyer Pongkarn Khunpasee joined us for an open discussion on visas, work permits, and more.
But before we recap the Q&A, here's a little background info on Pongkarn Khunpasee.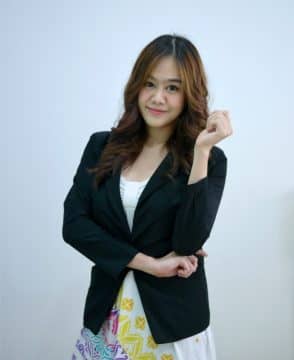 ​​Pongkarn Khunpasee
Thai Immigration Lawyer
​Pongkarn Khunphasee (Aom) runs the law firm Banshee Legal that specializes in the fields of immigration, corporate and real estate.
Before launching her own firm, she built up extensive experience working in international law firms, including Juslaws, Ployprathip International Law Office, and Anglo Thai Legal.
She also acted as a legal consultant at the Miracle Hua Hin.
Khun Pongkarn is able to assist with a wide range of legal issues from from visa and work permit matters to drafting, reviewing, and translating legal agreements and contracts.
She is able to provide legal advice and handle a wide range of small business services, including company incorporation.
In the past Khun Pongkarn has assisted readers of Thailand Starter Kit in open Q&A sessions and has helped site readers with real estate transactions, inheritance disputes, visa inquiries and work permit issues.
Now that you're familiar our guest for this AMA, let's jump into the questions.
​Travel Visa for Thai Girlfriend
TSK Community Member: Our first question came from a Thailand Starter Kit Community group member​ who has been finding it difficult to get his Thai girlfriend a visa so that he could introduce her to his family in the USA. He wanted to know, after all his troubles, if getting a K1 visa would help.​
Pongkarn: Thank you for your question, however, unfortunately I am focusing on the Thai law and Thai regulation related to the Thai Embassy, I am not familiar with the regulation of USA Consular as it will depend on the discretionary of the Officer at the US Embassy in Thailand at a time of interviewing.
However, as far as I concerned, I understand that you have not married to your Thai Girlfriend, it is difficult for Thai woman who has not married to US national and requires to go to USA only for travel.
I understand that according to the US regulation, they need to make sure that she has legal relationship with the US national OR has a business/education reason to go there.
Moreover, if you keep applied for the Visa continually without the gap time for approximately 6-12 months then they will consider as it is suspicious that why Thai woman really wants to go to US.
I understand that the real reason is only to bring her to meet your family. However, it may be better if you take a gap period before applying the Visa next time.
​Dual Citizenship for Thais
TSK Community Member: ​What is the reality for dual citizenship for Thais? Can a Thai female that is married to a US male carry both US and Thai passports?​
Pongkarn: In Thailand, there is no direct provision stating that Thai Woman who marry to the foreigner shall relinquish Thai National.
There is only a provision Section 13 of the National Act, stating that Thai woman who wants to relinquish Thai national is able to submit her intention to the Authorized officer.
Therefore, in this case, if the Thai woman does not declare her intention to relinquish her Thai national and does not commit any wrongful act causing her to lose her Thai national then in technical she is able to hold dual citizenship.
​Long-Term Thai Visas
TSK Community Member: ​I am married to a Thai female and we currently live in the US. If we were to live in Thailand for a while, is it better to get a retirement visa, or a marriage visa?
​Pongkarn: If you are over 50 years old then it is also possible to obtain the Non-Retirement Visa.
When you are legally married to a Thai woman then it is possible to get the Non-O(Spouse) Visa.
However, there is a financial requirement which is deposit of THB 400,000 in a Thai Bank Account in Thailand before apply for a Visa at least 2 months with a certificate letter from the Bank OR combination of bank account OR having monthly income for at least THB 40,000 with a certificate letter from the US embassy to verify the income.
Same with the Non-Retirement, there is a financial requirement.The applicant shall submit one of the following financial requirements;
Deposit money in Thai Bank account for THB 800,000 2 months before submitting the application.
​Obtaining the monthly income/pension for at least THB 65,000. In this case, the certificate letter from the foreign embassy/consulate is required.
Thai bank accounts combining in Thailand with a yearly income total of THB 800,000.
​​Read more about retirement visas or marriage visas.
​Work Permits and Education Visas
TSK Community Member:​ A series of questions about work permits and education visas.
Is it legal to obtain a WP whilst on an ED visa?
Is it possible to convert an ED visa into a Non-Imm B visa within Thailand?
How long may the holder of an ED visa legally remain in Thailand once their course has commenced?
Pongkarn: Thank you for your questions and I will give you the answers as follows;
No, it is not legal. In order to obtain Work Permit, you shall obtain Non-B Visa OR Non-O (Spouse), Non-M (Media) only. Non-ED Visa is only for education and cannot use this type of visa to obtain Work Permit.
It's possible to change the type of Visa in Thailand. However, the remaining period of time shall be approximately 15-20 days before the expiration. Also, the required documents will be asked more which depends on the discretionary of the officer.
Normally, Non-ED Visa can be initially valid for 90 days at the first time of apply outside Thailand then it can extend to 1 year in Thailand and also can be renewed which will depends on the Course of the School.
However, please note that nowadays, if you apply for the Thai Language School, then there will be the examination during the year (6 Months) to estimate your skill and if you fail to pass it then it will effect to your Visa that they will not further extend the Visa.
This rule comes when there are lots of foreigner who comes into Thailand under Non-ED just only to apply in Thai Language School without attending the class and live/work illegally in Thailand.
​​Read more about education visas​.
​Work Permit Cancellations
TSK Community Member: ​A series of questions on work permit cancellations. She wanted to know:
Can my current employer cancel my work permit and/or visa once I leave my job?
If so, does Thai law require that I be notified of this cancellation? As I understand it, it is difficult for charities in Thailand to get work permits for foreign staff and the number of work permits is dependent on a charity's size.
Assuming my current employer can and will cancel my work permit and visa, do you have any recommendations for how I might obtain a work permit/visa so I might work for a small not-yet-registered charity?
Pongkarn: Thank you for your questions, I will answer as follows;
Yes, the employer is able to cancel your Work Permit and Visa, it will automatically affect to the Visa (Non-B) causing you to leave Thailand within 24 hours.
This is the action of the Employer. Please be noted that this is not the compulsory regulation that the Employer must do it. Therefore, normally, the employer will not notify this cancellation to the Immigration / Labor Department and will let both WP and Visa expires as stated in the documents. However, it also depends on each employer and how discussion goes by between the Employer and the employee. It's the right of the Employer to cancel the WP and Visa but it is not compulsory action that the employer MUST do it.
I would say that you are able to negotiate with the employer about this matter as it is not a compulsory that the employer shall cancel the WP and Visa. Giving time for you to find a new job during the validity of WP and Visa.
However, if the employer cancel it then as mentioned in Clause 1, it is automatically affect that you shall leave Thailand and get another 90 days Non-B Visa for the new employer to come into Thailand again.
​​Read more about employment visas.
​The Ten-Year Visa
TSK Community Member: And lastly, Andy Zingo was curious about the ten-year Thai visa. He wanted to know if the visa actually existed.
Pongkarn: Just like Tod said, it's called 10 Year Non-Immigrant Visa (O-X). All requirement for obtaining this type of Visa will be stated in the Thai Embassy (Consular Section) website in each country.
Most of them are the same but some may state specific requirement depends on each country.
​​Read more about the 10-year Thai visa.
​What Next?
That wraps up our AMA with Thai immigration lawyer Pongkarn Khunpasee. We want to thank everyone who joined us and submitted questions and answers.
​What to Do ​Now
If you'd like to hire Pongkarn Khunpasee for your Thai immigration needs, head over to her contact page and send her a message​.