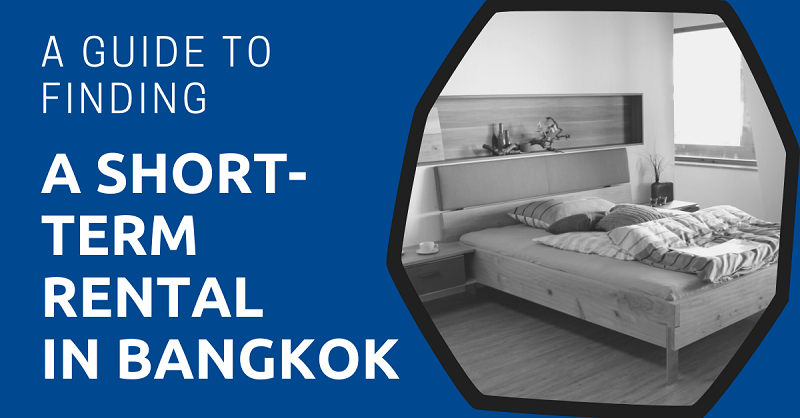 If there's one thing Bangkok has plenty of, it's accommodation.
The city has been going through something of a housing boom in recent years. It can seem as if a brand new mega condominium project is being built somewhere in the city, on a daily basis.
And with tourism playing such a major role in the Thai economy, there are no shortage of hotels, either.
With all these options available, you'd think finding a place to stay in the city for a short term would be a piece of cake.
But it can be surprisingly difficult. Most property rental sites only advertise leases on a six-month — and much more often, twelve-month — basis.
With so much competition out there, it can be difficult for landlords to find a tenant. And once they do, they'll want them locked-in long enough to see a decent return on their investment.
However, rest assured that if you do need a short-term rental in Bangkok, there are many options out there for you.
In this article, we'll look at some of the benefits of renting short-term in Bangkok, as well as some of the issues you may encounter. We'll also run through some of the short-term rental properties that are out there, and how you can find one that suits you.
Why Rent Short-Term?
Bangkok has plenty to offer in terms of accommodation, from basic cheap-and-cheerful B&Bs to luxury 5-star hotels and villas. You're pretty well-covered if you're staying in the city for a quick weekend break or settling in for a year.
But sometimes, neither of those is a good option. Maybe you're only working for a few months in the city before moving on elsewhere, or maybe you're travelling for a month or so and would like a base-of-operations in the city.
This is where short-term rentals come in.
A short-term rental is a property, normally an apartment, you rent for a month or two at a time, often with the option to renew for another month at the end or simply check out and carry on with your travels, rather than being locked-in to a year-long contract as you might with a more traditional property.
Short-term Rental vs Hotel
There are a number of benefits to staying in a short-term rental rather than just paying day-by-day at a hotel.
Here are some of those benefits:
They're Cheaper
Staying in a standard tourist-oriented hotel can be good value-for-money over the course of a few days, but prohibitively expensive when stretched out over a month.
There's More Space
While hotels offer advantages such as access to common facilities and daily room-cleaning, they rarely provide more living space than a condominium would unless you're willing to pay through the nose for it.
Renting an apartment, or even a house, short-term provides you with significantly more space for less. 
They Provide More Privacy
Renting your own home or a condo gives you more privacy than in a hotel where you're just another guest whose laundry the maids rifle through. If you're willing to spend a little more cash, it's even possible to find short-term rentals with private pools or gym facilities.
What To Consider
One big issue with finding short-term rentals is the typically complex set of laws surrounding rental accommodation in Thailand.
Essentially, any landowner who wishes to rent out their space for less than 30 days must register their property as a hotel. As there are very few condos in Thailand that are also registered as hotels, this basically makes flat-sharing apps like Airbnb technically illegal here.
There were a string of prosecutions of condo owners shortly after the act came into force back in 2018, and almost every condo in the city installed sinister-looking warning signs in the lobby declaring themselves 'not a hotel', demanding that any misled holiday-makers report their presence to the juristic office immediately.
However, since then, enforcement has been fairly lax. And with Airbnb still apparently operational in Thailand as of 2023, it seems to be soldiering on in a kind of semi-legal limbo.
The upshot of all this is that your short-term rental options in Bangkok are a little more limited than they might be in other countries. However, there are still options out there. Here are a few of them:
Recommended Options
Let's take a look at your options for short-term rental.
Airbnb
Airbnb is a good first port-of-call for short-term rentals. There are many options available, from hotels to penthouses with different price range and area throughout Bangkok.
The only thing you should aware is that a minimum rental duration should be at least 30 days. Otherwise, as stated above, the properties advertised may not necessarily be legal.
If, for whatever reason, the law catches you staying in one of these 'illegal' properties, you won't be punished — the punishment will land entirely on the landowner.
However, it could put a big downer on your trip to be forced out of your rental, and you're unlikely to get the money back, so it's up to you if you want to take the risk.
Pros: Broad range of options
Cons: A minimum rental duration should be at least 30 days
Online
There are a few websites advertising short-term rentals in Bangkok, including Renthub and RentBangkokCondos.
Another option is to try checking the more traditional hotel sites such as Agoda Homes or even Booking.com. You'll be given plenty of options, and unlike apartment rental sites like Hipflat, all the fiddly legal stuff such as rental agreements and security deposits will be taken care of.
However, expect to pay more per month for short-term rentals found on these sites than you would with a standard 12-month contract.
Pros: Broad range of options
Cons: Listings can be misleading
Serviced Apartments
Serviced apartments are a popular form of accommodation in Bangkok, and you can find them in just about every corner of the city.
Existing somewhere between a hotel and a traditional apartment, serviced apartments in Bangkok differ from condominiums in that each unit in a building is owned by one entity to whom you pay rent, rather than each unit being owned privately.
Serviced apartments vary wildly in quality, from basic one-bedroom rooms in spartan buildings to luxury resort-style complexes with swimming pools and restaurants attached.
As you're renting directly from the building and, therefore, cutting out the middle-man, serviced apartments tend to be cheaper to rent. That said, utilities are frequently more expensive — sometimes significantly more, depending on how honest your building managers are.
These rooms are also usually fully-furnished. And because you're renting directly from the building manager, they take care of any maintenance the room requires rather than requiring you to seek a third-party contractor.
A good place online to seek out serviced apartments is 9apartment. In any case, serviced apartments are common enough that, like hotels, it's easy enough to simply pick out an area of Bangkok you want to live in and start wandering round.
Pros: Rents are often lower than condos; the privacy of your own space with the facilities of a hotel
Cons: Utilities can be expensive
Lease Takeovers
An increasingly common method for finding short-term rental homes or condominiums is to simply take over someone else's lease period.
As stated above, rental contracts tend to span a period of at least six — and more commonly, twelve — months, and with expats in Thailand notoriously transient, there are frequently people out there looking for a tenant to occupy their rental property for the rest of the contract's duration when they decide to move on.
On Facebook pages like Bangkok Expats or Bangkok Take Over My Lease, you can find plenty of ads from expats seeking new tenants. This can be a convenient method of finding a condo to rent short-term, which would normally be off-limits due to the contract length.
However, do be careful — lease takeovers are ultimately at the discretion of the landlord, and there are many landlords out there who are less-than-happy at the added paperwork this can generate.
Make sure that the previous tenant has cleared everything with the landlord beforehand, and also that they're up-to-date on bills for things like utilities. You don't want to be saddled with a huge electricity bill the second you move in.
Pros: Allows you to rent out properties, which would normally be off-limits (e.g., condos)
Cons: You're relying on the goodwill of strangers; make sure everything's in order before signing on the dotted — particularly with regards to the landlord
Flat Sharing
The low cost of accommodation in Bangkok means there are far fewer expats living in shared accommodation as you would find in most major Western cities. You'll find that the majority stay alone or with their partner/family. However, there are a number of benefits to sharing accommodation, particularly for those seeking short-term rentals.
Firstly, by pooling your rental money, you can land a much larger and more luxurious property than you would by — a villa with a private pool, say, or a spacious three-storey home in the Old City.
Secondly, you're much less tied-down to a long-term contract, as the landlord knows there are other tenants to fall back on. And lastly there's the social aspect — for many young expats moving to a new country, it can be difficult to meet people. Having roommates is a great way to make new friends quickly.
Sites like Erasmu or the Facebook page Roommates/Apartments for Rent Bangkok are a good place to start looking for shared accommodation. As always, do take basic precautions.
Pros: More social; access to much larger properties
Cons: Not such a good choice for introverts
Hotels
The crisis in the tourism industry over the last few years has forced many hotels to diversify their businesses beyond the traditional short-stay bed-and-breakfast model.
In some cases, this has included opening up their hotels for longer-staying guests, often on a discounted monthly basis.
Often, hotels that offer these services do so on a fairly casual monthly basis, meaning you don't need to feel as tied-down as you might be when renting a condo. And while prices may be a little higher at times, you also get to take advantage of all the benefits a hotel offers, including regular room-cleaning, laundry services, and so on.
If you're already in Bangkok and happen upon a hotel that takes your fancy, it may be worth inquiring if they offer monthly rentals, as this service is not always advertised.
Simply find a part of town you'd like to live in, bring up Google Maps and start asking round — you may be surprised at what you find out there.
Pros: All the benefits of staying in a hotel at a lower cost
Cons: Not quite as private as a condo or villa you rent for yourself
Now, on to You
While finding short-term rentals in Bangkok can be a little harder than finding a traditional long-term rental, there are nevertheless options out there for those who are willing to look, from flat-shares to serviced apartments and hotels.
There will, no doubt, be something out there to suit all circumstances and budgets. However, make sure you do your homework before settling on a place and be aware of any potential legal difficulties.