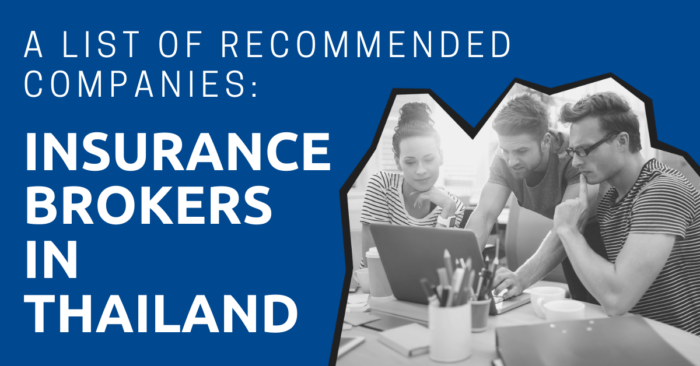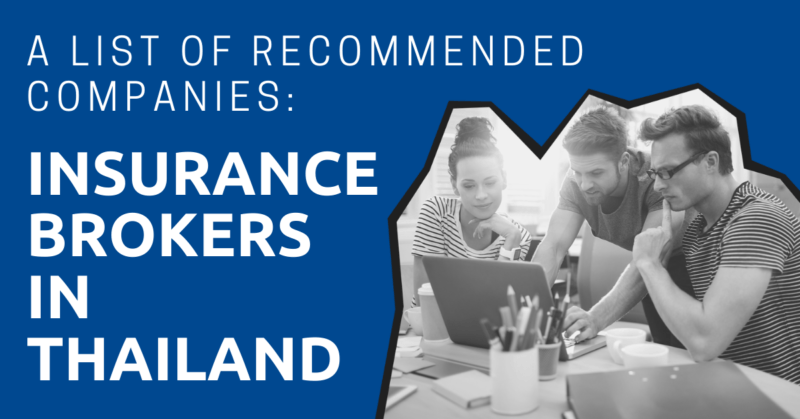 When it comes to buying insurance, you would want to get the right plan for your needs.
Insurance is a long-term commitment, and you definitely do not want to buy a plan only to find out later that you can't make a claim due to some reason you didn't know about before.
If you're not familiar with the insurance plans on offer (and the truth is that most of us don't), it may be challenging to find the right plan because of all those complicated insurance terms and a long list of policies.
This is why it's important to find the right people to talk to who can tell you which plan is best for your needs. In most cases, it comes down to insurance brokers and insurance representatives.
In this article, we are going to talk about how to find the insurance brokerage company in Thailand, including information on their products and services, their pros and cons, what you need to ask an insurance agent, where to find good brokers, and how you can tell that they are good.
"*" indicates required fields
What to Know About Insurance Brokerage Companies in Thailand
First, let's take a look at key information about insurance brokerage companies in Thailand.
Available Products
Insurance brokerage companies in Thailand offer various types of insurance policies offered by different insurance companies inside and outside of Thailand.
Some brokerage companies may offer only health insurance while others may offer all types of insurance that are available in Thailand.
There are two main insurance types in Thailand: Life insurance and non-life insurance.
It's possible for the brokerage company to provide both life and non-life insurance as long as they have a brokerage license for that insurance type.
Life Insurance
Life insurance is the only insurance that falls within the life insurance type.
Brokerage companies in Thailand do not have many life insurance options for expats. Many of them do not offer it at all since it's pretty difficult for expats to buy life insurance in Thailand. But it's still possible if you buy it from an international life insurance broker.
Non-Life Insurance
Every type of insurance that isn't life insurance is included in non-life insurance products, including health insurance, car insurance, property insurance, travel insurance, and so on.
Although there are many brokerage companies in Thailand that offer non-life insurance only, they may have different specializations.
For example, one brokerage company might only focus on health insurance while another may specialize in commercial insurance for business.
So know their specialization before contacting them.
It's also worth knowing that certain local brokerage companies may normally have only a few international health insurance plans available.
For example, Mister Prakan may only have a single offshore plan while International Citizen Insurance have all popular international plans.
So if you are looking for an offshore health insurance plan, it's best to contact an international brokerage company instead. In addition, some brokerage companies may not provide insurance plans offered by Thailand banks.
Do I Need to Pay an Insurance Broker?
You won't need to pay when using a broker. Instead, they make money in the form of commissions from insurance companies.
Brokerage companies get an average of 10% to 15% commission of your premium.
Brokerage License
All insurance brokers and brokerage companies in Thailand must obtain a brokerage license from the Office of Insurance Commission in Thailand or OIC.
There are two types of licenses available: life insurance and non-life insurance.
To get or renew an insurance license, the brokerage company must follow the OIC's rules and regulations.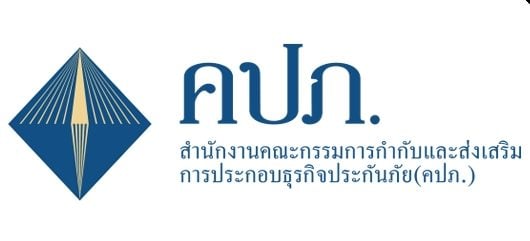 For example, they need to prepare and submit a specific type of financial statement and balance sheet, have a required amount of licensed brokers in the company, and pass written and interview examinations. 
What's noteworthy is that while expats cannot obtain a brokerage license in Thailand, they are still able to sell insurance.
The legal way to do so is that they must be working for some insurance brokerage companies and use the license from the brokerage company to sell insurance.
However, there are also some people who essentially just have their Thai spouse signed up as an insurance agent of various insurance companies.
Then, after they do the selling, they ask their Thai spouse to sign the documents to issue the insurance which, of course, isn't entirely legal.
Types of Brokerage Company
There are three main types of insurance companies in Thailand:
A local brokerage company owned by Thais
A local brokerage company owned by expats
An international brokerage company
Here are their main differences:
Local Brokerage Company Owned by Thais
A local brokerage company owned by Thais mainly provides local insurance plans. Many of them are established brokerage companies in Thailand before they've expanded their services to expats.
They have a good understanding of local plans but have limited options on offshore plans. These brokerage companies are known to employ Filipino staff to handle expat customers exclusively.
Mister Prakan is a good example of a brokerage company of this type.
Local Brokerage Company Owned by Expats
It's possible for expats to run their own brokerage companies in Thailand if they have legally registered a company in Thailand and fulfilled all requirements of the Office of Insurance Commission.
Since this type of company is owned by expats, you might be able to speak to a broker who comes from the same country and speaks the same language as you do. This type of brokerage company can offer both local and international plans.
International Brokerage Company
Some international brokerage companies may not have offices in Thailand, but you can still buy insurance from them.
What's good about international brokerage companies is that they have lots of offshore plans available. You can even keep using their services even after you've moved out of Thailand.
However, they don't provide any local plans at all.
So if you want to buy an offshore health insurance plan, get in touch with them.
International Citizen Insurance is a good example of a brokerage company of this type.
Should I Buy through a Broker or Directly from an Insurance Company?
Many people are wondering about who they should contact if they want to buy insurance: an insurance broker or an insurance representative.
The short answer is that you can buy insurance from either of them. Ultimately, you're getting the exact same policy at the same price.
In this section, we'll discuss the pros and cons of buying insurance from brokers.
Pros
Compare Plans from a Single Source
Insurance brokers offer a range of insurance products, including local and international plans.
That means you can get in touch with one agent and compare different plans from different insurance companies at once.
On the other hand, if you purchase insurance plans through an insurance representative, you would need to contact each representative from each company individually.
Another option for you to compare insurance plans is to visit the website of insurance brokers, including International Citizen Insurance, to compare different plans and policies on your own.
However, you shouldn't rely only on the information on their websites since the information available is typically limited to premiums, coverage amount, and basic coverage.
But when buying insurance, it's important to know other information that may not be shown on the website, including exclusions, waiting period, and cancellation conditions. 
Once you find a plan that you like, it's better to talk to a broker to ensure that the plan that you've chosen is most suitable to you.
Additional Support
When you purchase insurance from a broker, you get additional support.
Aside from giving you expert advice on the most suitable plan for you, they can also help you in every step, from application to making a claim.
You can even contact brokers and ask for their advice on the top recommended hospitals.
Some brokers may ask you important health questions when filling out an insurance form for you.
Some may have good relationships with the insurance company and can help you make a claim, especially in cases where your claim might be deemed an exclusion. In certain cases, they may handle the claims process and coordinate with an insurance company on your behalf.
If you are hospitalized, some brokers may even visit you at the hospital and buy you flowers and fruit baskets. This is not uncommon practice; they do it when you buy life insurance from them.
Get the Same Price as Buying from an Insurance Company Directly
Even with all the support and convenience you get from brokers, you won't need to pay anything for their service.
The price you pay for the insurance plan is the same as when you buy directly from an insurance company.
Insurance brokers get commissions from insurance companies. To retain you as their customer, they provide additional support to give you an incentive for buying from them.
Cons
A major con of using a broker is that some bad brokers may only sell you plans that can make the most commission for them with little regard for what you really need.
Some can even get too pushy and use deceptive selling techniques to trick you into buying insurance from them.
So, if you want to buy insurance through a broker, you should be careful when choosing a broker. You shouldn't just randomly pick the first one you find on the internet.
Read reviews about their services or ask recommendations from other people.
You can also check a list of insurance brokerage companies found later in this article.
What to Ask
There's a recommended set of questions that you should ask a broker. The purpose of asking this question isn't to test their knowledge but to tell them relevant information about your needs, so that they can recommend a plan that's most suitable for you.
In case you do not understand any of the insurance terms in this section, please check out our health insurance in Thailand article for reference.
Does the insurance cover my pre-existing conditions?
Pre-existing conditions are the main exclusion of health insurance plans. If you have one, it's better to tell your broker right away.
If you don't disclose it and the insurance company finds out about it later, then it's highly likely that they won't pay it when you make a claim.
However, if you tell a broker in advance, they might be able to find you a plan that covers your pre-existing conditions.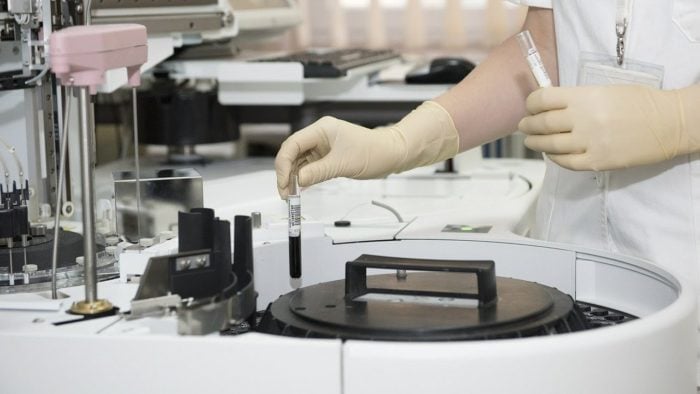 Can you give me a detailed list of exclusions and waiting periods for the recommended plan?
All insurance plans have a long list of exclusions and waiting periods for specific procedures. These are the two of the most important things you must know before buying any insurance product.
Asking this question would save you and your broker a lot of time.
Many people have been dealing with brokers and may have been asking each other questions back and forth about a certain plan. However, what they may not realize is that a particular plan may have a waiting period of one month.
When they learn about it, they may decide to switch to another plan, and ask brokers yet another series of questions.
What are the rules on "choice of hospital" and "reasonable medical expenses"?
You may encounter these terms on certain insurance plans.
Different insurance plans may have different definitions for these terms, so it's better to have a clear understanding of what you will get before purchasing any plan.
How long has this plan been in the market?
Ideally, the plan should be in the market for more than five years. This indicates that the plan has credibility.
Is there a group discount if I insure my entire family?
Some insurance providers offer a group discount for family plans. It can range from 10% to more than 20%.
Read our family insurance in Thailand article for more information.
Can I go to any hospital in Thailand without restriction?
Some insurance plans may require you to go to certain hospitals within their network only.
If you go to other hospitals outside of their network, they may require quotes before approving your claim.
Otherwise, you might not be able to make a claim at all.
Additional Information You Should Tell Your Broker
In addition to asking the above questions, you should inform your broker the following additional information about yourself:
budget per month/year
general requirements
BMI
general travel plans
countries you spend a lot of time in
countries where you plan to move in the future
how long you wish to stay insured
This information will help your broker come up with the plan that's most suitable to your needs.
International Brokers for Offshore Plans
If you want to get health insurance, your options won't be limited to only brokerage companies in Thailand. You can contact the following international brokers for offshore plans.
International Citizen Insurance
International Citizen Insurance is a leading global health insurance broker providing expert guidance to clients living abroad.


They partner with leading international insurance companies including Cigna, GeoBlue, Aetna, International Medical Group (IMG), and Now Health. As insurance advisors, International Citizens Insurance is able to provide customized insurance plans for expatriates and those living outside their home country.
Their team of licensed agents will work with you continuously during the process of finding and purchasing coverage and through the life of the plan.
Request a quote for free personalized health insurance options for your move abroad or to compare coverage with your current plan.
Some expats who have bought insurance through International Citizen Insurance share their experiences below:
AOC Insurance Broker
AOC Insurance Broker is another international insurance brokerage company providing a wide range of international health insurance plans.
Their head office is in France and they have a branch office in Hong Kong.
Now Compare
Now Compare can be considered one of the biggest international health insurance brokerage companies in the world. You can compare a range of international health insurance plans from their website. 
However, you can only compare the coverage amount of premiums, which isn't enough information when buying health insurance.
If you need more information, you need to contact them.
Brokerage Companies by Language
Many insurance brokerage agents in Thailand can speak English fluently. These companies are either run by expats or they hire expats to handle foreigner clients.
In addition to English, some companies are able to provide services in German, French, Spanish, and other languages.
Please note that the information below was based on research and recommendations from embassy websites, our friends, and readers.
If you prefer an insurance brokerage company that speaks your language, you can contact your country's embassy or the chamber of commerce to get a recommendation.
English
A number of brokerage companies in Thailand have agents who can speak English.
Mister Prakan
Mister Prakan is a well-known insurance brokerage company popular among locals in Thailand. They have expanded their products and are now providing insurance policies to everyone who is living or planning to visit or live in Thailand.

One of the best things about Mister Prakan is their website. You can read and compare all insurance plans they provide in a single place.
When you find a plan that you like, you can apply directly or contact their brokers to get more information. 
Some expats who have bought insurance from Mister Prakan share their experiences below:
AA Insure
If you've browsed through local forums before, you might have seen the name AA Insurance Brokers. 
They are an insurance brokerage company in Thailand with offices in popular expat destinations, including Pattaya, Huahin, and Phuket. 
BSI Insurance Broker Limited
BSI Insurance Broker Limited is a Thai insurance brokerage company that primarily focuses on health insurance for expats who are living in Thailand.
They offer a wide range of local insurance plans including Luma, Aetna, Axa, Thaivivat, and Bangkok Insurance. In addition, they still offer offshore plans from William Russell.
BSI Insurance Broker Limited is also the firm that Tony Dabbs, the owner of the online quote "Ask Tony, Tony knows", sold his insurance business to before he passed away in 2014.
BSI Insurance Broker Limited is also working with Seek2insure.com, another online portal for expat insurance information.
Pacific Prime
Pacific Prime is big. They are an international brokerage company that has branch offices in many countries, including the United States, the United Kingdom, China, Singapore, and Thailand.
They mainly focus on international health insurance for expats all around the world.
InsurExcellence
InsurExcellence is a local insurance brokerage company that focuses on commercial insurance for businesses. 
Trafalgar International
Trafalgar International is another local brokerage company that specializes in commercial insurance.
They also still provide personal health insurance, property insurance, and motor insurance.
Marsh
Marsh is an international brokerage company with a Thai branch. They specialize in commercial insurance and tailor-made insurance for business risk management. 
Rabbit Finance
Mass Transportation isn't the only business of the BTS Group, the company that operates BTS skytrains in Bangkok.
They also provide life insurance, non-life insurance, and other financial products under the name Rabbit Finance.
Unfortunately, their services are mainly for those who are currently in Thailand. You need to provide your Thai mobile phone in order to get in touch with their brokers.
Moreover, you can't view insurance coverage details on their website. And it appears that they only have limited options on expat health insurance at the moment, with AXA and Pacific Cross being their main insurance products. 
Roojai
Roojai is also a full online portal for non-life insurance with car insurance being their main product. 
They also partner with an insurance company, Krungthai Panich Insurance, the insurance arm of Krungthai Bank.
Additionally, you can find other non-life insurance products on their website, although they are limited at the moment. 
German
There are a good number of insurance brokerage companies in Thailand that offer services in German. Many of them are run by German expats.
BSI Insurance Broker Limited
BSI Insurance Broker Limited always have a German-speaking team for their German clients.
AA Insurance Brokers
Similar to BSI Insurance Broker Limited, AA Insurance Brokers also always have a German-speaking team on board.
Global Insurance
Global Insurance is an insurance brokerage company based in Pattaya. The company is managed by Rainer Heizmann who speaks German, French, and English.
EuropAsia Insurance
EuropAsia Insurance is run by Urs W. Zimmerman, an expat from Switzerland. He can speak English, German, and French. His brokerage company offers both life and non-life insurance.
Global Solidoe Enterprise
Global Solidor Enterprise provides a range of non-life insurance products, including health insurance, personal accident, corporate insurance, and even marine insurance. In addition to insurance, they also offer legal and real estate services. 
French
EuropAsia Insurance
To talk to French-speaking agents, you can get in touch with EuropAsia insurance if you are in Bangkok or Global Insurance if you are in Pattaya.
AOC Insurance Broker
AOC Insurance Broker also has a team that can support French-speaking clients. However, note that they only offer international plans.
Chinese
KWG Insurance
A lot of Chinese-speaking insurance brokerage companies in Thailand, including KWG Insurance, cater towards Chinese corporations that conduct businesses in Thailand.
However, some do offer motor insurance, personal accident insurance, and property insurance for individuals.
Alternative Options
If you don't want to buy insurance through a brokerage company, you have an option to buy it directly from insurance companies.
You can contact them through their websites and apply online.
You may even find freelance insurance brokers there. More often than not, these freelancers must represent a certain insurance company or a brokerage company as required by Thai laws.
In Thailand, many banks also sell insurance.
Previously, these banks provided only life insurance. Now they have expanded their products.
For example, Kasikorn Bank now provides various types of non-life insurance, including health insurance, property insurance, personal accident insurance, property insurance, and even motor insurance.
As mentioned earlier, you get the same product at the same price no matter if you buy insurance through a broker or an insurance company. The application procedure is also similar.
Ultimately, it all comes down to who you can trust and feel comfortable talking to.
Now, on to You
We hope that this article answers most of your questions about brokerage insurance companies in Thailand.
If you've read until this point and are not sure what to do next, you can take a look at Mister Prakan website to browse local insurance plans.
If you are looking for offshore health insurance, check out International Citizen Insurance.
If you find any plan that's suitable to your needs, fill in your information, talk to one of their agents for more information, and then decide whether or not you want to use their service.
In case there's anything we might have missed in the article, please feel free to let us know.