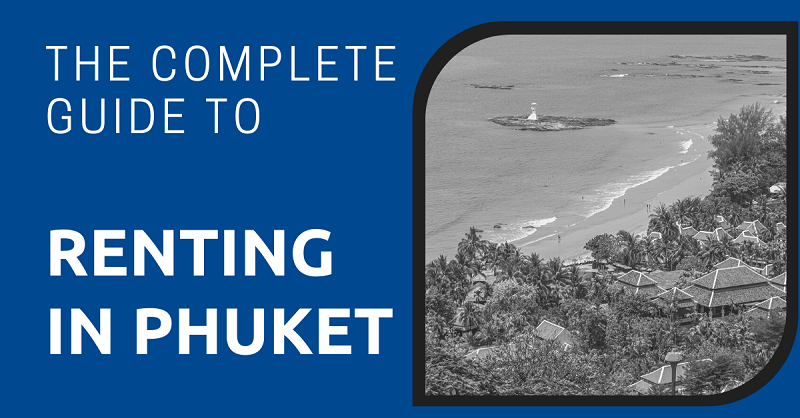 Finding a place to rent in Phuket can be challenging for even the most seasoned Thailand expat, never mind someone who has just arrived on the island or who is planning to visit sometime soon.
After all, there's so much to consider, like where you want to stay, what size accommodations you need, and whether you want an apartment, a condo, or a house.
Having said that, this guide to renting in Phuket will help you figure out all the above and much more – so let's jump in.
Where to Live
Phuket is Thailand's biggest island; it is divided by three districts and has 17 subdistricts. Each district and subdistrict offers unique lifestyles and vibes.
But before signing a lease, figure out which part of Phuket is the most suitable for you.
It's wise to consider what's most important to you in a location before deciding where to live. For example, do you want to be close to the beach? Is nightlife important to you? Maybe you're looking for a more calming sabai-sabai vibe. Each subdistrict offers something different.
Moreover, the subdistricts below are just a few examples of popular places. If possible, you should travel and explore many subdistricts before deciding where to stay.
That said, let's take a look at a few different subdistricts that you should consider.
Patong, Kata, and Karon
For those who appreciate vibrant nightlife, delicious restaurants, and the convenience of being close to the beach, sub-districts like Patong, Kata, and Karon may be an enticing choice.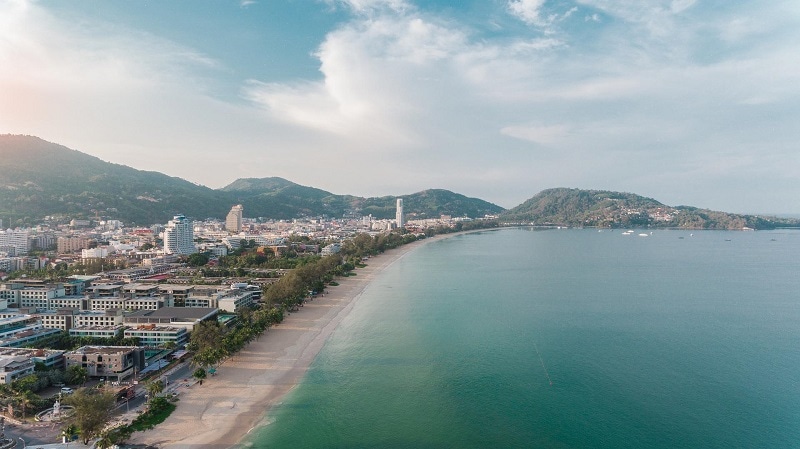 Be aware that these subdistricts are heavily populated with tourists. This may not be a concern for a short-term holiday stay.
However, suppose you would like to live like a local. In that case, you might find your expenses for accommodations, food, and nightlife on the higher side due to the predominance of visitors and tourists who're vacationing and have the budget for higher costs.
Kamala
Suppose you want to be close to tourist areas such as Patong, Kata, or Karon, but you'd like a quieter place to stay when relaxing at home.
In that case, Kamala beach is an excellent place to be.
Kamala offers beautiful beaches and delicious food. At the same time, it has more of a local vibe and is typically less expensive than tourist areas like Patong and Kata.
Rawai
Maybe you're looking for a balance between beautiful beaches, great restaurants, and vibrant nightlife.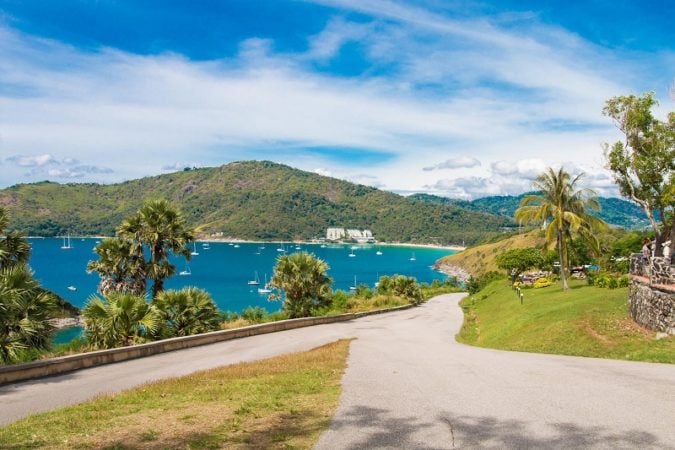 Rawai is an excellent recommendation for a subdistrict with much to offer because of its relaxing vibes. In Rawai, you'll find many expats who tend to enjoy the simple things in life.
Mueang District
For those who prefer more of the city life, the Mueang District is home to popular subdistricts such as Talat Nuea, which is the home to the famous Old Phuket Town.
You'll find many conveniences in the district of Mueang such as shopping malls (Central Phuket Festival), dental clinics, famous viewpoints such as Khao Rang, schools, and hospitals.
Many expats choose to live here because the cost of rent is typically less expensive, and it offers many conveniences. The main downfall is that it's further from the beach.
However, if the beach is not a priority, you'll surely enjoy the convenience of living in the city.
Cost of Rent in Phuket
The cost of rent differs depending on the demand and popularity of the location and the number of bedrooms and amenities.
In our experience, I have found decent accommodations with rent as low as THB6,000 – plus the cost of utilities.
Typically, these rentals are studio apartments or condos and generally come with only fundamental amenities.
If you're looking for something a bit more upscale, you can expect to pay about THB8,000 to THB30,000, depending on the location, number of bedrooms, and level of luxury.
Types of Accommodations
With some of the more popular subdistricts covered, let's take a quick look at the popular types of accommodation in Phuket.
Apartments
In my experience, apartment buildings are generally the most affordable option in Phuket. The drawback is that apartments are typically only offered in a studio layout. This may be fine for solo living arrangements but may get crowded for more than one person or for families traveling to Thailand with pets or children.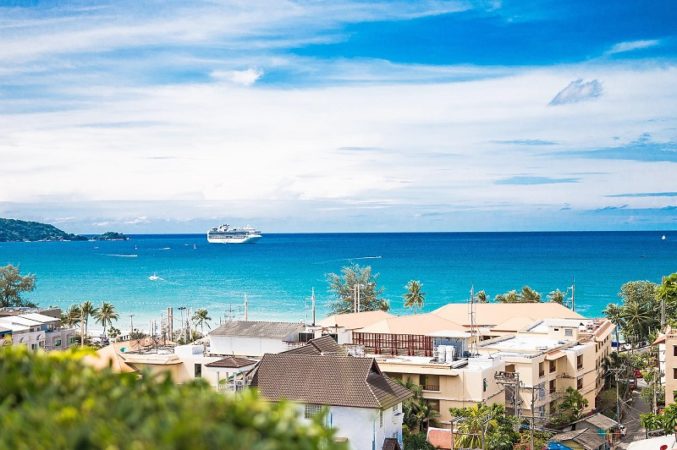 For apartments, you can expect rent to be as low as THB2,000 to THB6,000 per month. But be aware that you usually get what you pay for; apartments as low as THB2,000 typically won't come with an AC, wifi, or basic appliances – and they tend to be lackluster.
Usually, a THB6,000 apartment will suffice as far as comfort, appliances, and amenities.
Condos
Condo units usually come furnished with essential appliances such as AC, refrigerator, microwave, and in some cases, even a washing machine. Depending on the location, the number of bedrooms, and other creature comforts, condos can range from THB6,000 to THB12,000.
A condo is an excellent choice for those looking for a comfortable place to live. Aside from being fully furnished, they may include other amenities such as a TV, internet, and full laundry facilities. Upscale condos may even have a gym and swimming pool.
If you plan to live in Phuket for a long time, you might even consider buying a condo in Thailand.
Houses
When it comes to houses, many things contribute to the cost of rent.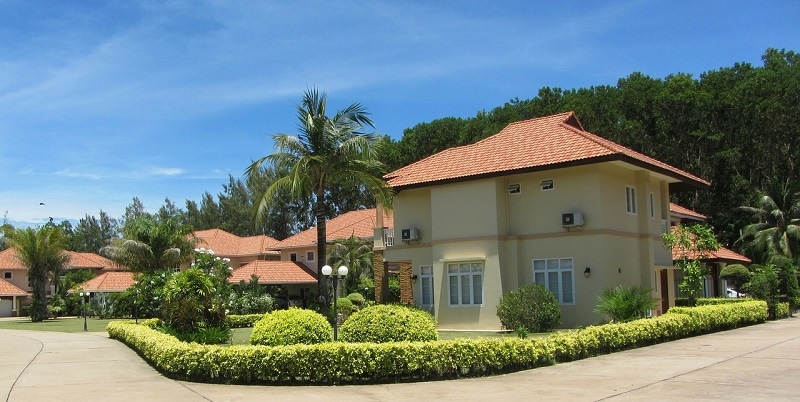 Depending on location, the number of bedrooms, and extra amenities such as a swimming pool and other luxury items, the cost of rent for a house can range from THB6,000 all the way up to THB50,000.
You can even find small houses for as low as THB5,000. However, they'll most likely not include furnishings, internet, or appliances. You have to provide your own.
If you plan on staying long-term, renting a house in Thailand is a great option. Most houses in Thailand have two to three bedrooms, a yard, and a driveway. The downside to renting a house in Phuket is that you usually have to sign a six-month or one-year lease.
Villas
Villas in Phuket – usually called mansions in the West – differ from houses in that they usually sit on giant estates and are much larger than your standard home.
These mega-houses have private pools and gyms and often overlook one of the many beaches of Phuket. Some of them are even built into the hillsides of the island.
But the luxurious amenities come at a price. Staying in a villa on Phuket could run you up to THB60,000 per night. Yes, that's per night.
How to Find Properties in Phuket
Finding an apartment, condo, or house in Phuket can be a challenging endeavor. The challenge is even greater if you don't speak Thai.
But if you don't know how to speak Thai, your house hunt won't be a deal breaker. There are a few places that will make the task easier, which we'll cover below.
Real Estate Agencies
Real estate agencies eliminate, or at least minimize, much of the headaches that come with finding a place to rent.
Simply tell an agent your specific needs, and he or she will find you potential suitable rental properties. The significant advantage of having a real estate agent is that they'll often take you to see the rental property and give you a comprehensive tour.
This gives you an excellent opportunity to ask any questions you may have and a chance to see the neighborhood and local surroundings. You can get an accurate idea of whether the accommodation is suitable for you.
If you want to use a real estate agent to help you find a property in Phuket, you can talk to Philip Property.
Facebook
In Thailand, you could find everything you possibly need on Facebook. From motorbike rentals to moving services and, of course, rental properties.
Property Websites
Property websites can be a great tool for finding accommodations. They are easily accessible and mostly written in English.
One of the most significant advantages of using a property website is how easy it is to search for properties. These websites offer search filters to help you find what you're looking for.
You can filter for things such as location, number of bedrooms, specific amenities like swimming pool and spa, animal-friendly accommodations, etc.
High Season, Low Season
The high season is from December to April and offers the best weather. If you plan to come to Phuket during this season, however, the cost of accommodations will be higher.
You can still enjoy Phuket during the low season, but be aware that the weather may not be as favorable. You can expect a lot of rain during the monsoon season. However, from my experience, you still get a few good moments of clear weather to enjoy all the beautiful nature Phuket has to offer.
If you plan to stay in Phuket year-round, negotiate a rental lease during the low season to get the best deal.
Facebook offers the best deals because you can cut out real estate agents and talk to property owners directly.
There are many Facebook groups available such as Phuket Expats and Home Phuket. Many posts are in English, but if they are listed in Thai, you can use Google Translate to help. If you can find a Thai friend to help you, even better.
What to Check Before Signing a Lease
Now that you found a place to live in your desired location in Phuket, it's time to consider some other specific aspects of renting on the island.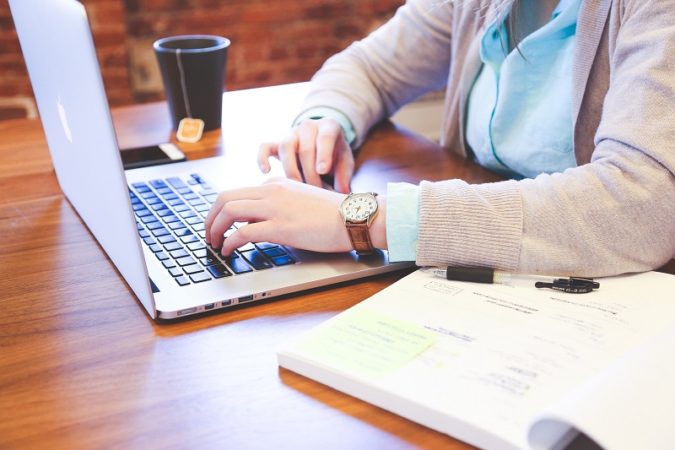 As mentioned above, most rental properties like apartments and condos come fully furnished with wifi and a TV. At the same time, some houses don't come furnished, and you have to set up your own internet service.
That said, make sure you check the following items before signing a lease.
Internet
We recommend checking the strength of the wifi to make sure the internet connection meets your needs, because internet infrastructure in Phuket varies.
In most cases, your internet provider options in Phuket are either True or TOT.
However, if these connections are slow, you could get a sim card and buy a pocket wifi device and have it delivered to your place. This way, you'll have reliable internet every day.
Internet in Apartment Buildings
From our experience, apartment buildings in Phuket tend to use one router for the entire apartment complex.
This may not pose a problem. However, you may experience slower internet speeds when multiple units simultaneously use the wifi.
If a dependable internet connection is crucial to your work or business, you may want to sign up for your own internet service through True or TOT.
Internet In Condos
Depending on the property owner, most condos will come with individual internet services and a dedicated router for each unit.
This ensures a stronger, more stable internet connection, unlike apartment buildings that share broadband throughout the entire complex.
Internet in Houses
From my experience, most houses do not come with internet service, so you have to provide your own.
When looking for internet service, one thing to note is that internet providers want a one-year contract for their services. If your lease is a year long, this shouldn't be a problem.
If your lease is less than a year, it can pose an issue. You'll most likely have to pay extra to get out of your internet contract.
Appliances
When looking at an apartment, condo, or house, check all the appliances, such as the AC, refrigerator, or any other appliances the rental comes with, to ensure that they work.
We have found that it's best to rent in accommodations that have newer, more energy-efficient appliances, such as an energy-saving AC. This keeps your electricity costs down.
Speaking of which.
Electricity
Pay attention to how the rental agreement clauses the cost of electricity. Electricity in Thailand can become quite costly, especially in the summer when we tend to run the AC longer.
In our experience, during the hottest part of the year, electricity bills can range from THB3,000 to THB5,000. However, this varies depending on the size of your place and how cool you want it.
Before signing a lease, also pay attention to how the property owner bills for electricity. Look for rental properties that charge a standard government rate, which usually costs about THB3 to THB5 per unit of electricity.
Some property managers inflate the cost of electricity to anywhere from THB6 to THB10 per unit of electricity.
Water
Water is relatively inexpensive in Thailand. Some property owners charge a flat rate, while others charge per cubic square meter.
You can expect the cost of water to be anywhere from THB50 to THB500 per month, depending on how the property owner charges and how much water you use.
Pets
In almost all cases, condos have a strict no-pet policy, whereas apartments and houses typically do allow pets. If you have or plan to have pets, dogs and cats are commonly allowed but may require an additional deposit.
Of course, you should check with your landlord or property manager to ensure you can bring your pet.
Lease Terms
In Phuket, you can rent a place no matter how short or long you plan to stay on the island.
Short-Term Rentals
If you plan to stay in Phuket for less than a month, you can find leases for that length. Phuket is no stranger to people coming for short vacations.
Your most inexpensive option is usually apartments that offer week-to-week or, in some cases, even daily rentals.
Other options such as Airbnb and some hotels and resorts provide extended stay deals, but these tend to be on the more expensive side.
Long-Term Rentals
In most cases, apartments, condos, and houses usually require a three-month lease minimum or, in some instances, six-month to one-year contracts.
Typically, the longer you stay, the less expensive your rent is.
From our experience, apartment buildings are more likely to offer short-term leases, while condos typically offer three- or six-month leases, and houses typically come with six- to 12-month leases.
Monthly Rental
If you're going to stay in Phuket for one month, you don't have to commit to a long-term lease to enjoy living on the island.
There are plenty of properties that offer one-month leases, from apartments to condos and from homes to villas.
Airbnb is a good place to look for one-month rentals because, in most cases, you can rent a property from the website for a maximum of 30 days. SiamRealEstate.com also has properties in Phuket available by the month.
No matter which method you use to book a short-term rental in Phuket, you'll probably have to leave a one-month security deposit, which you'll get back at the end as long as all the utilities are paid and you haven't damaged the property.
Important Legal Information
Depending on the duration of your lease, you may need a valid passport with a visa that matches your lease term.
This is important because landlords and property owners are required by law to report any foreign renters to the government.
Leases
Before signing, read over the lease diligently to ensure all information is accurate and correct, and ask for a photocopy to keep for your records.
You also may have to sign both an English language lease and a Thai language lease. Usually, the Thai version is the official lease.
Deposits
No matter how long you stay in Phuket, you must put down a deposit when renting, usually one or two months worth of rent.
This is regarded as your security deposit, as you are held liable for any damages while living on the property.
In most cases, you will get all or most of your deposit back, unless you damage the property in some way. Also, general wear and tear will be considered your responsibility, so you'll most likely have to pay for things like water-warped kitchen cabinets, floorboards with dings or scratches, and so on.
Now, on to You
Whether you're already in the country or moving to Thailand in the near future, we hope this article has helped you gain a better understanding of how to find a rental property in Phuket.
With some due diligence, you'll be on your way to calling the island your short- or long-term home.