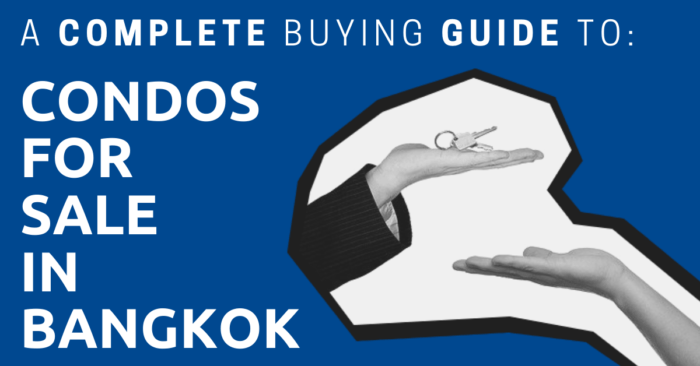 "Should I rent or buy a condo?"
"Is it really a good idea to invest in a condo in Bangkok?"
"I have $70,000 USD with me — what kind of condo can I buy?"
Buying a condominium is a big investment. In this article, we will tell you everything you need to know before buying a condo in Bangkok, including market overview, condo developers, unit types, prices, and buying tips.
If you want to buy new a condo for investment, you can skip this step and talk to a rep from Keller Henson.
Condo Market Overview
Being the capital of Thailand and the most visited cities in the world for many years, Bangkok's condo market is considerably huge.
Tens of thousands of condominium units have been built over the last few years, and some property analysts predict that the condo market bubble in Bangkok would burst soon.
But this isn't the first time we're hearing about these predictions. In fact, year over year, there are reports about Bangkok's condo market bubble bursting since early 2010s.
No one really knows if or when the condo market bubble is going to burst. But one thing we know for sure is that the condominium market is slower but cheaper in 2021-2022 because of COVID-19. But now, it becomes active again.
This means that if you are looking to buy a condo in Bangkok, you might be able to buy one that's cheaper compared to previous years.
Urban development projects in Bangkok are currently underway; new BTS Skytrain, MRT, and monorail lines are being built throughout the city.
One such project is the Bang Sue Central Station, poised to become Southeast Asia's largest railway station. The project has been completed and will serve as Thailand's new mega railway hub that links all mass railway transport.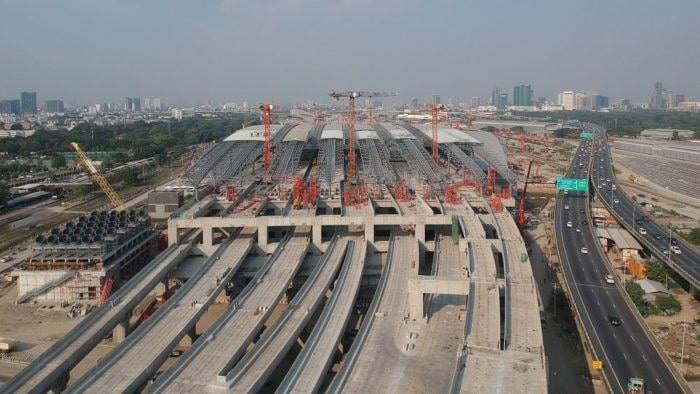 Why Bangkok?
There are many reasons why it's a good idea to buy a condominium in Bangkok.
Investment Opportunity
Compared to other world-class capital cities, Bangkok is still not as well-developed. There are, however, many ongoing major developments such as the expansion of the airport links, MRT lines, and BTS lines.
But improvements in transportation isn't confined to Bangkok alone as Thailand is the cross-junction of Southeast Asia — these expansion projects can be said to have national economic implications.
For example, China is going to use Thailand as a springboard to Southeast Asia by building a high-speed train system under the Chinese' government's Belt and Road Initiative plan.
These factors result in price increases, but at the same time they increase the city's attractiveness as a place to live.
If you want to buy a property in Bangkok for investment reasons, it's better to buy a new condo and then sell it after five years.
Two out of three condominium buyers in Bangkok are from Southeast Asia. They are likely to buy only new or recently built condominiums that have been built within the last eight years.
Easy to Buy
Foreign individuals can buy a condo in Thailand, which is not allowed in most developing countries and other countries in Southeast Asia.
In Thailand, everyone can buy a condo without having to create a company or forming a joint venture with a local in order to buy one.
You can even buy a condo from overseas and only need to come to Thailand to personally sort out the transfer of ownership.
What's more, there's no minimum purchase value required unlike in other countries. For example, if you want to buy a condo in Kuala Lumpur, you must purchase one that has a minimum value of one million Malaysian ringgits, which is around $230,000 USD.
In addition, condominium prices per square meter in Bangkok is much lower than in other capital cities in the world. And there's no asset tax, yearly ownership tax, and multiple properties tax.
Facilities
Bangkok is one of the most visited cities in the world and the world's top travel destination, and as such, you can find everything you need in the city. There are shopping malls, restaurants, cafes, gyms, and attractions all over the city.
A number of world-class hospitals can also be found in Bangkok. Moreover, there are a number of international schools with choices of IB, American, British, Australian, Singaporian, and even German curriculum.
Many of the condos also come with various facilities. There are swimming pools and gyms in most condos. Some condominiums have a co-working space, a library, and some even have a rooftop garden, game room, jacuzzi, sky lounge, and cinema.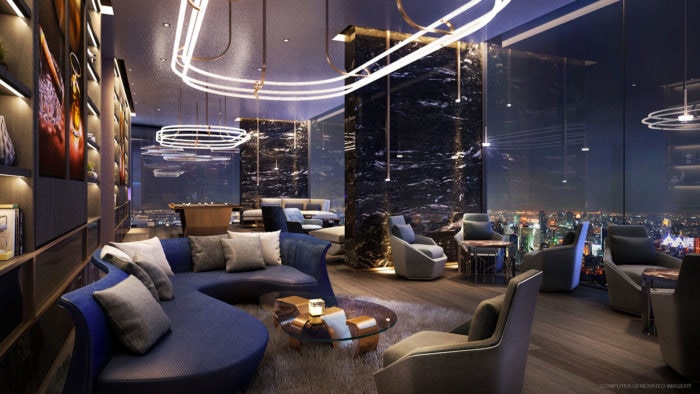 Who Can Buy a Condo in Bangkok?
Anyone can buy a condo in Bangkok, but expats need to note these two rules:
They can only buy a unit in a condominium where less than 49% of the units are owned by foreigners
The money used to buy a condo must be paid from outside of Thailand
You can read more about these rules and how to buy a condo in our complete guide to buying a condo in Thailand.
Condo Developer
When looking into the condo market in Bangkok, you would easily find several condo developers in Bangkok.
There are major developers, whose names you would have heard of at least once, with condo projects throughout Bangkok and minor developers that only have one or very few projects, so far.
The major condominium developers in Bangkok include Ananda Development, the developer of IDEO and IDEO MOBi; Sansiri, the developer of THE BASE and THE LINE; L.P.N. Development, the developer of Lumpini condos; APTHAI, the developer of LIFE and ASPIRE, and Pruksa, the developer of Plum Condo and the TREE.
Note that these major condominium developers have several projects under different names targeting different customer segments.
For example, Ananda Development is also the developer of VENIO, ELIO, and UNiO, and ASHTON.
On the other hand, there are minor condominium developers whose names you may not have heard of before such as Monte Rama 9 by CG Group, DEFINE by Mayfair under PF Realty, and Humble Living by Triple Land Development.
With multiple choices of condo developers available in Bangkok, people commonly ask,
"Which condo developer should I choose?"
The answer is that you should choose any developer whose condominium projects have units that are most suitable to your requirements.
When you search online for reviews about a certain developer, you will find both good and bad stories about them.
Why's that?
There are hundreds of units in each condominium. Some projects even have over a thousand units. Those who unluckily purchase a defective unit may write a complaint online.
But among those who get a decent unit, only a few would bother writing a positive review about the developer.
So instead of focusing on condo developers' reputation, examine locations, budget, specifications, and facilities.
Here's our opinion on each condo developers.
Room Type
There are several room types to choose from when buying a condo in Bangkok including studio, one bedroom plus, two bedroom, simplex, duplex, and loft.
Let's take a look at each type.
Studio
A studio unit is the smallest and also the cheapest room type. It's usually around 20–30 sqm.
A studio room has everything packed inside a single room including dining area, living area, and bedroom without a door or partition in between.
Some studio units have a sliding glass door in the bathroom and a balcony.
A studio room is a good option if you live alone.

One Bedroom
A one bedroom type is slightly bigger than a studio. It's usually 30–50 sqm big. The main difference is that the bedroom and the living room are clearly separated.
A one bedroom unit is the most popular condo unit type in Bangkok.
One Bedroom Plus
What comes with one bedroom plus is an additional small utility room, which is normally adjacent to a balcony.
You can turn it into a working space or an additional bedroom for your kid.
Two Bedroom
As the name implies, you get two bedrooms with this room type. It;s size usually ranges between 50–80 sqm. In older buildings, some two bedroom units might be bigger than 100 sqm.
You might also get an additional bathroom with this room type.
Another hidden benefit of the two bedroom room type is the location — they're normally located in the corner of the building. It means these units have greater privacy, without anyone passing by your room. And you might be able to see views from at least two sides of the building.
Two bedroom room types and above also come with a guaranteed free parking area.
Three Bedroom
You can find a condo with three bedrooms, but anything larger than that is hard to come by, unless it's a penthouse.
Simplex
A simplex, a single-floor room without a mezzanine, is a normal type of condo that you can easily find in the market.
A simplex can be categorized into a studio, one bedroom, one bedroom plus, two bedroom, and three bedroom.
Duplex
A duplex has two floors and normally comes with two bedrooms, one on the lower floor and another on the upper floor, with stairs separating the two floors.
It is normally available only on high-end condominiums.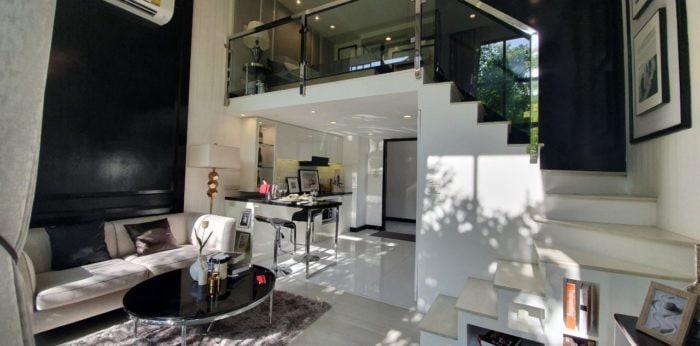 Loft
A loft is somewhere between a simplex and duplex. There's usually a bedroom and a mezzanine, with a small bedroom or workspace.
Here are the three major differences between a duplex and loft:
A duplex has two exits: one on a lower floor and another on the upper floor. A loft only has one.
A mezzanine on a loft is considered as a furniture. It means you won't need to pay condo fees for the mezzanine area.
The height of a loft is usually around 3.65 meters while a duplex's is above 5.3 meters.
Furniture
When it comes to furniture, you have three options when looking for a condominium in Bangkok:
Barebones: an empty room with a toilet installed.
Fully furnished: a room that comes with furniture. You can move and live there without — it's up to you to buy extra furniture.
Fully fitted: it comes only with necessary furniture like a kitchen and a sink.
Fully furnished condo units seem to be the most popular option among expats in Thailand. It doesn't cost more than a barebones room. And you get all the furniture you need.
Furniture in a fully furnished condo is usually built-in. If you want to move in with your own furniture, bear in mind that it can be a mess removing built-in furniture.
We know some people who completely renovated their rooms, removing all built-in furniture after buying their new, fully furnished condo.
When it comes to choosing furniture, there's no right or wrong.
Finding a Condo for Sale
There are three main ways to find condo units for sale in Bangkok.
Online
Online channels are the fastest way to look for a condo for sale.
Before buying a condo, do some research online through these websites to find out what kind of condo you can get at your budget.
There are many websites that have a full list of condos in Bangkok grouped by areas and prices. And you can get in touch with a real estate agent or a condo developer representative by leaving your information.
Hipflat and ddproperty are popular sites you can check out.
You can also directly visit condo developers' website, although information are surprisingly lacking compared to the aforementioned websites. Find starting prices, locations, and some photos in developers' websites.
Real Estate Agents
You won't have much of a problem finding a real estate agent in Bangkok. That's because in Thailand, becoming a real estate agent doesn't require a license. Expats in Thailand can become a real estate agent as long as they have a work permit.
You don't need to pay a fee when consulting an agent; they earn money from the room owner or the developer after you sign a purchase contract.
Moreover, there are thousands of real estate agents in Thailand; if you post a real estate-related inquiry on Facebook groups, you'd receive several offers from real estate agents within hours.
But, you need to scour online for a reputable agent.
Real estate agents in Thailand specialize in different things. For example, Keller Henson is really great when it comes to investment properties. Find Thai Space, on the other hand, has many options for new and used condos in Bangkok.
If you need help, you may refer to a list of real estate agents on our website. We've talked to them before so we know they can be trusted.
Offline
While walking in MRT/BTS stations or department stores, you might have seen agents handing out a brochure for a newly built or about-to-be-built condo within the area. These brochures usually list out some basic information about the condo, including price. If you are interested, don't hesitate talk to these condo developer representatives.
The first question you should ask is, "Can a foreigner buy a unit in this condo?"
It shouldn't be a problem in most cases but it wouldn't hurt to ask. You certainly do not want to spend a lot of time talking to a condo representative only to find out that a foreigner can't buy a property from them.
Alternatively, you can walk in at any condo and talk to the juristic person or the person in-charge. They should be able to inform you about available rooms. If you are lucky, they might be able to show you a room on the spot.
Segment
Condominiums in Bangkok are generally grouped into six segments based on price per square meter:
| | |
| --- | --- |
| Type | Price per Square Meter |
| Super Luxury | More than 250,000 baht |
| Luxury | 180,000 – 250,000 baht |
| High End | 100,000 – 170,000 baht |
| Mid Market | 70,000 – 100,000 baht |
| City Condo | Lower than 70,000 baht |
In addition to prices, there are four main differences between each segment:
Location: Better segment means a better location. A good location mostly pertains to accessibility, ie, within the business area and close to BTS/MRT stations.
Facilities: Under the city segment, A condo may only have a small swimming pool and a gym. But on the super luxury segment, there may be a private swimming pool per unit.
Materials: Better segments tend to have better building materials than lower segments. This also encompasses building design, decorations, and interior design.
Number of Unit: Better segment means fewer units per condo project. For example, there may be over a thousand units on a city condo segment but only a few hundred on a high-end segment.
Which Condo to Buy in Bangkok?
There are 50 districts and 180 sub-districts in Bangkok, covering 1,568.7 square kilometers with the Chao Phraya river in the middle separating the Thon Buri side on the west and the Phra Nakhon side on the east.
As many parts of the city get rapidly developed, it becomes more difficult to define which ones are the business area, the central area, the suburb, and the rural area.
Let's take a look at all the key areas and recommended condos in Bangkok.
CBD
Sathon and Silom are the original central business district (CBD) in Bangkok. You can see high-rise buildings, big department stores, business towers, and a number of embassies in these areas.
But as the city keeps expanding, so do the CBD areas which now cover Siam Square to Chit Lom and Asok.
That's not all; Ratchadapisek and Rama 9 are becoming a new central business district in Bangkok, too.
Price per square meter for condos in these areas are more expensive than in other areas. It can easily be over 220,000 baht per square meter.
To get a clearer idea, check out the Address Siam Ratchathewi. It's located near BTS Ratchathewi, which is one BTS station away from Silom station.
The cheapest unit starts at 7,056,000 baht for a 31.5-sqmone bedroom condo.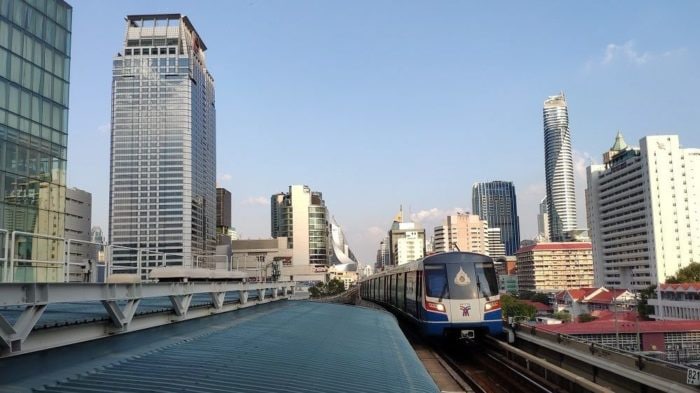 Sukumvit
Sukumvit was the former name of the road from central Bangkok to Cambodia, spanning 488 kilometers.
However, Sukumvit today refers to the area around BTS Nana station to Ekkamai station.
The Sukumvit area can be considered as a CBD in Bangkok. It's also among the most popular areas for tourists in Thailand.
Because of this, condo prices in this area aren't that much different from those in other CBDs. You should expect to pay at least 200,000 baht per square meter for a unit in Sukumvit.
Noble BE19, a super luxurious condo by leading condominium developer Noble Development, ais a good example of a condo within this area.
Prices start at 7.1 million baht for a one bedroom unit at 34.51 sqm. This price point is for a condo that is only a ten-minute walk to BTS Asok station or Terminal 21, a popular shopping mall in Bangkok that's strangely famous for its food court.
Expat Residential Area
Areas starting from the BTS Phra Khanong station to Bearing station are considered as an expat residential area. These are not far from popular Sukhumvit, including Asok, but the prices of condo units here are much cheaper.
Instead of paying over 7 million baht for a condo, you'll pay 2 million baht for a studio unit at the Excel Lasalle 17, a low-rise condominium on the main-class segment located five minutes away from the BTS Bearing station. These are still a residential area, so you would still get all the facilities you need for living in Bangkok.
There are plenty of local restaurants, too, and transportation options are fairly accessible as the BTS Skytrain is close by. There are also nearby groceries like Big C or Tesco within most areas.
The expat residential area is also ideal for those who are looking to rent an apartment in Bangkok. This means that if you're a condo owner, it's easy to find a tenant if you want to rent out your condo.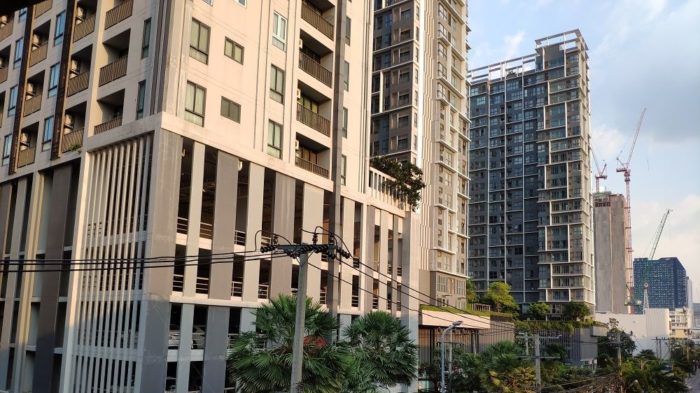 Riverside
Want to enjoy riverside views everyday? Then consider buying a condo near the Chao Phraya River.
The Chao Phraya River is the most popular and also the most important river in Thailand. It cuts through the middle of Bangkok, separating it into East Bangkok (Thon Buri side) and West Bangkok (Phra Nakhon side).
The prices of condominium units with riverside views depend on which area you are looking at.
If it's in a tourist area like Sathorn, it can cost you more than 400,000 baht per square meter.
On the other hand, if it's located in a residential area like Bang Po, then it can be around 120,000 baht per square meter.
Check out Chapter One Flow Bangpo. Prices start at 3.9 million baht for a 32.85-sqm one bedroom condo.
BTS/MRT Lines
A majority of condominiums in Bangkok is located near either a BTS or MRT station. When you look at their brochures or websites, you'll find information about their proximity to the nearest BTS or MRT station.
With over ten new BTS and MRT lines still under construction, expect to see new condominium projects sprouting all over Bangkok close to these lines.
Prices range between 60,000 baht to 80,000 baht per square meter.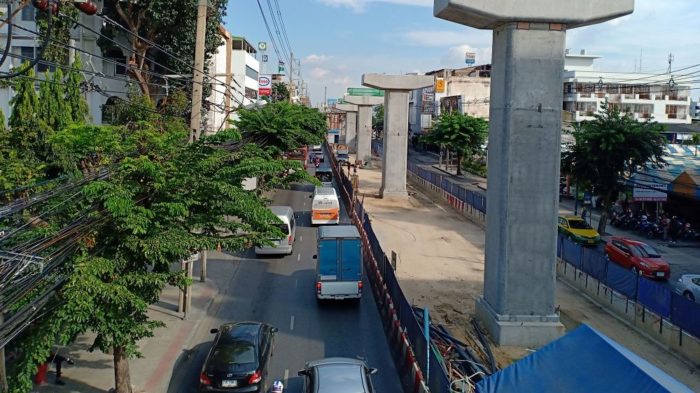 Price
"I have 3 million baht What type of condo in Bangkok can I buy with this amount?"
This is a question many of our readers have asked us many times.
In this section, we are going to show you what type of condo you can buy in Bangkok within certain price ranges.
1 Million Baht
It's possible to find a condominium in Bangkok with a 1-million-baht budget.
However, you would only find a studio room that's 30 sqm or smaller, located on the outskirts of Bangkok without any nearby BTS or MRT at all.
The condominiums at this price point also looks like an apartment rather than a condominium, and may lack basic facilities such as a swimming pool and gym.
2-3 Million Baht
2-3 million baht should be the minimum budget for those who want to buy a condo in Bangkok.
With this amount of money, you can buy a studio unit or a one bedroom on a condo that's close to a BTS or MRT station.
For example, you can buy a fully furnished 36-sqm one bedroom unit at UNIO Sukhumvit 72, a beach-style condominium with a big swimming pool, close to BTS Bearing.

4-5 Million Baht
With this budget, you can get a much larger room. You can buy a 50-sqm two bedroom unit at a condominium like Aspire Sukhumvit Onnut.
If you love river views, you can choose from many riverside condominiums such as Chapter Charoen Nakhon Riverside with this budget.
5-10 Million Baht
You can buy a high-end unit with this budget on a CBD area and within the central Sukhumvit zone.
These condos are more luxurious, have better facilities, and within spitting distance of department stores and busy BTS/MRT stations such as Asok and Thong Lor.
Hyde Sukhumvit 11, located near BTS Nana station, is a good example of a condominium that sells units in this price range. Aside from being centrally located, the condo has tons of facilities such as indoor and outdoor swimming pool with a saltwater system, sauna, game room, garden, theater, library, golf simulation room, and CCTV cameras throughout the condo.
Luxury Condo
With over 10 million baht, you can get a luxurious condo unit in Bangkok.
These are condos located within the CBD area, have excellent quality building materials, and fully equipped with safety and modern facilities.
With 12.9 million baht, you can buy a 70.29-sqm two bedroom unit at Siamese Exclusive Sukhumvit 31.
In addition to good location, this condominium has unique features including a 4.2-meter-high ceiling, which is 30% higher than most condominiums, and a big glass wall that lets you see spectacular city views of Bangkok at night right from your room.
roperty Insurance
Buying property insurance is totally optional.
Basic property insurance plan starts at 2,000 baht a year and gives you extra coverage for natural disasters, accidents, theft, and property damage.
You can read more about property insurance from our insurance in Thailand article. 
Tips for Buying a Condo in Bangkok
There are certain points you should know before buying a condo in Bangkok.
Short-Term Rental
Short-term rental services such as Airbnb are a hot topic for condo owners in Bangkok.
Airbnb is popular among tourists in Thailand. However, daily or weekly rentals in private condominiums are not entirely legal in Thailand.
Registering in Airbnb seems like a good way for room owners to make money. The service also allows tourists to book a good place at a good price.
But tenants in some of these condos might not be happy with this arrangement.
They may feel unsafe living in a building with tourists from different countries with different backgrounds coming and going on a daily or weekly basis.
There are also bad tourists that are loud, smoke everywhere, behave in an annoying manner, and leave a mess in the common areas.
Different condos have different procedures in handling Airbnb. Some condos may entirely prohibit Airbnb while some allow it. It all depends on the condo's juristic person.
Therefore, if you want to buy a condo in Bangkok and live there, it's best to avoid condos that allow owners to rent out out via Airbnb.
A good way to find out is to ask a juristic person about how they handle Airbnb accommodations. Or, you can visit the condo where you want to buy a unit during the weekend and observe how many tourists are staying there.
Note that a daily and weekly rentals are considered illegal in Thailand.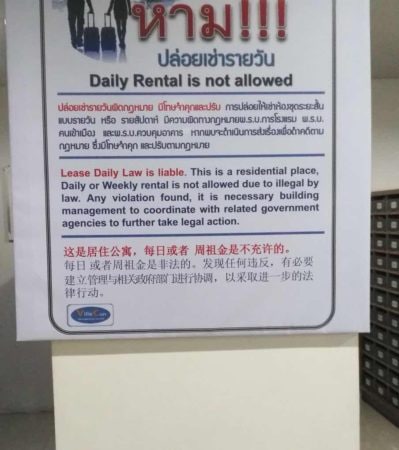 Inspection
Before signing a contract, you should carefully inspect a condo.
Does the water drainage function properly? Is there any electrical leakage? Are the floor, ceiling, and wall paints in good condition? Are furniture installed properly?
If you sign a contract and discover a problem later, it can be a headache to deal with. A condo developer may ignore you since they already have your money and signature.
If you have no idea how to inspect a condo, you can hire a professional inspector.
It costs a few thousand baht, but it's worth it. Inspectors will come to your condo with their tools and give you a full report of all the problems they found. Some inspectors may talk to a condo developer on your behalf to get the problem fixed.
You can use a Thai freelancer website to find an inspector. However, the site is only available in Thai. Just use Google Translate or ask your Thai friends for help.
Otherwise, you can join our facebook group, ExpatDen Thailand Community and ask for a recommendation from fellow expats.
Juristic Person
A juristic person is in-charge of ensuring a condo is in order. They handle management fee, maintain facilities, and make sure all tenants follow condo rules and regulations.
Some may even help you find a handyman, a maid, or even potential renters of your room.
A juristic person isn't always from the same company as the condo developer. Some may be outsourced by the developer.
However, there are certain developers, including LPN and Sansiri, that act as the juristic person themselves.
Although a juristic person plays an important part in managing the condo, you can't choose them. That said, you can ask a condo developer before buying a condo about the juristic person. If the juristic person is a specialized company or the developer themselves, then it should be fine.
On the other hand, you need to be careful if the juristic person is a group of tenants. They might not be able to handle problems professionally. But it's possible to change a juristic person. A majority of tenants need only to vote for it.
Additional Fees
You may need to pay additional costs when buying a condo in Bangkok.
Management Fee
You need to pay management fees once a year. How much you pay depends on your room size, but it is normally between 40-80 baht per square meter per month.
The cost of management fee heavily depends on these two factors:
Number of facilities provided – More facilities mean higher maintenance costs
Number of units in the condo – More units mean more people sharing the cost
Location also affects the management fee, and condominiums within the CBD area tend to be more expensive than those in rural areas.
Parking Fee
In Bangkok, there's a law requiring every condominium to have one parking space for every 120-sqm room.
So if a certain condominium has rooms with all units having a combined 6,000 square meters in size, then it must have a parking space for a minimum of 50 vehicles.
When you speak to a condo agent, you'll notice that they will inform you of the percentage of the car parking space relative to the number of units. 33% means there is a single parking space for every three units.
Normally, the parking space percentage is within 30-50% for condos in Bangkok.
Many condominiums charge a parking fee per month per car. In some condos, you might not need to pay for your first car. But if you buy an additional car and want to park there, then you need to pay parking fee.
The cost of a parking fee varies but it's normally in the range of 300-500 baht per month. The charge is for hiring security guards who protect your cars as well as for parking space maintenance.
A lot of condominiums in Bangkok do not have sufficient parking space
Water
The cost of water per unit in a condominium can be higher than the cost in a house. If you live in a house, you pay the central rate as decided by the Metropolitan Waterwork Authority, which is around 9-15 baht per unit.
But if you live in a condo, they may charge you 20-30 baht per unit since they need to charge for water management and maintenance fees.
But considering the cost of water in Thailand is very low, it's nothing to worry about.
Other
You also need to pay property tax, transfer fee, water, and electric installation fee. You can read more about it on our buying a condo in Thailand guide.
Now, on to You
We hope that all these information can help you find a condo to buy in Bangkok.
In case you want to start soon, check out Keller Henson. They have a lot of condo units for sale there and can also give you useful advice on which condo to buy based on your budget and requirements.