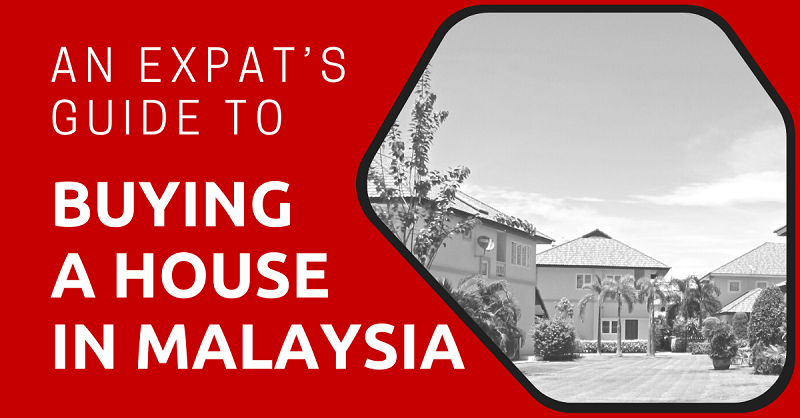 Buying a house in your home country can be complicated, never mind buying a house in Malaysia as an expat.
However, if you meet the requirements and know what steps to take, the process can be worry-free.
Having said that, this guide will show you which properties you can buy, how to get a mortgage, and what you can expect to pay for additional closing costs.
Requirements
If you're working here as an expat, married to a Malaysian, here on the MM2H program, or an investor, you can buy a house in the country.
There are a few requirements, however, that you have to consider when buying a property in Malaysia. Let's look at each one.
Minimum Purchase Price of the Property
You can buy property anywhere in Malaysia as long as it's at or above the minimum purchase price. Each state has a different threshold that is set by the government and respective states.
The following sections will break down what it and isn't available to you, and at what cost.
Off-Limit Properties
You need to be aware of the types of properties that you're allowed to buy. Generally, you can purchase a house as long as it is above the minimum threshold price. However, certain types are off-limits.
These are:
low or low-medium costing houses
properties with the description: "Malay Reserved Land"
properties that are allocated under "Bumiputera Interest" in development projects
Foreigner Consent
Besides the requirements above, you must also apply for foreigner consent when buying a house in Malaysia. Alongside the National Land Code 1965, purchase of properties by foreigners is covered by Malaysia's Guidelines on the Acquisition of Properties.
So, the relevant state authorities must grant you permission before you can buy property. Each state authority in Malaysia will approve this foreigner consent at its own discretion.
However, you're required to submit forms and pay application fees, with each state having its own fee. As a rule of thumb, as long as the requirements above are met, your application shouldn't be rejected.
Types of Homes You Can Own in Malaysia
Simply put, you can own 100 percent of the property in Malaysia. This is as long as you meet the minimum requirements, of course.
There are plenty of options to choose from, such as luxurious condominiums to exclusive townhouses and studio apartments to terrace houses.
Buying a House at a More Affordable Price
Every potential buyer is surely looking for the best bargain. When it comes to huge purchases like your home, it's no different.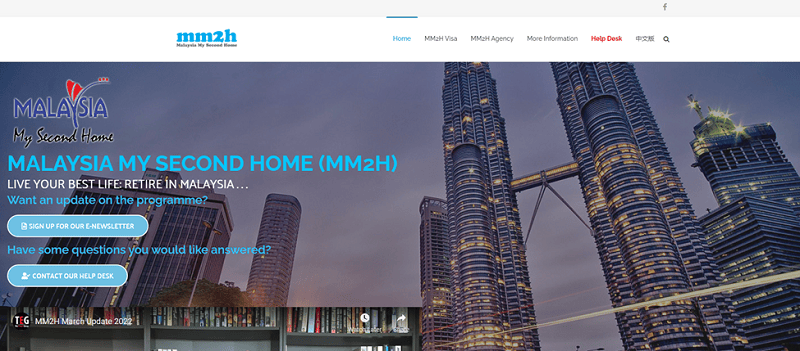 With that said, how can you get a house in Malaysia for a cheaper price? This is where the Malaysia My Second Home (MM2H) program can help you.
If you are not familiar with the program, it's tailored to expats who want to stay in Malaysia for an extended period of time. The MM2H program provides you with a renewable five-year maximum, multiple-entry visa.
MM2H visa holders enjoy certain benefits when it comes to home ownership in Malaysia.
MM2H Visa Holders have Access to Properties at Lower Threshold Values
The table below shows the average minimum threshold values of residential properties for those with and without MM2H visas.
These amounts may change as the Malaysian government sets new budgeting plans. So, stay updated on the latest threshold prices before buying a home in the country.
| | | |
| --- | --- | --- |
| State | Without MM2H (average minimum threshold price of property) | With MM2H (average minimum threshold price of property) |
| Selangor (You are limited to landed properties with landed strata titles. You can't buy properties from auctions, or those on agricultural land.) | RM2 million (US$500,000) | RM2 million (US$500,000) (Zones 1 & 2*) RM1 million (US$250,000) (Zone 3*) *Zones in SelangorZone 1 – Districts of Petaling, Gombak, Hulu Langat, Sepang and KlangZone 2 – Districts of Kuala Selangor & Kuala Langat,Zone 3 – Districts of Hulu Selangor and Sabak Bernam |
| Johor | RM2 million (US$500,000) (landed property in international zones) RM1 million (US$250,000) (strata title & landed properties within non-international zones, except for Medini) | RM1 million (US$250,000) |
| Kelantan | RM1 million (US$250,000) | RM500,000 (US$125,000) |
| Kedah | RM600,000 (US$150,000) except in Langkawi, which is RM1 million (US$250,000) | RM1 million (US$250,000) |
| Malacca | RM1 million (US$250,000) (landed title) RM500,000 (US$125,000) (high-rise/strata title) | RM1 million (US$250,000) (landed title) RM500,000 (US$125,000) (high-rise/strata title) |
| Negeri Sembilan | RM1 million (US$250,000) (overhang landed property) RM600,000 (US$150,000) (overhang high-rise/strata title property) | RM1 million (US$250,000) |
| Pahang and Terengganu | RM1 million (US$250,000) | RM1 million (US$250,000) |
| Penang | Overhang landed property: RM1.8 million (US$450,000) (island) RM750,000 (US$187,500) (mainland) Overhang strata/high-rise properties: RM800,000 (US$200,000) (island)/RM400,000 (US$100,000) (mainland) | RM500,000 (US$125,000) |
| Perak | RM1 million (US$250,000) | RM350,000 (US$87,500) |
| Perlis | RM500,000 (US$125,000) | RM1 million (US$250,000) |
| Sabah | RM1 million (US$250,000) (landed property) RM600,000 (US$150,000) (high-rise property) | RM500,000 (US$125,000) |
| Sarawak | RM500,000 (US$125,000) | RM300,000 (US$75,000) |
| Putrajaya, Kuala Lumpur, Labuan* | RM1 million (US$250,000) | RM1 million (US$250,000) |
For clarity and understanding, here are what the different terms mean:
Strata titles: relate to properties where multiple units are built as part of a shared development with shared amenities. In most cases, that means apartments or condominiums.
Landed property: a unit that is developed as part of a private parcel, with no shared ownership responsibility, with an individual property title. This means a bungalow, semi-detached, or terraced house.
Overhang: properties in Malaysia's real estate market where supply currently outstrips demand, such as luxury condominiums from large developments. These are determined by the state authorities.
Looking for a House to Buy
If you're working in Malaysia, you will want to live in urban areas like in Kuala Lumpur and Selangor, which have thriving expat communities and no shortage of job opportunities. They also have hospitals, schools, and convenient transportation.
Or you may prefer another popular expat destination such as Penang.
After you've decided where you want to buy your home, you need a reliable way to look for a house that suits your budget and taste.
The next sections will show you how to do that.
Online Platforms
Two trustworthy and popular online property search portals are Property Guru and iProperty.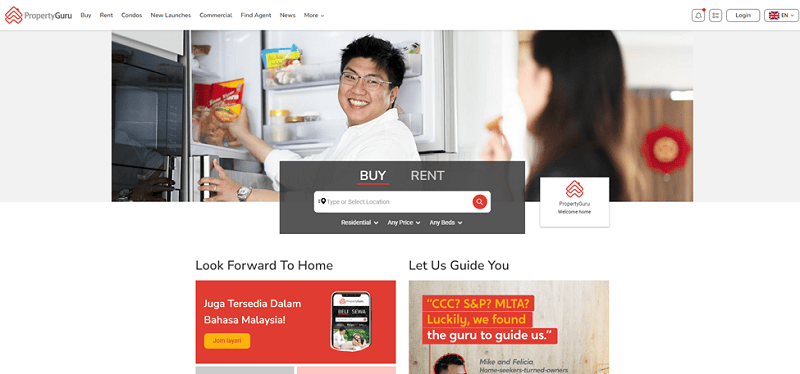 Undoubtedly, there are other portals available online, but these two provide the most comprehensive services.
You can filter your search by location, budget, and property type. You are also able to select the size and number of bedrooms and bathrooms you want.
These property portals are primarily used by real estate agents who put up properties for sale, and of course, for rent.
So, the information regarding the properties that are advertised is accurate and reliable.
After your search, you can then reach out to agents and arrange for property viewing, which brings me to the next method.
Real Estate Agents
Whether you use websites or not, hiring a real estate agent is useful as he or she can help you navigate the legal necessities and find the home you want within your budget and criteria.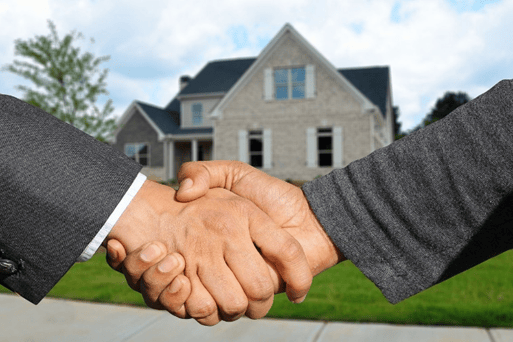 Real estate agents are also privy to information on houses and locations that are not commonly known to the public, never mind other expats.
As a buyer, you'll benefit from agents' knowledge of the different properties and surrounding areas. Their negotiating skills and advice will come in handy, too, when you aren't familiar with the procedure of home buying in Malaysia.
Moreover, you don't have to worry about paying real estate agent fees. When you buy a house in Malaysia, the real estate agent gets a commission from the seller, not you.
Advertised Homes
You'll notice as you travel around Malaysia the signs on homes that says "For Sale/For Rent."
These signs will have phone numbers that you can call to talk to property agents that are in charge of selling or renting out these homes.
This method is great, especially if you're looking for a home that is closer to your workplace, train station, or school – if you need to be close to any of those.
You'll also have the advantage of surveying the neighborhood at your leisure if the advertised homes are in areas where you frequently go.
Having the time to view the properties yourself without having to adjust to the schedule of a property agent is crucial.
So, keep your eyes peeled for signs on properties when you are out and about.
The Process of Purchasing Your Home
Now that you've decided that you want to buy a house, what is the actual process like? We'll guide you through the following steps assuming you're not married to a Malaysian and aren't a MM2H visa holder.
Step 1 – Check the Cost of the Property
If you're like me and want to have access to urban facilities and career opportunities, you'll most likely want to live in Zone 1 in Selangor.
However, you're only allowed to buy homes here that are valued at RM2 million (US$500,000) or higher.
Make sure that you have some cash to make a deposit on the house – roughly 30 percent of the property value – plus more for other costs such as legal fees, appraisals, etc.
If you don't have enough money with you, read this article on how to send money from your home country to Malaysia.
Step 2 – Explore Properties and Find the Right One for You
You should by now have a clear idea of the location, the price range, and the type of house you want to buy. If you have a few potentials in mind, view the houses with your agent.
My advice is to take your time with this before your commit. Pay close attention to structural defects that may be present in each house. For example, plumbing leaks, damaged roofs, and even presence of mold.
You may also want to take note of how noisy or busy the neighborhood is, if you value peace and quiet. Bring someone you trust to give unbiased judgment of the properties. Take notes and photos of each one so you can review them at a later time.
Step 3 – Apply for a Mortgage
The amount of financing you can get depends on your situation.
If you're part of the MM2H program, you can usually get up to an 80 percent mortgage of the total purchase price. For those not part of the MM2H visa program, the maximum mortgage amount is around 70 percent.
Moreover, finding a bank to loan you money will be difficult, even if you open a bank account in Malaysia. Don't give up though.
Check with all the banks and find the one with the lowest interest rates. The application process for mortgages is similar for both locals and foreigners.
Here's how to apply:
Contact different banks and see which banks will offer you a loan. Your chances of getting one will increase if you're locally employed, are a permanent resident, or a MM2H visa holder.
Visit the bank branch(es) in person when necessary for personal evaluation. They'll require you to prepare documents such as your employment letter, passport, bank statements, and more for the meeting.
Some of the banks that might offer you a mortgage are CIMB, Maybank, HSBC, and OCBC.
Step 4 – Negotiate a Price and Make an Offer
When you've decided on a house, let your agent know. You can then make an offer.
The seller will either accept, reject, or give you a counter-offer on the price you suggested. It's not uncommon for a seller to return with a counter-offer.
If the seller is asking for RM2.3 million but the property valuation is just RM2.1 million, about 70 percent of the mortgage (the maximum you can get without an MM2H visa) will come up to only RM1,470,000.
Can you fork over the remaining cost? If not, you'll definitely need to offer a lower price.
When negotiating, you have to remember the costs that you'll have to bear initially, which can add up, but still ensure that you and the seller are in a win-win situation.
Submit your intention to buy through a Letter of Offer or developer's sales form with intent to purchase, along with the agreed upon deposit, which is usually 2 percent to 3 percent of the property price.
Step 5 – Close the Deal
At this point, you'll need to appoint a conveyance lawyer (you must hire a lawyer when buying a house in Malaysia to ensure everything is done properly and honestly). Usually, your real estate agent will recommend a panel of legal firms that you can choose from.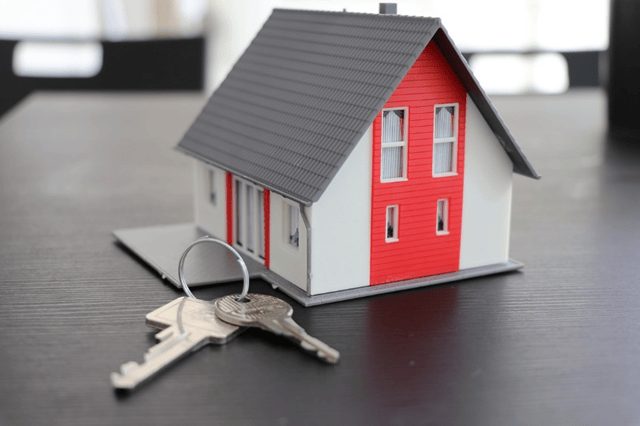 Alternatively, you can do your own research online or get recommendations through your network in Malaysia. Banks cans also refer lawyers. However, it's always best to talk to a lawyer within two weeks after submitting your Letter of Offer.
You'll need to provide your lawyer with the relevant documents. These are the photocopy of your passport, your contact details, address, income tax details, as well as the location of tax payments for purchase of secondary market properties.
You should sign the Sale and Purchase agreement (SPA) within 14 days of submitting the Letter of Offer.
The SPA is basically a legally binding contract that outlines the details of the property sale between you and the seller. You close the deal upon signing the SPA. This means that no further negotiations can occur. Both the buyer and the seller must respect the terms and conditions laid out in the SPA.
Next, you make the 10 percent down payment for the house. Note that the 2 percent to 3 percent in Step 4 goes toward the 10 percent of the deposit amount.
Step 6 – Apply for the State Authority Consent
After the agreement concludes, your lawyer will apply for the final state authority consent. This ensures that the property you're about to buy meets the requirements by the state.
The documents that you have to submit are:
one certified copy of the SPA
one certified copy of your passport
latest quit rent (a form of land tax collected by your state government for property in Malaysia)
assessment receipt for the property
application form as per section 433B of the National Land Code
Step 7 – Pay the Remaining Balance
You now have to pay the remaining 90 percent balance of the property purchase price as stated in the SPA, or Schedule H Housing Development (Control And Licensing) (Amendment) Regulations 2015. If you took out a mortgage, the bank should settle this for you.
Remember that banks will only finance up to about 70 percent of the price of the property. This means that the 20 percent balance of the property price has to come from you. (The other 10 percent is the initial deposit.)
After this, you get a Memorandum of Transfer (MOT), a document that shows the transfer of ownership of the house from the seller to you.
Now you are the proud owner of a new house, which leaves one last step.
Step 8 – Move in
If you're buying the house from a previous owner, you can move in to your new house as soon as all approvals are complete and within the time frame stated on the SPA.
However, make sure that the outstanding utility bills have been paid by the seller.
If you're moving into a new housing development that's still under construction, you have to wait until the developers finish the project before you can move in.
Other Costs of Buying a House in Malaysia
Besides the purchase price of the house, you also have to pay other fees associated with buying a home.
Stamp Duty
You have to pay the stamp duty when the SPA is stamped for residential property purchases.
| | |
| --- | --- |
| Price of Residential Property | Stamp Duty |
| First RM100,000 (US$25,000) | 1 percent |
| RM100,001 – RM500,000 (US$25,000.25 – US$125,000) | 2 percent |
| RM500,001 – RM1 million (US$125,000.25 – US$250,000) | 3 percent |
| Over RM1 million (US$250,000.25) | 4 percent |
Legal Costs
Don't forget that your lawyer has to be paid for his or her labor, too. The legal costs involved are as follows:
| | |
| --- | --- |
| Price of Residential Property | Legal Cost |
| First RM500,000 (US$125,000) | 1 percent |
| RM500,001 – RM1 million (US$125,000.25 – US$250,000) | 0.8 percent |
| RM1,000,001 – RM3 million (US$25,000.25 – US$750,000) | 0.7 percent |
| RM3,000,001 – RM5 million (US$750,000.25 – US$1,250,000) | 0.6 percent |
| Over RM5 million – RM7.5 million (US$1,250,000.25 – US$1,875,000) | 0.5 percent |
| Over 7.5 million (US$1,875,000.25) | Negotiable and will not exceed 0.5 percent |
My Personal Experience
Since I'm married to a Malaysian, I didn't have to worry about the minimum threshold of the property prices available to foreigners. Consequently, we were able to buy our property for the local price.
Moreover, our house is listed under my spouse's name both on the agreement and on the mortgage.
Now, On to You
If you bought a house in Malaysia, share your experience or the tips that could be useful to other potential buyers.
It may be complicated to buy a house in Malaysia, especially when you first move here, but the effort is well worth it.
Just be sure to get advice from your trusted friends or real estate agents, so you're well-informed before making this life-changing decision.