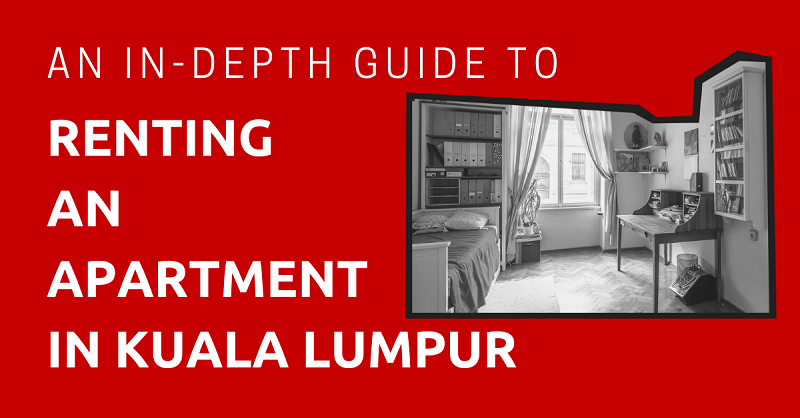 If you are an expat who is looking to move to Malaysia soon, one of the first things that you will inevitably think about is a suitable place to live.
If you are moving with your family and young children, then this is probably one of the more vital things to take into account as you prepare to make the big move, with many more factors to take into consideration.
Malaysia has always been a favorite location for foreigners from all over the world. Its diversity in terms of people, language, environment, and culture makes it attractive to the expat community as well.
Let's take a look at everything you need to know when it comes to finding a place to rent in Kuala Lumpur.
Why Kuala Lumpur?
There are many reasons why Malaysia is a good country for expats.
The relatively low cost of living for expats
The climate – it is essentially summer all year round
The wide range of food
The fact that English is widely spoken throughout the country
In fact, Kuala Lumpur, the capital city of Malaysia, has been consistently ranked as one of the top 10 Asian cities to live for expats by Expat City Ranking. 
Malaysia is also popular among expats as many international companies have an established presence in the country.
With employees of these companies coming in from all over the world, it is safe to say that there is a substantial number of diverse expat communities in Malaysia.
As you are planning for your life in Malaysia, we take you through:
The types of rentals that are available for expats and foreigners in Malaysia
How to find a suitable area
How to get in touch with a good real estate agent
The operation of tenancy agreements in Malaysia
Your obligations as a tenant in Malaysia
Property Market in Malaysia
The property market in Malaysia, especially in cities like Kuala Lumpur or other popular expat destinations such as Penang, is booming.
This is particularly so when dealing with rental properties.
Over the past two decades or so, there has been a trend of homeowners purchasing property for the sole purpose of renting them out to others.
As such, property developers have met the demands of property buyers to build property in high expat-density areas.
When looking for areas to live in Malaysia as an expat, there are a few things to take into consideration.
Some of these include whether your location of choice is:
Close to international schools if you have school-going children
Easily accessible by public transport such as the network of trains or buses, especially if you do not plan on driving or buying a car
Requirements for Renting a Property in Kuala Lumpur
As an expat or a foreigner in Malaysia, you may be wondering what the requirements are to rent property in Malaysia.
As we have seen, there is most certainly no shortage of rental properties. In fact, it is probably safe to say that it is a tenant's market, with landlords constantly on the lookout for tenants to rent their properties.
That being said, if you are an expat or a foreigner in Malaysia, the requirements to rent a property may differ slightly from if a local or a permanent resident was renting the property in question.
Landlords are generally cautious when it comes to renting to expats and foreigners for fear that they may just leave and return to their home country at any time, thus leaving the landlord stranded with no tenant.
Landlords need to be reassured that as an expat, you can honor the duration and terms and conditions of the tenancy.
Essentially, the landlord needs to know that you have the legal right to be in the country for the duration of the tenancy.
This will very much depend on the type of visa that you are using to stay in the country. The longer the duration of your visa, the more likely it is that the landlord will be willing to rent the property to you.
The following are the categories of people that are eligible to stay in Malaysia for more than 1 year:
Those under the Malaysia My Second Home (MM2H) Program
International students who are enrolled in a course in a college or university in Malaysia. The visa granted will usually depend on the duration of the course. So there is the possibility of a longer stay in the country in such situations.
A highly-skilled foreign employee who is employed in their professional capacity and holds an Employment Pass. 
A worker from any industry with the relevant temporary employment pass which allows for a stay of up to 2 years.
Best Areas to Rent in Kuala Lumpur for Expats
Being a capital city, there are plenty of places to stay if you are in Kuala Lumpur.
In fact, most expats in Malaysia are based in the city center of Kuala Lumpur. This is primarily because their place of work is located in the city and it is more convenient for them to travel to and from work.
That being said, there are certain areas within Kuala Lumpur itself that can be said to be more expat-friendly than others, and thus more popular among the expat community.
Mont'Kiara
Mont'Kiara comes in at the top of the list for the best areas to rent in Malaysia for expats.
This area is located within the city center of Kuala Lumpur and is easily accessible from other parts of the city.
This is where the majority of the expat community in Malaysia is located.
While it is not a large area as such, there are plenty of property developments, condominiums, and office complexes that appear to be developed with the expat in mind.
At first glance, it does come across as a rather dense area, constantly in a hive of activity.
Additionally, there is a great selection of international schools, malls, gyms, and restaurants that are all within walking distance from each other.
There are also plenty of expat communities within Mont'Kiara and it is easy to find like-minded people and make new friends.
Ampang
Ampang is an expat area that is located outside the main city center. In fact, it is split between the city of Kuala Lumpur and the state of Selangor, as some parts of this area are located on the border between the two.
Here you will find a range of reputed international schools and entertainment areas.
The views in Ampang are gorgeous, especially on a clear day with blue skies and plenty of greenery.
Ampang is also popular among expats as it is located near Kuala Lumpur's Golden Triangle area. It is also where the famous Petronas Twin Towers are located. 
With many international companies and banks having their headquarters in this area, it is easy to see why Ampang is a favorite location among expats in Malaysia.
Bangsar
Bangsar is another popular expat location in Malaysia.
Also located extremely close to the city, this is a great location to consider if you are the kind of expat who prefers to stay in large apartments or beautiful bungalows.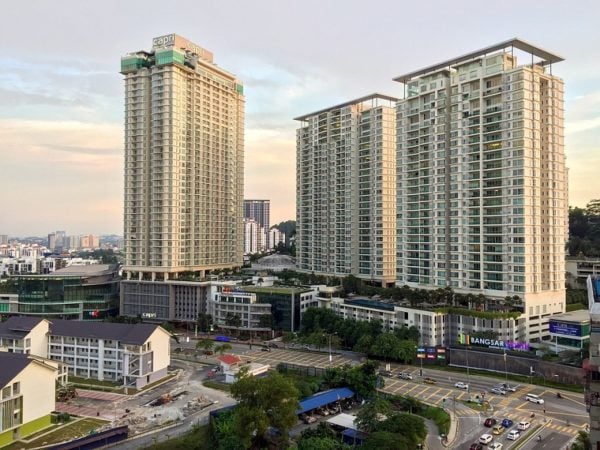 This is great if you have a bigger family and need more space.
Bangsar is also close to large malls, pubs, and restaurants that serve international cuisine.
Damansara Heights
Damansara Heights is a fairly quiet and well-spaced-out township, compared to Mont'Kiara and Bangsar.
It is located just outside the main city center. It is a peaceful area with plenty of greenery.
There are also some pubs and restaurants within the area.
It is a primarily affluent neighborhood with large landed properties and condominiums.
Duration of Stay
The duration of your stay in a particular property will determine if you are looking for short-term or long-term rentals.
Most tenancy agreements run for 2 years, with an option to renew the tenancy for 1 more year, for a maximum total of 3 years.
Generally, the longer the duration of the tenancy, the easier it might be to negotiate rental rates and favorable terms and conditions with the landlord.
Usually, any tenancy that is less than 12 months is considered to be a short-term rental.
Short-term Rental
Short-term rentals may mean that you will pay a higher amount of monthly rent.
While short-short term rentals of less than a year are certainly available via sites such as Sublet or Airbnb, generally, the minimum tenancy period for long-term rentals in Malaysia is 12 months.
As such, it is important to determine from the outset how long you will be staying in your property of choice.
Landlords generally prefer tenants who can commit to this length of time or more. This allows them to have a level of certainty when it comes to payment of rent.
Type of Condominiums
Broadly speaking, there are two types of rental properties that you can consider as an expat living in Malaysia – condominiums and landed property.
Condominiums are a popular choice among expats and foreigners, especially those with families and young children.
Most condominiums are fully equipped with a range of facilities such as swimming pools, gyms, jacuzzis, playgrounds, and event halls.
Some even have their own cafes, mini-grocery stores, and restaurants within the condominium itself.
This is extremely convenient because technically, it means that you never need to leave your residence!
More importantly, these condominiums usually have high levels of security and so it makes them safe spaces to live for you and your family.
One thing to note though is that not all condominiums in Malaysia are pet-friendly. So if you have a furkid, it is best to check on this before you make your decision to stay in a condominium.
If you prefer to stay in a landed property, then you are guaranteed to have more space and a relatively large outdoor area where your kids can play or your pets can run about freely.
There are concerns among the expat community about the safety of landed properties. However, there are also plenty of landed properties that are contained within gated communities.
This means that there are sufficient security measures in place, similar to those available in condominiums.
Fully Furnished Apartment
As you are looking for your next home in Malaysia, it is also important to consider if you want to move into a completely furnished home, a partially furnished home, or a completely bare home.
Moving into a completely furnished rental property would mean that you have everything taken care of. All you need to do is just move in and start your life without having to think about buying furniture or figuring out how to decorate your home.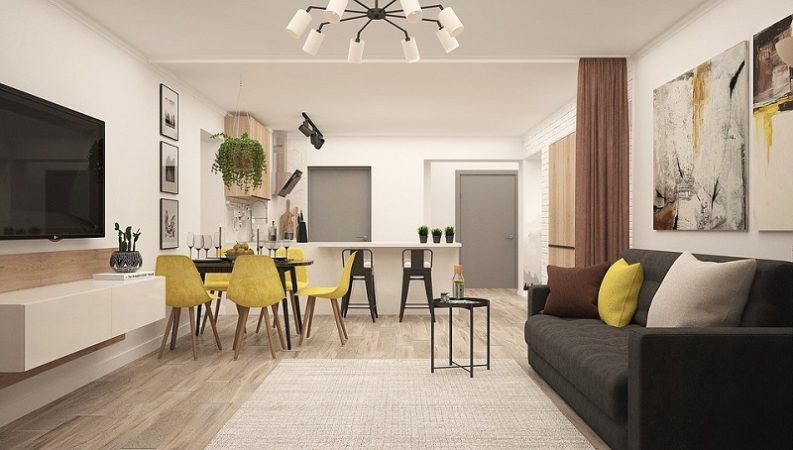 However, it also means that you may have to pay more in terms of monthly rent to your landlord. Additionally, you would have to be extremely careful to take care of all the furniture for the duration of your stay.
Fully-furnished rental properties are a wonderful option if you are an expat who moves around to different countries often. This way, you won't want to have to think about what to do with your furniture in the event you have to move at a moment's notice.
Partially Furnished Apartment
That being said, many expats and foreigners prefer a rental property that is at least partially furnished. This would usually mean that the property comes with the bulky essential items such as bed frames and mattresses, washing machines, and dryers.
Opting for a partially furnished rental property then allows you to pay less in terms of monthly rent than compared to a fully-furnished unit. You can then choose to spend your money at your own pace to decorate your rental home and add your personal touch to it.
Barebone
Of course, choosing a bare unit as a rental home would mean that you pay considerably less monthly rent. A bare unit is one that only has the necessary fixtures but no furniture whatsoever.
However, opting for a bare unit may also mean that you would now need to spend time, money, effort, and energy doing up your home. This may not be worth it if you are planning to stay in this particular rental property for a short time.
If you are the kind of expat or foreigner that is comfortable with minimal furnishings and are on a strict budget, then a bare unit rental home is the perfect choice for you.
Studio Apartment
Studio apartments are one of the popular options for a single expat in Kuala Lumpur. You can find them in many parts of the city.
Studio apartments are usually fully furnished with a size of 400 to 500 square feet.
Depending on location and condominium building, you should expect to pay around 2,000 RM ($485 USD) per month to rent a fully furnished studio apartment in Kuala Lumpur.
How Much Does It Cost?
The cost of your rent mainly depends on these four factors:
furnishing option
size
the number of bedrooms
location
In general, you should expect at pay at least 1,500 RM per month to rent a partially furnished studio apartment in Kuala Lumpur. If you want a fully furnished studio with a bigger room and better facilities, you should expect to pay at least 2,000 RM a month.
Finding an Apartment for Rent
When you are ready to start looking for a place to live in Malaysia, there are some rental agencies or property portals that you can survey online to get started.
The two most reliable and trusted online property search portals are Property Guru and iProperty.
While there are other portals available online, these two provide the most comprehensive services. On their websites, you can filter your search by location, budget, and type of property.
These property portals are primarily used by real estate agents who put up properties for rent or sale. So you can rest assured knowing that the information regarding the properties that are advertised is accurate and reliable.
You can then contact these agents via the portal and arrange to view your rental property options and negotiate any rental arrangements with them.
Recently, these portals have also come up with virtual tours of the properties that are listed on their websites. This is helpful if you are looking for rental properties while you are still outside of Malaysia.
It must be noted at this stage that if you are using these portals, it is almost always the case that a property agent is involved.
You can indeed look for property rentals on your own on websites such as mudah.my and negotiate personally with the landlord, without the aid of an intermediary. However, do be aware of rental scams when using this site. 
It is best to be hyper-vigilant in these cases.
That being said, most landlords tend to use some form of online portal or property agents to put their properties up for rent.
Securing a Property
Once you have decided on your rental home in Malaysia, one of the first things that you will need to do is secure the property. This is to ensure that the property is not rented to other individuals while you get all the legal formalities sorted.
Booking Form and Booking Fee
This is usually done by signing a letter confirming your intention to rent the property in question. This is arranged by the real estate agent who has been engaged by the landlord to manage their property. This letter is commonly referred to in Malaysia as a 'booking form'.
Along with this, you will also need to pay the first month's rent to confirm your intention to rent the property. This is known as the advance rental payment and is commonly referred to as the 'booking fee'.
The purpose of the booking form and the initial payment of the booking fee is to ensure that neither party suddenly withdraws from the rental arrangements, pending the signing of the legal documents confirming the tenancy – primarily, the tenancy agreement.
It is important to note at this stage that some real estate agents are unlikely to refund this booking fee in the event the tenancy arrangement does not materialize for any reason.
Others may only refund a certain percentage of the booking fee in such circumstances and it is quite rare for there to be a complete refund.
So it is important to read the terms and conditions of the booking form to be aware of your rights in relation to the booking fee here.
Tenancy Agreement
This is the most important document that will govern your tenancy arrangement between you as the tenant, and the landlord.
Some of the most crucial aspects of any tenancy agreement include:
The exact details of the property, including its postal address and size
The amount of security and utility deposits
The amount of rent that is due every month
The bank details of the landlord that the monthly rent should be paid into
The date upon which the rent is due every month
The duration of the tenancy arrangement, together with any options to renew the tenancy
The rights and obligations of both the landlord and tenant in relation to the tenancy arrangement and the property as a whole
An inventory of all the items that come with the property and form part of the tenancy arrangement
The circumstances in which the tenancy can be terminated and the effects of the termination (if any)
Now that you have an idea of the contents of a common tenancy agreement in Malaysia, let us dive into some of important parts you should know when it comes to the finalization and signing of the tenancy agreement.
Who Draws Up The Tenancy Agreement?
Usually, it is the real estate agent who will make the necessary arrangements to draw up the tenancy agreement.
The real estate agency will engage a law firm to draft the tenancy agreement to ensure that all the required legal clauses are contained within the tenancy agreement.
More importantly, this is done to ensure that as much as possible, the terms and conditions set out in the tenancy agreement are fair to both parties.
Once the draft tenancy agreement is ready, it will be sent over to you as the tenant to review the same to ensure that you agree with the terms of the agreement.
It is of utmost importance that you insist on reviewing the draft tenancy agreement in detail before agreeing to sign it.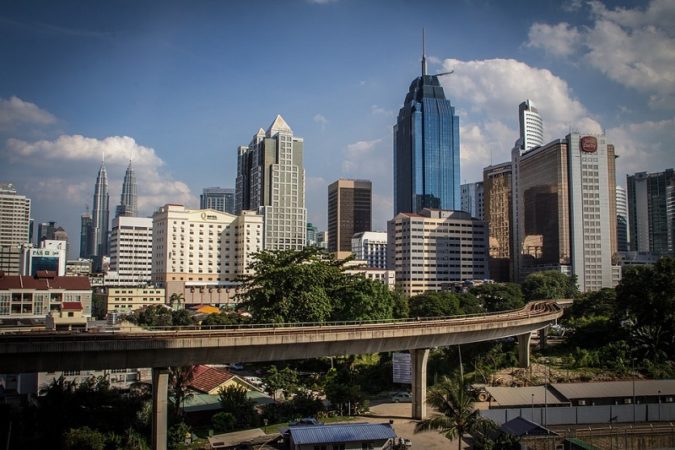 Understandably, it can be tedious. However, if you can afford to get your own lawyer to conduct a review of the tenancy agreement, then that would be the best option. This way, you have a representative that takes your interests as the tenant into account.
While most tenancy agreements are standard and contain boiler-plate clauses, there have been instances where there are terms in the agreement that may be onerous or unfair to the tenant and very much in favor of the landlord.
You can inform the real estate agents of any proposed amendments and they will handle any negotiations with the landlord accordingly.
If all goes well and the parties are agreeable to the terms and conditions of the tenancy agreement, then the real estate agent will arrange for both parties to sign the agreement.
There are usually 2 copies of the tenancy agreement to be signed – one copy for the landlord and the other for you as the tenant.
It is also important to ensure that your copy is stored safely and securely. This is just in case there is any future dispute regarding the rights and obligations of either party in relation to the tenancy arrangement. You can always pull up your copy to check on this.
Required Documents
As a foreigner or an expat looking to rent property in Malaysia, the documentation required of you as a tenant may differ slightly from those that are required from a local tenant.
Some of the main documents that may be required from the named tenants for the purposes of preparing the tenancy agreement include:
A copy of your passport. Ideally, your passport should be valid for at least the duration of the tenancy agreement. This will reassure the landlord that you are not going to suddenly leave in the middle of the tenancy.
Alternatively, you can also obtain a letter from your employer confirming the duration of your stay in Malaysia.
A valid visa or an equivalent document that reflects your status in Malaysia. If you are a permanent resident or a resident under the 'Malaysia My 2nd Home' or MM2H scheme, then the relevant documentation in relation to these will suffice. 
If you are moving into the rental property with your family, then some rental agencies may also require the documentation of all the individuals who will be living in the rental property with you.
This is primarily for security reasons as the landlord has the right to know who will be staying on their premises for the duration of the tenancy.
Security Deposit
Upon the finalization and signing of the tenancy agreement, you need to pay a security deposit and utilities deposit.
The security deposit is usually equivalent to 2 months' rent. However, do note that some landlords require 3 months' rent to serve as the security deposit. It is important to confirm this amount before entering into your tenancy arrangement.
Understandably, these amounts can add up. If you find it too much of a financial burden to make these payments in one go, you can request to split the deposit payments in two.
An example of this would be to pay half the security deposit upon the signing of the tenancy agreement and the remaining half a couple of months later.
However, do keep in mind that this is allowed solely at the discretion of the landlord. As such, this is something you will need to negotiate on and ensure that such arrangements are properly reflected in the tenancy agreement.
This security deposit is refundable upon the expiration of the duration of the tenancy arrangement, provided that there is no damage to the rental property.
If there is indeed any damage, then the landlord can retain some of the security deposit to compensate for the damage but not the entire security deposit.
Remember, the landlord is not allowed to profit from the security deposit or penalize you for any natural wear and tear of the property.
Utilities Deposit
This is the deposit that is required for the water and electricity of the rental property.
The exact amount payable will depend on the landlord. Some landlords will insist on an entire month's rent to go towards the utility deposit while others are willing to accept ½ a month's rent.
Just like the security deposit, the utility deposit is refundable upon the expiration of the duration of the tenancy agreement.
This is unless you have left any utility bills unpaid, in which case any outstanding payment will be made from the utility deposit.
Additional Fees
Aside from the amounts payable as set out above, there are other fees that you will need to account for when you enter into a tenancy agreement in Malaysia.
The tenant is obliged to pay for all legal fees, stamp duty, and any administrative fees that are related to the preparation of the tenancy agreement.
Legal Fees
Where a property agent is involved (which is usually the case), the agent is usually the party who engages a law firm or a lawyer to prepare the tenancy agreement.
In such a situation, there is usually a clause within the tenancy agreement regarding legal fees.
The legal fees for a tenancy agreement are standardized by law and will depend on how much your monthly rent is.
The following table gives you an idea of how much legal fees you will need to plan and budget for.
| | |
| --- | --- |
| Monthly Rent | Scale of Legal Fees |
| For the first RM10,000 | 25% (subject to a minimum fee of RM300) |
| For the next RM90,000 | 10% |
| Where the rent is in excess of RM100,000 | Negotiable on the excess (but shall not exceed 10% of such excess) |
It must be noted that even if a property agent is not involved and you are dealing directly with the landlord, it is possible that the landlord may engage their own lawyer to prepare the tenancy agreement.
Even in such scenarios, the tenant is obliged to pay the legal fees.
It is possible to draw up a tenancy agreement without either party getting a lawyer or a law firm involved. However, this is rare and not entirely advisable as a lawyer is in the best position to advise on the legal intricacies, nuances, and implications of a tenancy agreement.
Having said that, the landlord may decide not to charge you for the legal fees but that's their prerogative. They usually include it as a one off admin fee when signing the contract.
Stamp Duty
The stamp duty is payable to the Inland Revenue Board in Malaysia. Stamp duty is the tax that is payable on all legal documents that are signed in the country.
The stamp duty has to be paid within 30 days of the signing of the agreement. If this is not done, then there is a risk of incurring a penalty for late payment.
Usually, the real estate agent will make the necessary arrangements to ensure that the stamp duty is paid within the deadline and that the Inland Revenue Board stamp is properly affixed on the tenancy agreement.
The amount of stamp duty that is payable will depend on your annual rental amount and the duration of your tenancy agreement.
The table below will give you an idea of the amount of stamp duty payable.
| | |
| --- | --- |
| Duration of Tenancy | Amount of Stamp Duty Payable |
| 1 year or less | RM1 for every RM250 of annual rental |
| 1 to 3 years | RM 2 for every RM250 of annual rental |
*Note: The first RM2400 of your annual rental is exempt from stamp duty.
Don't be overwhelmed by these figures! The calculations will usually be done for you by the real estate agent. However, this is here to ensure that you are aware of what your stamp duty charges might be and can plan your finances accordingly.
Miscellaneous and Administrative Fees
You may also be required to pay any administrative fees that are required by the real estate agents.
This will depend on the real estate agency as they have the discretion to charge you the fees for all the running around and paperwork that needs to be done to put your tenancy agreement into effect.
To be safe, it would be best to set aside RM100 for every RM1000 of your monthly rent for the purposes of any administrative fees payable.
Moving Into Your New Rental Home
Once all the formalities are completed in relation to the tenancy agreement, it is time to move into your new home in Malaysia!
The real estate agent will usually hand over the keys to the property on the day of the commencement of the tenancy agreement.
However, some landlords are kind enough to let you have the keys to the property slightly earlier so that you can move your things in and set up your new home.
You can check with the real estate agent as to whether this can be done.
Once you have entered the property with the intention to take possession of it for the duration of the tenancy agreement, do ensure that the property is clean and is in a suitable condition for you to move in.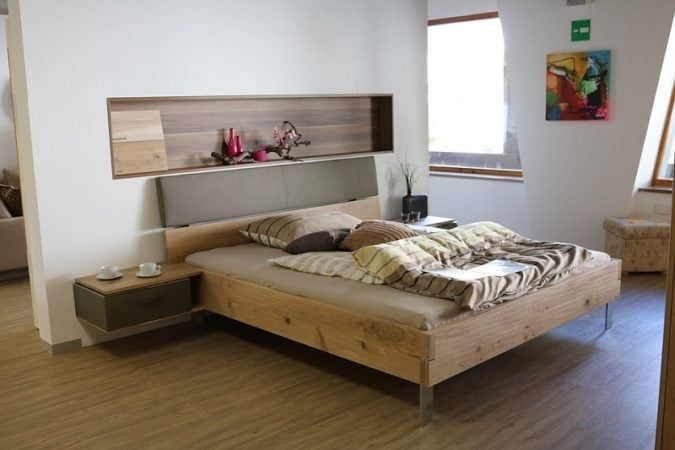 Additionally, it is recommended that you do the following:
Make sure that all the keys that you have been given in relation to the property work well. This includes any access cards or mailbox keys.
Make sure that all the pipes have running water, that the water heaters work, and that there are no obvious plumbing issues.
Make sure all the electrical items that come with the property are operational.
Take as many pictures of the property as you can on the day that you move in. This is so that in the event that there is a dispute as to wear and tear or damage to the property, you have photographic evidence to use in your favor.
When the tenancy expires and your security deposits are due to be refunded to you, you can also use these photographs to show that the property is being returned to the landlord in the same condition in which it was taken.
Obligations As A Tenant During The Tenancy
As a tenant, your rights and obligations are set out in the tenancy agreement. However, there are some obligations that all tenants should be mindful of to ensure that your stay in your rental home is as peaceful as possible.
Pay Your Rent On Time
The due date for your monthly rent payment will be indicated in your tenancy agreement.
There is usually an unofficial grace period of about 7 days. However, as much as possible, try to make timely or even early payments on your rent.
Don't forget to send your landlord or the real estate agent proof of such payment each month so that there is no misunderstanding between the parties at any time.
Take Good Care Of The Property
This is extremely important for you to be able to get back your security deposits upon the expiration of your tenancy agreement.
It is also important to note that the tenant is responsible for all minor repairs and maintenance of the rented property.
For example, if a light bulb needs to be changed or the air conditioning units require servicing, it is the obligation of the tenant to make the necessary arrangements.
The landlord is responsible for any major repairs or defects. As such, it is important to keep the landlord notified of any issues as soon as possible.
If the rental property is located in a condominium, the landlord is responsible for the payment of any maintenance and fire insurance payments.
Pay Your Utility Bills
The monthly utility bills for rented property in Malaysia are paid for by the tenant directly. They usually come in the mail to the postal address of the rental property.
It is important for you to keep a lookout for them and make the necessary payments in a timely fashion to ensure that there are no disruptions to your utilities.
The common utilities in Malaysia are:
Electricity
Water
Indah Water (wastewater management and sanitization)
Internet
These payments can easily be made online as long as you have the relevant account details.
Renewing The Tenancy Agreement
If your tenancy agreement is due to expire and you want to continue living in the same rental property, then be mindful of exactly when the tenancy is going to expire.
Most tenancy agreements have an option to renew the tenancy for a specific period at the same monthly rental or at a rental amount that is agreed upon by both the landlord and tenant.
Your tenancy agreement will usually have a clause that indicates how much in advance you will need to inform the landlord of your intention to renew the tenancy.
In most cases, it is best to inform the landlord at least 3 months prior to the expiration of the tenancy agreement.
This is so that the necessary formalities can be complied with in a timely fashion and the landlord does not take any steps to look for a new tenant.
These formalities will include a Notice of Renewal of Tenancy that will need to be signed by both parties. The relevant stamp duty amount on this renewal will also need to be paid.
If there is an increase in the monthly rental amount, then the security and utility deposits will need to be "topped up" accordingly.
Terminating the Tenancy Agreement
Whether the tenancy agreement can be terminated prior to its expiration will depend very much on its terms and conditions.
Some tenancy agreements allow for such termination provided at least 3 months' written notice is given to the landlord.
However, some tenancy agreements do not allow for termination at all during the tenancy period.
The common penalty for early termination of a tenancy agreement is the forfeiture of the deposits that you have paid to the landlord.
As such, in the event that you suddenly need to leave Malaysia and are required to terminate your tenancy agreement, it is best to be prepared to lose your security deposits.
That being said, you can attempt to negotiate with the landlord to return at least a part of the security deposits. However, it is another situation where such a decision is completely at the discretion and good-heartedness of the landlord in question.
As you can see, while renting in Malaysia as a foreigner or an expat is not difficult, there are a lot of formalities that need to be complied with.
There is also a substantial amount of money that you will need to pay upfront, so it is advisable to plan your finances before you decide to rent property in Malaysia.
One of the most important things when it comes to renting in Malaysia is to be the best tenant you can possibly be, take care of the rental property, and maintain a good relationship with the landlord.
This will most certainly make things like negotiating rental amounts, terms and conditions, renewals, and any other matters regarding the property a breeze.
Alternative Locations
In addition to Kuala Lumpur, you can take a look at Penang and Perak, which are other two popular places for expats in Malaysia. They are also not far from the capital city.
Penang Island
Penang Island is another favorite place to live for expats. There is a large expat community scattered around different parts of the island. With its beautiful beaches and relaxing lifestyle, it is easy to see why plenty of expats and retirees choose to call the Pearl of the Orient their home.
In Penang, you can check out Gurney Drive. This area is in George Town near the commercial hub of Penang where multiple international companies are located.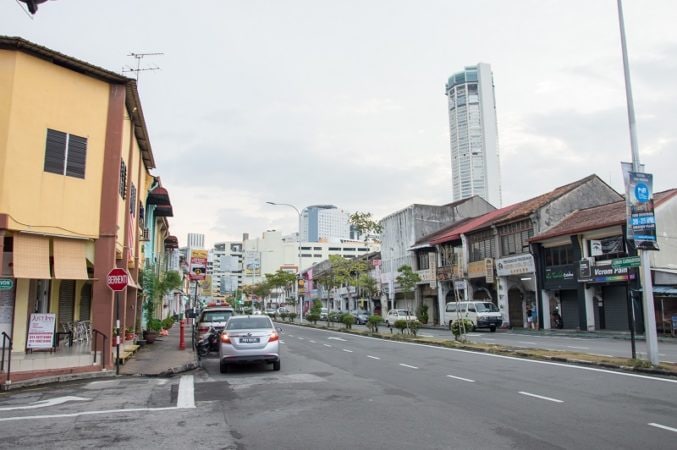 There are also plenty of places to eat and shopping malls that are located within walking distance, making it easy to get around.
Gurney Drive is filled with plenty of condominiums for every budget so you are bound to find the perfect rental home here.
You can also check out Batu Ferringhi, which is popular among European expats in Penang.
There are beautiful condominiums and landed property for rent with breath-taking views of the ocean.
There are also international schools that are located within a 10-minute drive from this area. This is perfect for expats with young families.
Perak
Ipoh, located in Perak, is the perfect town for the expat who prefers the quiet life. With lush greenery and stunning views of limestone caves, and more importantly, amazing food, Ipoh is another favorite for expats and foreigners.
Being a relatively small town, Ipoh is quiet and peaceful. It is about an hour and a half away from Kuala Lumpur and is a favorite destination for those who love nature.
That being said, Ipoh is by no means lacking in modern infrastructure and amenities.
More importantly, renting property in Ipoh is significantly cheaper when compared to renting in Penang or Kuala Lumpur.
Favorite areas to rent among the expat community in Ipoh include Sunway City Ipoh and Meru Valley EcoVillage. These are integrated townships in Ipoh that come with condominiums as well as a gated community of landed properties. 
There are also some stunning golf courses in Ipoh that attract expats and international visitors from all over the world!  This is certainly a great place to meet fellow expats and build your own community.
Now, on to You
Since there are many apartments available in Kuala Lumpur, you should take your time finding the right one for your needs.
Although it's a tenant market, that doesn't mean you can choose any one you want.
Instead, you should choose carefully, read the tenancy agreement to get a clear understanding on what you will get, and be aware of any additional fees you need to pay before signing.