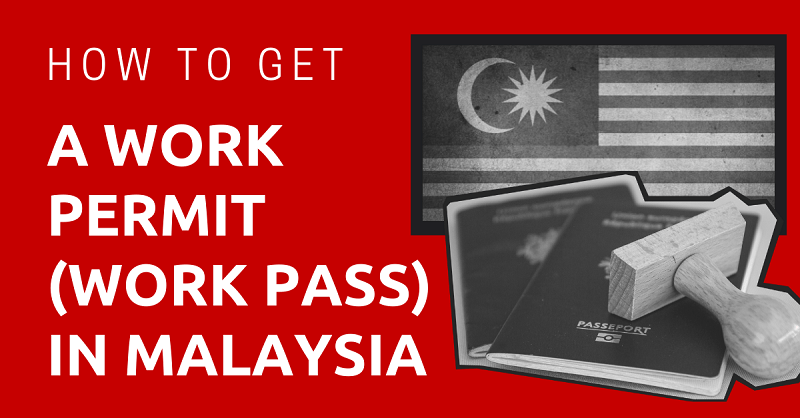 So you have decided to explore the career opportunities available in Malaysia. Do not forget to read An Expat's Guide to Finding Work in Malaysia on how to gain employment in this lovely country. What's next after attending interviews and getting a great job offer? Of course, you will need a legal Work Pass before you can start working here.
In this article, we will look at the various work passes, especially the Employment Pass for expatriates, and how to apply for one. Let's get straight to it!
What Is It?
As a non-Malaysian who wants to work in Malaysia, there are certain requirements to fulfill and procedures to follow in order for you to obtain a work pass. According to Malaysian immigration law, employees or companies that break the law could be fined up to RM10,000 ($2,500 USD; rounding the exchange rate of RM10 = $2.50 USD) or be jailed for not more than five years, or both.
The work pass is a formal authorization by the Immigration Department that allows expatriates and other foreign workers to gain employment legally in Malaysia. The work pass is subject to the contract of employment offered to the worker, which could last for up to 60 months or 5 years. It allows them to live and work legally in the country.
Note that this pass is valid only in Peninsular Malaysia or West Malaysia.
What Are the Requirements?
Both the company hiring and the jobseeker have to satisfy certain requirements before a work pass can even be applied for. Let's have a closer look.
Company Requirements
For a company to be eligible to hire expatriates, they need to register with the Expatriate Services Division (ESD) first. The following shows the two requirements that are needed by the companies before registering with ESD:
Firstly, the company must be registered with
The Companies Commission of Malaysia (SSM) under the Companies Act 1965; or
The Registry of Societies Malaysia under the Organisation Act 1966; or
Firms incorporated under specific acts. For example, law firms and accounting firms; or
Organizations supported by Ministries or Government Agencies; or
International organizations certified by the Ministry of Foreign Affairs.
Secondly, the company's paid-up capital* has to be as shown below:
| Equity | Paid-up Capital |
| --- | --- |
| 100% Local Owned | RM250,000 ($62,500 USD) |
| Joint Venture (minimum foreign equity is 30%) | RM350,000 ($87,500 USD) |
| 100% Foreign Owned | RM500,000 ($125,000 USD) |
| Foreign owned companies running Wholesale, Retail and Trade (WRT) License is compulsory. Refer to the Ministry of Domestic Trade, Co-operatives and Consumerism WRT license application guideline | RM1,000,000 ($250,000 USD) |
*This is not applicable to public limited companies, companies limited by guarantees, and associates or organizations that are incorporated under specific acts.
Individual Requirements
Before you apply for jobs in Malaysia, bear in mind there are requirements that you need to have. These include:
Your passport must have a validity period of at least 18 months.
You must be at least 27 years old; for the IT industry, you must be at least 23 years old.
You should be fluent in English or Malay.
Your family members must each have a valid passport.
You will also need to fulfill the following eligibility criteria to be qualified to work here:
You must have the proper academic qualifications (bachelor's degree or higher) that are required for the job.
You must have at least 3 years of work experience in the relevant field. You may require more years of relevant work experience if your academic qualifications are insufficient.
You must work in a managerial, executive, or technical position that requires specific skills.
The job offer to you must meet the salary requirements.
You must not work in a sector that is deemed restricted.
Types of Passes
In Malaysia, there are three main types of work passes that are issued by the Immigration Department. As a foreigner, you can apply for any of these.
Employment Pass
The Employment Pass (EP) is for people who have specific skill sets for technical or managerial positions. The EP is divided into 3 categories, which are Category I, II, and III.
EP Category I is for key positions in a company. These would be roles such as executives, CEOs, managing directors, project managers, etc.
Minimum salary requirement: RM10,000 ($2,500 USD)
Work contract requirement offered: up to 5 years
Renewability: Yes
EP Category II is for managerial and professional positions in a company. These would be roles such as department managers, architects, engineers, etc.
Minimum salary requirement: between RM5,000 ($1,250 USD) and RM9,999 ($2,499.75 USD)
Work contract requirement offered: up to 2 years
Renewability: Yes
EP Category III is for non-executive positions that need sufficient and relevant work experience and specific technical or practical skill sets. These would be roles such as technicians, consultants, craftsmen, designers, etc.
Minimum salary requirement: between RM3,000 ($750 USD) and RM4,999 ($1,499.75 USD)
Work contract requirement offered: up to 2 years
Renewability: cannot be renewed more than 2 times
Temporary Employment Pass
This pass is issued for two categories of workers. These are:
1. The Temporary Employment Pass for Foreign Workers.
This pass is valid for only a duration of 12 months, but the employer can apply for an extension 3 months before the expiry date. Foreign nationals are permitted to work in only these sectors – Manufacturing, Construction, Plantation, Agriculture, and Services. These workers must be at least 18 years old and not more than 45 years old at the time of application.
Foreign workers have to come from a list of approved countries. For more information and thorough explanation on how to apply for this pass, visit the official Malaysian immigration page.
2. The Temporary Employment Pass for Foreign Domestic Helpers (FDH).
FDH workers can only be females who are at least 21 years old and not more than 45 years old. They can only be from a list from a list of approved countries. If you want to hire a FDH or are looking to be one, visit the FDH page provided by the Malaysian immigration department.
Professional Visit Pass
With the Professional Visit Pass, you can work for only up to 12 months in Malaysia. The application should be submitted by a sponsor in Malaysia before you enter the country.
The categories of work under the Professional Visit Pass you can apply for include foreign artists, filming and performance workers, religious workers, students undergoing training, government workers, or volunteers. For more comprehensive information about the Professional Visit Pass, you can check out the Malaysian immigration department.
Working Permit for Spouse of Malaysian Citizen
For those who are married or will be getting married to a Malaysian, you can still work with the Working Permit for the Spouse of a Malaysian Citizen. This is also called the Work Endorsement here.
This work endorsement can be applied for when or after you have applied for the Long Term Social Visit Pass (LTSVP). The duration of the Working Permit follows the duration of the employment contract given to you. This will also depend on the validity of your LTSVP.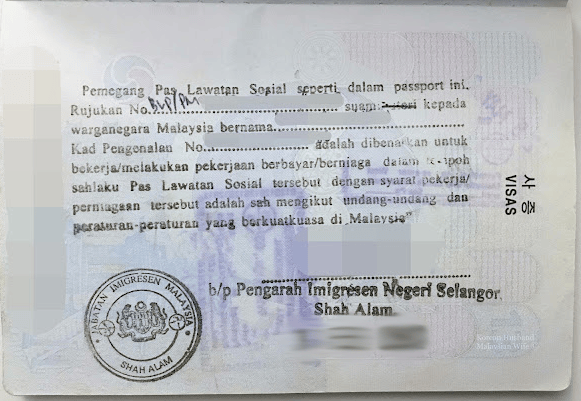 For a more thorough explanation of this permit, visit this page. Through my experience with the Working Permit, different branches in the country have different lists of requirements for the application of the LTSVP and Work Permit.
Thus, you have to visit the immigration office in the state where you live to get the latest forms and list of requirements, so you can apply for these successfully.
How to Apply
We will focus on the Employment Pass (EP) for expatriates. Note that you cannot and do not have to apply for the EP yourself. This must be done by the company that wants to hire you. As such, the company must be registered with the Expatriate Services Division (ESD) first, as we mentioned earlier.
If you are a first-time applicant who wants to come to work in Malaysia, you must do the application for a job and the subsequent EP application from your own country. The company that is hiring you will request for your documents through email. From there onwards, the company will deal with ESD on behalf of you.
Once the company gets the green light for your EP, you will only then move to Malaysia for the collection of the EP stamp on your passport, which you will have to do through the physical ESD office.
I have friends who had not gotten a job yet, but were already in Malaysia on other types of visas. They began job hunting while in Malaysia and managed to secure EPs.
However, this is a highly risky move and it is not an advisable way in case you do not get any job offers and have to leave the country, which is a waste of time, money, and effort.
Company Documents
The company that wants to register online can apply through the ESD website. Before a company can do that, it must prepare the required documents as shown:
Copy of all the current company directors' MyKad (identification card) or Passport as per SSM registration
Company Profile in detail that must include the following items:

company background
business activities
organization structure
location of company and the number of branches including their addresses
photos of the premises (front and interior)
photos of the products and/or services offered
Copy of the Company's Latest Phone Bill
Tenancy Agreement/Sales & Purchase Agreement (S&P)
e-SSM Printout
SSM Form 9 (certified true copy)
SSM Form 24 (certified true copy)
SSM Form 49 (certified true copy)
Latest Audited Financial Report
Copy of Local Authorities License – Lesen Pihak Berkuasa Tempatan (PBT) (if applicable)
Other business licenses (WRT, CIDB, other SSM forms, or any other supporting documents)
Other miscellaneous documents specified upon request
It takes 14 working days for the process to be completed after the submission of all the necessary documents. For more comprehensive information, read the ESD Online Guidebook.
Individual Documents
For you to get an EP, your employer must submit the EP application to ESD. Here is a checklist of the documents required that the company has to provide on your behalf:
EP application form
A recent passport-sized photo with a blue background; 35mm x 50mm (1.38 x 1.97 inches)
Copy of your passport (all pages including cover)
Copy of your highest educational certificates; include copy of Professional certificates (if applicable). Note: translated into English and Certified True Copy (CTC) by the Embassy/High Commission/Consulate General in Malaysia, or the HR head of the hiring company
The latest version of your Resume
Copy of the employment contract (signed and duty stamped by the Malaysian Inland Revenue Board) and job description you receive
The supporting document from the approving agency or regulatory body (if applicable)
Any other documents that are requested during the application process
Once all the required documents have been submitted, applications will be processed within 5 working days. For the more detailed list of requirements for EP applicants, you may read the ESD Guidebook mentioned earlier in the previous section. Below, in the "Process" section, you will learn what will happen after the submission of the EP application by the employer.
If you have family members who are dependents that you must bring to Malaysia, they will need to have a Dependent Pass (DP). Dependents' application may be submitted together with the EP application. Alternatively, you may add your dependent(s) once your EP is approved.
Dependents are the legal spouse of the EP holder or children who are below 18 years old. Biological children, stepchildren, and legally adopted children of the EP holder are all accepted. Disabled children of ANY age are eligible to apply for DP, too.
The following shows the documents that are required for the DP:
A recent passport photo
Copy of their passport (all pages including cover)
Copy of marriage certificate for legal spouse*
Copy of birth certificate for children below 18 years old*
Any other documents that are requested during the application process
* Must be translated into English (by the respective Embassy/High Commission/Consulate General/or Institut Terjemahan Buku Malaysia) and be a Certified True Copy (CTC) from the Embassy/High Commission/Consulate General in Malaysia
Process
The EP is applied for by the employer through the ESD website. Here is how the process goes.
The company fills in the required information of the expatriate (and their dependents if applicable).
All the supporting documents required are uploaded.
The company submits the completed application. A notification will be sent to you upon the system's receiving of the application.
The information is verified and validated.
The status, whether it is an approval or rejection, will be sent via the system.
If you get approval, you may print the approval letter that is available online.
Applicants who have entered Malaysia will have 30 days from entry date to endorse the EP sticker.
Walk in to the MYXpats Centre and submit the relevant documents for the endorsement of the related pass sticker on your passport. The documents that are needed during endorsement are:

Original passport
Copy of approval letter
Payment Receipt
DP11/DP11A Form with original company stamp and details of the appointed Endorser as per the Letter of Undertaking (signatory)
Make a payment for the immigration fees at the MYXpats Centre counter.
You may collect your passport within 3 working days.
If you are still unsure of the steps and requirements, we suggest that you read the ESD guidebook carefully, so you do not skip any important documents, requirements, or procedures for your application.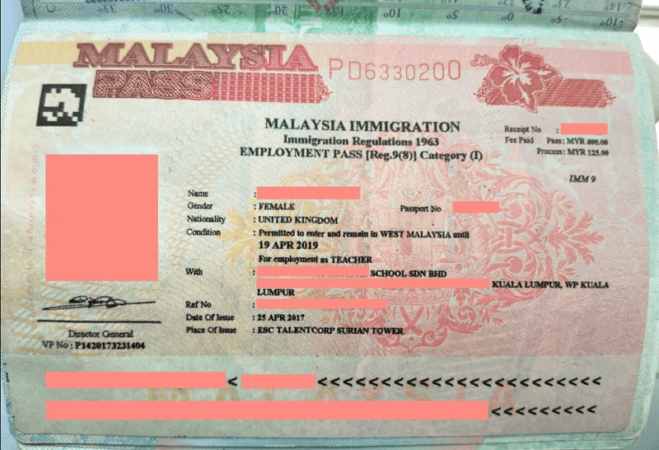 The MYXpats centre location is as below:
Level 4, Surian Tower, No 1, Jalan PJU 7/3, Mutiara Damansara, 47810 Petaling Jaya, Selangor
GPS Coordinate: 3° 9′ 20.0412″ N, 101° 36′ 32.9724″ E
How Much Does It Cost?
According to the MYXpats Centre, the table below shows the latest charges. Please check with your employer or the centre as the information may change when you want to apply. The EP application fee is borne by the employer while the DP will be borne by you unless your employer is kind enough to cover the dependents' fee, too.
Do discuss these matters with your employer so that you can prepare some money in case there are expenses that you need to pay for yourself.
ESD Application Fee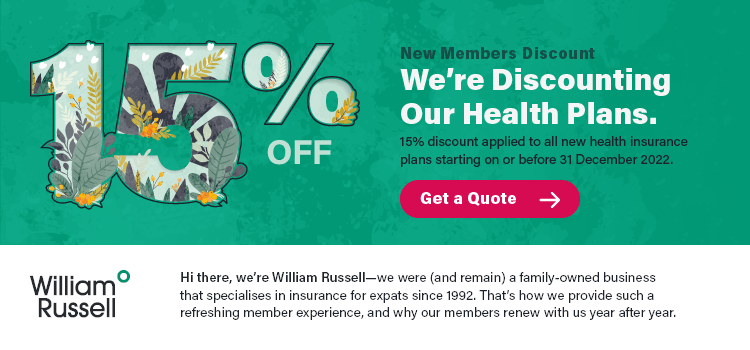 Advertisement
| | |
| --- | --- |
| Employment Pass (EP) | RM318 ($79.50 USD) |
| Dependent Pass (DP) | RM74.20 ($18.55 USD) |
Immigration Fee for Endorsement
| | |
| --- | --- |
| Employment Pass (EP) Fee | RM200 ($50 USD) per year |
| Processing Fee for EP | RM125 ($31.25 USD) per application |
| Dependent Pass (DP) Fee | RM90 ($22.50 USD) per year |
| Processing Fee for DP | RM50 ($12.50 USD) per application |
This is the official table of charges provided by the ESD.
How to Extend?
For the extension or renewal of EP, companies that are successfully registered with ESD may do so online. Certain requirements must be met for the company to do this. Here they are:
All renewal applications must be submitted together with the latest 3 months' pay slips, income tax file number, and e-BE latest tax filing submission.
Before submission, the company must ensure that the applicant has a passport validity of at least 6 months; and
The Current Employment Pass is still valid for a minimum of 1 month at the point of submission.
Any Dependent Pass renewal can only be submitted whereby the Principal applicant has been processed through the ESD online system before.
What to Do When You Change Jobs
Before we talk about what happens when or if you lose your job, let's see what happens if you are changing jobs. Have your new employer begin the process to apply for your new EP before you resign from your current job as the process and approval of EP could take a lot of time.
You do not want to have your current EP cancelled before you get a new one as overstays are not tolerated.
What Happens if You Lose Your Job?
Suppose you resign or your company lets you go for various reasons and you may no longer have a job here. In such a case, your EP as do any passes held by accompanying family members need to be cancelled. The application for cancellation has to be done by the EP holder's sponsoring company at least 3 working days before or within 1 month of the intended departure or termination date, whichever is earlier.
Notify your banks to close your account or change your address before you leave. For tax records, your employer will need to complete a CP21 form and send it to the Inland Revenue Board of Malaysia not less than a month before your departure date.
Be sure to check the terms that are included in your tenancy agreement if you need to terminate your tenancy earlier than stipulated. Come to an amicable agreement to cancel the tenancy with your landlord, so that both parties can move on smoothly.
Make sure to arrange and pay off all final utility bills and disconnect them before you leave. Other similar and necessary arrangements will need to be made for your post, insurance, schools, cars or other assets, and pets as well.
Tie up all loose ends properly, so you can have peace of mind when you leave.
Now, on to You
If you are already hired and in the process of getting your EP, tell us your experience. Did it go smoothly for you and your family? We would love to hear your stories!