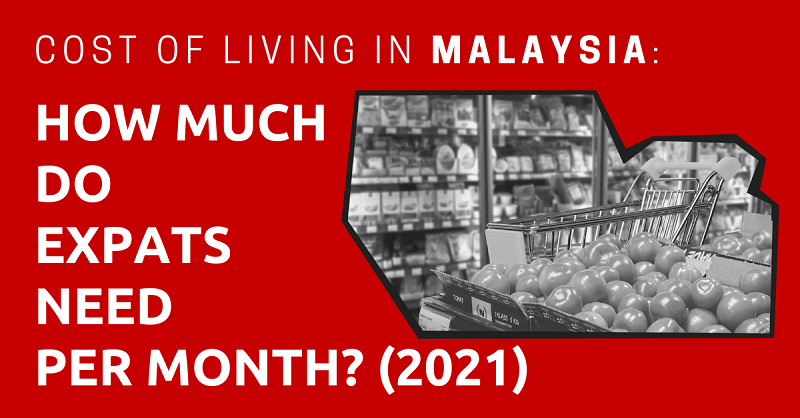 So, you've been thinking of leaving your familiar life behind to move to Asia.
Digital nomads and remote workers alike flock to places like Vietnam, Indonesia, Thailand, and Singapore. But here's food for thought: consider Malaysia.
In Malaysia, the quality of life and cost of living here are comparable to the aforementioned countries above.
With that said, this guide will break down the average cost of living you might incur while living in the country so you can better plan and prepare for your move to Malaysia.
Why Move to Malaysia?
Malaysia remains an untapped and relatively unknown place to move to among the expatriate community.
But Selangor and Kuala Lumpur are great choices for expats and digital nomads alike. The cost of living is low and the locations are a perfect entry point for young people who may not have a lot of cash on hand.
Also, the culture and food are diverse, plus English is widely spoken in urban areas – so language won't be a barrier.
There are plenty of job opportunities, too, as Kuala Lumpur and Selangor are the most dense in terms of offices and commercial businesses.
Now that you know why Malaysia is a great place to move to, and before I break down the cost of living in the country, let me tell you a little bit about me for context.
Brief Introduction About Me and My Life in Malaysia
In case this is the first article of mine you're reading, I'm married to a Malaysian and have been living in the country since 2010.
Check out the guide on how to move to Malaysia if you're having doubts about the process.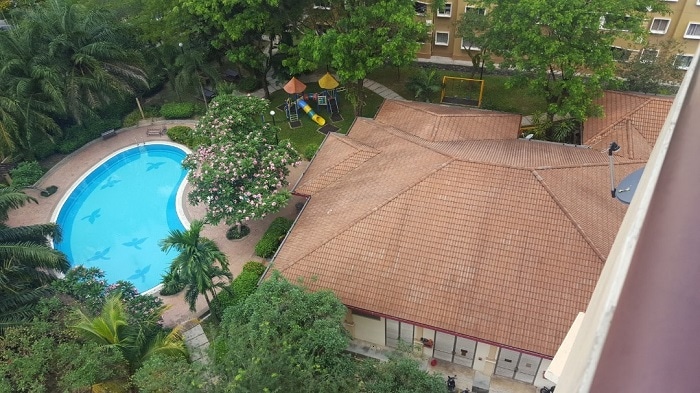 My wife and I currently live in a flat that we bought in the Petaling district, which is the most densely populated district in Selangor.
Through careful planning and saving, we have bought two motorbikes and two cars, although the first car was secondhand.
When we're not working, we spend most of our time on the computer or playing video games, eating out, and visiting my in-laws.
Ours is a quiet and mostly home-centric lifestyle. Our safety, health, and happiness are of the utmost importance, and we always opt for products and services that are affordable and give the best value for our money.
With this general overview, let's get on to the information that you're really looking for.
Living Expenses
For obvious reasons, I can only give you the average price of each category.
This is because prices may vary depending on location, who the vendors are, and fluctuation in the prices of goods, economic situation of the country, and the supply-and-demand trend at any given time of the year.
Demands rise when there are festivals—and there are festivals aplenty in Malaysia—and supply may not be able to keep up.
That is when scarcity causes a hike in prices of certain goods and services.
For your easy calculation, we will use the currency exchange rate of RM4 = US$1. We'll use this rate throughout the article.
Please note that exchange rates are subject to change. You can read our sending money to Malaysia article to find out the best way to send money here.
To illustrate the difference in prices based on location, a plate of noodles in the heart of Kuala Lumpur may cost about RM8 (US$2), but the same plate of noodles costs only RM5 (US$1.25) in smaller towns and states in Malaysia.
Then, prices may increase at tourist spots or places densely populated by westerners, like in Penang.
Don't be put off, though. The average costs I mention here are just a baseline to guide you, so you're better informed before moving here.
The best part is, you can always tweak your budget according to your income level and lifestyle.
However, minor lifestyle changes will only be temporary.
Once you start working and living here longterm, you'll find that you'll be able to live comfortably within your income range as long as you're not fussy and are open to adapting.
Rent
This is most likely the biggest chunk of expenditure you'll have monthly in Malaysia, especially when you live in major states like Kuala Lumpur and Selangor.
Most expats would spend between 20 percent and 30 percent of their monthly salary on rent.
A 500-square-foot studio can set you back RM1,800 (US$450) a month. For a more spacious place, a serviced apartment with more than one bedroom and bathroom is about RM3,000 (US$750) a month.
There are way cheaper options if you don't mind sharing living quarters with other renters.
With that said, a room costs an average of RM550 (US$137.50). This is the best way to live as a newcomer to the country if you have financial constraints or are unsure of where to settle.
Bear in mind that monthly rent differs greatly depending on where you choose to live and the type of housing and facilities available.
Thus, ask yourself:
Do I want to live in the urban area or outskirts of a city?
Would I prefer a high-rise building or landed property?
Can I afford to rent a whole house or just a room or a studio?
Should I choose an empty or a partially- or fully-furnished space?
Will there be facilities like a laundromat, gym, or swimming pool?
Is this a strategic location; are there bus stops and train stations nearby?
These factors affect rental prices. With these considerations to ponder, I think it still boils down to how much you're willing to pay for rent.
Remember, the location and size of a living space affect the rent greatly.
Here is a comparison of rent prices for different fully-furnished properties in the country.
| | | | | | |
| --- | --- | --- | --- | --- | --- |
| Location | Single room (Double-story House) | Whole house (Double-story House) | Studio (Serviced Apartment) | Single room (Serviced Apartment) | Whole house (Serviced Apartment) |
| Selangor | RM550–RM1000 (USD137.50–USD250) | RM2000–RM4000 (USD500–USD1000) | RM325–RM2500 (USD375–USD625) | RM300–RM750 (USD75–USD187.50) | RM1500–RM4500 (USD375–USD1125) |
| Kuala Lumpur | RM550–RM1000 (USD137.50–USD250) | RM4000–RM7000 (USD1000–USD1750) | RM1500–RM4000 (USD375–USD1000) | RM600–RM1000 (USD150–USD250) | RM2000–RM3000 (USD500–USD750) |
| Penang | RM400–RM600 (USD100–USD150) | RM2000–RM4000 (USD500–USD1000) | RM1600–RM2200 (USD400–USD550) | RM500–RM750 (USD120–USD187.50) | RM1500–RM2500 (USD375–USD187.50) |
The most financially-conscious way to start renting in Malaysia is to find another person or several people to share the cost with.
Not only will you save on the rental, but you'll also be able to share the cost of the water, electricity, and internet service bills.
Do not be afraid to negotiate for a lower price than advertised. More often than not, agents and landlords are willing to accommodate your requests if they're reasonable.
Do look at properties from reliable platforms such as PropertyGuru and iProperty when you're looking for a place to rent.
If you still have doubts, try talking to your Malaysian friends or employer for the most trustworthy recommendations.
Electricity
Using air conditioners and water heaters incurs the most cost when it comes to your electricity bill.
As the weather is hot and humid almost all year round, people tend to leave the air conditioners on all day, every day. This is the surest reason your bill will cost so much.
Here is a rough estimate with the most basic house set up.
Suppose you have a coffee maker that you use daily; a refrigerator that is left on 24/7; a computer that you use 12 hours a day; a television you leave on for six hours a day; a ceiling fan that is on 24/7; one air conditioner, and one water heater that you use 12 months a year; a washing machine that you use once a week – your monthly electricity bill will be about RM74 (US$18.50) per month.
Keep in mind, it could go up to more than RM100 if you use more home appliances.
You may think that the amount I stated is too low compared to what you normally pay in your home country, bu I'm not kidding.
My wife and I have been home almost 24 hours a day these last few months because of the restricted movement order due to the pandemic.
Here is a snapshot of my electricity usage for the past couple of months.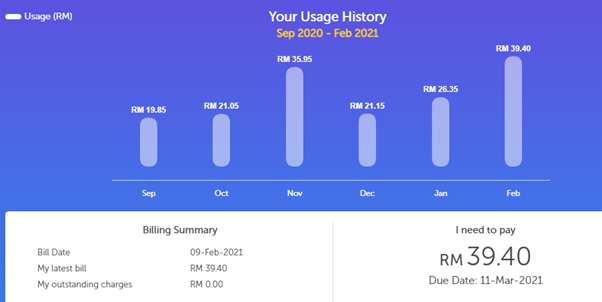 Use this calculator to estimate your electricity bills.
Water
Water bills are incredibly cheap in Selangor.
I pay a constant fee of only RM6 (US$1.50) per month. Another water-related bill that you have to pay is the sewerage charges.
That comes up to RM8 (US$2) for me monthly.
Internet
One of the most popular internet service providers is Time. It costs only RM99 (US$25) per month for 100 Mbps connection for your home. This is definitely enough for your TV streaming needs or any downloads you might have.
Other services cost about the same in Malaysia and are what people who live here normally use.
If you want to shop around, you could compare Time's prices with the prices of companies like Maxis and Unifi.
If you need a VPN service, it'll cost you RM20 (US$ 5) a month.
Phone
Phone services come in either pre-paid or post-paid plans. One of the companies, Digi, offers a RM90 (US$22.50) per month post-paid plan.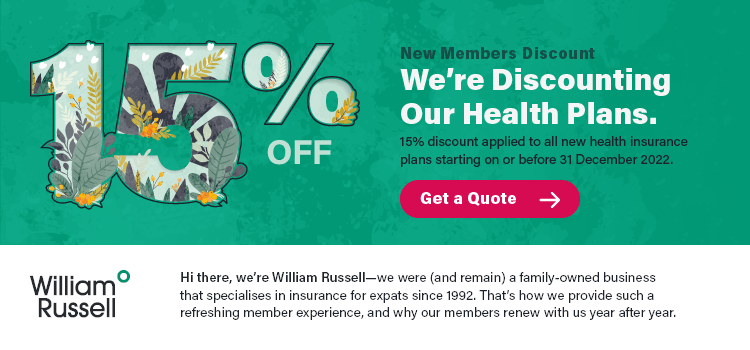 Advertisement
You'll get 80GB all-day internet and unlimited calls. Pre-paid plans are cheaper and you're not required to sign a contract.
To sign up for a plan that best suits your needs, visit the service providers' websites or shops to get more information from their customer service reps.
You may choose from other companies like Maxis, Celcom, and U Mobile to compare the available packages.
Transportation
I'm not going to lie. Getting around in Malaysia can be time- and energy-consuming if you don't have your own car or motorbike. And it could be costly.
Assuming you live in urban areas in Selangor and Kuala Lumpur, you could get around by bus, MRT (monorail), LRT (Light Rail Transit), and KTM (train).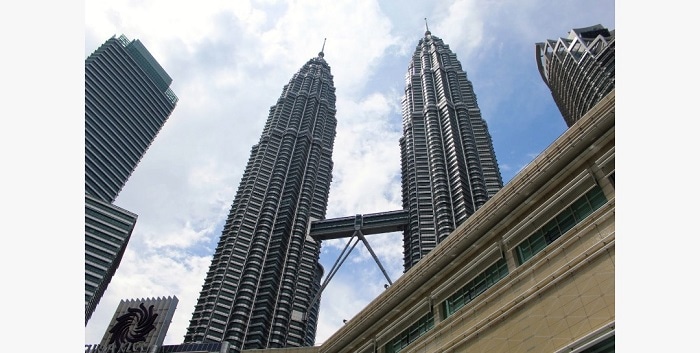 You can look at the myrapid website to plan your journey and calculate the fares.
As an expat, you could use cash or use the cashless method to get around via the Touch 'n Go card.
Using the cashless method is cheaper for public transportation. Here is an example:
I live in Puchong and want to travel to KLCC. The distance between the two places is about 26 km. Using the fare calculator on myrapid's website, I have to pay RM5.30 (US$1.325) with cash or RM4.60 (US$1.15) cashless for a one-way journey, or roughly RM0.20 (US$0.05) per one-kilometer traveled.
If you have time to spare and aren't rushing to get somewhere, getting around by bus could be an alternative way to go places.
However, due to traffic jams in urban areas, especially at peak hours, this is not advisable even if you could save a few ringgit traveling by bus.
Expats without their own vehicles or who don't want to use public transportation can use Grab.
This is the most convenient way to travel regardless if you're in the city or suburban areas.
Using the same starting point to the destination KLCC, it costs RM30 (US$7.50) for a single journey.
Take note that you'll bear the cost of toll charges if there are any. It could be more expensive when there is a high demand like during peak hours, or cheaper if you don't mind sharing the ride with other passengers.
If you would rather drive, you can rent a car on an hourly basis from Socar for as low as RM6 (US$1.50) per hour.
The fuel is on the company, so you'll feel at ease. However, you'll have to pay for tolls and parking fees.
Food
Malaysia offers everything from hawker-style food to high-class dining. The cost of food depends on the type of food you buy and where you eat.
For non-picky eaters, you could get a decent meal of rice, meat, and vegetables at RM10 (US$2.50) per plate from a chap fan (mixed rice) stall at a coffee shop or food court.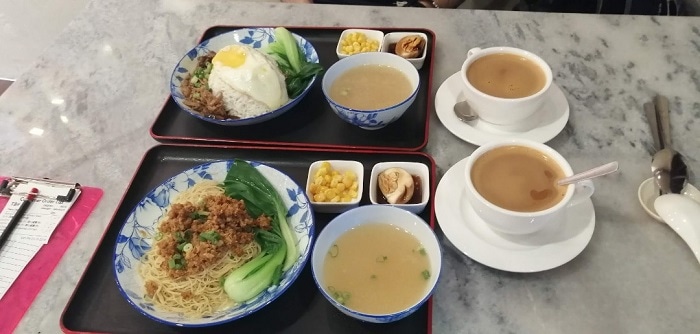 This could be cheaper or more expensive depending on how many dishes you choose.
Expect to pay about RM18 (US$4.50) per regular meal at fast food joints like McDonald's, KFC, and Burger King.
The cost is higher for food from Pizza Hut, Domino's, Kenny Rogers, and Nando's.
For international cuisines like Western food, Vietnamese food, or sushi, be ready to fork out an average of RM25 (US$6.25) per person.
Fancy dining, on average, will set you back at least RM80 (US$20) per meal.
Food delivery can be costly at an average of RM15 (US$3.75) per meal, excluding delivery charges, for just a small portion.
With that in mind, proper planning could potentially save you money. By cooking your own meals, you'll only spend about RM500 to RM700 per month.
Grocery shopping can be costly if you choose to shop at premium goods supermarkets that cater to expats.
Save money by shopping at Lotuss Stores (formerly known as Tesco), Aeon, or Giant Hypermarts.
For the freshest homegrown and most affordable veggies and meats, visit the wet market or a night market near you.
Drinks
Alcoholic drinks are heavily taxed in Malaysia because it is a Muslim-majority country.
For example, a 24-can carton of beer costs RM133 (US$33.25) – that averages out to about RM6 (US$1.50) per can.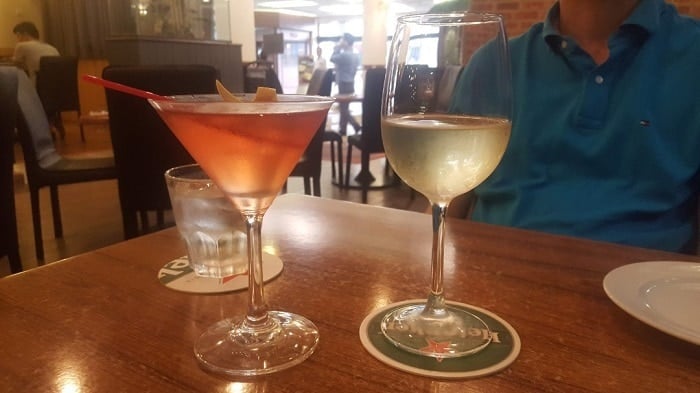 When you go clubbing or to the bar, cocktails and mocktails cost about RM30 (US$7.50) per glass.
Costs really depend on what drinks you order. For example, a margarita or cosmopolitan costs RM40 (US$10) per glass. You would do better mixing your own drinks at home.
Costs of alcoholic drinks in Malaysia are high because they are heavily taxed
Bottled alcohol does not come cheap either. A bottle of Johnnie Walker Black Label costs RM210 (US$52.50) while a bottle of Absolut Vodka costs RM165 (US$41.25).
The cheapest way you can get alcohol is to shop at duty-free places like in Langkawi or at the airport.
If you love your morning cup of coffee, you could get a good cup of milk coffee at RM3 (US$0.75) at any mamak (Indian-Muslim) restaurant or kopitiam (Chinese coffee shop).
If you're someone who likes to indulge at franchise coffee houses like Starbucks, the average cost is RM15 (US$3.75).
Since I don't brew my own or go out to buy coffee, I make instant coffee at home that tastes good and provides the pick-me-up I need.
Instant coffee packets come in sachets and cost an average of RM15 for 12 sachets. That works out to be RM1.25 (US$0.30) per cup.
Tons of boba tea shops have sprung up countrywide since the craze began a few years ago.
The extremely famous brown sugar boba milk is RM13.50 (US$3.40) if you like it hot and RM12.50 (US$3.10) if you prefer it cold. Although, the price varies at different brand stores.
Healthcare
Healthcare costs differ based on what you seek treatment for. Prices also largely depend on where you go and who you see.
Let's say you have a common cold, fever, or sore throat, expect to pay a minimum of RM60 (US$15) at a private clinic.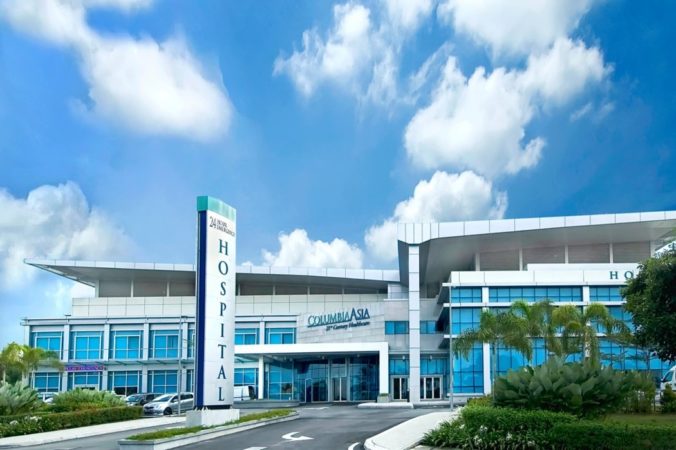 If you're fortunate enough to get an employer who covers your medical costs and hospitalizations, then what you need to spend from your own pocket won't be a lot if you stay healthy and accident-free.
Regular annual checkups could cost a minimum of RM1,000 (US$250) at hospitals.
Your bill will vary depending on what tests or exams you undergo, whether you include comprehensive blood tests, cancer marker tests, and so on.
As an expat, seeing a specialist at a private hospital can be costly. Be prepared to spend at least RM500 (US$125).
However, you'll get the best treatment from a specialist and you'll save yourself multiple trips to a general practitioner who may not have the equipment to give you an accurate diagnosis or the expertise to medicate you.
If you're not in a hurry, you could visit government clinics or hospitals. These places are usually packed and long queues are a norm.
Prices are a lot cheaper though and are worth the wait when it's not an emergency. My visits to governmental health centers didn't break the bank.
I paid only RM1 (US$0.25) for each clinic visit and about RM25 (US$6.25) for the hospital visit when I contracted dengue fever.
At that point, I didn't have personal nor company insurance. I wasn't admitted into the hospital, but the costs I mentioned covered the blood test, diagnosis, and medication.
You'll have a smoother experience if you could have a Malaysian accompany you and interpret for you during your visits to government hospitals, as some staff may speak only Bahasa Malaysia.
The best way to secure good healthcare without worrying about unexpected costs is to get health insurance.
Read our guide to health insurance in Malaysia for expats to find out what's available to you.
You may also ask your employers if they provide health insurance coverage for staff such as yourself. If yes, then all the better.
Vacations
Malaysia has lots to offer in terms of tourism. There are beautiful islands with pristine beaches and even eco-tourism is on the rise.
Traveling within Malaysia, and even within Southeast Asia, isn't a bank-breaking experience.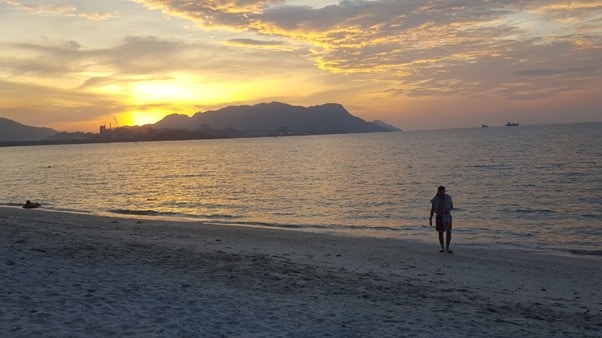 Let's say you want to travel from Kuala Lumpur to Butterworth in Penang (351 km), a round trip costs only RM120 (US$30) by train.
If you rent a car for 24 hours, you would pay a minimum of RM144 (US$36). A round trip by bus is only RM60 (US$15).
One liter of petrol costs RM2 (US$0.50) if you're driving. You can drive about 13 kilometers per liter, but this depends on your car type.
With just 60 liters or RM120 (US$30) worth of petrol, you could take a 660-kilometer round trip to Johor Bahru from Kuala Lumpur.
You won't spend a lot on domestic flights either with budget airlines such as AirAsia and Firefly.
Air fares fluctuate based on destinations and whether it's high or low tourism season.
Keep in mind, you can get extra discounts from certain credit cards as well.
Entertainment
Frequent movie goers pay RM12 (US$3) per ticket to watch a movie at the cinema.
However, if you decide to catch your favorite shows through Netflix it'll cost RM35 (US$8.75), RM45 (US$11.25), and RM55 (US$13.75) per month for standard and premium plans, respectively.
If you like video game consoles, the Nintendo Switch will cost RM1,330 (US$332.50) and the PS5 will cost RM3,900 (US$975).
The price tag may be high, but you'll have endless hours of fun playing alone or online.
Grooming
A simple haircut for men costs RM15 (US$3.75) at a local barber shop. It'll cost RM20 (US$5) at a more expensive shop.
For women, a wash and a cut would cost an average four times as much as that.
If you want to dye, wash, and cut your hair at a professional hair salon, it could cost RM200 (US$50) for men and at least RM250 (US$62.50) for women.
Clothing prices vary depending on brand.
If you're budget conscious, not into fast fashion, and are okay with used clothes and accessories, check out thrift stores such as Jalan-Jalan Japan and 2nd Street Trading for the best bargains.
You'll satisfy your retail therapy needs without burning a hole in your wallet.
For things such as your dental and facial care, you can shop for products from the pharmacies such as Guardian or Caring.
You can even compare and buy the products you need online from Lazada and Shopee.
Just like groceries, you can get good bargains if you buy from Lotuss Stores, Aeon, and Giant.
Visas
Because I'm married to a Malaysian, I have to renew my visa once it's close to expiring. I recently extended my visa for two years, which cost RM114 (US$28.50).
Also, I had to pay a security bond of RM1,500 (US$374) when I first came to Malaysia, excluding the miscellaneous fees and duty stamps that were required.
Depending on where you're from and what visa you need, these occasional or one-time fees vary.
For expats coming to Malaysia solely for work purposes, your work visas are usually borne by the companies that employ you.
How Much Do You Really Need?
Your biggest expense in Malaysia will be when you first move here. Prepare to pay for at least three month's worth of rent.
Assuming you're renting a RM1,500 (US$375) unit, that'll mean you need RM4,500 (US$1,125) in hand just for rental when you first move here.
Set aside another RM3,000 (US$750) for miscellaneous expenses like buying household items or getting your visa sorted.
For the fixed expenses in the subsequent months including the first month, you'll need to take into account your rent, utilities, transportation, food, drinks, entertainment, and grooming needs.
| | |
| --- | --- |
| Monthly fixed expenses | Amount (estimated costs) |
| Rent | RM1500 |
| Utilities: Electricity Water Internet Phone | RM100RM20RM100RM100 |
| Transportation | RM1500 (monthly car rental) |
| Food | RM700 (cook at home) |
| Beverages | RM180 (Starbucks coffee 3 times a week)RM133 (24-can beer carton) |
| Entertainment | RM45 (standard Netflix subscription) |
| Grooming | RM20 (male haircut) RM200 (clothing)RM100 (hygiene and toiletries) |
| Emergency/miscellaneous expenses | RM1000 |
| You could live on roughly this much monthly | RM5698 (USD1424.50) |
Of course, this is just a rough estimation that excludes your once-, twice- or thrice-a-year splurges on vacations and entertainment.
This calculation also excludes your first month costs, visa, and healthcare needs.
With proper budgeting you could save for all those and much more once you're gainfully employed.
Your expenditure could be a lot less if you share a rental, utilities, and transportation with someone else.
Now, on to You
This guide on the cost of living in Malaysia is just one example of many budgets you might come across depending on the person and lifestyle.
With that said, I hope this guide has helped you budget for your own move to Malaysia.
And remember, if you tweak your budget accordingly, you'll find that living in Malaysia is just as comfortable and affordable as living in any other Asian country.