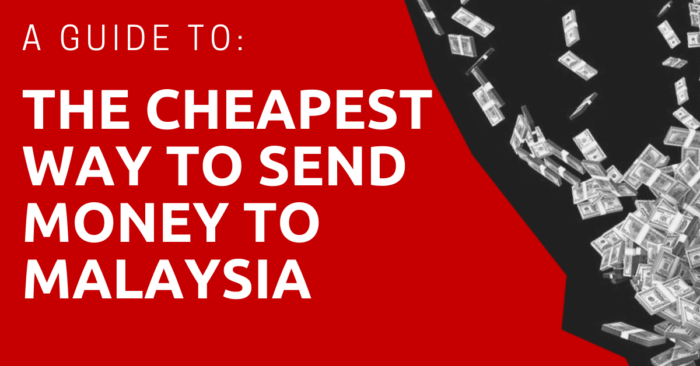 Malaysia has a closed currency market. This means you can't purchase the local currency Ringgit Malaysia (MYR), outside of Malaysia and bring it into Malaysia.
So, if you plan to travel to Malaysia or you are in Malaysia at the moment, you will have to find a way to send money from your home country to Malaysia.
But this can be tricky.
There are hidden exchange rate fees, international transfer fees and some methods take longer and are more tedious than others.
This guide will show you all of the different ways that you can transfer money from your home country to Malaysia. It will also provide insight on how to avoid the largest transfer fees and secure the best exchange rates.
In short, online money transfer services are usually the best way to send money to Malaysia. You can use the below widget to find out which one provide the cheapest rate in your case.
What to Watch Out For
When you send money from your home country to Malaysia, here are a few things you should bear in mind:
transfer fees
exchange rates
transfer methods
transfer speeds
accessibility
pickup methods
customer service
Transfer Fees
When you move to Malaysia and need to send money here regularly, you should know how to decrease transfer fees as much as possible.
Every method to transfer money to Malaysia will involve transfer fees. There are three types:
fixed amount transfer fees
percentage transfer fees
combination transfer fees
You may be charged a transfer fee based on a fixed rate, regardless of the amount you send. So you will pay the same fixed rate whether you senid $1,000 or $10,000. For example, HSBC charges a fixed fee of 4% to send money abroad. This type of transfer fee means it makes more sense to send a larger amount of money, less frequently,
Alternatively, you may be charged a percentage transfer fee. This type of fee means you will pay more, the higher the transfer amount. An example of this is if you use your home country credit card while you are in Malaysia.
Having said that, sometimes you may be charged a combination of both a fixed and percentage transfer fee. For example, PayPal will charge you a small fixed transfer fee but a high percentage fee to send money.
With this in mind, you need to try and gauge which transfer method is suitable, as you don't want to end up paying expensive fixed transfer fees for a small amount of money.
Exchange Rates
Exchange rate fees are the biggest cost of making a transfer to Malaysia.
In addition to the transfer fees mentioned above, you may have to pay another fee of up to 6%.
Please note, sometimes service providers claim not to charge transfer fees. But they actually hide the fee by marking up the exchange rate fee instead. You may end up paying more, even if there are zero transfer fees, because there is a high exchange rate fee.
For example, if you send British pounds to Malaysia, HSBC Bank adds 2-3% to the exchange rate in addition to any fixed fees.

If you want to know the hidden exchange rate fees you are being quoted, you can check exchange rates on XE and compare them to the ones you are being quoted by the service provider.
It is important to bear in mind that, realistically, you will never be able to get the rate quoted on XE but you can try and negotiate to get it as close as possible to the XE rate.
Two recommended exchange rate calculators which have timely updates are :
If you use an online money transfer provider like Xendpay, you pay 0.56% for a transfer in Euros, and about 0.41% when transferring US Dollars.
So if you were to transfer $10,000 USD to Malaysia, you would be charged $41.
Transfer Speeds
Another factor to take into account is the time it takes for a transfer to be made from your home country to Malaysia. Different methods will take different amounts of time.
A bank transfer normally takes two to three business days, an online money transfer can take one to two days, whereas cashing a check can take up to six weeks to clear.
Online money transfer services like Wise or Xendpay take between two to three business days, sometimes even faster.
Accessibility
The ease of being able to access your money is a factor you need to take into account when using any money transfer method.
Local and international banks in Malaysia are subject to Anti-Money Laundering and Anti-Terrorism Financing Act 2001 (AMLA) laws.
As a result, they are legally required to follow lengthy Know Your Customer 'KYC' procedures. This may involve asking for lots of information from a customer, such as an ID, proof of address, and the source of funds.
Some banks are more stringent than others. For example, HSBC is very strict and will require lots of information. You just need to be able to demonstrate that your source of funds is legitimate i.e. not drug money and you will use it for legitimate purposes.
However, if you use a public network, you should use a VPN as an additional security to protect your login information.
Malaysia has an extensive ATM network which means you can easily access funds, especially in the main cities like Kuala Lumpur, Johor Bahru, and Penang.
Pickup Methods
The method you access your funds will also be dependent on the money transfer method. Can you pick up cash from the nearest transfer agent? Or will you be able to withdraw money from funds deposited into your bank?
It is all dependent on the method you use. More on that later.
Customer Service
Having access to 24/7 customer support or having a customer service agent on hand to answer your queries before you send your hard-earned money, is extremely helpful. Whether they speak your language or not is important too.
Wise always has an agent at hand to answer queries. I have used them while traveling and working in various parts of the world and never had an issue with their customer service. They are quick, efficient, and try to resolve your query in the most hassle-free way possible.
Transfer Options
When it comes to sending money, you can't ship it by mail. Let's take a look at transfer options you have.
international wire transfers
online transfers
foreign currency checks
Western Union
PayPal
cryptocurrencies
cash
International Wire Transfers
An international bank or wire transfer used to be the most popular and preferred option of sending money to Malaysia. It was deemed as the fastest and most risk-free. This perception had now changed due to the high fees associated with this method. Banks can charge up to 6% of the transaction amount in addition to a flat fee!
Malaysia has a well-established banking system. The most popular local banks with the best ATM networks are Maybank and CIMB. To open a bank account in Malaysia you will need to provide your passport ID, proof of employment, proof of visa (note: it is unlikely you can open an account with a tourist visa), a minimum deposit amount, and some may even take your fingerprints!

Out of all the Malaysian banks, Maybank and CIMB seem to have the best rates. Maybank has a more extensive branch network, but CIMB has a more user-friendly website and better customer service. HSBC is good for expats who have a balance of more than 200,000 MYR as they offer free international transfers from anywhere in the world.
It may take three to five business days for your money to arrive, but it is a costly transfer option, as there will be a fee charged by the sending bank and the receiving bank as well as an exchange rate fee.
Your best bet is to opt for money transfer services which have minimal transfer fees and competitive exchange rates.
Online Money Transfer Services
Online money transfer services are the cheapest and most efficient way to send money to Malaysia. You can set up an account with any online money transfer service relatively easily. You will be asked for a scan of your passport and to verify a phone number by a code being sent.
How does it work?
Let's take the example of sending £1,000 from the UK to Malaysia. You send 1,000 to the online service provider's bank in the UK. They then transfer £1,000 from their bank in Malaysia to your bank in Malaysia. Voila! You get a notification email that the funds are in your Malaysian account. Simple.
Monito is a great website to compare rates for these online money transfer services.
Three popular online money transfer services are Wise, XendPay, and Remitly.
Wise
Wise is a great way of sending money to Malaysia as they have no hidden fees. It is also one of the most popular providers.

Wise charges a percentage fee of the transfer amount depending on the amount, plus a small fixed fee, and offers a guaranteed exchange rate. This means they will lock in the exchange rate and guarantee to pay it, as long as they receive the funds within 48 hours.
For example, if you want to transfer $1,000 to Malaysia using Wise, you will be charged $11.99 in transfer fees and a mid-market guaranteed exchange rate.
This means you will be guaranteed an exchange rate of about 4.18 RM to one USD (at the time of the transfer). So you will get 4,129 RM in your Malaysian bank account.
If want more information on Wise, we have written a review here.
XendPay
XendPay is another popular online transfer provider similar to Wise. For your first two transfers, you can 'pay what you want'. But after that, they have a minor surcharge in the exchange rate which can be as low as 0.5% for Euro and 0.25% for USD.

You can set up a Xendpay account relatively easily with proof of identity and proof of address. Verification can be as quick as two hours.
Similar to Wise, they quote a guaranteed exchange rate upfront and lock it into place.
You can read our in-depth review of XendPay and decide whether to use them to send money to Malaysia.
Remitly
You can also use Remitly. With Remitly, there are three different ways to send money to Malaysia: bank transfer, cash pickup, or debit card deposit.

You can transfer money into Malaysia using any of the major banks in the country. But for cash pickups, you can only get your cash at Ria Money Transfer.
For debit card deposits using your Thai bank card and not your bank account number, the money goes onto your card and then into the bank that issued the debit card.
If you send up USD$1,000 to Malaysia, you should expect to pay the following fees:
Express fee of USD$4.99 (minutes)
Economy fee of USD$3.99 (three to five business days)
Keep in mind that you also have to pay a bank handling fee of around USD$1.50 to USD$3.00 for each transfer.
Also, be aware of Remitly's hidden charges, as the online money service provider takes a percentage of the exchange rate as a fee.
If you send USD to Malaysia, for example, they will charge a fee equal to 0.5 percent of your transfer.
Other Online Transfer Providers
There is an array of alternative online transfer providers such as OFX, Instarem, Transfermate, and Xoom, just to name a few. There are always new ones quoting zero introductory transfer fees, so you could set up accounts with multiple companies and go with the one that quotes the best rates.
Transfer to Cash Pickup
If you don't want to access your money via a bank, you can opt for cash pickup services which allow you to send money to Malaysia and pick it up from any agent location.
Popular cash pickup services in Malaysia are Western Union, Money Gram, Worldremit and Xoom. (Some of these also offer online transfers directly to your bank)
You will need to fill out a form and provide your ID and a unique reference code to be able to access the funds.
Depending on the service provider, the cash can be made available within minutes, but this speedy service comes with a price.
It also depends where you are sending money from. They will display their fixed prices on their websites, which often range between $4- $50.
But don't be fooled by low transfer fees, you can be sure that you will be hit with a high mark-up on exchange rates of between 4-8 %.
There are also cash transfer limits, so, for example, Worldremit has a maximum transfer limit of $5000, as well as Western Union.
You also have to bear in mind that you can only access your funds when the agents are open, as some have limited opening hours.
PayPal
PayPal is great for sending international payments to Malaysia, for smallish amounts of money.
Since many e-commerce and booking sites accept PayPal, you could just let the money sit in your PayPal account, instead of transferring it to a Malaysian bank.
However, if you want the funds in your bank account, PayPal will charge a flat fee on each transaction, depending on the country.
So for example, if you are receiving money from the U.S. there is a 2.00 MYR flat fee on each transaction. PayPal will also charge a transaction fee which ranges between 2.5% to 4.4% depending on where it is being paid from.
If you are being paid for a service from abroad, there will be an additional 4.4% fee levied on the amount being transferred. It may take two to five business days for the money to be transferred.
Sending money using PayPal is not as cost-effective as using Wise or Xendpay. But it's extremely convenient if you already have an account and don't need to send too much money.
Foreign Currency Checks
It is possible to send money to Malaysia using a Foreign Currency cheque. The local bank will charge you around 5-7 RM and also do the currency conversion to MYR, which may actually be at a better exchange rate than the sending bank.
It may take 3-4 weeks for the money to be credited your account and can often be a bit tedious, as banks are trying to move away from cheques due to the high risk of fraud.
Cryptocurrencies
In January the Bank Negara Malaysia (BNM), which is the Malaysian central bank, stated that bitcoin is not recognized as legal tender in Malaysia.
However, in January 2019, the Malaysian finance minister said that 'An order to recognize digital currencies and digital tokens as securities will come into force on Jan. 15, under the regulation of the Securities Commission Malaysia [SC].'
The Malaysian central bank has published a list of companies that have declared themselves as cryptocurrency service providers or exchanges or, but it emphasized that it has neither authorized nor licensed these businesses.
Several online cryptocurrency exchange websites include:
It seems relatively easy to set up a Bitcoin account to receive Bitcoins. You will have to authenticate and verify your account with a Bitcoin exchange provider before you can begin receiving bitcoins. Some providers require less information for verification, however Bitcoin prices will be higher.
The fees range between 1-5%, and there are transfer limits for each provider. For example, Luno has a limit of 300,000 RM. You can select 'instant transfer' for a speedy transfer option.
Cash
Another method of transferring money into Malaysia is by bringing cash into the country and exchanging it at a money exchanger.
According to the Malaysian Customs website, there is no limit to how much money a resident or non-resident can bring in, but any amounts over $10,000 need to be declared. You need to be able to prove the legal source of the money and what you intend to use it on.
The best money exchange chains are Vital Rate, MaxMoney, NS Cashpoint, UAE Exchange, and Metro Exchange, which can be found in Sungei Wang Plaza, Pavilion, Suria KLCC, Mid Valley Megamall, and Central Market.
Exchanging money may be one of the cheapest options to transfer money, however, it is not the safest option. Walking around with a large amount of cash is risky and to some, not worth the hassle of being interrogated at customs.
Which is the Best Method?
We have created a table to make a price and speed comparison for the various methods to send money to Malaysia. Amounts of 1,000 USD and 10,000 USD have been used to see the transfer fees and exchange rates that will be charged.
A quick review of the table indicates that the cheapest option is to bring cash into Malaysia and convert the money at one of the many money exchangers in Malaysia. The second cheapest (and safer) method is to utilize an online money transfer service like Wise.
Method
Speed
$1,000
$10,000
Cash
(MaxMoney)
instant
RM4,170
RM41,700
Wise
1 business day
RM4,129
RM41,465.80
PayPal
2-5 business days
RM4,098
RM41,198
Foreign Currency Checks
(Maybank )
3- 4 weeks
RM4,113
RM41,193
Xendpay
1 business day
RM4,110
RM41,100
Bank transfer
(Bank of America )
1-2 business days
RM3,935
RM41,014
Transfer to cash pickup
(Western Union )
3 business days
RM,3,492
RM34,749
Cryptocurrency
(Luno )
instant
Not stated
Not stated
Country-Specific Recommendation
It appears that unless you want to risk walking around with large sums of cash and utilize the services of money exchangers, your best bet is to use online money transfer services such as Wise or Xendpay.
However, Wise has yet to offer money transfers from India and Indonesia to Malaysia. With this in mind, you could explore alternative providers like Instarem, Transfermate, or OFX.
Countries like the UK, Australia, and the US are supported by all online transfer providers, so your best bet is to sign up to a few and see which makes the most competitive quote.
UK, USA, and Australia to Malaysia
Wise
Xendpay
OFX
Instarem
Transfermate
Xoom
India and Indonesia to Malaysia
Xendpay
OFX
Instarem
Transfermate
Xoom
Now, on to You
In the past, traditional bank transfers were the most popular option to transfer money abroad. However, the high fees and long processing times led to the growth of more efficient online money transfer providers, like Wise and Xendpay. The competitive pricing and quick processing times mean they are better able to suit present customer needs.
A quick look at exchange rates on XE.com will indicate how much money you are saving by using online money transfer providers. I have used Wise multiple times and I am impressed with their customer service. However, I will begin using Xendpay too as they also offer competitive pricing and more flexibility in the currencies they serve.
If we have missed out on any providers or you can recommend any which you think have competitive pricing, fast processing times, or great customer service, please mention them in the comments below.