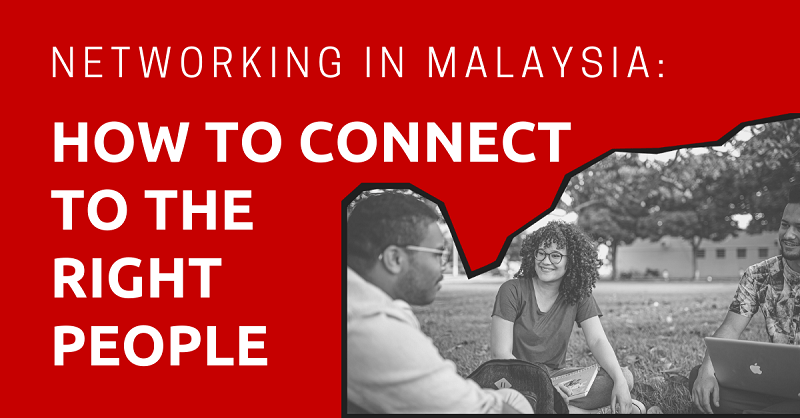 Whether you're moving to Malaysia for a job or coming here for a vacation, knowing what's waiting for you can be advantageous. If you are coming here to chill or retire, you'll want to make friends with other foreigners or even Malaysians to uncover the most beloved local gems like where to go, what to do, and what to eat that gives you the best bang for your buck. You'd also want to gain information from your contacts on how to live comfortably here. This would include learning about important things like healthcare for yourself and your family, education for your kids, and everyday needs like where to get your groceries.
On the other hand, if you're looking at professional reasons, although snagging the right job in Malaysia is not impossible by using the usual job hunting methods, it is undeniable that getting your foot in the door with other people's help could land you that job quicker and easier.
These are just a few reasons why we cannot overlook the importance of making friends with the right people. Without further ado, let's look at some of the most effective ways to network in Malaysia.
Before Arriving in Malaysia
The best part about being alive today is the ease of communication. Why wait until you land before you begin creating your social circle? Start networking even before you leave your home as it might prove useful – if not for professional reasons, at least you will have a friendly person to help you out when you move.
Family, Friends and Professional Contacts
There is no easier way to start building your network than by reaching out to the people who are already in your life. As Malaysia is getting more and more popular as a work destination for expats, you'll likely know one or two people who are already here.
Make good use of social media like Facebook or LinkedIn to see who is working or has worked in the country. Your own friends or family members, too, might know people who have lived in Malaysia long enough to have a list of contacts you can reach out to for advice or information.
Your professional contacts could also be a reliable source of networking opportunities. Their being in the same industry or field as you is a benefit as they would most likely have friends that they can recommend you to. It also wouldn't hurt your chances of gaining exciting and new employment outside your field when you widen your social circle to include expats of different professions from yours.
They might give you invaluable insight of careers that you'd never think you would be interested in, but could be a viable chance for you to switch jobs and learn new things.
Making Connections through Work
If you are fortunate enough to work in a multinational company that has branches worldwide that includes Malaysia, then you already have a team that you can connect with before you get transferred to Malaysia.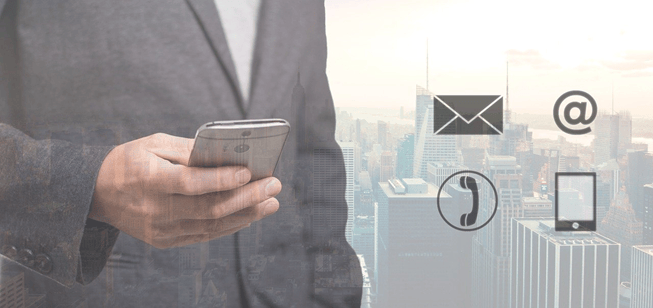 This is assuming you are coming to Malaysia via your current job. You would not go amiss by contacting these people to equip yourself with knowledge about the local scene, so you will not experience a huge culture shock when you get here.
Social Media
You cannot go wrong by combing your social media in search of groups or individuals to make friends with. Let's look at what's available online.
Facebook Groups
There are several Facebook groups that you can join. First, there's the KL Expats group. It's suitable for expats who live in or simply like Kuala Lumpur (KL). It's also great if you're just planning to visit as a tourist. They organize, plan, and promote events and activities within the Klang Valley area – which is where most expats live – for your entertainment and enjoyment. Besides that, you'll learn of the members' first-hand information about the various activities available, such as the nightlife, musical performances, sporting events, charity, quiz nights, and other similarly interesting activities. By joining the group, you'll get to talk with other expats and be kept up to date of the fun and excitement that happen in KL.

Another group you can check out is the Malaysia Expats Online Community. As this is a private group, you need to request permission to join. Here, you'll get to know other expats and even locals. They organize meet-ups so people can connect and mingle while doing activities together.
Other groups you could check out are ExpatGo that publishes news and lifestyle articles for living better in Malaysia. Since it has a healthy following, you will find like-minded people there to talk to as well. Last but not least, there's also the Expatriates in Malaysia group.
LinkedIn
Without a doubt, this is the most well-known social network for professionals. Using LinkedIn, you can widen your social circle within your chosen career field. All you have to do is to create your profile and list your credentials, and once you're in, you can connect with others inside and outside your industry. You'll be seen by other professionals and potential employers and recruiters.

The slight disadvantage about using LinkedIn is that there are millions of people and it may be difficult to stand out among the crowd who are vying for the same roles. Be sure to fill out all the questions on your profile and create an interesting headline to draw attention.
Don't forget to be socially active. Continuously interact with others by liking and commenting on other people's content to show you are interested and passionate. This will get you noticed by employers and clients. Don't be shy to get recommendations from people you have worked with, so that others know that you are a valuable asset and respected in your field.
Once you are noticed because of your well-tailored profile, you can be sure that recruiters will headhunt you and potential clients will try to rope you in on projects that can launch your career to higher levels.
Instagram
Although not as easy to use as Facebook to look for like-minded people, Instagram is still a popular and viable tool to network. This is especially useful if you're in the creative industry and would like to showcase your work. Alternatively, you can look for people who have similar interests as you and you can get in touch with them easily by directly messaging them.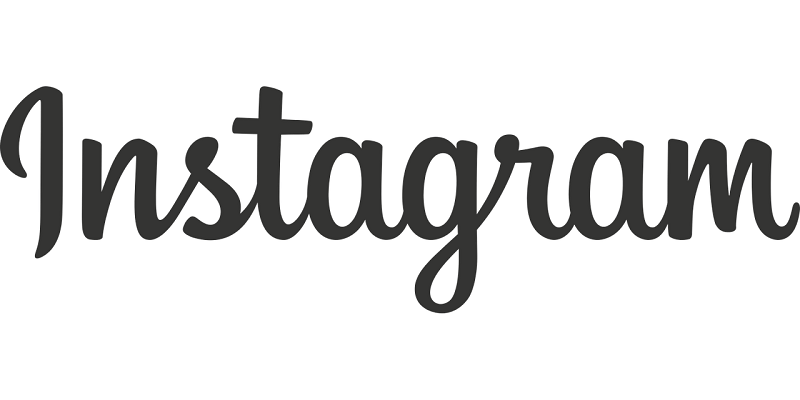 Users are able to follow profiles of creators they find interesting. You can build a loyal fan base by posting engaging content that draws the attention of your target audience. Keep up the interactions by asking for feedback or getting them to talk about their personal experiences in your industry. By being consistent, you'll eventually build stronger and deeper relationships that can potentially turn your contacts into invaluable connections, business partners, and clients.
In-person
There is only so much you can do when you're communicating with someone behind a screen. To create more meaningful bonds, it is crucial to also meet people face-to-face. Therefore, when you arrive in Malaysia, take the opportunity to meet people in real life. Here are some useful ways you can go out and make these useful connections with others.
Networking Events
Meeting new people at networking events is a given in the corporate world. Malaysia is no different in their business culture. Here are a few places to consider.
InterNations – Events for the expat community in KL
"With InterNations, you never stand alone." That's the motto of this community. Their goal is to make you feel at home wherever you are. They organize monthly events and activities for expats living in KL so expats can meet each other in real life.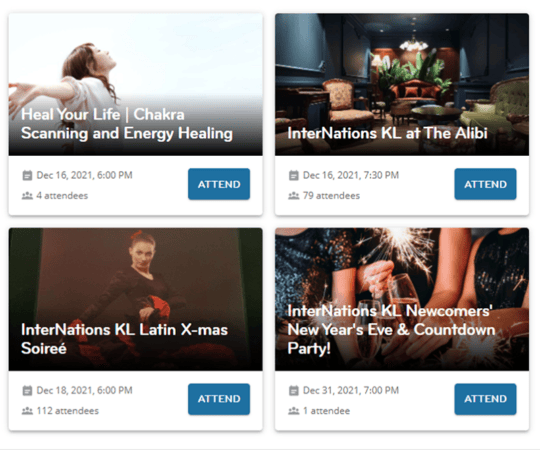 Eventbrite
Eventbrite is a platform that allows you to discover awesome events near you. You can also create your own if you are so inclined. You can filter events by date, ticket prices, and categories such as business, health, music, etc. Thus it is easy to join an event that is related to your own interests.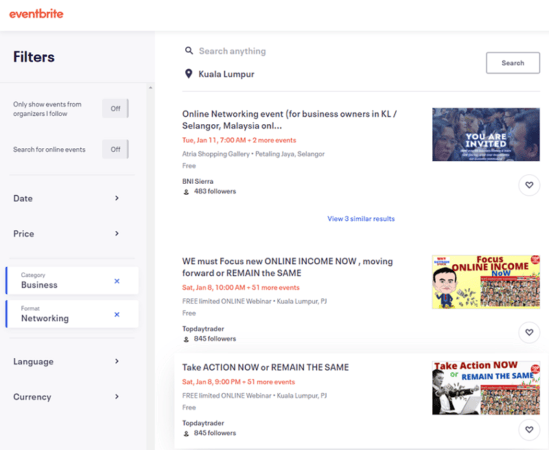 Meetup
You could also opt to use Meetup to look for events. You will find that events here are varied if a tad general, but you could always fill the search field with keywords to find exactly what you require. For example, "Business Networking Events in KL".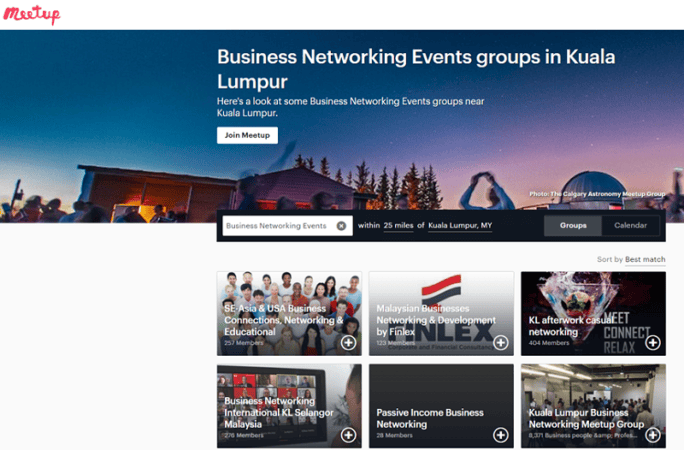 Although the events are more general, it's still a pretty good place to start if you are feeling unsure and overwhelmed.
Recruitment Fairs
One of the best ways to meet people and potential employers in your field is to attend a recruitment fair. These fairs are popular among fresh grads and the existing workforce alike, as they are great for scoring first jobs and seeking out better opportunities. All you have to do is prepare your CV and documents that show your qualifications. You could drop off your application and get to know people for future contact. Having your own business card would be a plus because you can hand those out to others.
Malaysia Career and Training Fair
This is undoubtedly the biggest career fair held annually in the country and has been around for 20 years. If you would like to attend this fair, all you have to do is register as a jobseeker. When you're at the fair, visit the exhibitor booths of the companies you are interested in. You can talk to the recruiters there and apply for the jobs on the spot.
Mega Careers and Study Fair
Known as the fastest growing career event in Malaysia, this event gathers Malaysia's most popular employers under one roof. Score an internship or full-time job here or just take a chance to talk to people with whom you are interested to connect. Follow the Mega Careers and Study Fair Facebook page to find out when the next fair is.
Volunteer Work
By doing volunteer work, you will be helping others in the community and meet like-minded people who are just as altruistic as you. You'll also learn more about the culture and lifestyle of those you are helping, plus gain new experiences.
MERCY Malaysia
From emergency response to rehabilitation and recovery, there is plenty to do if you want to volunteer your time and effort with MERCY Malaysia. You'll meet other volunteers from all walks of life with the single objective of lending a hand to those in need.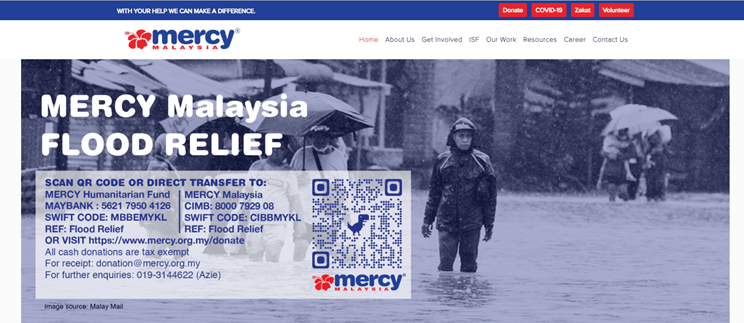 You will need to undergo the necessary training to equip yourself with crucial skills to stay safe and maximize your contributions to the group's mission. All you need to do is apply to be a volunteer. Then your application will be reviewed by the organization before being approved or rejected. Opportunities will depend on the missions that are available and the skill sets they require.
UNHCR Malaysia
The UN Refugee Agency is an organization recognized globally. The goal of UNHCR Malaysia is to save lives, protect rights, and build a better future for refugees, displaced communities, and stateless people. As the people who work in this organization are amongst the best in their fields, you'll get to meet the best too if you work with this organization.
There are local employment opportunities, so keep your eye out for advertisements in local newspapers and online job portals. Additionally, comprehensive internship opportunities are available for students. On the other hand, you could just volunteer.
Expat Clubs and Associations
Formed by and for expat communities, there's no better way to meet fellow expats who are working in Malaysia. Examples of these are the Malaysian Australian New Zealand Association (MANZA), the Selangor St. Andrew's Society, The Japan Club of Kuala Lumpur, Scandinavian Society Malaysia, and many others.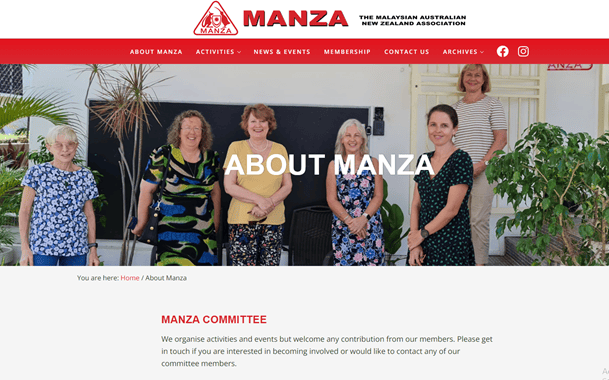 These clubs have one thing in common, which is to being expats together at social settings and events. If you need support, clubs and associations for your country of origin can be a great help.
Educational and Professional Training
If there's an opportunity to better yourself, especially if it's on the expense of your company, you should take it. Either way, attending professional workshops and courses is a good way to meet others who have the same skill sets as you, or come from the same field of work. There are many different ones you can participate in whether on your own volition or through your company's training programs.
Toastmasters
Want to feel more comfortable and confident speaking to others? If your answer is yes, the Toastmasters club is for you. You could join in any one of the various clubs and begin your learning journey with foreigners and locals as your peers. Before the pandemic, members gathered at venues for the meetings, but most of these meetings are now held virtually. The consistently scheduled meetings will guarantee that you participate enough to get further in your learning pathway.
Culture Boleh! Global Training
Make your transfer to Malaysia more comfortable by attending this course by Culture Boleh! You may get to know people who are starting the same journey as you, and it may help you get over your nervousness and anxiety about moving. Knowing you are not alone can make your transfer a more enjoyable and smoother experience.
How to Network
It's a common complaint among adults that making friends as you get older is a difficult thing to do. At social gatherings, it may seem that everyone already has his or her own tight-knit group that may seem impossible to join.
Then you'll ask yourself: Who can I talk to? How do I start an interesting conversation? How can I join without looking like I'm interrupting? Will they think I'm aloof or overly friendly?
Just like anything else, practice will make you more comfortable and skilled at conversations. Here are some tips to help you.
Where to Meet People
That's basically everywhere in the world physically and even virtually. Of course, note that some places and situations do not encourage proper introductions and conversations. Say you're walking on a street and people are rushing about on their errands. You do not want to stop someone and start talking. You'll get a better response in situations such as during a train or bus ride whereby the person does not have headphones on.
Don't be afraid to begin a conversation when you're at a restaurant during lunch or dinner, or at a social gathering like someone's party or open house. If you hear something that perks your interest and feel like you can contribute, go ahead and join in. Always remember that the worst that can happen is they may not respond. That's okay, you can try again with other people. Not everyone will like us and that's acceptable. Not trying at all guarantees zero contacts and zero success.
Of course, don't be pushy if someone clearly doesn't want to be disturbed. Be perceptive and behave accordingly.
How to Approach People
Whether you're in the gym, a café, or in a professional gathering, there are simple things you can do to start making contacts with others in the room. First impressions can be an important factor in making your efforts successful. Let's have a look at some useful tips to start breaking the ice.
Be Friendly and Smile
People tend to be more open and approach others who look friendly and who smile more than they frown. Think about it. Would you dare talk to someone who is sulking or scowling? They obviously have other things on their mind besides socializing.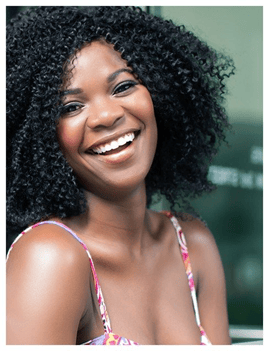 Try not to be intimidated when you see "established" groups. Say hi and introduce yourself with a friendly grin. It can be scary, but the results can be well worth that first move.
Ask Questions About the Other Person
When meeting people for the first time, you don't want to talk only about yourself. It's best to establish what the other person is interested in so you can find common ground. It's easier to hold a conversation when both of you have the same thing to talk about. That's why it's best to ask questions instead of just talking about yourself the whole time. Nobody likes someone who seems self-absorbed.
You could ask things like: How long have you been in Malaysia? What brought you here? How do you enjoy life here?
Show Genuine Interest
When someone else is talking, give them a chance to finish their thoughts before adding your own. Interrupting is considered rude, especially if you are a newcomer. Being a good communicator does not mean only giving your own opinions; a sign of a good communicator is being able to listen and pay attention.
Ask follow-up questions to a topic that the other person is passionate about. Maintain good eye contact so that they know you are giving them your attention. Don't fidget with your phone or glance around like you are wishing to be somewhere else. If you need to go, excuse yourself politely and say something like: It's been a pleasure talking to you. Here's my business card. Let's keep in touch/ continue our conversation via (insert method).
Building and Maintaining Your Social Circle
With our busy lifestyle, how do we build and maintain our network? There are people who believe in quantity over quality, and then there are those who think the opposite.
Neither is wrong. For me personally, I would try to gather as many contacts as possible. Then I'd focus on nurturing relationships that I believe are mutually empowering. Some people may just be too busy to get back to you and it's normal for you to have limited time of the day to give to them too.
Over time, I think a few quality contacts is better than trying to keep many people happy in my social circle.
Narrow Down Your Contacts
Things can get overwhelming when you have too many things and people to think about. Therefore, narrow down your contacts so your network becomes more manageable for you in terms of time and energy. Bear in mind it defeats the purpose of networking if you simply do not have the ability to keep up with the people in your social circle. Between 10 and 20 critical contacts who may be able to help you and vice versa, is more than enough.
Invest Time and Effort in Your Contacts
Once you have determined who you want to stay in touch with, don't neglect them. Building and maintaining strong bonds depends on consistency of communication between people. Find time and make the effort to meet them to do activities that interest you both like playing a sport or volunteering.
Another thing to remember is to offer to help your contacts, and don't be afraid to ask for help when you are in need. This can be summed up as the Ben Franklin effect.
"He that has once done you a kindness will be more ready to do you another, than he whom you yourself have obliged." — Ben Franklin
If you are not able to provide help yourself, give recommendations of others that your contacts can approach. With these social transactions, you'll both experience positive feelings for one another, and hopefully bring about mutually beneficial relationships.
Now, On to You
Did we miss out on any tips and tricks about networking? What are some methods that have been wildly successful for you in making and maintaining a social netword? We would love to hear your thoughts!