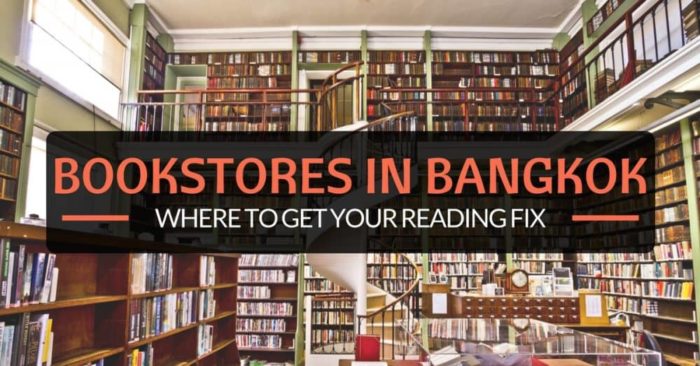 Coming to a foreign country always implies downtime. There is the slowness of travel, the moments in which you don't know what's going on, and just the time needed to acclimate yourself to a new culture. One of the best ways to pass the time is by reading.
Here in Bangkok, there are a multitude of choices of how and where to get books, novels and magazines to spend your time productively. There are the new bookstores, second hand book shops, as well as ebook readers and other devices sold locally and online that make English-language titles easily accessible.
General Bookstores
In terms of new books, the major chain stores that are easily accessible are the Japanese-owned Kinokuniya and Asia Books. The former has three locations, one in Siam Paragon, one in EmQuartier and a third in Central World. Asia Books meanwhile has over 20 locations around Bangkok including stores along Sukumvit, Silom, Emporium, and EmQuartier.
Kinokuniya
Kinokuniya is your best option for buying new books with a diverse selection including continental philosophy, Thai culture and history, contemporary literature and more. Kinokuniya has a large selection of books and has a multitude of sections such as Social Sciences, Mathematics, Asian and SEAN studies, History, Test Preparation, Language Studies and Philosophy, among others.
The store also offers novels translated from Thai into English with works by Haruki Murakami, Fyodor Dostoevsky and Ernest Hemingway. I was particularly excited about the latter as Kinokuniya had a copy of the Old Man and the Sea in both English and Thai. The book was an affordable. The prices for other books can get to be quite expensive, such as the aforementioned My Brilliant Friend at 607 baht. There are also mid-tier selections such as The Unbearable Lightness of Being by Mulan Kundera, which cost 229 baht.
The Japanese owned store also has a large selection of Japanese material including manga, literature, and travel books. The bookstore includes a diverse selection of magazines and offers postcards and Moleskine notebooks. There are not many odds and ends, but the secondary material is more focused on stuff book lovers might actually want and need.
Ordering books at Kinokuniya is possible and takes roughly four weeks. Online ordering is also relatively simple, and you can pick up your copies either at one of the three major locations. Alternatively you can have your items delivered to your home address.
Kinokuniya also sweetens the deal with their membership card, giving members a 10% discount on books and a 5% discount on magazines. This discount includes online ordering. The membership costs 500 baht a year, but deals exclude non-book items, vouchers, rare books and discounted items.
Asia Books
The Asia Books stores tend to be much smaller than Kinokuniya and because of that, have a more limited selection of reading material. Most of the merchandise at Asia Books will be the same from chain to chain and will focus on the top sellers. These stores are great to get the latest copy of pulpy bestsellers, but you won't be finding Elena Ferrante's latest literary masterpiece here.
Asia Books instead focuses on popular books.
The bookstore also holds a large selection of young adult novels along with novelties and toys including toy dinosaurs and play doh. A large selection of the merchandise at Asia books tends to be oversized coffee table books, which are great to peruse or to have sitting on one's table to impress the guests but might not be the best of daily reads.
That said, Asia Books does offer in store ordering, but with a delivery time of four to six weeks, they are on the slow side. When asked for a copy of My Brilliant Friend by Elena Ferrante, I was quoted a price of 697 baht. The actual book could be purchased at Kinokuniya for 607 baht.
Asia Books does not have a membership program but does allow for online ordering. Online ordering is relatively easy and the site not only accepts major credit cards, Visa and Mastercard, but also allows for monetary transfers from Thai banks and cash upon delivery (only available in Bangkok).
Delivery is free for purchases of 999 baht or more, and Asia Books does offer complimentary gift wrapping.
The real benefit of Asia Books is its multiple locations. With franchises in nearly every mall in Bangkok, finding a book is relatively easy. Will it be the book that you want? Probably not, but sometimes reading new novels and non-fiction can really expand your world.
Asia Books also has locations outside of Bangkok including Phuket, Chang Mai, Hua Hin, Khon Kaen and other locations in the country.
Chulalongkorn University Bookstore
Chulalongkorn University Bookstore is a chain of seven stores located throughout Bangkok with locations mainly near college campuses. The actual locations are at Siam Square, Naresuan University, Suranaree University of Technology, Burapha University, Chulachomklao Royal Military Academy and Chamchuri Square.
With over 100,000 titles, both Thai and Foreign language books, these stores are generally geared towards students for their college courses. Their website is only available in Thai, so if you can speak the language, you can order books online and get discounts with credit card specials (e.g. KTC).
The store also offers a hearty selection of free eBooks along with items for purchase. Best to go to the actual physical stores for purchase though: Unless you speak Thai fluently, the site is too difficult to navigate.
In addition to bookstore, most universities in Thailand have their own libraries that are open for public with a slight access fee.
SE-ED Bookstore
This chain of educational bookstores has multiple locations throughout the Bangkok metropolitan area. While the majority of the items available are solely in Thai, customers can find some dual language books.
You can get books that are available in both English and Thai here. These sorts of dual language books are great for learning Thai.
The SE-ED website does offer online ordering. Online payment options included credit cards, cash on delivery, LINE payment, and bank transfers. The order can be picked up at an actual location or can be delivered to a home address. Delivery cost is an inexpensive 30 baht, and if the order is 600 baht or more, delivery is free.
While offering inexpensive deliveries and good options in terms of payment, SE-ED book stores lacks in the English department. However, if looking for a Thai piece of work or a dual language title, SE-ED book store is a good option.
B2S
B2S is another chain bookstore geared towards Thais. The store has a small selection of books and more stationery.
With most of the literature in Thai, this store won't be too appealing to English speakers, however the store does sell Kindles and other eReaders, making the chain a great option for those who didn't bring their own device to Thailand.
Second Hand Bookstores
Dasa Books
The absolute best stop for second hand books is hands down Dasa Books located on Sukumwit avenue near Phrom Phong BTS.
The store operates like a traditional bookstore and even has a rack of cheap wares outside for 19-99 baht. Some of these worn paperbacks included Mockingjay by Suzanne Collins, The Girl Who Kicked the Hornets Nest by Stieg Larsson and several pulpy mysteries by Charlaine Harris among various, perhaps slightly outdated, travel guides.
Real pleasure can be found in searching through the stacks of Dasa as there are always hidden gems. I spotted a copy of 2666 by Roberto Bolaño for 240 baht and a copy of Jane Austen's Sense and Sensibility for a mere 90 baht. You can learn a lot about the world of marriage in London for the price of a bottle of Singha.
Dasa has a small café and offers teas and coffee drinks along with a large selection of CDs to peruse, in case you are looking for that Bossa Nova album for the modern woman that you've always been wanting – available in store – limited supplies though so hurry down!
While you are sipping on that strong latte, you can also look through the Thailand Fiction section, which contains the usual diamonds of expat lit, such as Private Dancer and the "excellent" love advice provided by Thailand Fever. There is an extensive spy/espionage section, mystery section, and a very large chick lit section. Dasa also maintains an eclectic philosophy area with such staples as Does Santa Exist by philosopher and naysayer Eric Kaplan for 270 baht.
Other Options
There are a few bookstores that have sprung up that are located near Khao San Road or on markets like the Chatuchak Weekend Market.
These stores tend to be more like stalls and sell a very limited selection of materials that are usually recycles of popular tourist books such as travel guides, copies of The Beach and occasionally a copy of The Stranger by Camus, another story of a man on a beach.
Outside of Bangkok
Bangkok is not the only spot in Thailand for booksellers. There are a handful of small specialty, second hand and independent bookstores spread throughout the country.
Chiang Mai
Chang Mai has a thriving book scene as well with the headquarters of Silkworm Books being based there. This site offers a overview of stores in the city.
Phuket
In Phuket, there are a handful of bookstores such as the South Winds Bookstore and Kata Books.
Book Fairs and Events
Book Fairs of a variety of sizes regularly spring up in Bangkok and are always worth looking at. Sometimes individual publishers throw the fair, at other times it is a compilation of different press houses.
The Neilson Hays Library, a library that has a collection of over 20,000 pieces, has a book fair coming up several times of the year.
One of the largest book fairs held yearly is brought together by the Publishers and Booksellers Association of Thailand. The fair features more over 420 Thai publishing houses and over 20 international printing firms from 10 countries, including Iran, Britain, France, India and the US. The fair is held yearly in the spring at the Queen Sirikit Convention center easily accessible by MRT.
eBooks
Ebooks are a very easy, reliable way of reading modern and not so modern works.
With the publishing rights of many older classics open, the ability to read traditional has never been easier. In addition to the classics, there is also the growing eBook business for contemporary novels. It's worth taking a look at the major players in the eBook game: Amazon, Scribd, and Project Gutenberg.
Amazon
One of the major sites that I use regularly is Amazon, partially because it has a near monopoly over the industry.
The company works as an aggregator for a mass amount of products with delivery directly to your house. The problem with Amazon is that it is mainly located in the United States, so getting physical copies of items can be quite costly.
For example, a new copy of My Brilliant Friend on Amazon costs $10.41 and with the cheapest shipping option, which will deliver the novel in 18-32 days, the cost is $9.98. That is nearly the cost of the book.
For faster shipping options, the cost is even more. A delivery time of 5-10 business days is $19.98, while next day delivery (which is free in the States with Amazon Prime) is $30.98- three times the cost of the book itself!
Obviously if you have the time to wait, the money to waste and a severe dislike of leaving the house, getting physical copies of books through Amazon makes plenty of sense. For those who are a bit more budget minded, getting books shipped out makes about as much sense as driving a brand new car into a khlong.
Amazon isn't useless to book readers abroad though as it offers two options, Kindle Unlimited and eBooks. Kindle Unlimited is a subscription service with a bar of entry at $9.99 or close to 350 baht. Getting an account with the program allows access to over a million works with access on any device: phone, laptop, or kindle.
The subscription also gives members access to Audible books, which is a great way to pass the time productively while stuck in traffic, or waiting for a tow truck to pull your car out of the khlong. The cons? Well, most of the books on Kindle Unlimited are self published authors that allow for distribution as part of incentive deals they've made with Amazon to market their novels. The books disappear after you've cancelled your subscription and perhaps most importantly to those looking for best sellers – many of the major best sellers are not available on Kindle Unlimited.
Amazon, however, does offer ebooks and is my go to spot for getting ebooks quickly and easily to my devices. A copy of My Brilliant Friend goes for $9.99 on Kindle, a little over 300 baht. This is a big savings compared to Kinokunya's in store physical copy price of 607 baht.
Buying an ebook will save the reader 300 baht. However, the reader does need a device to read it on – laptop, smart phone, or kindle. Getting a physical copy in the States is not that much more expensive than ordering the ebook – $10.41 for the physical paperback book, but then again the reader would have to wait weeks for the book to come in and pay a high tariff in transportation fees.
One of the best parts of Amazon is it's review and recommendation system, making it easier to find new titles you might like. This is also what their acquired subsidiary Goodreads is about: It operates as both a review site and a directory for ebook shops. Now owned by Amazon, the company initially was launched in 2007 as a social categorizing website for books.
The site acts like a combination of Reddit, Facebook and Yelp for books as members add books to their account, review books, see what others are reading and participate in book clubs. The site also offers a regular newsletter with book suggestions, author profiles and poetry.
Scribd
Scribd is an ebook, audiobook and comic book subscription service that has over one million pieces of content. It is also an open publishing platform whose content is available on smart phones, Kindle, Nook and laptops. Scribd pioneered the use of iPaper, a document format similar to a PDF but used on the web. iPaper can be used with different operating systems (think Mac, Windows, Linux, etc) and makes Scribd easily used across different platforms.
One of the selling points of Scribd versus Kindle Unlimited is its slightly lower price. It is marketed at $9.99. A whole $1 cheaper. That is a plate of Pad Thai!
Scribd also has access to a slew of documents including court cases and scientific articles. The best asset of Scribd though is that it has books from the major publications, including Penguin Random House. This increases the likelihood that many of the top sellers you are interested in will be available to you.
Project Gutenberg
Project Gutenberg began in 1971, way before the internet was even invented! Before AOL messenger and even before dancing hamster gifs, basically when people had to read or watch TV to pass the time – how dull! Project Gutenberg (PG) is a volunteer project attempting to archive and make digital classic cultural works. Most of the texts are available in English as HTML, PDF, EPUB, MOBI and Plucker.
The texts are proofread and most of the collection is composed of public domain books. Public domain books are those novels and pieces whose copyright has expired, which means that it is available for public consumption for free. Right now Project Gutenberg has about 50,000 works available for download and are mainly composed of classics in the western literary canon. Think Shakespeare, Mark Twain, and Conan Doyle.
Don't expect to find Zadie Smith's most recent novel or The Sympathizer by Viet Thanh Nguyen. On the pro side, you can get the complete works of some of the old authors, so why not savor some of the classics?
Many Books
Many Books is similar to Project Gutenberg, offering many of the same public domain novels but also free and discounted contemporary works. Most of these works are relatively pulpy and include Their Works Shall Be in the Dark by Alex Hansen, which is about the charismatic leader of a Mormon youth group who encourages the youngsters to experiment in activities prohibited by their religion. Scandalous!
Many Books offers this book with a link to Amazon and so secures some profit via affiliate links.
Devices and Software
Technology has opened up a lot of choices in terms of how to read. Now you can read on your computer, your tablet, your phone or your ebook reader. Cutting down on physical books also saves a ton of space.
When moving from the U.S. to Bangkok, I shipped roughly 100 books to Thailand. The shipping took between 70 and 86 days. By the time the books came, I had forgot I'd even sent them. On the plus side, it was pretty affordable at $199.00 for two large boxes of books.
Laptop/Desktop
The advantage of reading on your laptop is that you have a lot of ability to work with the text, you can zoom in, you can take screen shots, you can copy and paste text.
Additionally, sharing pdfs, epubs, and other digital files is quite easy with a laptop. Unfortunately, laptops suffer from portability. While you can take your laptop to the beach for a nice Instagram photo shoot, it's a rather cumbersome affair.
Smart Phone/Tablet
Most of us carry around our phones everywhere we go, which makes it a perfect device to read articles on. Social media articles have discovered this and limited the length of many articles, not only because of decreasing attention span but also because reading on your phone is generally not comfortable for long reads… so if you're reading this on your phone, you're a real trooper!
The small size of the screen of a phone can make reading more difficult, and taking notes can be quite cumbersome even with the best of apps. While the glare on most phones isn't extreme, there has been a giant increase in the amount of time that people are staring at screens. For some people that's reason enough to try to reduce the amount of face time their electronic devices get.
Tablets generally have better screen resolution with color, making it easier to read comic books and look at images on a tablet. On the downside, tablets generally have shorter battery lives, are more difficult to read under sunlight and are heavier. While more expensive, tablet prices are dropping and becoming increasingly accessible.
Depending on what else you use your devices for, the more complicated operating system of a smart phone or tablet over an eReader might matter.
Both smart phones and tablets will use the same eReader apps such as the multi-platform Kindle app or Scribd.
Both of these apps sync across devices, so when you are done reading on your Kindle, you can go on to read on your smart phone, and then pick up your place on your tablet. While Scribd is an eReader app, it does not link to all eReaders, only the most current versions such as the Kindle Fire, Nook HD and the Kobo Arc series.
E-Book Readers (eReaders)
There are real advantages of using an eReader. The subsidized price, the ability to read under direct sunlight, light weight and seamless integration with online shops can make them one of the fastest, most convenient and cheapest solutions if you're using them abroad.
eReaders aren't a threat to physical books either, as paperbacks are raising in sales along with eReaders. Some speculate that eReaders will eventually replace physical books, but the jury is still out on that verdict as there are still bookstores and paperbacks out there within reach.
The Kindle
Amazon's first Kindle eReader came out in 2007, retailed for $399 and automatically linked to the Kindle online store, making buying books easy. All that was needed was a WiFi connection.
Current models of the Kindle can hold up to thousands of works including books, magazines, and blogs or 2gb of internal memory. The battery fully charges within 3 hours and lasts a long time. My personal device only needs to be charged once a month, and I read approximately four books a month on it.
The original Kindle contained a small keyboard at the bottom of the screen. The keyboard has been replaced by an easy to use touch screen along with two buttons, one for powering the Kindle and the other for returning to the home screen. The touch screen allows users to highlight text for notes or to look up words in a dictionary provided by Kindle.
Drawing power from a lithium polymer rechargeable battery, the Kindle is essentially a specialized portable computer that reads jpegs, mobis, txt, html, doc etc files. The majority of the Kindle models use Linux, the open software operating system, with the exception of the Kindle Fire which uses an Android operating system.
In order to create text, the Kindle uses electronic ink, a technology developed by E Ink in Cambridge, Massachusetts. The electronic ink uses thousands of microcapsules to light the screen and incidentally uses considerably less power than a conventional tablet or device with an LCD screen.
The Kindle is not without its downsides. As mentioned earlier, ebooks for the Kindle are nearly the same price as hard copies. Turning pages takes longer than in a tablet, and web surfing, if it is available on the device, is clunky and slow. Most Kindles feature only black and white text, making reading your favorite magazine not nearly as colorful. In addition, buying a Kindle here in Thailand can be more expensive as they are rare. B2S in Central Chidlom carries a few different version of the Kindle in stock.
The Kobo
Created by a Canadian company using electronic ink, the Kobo is similar to the Kindle, and the company has also released a version that uses an LCD screen. In addition, the latest version, the Kobo Aura One, is waterproof, making it a great device to read in the bath.
The Kobo Aura One also has a larger screen at 7.8 inches diagonally. In a clever move, Kobo's parent company Rakuten owns Overdrive, a frequently used system for library ebooks. This means that with the Kobo, users can easily have access to library books. With the price nearly the same as the Nook and Kindle, the Kobo is a device to consider.
Books can be purchased on the online store.
Reading Today
The years when moving to Thailand meant you had to bring along your own reading material have long since passed in Bangkok. While there are still a sizable number of independent and second hand book stores left, expats nowadays have access to a large selection of online and offline, physical and digital book outlets.
Putting down roots in Bangkok no longer means you'll have to make any concessions when it comes to access to the written word.
How do you get your own reading fix? Popping by the second hand store on a rainy Sunday afternoon? Long-time subscriber to Kindle Unlimited? Or did you ditch books altogether when you moved to Thailand? I'd love to hear from you in the comments!