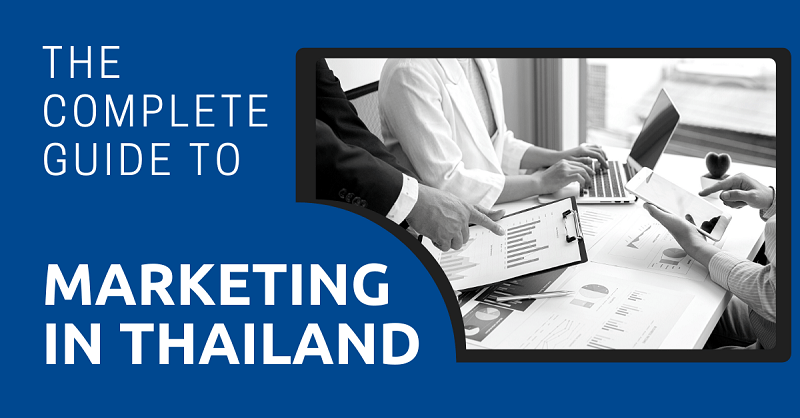 Marketing in Thailand can be different from your home country.
If you cannot speak the local language, there are certain things you cannot do. It limits the choices you have, and the way you will market your business.
With the support of translators or freelancers or a team of local hires, you can market to locals. But as an expat, keep in mind that one of your strengths will be your ability to market to other expats and generate traction through word of mouth.
Marketing to Thai Nationals
If you want to tap into the market of non-English speaking locals, you not only need Thai content, but content that resonates with the local market.
Thais tend to be very sensitive to spelling or grammatical mistakes in their language or words that sound "unnatural." Thais are also quite playful by nature, so they enjoyed gamified marketing campaigns and gimmicks a lot more than the average foreign customer. They are used to being marketed in this way and playing along with marketing campaigns that offer small prizes or discounts for their participation.
The content needs to be written in such a way as to be engaging for Thais. This is where Thai translators or freelancers from local platforms such as Fastwork would come in handy, to translate your marketing content or campaigns into content that is culturally compelling for Thais.
Marketing to Foreigners
The sizable foreign population in Thailand should not be overlooked. In any major city such as Bangkok, Chiang Mai, Phuket, Pattaya, Samui, Hua Hin, or Phangan there are strong communities of foreigners that, if converted as clients for your business, will often become your repeat customers or even unofficial ambassadors, providing excellent referrals for your business by word of mouth.
By integrating yourself and providing value to local communities of foreigners, both online and offline, you help them to become more open to using your products and services and seeing the value you provide.
Foreigners are also drawn to businesses by other foreigners because of the lowered language and communication barrier. Keep this in mind and try to tap into communities of foreigners to build awareness of your offerings through local networking or Facebook groups.
Online Ads
To grow your customer base, you can run ads. Some popular platforms for running ads are Facebook, Instagram and Line.
About 1-2 years ago, the Thai government started to tax Facebook ads. Therefore if you want to run ads you have to stay compliant and pay taxes on the ads. Ads for your own business can be reported as an expense. Ads run for clients must be recorded as taxable revenue.
If you have a Line business account you can also apply for their ad manager platform and you can use this platform to manage your ads just like on Facebook. Only Line business accounts can run ads. The business account can be used to manage several different Line accounts. Line ads operate similarly to Facebook ads, but they aren't being taxed yet.
Influencer Marketing
The rise of social commerce in east Asia has given rise to the increasing use of KOLs or Key Opinion Leaders to market products to niche target audiences. There are marketing firms that specialize in helping businesses to run mass campaigns with micro and macro influencers.
● Nano-influencers are those with 5-10k following on social media.
● Micro-influencers are usually defined as those who have a following of 10-50k on social media.
● Macro-influencers have 200-500k followers
● Celebrities are those with more than 500k followers
This is a guideline for the Thai market. There is no set matrix because you have to account for the size of the population in each market (e.g., 1 million followers is considered large in Thailand but if you get a KOL in China you can easily pass 50 million because it's a very different population scale).
When working with macro-influencers or the bigger stars, you can be very specific with the terms, contracts and deliverables, because they usually have agents that are familiar with handling terms and legalities. Many of them speak English.
But if you're working with smaller influencers, you may encounter issues. Micro-influencers aren't full time influencers, so they aren't familiar with basics such as granting authority on Facebook to advertisers, or how to set up brand collabs on Instagram or extract insights if you want to know what is the best time to post. It can be hard to reach them on time, or sometimes they just disappear.
Micro-influencer campaigns also require 50-100 influencers to be effective so there's a lot to manage which could be very challenging for a non-Thai speaking individual or an inexperienced team to manage. Therefore it's best to go through a local agency.
Offline Networking
A referral can go a long way. It is so important to build the right connections, especially in Asia and Thailand, where there are only two to three degrees of separation within the English-speaking community.
Thailand is a very traditional business environment, so information is traded within that small circle of people which makes networking essential.
You may be able to build up a loyal customer base and help your business gain traction by mingling with networking groups such as BNI, DrinkEntrepreneurs, different chambers of commerce or associations or attending annual startup conferences like Techsauce. You can easily find events to attend on Meetup.com, Eventbrite, Eventpop, ZipEvent or Facebook events.
Hearing the shared experiences of others can also help you to see the pain-points that need solving in the local market and give you further ideas for how to expand your business. Have a LinkedIn page, or business cards ready to give out when you go to such events so that people can easily know what you do and connect with you should they be interested in your products or services.
Social Media Marketing
Social media drives life in Thailand, perhaps even more so than you might expect.
Facebook
Thailand is one of the countries with the highest levels of mobile phone and Facebook penetration in the world. Nearly every local has a Facebook account and is highly active on Facebook.
Most foreigners have followed suit and integrated themselves in the active local Facebook communities or use the Facebook events to follow local events happening in the area. As a result, if you are a business owner, it is a good idea to be active in some shape or form on Facebook as a way of garnering more clients and racking up interest in your business.
This could come in the form of a Facebook business page, a personal profile that integrates itself into local groups and recommends your business, or even starting your own Facebook group around a shared interest related to your business where you also publicize information about your products and services.
Be aware too that there are local Thai Facebook groups with tens of thousands of members with shared interests. If you can have a Thai speaking partner or staff to integrate themselves in these groups and start recommending your business, these groups could also be a source of new customers.
Instagram
If you plan to engage in any form of e-commerce, Instagram can serve as an online shop-front for your shop's products. Instagram is very big for e-commerce in Thailand. Many locals use Instagram and are active in shopping and making purchases from shops on Instagram.
Line
The Japanese app Line has huge popularity in Thailand, where it is the equivalent of Whatsapp in the West, WeChat in China, and KakaoTalk in Korea. Line has an entire suite of different applications to support local businesses such as Line Official, Line Man, Line Shopping or Line Pay.
In order to start a Line Official account (also known as Line@) and be able to push messages to your subscribers, you will need a registered company. However, you can also interact with your customers using an ordinary personal Line account for which you just need a local phone number or email to register.
TikTok
Local Thais are also relatively active on TikTok, more so than the foreigner population, so if you're trying to tap into the local Thai market, TikTok should not be overlooked.
E-commerce platforms
Due to the rise of e-commerce, the local market is highly attuned to campaigns such as double-digit campaigns (e.g., 6/6), mid-month campaigns and mid-year campaigns – these are the times when the best deals can be found on e-commerce platforms, and local entrepreneurs strive to push out more marketing campaigns during such dates.
The most popular local e-commerce platforms are Lazada, Shopee, Line Shopping and Grab Mart. These platforms can also be outlets for your physical products.
F&B Platforms
If you are an F&B provider, Grab Food has emerged as the leading provider. However, Grab also charges the highest commission which has become unsustainable for many restaurants.
This has led to many entrepreneurs increasing their food prices on Grab, or shifting to platforms like FoodPanda or Robinhood which take less in commissions. Line Man is also a Grab competitor, but less popular with consumers due to their high delivery fees.
If you can incentivize your customers to pay via bank transfer and arrange the delivery themselves through local delivery apps, you can save on commissions. However, most local F&B entrepreneurs try to find at least one platform to be active on to increase their exposure.
Lately a few eco-conscious apps such as Yindii and Oho! Thailand have also been launched to lessen food waste by selling rescue meals.
Becoming active on Eatigo can help to fill your restaurant during off hours, whereas garnering reviews on Wongnai – the local TripAdvisor for food – can help increase your draw for local Thai foodies.
Now, on to You
Thailand is a paradise for entrepreneurs with amazing opportunities across all sectors of business. If you are an expat, it can be tempting to get away from your 9-to-5 and jump headfirst into creating your own business.
No matter how much experience you have with marketing back home, you have to be ready to start from scratch over here and learn how the locals do it. Marketing in Thailand is a different kettle of fish and you will need to find the right channels for your product.
Good luck and have fun with the ins and outs of marketing in Thailand.