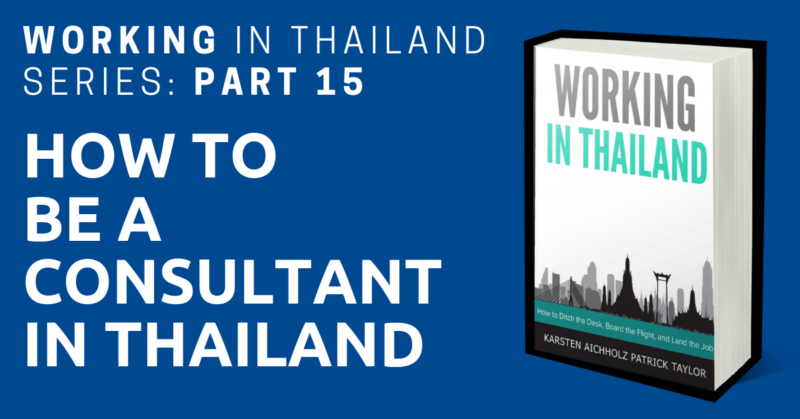 The following post is a chapter from our book, Working in Thailand: How to Ditch the Desk, Board the Flight, and Land the Job, written by Patrick Taylor and Karsten Aichholz.
Buy Working in Thailand on Amazon.
The Consultant
Unless otherwise noted, all quotes by Tracy Dumais, consultant.
For those who've chosen the noble pursuit of education as their field of employment, it's easy to assume that the only options for those wanting to teach in Thailand lie in good old-fashioned chalk-to-blackboard teaching.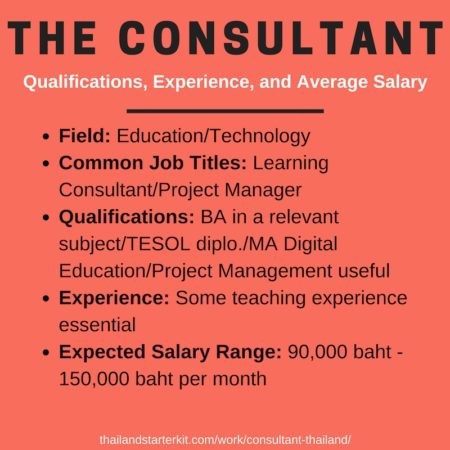 As one would expect by this point in the book, that assumption would be mistaken.
There's a whole host of education-related positions out there, from curriculum development to international school administration.
Technology has expanded the opportunities available to educators far beyond the scope of the classroom.
Online teaching, often utilizing video chat services such as Skype, allows teachers to conduct classes from the comfort of their sofas.
A whole host of learning apps, such as the language-learning app Duolingo and Khan Academy, have cut out the middle-person entirely and made it easier than ever for keen students to teach themselves—and in doing so has created a whole raft of new positions for those interested in coding, promoting, and supporting those apps.
Tracy Dumais is one of those working in this new and rapidly-growing field.
Describing herself as a mobile learning consultant, her job exists at the intersection of teaching and technology.
Thankfully, she had plenty of experience of both.
I had gone as far as I wanted to go in teaching center management and decided to do a masters on e-Learning to give me a new career direction."
In addition to teaching and working in administration, Tracy had plenty of experience with digital communications to fall back on.
I ran a discussion board, had an active blog and was a social media coordinator for an educational product. Six years ago this was a rare combination of skills."
Tracy's day-to-day work involves using her extensive experience to both oversee current apps and to offer advice to the young folk currently using it.
I essentially project manage a small suite of apps to help children learn English. I also act as a consultant for all digital learning products for young learners within my organization."
Her organization's reach is global—as is common with big tech projects.
As a result, she's had to make a few sacrifices living in Thailand.
I work flexibly—at home and in the office, and as I collaborate with teams around the world I have to be available to take calls or attend meetings early morning and late evening when necessary. I also travel occasionally for work and to attend conferences but not as often as you would expect—we are very conscious of waste and try not to rack up air miles if the collaboration can be done remotely. A lot of my work is done through email and Skype, and I track progress and manage my projects through Redbooth."
She says that:
70% of (her) work is maintaining existing products and 30% dreaming up/scoping and exploring potential new products."
The basic qualifications for a job like Tracy's are not too dissimilar to those required for a teacher here in Thailand.
The minimum requirements are a degree and a TESOL diploma."
For the tech side of things,
having a Masters in E-learning/EdTech helps but isn't essential."
Getting an MA can be difficult to budget for, particularly on a teacher's less-than-munificent salary.
If that kind of financial investment isn't an option, then start a YouTube Channel, a series of podcasts, a blog, or a Facebook page. In your free time, try and create some digital content and turn it into a product that can generate income. Even if this product doesn't work out it might get you noticed and it will certainly look good on your resume."
She states that:
some experience in teaching, content development and/or training is necessary."
Tracy herself applied for her position while studying. No doubt her extensive experience with digital communication was already a great help.
I had only just started that qualification when I saw an opening for a digital content editor within my organization and I applied for it. Someone else actually got that post but the team really liked my application and created a new post for me more suited to my skill set. I was very lucky."
For teachers looking for a way out of the usual grind, then, the message is clear—get yourself a blog, a podcast, or a Facebook page. This is still very much a new field, so there are plenty of opportunities out there for those with the right skill-set.
These kind of jobs are still new enough to have a very fluid/negotiable salary scale. I would think 90,000 baht to 150,000 baht is a reasonable starting salary for this kind of full time project management post."
Of course, that salary is only for those agreeing to be salaried employees for an established company.
If you are freelancing or creating your own brand then you will start on a much tighter budget. But then if you work hard, the sky's the limit."
Positions like Tracy's offer dedicated and passionate educators the chance to share their knowledge without being restrained to the classic bricks-and-mortar school structure—and best of all, as a new and blossoming field, the opportunities available could well turn out to be financially lucrative to boot.
If you're a teacher frustrated with fusty old textbooks and regimented classes of uninterested kids, it could well be time to swap the whiteboard marker for a tablet.
Now, on to You
Looking for more posts on Working in Thailand? You don't have to wait for each post to come out.