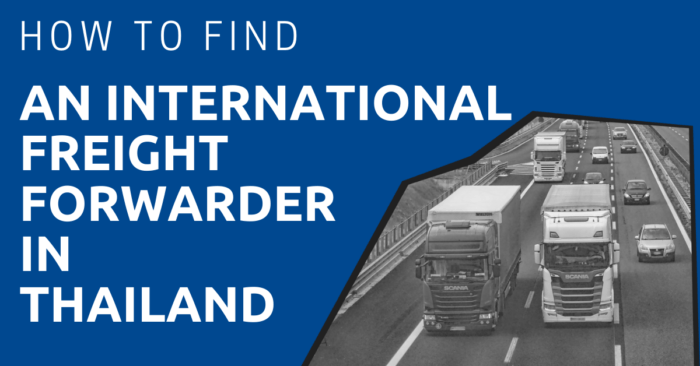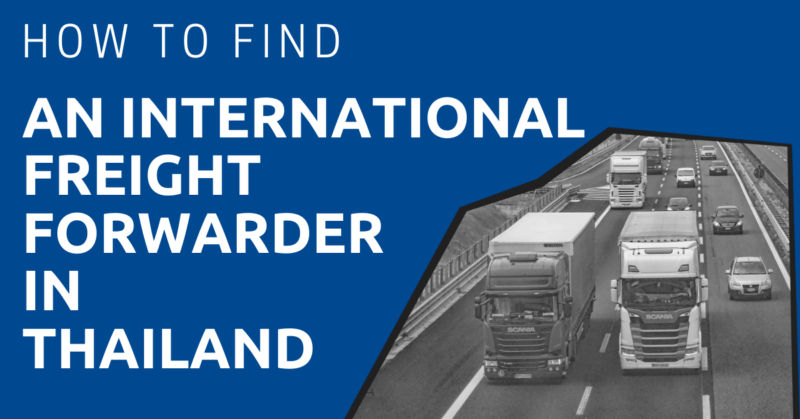 Importing and exporting goods into and out of Thailand is not as easy as sending or picking up a piece of mail.
When you trade goods internationally, you face a challenging process that takes a lot of paperwork.
You have to deal with shippers, transportation services, and government agencies.
But you can use a freight forwarder to ease the burden of shipping goods internationally.
This guide shows you how to hire and work with freight forwarders, and how to take care of the paperwork, taxes, and importing and exporting process in Thailand.
"*" indicates required fields
Exclusive Business Content
We have exclusive business content with insider business tricks that you can't find anywhere else.
By becoming a subscriber of our Business tier, you can get immediate access to this content:
That's not all. You get a free consultation with a corporate lawyer, a free consultation with an accountant, enjoy ExpatDen ad-free, and get access to over a hundred pieces of exclusive content to make your life in Thailand hassle-free.
Here is the full list of our exclusive content.
To get access to these exclusive business guides and more, become a subscriber.
What is a Freight Forwarder?
Freight forwarders act on behalf of shippers, or consignees, and buyers and sellers.
Freight forwarders offer many services to their customers. Freight forwarders can:
Book cargo space for your goods
Normally, you can't easily book ocean or air freight shipping with the shipper directly.
A freight forwarder finds you a shipper based on price and route.
Take care of inland transportation
Your cargo needs to be transported to the port or airport. Freight forwarders set up transportation for you.
Freight forwarders can also deliver your goods to your customers or end users.
You won't have to rent a truck to deliver your goods or set up a shipping division in your company.
Handle your shipping paperwork
When you trade or ship internationally, you must fill out the right shipping paperwork to ship your cargo.
Freight forwarders can ease your burden by filing the paperwork for you.
Offer packing and warehouse services
Some freight forwarders offer a full range of services from the moment your goods are produced.
If you use a serviced office, you might not have enough space to store up your goods.
They can pack and store your goods in a warehouse and ship them as needed.
When to Use a Freight Forwarder
You should use a freight forwarder in two cases:
you're new to international shipping or trading
you don't want to lose valuable time by doing the shipping process yourself
When you want to ship something internationally it's not as easy as calling your local shipping company to pick up your goods and send them to your recipient.
You have to consider many things when shipping internationally, such as:
customs clearance
cargo space
taxes
If you're not familiar with the process, and you don't follow the law, you could get your company in trouble.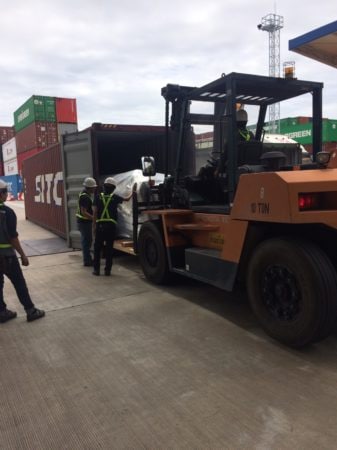 So you're better off using a freight forwarder to take care of everything for you.
Then you can focus on running your business and controlling your budget.
Benefits of Hiring a Freight Forwarder
When you use a freight forwarder to ship your goods you can rest assure knowing that a professional, experienced shipper is handling your goods.
You're less likely to make mistakes or damage your goods when using a freight forwarder. Freight forwarders know how to prepare and ship your goods.
Freight forwarders know if your goods are prohibited in your customer's country or if your goods need special care.
They act as your personal shipping consultants.
Choosing a Freight Forwarder
The first thing that usually comes to mind when looking for a freight forwarder is: Who should I use?
After all, you have thousands of choices. But before you hire a forwarder consider the following:
Considering Your Line of Business
For example, if you manufacture OEM auto parts, your customer's production runs on a Just-in-Time System.
So your factory is not convenient for packing or storing goods. You need a freight forwarder who can pack and store your goods.
When your goods are manufactured a truck picks up your shipment and brings it to a packing site.
After your product is packed, it's transferred to a warehouse.
When it's time to ship your goods, all your stuff is loaded into the container and brought to the port.
Picking Forwarders in the Right Field
To pick the right forwarder, you need to choose one who is an expert in what you need.
Many freight forwarders are experts in their respective fields.
Some forwarders might be experts at dealing with chemicals or hazardous cargo.
Some may be familiar with European routes.
Some are good at dealing with customs.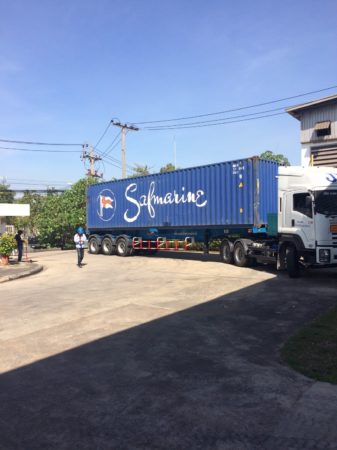 If you rely on multi-inland transportation you may need a forwarder with its own transportation service.
Considering Prices
If you're on a budget, the quality of freight forwarder you pick determines the price you pay.
Thanks to intense competition, price battles among freight forwarders benefit customers.
But beware of low shipping quotes. Cheaper quotes might mean the forwarder cut costs to win your business but will raise the price of your next shipment.
Look at the service they provide as well. Usually lower prices means lesser services.
When you see cheap prices, compare them to prices from other companies.
Also make sure that this price covers what you need, so they don't cut any corners to save money.
Researching the Forwarder's Network of Partners
Company's connection and forwarder's business partnership are important to consider.
Freight forwarders who have partners in the destination country can benefit your buyer as well.
The partners are familiar with the receiving process so the buyer could expect a smooth delivery of goods.
And since forwarder's and their partners act as a team, the price you pay covers port to port delivery. You don't have to hire any other companies to help.
Recommended Freight Forwarders
Now that you know what to look for when hiring a freight forwarder, let's look at a list of freight forwarders who specialize in different fields.
Here are some places to start:
Thai International Freight Forwarder Association, or TIFFA: most Thai freight forwarder companies belong to this association.
International Air Transport Association, or IATA: these forwarders focus on shipping by air
logistics and transport magazines: these magazine offer logistics news and contain advertisements for freight forwarders
word of mouth: ask your business partners or other local businesses who they use for freight forwarding
The freight forwarders are listed in alphabetical order. This list isn't a ranking and doesn't include every freight forwarder available. But all of them are experienced freight forwarders who have been in the import and export business for at least 20 years.
Before hiring a forwarder, you should thoroughly check the history and reviews of the company.
How to Work with a Freight Forwarder
Now that you narrowed down your search or you picked a freight forwarder to help you ship your goods, let's look at the process of working with a freight forwarder.
When you work with a freight forwarder the process is the same whether you import or export. The only different is customs clearance.
Giving Your Information
When you first get in touch with a freight forwarder they ask for your shipment details.
Mainly they want:
your company name
buyer or seller's name
commodity you want to export
quantity
destination country or port
They also ask you about the scope of their work. Will they need to take care of anything else aside from shipping? Tell them what you need at this stage.
For example, you may ask the freight forwarder to pick up your goods at your supplier's site, or you may request them to pack your goods for you.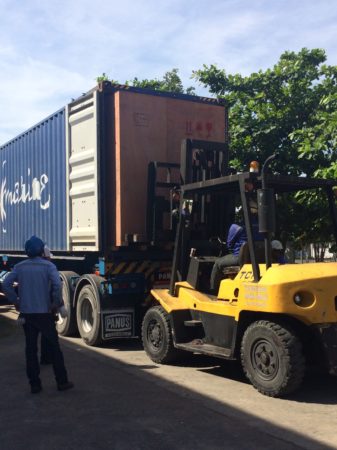 If you have no space in your office or factory, and you're not ready to ship your goods, you can ask the forwarder to store your goods in their warehouse until you export.
Once you give the freight forwarder your shipment details, they tell you the shipping price and estimated time that your cargo will arrive at it's destination.
If you're okay with their proposal, you move on to the next step.
Preparing Documents
You have to give certain documents to the freight forwarder so they can fill out and file your paperwork, such as your commercial invoice.
This shows shipment details such as:
your company name
buyer or seller's name
value of goods
Customs from Thailand and customs from the country you import or export goods to or from also needs the invoice for calculating import or export duties and VAT.
This is known as shipping declaration. You can read more about this in the Duties and Vat section.
You have to declare your shipment and pay duty vat.
Packing Your Shipment
If you want to ship your goods, a container is most likely your best choice. Containers are generally accepted by all shippers.
After you determine the estimated time of arrival of your goods in the destination country or port, it's time to load your stuff into the container.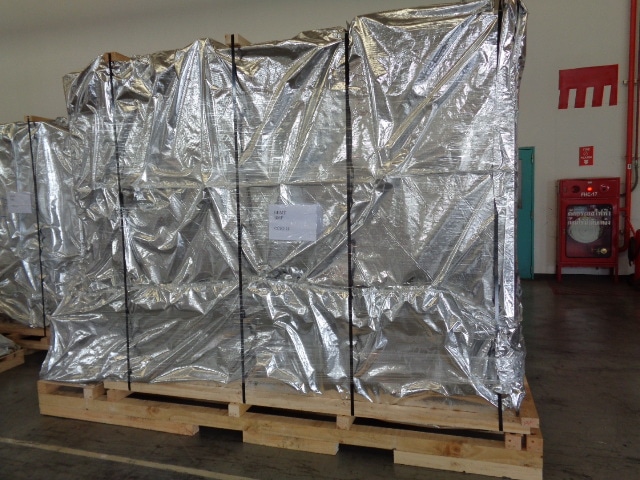 After your forwarder picks a shipper, they send a truck to pick up an empty container. Then the truck comes to your factory or loading point and loads your goods.
Loading a container takes skill and experience. Goods need to be secured with lashing to prevent the cargo from falling during shipping.
Instead of having your team pack your cargo, you should let your forwarder pack your cargo for you.
After your goods are packed the truck takes the container to port.
Documenting Your Shipment
While your container heads to port, your forwarder files the necessary paperwork to make sure your goods get on the shipping vessel.
Your forwarder takes care of the export and import declarations and waybill for your shipment.
If you're exempt from paying taxes, those exemptions are applied during this process.
Tracking Your Shipment
The freight forwarder will give you a tracking number for your cargo. You can find the tracking number under the waybill.
You can track your cargo anytime through either the freight forwarder's website or the shipper's website.
Shipping Insurance
Although buying shipping insurance for your goods is totally optional, you might want to consider getting it for yourself.
Having insurance is a good way to manage your risk from shipping. If something unexpected happens, causing damage or the loss of your goods, your insurance company will pay for it.
The cost of shipping insurance mainly depends on the total value of your goods. The more expensive they are, the more you need to pay for the insurance. And it also depends on the shipping distance and which shipping company that you use.
To give you an idea, you might need to pay 3% of your items' value for the insurance. And it would cover the full value of your items.
The main condition of getting full coverage is that your goods must be packed by a professional company. This is to minimize the risk that may come from improper packing.
A good way to get shipping insurance is to use brokers that have experience in this industry. They can recommend the type of insurance that is most suitable to your needs, the value of your items that you should declare, and when you need to do it.
Alternatively, you can ask the freight forwarding company. They might even provide the insurance themselves or put you in touch with a broker.
Paying Duty and VAT
You pay duty and VAT during the customs clearance process. The rate you pay depends on what you export from Thailand or import into Thailand.
Duty taxes are taxes set by customs agencies on goods that are shipped across international borders.
VAT stands for value-added tax and is usually 7% in Thailand.
It's a good idea to ask your accounting firm to recheck how much tax and duty rate you need to pay.
Importing to Thailand
When you import goods into Thailand you need to pay duty and VAT.
You pay a duty of between 5% and 45% depending on your goods.
If you import raw material or machines into Thailand you might pay duty as low as 5%, or none at all.
If you import luxury goods or products that can be produced in Thailand, such as cars, you could pay more than 30% in duty.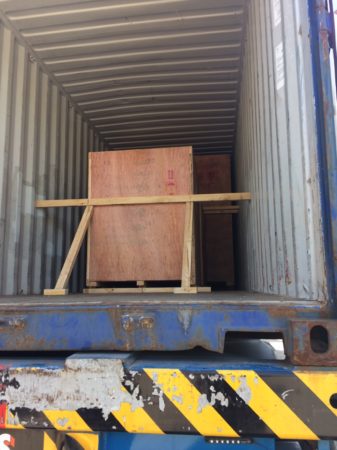 If you have a BOI promotion, you're exempt from paying import duty.
Let's look at how import duties and VAT work in Thailand.
If you import five forklifts into Thailand, you have to pay a 5% import duty rate.
This 5% is calculated from the CIF price, or cost + freight + insurance.
If forklifts cost 1,000,000 baht and transportation costs 100,000 baht, add in an insurance fee of 10,000 baht and your total CIF Price is 1,110,000 baht.
An import duty rate of 5% equals 55,000 baht.
The formula for total tax is CIF price + duty x 7%.
In our example that means:
1,110,000 + 55,000 x 7% = 81,550 baht
So you pay a total tax of 81,550 baht in duty.
What determines the rate you pay for duty vat is called the Harmonized System code.
You can check it out on the Thai Customs website.
If you declare the wrong Harmonized System code you could pay a heavy penalty that could be more than the value of the your goods.
So advise your forwarder and make sure the description of your product matches what you import.
Who Pays for Import Duty and VAT?
When it comes to paying import duty and VAT, this depends on the agreement between the buyer and seller of goods.
For example, if the shipment is sent under free on board, or FOB, terms, the receiver of the goods pays duty and VAT when the goods are imported.
But if the shipment is sent under delivered duty paid, or DDP, terms, import duty and VAT are included in the delivery charge and the seller takes care of them.
All import taxes must be paid before the goods are released.
Exporting from Thailand
On the export side, your goods are tax exempt due to the Thai government's support of Thailand export, unless you export goods like lumber, rice, or oil.
This is another reason why it's a good idea to do a business in Thailand.
Only VAT is collected during export.
But you still have to pay import tax and VAT in the country you're importing goods to.
Delivering Goods
When the buyer and seller agree under DDU incoterms, the freight forwarder's job is finished when the goods reach your customer's hands.
When the buyer and seller agree under FOB incoterms, the freight forwarder's responsibility ends when the goods are placed on the vessel.
Freight Forwarder Costs
Most of the time, the cost of hiring a freight forwarder comes down to the size of your cargo and how many services you need from them.
Sea or Air Freight
If you want to ship your goods by sea, your cost depends on two things:
the distance between your good's loading port and destination
the dimension of your cargo
For example, you could pay $1,300 to ship a 20-foot container from Thailand to Australia by sea.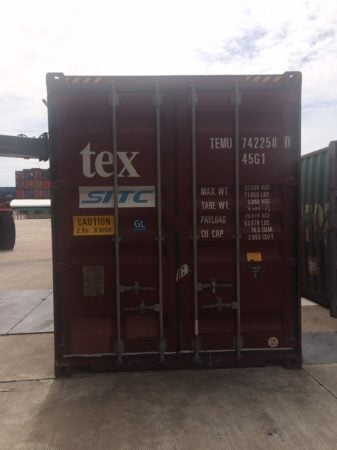 But when it comes to air freight, the shipping price is calculated by:
(chargeable weight x weight charge) + (chargeable weight x fuel surcharge)
To calculate the chargeable weight you need to compare the volumetric weight, or the size of your cargo, and the actual weight of your goods. The heavier weight it used.
The volumetric weight is calculated by this formula:
length (cm) x width (cm) x height (cm)/6000
For example, if your cargo size is 80 centimeters long, 60 centimeters wide, and 50 centimeters high, the volumetric weight will be:
(80 x 60 x 50)/6000 = 40kg
From the same example, if the actual weight of your cargo is 50 kilograms, then the airline uses the actual weight to calculate the price.
On the other hand, if the actual weight of your cargo is 30 kilograms, the airline uses the volumetric weight to calculate the price.
The weight charge also depends on the location and destination of your goods.
If you ship from Bangkok to Australia, it's going to look like this:
less than 45 kilograms: $4 per kilogram
between 45 kilograms and 100kg: $2 per kilogram
more than 100 kilograms: $1.8 per kilogram
There's also a minimum charge of $30 for small and light cargo.
The fuel surcharge is going to be around $0.15 to $0.75 per kilogram.
For example, if the chargeable weight is 40, the cost of air freight is:
(40 x 4) + (40 x 1.5) = $220
Keep in mind that the shipping rate is subject to change every month.
And the shipping rate above does not include other related costs that come with the shipping including:
crisis surcharge for any risk that may occur during shipping
bill fee
terminal charge
storage charge
Transportation Costs
You also have to pay a transportation cost for the truck to deliver your goods from the starting point to the port in Thailand.
If your factory is in Ayutthaya, you could pay 8,000 baht to deliver your goods to the port in Bangkok.
If your factory is in Chonburi, you could pay 5,500 baht to deliver your goods to the port in Laem Chabang.
Agent Costs
You have to pay your agent for the terminal service fees and customs clearance charges, including your waybill fee.
You pay around 15,000 baht for these services. If you ship a large amount of goods, you could pay more.
Paying the Freight Forwarder
After your goods reach your buyer or destination the freight forwarder sends you a bill.
Usually, you have 15 to 30 days from when your goods arrive to pay your bill.
But it's not out of the ordinary for the forwarder to ask for payment within seven days.
If you stay in good standing with the forwarder, they may let you pay 45 to 60 days after your goods arrive.
But you have to pay duty and VAT as soon as your goods get to customs.
In this case, you have to pay duty and VAT the freight forwarder as soon as possible so customs can clear your goods.
But if you are in good standing with the forwarder, they may pay duty and VAT and charge you later for them.
Now, on to You
Did you ever hire a freight forwarder in Thailand? Let us know about your experience in the comments below.