When one of my dogs had a kidney problem, I had no idea where to take him for an ultrasound. Only while shopping at Paradise Park did I discover Thonglor Pet. I was lucky. It turned out to be one of the best places in town. My dog got just what he needed. And to this day still gets regular treatment there.
For expats and those new to Bangkok, situations like these can be daunting. You barely know where hospitals for humans are, never mind for your pet. In this guide to Bangkok veterinarians you'll find contact details for most popular vets in Bangkok. You'll find out which vets perform which procedures. You'll find out where to go in an emergency. You'll even find out where to connect with other pet owners.
"*" indicates required fields
Vets in Thailand Versus Abroad
Although Thailand is catching up, it's still behind international standards when it comes to diagnostic and advanced treatment. If you ever watched The Supervet on TV, you're spoiled. Don't expect any bionic legs Dr. Fitzpatrick-style in Thailand. There are support wheels for handicapped dogs available, but most are DIY.
Having said that, your pet will still get good treatment in Thailand for most medical conditions. Vaccines, neutering, and most surgeries are no problem at all, and Bangkok is home to some the best animal hospitals in the country.
Important Questions to Ask
Ask vets important questions so you get a better idea what they are capable of. When you get in contact, usually via phone, Facebook, or Line, you'll also get from them an idea about their English skills. It can take a while for some places to answer emails. And it's not uncommon for a hospital to not have a public email address.
Once in contact, you may ask the following questions:
How many doctors are on duty?
What kind of specialists are available?
Is an English speaking doctor on duty?
What diagnostic equipment is available?
What is the rate for a certain procedure?
In case it's an emergency, ask if they have a pick up service and if they provide intensive care. Some places are able to treat the animal, but will send you home afterwards because they have nobody staying overnight.
Costs
Prices for services in animal hospitals differ. There is no rule or law, so most places charge whatever they think is appropriate and profitable. Local vets are in general cheaper, while more sophisticated hospitals like Thonglor Pet are on the other end of the price range. Costs depend on kind, breed, age, weight, and size of the animal.
The prices mentioned below are the lower end of the spectrum. I recommend you always ask the vet for a quote first. If it's surgery, insist on a written quotation with estimated costs.
Routine Procedures
Blood: 300 to 500 baht
Ultrasound: 300 to 600 baht
Rabie shot: 300 baht
Neutering: 1000 to 3000 baht
Monitoring birth: Negotiable but not always available
Euthanizing: 3000 to 5000 baht
Non-routine Procedures
Surgeries: depends on type, number of doctors and nurses needed, medication, and equipment. Minimum 1500 baht for minor surgeries.
X-rays: 600 baht
Water therapy: 300 to 400 baht an hour
Pet Hospital Options
Vets for Expats
Bangkok has quite a lot of pet hospitals, but as you may have experienced in other areas, staff doesn't always speak English. And many of them just don't meet standards most expats expect. But there is good news: Some hospitals are aware of this problem and try to serve expats as best as they can.
The most popular hospital is Thonglor Pet. They started—as the name says—in Thonglor, but expanded all over Bangkok and even have a branch in Chiang Mai and Pattaya. Locations are: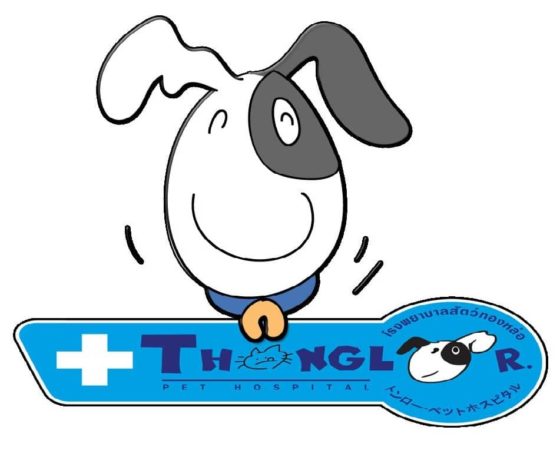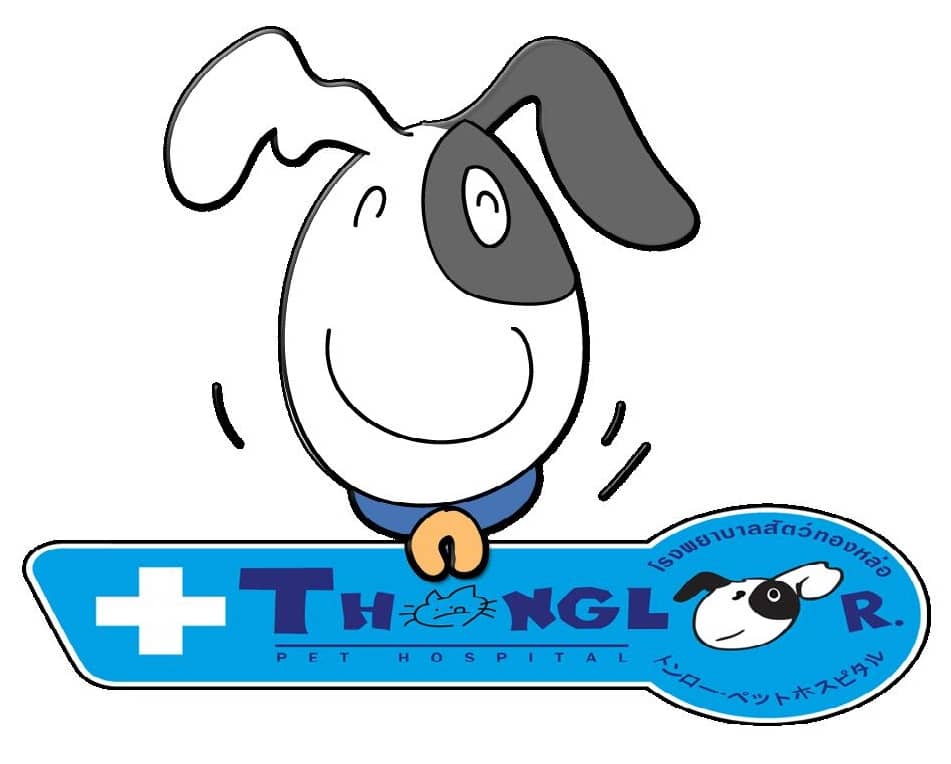 Sukhumvit: 205/19–20 Soi Thonglor 9 Sukumvit 55 Road North Klongton Wattana
Rama 9: 80 PhetPrararm Road Bang Kapi, Huai Khwang
Lad Prao: 2408/1 Soi Lad Prao 122 (Soi Mahadthai), Lad Prao Road, Wang Thong Lang, Wang
Bangna: 146 Srinakarin road, Opposite Paradise Park
Pinklao: 493 Sirintorn Road, Bangbamrhu, Bangplad, Bangkok 10700
Rama 2: 30/6 Rama2 Road Tha Kham, Bang Khun Thian, Bangkok 10150, Thailand
Changwattana: 224/17–18 Changwattana Road Pakkred Nontaburi
Pathum Thani: 189/2 Phahonyothin Rd, Prachathipat, Thanyaburi District, Pathum Thani 12130, Thailand
Pattaya: 147/41–44 Bang Lamung, Chon Buri, 20150
Chiang Mai: Somphot Chiang Mai 700 Pi Rd, San Sai Noi, San Sai District, Chiang Mai 50210, Thailand
Thonglor Pet has a lot of vets employed, but they rotate between locations. So my best advice is to make a appointment if you need a specialist. The hospitals are well equipped with ultrasound and x-ray machines and a blood lab. The doctors and some of the nurses speak English, and the vets understand western standards for pet treatment. They also have emergency services and stay open 24/7. While it is certainly not the cheapest option, Thonglor Pet is at the top of the list of pet hospitals in Bangkok.
Another choice is Sukhumvit Veterinarians. This hospital is located at 10 Soi Chong Lom, or Sukhumvit 51, Khlongtan-nua, Wathana, Bangkok 10110. Founded in 1966, it's one of the oldest operating hospitals in Bangkok. The experienced staff treats pets ranging from hamsters to Great Danes. Doctors and staff can also communicate in English. The hospital does have ultrasound and x-ray machines and a blood lab. They also offer pet taxis and a dog hotel. You can contact them by phone at 092–710–1551.
If you live up the Ari area, Dr. Maytee Tangpanit from Ari Pet Hospital offers treatments and small surgeries. He speaks English and has been in business since 1990. An ultrasound machine is available. He also makes house calls. And appointments can be done by phone.
Office: 02–271–3182
Dr. Maytee: 081–345–3634
E-mail: [email protected]
Address: 1135 Paholyothin Road, between Sanam Pao & Ari BTS stations
In case you live in Eastern Bangkok, you can go to Parichart Suwinthawong Animal Hospital. The hospital has been around since 2012 and have a team that provide a various types of pet treatments, from internal medicine to dentistry and surgery. They also receive a Gold Cat Friendly Clinic Award.
Here's their address:
91 Soi Khumkloa 11, Khumkloa Road, Sansab, Minburi, Bangkok 10510
To make an appointment, please add Line: @parichartsah
Telephone: 0836544142, 025576608
Local Clinics
If you speak a little bit of Thai and you want or need to save some money, you can also visit a vet who serves mostly Thais. There are pet hospitals and vets in every area, but not all of them offer full service. If your pet needs a vaccination, nail trimming, or minor treatments, you can save some money and time. A licensed vet in Thailand always has to have the certificate on display. If they don't have a certificate, the place is probably a grooming salon.
If you live in Bangna around the international schools, you can visit Bearing Pet Hospital. It's run by two female doctors who speak English. They have a small lab for blood tests, x-ray machines, and are able to perform small surgeries like spaying and neutering. They also offer boarding, but in cages.
Office: 02–399–2311
Address: 102/2 Sukhumvit 107
The Ekkamai Animal Hospital is in a sub-soi off Sukuhumvit 55. They not only offer vet services, but they also care a lot about handicapped dogs. There are even handicapped dogs for adoption. They speak limited English. You can call 021856 but it's best to walk in.
Those near Phaya Thai can have a look at the Phya Thai 7 Animal Hospital. They have three vets on duty and have quite a lot of equipment for diagnosis. English should not be a problem with the doctors. Part of the hospital is also a shop with pe supply, from healthy food to toys and even strollers.
Teaching Hospitals
The well known Chulalongkorn University is one of the main institutions where Thais can study veterinary medicine. To get practice, the students work—under supervision by licensed vets—in the Small Animal Teaching Hospital. What makes them special is their twenty-four hour emergency service. It also includes an intensive care unit. As it's one of the larger institutions, vets are also more familiar with exotic animals like reptiles.
The normal operating hours are:
7:30am – 11:00am and 1:00pm – 3:00pm and 5:00pm – 8:00pm
Their Address is:
Small Animal Teaching Hospital, Faculty of Veterinary Science, Chulalongkorn University, 39 Henry-Dunant Road, Pathumwan, Bangkok 10330, tel: 02–218–9751
Kasetsart University also has a teaching hospital. They offer a wide range of services including: internal medicine, surgeries, diagnostics, ultrasounds, and radiology. Their animal hospital website is only available in Thai. So if you can't read Thai, you'll need to get some help translating into English the services they offer. But their staff does speak English. So if you show up to their animal hospital you shouldn't have any communication problems.
The normal operating hours are:
Monday to Thursday 8:30am – 3:30pm (queue open from 7:00am – 3:30pm)
Friday and Public Holidays 8:30am – 11:00am (queue open from 7:00am – 11:00am)
Evenings from 6:00pm – 8:00pm (queue open from 5:30 – 8:00pm).
Their address is:
Kasetsart Animal Hospital, 50 Phaholyothin road, Lat Yao, Chatuchak, Bangkok 10900, tel: 02-797-1900
Related Services
Pet Medication
If your vet back home prescribed your pet certain medication and you just moved to Bangkok, you can go to any pet hospital and ask for it. They may have the same medication or something similar. Some medication for pets is the same as those used for humans, so you can also try at a local pharmacy.
For example if your dogs suffer from kidney problems and needs regular fluid injections, you can buy Ringer solution and needles at most pharmacies for much less than a hospital charges you.
Warning: Do not self medicate any animal with human medicine unless recommended by a doctor.
Euthanizing
If your dog is suffering from a disease and you want to put it down, most animal hospitals will not euthanize an animal. It may be unpleasant to watch your animal suffer, but you should understand that Thailand is steeped in Buddhist belief. And killing an animal is frowned upon. Still, exceptions can be made. In this case, go to Thonglor Pet. Even there, you may need to have a long talk with a doctor. You can ask other vets in your area if they do it.
Pet Pick-Ups
Transportation is always an issue in Bangkok. Pets are not allowed on the BTS and MRT. And most taxi drivers refuse to take dogs in their cars. Although they might allow cats and other small animals in boxes. If you don't have your own car or you don't want to drive to the vet, there are still options. One is to use a pet taxi service. They will pick you and your pet up at home and bring you wherever you want to go.
Pet Taxi by Noom is available through Facebook. They charge 1000 baht for one way rides from BTS Bearing to Thonglor area and 1500 baht for round trips. Best is to contact by messenger or phone 087–715–2665.
Pet Taxi by Niko not only takes your pet to the vet, but they also sit with your pet until everything is done. Operation hours are from 9:00am – 6:00pm. They are located at Sukuhmvit Soi 38, but it's best to call them at 02–712–1101.
Pet Senger Taxi is another service that drives animals all around Bangkok. The rates are calculated by distance. They are quick to answer on Facebook Messenger.
Sukhumvit Veterinarians and Thonglor Pet also have pet taxis on hand. Again, rates depend on distance. Call to check availability.
Rates for pet taxis aren't as cheap as private taxis. Expect to pay between 300 and 500 baht for a one-way ride halfway through the city. Expect to pay between 600 and 800 baht for a round trip ride halfway through the city. It's always best to ask for a quotation before hiring a pet taxi.
House Calls
Premier Pet Hospital offers house calls, and Ari Pet Hospital as well. Costs for a visit start around 600 baht. But the cost depends on distance and additional treatment or medication. Usually a doctor and a nurse make house calls together. Since they have limited diagnostic equipment with them, it's always best to get a pet to a hospital.
Pet Hotels and Day Care
Going on vacation and need a place for your friends on paws? Doggie need to lose weight or get physiotherapy after surgery? No worries, you're covered. Regarding prices, they vary. But expect to pay between 200 to 500 baht per day, per pet. You can also get discounts for longer stays.
One of the newest and fanciest places is Pets' ville. It's a community for pet lovers and provides boarding in proper kennels. They offer pet activities, day care, dog training and swimming, as well as agility courses. You can even watch your dog through a video feed while your on vacation.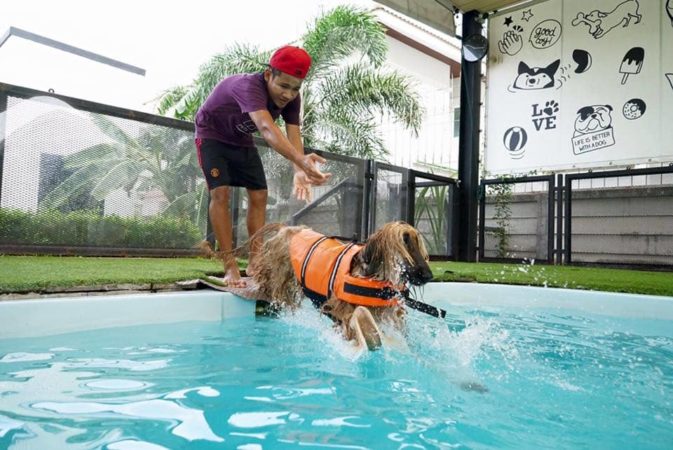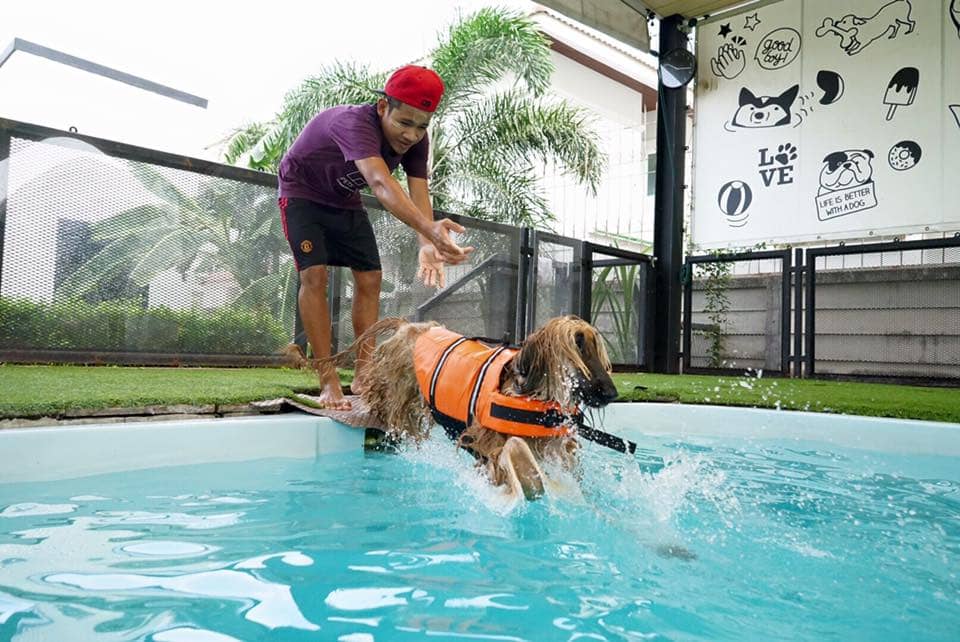 Right behind Paradise Park on Srinakarin Road is Up2Dogs. They offer modern facilities like air conditioned kennels with sufficient space, twenty-four hour monitoring, routine playtime, pool, grooming, and nail trimming. Prices depend on the size and breed of your dog, as well as your dog's length of stay.
Similar facilities can be found at The Dog Hotel Bangkok, located near Chantrakasem Rajabhat University in the east of Bangkok, at Ratchada 36. It has a dog spa, grooming, pool and playground, and boarding.
If you are a cat owner, similar facilities are available for your little tiger. One is the PinCatHotel, a dedicated place with great care. Cats can be in rooms alone or with other cats. An alternative is the SoSoCatHotel, which also comes with a pet shop where you can buy cat food and pet supplies.
Treatment for Other Pets
What if you have a snake, rabbit, or cockatoo who's sick? You can use most of the places mentioned above. But Thonglor Pet, Sukhumvit Veterinarians, Chula Small Animal Hospital, and Kasetsart University Veterinary Hospital have the most experience with exotic animals. As always, a phone call in advance saves you travel time. Ask if they treat your kind of pet.
Meet Other Pet Owners
There are groups for pedigree dogs and cats and Facebook pages for pet lovers. Most groups are founded by Thais and are visited by locals, but there are some accessible to non-Thai speakers as well.
Please be aware that you're not allowed to bring dogs into public parks. There were rumors about a dog park at Rama 9 park, but nothing has surfaced. So for walking your dog you need to rely on your soi—and the friendliness of the soi dogs—or move into a complex where you can walk them on a leash.
But if you have some spare time, why not visit one of the animal lovers places, like a dog cafe or a cat cafe or just meet some like minded pet owners? The internet is your friend. Here you'll find them all.
One group on Facebook is the Bangkok Dog Owners Group B.D.O.G. They became less active in the last few months. It was created to bring dog owners together. Still worth a look here and then.
The biggest dog community in Thailand is most probably Unidog. While it's mainly in Thai, if you have any questions just post in English or ask someone who speaks Thai to translate. Members there are very helpful. They organize rehoming, or finding foster homes. And they set up donations for blood transfusions countrywide.
One of the oldest places for animal owners to meet is the Pet Paradise Park. It was founded in 2004 and offers lots of space for dogs to play. They also have grooming services and a restaurant. Many Thais come here to spend time with their pets and like-minded people. The only problem is that it's quite far from Bangkok, in Nakhon Pathom.
The Barkyard BKK has become quite popular thanks to its central location on Sukhumvit Soi 26. It's a small replacement for the parks in Bangkok—an area where dogs can play while owners have a chat and a coffee. You'll see a lot of expats here with all kinds of dogs.
BMA Dog Park is a bit more accessible for city people. It's located where Ram Intra Road and Chalong Rat expressway meet.
As a dog owner, you can always make friends in one of the dog cafes in the City of Angels. If you have a big dog, you may want to sip a cup of tea at the Big Dog Cafe while your companion plays with other dogs. Please note that the name is there for a reason, most dogs are Huskies or Alaskan Malamutes.
If you're into cats, you may enjoy the Caturday Cat Cafe located at 115 Phayathai Road in Ratchathewi, Bangkok.
A full service pet cafe is the True Love Cafe Neverland in PayaThai. They're located at 153 Soi Ari Samphan 2. Be aware that it's focus is on Huskies.
If you're looking to support stray dogs or want to adopt one, PAWS Bangkok provides spaying and neutering and veterinary health services for stray or community animals. They offer adoption programs as well as responsible pet ownership education in Bangkok. It was founded by former members of SCAD, a now closed animal shelter.
Final Thoughts
Everything in Bangkok comes with a price tag, depending on what level of care and quality you're looking for. While vet services are certainly not up to international standards, most hospitals do decent work for much less money than you'd pay in Western countries. We always felt in good hands with vets in Bangkok, whether it was at a local clinic or Thonglor Pet. While the latter is a bit more pricey, you also get first class service. The same holds true with dog hotels and day care. Some places are so luxurious you may want to rent a room for yourself as well.