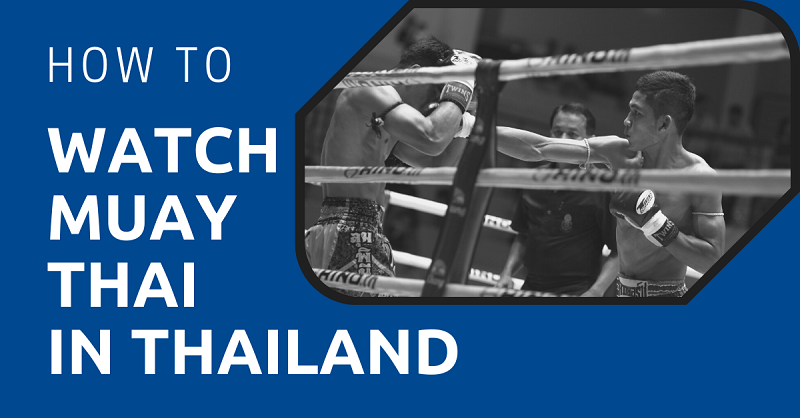 Watching Muay Thai fights in Thailand is something that every visitor should do at least once while in the country.
After all, the experience is unmatchable. You get electrifying fights, chaotic gambling, a piece of Thai culture in the form of its most exciting national pastime.
That said, this guide will help you pick the right venue to watch Muay Thai at, tell you what days the fights are showing, show you how much the tickets cost, and explain some of the dos and don'ts you should keep in mind as a spectator.
What Kind of Experience Do You Want to Have?
In Thailand, you can watch two versions of Thailand's national sport — authentic Muay Thai and entertainment Muay Thai.
Although these two variants of the sport are both exciting, they each offer entirely different experiences.
If you're not a hardcore Muay Thai fan it could be hard to tell the difference between the two. But the easiest way to differentiate authentic and entertainment Muay Thai is by the venue itself. So, in the Stadiums section below, we'll note which venues offer authentic Muay Thai and which offers entertainment Muay Thai.
Authentic Muay Thai
For argument's sake, authentic Muay Thai is Muay Thai in its purest form. It encapsulates everything that sets the sport apart from something like, say, kickboxing.
It's has customs, it has traditions, it has a long and storied history in Thai culture, and it's heavily influenced by gamblers.
Watching an authentic Muay Thai event in Thailand is an experience that should be cherished, as the energy in the stadium at the height of an entertaining fight goes unmatched.
Ceremonies
At authentic Muay Thai fights, fighters perform the wai kru and ram muay — traditional dances that take place before every fight.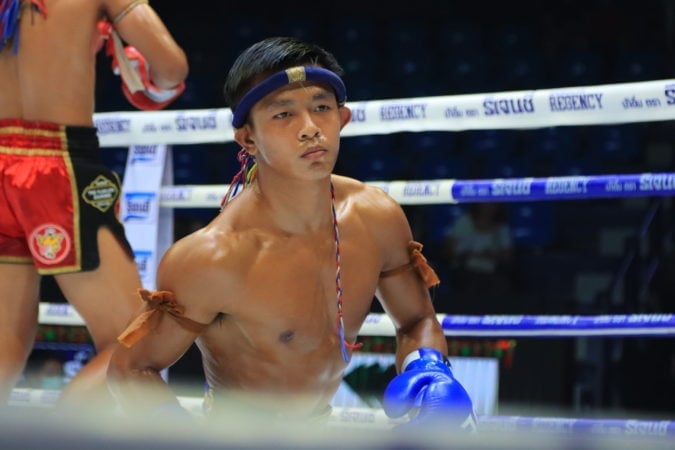 When fighters finish the dances, they return to their respective corners where someone — a coach, gym owner, father, uncle, or another male figure — says a prayer and removes the mongkon and places it on the corner post.
The mongkon is a headpiece that has been blessed by Thai monks and believed to bring luck and safety to fighters. It's not to be touched by the fighters themselves.
Fighters also wear prajiads around their biceps. These can be touched by the fighter and are tied around their upper arms before they walk to the ring.
Prajiads can be made from something as intricate as one of their family member's clothing articles to something as simple as a piece of medical gauze.
Rounds
Authentic Muay Thai fights are played out over five, three-minute rounds with a two-minute break in between.
Usually, fighters coast through the first and second rounds and then turn up the action during the third through fifth rounds. This is done to please the gamblers, who, for better or worse, have a strong influence over authentic Muay Thai.
If by the fifth round a fighter feels they are ahead by a wide margin on the scorecards, he or she won't attack. Instead, they dance around the ring to kill time and protect their points. Sometimes, the losing fighter isn't willing to concede defeat, and they still attack.
However, if both fighters feel they've done enough to win the fight, they dance around the ring together. This often baffles the uninformed spectator.
Monetary Tips
Because gamblers are more involved with authentic Muay Thai, they often give fighters monetary tips if he or she wins a lot of money on the fighter.
Entertainment Muay Thai
Entertainment Muay Thai contrasts from authentic Muay Thai in that it has different ceremonies and takes place over a fewer number of rounds.
Ceremonies
At entertainment Muay Thai venues, although fighters can still wear a mongkon and have it removed in or near the ring, there's a lot more emphasis on the production of the event.
Promoters will hold ceremonial weigh-ins or introduce all the fighters to the crowd before the show starts.
Fighters walk to the ring down a ramp to music, lighting effects, and smoke machines to make the show more entertaining to spectators.
Rounds
Entertainment Muay Thai fights usually last three rounds, not five. And, instead of being able to ease into the matchup, fighters must fight at a higher pace for every round.

This also means that every round of a fight carries the same weight, as opposed to authentic Muay Thai, which puts an emphasis on the middle and later rounds.
Bonuses
Gamblers play less of a role in entertainment Muay Thai, so fighters may not get tips from the gamblers. However, many entertainment Muay Thai promoters offer bonuses to fighters if they score knockouts or make the fight entertaining.
Muay Thai Rules
In Muay Thai, a fighter can win a fight by knockout, technical knockout, or decision (split, unanimous, or majority).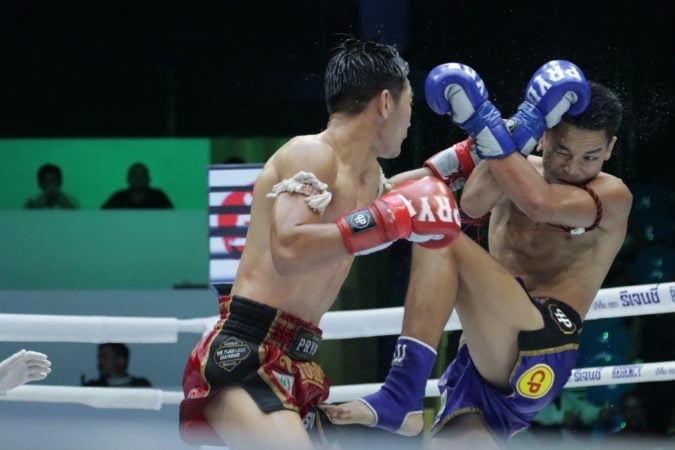 However, some fights end in a draw, where neither fighter wins, or a no contest, where the bout is stopped due to an injury, foul, or other unforeseen event.
Fighters can use punches, knees, kicks, and elbows to strike with. They can also fight from within the clinch and use trips and sweeps to drop each other to the ground.
Fighters win by outscoring each other with the strikes mentioned above, and certain techniques yield more points than others.
However, a lot of emphasis is placed on how a fighter looks. If a fighter is wilted over, breathing heavily, and easily off-balanced, it won't turn out well for him on the scorecards.
On the other hand, the fighter who is standing tall, advancing forward, and bursting with energy is going to fare better on the scorecards.
Stadiums in Thailand
No matter which of Thailand's big cities you're in, you're never too far away from a Muay Thai venue.
Here's where you can catch all the action in Bangkok, Phuket, Chiang Mai, and more.
Bangkok
Thailand's capital city is home to the most number of Muay Thai stadiums in the country.
Rajadamnern Stadium
Built in 1941, Rajadamnern Stadium is Thailand's oldest Muay Thai venue.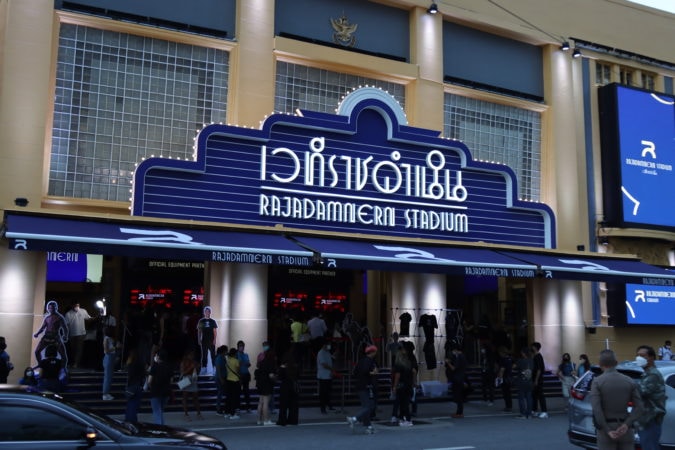 The stadium has been renovated recently, but it still has the allure and atmosphere that makes it a long-standing icon in the Muay Thai world.
Rajadamnern holds some of the highest level Muay Thai fights in Thailand and features some of the most skilled fighters in the country — many of them current and former champions. So, if you want to watch authentic Muay Thai at its finest, this is currently the place to go.
Experience
Ticket Prices
second class: THB1,500
club class: THB1,800
ringside: THB2,000
Event Start Times and Days
Google Maps Location
How to Get There
Rajadamnern Stadium is a five- to 10-minute taxi drive from BTS Ratchatewi station or MRT Sam Yot station.
Bonus Info
If you're looking for a great authentic Thai restaurant to grab a few drinks and food at before or after the fights, check out Likhit Gai Yang just around the corner from the stadium.
Lumpinee Stadium
The original Lumpinee Stadium was Thailand's second-oldest Muay Thai venue, but unfortunately the iconic arena was demolished.
The new Lumpinee Stadium is still worth a visit. However, the covid-19 pandemic greatly reduced the number of shows held at the stadium every week.
That said, Lumpinee also hosts world-class fights on par with Rajadamnern. Many of the stadium's fighters are or were champions, so you'll get to experience high-level Muay Thai.
Experience
Ticket Prices
Event Start Times and Days
As of now, the only consistent event at the stadium is Fairtex Fights, a mix of Muay Thai, kickboxing, and MMA, on Saturday mornings.
In January 2023, ONE Championship will also begin hosting weekly events every Friday night, called ONE Lumpinee.
Google Maps Location
How to Get There
Lumpinee Stadium is a five- to 10-minute walk from Wat Phra Sri Mahathat station.
Bonus Info
Lumpinee Stadium is a great place to shop for Muay Thai equipment. The stadium's perimeter has many shops that sell a variety of gear of all different prices and qualities.
Channel 7 Studio: Authentic
Channel 7 is more of a television studio than a stadium, and that gives you an entirely different Muay Thai viewing experience.
The studio holds a lot less spectators than the stadiums, but somehow it manages to cram hundreds of people inside.
Be forewarned, though. When watching Muay Thai at Channel 7, you're going to be standing shoulder to shoulder with other spectators and gamblers. It does make for a wild experience, but if being in the midst of many people gives you anxiety, this may not be the place for you.
As for the fights and fighters, many hardcore fans believe Channel 7 is on par with Rajadamnern and Lumpinee. Whether that is true or not, there's no doubt that Channel 7's Sunday afternoon show is the most-watched Muay Thai event in the country according to TV ratings.
Experience
Ticket Prices
Event Start Times and Days
Google Maps Location
How to Get There
Channel 7 is a five-minute walk from the BTS Mochit station or MRT Chatuchak Park station.
Bonus Info
Arrive 20 minutes early if you want to find a good spot to watch the fights. Also, use the bathroom beforehand, because once you're inside, it's hard to get out.
Siam Omnoi Stadium (Omnoi Stadium)
Siam Omnoi Stadium is known as Omnoi Stadium among Muay Thai aficionados and is located just outside of Bangkok in Samut Sakhon.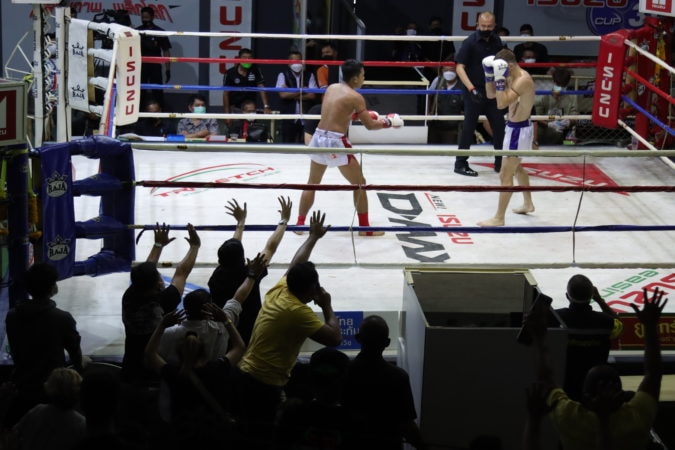 It's one of the few stadiums that has remained unchanged over the years. And, like Channel 7, it's smaller than Rajadamnern and Lumpinee, so you get an entirely different experience than at the bigger stadiums.
The skill level of fighters may not be on par with those of Rajadamnern, Lumpinee, or Channel 7, but many of them are up-and-coming fighters looking to break into the stadium circuits.
Omnoi also hosts the annual Tiger Cement Tournament, which features some of the countries best prospects.
Experience
Ticket Prices
THB300 to THB500, depending where in the stadium you sit. Parking is an extra THB20.
Event Start Times and Days
Every Saturday at 12:15 PM
Google Maps Location
How to Get There
Hail a taxi from anywhere in Bangkok and ask them to take you to Siam Omnoi. It's roughly an hour from the center of Bangkok.
Bonus Info
Unless you have a really good reason to go to Omnoi Stadium, you may want to avoid the venue altogether. On Saturday afternoons, the traffic heading back into Bangkok is atrocious, which means you could spend hours sitting in a taxi. If you don't mind the traffic, it's well worth the trip.
Rangsit Boxing Stadium
Rangsit Boxing Stadium is another staple of Thailand's Muay Thai community, but in the past it never quite reached the same level as the other stadiums.
However, that has changed in recent times, especially since the pandemic. Rangsit Stadium has become the go-to venue for many exciting promotions in Thailand, and fans, gamblers, and tourists have all been flocking to the stadium.
Expect to see a mix of high-level and up-and-coming fighters at this venue.
Experience
Ticket Prices
THB1,000 to THB1,500, depending where in the stadium you sit.
Event Schedule
Every Tuesday and Friday at 6 PM
Google Maps Location
How to Get There
Take the SRT line to the Rangsit station. Rangsit Boxing Stadium is a five-minute taxi drive from there.
Bonus Info
If you're up for it, you can take a training session at the Muay Thai Institute located next to Rangsit Boxing Stadium.
World Siam Stadium
World Siam Stadium promised to rival some of the popular entertainment Muay Thai venues in Thailand, but it also suffered some setbacks during the covid pandemic.
However, the stadium is now open and promoting weekly events. Information is hard to come by, so you'll have to follow them on social media for updates.
As for level of fights and fighters, you'll get a mixed bag here. One week, the stadium could host a card stacked with talented fighters. The next, it could be promoting a celebrity boxing match.
That said, if you pick this stadium to visit, make sure you're going on the right day.
Experience
Google Maps Location
How to Get There
Take a taxi from anywhere in Bangkok to The Mall Bang Kapi. World Siam Stadium is a five-minute walk from there.
Bonus Info
If you're looking to get some shopping done after the fights, head to The Mall Bang Kapi afterward.
Phuket
Outside of Thailand, Phuket is also a popular hub for Muay Thai venues. All of the venues below pretty much promote the same kinds of fights.
On most nights, the stadiums on the island feature local Thai boxers and international Muay Thai fighters who have not yet made it to the venues in Bangkok, or who've already had a fighting career and are now slowing down.
A few times per year, promoters will put together massive cards in Phuket that feature many of the country's biggest names.
However, you'll have to follow the right social media accounts to know when these events are happening. We list a few of these social media accounts at the end of this guide.
Patong Boxing Stadium
Patong Boxing Stadium is one of Phuket's most-established Muay Thai stadiums. The venue features many established and up-and-coming names in the Muay Thai world.
Experience
Ticket Prices
stadium seating: THB1,500
ringside: THB1,800
Event Times and Days
Every Monday, Thursday, and Saturday from 9 PM to 11 PM
Google Maps Location
How to Get There
Patong Boxing Stadium is on the west side of the island near Patong Beach. Any tuk-tuk or taxi driver should know how to get there.
Bonus Info
Patong Boxing Stadium sometimes holds free giveaways, so in addition to leaving with a few new memories, you can can expect to walk away with a new t-shirt or other gear.
Bangla Boxing Stadium
Bangla Boxing Stadium is another well-established Muay Thai venue in Phuket and regularly holds high-level fights.
It used to be located on Bangla Road but has moved to Soi Banzaan.
Experience
Ticket Prices
stadium seating: THB1,600
ringside: THB2,000
Event Start Times and Days
Every Wednesday, Friday, and Sunday at 9 PM.
Google Maps Location
How to Get There
Bangla Boxing Stadium is also in Patong Beach. Ask any tuk-tuk or taxi driver to take you there, and they should know where it is.
Bonus Info
Because ringside seats sell out quickly, show up early to reserve your spot.
Rawai Boxing Stadium
On the southeast side of Phuket is Rawai Boxing Stadium, another established Muay Thai venue and gym.
Many newer and established fighters compete at Rawai Boxing Stadium.
Experience
Ticket Prices
stadium seating THB1,300
VIP: THB1,800
Event Start Times and Days
Google Maps Link
How to Get There
Every tuk-tuk and taxi driver on the island knows how to get to Rawai Boxing Stadium.
Bonus Info
You can take a Muay Thai lesson at Rawai Boxing Camp, the gym located just next to the stadium.
Chiang Mai
In Northern Thailand, Chiang Mai is home to one of the country's oldest Muay Thai stadiums. And, like Phuket, it's a hub for up-and-coming boxers as well as Muay Thai veterans who haven't yet retired.
Thapae Boxing Stadium
Built in 1955, Thapae Boxing Stadium is one of Thailand's oldest Muay Thai venues.
The stadium features many of the province's best fighters in addition to many up-and-coming international fighters.
Experience
Ticket Prices
standard: THB600
ringside: THB1,000
VIP: THB1,500
Event Start Times and Days
Every day expect for Sunday at 9 PM
Google Maps Location
How to Get There
Thapae Boxing Stadium is in the heart of Chiang Mai, on the east side of the Thapae Gate just a few minutes from Thapae Walking Street.
Bonus Info
After the fights, you can enjoy some of Chiang Mai's best shopping at many of the city's nearby local outdoor markets.
Pattaya
Pattaya is also home to a few Muay Thai venues, but since covid hit the country, many of them closed down.
MAX Muay Thai Stadium
MAX Muay Thai was one of the first venues in Thailand to start promoting entertainment Muay Thai to a local and worldwide audience.
The stadium gave many of the Muay Thai stars of Thailand and abroad above 70 kilograms a chance to showcase their skills, as many of the venues in Bangkok didn't have the desire nor resources to promote these fighters.
It made from some incredible action and shook up how Muay Thai was promoted in Thailand.
Due to covid, the stadium is only holding three fights per night — a far cry from its seven to nine fights per show before the pandemic.
Experience
Ticket Prices
Event Start Times and Days
Google Maps Location
How to Get There
MAX Muay Thai Stadium is in central Pattaya on Sukhumvit Road, just a few minutes taxi ride from the Pattaya bus terminal.
Bonus Info
After the fights, you can enjoy some of the best rice porridge in Pattaya at Prajanban restaurant.
At the Stadium
Before you pick a venue to watch Muay Thai in Thailand, there are a few things you should know, such picking a seat, overall costs, dos and don'ts while at the stadium, and gambling and gamblers.
Duration
As mentioned above, each bout is either three or five rounds long, with each round lasting three minutes.
If there are no knockouts, a three-round fight, including breaks in between rounds, will last roughly 15 minutes. A five-round fight, including breaks, will last about 25 minutes.
The length of each show differs, too. At Channel 7 and Omnoi Stadium, for example, there are usually seven fights, so you could be at the venue for between two and three hours.
At the bigger stadiums, there could be nine or more fights, which means the entire event could last from three to four hours.
However, you can usually skip the fights that come after the main event if you want to leave early. These fights are usually between up-and-coming fighters and sometimes lack the excitement or skill level featured on the main card.
Best Seats
When it comes to picking a seat to watch the fights from, it usually comes down to what kind of viewing experience you want to have.
Ringside Seating
Oftentimes, people think that ringside seats provide the most excitement, but this isn't always the case. Camera operators, ringside photographers, cornermen, corner posts, officials, and so on can sometimes block the view of the action.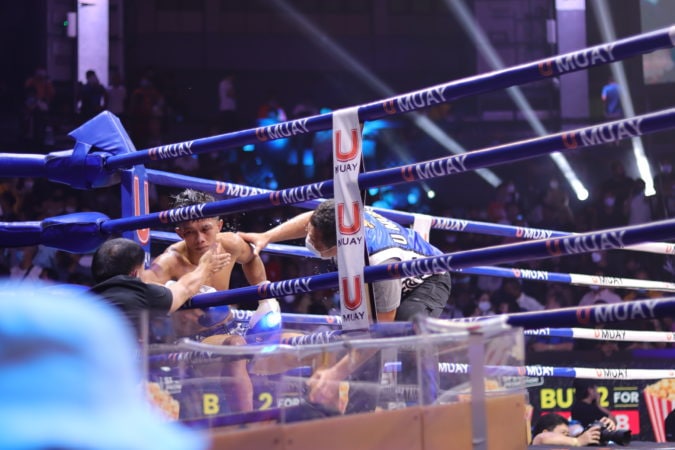 Since you're sitting on the ground level, you may also have to look up at the ring to watch the fights, which can get uncomfortable after a while.
Nevertheless, sitting ringside is exciting. You get to hear the attacks landing, the referee talking to the combatants, and the cornermen screaming instructions at their fighters.
English Commentary
Some of the stadiums listed above employ English-speaking play-by-play commentators to talk about the fights that are broadcast on Thai TV and abroad.
However, you won't be able to hear these commentators while watching the fights inside the stadium. So, it'll be up to you to do some homework ahead of time to familiarize yourself with the rules of Muay Thai and how the fight works, this way you'll understand some of what is happening in the ring.
If you happen to see one of the English-language commentators before or after the show, feel free to ask them any questions. Most are passionate about the sport and love sharing what they know with the spectators.
Tiered Seating
Many people feel that tiered seating is the best way to experience Muay Thai in Thailand.
Sitting in the tiers is like sitting in the bleachers or lower balcony levels of an amphitheater.
From this location, you get to experience Muay Thai in all its glory. You can watch the fight in the ring, see both fighters' corners wildly screaming instructions, and take in the frantic energy of the gambling section.
Because Muay Thai stadiums in Thailand are smaller than sporting arenas in the West, you're never too far away from the ring even when sitting in the tiers.
Gambling Section Seating
This section is for spectators who want to experience Muay Thai from a gambler's perspective.
In the gambler's section, you get to see bets being made, odds shifting, and money changing hands.
It may seem like an intimidating place to watch the fights from, especially since everything is so foreign. However, the controlled chaos under which gamblers operate is one of the most exciting aspects of Muay Thai.
Cost of Food, Drinks, and Souvenirs
Costs for everything aside from tickets vary depending on which venue you watch Muay Thai at.
If, for instance, you go to Channel 7 or Omnoi Stadium, food and drinks will be inexpensive — similar to what you'd pay for local street food.
However, at Rajadamnern and Lumpinee Stadiums, costs for food and drinks tend to increase. A cup of beer could run you THB120 or more. A bottle of water may be double that of what you'd pay outside. Chips and other snacks are about THB80.
As for souvenirs such as t-shirts and Muay Thai equipment, costs are roughly the same at all venues throughout Thailand. Expect to pay at least THB500 for a t-shirt. As for equipment, prices depend on the brand.
Dos and Don'ts
Watching Muay Thai isn't like watching a sporting event back home. Because you're in another culture, different rules apply.
Most times, the Thais who work at the stadiums are used to interacting with non-Thais and will kindly let you know if you're breaking the rules.
Also, keep in mind that every stadium has its own rules, usually posted in English, so read them.
That said, here are a few universal dos and don'ts to keep in mind while at the stadiums.
Dos
Do capture the moment. Take pictures, take videos (if the venue allows it), and get your photo taken with the fighters at the end.
Do cheer. It's all part of being at the fights.
Do absorb everything you see. You may never have another chance to witness Muay Thai in it's birthplace. Soak in not only everything happening inside the ring but outside of it as well.
Do take a piece of the experience home with you. Buy a shirt or a piece of Muay Thai gear. Your support — no matter how big or small — keeps this important culture alive.
Don'ts
Don't put your feet on top of any railings, seats, or chairs. It's impolite to kick your feet up on top of anything in Thailand, and the same holds true at the stadiums.
Don't be obnoxious, especially if you get drunk. You will be asked to leave. In extreme cases, you will be physically removed.
Don't smoke inside the stadiums.
Don't gamble (unless you can speak fluent Thai and know exactly what you're doing).
Gambling and Gamblers
We've touched on gambling and gamblers throughout this guide, but there is so much know about this part of the sport that a book can be written on the subject.
That said, here are some good things to know about gambling and gamblers.
Although gambling at the stadiums is somewhat illegal, it happens. You may see a sign that reads "No Gambling" at the venue, only to see hundreds of gamblers in the act.
Gamblers, for the most part, are not bad people. They oftentimes work day jobs and gamble at the stadiums to try and make more money.
Considering that, 99.9 percent of the time the gamblers in the gambling sections will never bother you. They are there for a reason, and you are not part of it.
If a scuffle does break out, it's usually because one of the gamblers refused to pay their debt. Because of that, an argument may occur, some pushing and shoving may happen, or — in the most extreme cases — a fight may break out.
Again, none of this will have anything to do with you and is usually resolved after a few minutes. Enjoy it — it's all part of the experience.
Despite some of the corruption that gambling attracts to Muay Thai, it's often said that gamblers keep the sport and the officials honest, as they are some of the most knowledgeable people in the sport and can tell immediately when something isn't right.
Muay Thai Social Media Accounts Worth Following
There are dozens of Thai-language Muay Thai social media accounts that post upcoming fight news, but if you want stay updated in English, here are two accounts you should follow.
Each of these accounts consistently post what's happening in Thailand as far as Muay Thai goes.
Now, on to You
Hopefully, this guide has helped make it easier for you to decide what kind of experience you're looking for and where to find it.
If you visit one of these venues, let me know in the comments section how you liked it.