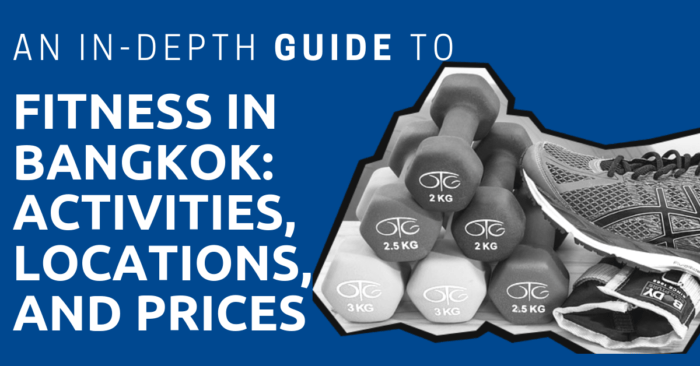 You already know that staying fit in Bangkok isn't easy.
Liquid calories come in many forms. And with more holidays than months in a year, you always have a reason to go out for food and drinks.
Even when you set out to stay in shape, Bangkok puts up a fight to keep you at your desk, on your bar stool, and in your bed.
Last time there was a census on green space in the city, the report opted to count traffic islands and roundabouts in order to make the number less depressing.
And there are challenges of finding the time and space to commit yourself to a healthier lifestyle:
limited park opening hours
scorching hot weather during the day
long commutes at night
Not all hope is lost though.
Twenty-four hour gyms, grass roots aerobics classes, and high-end fitness clubs can help you rid the extra weight around your waist.
Whether you want to exercise during your short stay in Bangkok, or you want to transform your lifestyle, this guide shows you what choices are available.
It's impossible to cover all neighborhoods and activities in the city. So I picked out choices for a range of budgets, interests, and locations. These should give you with a good starting point.
Where available, I linked to more specialized websites that contain in-depth details for specific sports.
"*" indicates required fields
Free Fitness Choices
Thailand is a lot cheaper than many European and North American countries when it comes to food, housing, and insurance.
But when it comes to gyms, monthly memberships can surpass what you'd pay back home in Germany.
Every so often though, budget choices and real bargains pop up. If you don't mind putting up with a bit of a commute, you can join top-class facilities, some for free and some for about $1.10 a year.
But let's look at two free choices:
Parks
Bangkok parks are a great way to exercise for free. In most cases, you don't have to pay entrance fees to get into parks. And most parks offer free parking.
There is one exception though. At Suan Luang Rama 9 you'll have to pay a 10-baht entrance fee between 7:00 AM and 5:00 PM. If you have a car, you'll have to pay 20 baht for parking.
Parks open as early as 4:30 AM and close as late as 9:00 PM.
Here's a list of popular Bangkok parks where you can run, bike, do aerobics, and more:
The larger parks above have free mobility and weight-lifting equipment.
The open-air aerobics classes you see throughout Bangkok's parks every evening from around 5:00 PM onward are cheaper than subscription-based gyms.
Sometimes local supermarkets also have an aerobics meetup.
Tai Chi groups also meet at the parks listed above in the mornings. In the evenings, various other groups meet to do lesser-known Asian exercise routines.
At Bangkok parks, you'll find most mobility, flexibility, and meditative exercises in the mornings. And you'll find aerobic activities in the evenings.
Home Sweet Home
A lot of condos and apartment buildings in Bangkok have gyms. You can use them for free if you live in the building.
The gyms are like what you'd find at a hotel gym: some dumbbells, resistance machines, free weighs, and cardio machines.
You can check out our guide to renting in Bangkok for some help on renting a condo with a gym.
Don't have a gym at your place? Ask your friends if they do. Then you might be able to use their gym with them.
If you have a workout partner it'll be easier to hold yourself accountable. And it's more fun.
Ask around on Facebook. You might find someone who's up for healthy activity.
If all else fails, there are also YouTube workout programs. You can follow along with little equipment.
Friends of mine and the /r/Fitness community swear by the fitness workouts from:
Gyms and Sports Clubs
Bangkok's gyms and sports clubs tend to fall into different segments.
Gyms are cheaper and offer your average equipment and facilities.
Sports clubs tend to be more exclusive. Though prices start from what you'd pay for one of the mall gyms.
In this section you'll find out about:
lifting weights/doing cardio
taking classes
boutique gyms
sports clubs
Pumping Iron and Doing Cardio
Cheap gyms are small-scale indoor and outdoor gyms throughout the city.
Good for lifting weights or using cardio machines, these are an upgrade over your building's or hotel's gyms.
These gyms will have treadmills, elliptical machines, barbells, dumbbells, squat racks, and other equipment.
Indoor gyms have showers and lockers. You can find them in townhouses near residential areas.
The cheaper choices will be without air condition or may even be outdoors. So prepare yourself for a good sweat.
Depending on location, prices tend to vary between 100 baht and 400 baht per day.
These kind of gyms also make up the majority of places that offer day passes. Monthly prices are between 700 baht and 2,000 baht.
The easiest way to find a gym like this is to ask the local motorcycle taxis on your street for "fitness" (the Thai pronunciation fit-ned might work better).
Going to Classes and Enjoying Juice Bars
A step up from gyms are franchise fitness studios. You can find these throughout the city in every mall and a number of office buildings.
Two of these gyms are:
Their main draw is the number of trainer-led classes they hold in a more upscale facility. In terms of equipment, they offer the same—or better—than you'd find back home.
There's a sliding scale in terms of prices, crowds, and facilities.
Yearly memberships start from around 2,000 baht a month (classes included, trainers extra).
A few others offer memberships for less than 5 months. If you're able to commit for longer than a year, rates drop to less than 1,500 baht a month.
Exceptions are 3- to 30-day trial periods (not available for tourists) that tend to be available once per franchise for residents.
The 3-day periods you can always get on their website. The 7-day periods are offered, though not as much.
If you go into a gym for a trial, staff will try to sell you a subscription before you even start your trial.
It's not uncommon to hear about a promotion that's only available on that day (hint: it isn't). Tell staff you'd like to try the facilities first and they'll leave you alone.
The most important point though is to negotiate. You can get 20% off displayed memberships if you bargain.
Boutique Gyms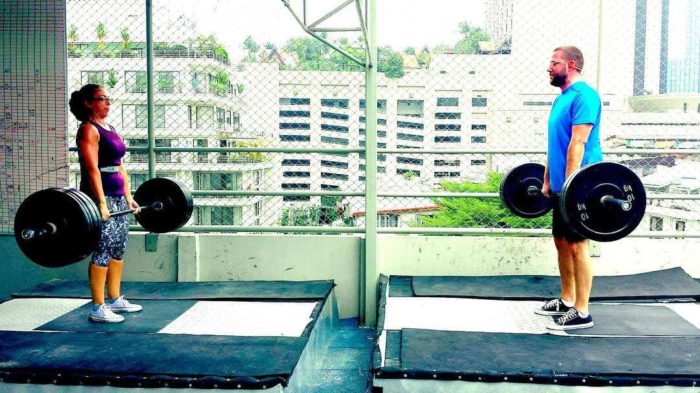 There are a number of gyms which don't quite fit in other categories.
Some of these are:
These gyms focus on personal-trainer sessions, incorporate a strong focus on nutrition, and have onsite health-food restaurants like Design Your Body.
Smaller and pricier than their mall counterparts, boutique gyms advertise themselves as providing more individualized attention and training.
Sports Clubs
When it comes to exercising, you have other choices with the many sports clubs scattered throughout the city.
If you want to explore fitness beyond running, cycling, and weight lifting in comfort, you'll find more at sports clubs.
Monthly prices start around what you'd pay for a nice gym. But joining fees vary and can go into the tens of thousands (that's dollars) if you want to become a voting member at one of the more exclusive clubs.
The Racquet Club
In terms of fitness, The Racquet Club is a good deal. For 4,500 baht per month you can get a yearly membership.
The membership gives you access to a 25-meter swimming pool, exercise gym, muay thai, and badminton, squash, and racquet courts.
The British Club
One of the oldest clubs in Bangkok, The British Club offers a good sports club downtown in Silom 18.
Originally started as a club for British—and later on Commonwealth citizens—the club is now open to all.
Prices start at 41,081 baht for the first year for a single member below the age of 30.
The Royal Bangkok Sports Club
This is the most exclusive closed-sports club in Bangkok. It offers the nicest facilities in the city.
Unless you get endorsed by an existing member or marry into the club and pay the 2 million baht sign-up fees, you won't be able to join either of them.
ClassPass
If you're looking to join classes or travel a lot, you can also check out ClassPass.
It's a month-by-month subscription that allows you to join the classes of any of their partners.
While I haven't seen the biggest Bangkok fitness chains on it, there's a lot of smaller, independent and higher-end gyms in Bangkok that are part of it.
Offered programs range from AquaBiking and Crossfit to Yoga and Zumba.
Downside is that you can't go to the same class more than three times a month (in some cases you can only go once).
Gyms use it as a marketing tool and will try hard to up-sell you when you come in on a ClassPass.
Personal Trainers
And if you're serious about staying fit, I'd suggest you get help from a personal trainer.
They can design workout programs based on your personal goals. They can help create a nutrition program for you. And they can make sure your exercise form is correct.
This will help you build muscle faster without increasing your risk of injury.
There are some gyms that focus on trainer-based workouts.
Aspire right next to the BTS Asok is one of them. The gym is a premium fitness club with flexible training programs.
Certified international trainers tailor workouts based on your goals.
Prices start from 600 to 6,000 baht a month.
It's not the cheapest workout option. But it's a great way to get started, set you up with a program that works, and make sure you don't cause any damage when you start out with lifting weights.
While I now train on my own, that workout is still based on what I learned from my personal trainer a few years back.
Basic indoor and outdoor gyms in Bangkok don't have their own trainers on payroll. But they tend to let you bring your own.
Expect to pay about 1,500 baht an hour for a private trainer. And hired trainers can join you at an ordinary gym or even at your condo's fitness room.
If you go this route you can find a trainer who's fluent in English.
Or you can contact Fitthai (they do trainer certifications) or ask on Bangkok Expats for certified trainer recommendations.
You can also find trainers at fitness chains in malls. But these gyms don't let you to bring in outside trainers.
Depending on the gym, they might do a lot of hard-selling for personal trainer packages. So prepare yourself.
Running
In recent years, Bangkok has experienced quite a boom in running.
It's gotten to the point where the most popular running routes become crowded during after-work hours.
Running is also good for your mental health.
This boom also extends to races. If you're competitive minded, there are now several shorter and longer races, including marathons, to choose from.
While I used to be an avid runner a few years back, I'm now a bit out of the loop.
My friend Chris Bickle helped me out with the advice below (mistakes are all mine).
Here's what I'm going to cover:
Tracks and loops
Running clubs
Races
Tracks and Loops
The most well-known running tracks are:
These parks are also among the busiest.
There's a number of other parks and stadiums scattered throughout Bangkok. They have loops of similar and shorter length. And they might be easier for you to get to.
Since training for a marathon isn't that fun on a 2.5km track, it might be worth heading out a bit further for your longer runs.
Rama 9 Park in Bangna has a 5km loop with lot of corners, features, and well-manicured gardens.
You can even link it with the 4km loop in Nong Bon Park (or the Nong Bon Swamp Park as Google Maps calls it).
If you don't mind backtracking you can extend your route to 15km.
Bangkok's "green lung," Bang Krachao, is another choice for long-distance runners in search of scenery.
Known for cycling, it features a 14km loop that runners can do just as well.
And there are various khlongs, or canals, routes and back alleys that would be impractical to describe in specifics.
The best way to discover those is to join a running club. You will get to exercise, do some urban sightseeing, and, also meet like-minded runners.
Running Clubs
Bangkok Runners is a large group of foreigners who run in Lumpini Park and Benjakitti Park.
They also run through Bang Krachao, various BTS line runs, and through back alleys and along canals.
Aside from Bangkok, they also do trips out to Khao Kheow and Khao Mai Keao for trail runs.
Hash House Harriers also has a chapter in Bangkok. They tend to go for runs every Monday, followed by a calorie-replenishing beer-drinking and socializing session.
The after-run beer is included in the running fee, which is 200 baht for men and 150 baht for women.
Races
Like other sports, running has become a lot more popular in recent years.
If you want to take part in a race in Bangkok, you should signup early. The bigger races tend to sell out.
Some experienced runners argue that you can find the best races outside of Bangkok. But the city offers a number of interesting competitions.
Swimming
A lot of the mid- and high-end apartment buildings come with swimming pools. Some of them are well-maintained. Others come in colors suggesting they are capable of photosynthesis.
You can find the cheapest swimming pools at Benjasiri Park, Lumpinee Park, and at the Thai Japanese Youth Center (Olympic-sized).
At 40 baht per year, they are a steal (though some charge a per visit fee as well).
But you'll need to bring some documents and a medical certificate. You can get a medical certificate when you get a health checkup.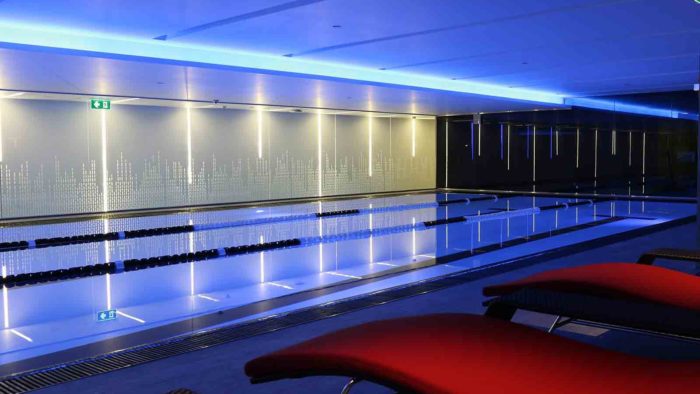 A fancier indoor option with more liberal opening hours are the Virgin Active gyms at EmQuartier and Empire Tower.
They come with 20-meter swimming pools (their branch at West Gate doesn't have one).
Depending on the club and length of your membership, you'll pay roughly 3,000 baht per month.
If you don't have time to sign-up for the Youth Centers and just want to use a pool during a short stay in the city, these places offer 1-day passes.
Yoga
Of the more mindful workouts, yoga seems to be the most famous in Bangkok.
There isn't a shortage of offers. Prices for drop-in classes start from around 400 baht at dedicated studios.
An exception is the Bangkok Farmer's Market Community Yoga and a number of yoga groups on meetup.com, which tend to be donation-based.
If you're a regular yogi, you can get a better deal with monthly subscriptions.
A good way to find the latest offers is YogaTrail. A Chiang Mai-based startup of a friend of mine created the app. It allows you to track down yoga classes near you.
YogaTrail lists and ranks about 100 teachers and 20 studios in and around Bangkok and allows you to filter by yoga style and skill level.
Several of the nicer gyms mentioned in the above sections also run regular yoga classes.
They let you mix yoga with other classes and workouts at a price lower than what the specialized yoga studios offer.
I'm quite happy with the Basic Hatha Yoga classes offered by WeFitness. But that's because their location is convenient.
There are also yoga retreats available throughout Thailand.
Muay Thai
In addition to watching Muay Thai, Bangkokians interested in Muay Thai range from people who want a nice workout, are serious about improving their Muay Thai skills, or are looking to fight.
Different gyms cater to different people, and there are a lot of places where you'll see a mixed crowd.
Gyms that cater to newbies and foreigners are often more expensive.
In the past, their clientele were Muay Thai tourists. But nowadays it's shifting a bit more to incorporate the office worker crowd of Bangkok looking for a good workout.
On the other hand, some of the serious gyms will let you train for free if you sign a contract with them. But it may take a few months to get to that point.
Working Out
Friends who visit Muay Thai gyms to get intensive workouts suggested these gyms to me.
Kru Dam
Kru Dam is popular with the BTS crowd. Their most well-known branch is on Sukhumvit 24 (with additional branches scattered throughout town and other provinces).
Fitness training sessions are two to three people with one trainer and focus on calisthenics.
One session is listed as 550 baht on their website.
Chacrit Muay Thai School
Chacrit Muay Thai School has been recommended by a friend who enjoys doing after-work evening workouts.
Located on Sukhumvit 39, it's not too far from Asoke and Thong Lor.
Walk-ins are 800 baht an hour. A 15-session pass costs 6,000 baht and is valid for three months.
In general, this school has a more Muay Boran style to it. Muay Boran is the older version of Muay Thai and is more focused on old school methods of hand-to-hand combat in Thailand.
You could always explore your neighborhood and see what's in the area. You may find a more convenient place if you just want a cheap yet intensive workout.
If you don't speak Thai, bring someone to help translate to avoid painful misunderstandings.
Fighting
A lot of the serious fighting gyms are outside of Bangkok. But the city has its own fair share of well-known gyms.
Some of them are more foreigner- and newbie-friendly. Others expect you to know the training routines and code of conduct before signing up.
The gyms below were suggested by some of my friends who are more serious about Muay Thai fighting.
Muay Thai Sasiprapa
Muaythai Sasiprapa is a legendary gym for those serious about fighting. It has been around for a long time.
While room and board aren't offered on site, the gym is in a residential area. You should be able to find a place stay nearby.
Prices for a trainer range from 6,000 baht a month (single session per day) to 12,000 baht a month (twice a day).
Sangtiennoi
Sangtiennoi is another legendary fighting gym set up by the famous Muay Thai fighter, the Deadly Kisser.
With a list price of 1,500 baht per day, the cost reflects the gym's reputation.
Few exercise routines are as controversial as Muay Thai.
People just don't get into fights (ba-dum-tsh!) over whether Lumpini or Benjakitti is the better running loop.
I've listed the Muay Thai gyms above as a starting point.
If you want to dive into the world of Muay Thai in Bangkok, check out our article on Bangkok Muay Thai gyms for in-depth reviews of most of the popular gyms in Bangkok.
More Muay Thai Resources
If you're interested in the more professional side of things, my Muay Thai friends recommend you read up on sites like:
Buying Exercise Equipment
Most department stores in Bangkok have sporting goods zones with common exercise equipment available.
This includes dumbbells, yoga mats, strength equipment, and cardio equipment.
Even more equipment is available in the dedicated sporting goods stores like FBT.
You can also buy fitness equipment online.
My personal favorite store is Lazada. They have over 100,000 health-related products available on the site, including fitness equipment and nutritional supplements. And they deliver within a few days.
Healthy Meals
Nutrition control and exercise go together. In addition to buying meals from food stalls and super markets, you can order from several delivery services such as:
You can read our guide to organic food in Bangkok for more information.
Other Exercise Choices
Aside from the individual sports listed above, there's a number of traditional team-based sports in the city that go a bit beyond the scope of this article.
You can play basketball, badminton, and to a lesser degree, soccer, indoor and outdoor throughout the city.
Google Maps is a good way to track down a court that might be just a few alleys away from your condo.
If you want to go local, you can give Sepak Takraw a try. It's popular with motorcycle taxi drivers. You can sometimes spot them playing after work in the back alleys of Bangkok.
Looking to mix it up a bit? Bangkok has assembled quite the number of more exotic exercise options. Table tennis aside, you can choose between:
Physiotherapy
Just a quick word on those seeking some help working out with some restrictions.
If you're recovering from an injury or need to be careful when working out, there are some gyms that work with physiotherapists.
If things are more acute, you can check out Bumrungrad International. I had a shoulder injury treated by Dr. Poungploy.
Samitivej and Siriraj Hospital are also great. I talked to doctors at both of these hospitals when I injured my knee.
While I researched hospitals and health insurance options in Thailand, my Thai friends recommended government-run Lerdsin Hospital in Silom for sports injuries.
It can get quite busy. But the upside is that Lerdsin Hospital is quite central and cheaper than private hospitals.
Dress Codes
In Thailand, it's not acceptable to run around the streets or through parks with your shirt off, or at gyms to dress in clothes revealing a lot of skin.
Few men exercise or run with their shirts off in Thailand. There are exceptions in touristy areas. But when exercising in Bangkok parks and gyms, keep your shirt on.
You'll also notice Thai women are more conservative in their choice of exercise clothes. Rarely will they wear anything revealing too much skin.
As a Westerner, you're always given some leeway when it comes to etiquette in Thailand. But if you want to blend in, follow the Thais.
And follow all the dress codes posted on gym walls and doors.