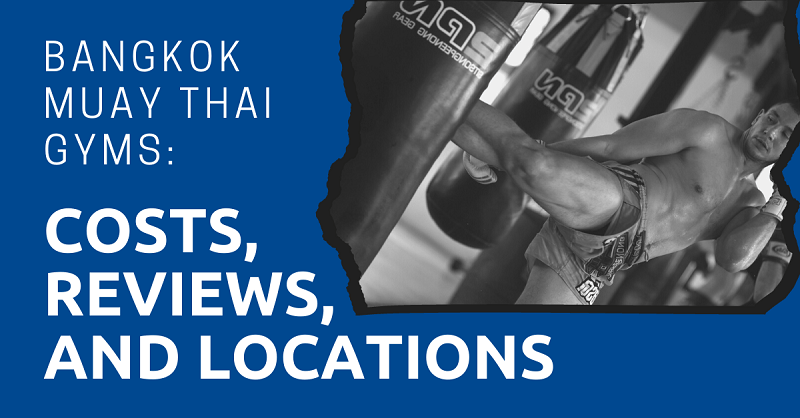 I first came to Thailand to train Muay Thai in 2007. The landscape of the sport was different. The internet hadn't yet entrenched itself into the sport. And finding gyms, developing connections, and understanding the who's, what's, why's, and how's were so much more difficult.
I decided to come to the country because I'd never been abroad, and Muay Thai was a vehicle for me to travel and expand my horizons. It was difficult picking a gym though as little information could be found about the many camps in Thailand at the time. Overcoming that challenge relied on a lot of footwork and trial and error.
When I moved out here, years after my first visit, the world had changed and picking out a gym was easier. I had experience on my side, along with an increasing wealth of information from online sources. Making the choice to join the gym I'm currently at was a good and rewarding decision that has worked strongly in my favor. I've been at the gym for two plus years and plan to stay there indefinitely.
"*" indicates required fields
What You're Going to Learn
In this guide you're going to learn how to pick a Muay Thai gym based on your style and needs, some dos and don'ts to exercise around the gym, and the costs and locations of popular Muay Thai gyms in Bangkok.
Fighting Versus Fitness
The two major distinctions for Muay Thai are fighting and fitness. The two areas overlap at many gyms but often have different emphases. Training for fighting is labor intensive and drives athletes to peak condition. That means athletes need to take care of themselves with rest and exercise. Many gyms that train fighters have an austere, no frills environment where boxers learn by repetition.
In comparison, fitness geared courses have instructors break things down for their students and have nicer facilities. For example, fighter gyms have boxers continually kick, with occasionally instructing them to "kick harder." Fitness gyms have students break down their kicks: "first step out at a forty-five degree angle, rotate your hip, swing your arm" and so on.
Understanding the difference between fighting and fitness will help you pick a gym. Some people are motivated for fitness, others because they want to test their skills in the ring. While others are interested in the sport for cultural reasons. Whatever your reason, it's important to understand what's driving you to get to the gym.
Knowing the types of gyms available helps you make informed choices and helps you understand how to achieve your goals. Many fitness gyms have trained successful fighters and some fighter gyms have excellent exercise programs. But most gyms are geared one way or the other.
Location
If you're going to do it, you got to get to it. Fitness gyms can be found along Sukhumvit, the major thoroughfare of Bangkok. This makes it easier for students to get to them. Other fitness gyms are located close to the BTS or MRT.
Fight gyms, in contrast, are spread throughout the city and will not be as easily accessible. Fight gyms have accommodations on site so you can stay at the gym instead of traveling every day.
Picking a gym in an ideal location helps you plan your daily routine. There are a variety of questions you have to ask yourself when deciding on a gym. Do you live in the heart of the city? Do you want to stay there? Do you want to get out of the city? Do you want to avoid traffic? Does your daily commute take you close to a gym? Do you want be in the more remote parts of Bangkok?
Getting to the gym requires dedication. Part of your daily exercise is getting there. Having a gym that is easy to travel to helps you get that exercise. Knowing gym locations helps you make an informed choice about what gym options are available.
And if you're looking for more than just Muay Thai gyms in Thailand, be sure to check out our complete guide to Muay Thai in Thailand.
Click on the blue markers on the map to find out which Muay Thai fitness or fighting gym is closest to you.
Style and Needs
Muay Thai gyms will specialize in one of many styles: muay khaos, or knee fighters, muay mots, or heavy handed punches, and muay fiemus or technical fighters.
Each gym will be suited best for certain body types and temperaments. Tall fighters are muay khaos because they get more leverage in the clinch. Short, squat fighters are muay mots because they are able to generate more power from their cores for devastating punches. Medium built fighters, muay fimeus, often rely on their technical abilities to outpoint their opponents.
Understanding your body, style, and needs helps you pick the best Muay Thai gym for you in Bangkok. Gyms will often specialize in one area of the fight game. Knowing what style of fighters a gym produces will help you pick a gym that favors your strengths or can help you improve on your weaknesses.
Dos and Don'ts Around the Gym
Gyms in Thailand are homes and workplaces. Thai trainers and fighters live on site. It is important for new students to remember that they are entering someone's home. There isn't a clear separation between professional and personal life in Thailand. The culture of the gym is part of the way the gym runs. Navigating the culture effectively will get you the most out of your training.
Here are some dos and don'ts to follow around the gym:
Do
✓ show respect at the gym
✓ keep yourself clean
✓ exercise patience
✓ show up on time
✓ speak the language
✓ dress accordingly
Don't
× spar too hard
× train while sick
× touch people on the head
× point with your feet
× show up drunk or high
× lose your temper
Costs
Below is a breakdown of different training costs. Although I've done my best to gather all the prices, it's always best to check directly with the gym as prices and packages do change. Another thing to keep in mind, with one-month training packages that include room and board, meals are usually included in the price.
| Gym | Single Session | Double Session | One Month | One Month w/Room |
| --- | --- | --- | --- | --- |
| Attachai | 450 baht | inquire | 16,000 baht | inquire |
| Chuwattana | 500 baht | 1,000 baht | inquire | na |
| Eminent Air | 500 baht | 800 baht | 17,000 baht | inquire |
| FA Group | 500 baht | 800 baht | 10,000 baht | 19,500 baht |
| Ingram | 500 baht | inquire | inquire | inquire |
| Jitti | 400 baht | 800 baht | 7,000 baht | inquire |
| Kaewsamrit | inquire | inquire | 15,000 baht | 45,000 baht |
| Khongsittha | 450 baht | inquire | inquire | 29,000 baht |
| Kiatphontip | 400 baht | 600 baht | inquire | 30,000 baht |
| Luktupfah | 400 baht | 800 baht | inquire | 30,000 baht |
| Master Toddy's | 500 baht | 800 baht | inquire | 22,000 baht |
| MTM Academy | 550 baht | inquire | 6,000 baht | na |
| Petchprasit | 500 baht | inquire | na | na |
| Sangmorakot | inquire | 800 baht | 14,000 baht | inquire |
| Sitsongpeenong | 500 baht | 900 baht | inquire | 58,500 baht |
Bangkok Muay Thai Gyms
I've provided a list of some of the top gyms in Bangkok. Each gym has its own unique attributes. These characteristics will help you fulfill your needs. Skim through the list to find out which gyms are best for you to achieve your goals.
Attachai
Attachai is located in On Nut, in Eastern Bangkok, next to a Thai restaurant and a fishing pond. Attachai is a former Fairtex fighter, one of the biggest and most credible Muay Thai gyms in Thailand. He was a Lumpinee Super Bantamweight holder and has experience teaching in the US and Singapore.
Morning training begins with an optional morning run then moves on to skipping, shadowboxing, pad work, bag work, and sparring and clinching. Afternoon sessions begin with another run at 2:30pm.
Contact Attachai
Chuwattana
The famed Chuwattana gym is located in the heart of Chinatown. Tucked away on a side alley, the gym was notoriously difficult to find in the days before the internet. The gym is well known for producing excellent boxers and has made a number of champions, including Lamsongkram, a Rajadamnern and WMC champion, and Jomthong, a multiple time belt holder at Rajadamnern. Pad holding is geared toward the Chuwattana style—slick boxing.
Training at Chuwattana begins at 6:30am and runs until 8:30am. Afternoon training begins at 3:30pm and finishes at 6pm.
Contact Chuwattana
Eminent Air
Named after an air conditioning company, Eminent Air is located in Western Bangkok near BTS Phunawitti. The gym specializes in technical fighters and has had solid foreign and Thai boxers come out of the gym. Jomhod Eminent Air is their most popular fighter, but they have also had Satanfaa, Soren Mongkongtong, Melissa Ray, and Ognen Topic.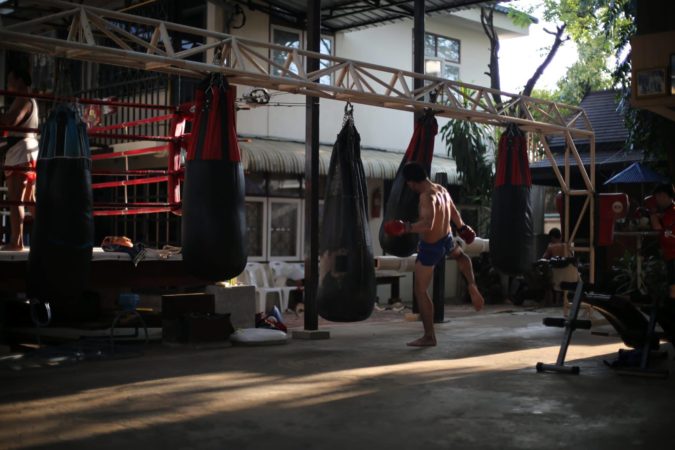 Morning training begins at 7:30am and goes to 9:30am. Afternoon training begins at 3:30pm to 5:30pm.
Contact Eminent Air
FA Group
FA Group is known as a clinch and knee gym. Their success has been seen with fighters such as Petchboonchu FA Group and Yothin FA Group. The gym is located behind Channel 7 Stadium, in the Mo Chit area of Bangkok.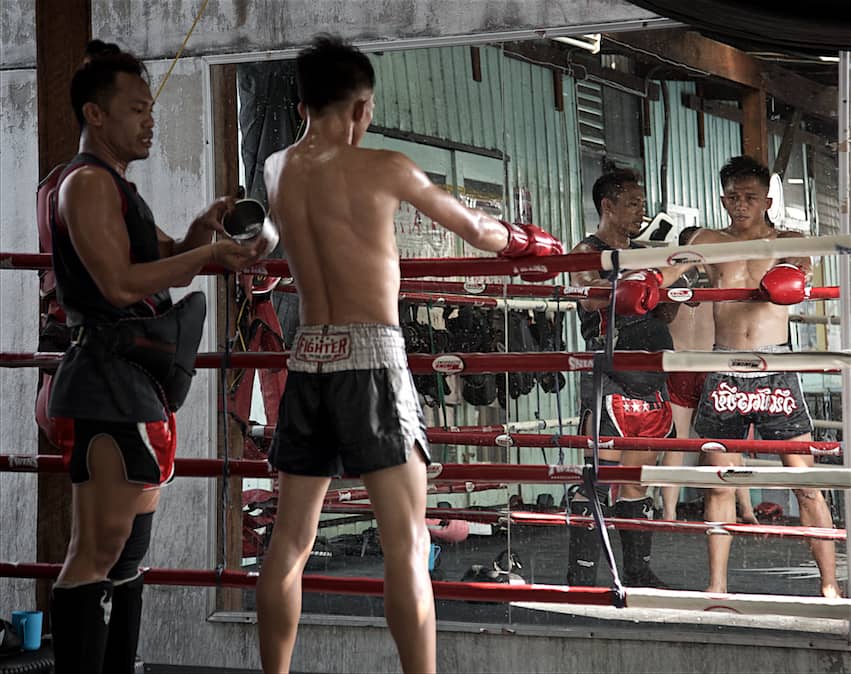 Morning training begins at 6:30 am with a run through Chatuchak park. The boxers return to the gym and train until 9:30 am. Afternoon training begins at 3:00pm and runs until 5:30pm. Afternoon sessions include an hour long clinch program followed by pad work, bag work, and running. The gym offers beginner exercise classes from 6:00pm to 8:30pm.
Contact FA Group
Ingram
Owned by Japanese expat Hideki Suzuki, Ingram is close to BTS Thong Lor, at the intersection of Rama 4 and Sukhumwit Soi 36. The gym produced Jos Rodrigues Mendonca, a former Rajadamnern belt holder. Other fighters include Sagapetch Ingram, Daosaming Ingram, and Rungthong Ingram.
The training is regimented at Ingram. Every session is the same with a morning run at 7:30am followed by pad work, bag work, sparring, and exercises. Morning training ends at 9am. The afternoon session goes from 3pm to 6pm. Afternoons will include clinching and every other day is boxing sparring.
Contact Ingram
Jitti Gym
Located close to MRT Ratachadapisek, Jitti was one of the first Muay Thai gyms to open to foreigners. In the past, Liam Harrison and Jordan Watson, two of the UK's best fighters, trained out of there. Now the gym does not have as many high profile fighters. It has a few foreign fighters but caters to people coming to work out.
Training at Jitti will mainly be pad work and bag work with occasional sparring and clinching with fellow students. Training in the morning begins at 9am and ends at 11am. Afternoon sessions run from 1pm to 9pm.
Contact Jitti Gym
Kaewsamrit
Kaewsamrit is one of the older gyms in Bangkok. The gym is located in Western Bangkok in Nonthaburi. It has created several notable Thai and foreign fighters, including Anuwat Kaewsamrit, the Iron Hands of Siam, and Juan Mario Juan Martin. Currently the gym is a mix of Thais and foreigners. Kaewsamrit is a very boxing oriented gym and fighters will often have precise punching.
Training starts at 6am with a 10- to 12-kilometer run followed by pad work, bag work, and conditioning. Afternoon training starts at 3:30pm. Pad work includes one or two rounds of boxing and elbow work.
Contact Kaewsamrit
Khongsittha
Owned by Thai superstar Matthew Deane, Khongsittha is a fitness Muay Thai gym in Ladprao. The large-scale facility is new, clean, and foreign friendly. The gym targets fitness enthusiasts and regularly hosts workout camps. Students from around the world fly into the gym to train and take in the culture of Thailand. They don't have many active fighters besides their strength and conditioning coach, Richi Alvarez, who is a regular fighter on Max Muay Thai.
The gym is open Tuesday to Sunday, with morning training beginning at 8am and ending at 10am. Training resumes in the afternoon from 4:15pm to 5:45. Training involves pad work, bag work, group exercises, and light clinching and sparring.
Contact Khongsittha
Kiatphonthip
Kiatphonthip is located in the Sala district of Western Bangkok, close to Mahidol University. The original gym was opened 16 years ago in Southern Thailand. But a second branch was opened in Sala in 2008, and is run by Muay Thai journalist and commentator, Rob Cox. The gym has produced a good stable of fighters including Jompop Kiatphonthip, Samingprai Kiatphonthip, and Samsamut Kiatchongkao. All have ranked at the top stadiums in Thailand. The large gym has a good balance of foreigners and Thais. Training caters to all levels.
Morning sessions begin at 7am with a long run. Then back to the gym for bag work, strength and conditioning, and other exercises. Afternoon sessions include boxing sparring three times a week.
Contact Kiatphonthip
Luktupfah
Luktupfah is run by Master Woody and is located along On Nut Road in Eastern Bangkok. Master Woody is the President of the World Muaythai Organization, Kru Muaythai Association, and World Muayboran Federation. Master Woody's daughter, Jade Sirisompan, manages the gym and speaks fluent English.
The gym is large and spacious. Morning training begins at 6:30am with a long run followed by shadowboxing, conditioning, and clinching. The session ends at 9am. Afternoon sessions begin at 3:30pm with a short run. Day-to-day lessons vary with some days focused on technical learning and others on power. Normal pad work follows. The session ends at 6:30pm. Luktupfah offers Muayboran, Krabi Krabong, and Kru certificates. They have connections to several stadiums and can get foreigners fights.
Contact Luktupfah
Master Toddy's Muay Thai Academy
Master Toddy's gym is located off Sukumwit Soi 107 near Bearing BTS. The gym is medium-sized and includes some of Toddy's trademark Cobra punching mitts. There is no afternoon training on Saturdays. The academy offers a variety of other courses including Krabi Krabong and Muay Boran. The first is a Thai derived martial arts system using weapons. Muay Boran is the name for the Thai martial art that developed into the ring sport of Muay Thai.
Morning training begins at 7:30am and ends at 9:30am. Afternoon training goes from 4pm to 6pm.
Contact Master Toddy's
MTM Academy
Muay Thai Mana Academy is located in downtown Bangkok along Rama 4 Road. It is not far from BTS Thong Lo. The new, large facility is pristine. The gym caters to those looking towards fitness. They have had fighters come out of the gym before, notably Warren Stavone, who fights regularly on Max Muay Thai. Classes begin with warm up exercises, then technical learning, and pad work. The session is closed out with HIIT, high intensity interval training, or circuit training.
A variety of classes are available beginning at 1pm and ending at 9pm.
Contact MTM Academy
Petchprasit
Petchprasit Gym is conveniently located between MRT Ratchadapisek and MRT Lad Prao. The gym is fitness oriented. Operated by Ajarn Sit, who has 30 years of experience in the sport and who has taught in both Thailand and America, the gym is spacious and clean. Classes begin with group stretching and then move onto pad work and bag work.
The gym opens at 8:30am and closes at 10am. It reopens at 2:30pm and closes at 8:30pm.
Contact Petchprasit
Sitsongpeenong
Located in Eastern Bangkok, Sitsongpeenong is one of the best known Muay Thai gyms in Thailand. It has produced several high quality international fighters including Sittichai Sitsongpeenong and Manachai Sitsongpeenong. The facilities are large and modern. The upstairs exercise area has two large rings. The gym also has a game room. Training is separated between Thais and foreigners.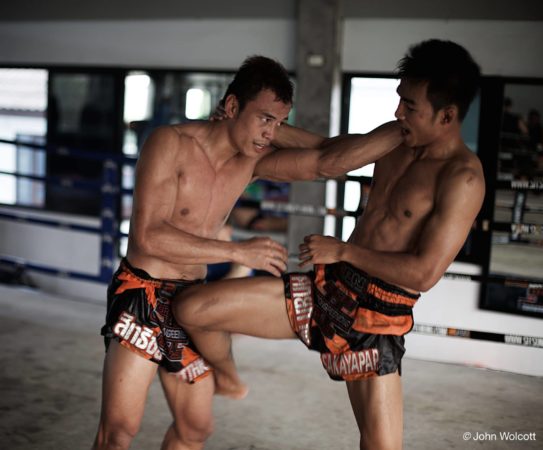 The training is dynamic, with sprinting and strength and conditioning in the mornings. Morning training begins at 5:30am and ends at 7:30am. Afternoon training begins at 2pm and ends at 5pm.
Contact Sitsongpeenong
Final Thoughts
Choosing a gym is never an easy process. This list of resources makes it easier to find what you want and need. Take the first step and contact the gym. Take the next step and go.