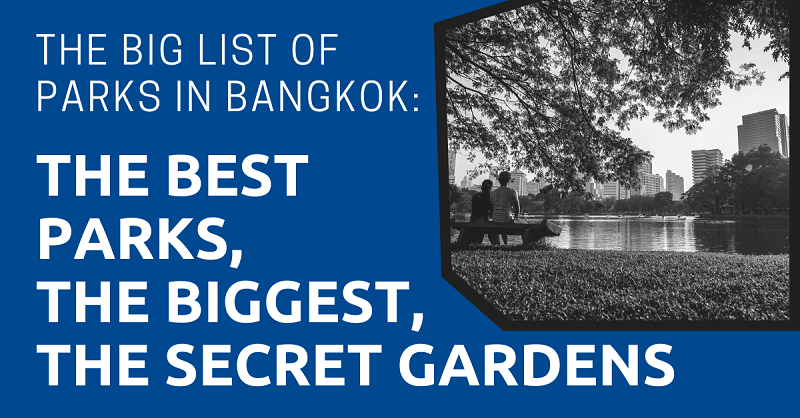 Bangkok is home to numerous parks, playgrounds, and green spaces that offer a welcome outdoors respite from the bustle of city life. You don't have to travel far to find a lush oasis from the never-ending traffic and commuter rush of this great city.
From the famous Lumphini Park to lesser-known hidden gems. We will take a close look at Bangkok's public parks, gardens, recreation spaces, green spaces, and pockets of nature.
There are spots for a picnic, pet-friendly places to walk your dog, watery wetlands, and botanical gardens for all the budding horticulturists out there.
"*" indicates required fields
Park Opening Hours
Most parks in Bangkok are gated and open from early morning to night, but they vary with their opening hours. We made note of all park the opening and closing times in the list below.
The most common opening time is 5am and closing is 9pm. There are perhaps only 1 or 2 parks in Bangkok that are open 24 hours.
Entrance Fees
Despite tall fences and guarded entrances, all of the public parks listed below are free to enter with the exception of Suan Luang Rama 9 Park which is a mere 10 baht per person.
Private facilities will have an entrance fee or space rental fees. For example, equipment rental fees for bikes and boats. Also tennis court reservations, football field bookings, or swimming pool use. There are usage fees for private bike lanes, and gyms. We have given more details about pricing of each park in the list below.
Membership Fees
Some Bangkok parks offer yearly memberships for a small fee of 40 baht, on average. This gets you access to the workout equipment and other amenities. Some parks even offer memberships that let you take part in water activities like kayaking and boating.
Because each park's fees are different, it's best to check the annual cost and benefits at the one you're most interested in visiting. Keep in mind that some parks, however, charge different prices for Thais and non-Thais. But if you have a Thai work permit or Thai ID, you should be able to get the Thai price.
Park Safety
Locking up a public park is a strange concept to some of us, but, as a benefit, it does mean that parks are patrolled by guards who keep them safe and also free from packs of unruly street dogs, who have been known to get a bit bitey on occasion.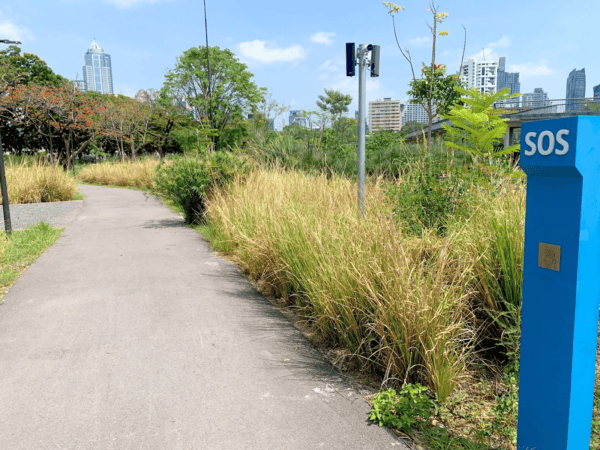 Parks are well covered by CCTV cameras and they are very safe spaces for people to run or walk alone, even at night. Some even have SOS call stations for medical or security emergencies. They are well illuminated for romantic evening strolls when the harsh sun has gone into hiding.
Water Monitor Lizards
Bangkok newcomers are often amazed or terrified when they first encounter one of these prehistoric looking monster lizards in a Bangkok park.
These cool reptiles are harmless unless provoked but carry some super yucky bacteria in their bite, so don't get too close. They usually stay away from humans and you can spot them swimming in water features or basking on the riverbanks of most Bangkok parks.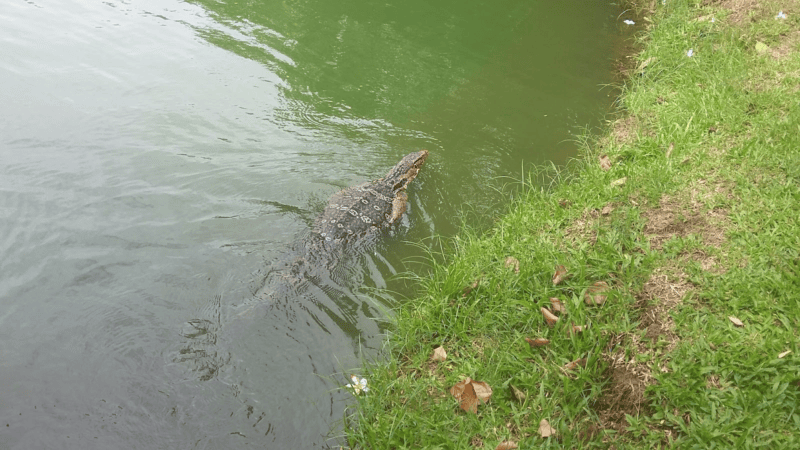 These lizards are known for their impressive size, with some growing up to 2.5 meters long and weighing over 70 kilograms. People sometimes incorrectly call them Komodo Dragons, but we are not in Indonesia and these guys are not endangered.
In Thai culture, there are several myths and superstitions surrounding water monitor lizards, which are locally known as "Tua ngern tua thong" (ตัวเงินตัวทอง), "Tua ngern" (ตัวเงิน), or simply "hiia" (เหี้ย). They can be seen as a bad omen, and you might find your Thai friends don't necessarily think they are as cute or interesting as you do.
Park Rules & Regulations
Always obey signage in Bangkok public parks. Some areas might have grass which you cannot walk on or be designated spaces for certain activities. Most will have rules posted at the entrance and throughout the park in Thai and English.
Food and Drinks
Most parks allow food and they have areas where you can spread out a picnic blanket, observe what locals are doing and check for signs. No parks listed allow barbecues or cooking. And definitely don't be a litterbug. Clean up all of your mess.
Parks in Bangkok are generally all alcohol-free spaces. If you crack open a can of beer, expect a security guard to approach you and ask you to dispose of it. There might be exceptions when parks host festivals or other events.
Smoking
Parks are all non-smoking. This applies to tobacco and also (recently decriminalized in Thailand) cannabis. Fines for smoking cigarettes can reach 2000 baht and the fine for causing "public nuisance" by smoking weed in public can go up to 25,000 baht.
Pets
Many parks in Bangkok are not pet-friendly, though there are some great options for walks with your four-legged buddies. Check for signs and see below to find out which ones allow pets. All parks do allow certified guide dogs.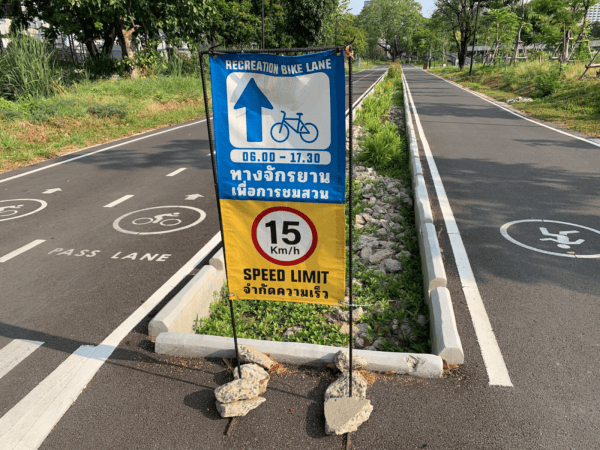 Bikes & Vehicles
Some parks allow bicycle riders. We noted below which ones do. Just follow the signs to know where you can ride and where you can't. For example, Benchakitti Forest Park only allows bikes between 6am and 5:30pm and only on the ground track, not on the elevated pathways.
Kids push scooters are usually fine, but electric bikes and scooters will almost never be allowed. Same for hoverboards, Segways, or other fast-moving vehicles.
Park Facilities
Parks in Bangkok are usually friendly spaces for people of all ages and abilities.
Accessibility
Accessibility in Bangkok parks is generally pretty good (unlike most of the city). They usually have an abundance of ramps, accessible toilets, and are flat with solid paved paths that are suitable for wheelchairs. Newer parks were constructed with extra mindfulness for accessibility.
Public Toilets
Parks in Bangkok often have good clean public toilets but do take your own toilet paper and hand sanitizer.
Some parks, you have to pay to use the bathroom. Suan Luang Rama 9 Park, for example, is three baht. And you can also use the shower for ten baht. This is great if you want to exercise and bring clothes to change into and head straight to work.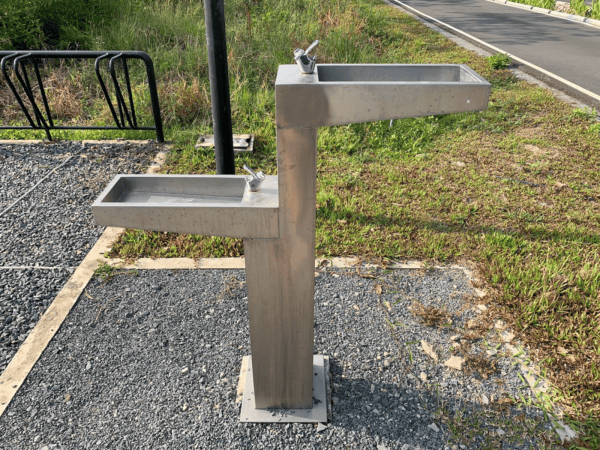 Drinking Water
Parks may have drinking water fountains. However, this water is not filtered or treated. It is just tap water. Most people avoid drinking from these as there are questions about the drinkability of Bangkok public water. There are some new filtered water systems popping up around town (see the photo below).
While the bacteria level in tap water is apparently at an acceptable level for drinking according to tests, the long-term effects of Bangkok's old underground pipes which might deposit heavy metals and other baddies into the water are a concern for some.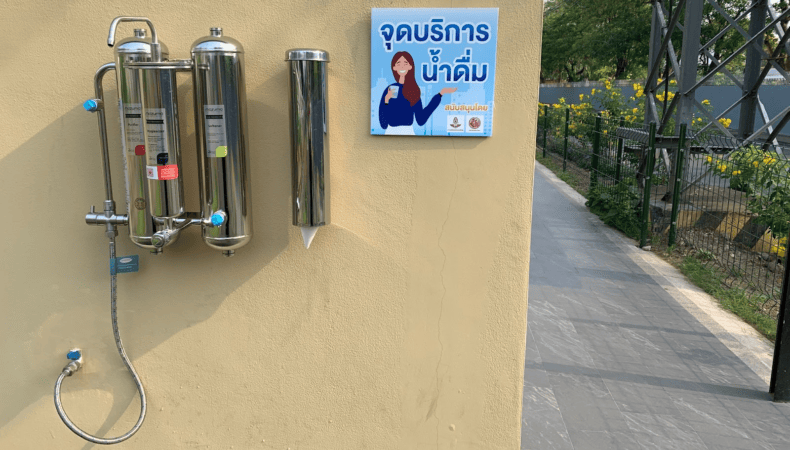 Food & Drinks
Most parks in Bangkok do not have food or drink sellers within the gates. However, you will usually find entrepreneurial folks gathered at the entrances with all kinds of carts and small shops selling cold beverages, fresh fruit, juice, and yummy street foods. Some of the bigger parks will have small shops and kiosks inside.
Exercise Equipment
Many Bangkok parks have outdoor gym equipment which includes weight benches, stationary bikes, cable machines and more. Sometimes these are free, sometimes there is a small fee of around 30 baht to use them.
Bicycles & Riding
Some parks have bike lanes or tracks, we have noted below which ones do. Some parks have bike rental shops where basic bikes can be rented from as little as 50 baht per day. There are also some very professional biking facilities where track bikes, road bikes, and gear can be rented for a higher, but reasonable price.
Boats
Many parks in Bangkok have swan-shaped battle boats, row boats, and canoes available for a small hourly fee. No engine-powered boats are allowed on park lakes.
Running Tracks
The quality of the running surface will vary from park to park. Most of them have a basic cement or tarmac surface. Newer parks will be smoother. Some newly renovated parks will have a rubber surface installed on running tracks. These polyurethane-based surfaces for outdoor tracks are cushioned and feature a textured material for traction. Check the Google Maps photos of the park you want to visit to see what kind of track it has.
What's the Biggest Park in Bangkok?
The biggest park in Bangkok is Chatuchak Metro Park because it is actually three connected parks. It covers an area of nearly 75 acres and its circumference is about 8 km. To walk a full loop of Chatuchak could take up to 1.5 hours.
The second biggest is probably Phutthamonthon with an inner circumference of about 7.km After that, Rama 9 Park comes in with a loop of 5km around the perimeter.
For perspective, the circumference of Lumpini Park is 3 km and the combined Benjakitti and Benchakitti Forest park circumference is 3.8 km.
Best Park for Bird Watching
Bangkok has several parks that are great for bird watching. Bird enthusiasts – known as twitchers – will enjoy visiting these spots:
Sri Nakhon Park, The Green Lung for kingfishers, herons, and raptors
Lumpini Park for spotted doves, black-collared starlings, and the Asian koel
Benjakitti Forest Park for the lesser whistling duck, the black-headed ibis, bronze-winged jacana, and the white-throated kingfisher
Chatuchak Park for the spotted dove, common tailorbird, and the blue-tailed bee-eater. Queen Sirikit Park within Chatuchak is a great spot to see water birds such as egrets, herons, and cormorants.
Pet-Friendly Parks
Only some parks in Bangkok allow pets. See our list below. If you take your fur baby to a park, read signs and follow regulations. Parks are patrolled by security who will remind you if you are breaking the rules.
Pet Etiquette
Good doggies will always be on leashes and accompanied by owners over 16-years of age. Pet slaves will always clean up after pets and put sealed bags of poop in appropriate trash cans. Pet food is generally not allowed. Pets may not be able to swim in water features.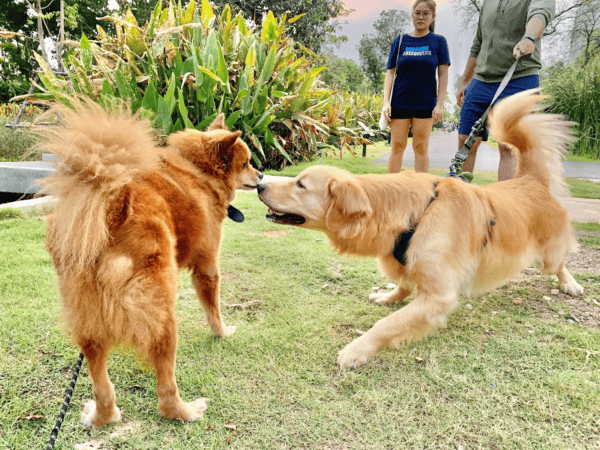 Dogs must be vaccinated and registered. Aggressive dogs are not welcome, you must be able to keep them under control. Overall, you are responsible for the behavior of your pet. If they hurt humans, other pets, wildlife, or damage property, you will be legally liable.
Learn More:
List of Pet Friendly Parks
Here is a quick list of 14 places you can take your furry buddy for a walk in the green grass. See more detailed information on all of these parks below in the big list.
Chulalongkorn University Centenary Park
BMA Dog Park 1 in Vachara Phirom Park
BMA Dog Park 2 in Benchakitti Park & Benchakitti Forest Park
BMA Dog Park 3 in Thian Thale Phatthana Phrueksa Phirom Park
Vibhavadi Rangsit Forest Park
The Ministry of Public Health Park
Sports Authority of Thailand in front of the Rajamangala National Stadium
Pet Park by Jerhigh Jinny inside Chatuchak's Rot Fai Park
Some parts of Bueng Kum Khlong and Lake
Arboretum Klongchan Park
Nong Bon Lake Park
Some parts of The Green Lung
Siangpure Bike Park
Maybe Chaloem Phra Kiat Mahat Thai Park (Unconfirmed)
The Big List of Bangkok Parks
The below list of parks and green spaces in and around Bangkok is divided by general district, suburb, or popular area.
Note: Because of the casual manner in which Thai writing is transcribed phonetically, the Romanized names of all these parks can vary.
The CBD Area
All the parks around Pathum Wan เขตปทุมวัน and Khlong Toei เขตคลองเตย. These parks are all fairly accessible by a walk from the skytrain BTS or the underground MRT.
Lumphini Park
Arguably Bangkok's most famous park, this lush green sanctuary is famous for its startling abundance of nonchalant giant water monitor lizards. There is an adorable population of hobo cats in Lumphini and many loud, grumpy crows.
Thai name: สวนลุมพินี
Open 4:30 am to 10 pm
No pets allowed
Cycling allowed between 10am and 3pm
Closest public transportation: Silom MRT
There are many kids play areas, plenty of public toilets, and chairs and tables, and there are huge expanses of lush lawn for picnics with friends. There is even an adorable kids library in the park but most books are in Thai.
The watersports in the park got a recent upgrade with brand new canoes, row boats, and swan-shaped paddle boats for fun and fitness on the large southern lake. As of October 2022, these activities were free for public use, but that situation might change.
A full loop of Lumphini will put about three kilometers on your fitness app. The park includes a fantastic youth center and sports complex with a gym and lovely outdoor pool. To use the facilities, you must register first.
You will need a medical certificate and your passport then the staff will create a membership card for you. They do practice dual pricing. Annual membership for Thai people is 40 baht and for foreigners it's 300 baht. A one-time 1.5 hour swim will cost 150 baht. Note that they require conservative swimsuits, no bikinis.
Chulalongkorn University Centenary Park
This uni student hangout is pretty new, having been built in 2017 with the local environment in mind. It has wetlands with built-in water filtration systems, it can combat flooding with rainwater collection and retention ponds, and serves as a beautiful university events space.
Thai name: อุทยาน 100 ปี จุฬาลงกรณ์มหาวิทยาลัย
Open 5 am – 10 pm
Pet-Friendly
Cycling only allowed on the bike paths surrounding the park
Closest public transportation: Hua Lamphong MRT
While this park is small with a 1 kilometer perimeter, the park is just a central feature of the renovated local area. The government carefully planned and created what they dub a "green corridor" which stretches north/south all the way from Rama 4 Road to Rama 1 Road with the park smack bang in the middle.
This strip of roadway was greenified and the sidewalk on both sides was widened to create pedestrian and bike friendly paths that make Soi Chulalongkorn 5 the most walkable street in the city. Learn more about this cool park and surrounding area here.
Benjakitti Park
Built in the early 90s, Bechakitti is the OG of Bangkok's leisure spaces. A massive lake is surrounded by a 2 km walking/running path.
Thai name: สวนเบญจกิติ
Open 4:30 am – 9 pm
Pets allowed only in the adjoining BMA Dog Park section to the north of the park
Cycling was previously allowed but banned in recent years
Closest public transportation: Queen Sirikit MRT
Recently, the south end of the park opened up to connect it to the grand new Queen Sirikit National Convention Centre where you can enjoy several dining options. The park helps connect Rama 4 and Sathorn to Sukhumvit at Asoke.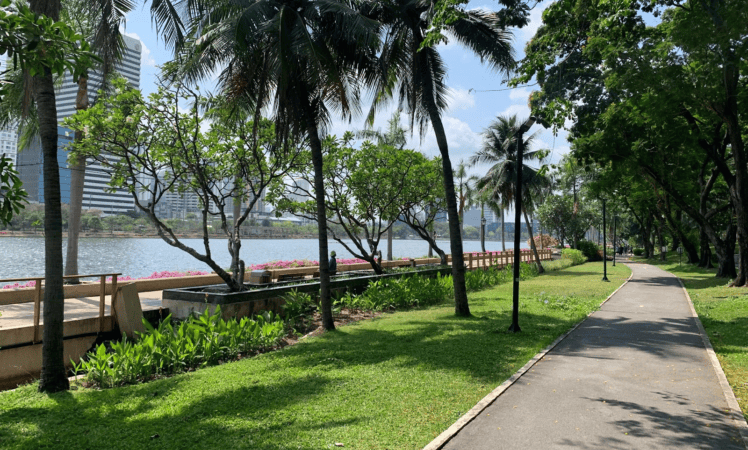 While the new Benchakitti Forest Park gets all the attention these days, old Benchakitti is still a stunning place to get your steps in, especially after dark as the surrounding highrise lights twinkle on the water's surface.
Currently there are no water activities on the lake, swan-shaped paddle boats of the old days are all gone, as are the bicycles. They changed the rules in recent years and made old Benchakitti a spot for runners and walkers only.
Benchakitti BMA Dog Park 2 is a 650 meter stretch of walkway that runs from the north of old Benchakitti, past the Sukhumvit Soi 10 park entrance, to Sukhumvit Soi 4 Gate Number 3 of new Benchakitti Forest Park. Map Link.
The park is only for dogs and, if you go at sunset on a weekend, it is more like a pooch fashion show, with all the cutest pups being paraded up and down the catwalk. Sorry, no cats allowed.
While dogs may not stray outside of the good boy area, if you happen to be on the Rama 4 side of the park, you can also walk dogs just outside the Benchakitti Forest Park's south gate on the green grounds of the Tobacco Authority of Thailand Map Link
Benjakitti Forest Park
The highly anticipated extension of Benchakitti was worth the wait. This park is absolutely stunning, practical, and showcases the thoughtful care taken to create a natural, wild park with native plants that all serve a purpose to create a symbiotic, flourishing ecosystem.
Thai name: สวนป่าเบญจกิติ
Open 5 am – 9 pm
Pets allowed in the adjoining BMA Dog Park section in the northeast corner
Cycling allowed on marked paths from 6 am to 5:30 pm
Closest public transportation: Khlong Toei MRT
Popular with bird watchers, cyclists, families, and selfie-seekers, Forest Park is massive, practical, and aesthetically pleasing. The elevated walkways amongst the treetops are especially popular with content creators and the cool lighting at night really sets the scene for a photoshoot.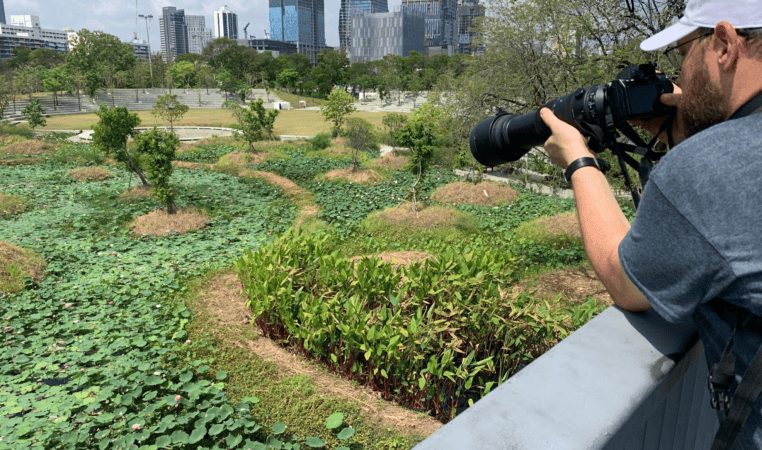 About the same size as Lumphini, a walk around Forest Park will cost you about 4000 steps and nearly three kilometers.
We love this park, but we do have one question for the Thai government: why are there grumpy security guards stationed at the southern space dubbed the Benjakitti Forest Park Museum (พิพิธภัณฑ์สวนป่าเบญจกิติ) who scream at you any time you walk near the area? It is a cool spot that we want to explore.
Bangkok Linear Park
This green walkway was under construction forever and finally opened to the public in March 2023.
Thai name: สวนเพลินจิต
Open 5 am – 10 pm
No pets
No bicycles
Closest public transportation: Khlong Toei MRT & Phloen Chit BTS
It is a 2.2 km stretch of green walkway that runs from Phloenchit at the very start of Sukhumvit Road and goes south to Rama 4 road along the whole stretch of Thanon Duang Phithak.
In April, 2023 new signs went up excluding bikes and pets.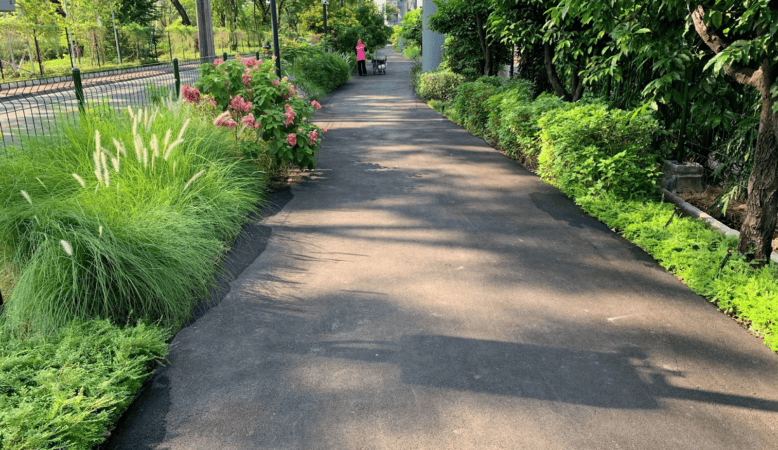 The whole walk will take you 30 – 40 minutes, it has brand new public toilets, cute benches for resting, and an abundance of gorgeous greenery which completely blocks your view of the adjacent highway.
The Linear Park connects to the Green Mile at its center point so you can continue your walk to Old Benchakitti or Lumphini. There is also a mini indoor gym at this center point of the walkway.
Benchasiri Park
In the midst of all the commerce, it is lovely to be able to wander through the lush trees, contemporary art installations, and pretty water features of this small but well-established park that has been there since 1992.
Thai name: สวนเบญจสิริ
Open 4:30 am – 10 pm
No Pets
No Bicycles
Closest public transportation: Phrom Phong BTS
This little sanctuary provides shoppers with a touch of nature in the heart of Phrom Phong. She is just a small oasis with an 800 meter circumference, but she is charming. There's a skate park, swimming pool, and a great kids' playground.
Right next to the glamorous mall sisters, Emporium and Emquartier, Benchasiri will soon have a new mall neighbor in the form of Emsphere, the latest mega glam mall to be completed by December 2023.
Old Town Area
Phra Nakhon เขตพระนคร is the small district of Bangkok that is home to all the important stuff like the Grand Palace and the most sought after bits of riverfront real estate.
Saranrom Palace Park
A stunningly green oasis in the middle of old town. While a walk around the whole park will only put around 800 meters on your fitbit, this park still feels like an ancient royal garden. You can imagine princes and princesses wandering around it in 1866.
Thai name: สวนสราญรมย์
Open 4:30 am to 9 pm
No pets
No bicycles
Closest public transportation: Sanam Chai MRT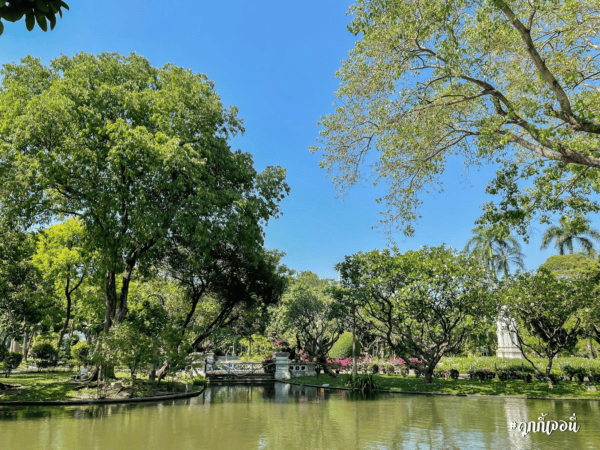 Saranrom Palace Park sees traditional buildings and salas next to ponds that are full of life, and great bodhi trees that feel like they might have been there for a thousand years. Find it right next to The Grand Palace and Wat Pho.
Romaneenart Park
Located on the former site of Klong Prem Prison of 1944, it is still known by locals as Khuk Kao (old prison). Guard towers and some prison barracks are still standing today.
Thai name: สวนรมณีนาถ
Open 5 am – 9 pm
No pets
No bicycles
Closest public transportation: Sam Yot MRT
This little square park feels a bit dated with old gym equipment and weights which can be used for 30 baht and a skatepark that could use some work. But Khuk Kao is very cute and peaceful. The 700 meter running track is popular with locals after work.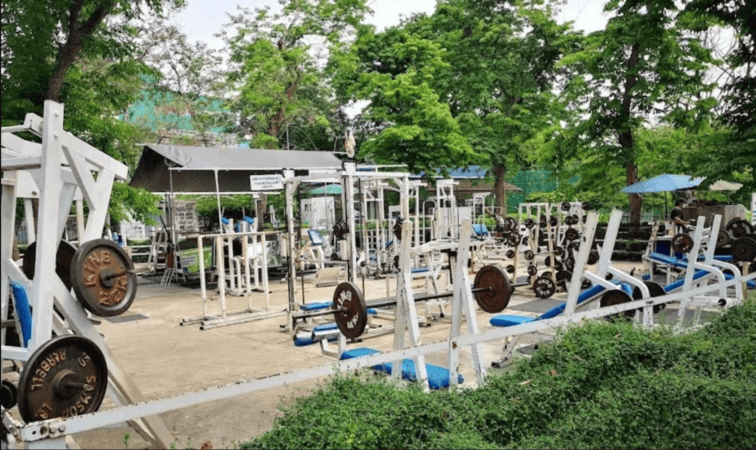 A loss to the park is the recent permanent closure of the Corrections Museum, a macabre ode to life in a Thai prison complete with gory displays including wax figures reenacting execution by rifle. The museum seems to have closed sometime in 2017 and there is no information on what will happen to it in the future.
Santichaiprakarn Park
A tiny park, but interesting because of the cool old Phra Sumen Fort ป้อมพระสุเมรุ and its river's edge location with amazing views of Bangkok's beautiful golden Rama 8 suspension bridge. It frequently hosts art events and religious fairs.
Thai name: สวนสันติชัยปราการ
Open 5 am – 9 pm
No bicycles
No pets
Closest public transportation: Phra Arthit Ferry Pier
A great starting point to walk the riverside path. One of the few places in Bangkok where the river access is not blocked by private properties. You can walk from the park, past Phra Arthit pier up onto the Pinklao Bridge. This pedestrian friendly, 1km walk ends at Phra Pinklao Bridge pier where you can continue your siderside adventure by ferry.
Phra Pok Klao Park (King Prajadhipok's Garden)
Phra Pok Klao Park on its own does not have much to offer other than being a much needed bit of greenery in Bangkok. We include it here because it is one part of a 3-park adventure across the Chao Phraya River.
Thai name: สวนสมเด็จพระปกเกล้าฯ
Open 5 am to 8 pm
No pets
Bicycles allowed on the path to the sky park
Closest public transportation: Memorial Bridge Ferry Pier
You can walk around it, and it is quite pleasant. There are also basketball courts under the bridge. But the main reason for visiting is that it acts as a base for people to walk across the Phra Pok Klao Bridge which was transformed into a green walkway in 2020.
Note, the area will be disrupted by construction for the new underground MRT purple line for the next couple of years.
Take the stairs or elevator up from Phra Pok Klao Park to the Chao Phraya Sky Park!
Chao Phraya Sky Park
What was once an abandoned light rail train line, is now a stunning garden in the sky. The initiative has been a long time in the making, but city dwellers were rewarded in late 2020 when the bridge park finally opened.
Thai name: สวนลอยฟ้าเจ้าพระยา
Open 5 am to 8 pm
No pets
Bicycles allowed
Closest public transportation: Memorial Bridge Ferry Pier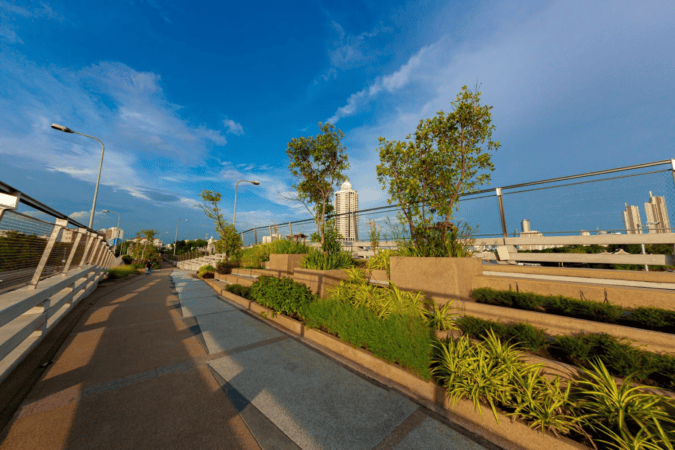 Sandwiched between the two sides of the bridge, with three lanes of traffic on either side, this creative use of space is much more appealing than it sounds thanks to carefully thought-out elevated design and plant selection.
Go at sunset to marvel in the splendor of the Chao Phraya River, a skyline dotted with temples, and the mesmerizing flow of the boat traffic below.
Chaloem Phra Kiat Forest Park
The Khlong San end of the 3-park adventure ends at Chaloem Phra Kiat Forest Park.
A park with a focus on fitness. The tall highway overpasses provide shade which is used for basketball, badminton, ping pong, even a Muay Thai ring!
Thai name: สวนป่าเฉลิมพระเกียรติ
Open 5 am to 8 pm
No pets
Bicycles allowed on the path to the sky park
Closest public transportation: Memorial Bridge Ferry Pier
You can do a virtual walk through the park in this Youtube video if you are interested in a closer look.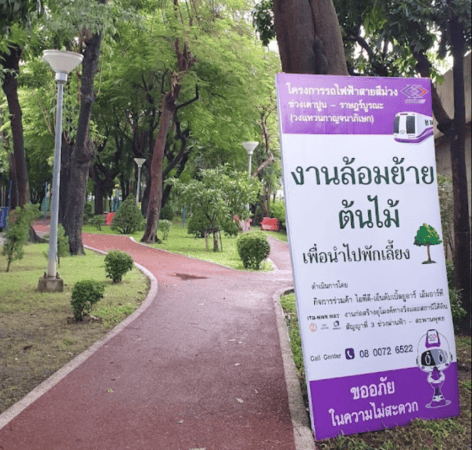 In bad news for the park, but good news for future commuters, the MRT is extending the purple line south and it will go directly under this park.
New signs in the park appeared a couple of months ago stating that trees and the jogging track are going to be moved. This construction will take several years. We do not know the fate of the park at this time.
Bangkok's Close Northeast
From Phaya Thai เขตพญาไท and Ratchathewi เขตราชเทวี into Din Daeng เขตดินแดง and Huai Khwang แขวงห้วยขวาง, these northern Bangkok suburbs are known to be a bit hipster and filled with hidden gems. Green spaces included.
Santiphap Park
The park has a walking track that is about 1 km long around several small ponds that will take around 15 minutes to do a full circuit. It has a stunning selection of orchids, sunflowers, and other blossoms including a greenhouse area.
Thai name: สวนสันติภาพ
Open 5 am to 9 pm
No bikes
No pets
Closest public transportation: Victory Monument BTS
There is an adorable book sharing hut where you can find something to read on the grass. If you are looking for a spot to meet up with friends for a coffee before your walk in the park, head to the Soi Ratchawithi 3 entrance of the park where there are some cute spots like the Let's Say Café.
Pathumwananurak Park
This park has been a source of controversy since its conception and it was finished back in 2018 but then locked up for nearly 5 years, finally opening in July of 2023.
Thai name: สวนปทุมวนานุรักษ์
Open 10 am to 6 pm 
No dogs or bikes
Closest public transportation: Chit Lom BTS
The park was never able to open because of two homeowners who refused to budge while the park was built around their houses. It was once home to more than 1000 families, but as the government claimed the land for public use, most residents took compensation and moved out.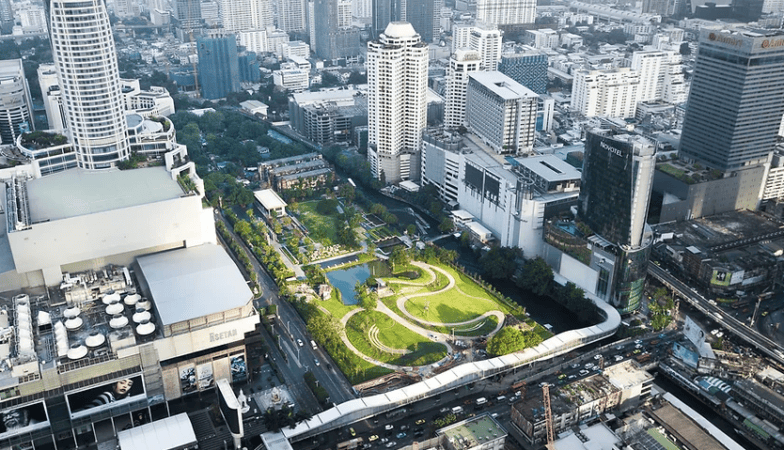 In January of 2023, the final 2 houses were demolished, and in July the park finally opened to the public. We just hope those final homeowners were fairly compensated when they were forced to leave. 
The park is a lovely oasis in the center of Bangkok's hectic fashion and shopping district. A circuit of the park will rack up about 1.5 km on your fitness app. It has five areas: a purification center, outdoor theater, walking path, green forest, and rest area.   
Bangkok Youth Center (Thai – Japanese)
A very popular spot for early evening exercise time with locals. You will find families running, jogging, and just hanging out.
Thai name: ศูนย์เยาวชนกรุงเทพมหานคร ไทย-ญี่ปุ่น (สนามกีฬาไทย-ญี่ปุ่น ดินแดง)
Park area open 4:30 am to 9 pm. Center opens at 10 am
No pets
No bikes
Closest public transportation: Phra Ram 9 MRT
Around since 1982, it is a dated facility, but still has a lot going for it if you want to meet locals, join sports teams, and get fit without spending any money. If you can't abide by the exorbitant prices private gyms charge in Bangkok, this spot might be for you. The membership is 40 baht per year. Nope, that price is not missing any zeros.
With outdoor and indoor tennis, volleyball, squash and badminton courts, a weightlifting gym, Thai boxing ring, soccer fields, running track, swimming pool, and so much more, this is just a fun community space. There is even a kids playground.
Vibhavadi Rangsit Forest Park
Just 200 meters down the road from the youth center is a gorgeous little green space of the more relaxing variety. A full circuit of this park is only about 800 meters but it is one of the rare green spaces in Bangkok that is not locked behind a tall fence.
Thai name: สวนป่าวิภาวดี
Open 24 hours
Pets allowed
Bicycles allowed
Closest public transportation: Phra Ram 9 MRT
Open 24 hours and pet friendly (there is even a veterinarian office inside the park), this narrow stretch of public garden has charming water features and plenty of tall shady trees. While it might not be worth the journey if you aren't nearby, it is a great little sanctuary for Din Daeng residents.
MRTA Health Park
Opened to the public in late 2022, the whole area used to be closed off for government offices belonging to the state owned Mass Rapid Transit Authority. You can't even check it out on Google Street View.
Thai name: สวนสุขภาพ รฟม
Not pet-friendly
No bikes allowed
Closest public transportation: Phra Ram 9 MRT
It features a 1km square track around the lake which has an island in the middle which is scattered with cute wooden pagodas for resting in. There are two separate tracks around the central lake, one for a leisurely stroll and one for hard core runners.
Bangkok's Far North
From the famous Chatuchak แขวงจตุจักร to the suburbs of Nonthaburi เทศบาลนครนนทบุรี, here are all of Bangkok's northern parks.
Chatuchak Metro Park
This mega three-park area is almost 8 km in circumference and you can easily spend a whole day out there shopping, picnicking, and watching scurrying squirrels.
Thai Name: สวนจตุจักร
Open 4:30 am to 10 pm
Bikes allowed in designated areas
Pet friendly in one part
Closest public transportation: Chatuchak Park MRT or Mo Chit BTS
Really three parks all rolled into one, Chatuchak park is connected to Queen Sirikit Park สวนสมเด็จพระนางเจ้าสิริกิติ์ฯ (open 5 am to 8 pm) and Wachirabenchatat Park (Rot Fai Park) สวนวชิรเบญจทัศ (สวนรถไ) (open 5 am to 9 pm).
Chatuchak Weekend Market can be found at the south gate of the park. There is a bike track in the Rot Fai park area and even bicycle rentals. Just stick to bike marked paths.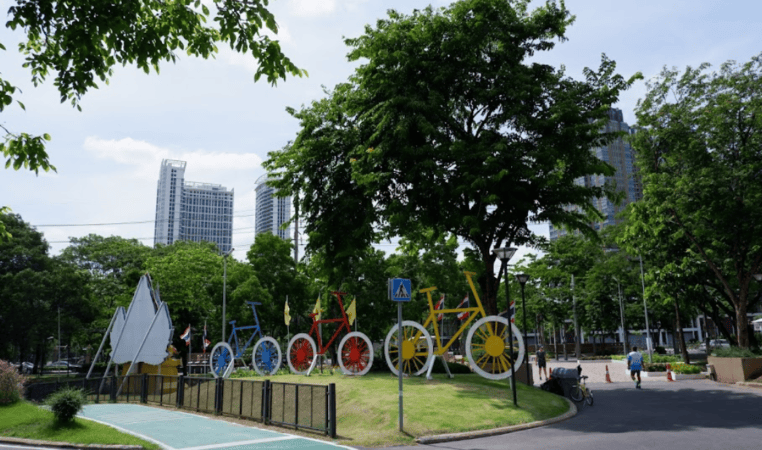 The area is home to the very cool Children's Discovery Museum for the kids to get their science on. There is also a lovely huge butterfly atrium, sunflower fields, bird-spotting areas, basketball courts, a skate park, many outdoor gyms, playgrounds, and so much more.
Very recently, they finally opened a section of the huge park to pets. Pet Park by Jerhigh Jinny is on the north end of the park and caters to both dogs and cats!
The Wachirabenchatat Sports Center has swimming pools, gyms, tennis, football fields, and more for the fitness fanatics out there. Yearly membership is 60 baht for Thai adults and 300 baht for foreign adults. Pool use is an extra 150 baht per time for foreign members.
When shopping at Chatuchak Market (JJ Market) gets too hectic, it is nice to have this park to relax in. We only ask that you NEVER support the JJ Chatuchak Pet Market which promotes the illegal exotic pet smuggling trade and animal abuse.
The Ministry of Public Health Park
One of the park's unique features is its Health Garden, which features various plants and herbs known for their medicinal properties as part of traditional Thai medicine.
Thai name: สวนกีฬา กระทรวงสาธารณสุข.
Open 5 am to 9 pm, but Fri/Sat/Sun it's open 24 hours.
Areas of the park are pet-friendly
Bikes allowed
Closest public transportation: Ministry Of Public Health MRT
Pet owners can walk their best friends on the grass around the soccer field. The complex includes a pretty lake area, playgrounds, several walking tracks, an olympic-sized pool (Adults 50 baht, children 30 baht), basketball and tennis courts, and a gym. The gym is well equipped and very affordable at 60 baht per day, 600 baht per month, or 5000 baht per year.
Chaloem Kanchanaphisek Park
Dotted with temples, pagodas, and pavilions, an interesting feature of this Nonthaburi Sanctuary is the family of flamboyant peacocks who live in the park. Check out Aladdin's photos here.
Thai Name: อุทยานเฉลิมกาญจนาภิเษก
Open 5:30 am to 7 pm
No pets
No bikes
Closest public transportation: Nonthaburi Ferry Pier
This charming park is mostly water features. It is about a 2 kilometer walk around the whole area and it sits on the banks of the northern bit of Chaophraya River next to the pretty Maha Chesadabodindranusorn Bridge.
Bangkok's Far East
From Nong Bon แขวงหนองบอน to Samut Prakan สมุทรปราการ all the way out to Suvarnabhumi Airport, there is plenty of green in the eastern burbs.
In very exciting news for these spots, the MRT Yellow line from Lat Phrao to Samrong are running. There is a Rama 9 Park stop that will make this area so much more accessible!
King Rama IX Park (Suan Luang Rama IX)
One of Bangkok's biggest parks, King Rama 9 comprises three sections that can take hours to explore fully. The entrance fee for the park is 10 baht per person but free before 9am and after 5pm.
Thai Name: สวนหลวง ร.9
Open 5 am to 7 pm
No pets
Bikes allowed on designated tracks
MRT Yellow Line – Suan Lang Rama IX

There is a lovely public pool that is 100 baht for adults and 80 baht for children, and well-maintained tennis courts can be rented for 250 baht per hour. You can rent a paddle boat on the lake and it is perfect for picnics.
The park features an incredible botanical collection and their website is a great resource for budding botanists with every plant species listed. There is a mini botanical garden, a geodesic dome full of desert plants and cacti, sunflower fields, an orchid greenhouse, a jungle area known as Rommani Garden, Chinese and Japanese gardens, and so much more.
It is also close to the Srinagarindra Train Night Market, so you could time your park visit to end with a delicious meal of street food and a bit of shopping over there.
Nong Bon Water Sports Center – Nong Bon Lake Park
It is a beautiful, shady, wild feeling place just on the city outskirts but feels a million miles away. This is a very popular cycling and dog-walking spot.
Thai Name: สวนสาธารณะบึงหนองบอน
Open 5 am to 6:30 pm
Pet-friendly
Bicycles allowed
MRT Yellow Line – Sri Udom
The park area is a massive 4km loop around a stunning lake made for watersports and activities. You can rack up a few extra kilometers by exploring the two grassy island bridges that extend across the lake.
There is a watersports center where you can sign up for classes and rent equipment for windsurfing, kayaking and sailing and there is a bike rental hut – where bikes are 50 baht for 2 hours – as well as a floating soccer field.
For non-Thais between the ages of 8 and 60, you can become a member for 300 baht a year. For non-Thais age 61 and above, the fee drops to 150 baht a year. If you have Thai children ages 6 to 18, the fee is 20 baht per year for them.
A membership gives you access to all the water sports, which includes kayaking, boating, and more. You can also take kayaking and boating classes with an instructor.
To sign up, you have to bring a copy of your passport or Thai driver's license and two visa-size photograph.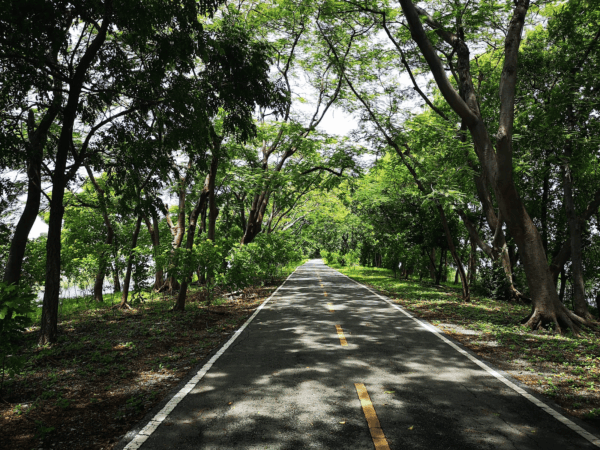 Nearby, you will find Happy Bike Shop, a cute cafe with great coffee that also happens to rent and even sell bicycles and equipment if you are inspired to become a more serious cyclist.
This is really a puppy paradise where dogs can live their best lives. There are signs in some areas that dogs must be on a leash. In other parts of the park though, dogs run free and even swim.
Happy & Healthy Bike Lane
HHBL is a 24 km bike track that has so much to offer even non-bikers and is totally worth the trip out to the airport.
Thai name: สนามลู่ปั่นจักรยานเจริญสุขมงคลจิต
Open 6 am to 9 pm
No pets
Definitely bikes
Closest public transportation: Airport Rail Link Suvarnabhumi
It includes an incredible kids biking area with obstacles and supervision. There is an outdoor gym and around 10 different food and drinks venues including restaurants and a 7/11 (no alcohol). They also have health stations and medical professionals on hand. Correct equipment is needed to ride on the big track, sandals are forbidden.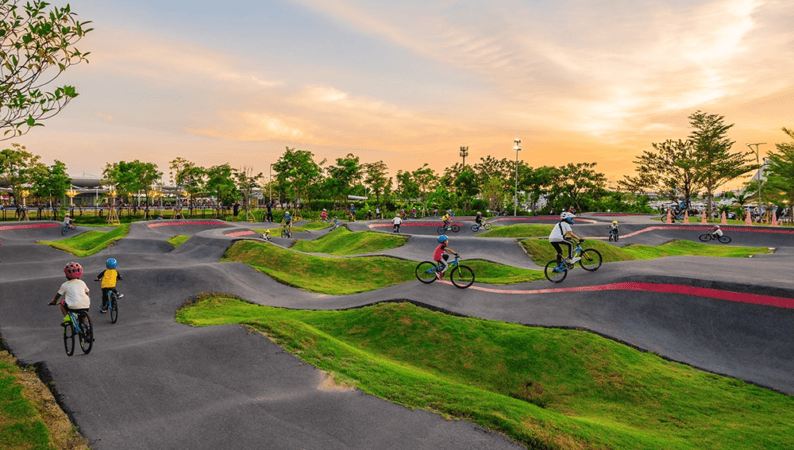 They rent good quality cyclist bikes there along with helmets starting at 420 THB / 4 hours and going up to the most fancy bike for 1,500 THB / 4 hours.
You do need to register for a wrist pass (SNAP-eWallet) which everyone needs to use the cashless facility, take your passport to become a member or apply for a visitors pass for the day.
If you are a beginner cyclist you do not have to jump on to the 24km track. You can either cycle or walk or run along the new 1.5 km Jogging & Cycling Track that is 5 meters wide and features a rubber soft-impact tack surface.
The Metro Forest
A small but dense and impressive pocket of lush forest with a captivating skywalk over the canopy.
Thai Name: ศูนย์เรียนรู้ป่าในกรุง ปตท
Open 9 am to 6 pm
No bikes
No pets
Closest public transportation: Airport Link Soi Wat Lan Boon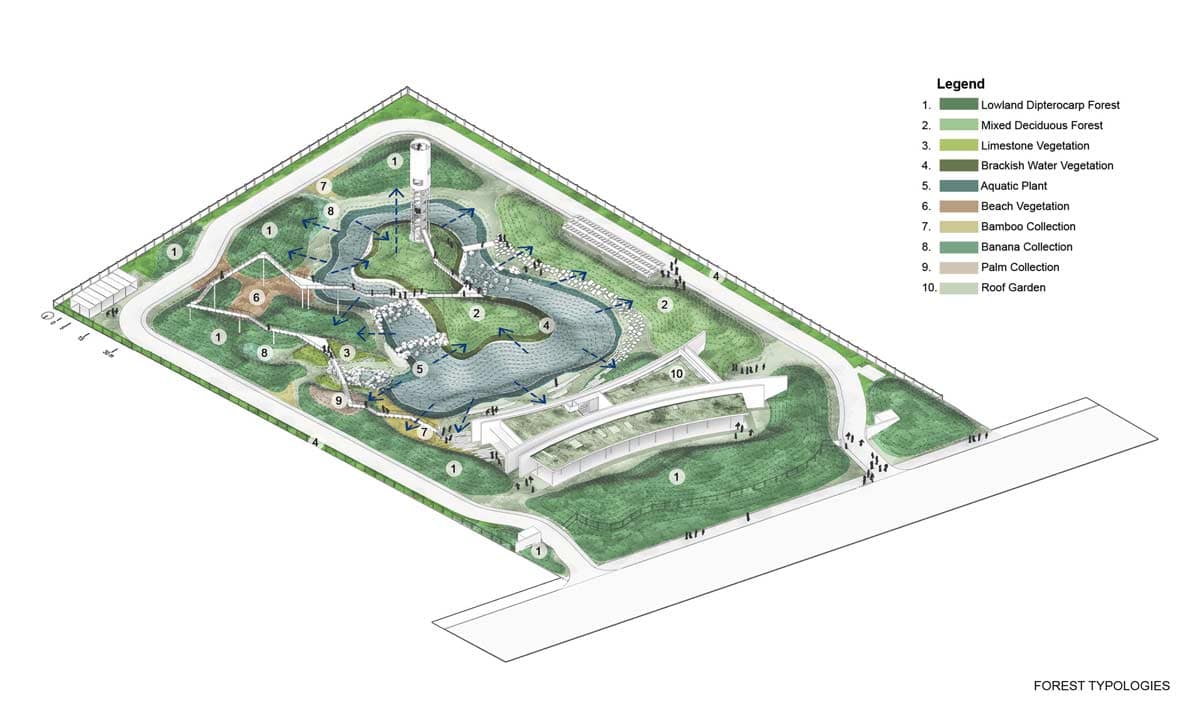 This urban forest learning center was built in 2014 as a project for ecological regeneration. Designed as a space, not just for a lovely afternoon walk in the forest, but also to cultivate environmental awareness and educate visitors about local forest ecology.
Around 60,000 trees, consisting of over 279 distinct species, were planted on the lot and they have all grown up beautifully. A great place for a family afternoon to learn about reforestation.
Chaloem Phra Kiat Mahat Thai Park
This little local park with a big lake won't be attracting many tourists as it is very close to the super park of King Rama 9. But we add it here for its lovely lake and calm local vibes.
Thai name: สวน 50 พรรษา มหาจักรีสิรินธร
Open 5 am to 9pm
No bikes
Pets might be allowed?
MRT Yellow Line – Suan Lang Rama IX (opening soon)
We also include this cute park because it might be pet-friendly. According to Google Maps info the park allows pets, we can find no signs at the front gate prohibiting pets, and there is one photo of a cat on a leash in the park. However, this park appears on no other Bangkok pet-friendly park lists, so we present it here but with a question mark. Please let us know if you do visit the park with your furry buddy.
Bangkok's Far Northeast
These parks stretch into Bangkok's outer north eastern suburbs from the Bang Kapi District เขตบางกะปิ to the Bueng Kum Area เขตบึงกุ่ม and up to Bang Khen เขตบางเขน.
Vachara Phirom Park
This old park feels quite run down these days and could certainly use a facelift. However, if you are out in that area, it is a great spot for a walk or to walk your puppers.
Thai name: สวนฯวัชรพล
Open: 5am to 8pm – dog park: 7am to 8pm
Dogs allowed in the dog area
Cycling allowed on the marked path
Closest public transportation: 5 km from Wat Phra Sri Mahathat BTS
There are good paths for running and riding bikes, there are basketball courts, children's playgrounds, and the main reason people visit, the BMA Dog Park 1 สวนวัชราภิรมย์.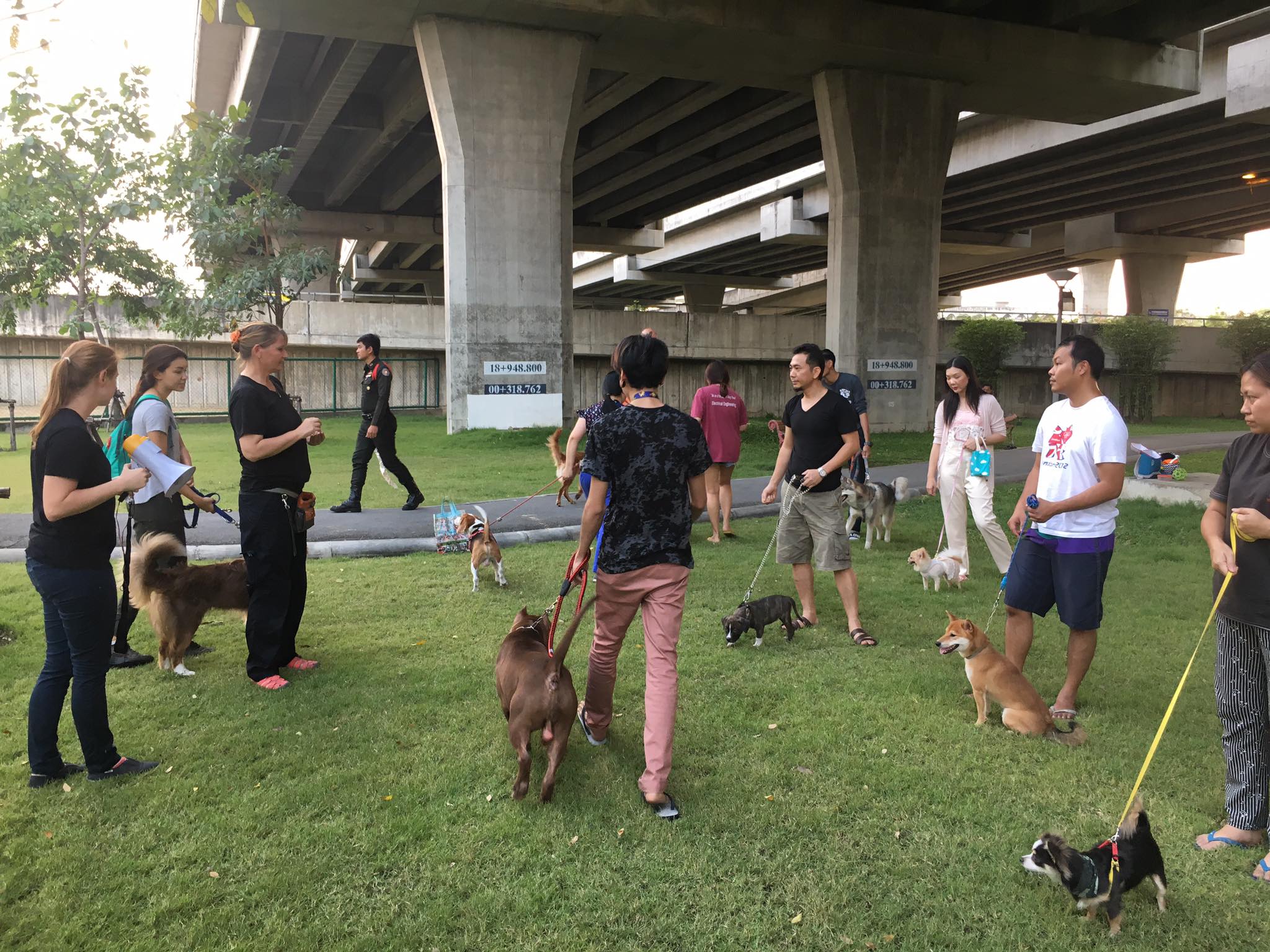 This was the first BMA Dog Park established in Bangkok in 2015 and a very popular spot for local pooches to gather and make new friends.
72nd Anniversary Water Park – Bueng Sakae Ngam Public Park
In 2014, the Bangkok Metropolitan Administration took this piece of unused swampy land just past Min Buri and turned it into a stunning family-friendly park area with bike rental facilities.
Thai Name: สวนน้ำเฉลิมพระเกียรติ 72 พรรษา(สวนสาธารณะบึงสะแกงามสามเดือน)
Open 4 am to 7 pm
No pets
Bikes allowed
Closest public transportation: Hopefully the MRT Orange Line to Minburi will be open this year. Till then, the closest bus stop is Waree Phirom Park.
The park comprises a 4km long loop around a lake for walking or bike riding. There is a picturesque suspension bridge over the water, locals bring their adorable water buffalo down to the water for grazing in the mornings, and there is some great kids play equipment.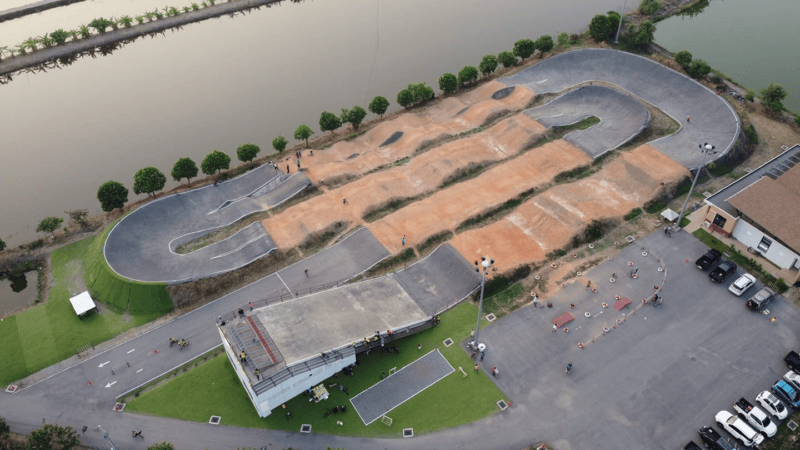 Just up the road a bit from this park is the Waree Phirom Sports Center BMX Track (ศูนย์กีฬาวารีภิรมย์) where biking tricksters can get some air time on the jumps and hills of this cool course. Here is the exact location.
Seri Thai Garden
This surprisingly pretty and green oasis comprises a series of walking paths around a clean and wide section of the canal.
Thai name: สวนเสรีไทย
Open 5 am to 9 pm
No pets
Bikes allowed
Closest public transportation: Muban Sahakon 4 bus stop
The walking path is a 2km loop lined with palm trees, ancient banyan trees, curated flower gardens, children's play areas, and photogenic bridges. On Google maps, the area is not even marked in green, so it is a surprise how lovely it is.
Bueng Kum Khlong and Lake
Along the same stretch of canal and just 2 km west of Seri Thai Garden is this lake area that cannot be classified as a park by any means but is still an interesting pocket of nature.
Thai name: คลองล่าบึงกุ่ม
Open 24 hours in parts
Parts are pet-friendly
Bikes allowed in parts
Closest public transportation: Lumpini Condo Town Nida – Serithai
It is mostly residential but there is quite a lovely walking track around the massive lake. Especially by the south bank. It is not fenced, open 24 hours, pet-friendly (though watch out for street dogs), and quite a wild and authentic place to explore.
Nawamin Phirom Park
Just 1 km southwest of Bueng Kum Khlong is another gorgeous renovated public park. Basketball courts and children's playgrounds are a bit run down, but this pretty stretch of canal is great for runners with a 3km loop around the lake area.
Thai name: สวนนวมินทร์ภิรมย์
Open 5 am to 9 pm
Pets allowed
Bikes allowed
Closest public transportation: Khlong Boat – Saen Saep Canal – Wat Sriboonreung Pier
Lush, grassy riverbanks are great for picnics, the canal is wide and clean. It also has some cute riverside cafes like Lighthouse on the east bank. Areas of the park were recently renovated and reopened to create a dog park.
Arboretum Klongchan Park
Just a 600 meter walk southwest of Nawamin Phirom Park is this cute little local park that is dog-friendly and popular for its bustling markets and street food stalls at its south and east gates. Go for a real taste of local Thai life.
Thai name: สวนพฤกษชาติคลองจั่น
Open 5:30 am to 8 pm
Pets allowed
No bikes
Closest public transportation: Khlong Boat – Saen Saep Canal – Wat Sriboonreung Pier
To the north of the park, you will find Khlong Chan Stadium soccer field, YJ skatepark, tennis courts, and a grassy area outside the sports field where pets are welcome.
There was a swimming pool at Championship Sports Club, but sadly it appears to have closed in late 2022.
Siangpure Bike Park (Peppermint Bike Park)
Siangpure, the makers of menthol inhalers, have built a fun three-acre bike lane that features hilly terrain, wooden bridges, and obstacles for a 200 baht riding fee. They recently started allowing dog walking in the mornings and entry is free!
Thai name: เซียงเพียว ไบค์พาร์ค
Bikes allowed from 12 noon to 8 pm
Dogs allowed from 6:30 am to 11 am
Closed Tuesdays
Closest public transportation: Not recommended for public transportation. But Khlonglamchiak School bus stop is closest.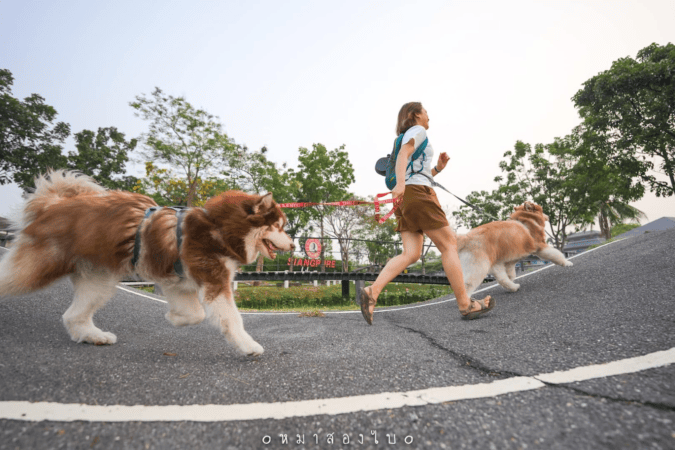 The park has two paths to choose from: the beginner-friendly Fun Track and the advanced Adventure Track, which includes obstacles such as a butterfly wall ride, rocky way, waves wall, and horseshoe turn.
Healthy Park (Fitness Park) – Sports Authority of Thailand
A cute little public park and lush haven in the sporting hub of Bangkok.
Thai name: สวนสุขภาพ
Open 5 to 9 am & 4:30 to 8 pm
No pets
Bikes allowed on the cycling track only
Closest public transportation: Hua Mak Police Station bus stop.
The park itself is really pretty, especially in spring when the cherry blossoms bloom.
This complex is home to the Velodrome cycling track for serious speed bikers. There is also the Hua Mak Skatepark, outdoor rock climbing walls, the Rajamangala National Stadium, the Taekwondo Association, tennis courts, shooting range, archery, the National Sports Museum, National Archery Association, the SAT Swimming Pool, football fields, and more.
West of The River
While most Bangkok expats rarely venture very far across the river, believe it or not, there is a whole other world beyond IconSiam. From Bang Bon เขตบางบอน down to Bang Kachao ตำบล บางกะเจ้า and further south west to Bang Khun Thian เขตบางขุนเทียน.
Sri Nakhon Park – The Green Lung
This stunning park on the Green Lung (Bang Kachao บางกะเจ้า) peninsula/island – which is technically in Samut Prakan – is a nature lover's paradise.
Thai name: สวนสาธารณะและสวนพฤกษชาติ ศรีนครเขื่อนขันธ์
Open 5 am to 7 pm
Used to be pet-friendly but now they are forbidden inside the fenced park area. Pets are still welcome in the rest of the Green Lung area.
Bikes allowed
Closest public transportation: Long boat from Wat Khlong Toei Nok Pier
If you are looking for a place to take your pets, there is plenty of green space on Bang Kachao even outside of the official park. Endless bicycle paths criss-cross the area which is dotted with cafes and thick pockets of thick forest area.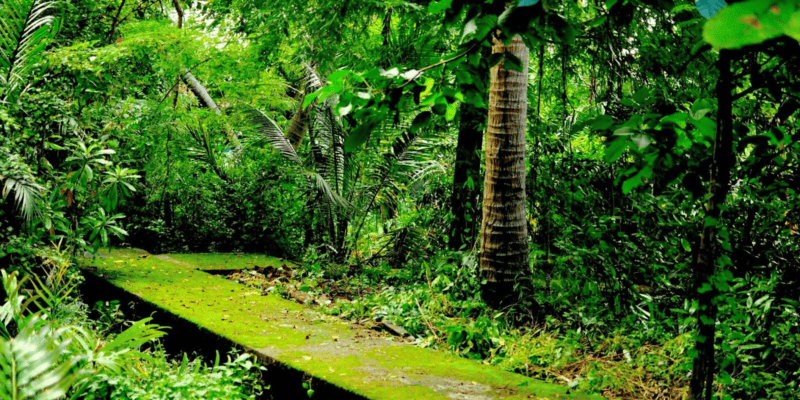 Sri Kakhon Park is popular with bird watchers – and there is even a bird watching tower. It is also perfect for casual cyclists and history and culture buffs.
Make sure you have the whole day to explore Bang Kachao. Take the little boat from Wat Khlong Toei Nok Pier (ท่าเรือวัดคลองเตยนอก) and rent a bicycle for around 100 baht a day from any one of the numerous shops you will find as soon as you land on the peninsula of The Green Lung.
Phutthamonthon Park
Technically just outside of Bangkok's western border, this Nakhon Pathom (เทศบาลนครนครปฐม) park is MASSIVE and absolutely worth the 1-hour drive from downtown.
Thai name: สวน พุธมณฑล
Open 6 am to 6 pm
Pet-Friendly
Bikes allowed
Closest public transportation: We suggest a taxi. Or go to Lak Song MRT and take bus 4-63 to Dome Thammamonthon Sai 4 Park stop.
An important feature of the park is the street dog and cat rescue center at The Dog Island by Pawsome. They rescue, neuter, and treat up to 500 stray dogs at a time. If you visit, please take pet food, blankets, rice, cash, or ask them what they need donated.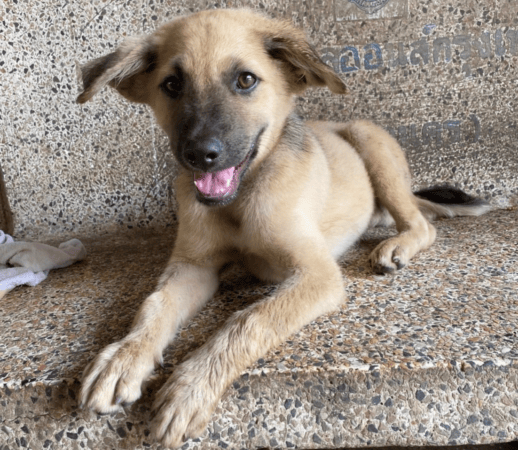 The gigantic Buddhist park has many temples so remember to take a sarong to cover up with if you wish to visit religious sites. There are dozens of food options in the park as well.
While you are out there, don't miss an opportunity to visit the beautiful and educational Sireeruckhachati Nature Learning Park (อุทยานธรรมชาติวิทยาสิรีรุกขชาติ มหาวิทยาลัยมหิดล) which is just next door. It was created by Mahidol University and costs 100 baht to enter, open 6 am to 6 pm (closed Mondays and Tuesdays).
Thian Thale Phatthana Phrueksa Phirom Park
A brand new park that opened in 2022, this large green space in the southwest of Bangkok is modern and lovely but lacking in large old trees, it will take a few years to grow into itself.
Thai name: สวนเทียนทะเลพัฒนาพฤกษาภิรมย์
Open 5 am to 9 pm
Pet-Friendly
Bikes allowed
Closest public transportation: 12 km from Lak Song MRT. We suggest a taxi.
It is home to BMA Dog Park 3 สวนสุนัข ที่ สวนเทียนทะเลพัฒนาพฤกษาภิรมย์ which is the ONLY official off-leash dog park in Bangkok where your hairy homie can break free and run like the wind.
Here is a good video if you want to see what the park is like for your puppers. It is in Thai, but still worth watching if you are deciding whether the journey all the way to Bang Khun Thian District is going to be worth it.
Chaloem Phra Kiat Bang Bon Park
This new park took unused swamp and designed a stunning space that will continue to grow and mature.
Thai Name: สวนสาธารณะเฉลิมพระเกียรติพระบาทสมเด็จพระเจ้าอยู่หัวฯ บางบอน
Open 5 am to 9 pm
Bikes allowed
No pets
Closest public transportation: 12 km from Lak Song MRT. We suggest a taxi.
Their commitment to sustainability and the local surrounding environment is impressive. It is a great place for bike riding on brand new paths. See lots of photos here.
Other Parks in Bangkok Worth Noting
We got overwhelmed writing about all these new places we discovered! There are so many more green spaces in and around Bangkok than we realized, so here are a few more you might want to explore.
Teochew Cemetery Park
Thai name: สวนสุขภาพสมาคมแต้จิ๋ว
Open 5 am to 7 pm
No pets
No bikes
Interesting because: Ancient Chinese gravestones.
Good for: after-work exercise and history
H.M. King IX Park
Thai name: สวนสาธารณะเฉลิมพระเกียรติ 6 รอบ พระชนมพรรษา
Open 5 am to 9 pm
No pets
No bikes
Interesting because: Incredible riverside views
Good for: Free outdoor gym equipment and breezy riverside picnics
Puey Ungphakorn Centenary Hall and Park
Thai Name: อุทยานการเรียนรู้ป๋วย
Open 9 am to 4 pm
No pets
No bikes
Interesting because: It is Asia's biggest rooftop urban farm. Read about it here.
Good for: learning about urban farming and marveling at the stunning ingenuity
Chaloem Phra Kiat Forest Park
Thai Name: สวนป่าเฉลิมพระเกียรติ
Open 5 am to 8 pm
No pets
No bikes
Interesting because: Great local people watching
Good for: stopping in before you walk over the bridge to Old Town for a beer on the riverside.
Wanatham Park
Thai Name: สวนวนธรรม
Open 5 am to 9 pm
No pets
No bikes
Interesting because: Just a cute small and quiet park for jogging.
Good for: those who want to avoid the crowds of Rama 9 Park nextdoor.
King Rama IX Memorial Park
Thai Name: อุทยานเฉลิมพระเกียรติฯ รัชกาลที่ ๙
Set to open in 2024
Interesting because: the decision to take a private racecourse and make it into an eco park in the middle of the city is such a great one.
Suan Phlu Park
Thai Name: สวนสาธารณะสวนพลู
Open 5 am to 9 pm
Interesting because: It shares grounds with The Department of Airports and has art and airplane statues.
Best for: Walking through to get to all the great food and drink spots on Suanphulu.