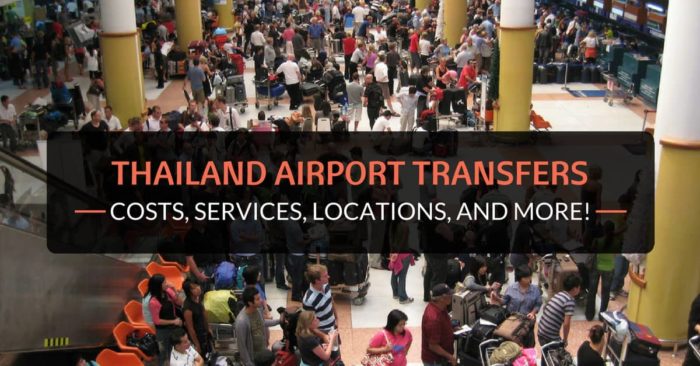 When arriving in Thailand, you may find yourself in need of an airport transfer, either to another location in Thailand or to a nearby country. Thailand airports have a myriad of options, such as private cars, taxis, tuk-tuks, and even helicopters. Knowing which choice is right for will help you transfer from your arriving airport to your final destination more easily.
What You're Going to Learn
In this guide you're going to learn about the airport transfers available to you at popular Thailand airports. And depending on the service you pick, how much Thailand airport transfers cost. You'll also learn the easiest ways to get from one airport to another, and how to get from Thailand to surrounding countries.
This is our guide on Thailand Airport Transfers. If you're looking for more info on airport transfers from Suvarhabhumi or Don Mueang, check out our Bangkok airport transfers guide.
Safety
Whenever you travel, it's a good idea to remain as safe as possible. Read the finer details of staying safe while traveling through Thailand.
Types
In this section you'll find a variety of transportation types you can choose for airport transfers. I've listed airport transfer providers on both sides of the price spectrum and everything in between.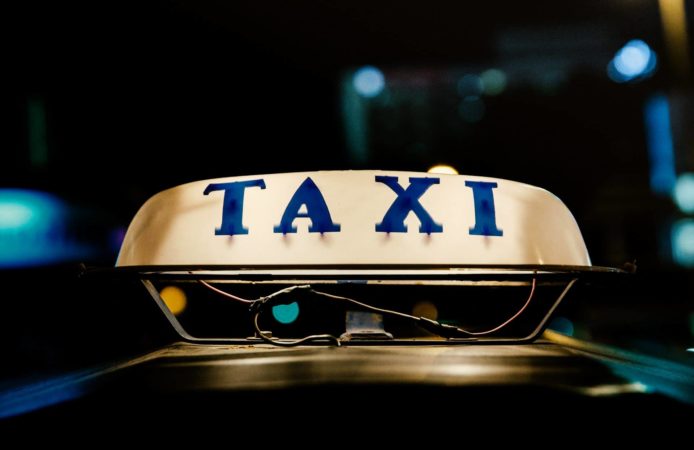 Taxis
Taxis at Phuket, Surat Thani, Chiang Rai, and Chiang Mai airports have taxi stands. But taxi drivers won't use a meter like their associates in Bangkok. They charge you a set price based on where you want to go. But you can also negotiate with your taxi driver.
If you land in any airport outside of Bangkok, it's good to know what you're getting into. Taxi drivers in Phuket, for example, charge up to 500 baht for a thirty minute ride from the airport to Phuket Town. In Bangkok, the same thirty minute commute costs half that price. Read can read complaints about Phuket taxi drivers in this article by Phuket Airport Online.
Before you get into any taxi, ask the driver to turn on the meter. If they refuse, try another taxi. If no taxi drivers are willing to turn on the meter for you, low ball them.
Hotel Transfers
If you want to get an airport transfer to your hotel, some hotels will include the service with your stay. Other hotels may offer you a paid option for an airport transfer when you book your room.
When booking you hotel in Thailand, ask the staff if they offer airport transfers as part of their service. Or ask if you can add it on for an addition charge. Agoda and Booking.com also specify hotels with free airport transfers.
Private Transfers
Tourist destinations are a huge selling point for Thailand. You can get to many of these places using common transportation methods. But some tourist areas are quite remote. If you're staying off the beaten path or on a remote island or in a remote village, you might need to use private transportation.
If you don't plan ahead, you might find yourself stuck at the airport. Not all taxis will take you from Suvarnabhumi Airport to Hua Hin. Especially if their shift is coming to an end. The BTS or MRT might not stretch themselves to your destination as well.
You'll arrive in Thailand with your own budget and needs. So if you want to transfer from any of the airports to remote locations in Thailand, here's the services you can use:
Uber
Uber may not be available outside of major cities. But you can download the app for iTunes or Android and see if they offer services where you're staying. Uber is a great alternative to taxis that might try to scam you in tourist areas.
*Uber already shut down in Thailand in 2018. It was purchased by another major ride-sharing application, Grab.
Helicopters
Outside of Bangkok you might be hard pressed to find a helicopter transfer. But there is one company which flies out of Phuket. If you're interested, check out Skydance. Or check out Thailand's helicopter directory, HeliThai, to see if any other companies fly out of the airports mentioned in this guide.
Boat Transfers
If you want to transfer between Thailand and its islands, boat transfers are your best choice. You could get to any island relatively quick and cheap, while at the same time experiencing the wondrous water scenery throughout Thailand.
Your hotel should be able to book boat transfers for you. They should also be able to arrange a driver to pick you up at the airport and bring you to the pier. If you would like to book your own boat transfer you can try the companies listed below.
Phuket
Samui, Tao, and Phangan
Koh Mak
Koh Lanta
Koh Lipe
Koh Phi Phi
Koh Chang
Airports
Aside from Suvarnabhumi and Don Mueang airports, Thailand has seven other airports that locals and tourists can use to transfer to popular locations inside or outside of Thailand.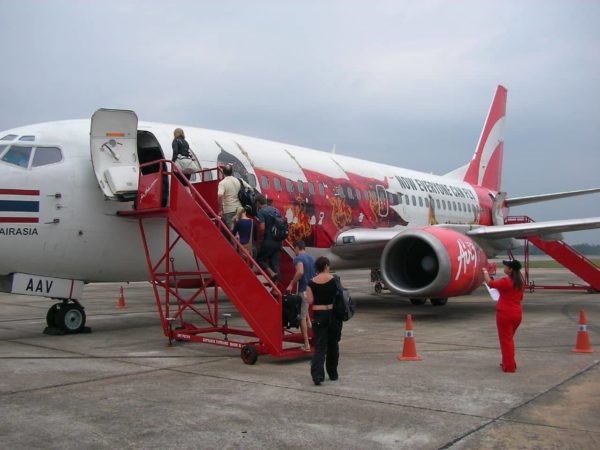 I'll give a quick overview of the main tourist airports in Thailand and the transfer options they have. Since these prices come from a variety of sources, you should use them only as a guide.
Phuket – HKT
Each year, Phuket attracts millions of visitors. This means there has to be ample airport transfers in place.
| | | | | | | |
| --- | --- | --- | --- | --- | --- | --- |
| Transfer Method | Phuket Town | Patong | Kata Beach | Chalong Pier | Krabi (Ao Nang) | Khao Sok |
| Public Taxi | 500 baht | 650 baht | 700 baht | 700 baht | – | – |
| Private Taxi | 799 baht | 799 baht | 849 baht | 849 baht | 2,599 baht | 3,499 baht |
| Bus | 120 baht pp | – | – | – | – | – |
| Van | 150 baht pp | 150 baht pp | 150 baht pp | 150 baht pp | 4,500 baht | – |
| Luxury Private Transfer | 1,149 baht | 1,149 baht | 1,149 baht | 1,149 baht | 3,499 baht | 4,999 baht |
Phuket is infamous for having the most expensive taxis in Thailand. Taxis cost around three to five times the amount you'd pay in Bangkok. You should budget between 400 baht and 600 baht for a taxi ride and an extra 100 baht airport surcharge. If you have more than two people you will likely need another taxi.
The government runs bus stops at many locations on the way to Phuket Town. The service runs every hour. The link above shows the timetable and stops. It costs 120 baht per person and you can buy tickets online. If you are traveling in a group, though, it would be more cost effective to take a taxi.
A van will cost about 150 baht per person. Note that vans stop at each hotel on their route. So it might take longer to reach your hotel than expected.
Chiang Mai – CNX
Chiang Mai is your portal to Northern Thailand. It's the more popular of airports in the north.
Transfer Method
Central Chiang Mai
Chiang Mai Bus Station
Chiang Rai (from bus station)
Pai (from bus station)
Mae Hong Son
(from bus station)
Public Taxi
150 baht
200 baht
–
–
–
Private Taxi
150 baht
200 baht
4,300 baht
3,800 baht
6,000 baht
Tuk Tuk
150 baht
200 baht
–
–
–
Bus
–
–
229 baht pp
–
–
Van
–
–
180 baht pp
150 baht pp
250 baht pp
Luxury Private Transfer
1,000 baht
1,200 baht
4,500 baht
4,400 baht
6,500 baht
Most people transfer from the airport to their hotels using taxis, which cost between 150 baht and 200 baht. Hotels can arrange free or paid-for taxi transfers if you ask for it ahead of time.
Uber is popular in Chiang Mai as a reliable replacement for taxis.
You can take a tuk-tuk, or three-wheeled motor cart, from the airport for roughly the same price as a taxi.
You could use a local bus but traveling with suitcases won't be easy. Buses to other destinations like Chiang Rai and Pai leave hourly from the bus station. A taxi ride from the airport to the bus station will run you about 200 baht.
Chiang Rai – CEI
Chiang Rai Airport is to Northern Thailand what Don Mueang is to Central Thailand. But that doesn't mean airport transfers are less available.
| | | | | |
| --- | --- | --- | --- | --- |
| Transfer Method | Central Chiang Rai | Chiang Mai | Pai | Golden Triangle |
| Public Taxi | 120 baht | – | – | – |
| Private Taxi | 160 baht | – | – | – |
| Tuk-tuk | 100 baht | – | – | – |
| Songthaew | 40 baht | – | – | – |
| Luxury Private Transfer | 1,000 baht | 4,500 baht | 7,500 baht | 10,000 baht |
The taxi rate is 10 baht per kilometer. This means that although the meter will say one price, you will actually pay a higher price.
You can travel by tuk-tuk to the city center for around 100 baht.
There are also local songthaews–converted, covered pickup trucks with benches in the rear–that charge 20 baht to 40 baht per person to go to the center of town.
Finally, some hotels offer pickup service from the airport.
Krabi – KBV
Krabi is another popular airport for those looking to hit the beach. It's not as overrun with tourists, like Phuket, but still offers plenty to do.
| | | | |
| --- | --- | --- | --- |
| Transfer Method | Krabi Town | Ao Nang Beach | Phuket Beach Area |
| Public Taxi | 500 baht | 600 baht | – |
| Private Taxi | 600 baht | 700 baht | 3,500 baht |
| Bus | 100 baht | 150 baht | – |
| Van | 150 baht | 180 baht | – |
| Luxury Private Transfer | 800 baht | 900 baht | 4,200 baht |
The airport is around thirty minutes by bus from Ao Nang, the gateway to Phi Phi and Rei Lay and also a popular tourist destination. Buses and vans make traveling to the airport cheap and easy. But buses don't always run early in the morning or late at night.
Many airlines offer tickets that include boat and bus transfers for Koh Phi Phi. You should look at these for an easy, stress free transfer. You can also book tickets to Koh Phi Phi or Rei Lay at the airport. Just take a look at this guide on Chasing Places for more info and pictures.
Surat Thani – URT
Surat Thani airport is a key location for many people who head for the islands of Koh Tao, Koh Phangan, and Koh Samui. Samui does have an airport but many choose Surat Thani due to the higher frequency of flights and cheaper prices.
| | | | | |
| --- | --- | --- | --- | --- |
| Transfer Method | Surat Thani Town | Don Sak Pier | Phuket | Khao Sok |
| Private Taxi | 500 baht | 1,200 baht | 4,700 baht | 2,000 baht |
| Bus | 150 baht | – | 250 baht | – |
| Van | 150 baht pp | – | – | 300 baht pp |
| Luxury Private Transfer | – | 2,500 baht | 5,800 baht | – |
Most airlines offer tickets for flight and bus transfers or flight and boat transfers. You'll pay around the same price if you book all the transfers yourself. So the option is up to you.
Travel agents sell bus plus boat tickets to Samui starting around 400 baht per person and slightly more for other islands.
If you're staying in town then you can take an airport bus or van into the town center. This will cost 150 baht one way. You can take a taxi but will need to negotiate. Expect to pay at least 500 baht.
Hat Yai – HDY
Hat Yai isn't as popular with tourists as it is with Thais, but it's still an incredible place to experience.
| | | | |
| --- | --- | --- | --- |
| Transfer Method | Hat Yai center (train station) | Koh Lipe | Penang (Malaysia) |
| Public Taxi | 250 baht | – | – |
| Private Taxi | 300 baht | – | – |
| Songthaew | 30 baht pp | – | – |
| Van | 100 baht pp | 850 baht pp (includes boat +van) | 500 baht pp (change van in town center) |
Public taxis cost around 250 baht to the center of town. But limousine services charge 300 baht. A taxi is the best option if you are traveling with 2 or more people.
If you are on a budget then there is an hourly songthaew, which leaves from the end of the parking lot. It costs 30 baht per person and goes from the Central Hat Yai shopping district to the main bus station or train station.
You can also get a seat in a van for 100 baht per person.
Samui – USM
Samui airport is your gateway to Koh Samui, which has somewhat of a reputation for full moon parties and singles looking to have fun.
| | | | | |
| --- | --- | --- | --- | --- |
| Transfer Method | Chaweng | Ferry Pier | Lamai | Phang-Ka |
| Private Taxi | 1,250 baht | 1,400 baht | 1,400 baht | 1,800 baht |
| Van | 130 baht pp | 20 baht pp | 200 baht pp | – |
The airport transfer desk is at the arrivals gate. Samui Airport shows prices for private transfers and van transfers on their website. You may wish to book a transfer via your hotel to save time and money.
International Transfers
When spending your vacations to countries like Cambodia or Myanmar, booking flights into Thailand and then transferring to those countries is much easier than trying to fly directly into them.
Please note the below transfers are available if you have the right visa or can apply for a visa on arrival.
Malaysia
From Hat Yai Airport the process is simple. Get either a private taxi for 300 baht or a van for 100 baht per person to Hat Yai town center. Then tell the driver you're looking for a van to Penang. A van will cost you around 300 baht to 400 baht per person. The other option you have is taking the train in Hat Yai to Penang or other cities in Malaysia. You can find more info, including timetables, on Train36.com.
Cambodia
From Suvarnabhumi you can take a shuttle bus from outside the arrivals gate to the airport bus or van terminal. There you'll find many options to get you to the border. Buses cost 200 baht and leave every hour. The most common option is to arrive at the Poipet border, which is four hours away.
Myanmar
If you have a visa for Myanmar then you can cross via land at Mae Sot. Getting to Mae Sot is possible from most major locations in Thailand, but the easiest option is at Chiang Mai Airport. From Chiang Mai Airport transfer to the main bus station. Then you can catch a six hour bus ride to Myanmar for 180 baht.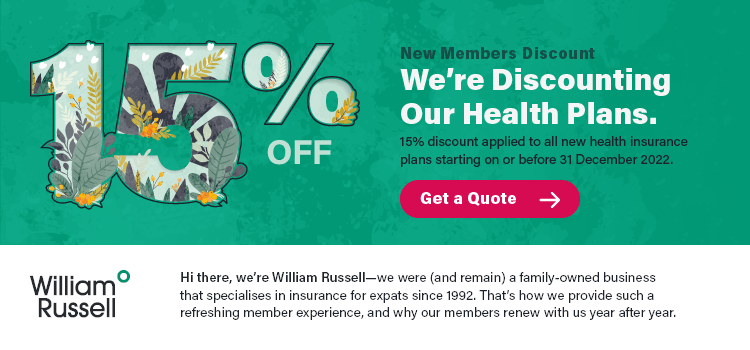 Advertisement
Laos
From Udon Thani airport you can take a limo service which costs around 300 baht to the border. A 20 baht bus will help you to cross into Laos to do your visa on arrival. Then another 20 baht will get you a bus into Vientiane. From here you can travel to Laos or get a hotel.
Singapore
Singapore is a relatively easy destination to reach via air but If you're a train lover then you do have the option of traveling there via train from Chiang Mai, Bangkok, Surat Thani, or Hat Yai. The journey can be up to forty-eight hours. So it certainly isn't a shortcut or the easiest way to travel to Singapore.
Additional Needs
There may be times when you or someone you're traveling with has special needs. If this is the case, the next four sections below are for you.
Children
There may be times when you visit Thailand and need to rent a car. Keep in mind that child seats are not mandatory in Thailand. But Budget Thailand offers child seats for just over 200 baht a day.
Disabled
Accessible Thailand is a great resource for travelers who need extra help.
Pet Transfers
If you'd like to bring your cat or dog to Thailand, read our fantastic guide on importing your pet into Thailand. The article will show you step-by-step how to bring your pet with you to Thailand.
Cargo Transfers
If you've picked up a large souvenir in Thailand and would like it shipped back home, check out our in-depth guide on shipping to Thailand If you'd like something large shipping into Thailand, we have a guide for that as well.
Final Thoughts
Thailand's lesser known airports also have many airport transfer options to cater to every budget. I hope I've given you a starting point for your next airport transfer. If you've recently transferred from one of the airports listed above, tell us about your experience in the comments section below.
Photos courtesy of denverkid and Hajime NAKAMO.