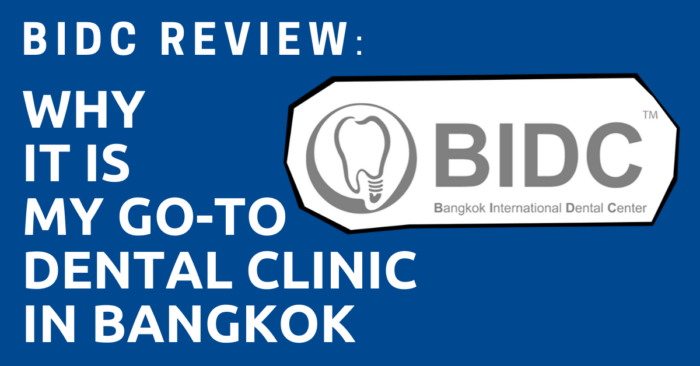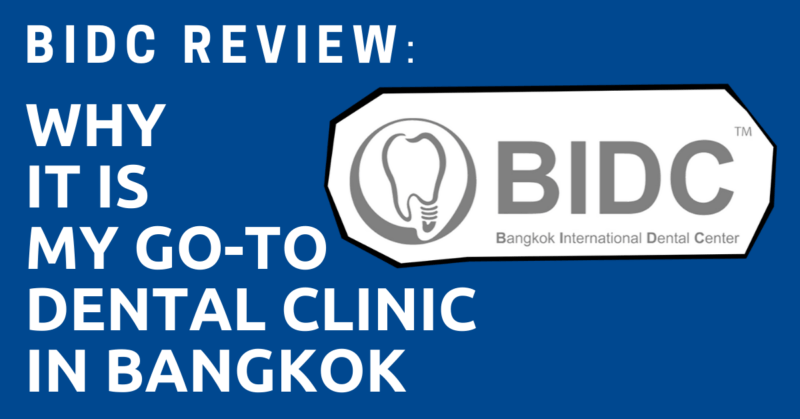 Are you in Thailand short or long-term and need a good dentist in Bangkok?
When I first got to Thailand I was in the same shoes. Luckily for me, right across the street from my office I found Bangkok International Dental Center.
Since then I've been going to BIDC for all my dental work, and I recommend them to everyone who asks me which dental center in Bangkok they should go to.
This guide shows you why BIDC is a good choice for dental work, how to make an appointment with them, and what to expect once you're there.
"*" indicates required fields
Why Bangkok International Dental Center?
I decided to make BIDC my go-to dental center in Bangkok because of how honest and professional they were.
But in case you need some more reasons, here they are:
Personal Reasons
When I first moved to Thailand I was going to a local dentist. But every time I visited the office, the dentist pulled out the drills.
I know Thai food has a lot of sugar in it. But my teeth couldn't be getting that bad, that quickly.
I was always used to my dentist back in Germany, who drilled only when absolutely necessary. BIDC takes the same approach.
I also like how BIDC doesn't try to squeeze as much money out of my pockets as they can.
In fact, one time my dentist at BIDC took an xray of my wisdom tooth and didn't even charge me.
This is why I feel comfortable visiting and recommending BIDC to my friends in Bangkok.
Qualifications of Dentists
All of BIDC's dentists and specialists studied at and are licensed members of the Thailand Dental Council.
Many of their dentists also studied in the USA, UK, and throughout Europe and are American Board certified and internationally accredited.
And in 2010, BIDC was the first dental center in Thailand to get accreditation from Joint Commission International.
Specialists
No matter what type of treatment you need, BIDC has over 60 dentists who specialize in:
implants
orthodontics
periodontics
prosthodontics
endodontics
oral and maxillofacial surgery
aesthetics
Quality of Treatment
Safety standards aside, over the years BIDC has won many awards and accolades such as:
Dental Tourism Award
Prime Minister Export Award
Thailand Trustmark
Prime Minister Business Award
Visiting BIDC
Visiting BIDC in Bangkok is similar to visiting a dentist back home.
Making an Appointment
You have to make an appointment with a general dentist at BIDC before seeing a specialist.
To make an appointment with BIDC fill out this form on BIDC's website.
After you fill in the form, a member of BIDC will get back to you within 24 hours.
Arriving at BIDC
The first time I walked into BIDC I was taken back. It was so new and clean that it reminded me of Bumrungrad Hospital.
And I was happy to see that the staff at the reception desk spoke excellent English.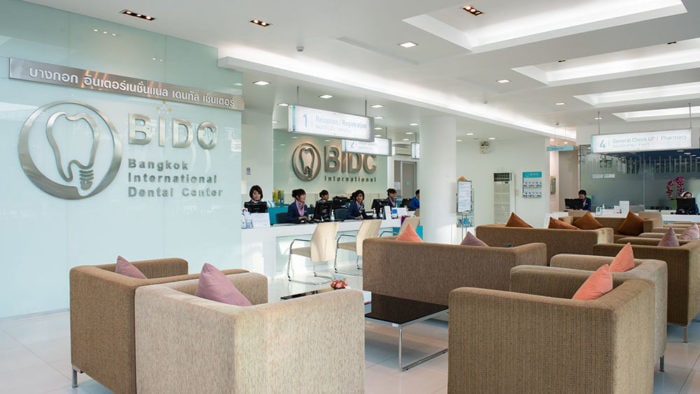 To register, you have to fill out a few forms.
Seeing the Dentist or Specialist
Before you see a dentist a BIDC nurse checks your vitals.
I've always found it a bit odd that they do this in Thailand for dentist visits, but the amount of detail BIDC puts into their processes brings me peace of mind.
Once in the chair, the dentist checks your mouth and depending on your case suggests what work—if any—they have to do.
But like I said earlier, they are very conservative and never do anything that's not necessary.
I've only had checkups and teeth cleanings at BIDC. And the process has always been enjoyable—or at least as enjoyable as visiting the dentist could be.
Most of the time, for general teeth cleanings and checkups I was in and out in about an hour.
But if you're getting major dental work done, like crowns or implants, you can expect to be there for a little while longer, about two to three hours.
Paying for Dental Work
Most of my visits have never came out to more than 1,500 baht.
I paid in cash and then send the bill to my insurance company for reimbursement.
Types of Dental Work
Most people who seek out dental work in Bangkok are looking for dental implants or teeth whitening.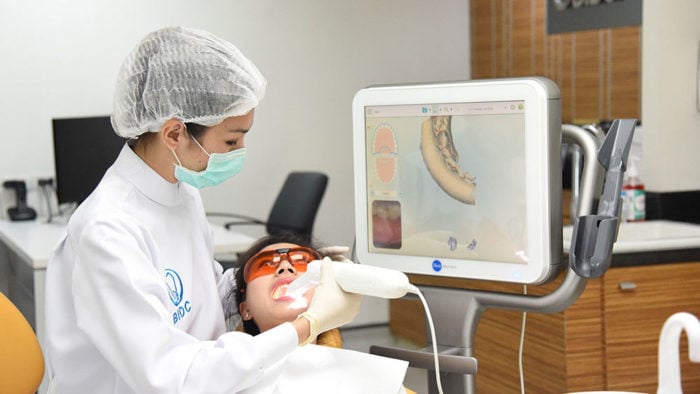 With their top-of-the-line facilities and specialists, BIDC can do all of that and more.
Here is some the dental work you can get done at BIDC.
General Dentistry
If you only want to get a checkup, x-ray, or consultation, BIDC can handle those matters.
After your checkup BIDC will let you know if you need further general dental work like cavities filled or replaced, scaling, or cleaning and polishing.
Cosmetic Dentistry
BIDC can do cosmetic dentistry like teeth whitening, crowns, bridges, veneers, or bonding.
Dental Implants
BIDC can do single or multiple dental implants as well as full-jaw implants, sometimes in a single day.
Orthodontics
BIDC can put on and maintain braces of all types. Check out our guide to Braces in Bangkok for a full review of the types of braces you can get at BIDC.
Tooth Extractions
If you need teeth pulled, BIDC can help you.
Prices for Dental Work
BIDC costs are on par with other Bangkok dentist prices. Here's a few sample costs:
| Service | Price in Thai Baht | Price in US Dollars |
| --- | --- | --- |
| Cleaning, Scaling, and Polishing | 1,200 to 2,000 | $33 to $56 |
| Surface Fillings | 1,000 | $27 |
| Crowns | 10,000 to 18,000 | $278 to $500 |
Locations
BIDC now has three locations, two in Bangkok and one in Chiang Mai.
Bangkok International Dental Clinic (BIDC)
BIDC is located just a few minutes walk from either MRT Thailand Cultural Center or MRT Huai Khwang.
157, 159 Ratchadaphisek Road, Khwaeng Din Daeng, Din Daeng, Krung Thep Maha Nakhon 10400
Bangkok International Dental Hospital (BIDH)
BIDH is just a short taxi ride from BTS Ploen Chit. Here's the address:
98 Pha Suk Alley, Khwaeng Khlong Toei, Khet Khlong Toei, Krung Thep Maha Nakhon 10110
Chiangmai International Dental Center (CIDC)
CIDC is a short ride from Chiang Mai Airport on Nimmanahaeminda Road.
11 Nimmanahaeminda road , Su Thep, Mueang Chiang Mai District, Chiangmai 50200
BIDC for Dental Tourism
If you're in Thailand for vacation or you want to come to Thailand to get dental work, BIDC can recommend an airport pickup and drop off and a place to stay.
The length of time you need to stay in Bangkok while getting dental work depends on the severity of your case.
Make sure to ask BIDC how long your treatment will last before you book your flight to Thailand.
BIDC Hotel
BIDC has a hotel in a separate wing of their Ratchadapisek headquarters.
The Mini R Hotel lets you stay as close to the dental center as possible while getting treatment.
Each room comes with all the amenities you'd expect from a hotel, such as air conditioning, high-speed wifi, refrigerator and minibar, and satellite TV.
BIDC has also partnered up with other hotels in the area. So if you want to stay somewhere else, you get special rates as an international patient.
Airport Transfers
If you're traveling to Thailand from outside of the country, BIDC can recommend arrangements for your airport pick and drop off. But you have to let them know ahead of time.
Tour Arrangements
If you want to travel around Bangkok while getting your dental work, BIDC can recommend tours through one of their partner tour companies.
Let them know ahead of time if you want to do some sightseeing while in Bangkok.
Now, on to You
If you're ready to make an appointment with BIDC fill out this form on BIDC's website and they'll get back to you within 24 hours.
Related Articles