Mister Prakan is a licensed insurance broker in Thailand. The company was created in 1998 and aims to provide suitable insurance policies for individuals, families, and companies in Thailand.
Mister Prakan offers various types of insurance, ranging from health insurance, car insurance, and personal accident insurance, to travel and property insurance, for both Thais and expats living in Thailand.

Why Mister Prakan?
Mister Prakan is a licensed brokerage with over twenty years of experience. They have an English-speaking team. They know their stuff and they're easy to talk to.
The best part about Mister Prakan is their website. With it, you can easily compare many insurance plans and companies in on a single page without having to spend days and nights trying to get information from the insurance companies themselves.
After filling in your information, you can see premiums, coverage options, and full details of various insurance plans and providers on one page. The premium price you see here is the same as what you'd get from the insurance company if you went through them directly.
Here are the benefits of using Mister Prakan:
you'll save time because their website is the easiest and quickest way to get quotes, and compare and buy insurance online
you'll get customized plans based on your needs
you won't run into any communication problems because they have an English-speaking support team who can help with your claim and answer any of your questions
you can get insured for other things as well, such as for your car, your travels, and your property, all in one place
you can pay the insurance premium in a ten-month installment plan*
*This option is only available for Kasikorn and Krungsri credit card holders. If you have a Bangkok Bank credit card, you must live in Bangkok or Nonthaburi.
How to Use Their Website
Mister Prakan has a website that is very easy to use and straightforward. You will instantly get quotes after filling in your gender, required benefits (OPD, IPD, vision, and maternity), age, and email address. Make sure to enter your email correctly. Within a few hours, they will contact you.
This is your best chance to ask any questions you may have. You can also tell them your budget and needs, and let them find a suitable plan for you.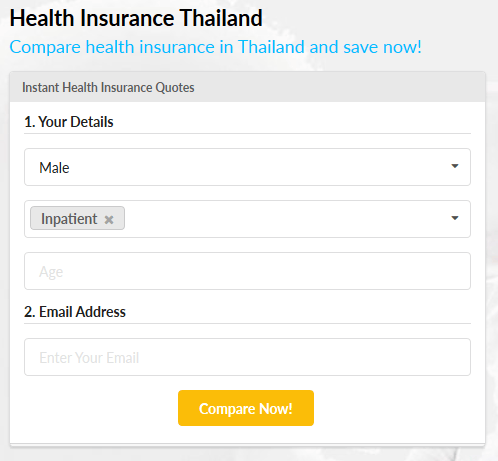 Once you enter your information, you will see different plans from various insurance providers sorted by price. If you need more information about that plan, just click "View Details." Or you can click "Apply Now," fill out an application form, and apply for the plan online.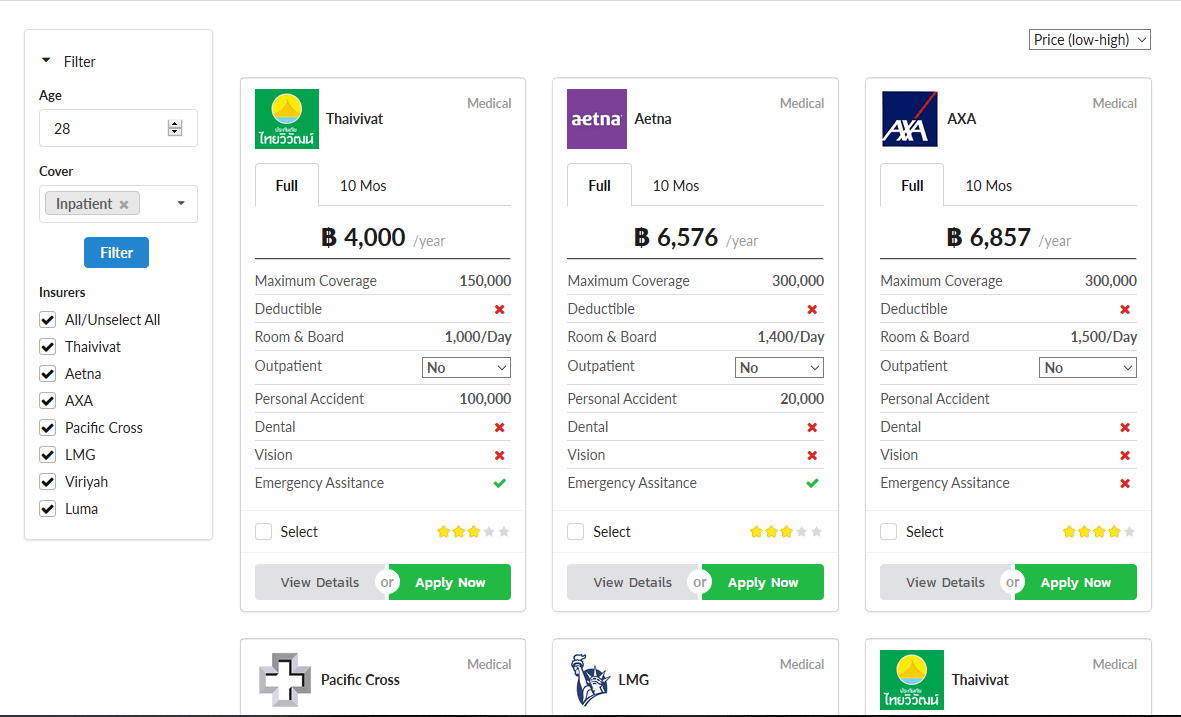 Note that with health insurance, premium prices are only the tip of the iceberg. The cheapest doesn't mean it is the best. You need to compare coverage, exclusions, restrictions, and other small details on the policy to make a fair comparison.
If you don't know what to choose, it's better to talk to Mister Prakan directly.
What Clients Think about Mister Prakan
"I called many insurance companies and brokers during my search for health insurance provider. I found that Mister Prakan gave me very good insight, especially my agent (her name is Mady) who was very helpful and knowledgeable. Info I got helped me make a better decision amidst the myriads of choices out there.
That's the beauty of going through a broker, esp. when you don't know what provider to pick. Since brokers offer plans from many providers, they will give you info on different providers out there without preference. At least it was like that for my experience." – Patra Jankovic
"Mister Prakan is the most helpful insurance broker I've ever been worked with. Their follow-up and communication are very fast and accurate, an example for others" – Tom Knevels
"I have many questions about the insurance product and Mister Prakan has answered all of them and made me confident about the product I was going to buy. I appreciate their help in any insurance matter, their assistance was a big help." – Dan Astrom
"Mister Prakan has helped me sort out my insurance when I first arrived in Thailand. I just applied online and sent them some requirements and they did everything for me from then on. It was quick and easy. They also help out with claims and other problems we may have and I think that's the best part about buying through them. They've been really helpful." – Emma Vanlooy
"I'm always getting very professional service for my health insurance. Im always getting all the updates, replies and support that I need." – Leyla Mayko
Disclaimer
Please note that we receive financial incentive from this serviced provider. This happens at no cost to you and helps us cover some of the expenses of running this website.
We only recommend you to a service that we would use when we are in your situation. While we do our best to select the most suitable providers, we're unable to provide any guarantees or accept any liability resulting from your interactions and transactions with them.